Unique. Organic. Imperfect. Beautiful. These are just some of the words we could use to describe the charming textural works of Canberran artist Emma Fleetwood, otherwise known as The Seasonal Ceramicist. Born from a moment of love at first sight with clay, Emma creates her unique pieces with texture in mind.
In our recent one-on-one chat with Emma, we learnt about her journey to clay and the inspiration behind her imperfect textural ceramics.
Related article: The unique and textural pieces by artist Rachael McCallum
Related article: The colourful botanical abstracts by artist Carley Bourne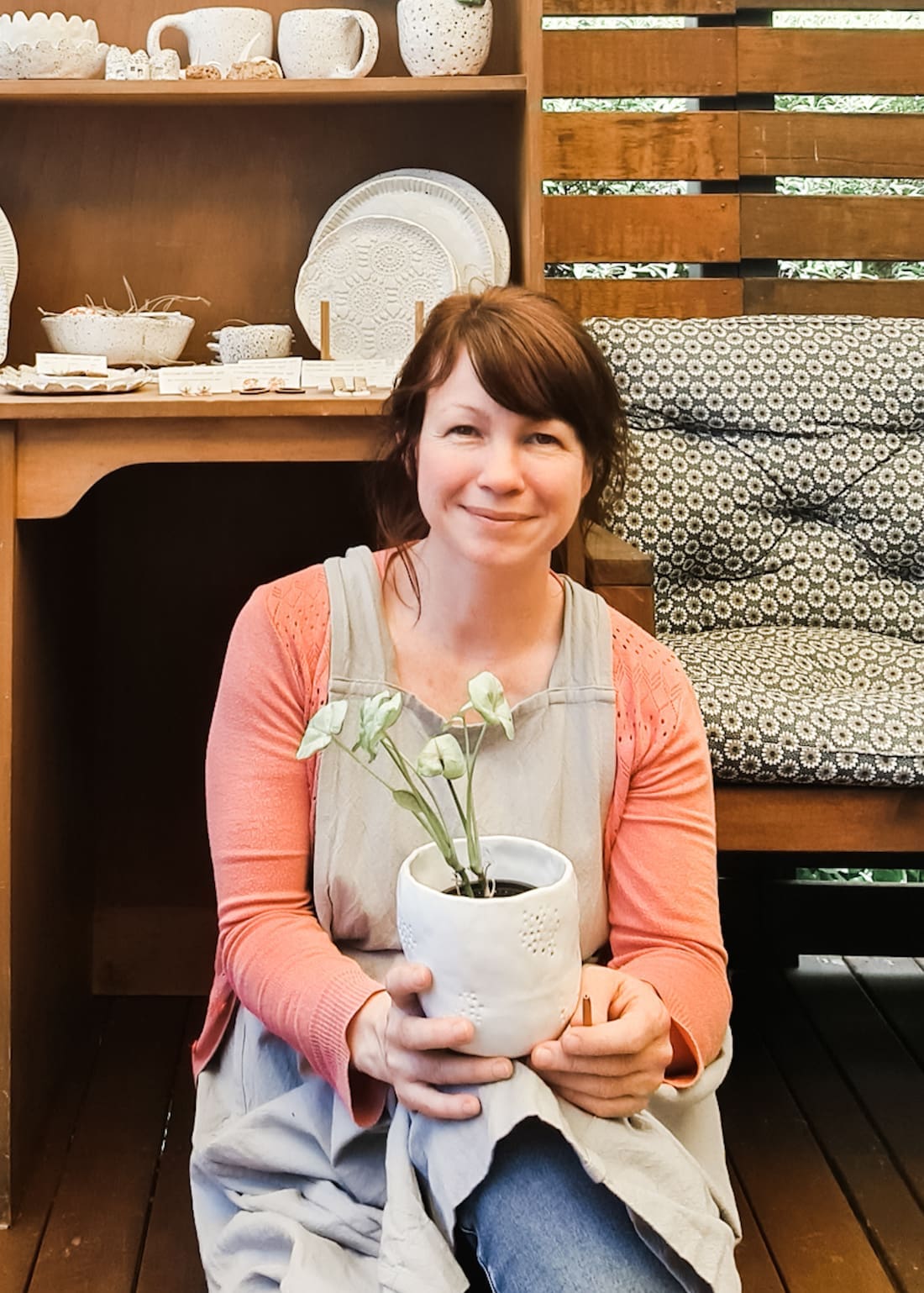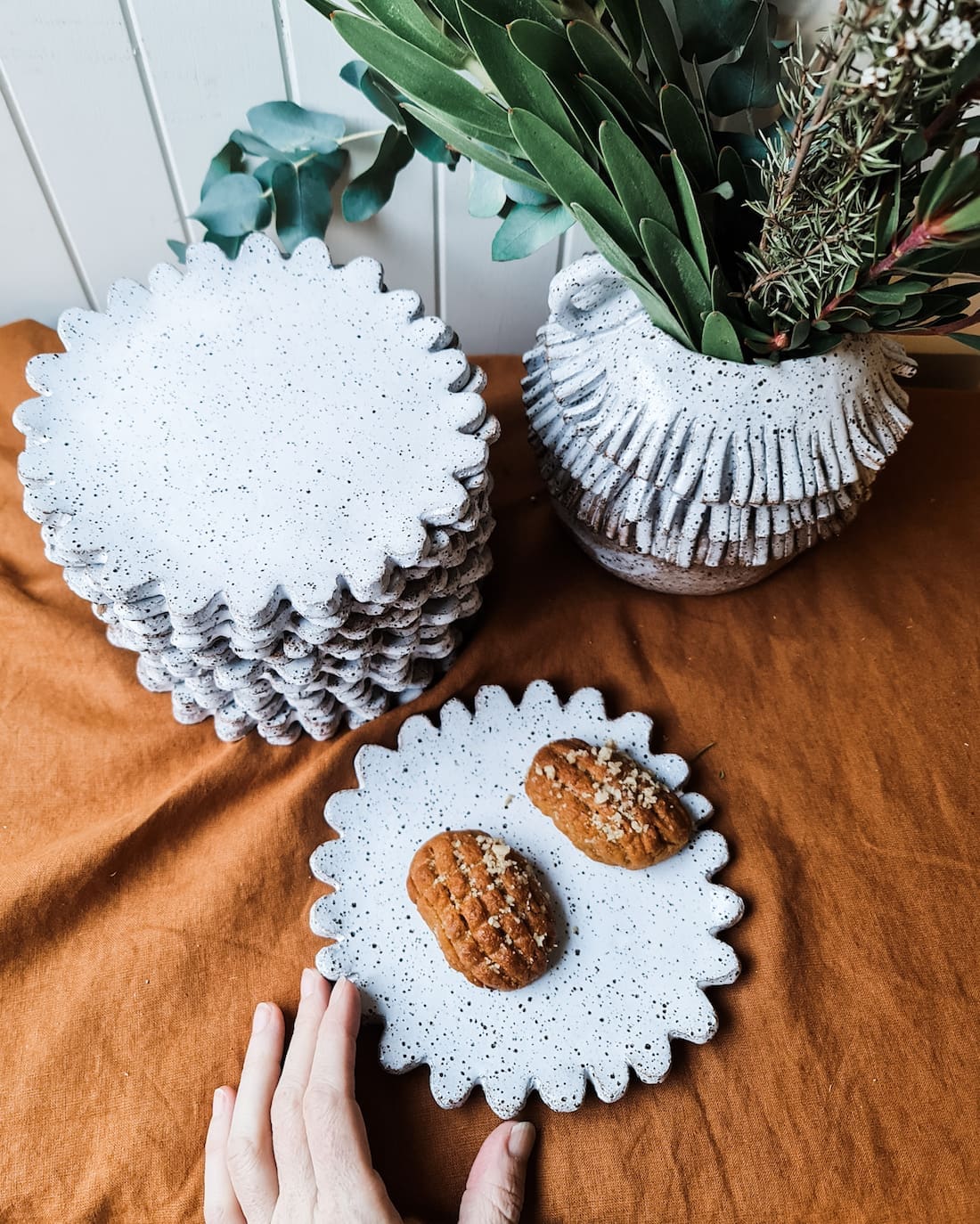 With a diverse range of designs, Emma finds her inspiration in unexpected places.
"My inspiration comes from the everyday things around me. Recently I made a series of little bud vases inspired by the pattern of holes in an old pinboard. I also made some cheese boards inspired by the shape and pattern of my son's table tennis bats.
"I'll see something that grabs my attention. It sits dormant in my brain for a few weeks, and then I'll suddenly get an idea of how to incorporate it into a piece. Usually, this is just as I'm going off to sleep. I have so many notebooks full of the 10pm scribbles and sketches.
"Currently, my favourite thing to make is my candle canisters. This is done in collaboration with my friend Cheyenne, from The Little Flame Co. She fills my ceramics with her beautiful candles. Working alone from a home studio can be quite isolating, so a collaboration project is wonderful. We experiment a lot which is fun."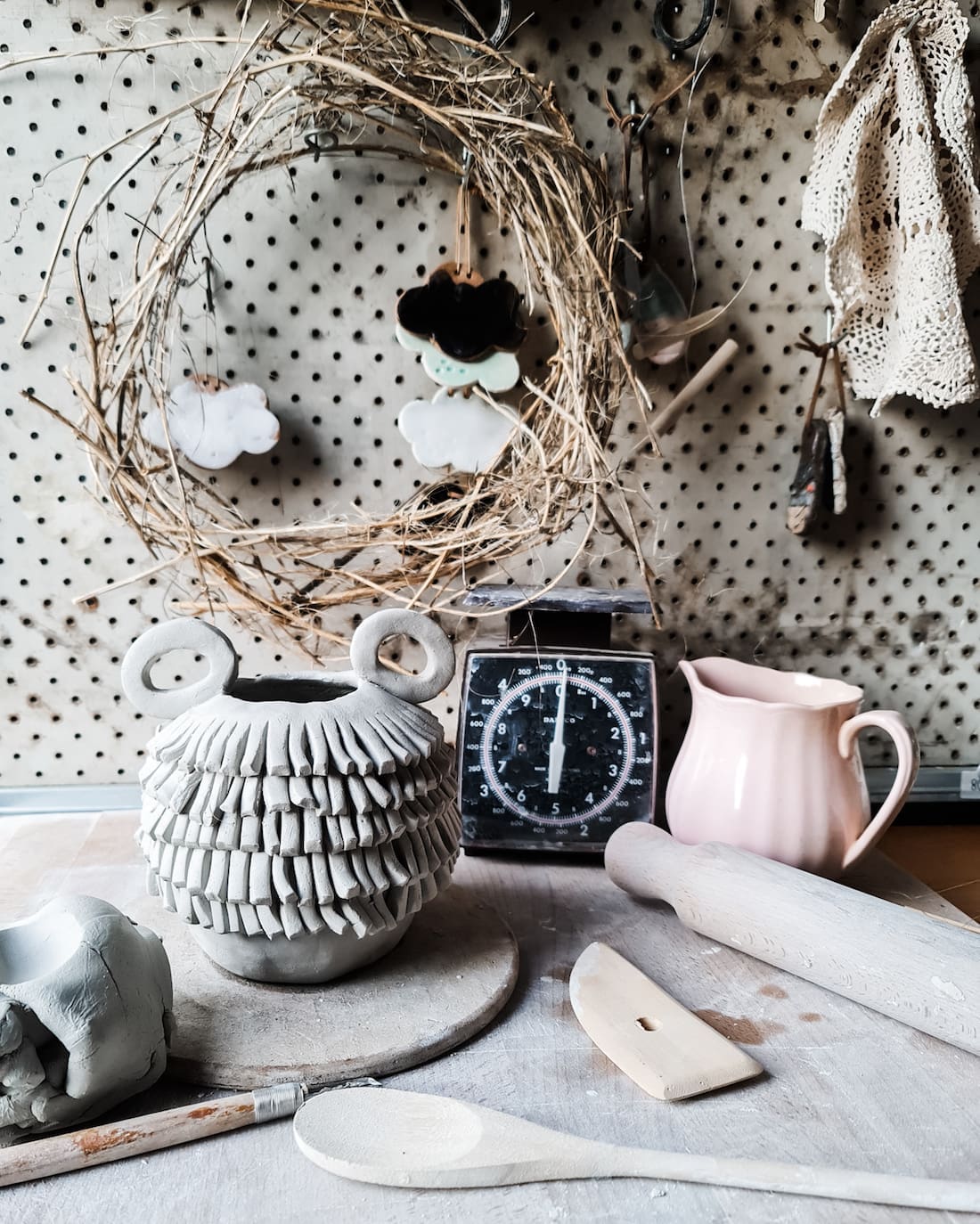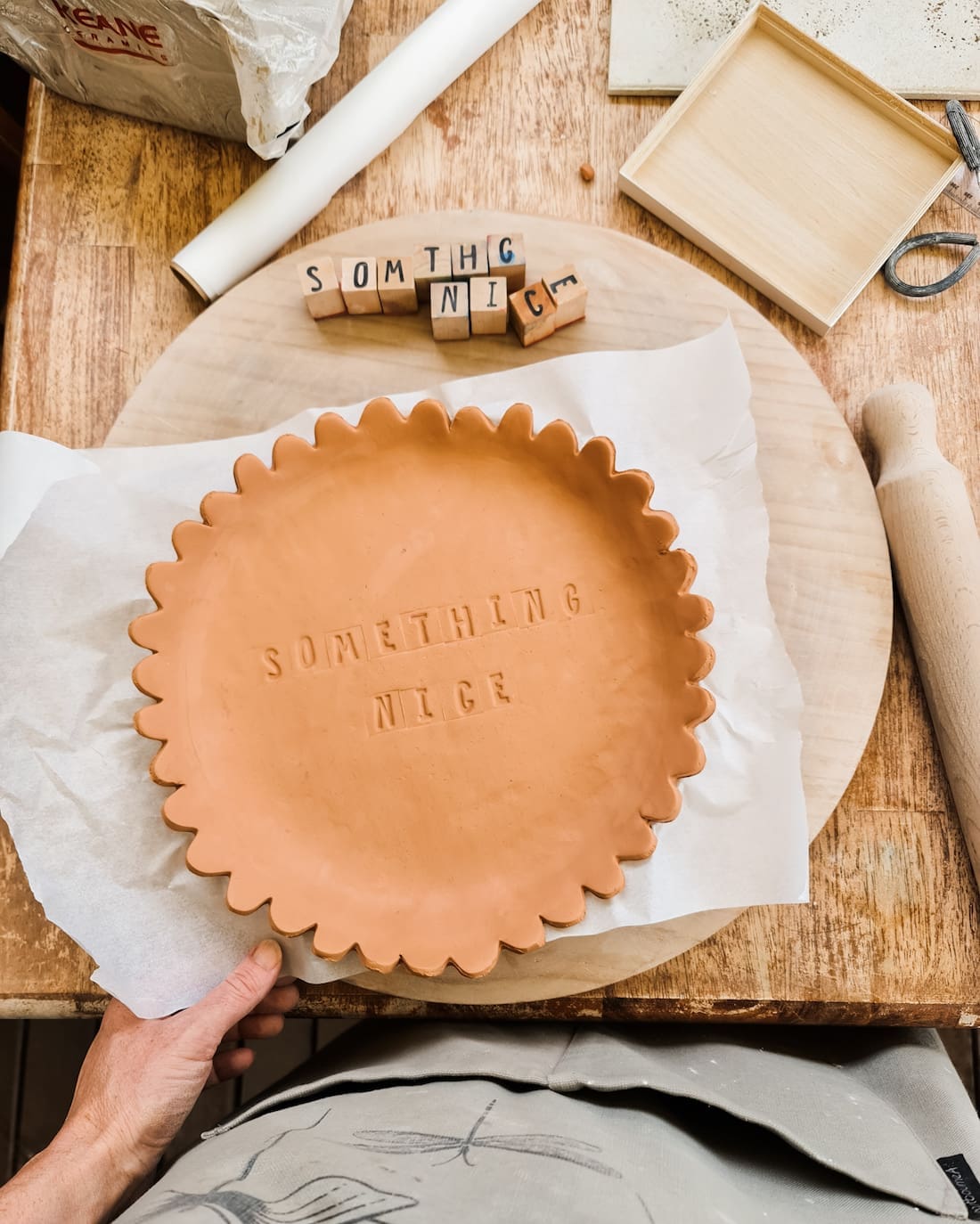 Emma lets go of the idea of creating perfect pieces, knowing there's a different beauty to be found in unique and organic textural ceramics.
"I like each of my pieces to retain a sense of the making process and clay texture. Striving to completely smooth out or straighten up a handbuilt pot to make it appear 'perfect' would remove a lot of the charm and uniqueness of the piece.
"The interest of imperfection appeals to me more than the beauty of perfection does. One of my favourite earlier pieces is an incense dish that my cat walked over as it was drying, leaving a little pawprint. This little imperfection gave it a story and a link back to a specific moment. While I'm much more careful now about where I dry my pots, I still like each of my pieces to be different and keep their quirks."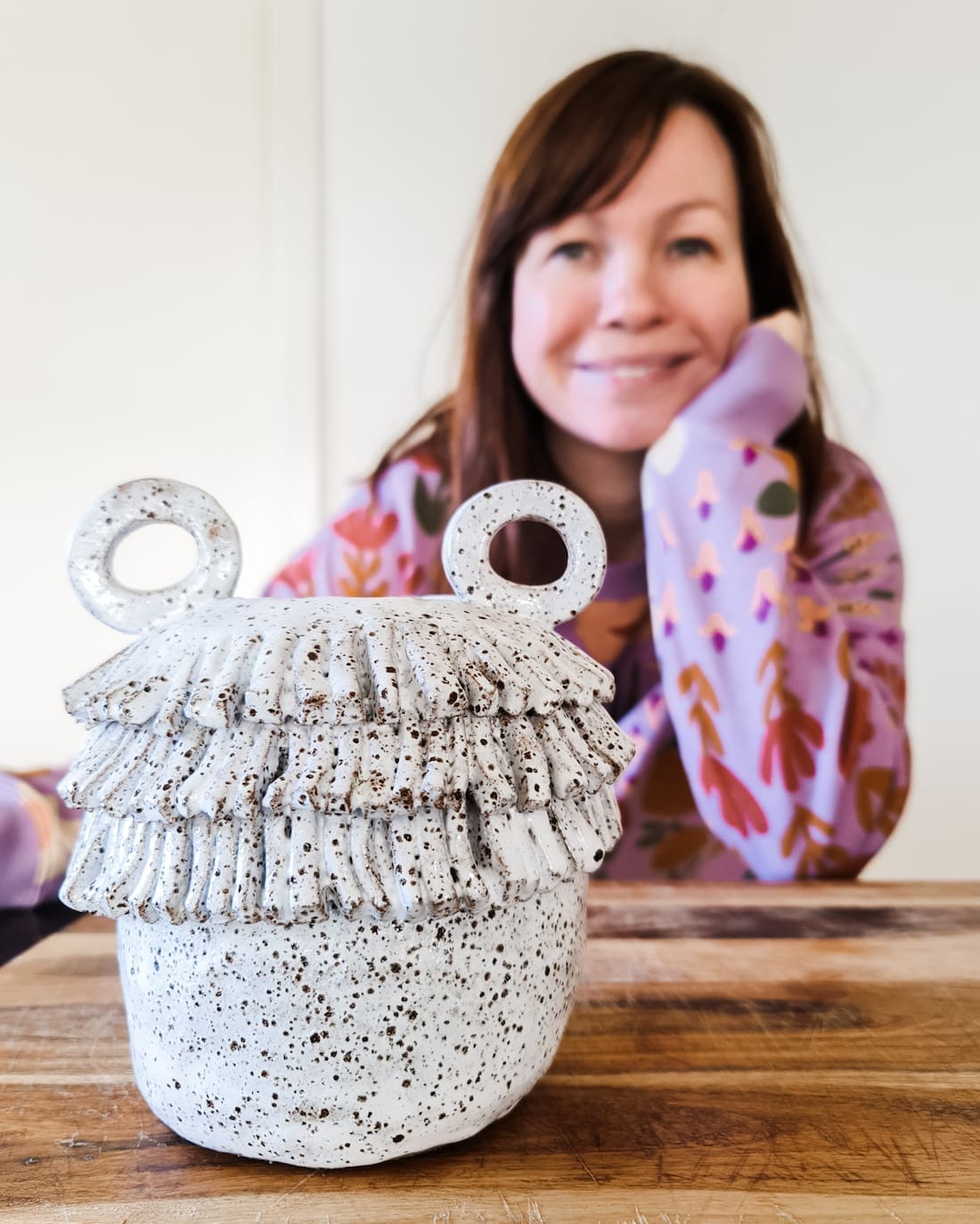 A creator at heart, Emma had tried many crafts before landing on clay. Once she found her medium, there was no stopping her!
"I have always loved making things, but never consistently. I've dabbled in everything from cooking to sewing to photography, but always got bored eventually. I jumped around until 2009 when I enrolled in a pottery night class and got hooked.
"I wasn't very good at wheel throwing, but I loved it and was fascinated by all the surface decoration options. From tissue transfers to printing — there were too many options to explore so I couldn't get bored!
"One night my pottery teacher suggested I try hand-building so I could make bigger pieces. Handbuilding is where you make pieces by pinching and coiling clay, joining slabs of clay together to build up. I really found my groove and could finally create what was in my head.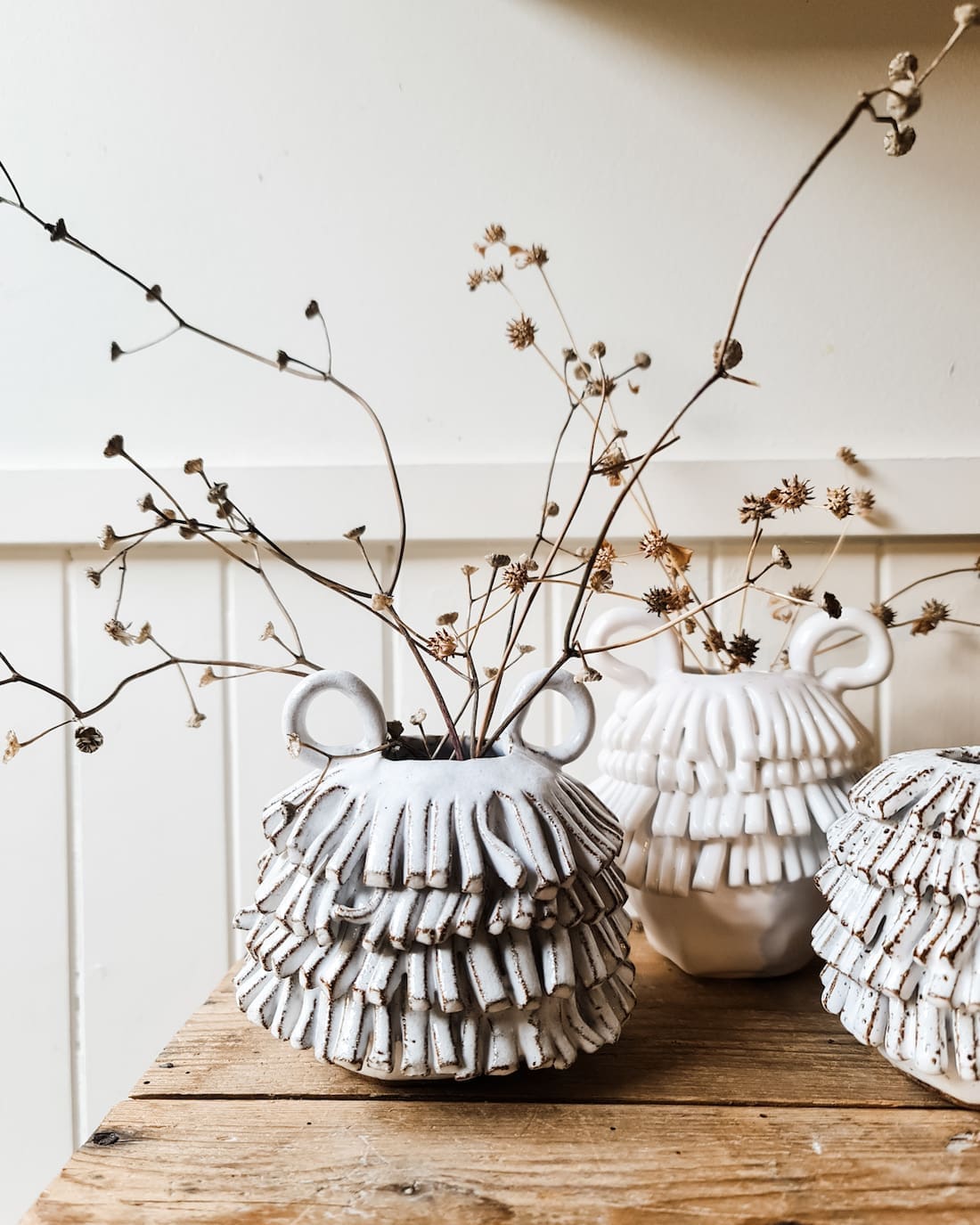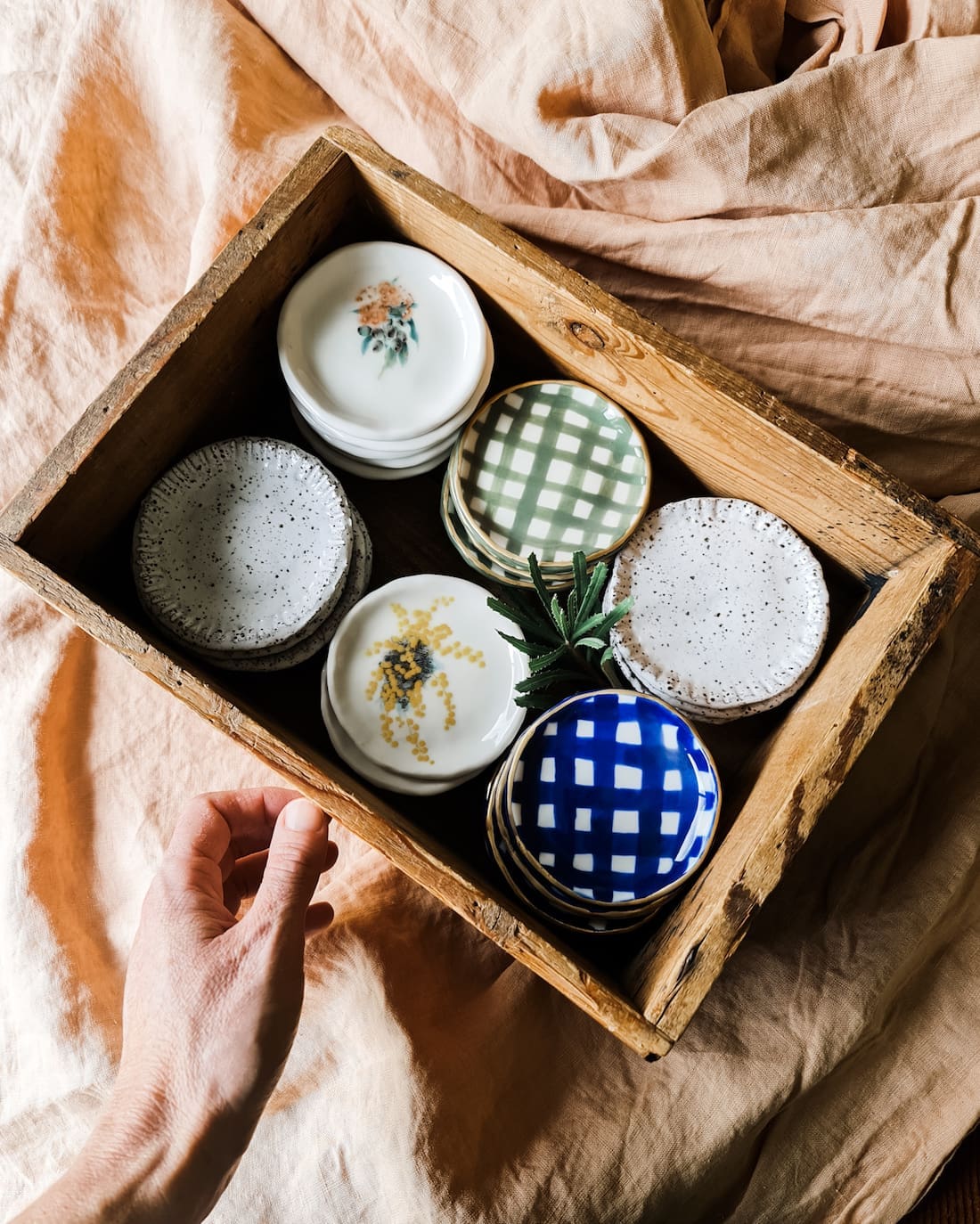 With workshops, a part-time day job and kids, Emma has a lot to fit on her plate, but she's not slowing down anytime soon.
"I live in Canberra with my partner and our two young children, and lots of pets and plants. My ceramic work is deliberately kept as a side hustle, and I get a lot of satisfaction from the very personal way my business is run. I have time to really get to know my customers.
"Recently, a real 'pinch me' moment was being selected as Finalist for the Frankie Magazine Good Stuff Awards.
"Later in the year, I'll be opening my home studio to the public as part of the Design Canberra Festival on Saturday the 28th of November. I'll have new work for sale and visitors can come and play with some clay. It is a great festival to be a part of!"
A huge thank you to Emma for taking the time out of her busy schedule to chat with us. You can find out more about Emma at her online store, which is updated every month. Her workshops run regularly in the Canberra area and are announced via her Instagram page. Has our chat with Emma encouraged you to try something new? Do you like her imperfect textural ceramics? Let us know your thoughts in the comments below!