You can't simply glance at the unique and colourful botanical abstracts by artist Carley Bourne. Layers of paint built on a love of colour, nature and florals — her abstracts are unlike anything else.
Two years on from her late-career change to art, Carley has just finished her first solo exhibition 'Floral Collective'. We sat down for a chat with the artist to learn more about how she reached these heights so quickly.
Related article: 10 Australian abstract artists to discover and love on Bluethumb
Related article: Sculptural handmade ceramics: A chat with artist Ivanaloves Ceramics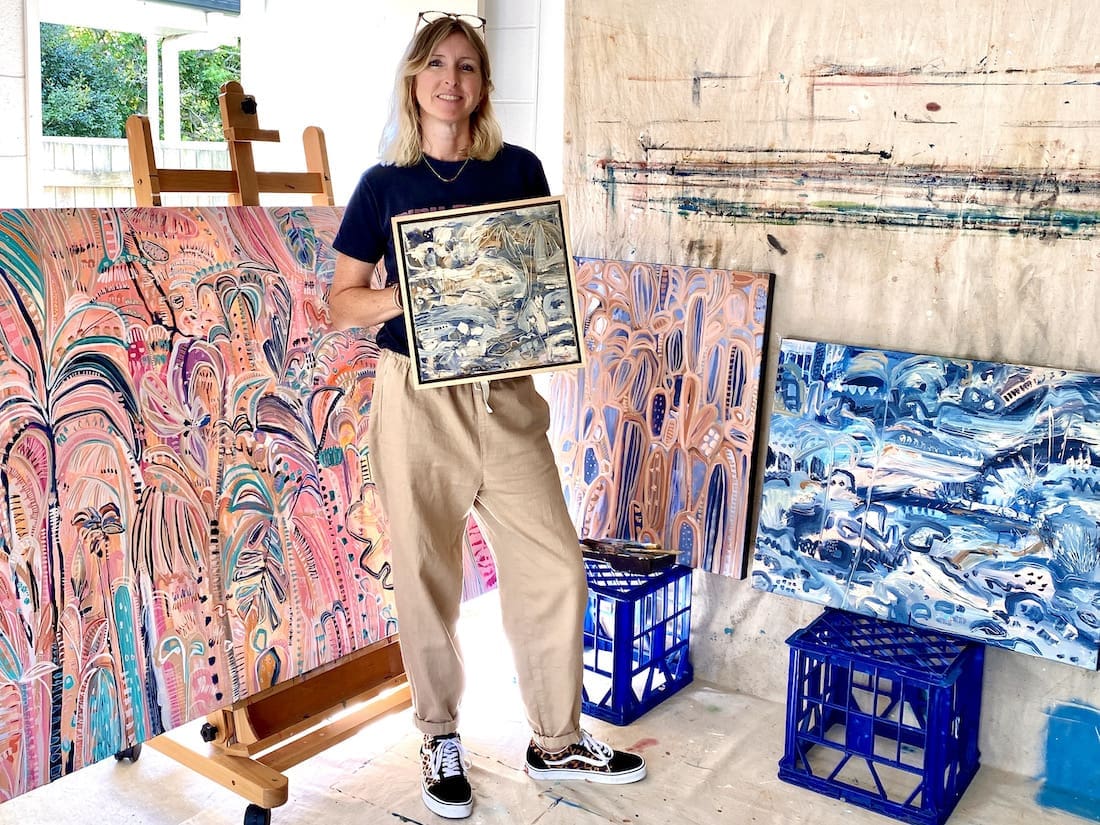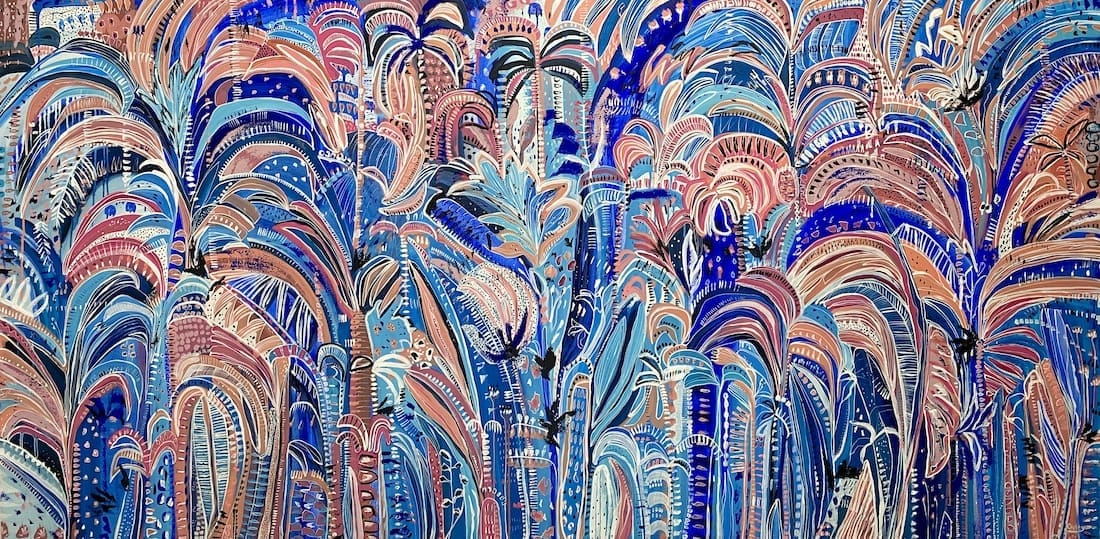 Carley's journey has been filled with big changes, but aren't we glad she had the confidence to do it?
"I emigrated from England to Australia with my husband in 2008. Together we had travelled around the country several years earlier and had fallen in love with Australia. Along with our 3 kids and a spoodle we made the move to Australia and now call the Sunshine Coast home.
"Even from childhood, art was my favourite hobby and class. I got a high distinction in Art at high school. Despite this, I told myself being an artist was a dream and didn't think I could make a career out of my art.
"It wasn't until I was close to 40 when I thought — it's now or never! Feeling much wiser, I finally had the self-confidence to push myself. I found Bluethumb online art gallery and uploaded my first paintings that year. I sold my first work on the gallery within 2 weeks, and soon more followed.
"It has been hard work and many hours, but just two years on, I made the top 24th selling artist with Bluethumb. I have had work featured on House Rules, group and solo exhibitions, open studios and been an artist in residence."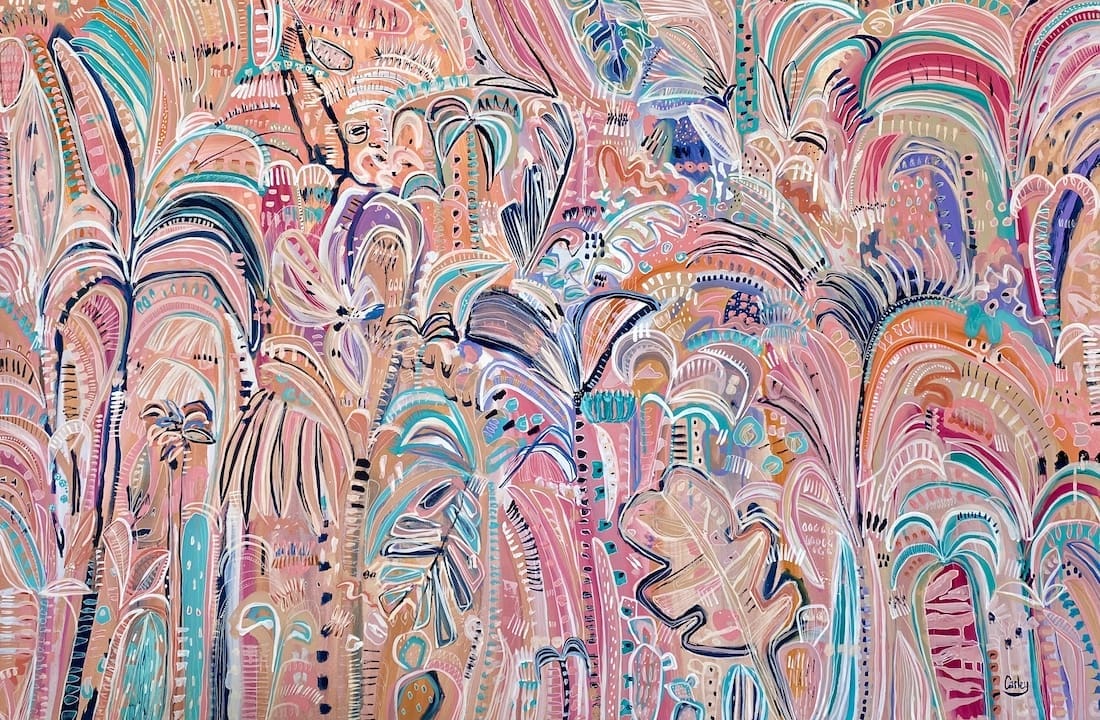 Located on the Sunshine Coast, Carley has an abundance of inspiration at her doorstep.
"I'm originally from an area that was very industrial, built up with high populations. I craved the exotic, natural world which magnified my love for the tropics, beaches and nature. I love the beach, national park walks… and an afternoon margarita with friends!" smiles Carley.
"Inspirations could come from a fashion magazine, a travel documentary, a walk along the river, beach hangs or simply sitting in my garden. I enjoy fashion and interiors. I'm a sucker for trends, but also like certain classics.
"I don't tend to stick to the same palettes — I love all colour possibilities and combinations! I really love ocean palettes, but then a muted warm palette with taupe and pinks can be so wonderful to work with.
"As for the flower theme I have, well I'm actually a qualified florist! I have always had a fondness for flowers and plants, from the colour to their forms. I enjoyed learning their names as a child."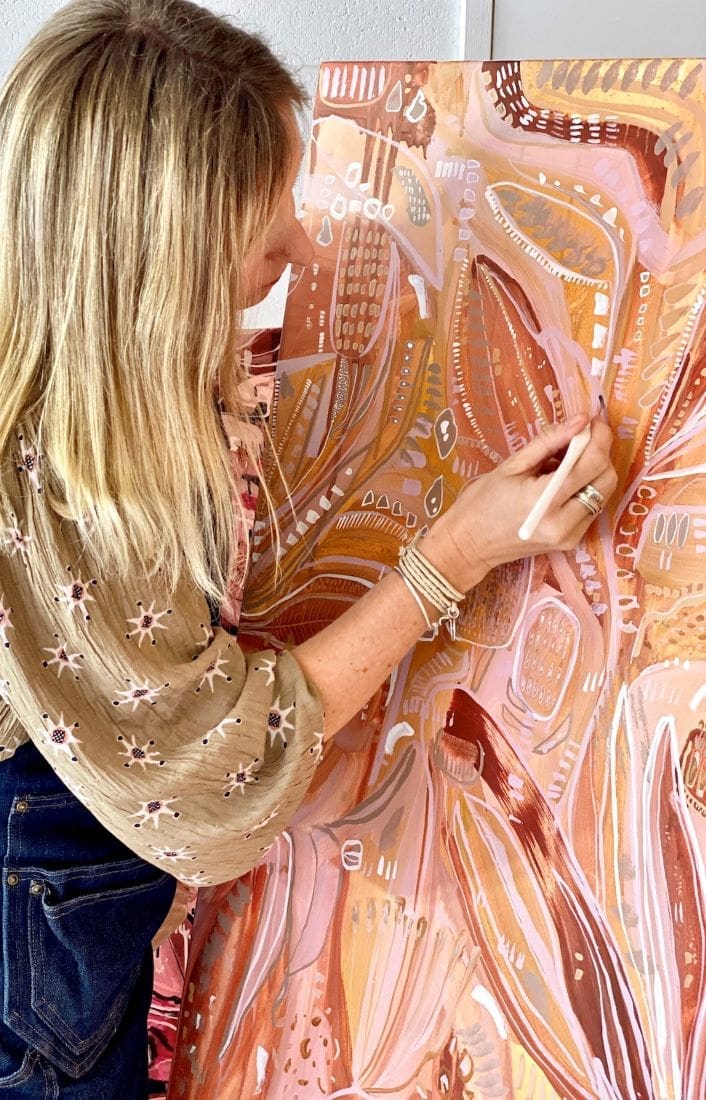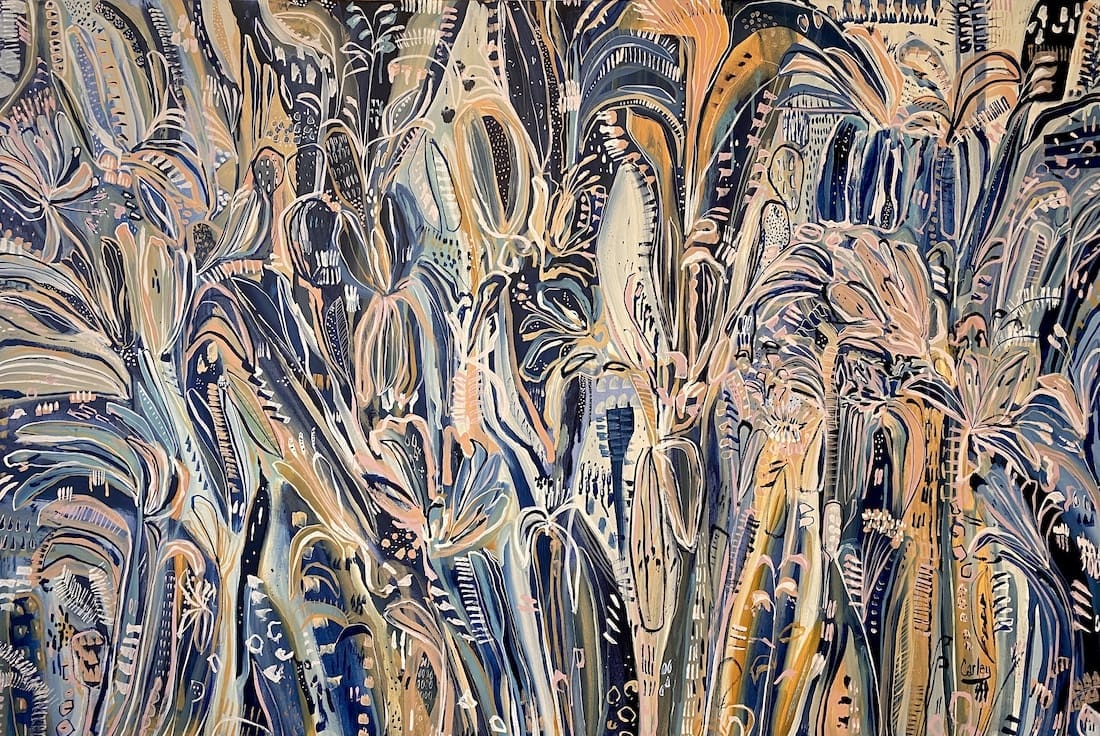 Inspiration is only the start. Carley takes us through her creative process.
"Once the inspiration comes, I often begin with research. Anything from the flowers and botanicals themselves or the sights of a location, descriptions of a place.
"I paint the base layer in one sitting — having already worked out the predominant colour palette and feel I want, I loosely block the shapes. Here I vary the textures and the marks.
"Half of the outcome is based on what I'm working towards, the other is letting intuition and expression take over. It does begin very abstract and painterly but then I begin defining forms, shapes and marks.
"The final piece is complete after many impressionistic details have been overlaid, building and layering, with both thin fluid or flowing paint, to thick highly textured marks."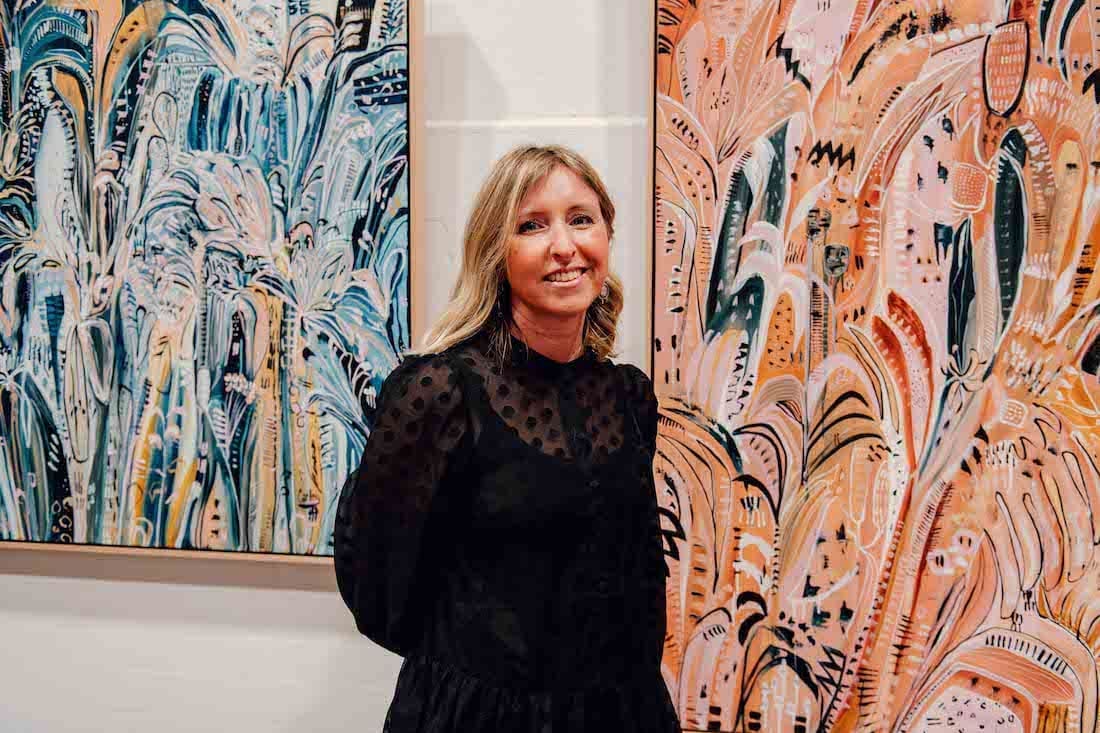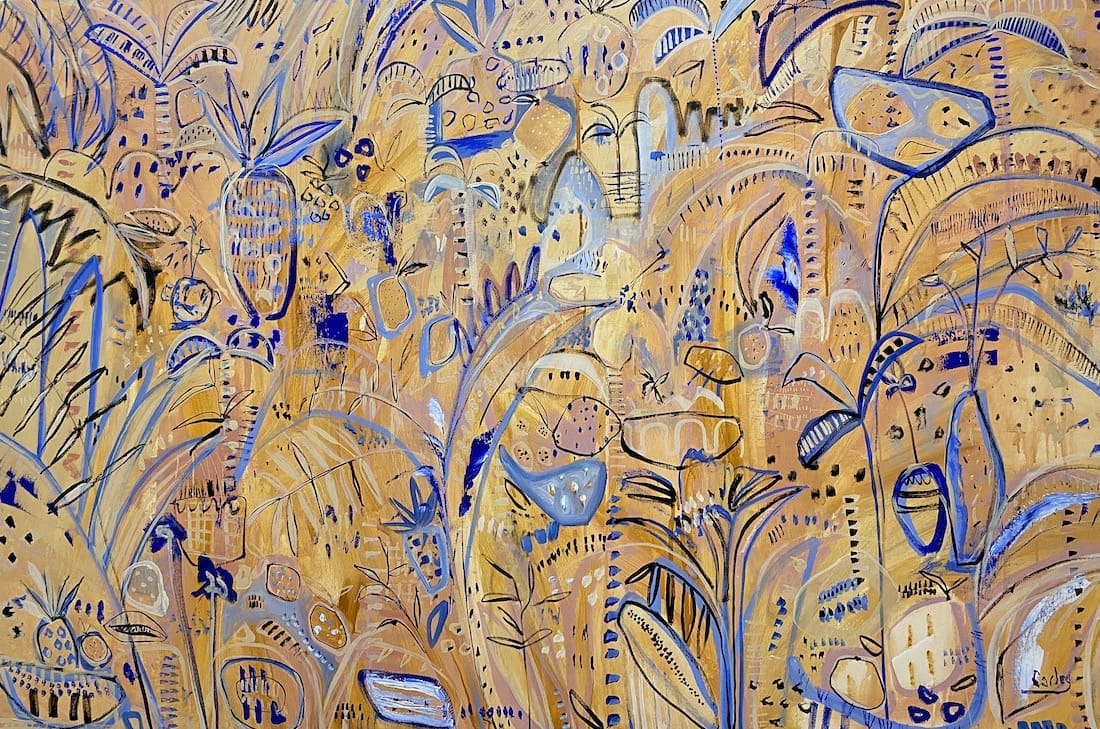 Having come a long way in only two years, Carley shares her career highlights and goals with us.
"I'm still fairly new to the art world, so really my main goal is to continue growing and getting my artwork seen. I've already made many of my dreams come true from living as a full-time artist to having my artwork on high-end fashion items.
"I feel incredibly proud of what I have achieved in such a short time. It's so exciting to see all my hard work and effort come together in a large solo show. 'Floral Collective' opened on the 23rd of July at the Butter Factory Arts Gallery in Cooroy, Sunshine Coast. Experiencing opening night was such an incredible feeling. It is my biggest achievement.
"I would like to move forward and grow on what I've achieved so far with bigger and more known galleries. Maybe I'll even open my own gallery or shop."
We loved getting to know more about the artist behind these colourful botanical abstracts. You can explore her range of limited edition works and information on stockists on her website, and on Bluethumb, or connect with her through Instagram. Do you love her artwork as much as us? Does her journey inspire you to make a big change? Let us know in the comment section below!