Belynda Henry. If her name isn't familiar, her art most definitely will be. Her art is on the walls of The Design Files Open House, was a favourite of Carlene on The Block Glasshouse, and has featured in a stack of homewares magazines including Inside Out and Est Magazine.
We've been admiring her work all year and thought it was about time to stop drooling over her Instagram feed and share her incredible art and story with you all!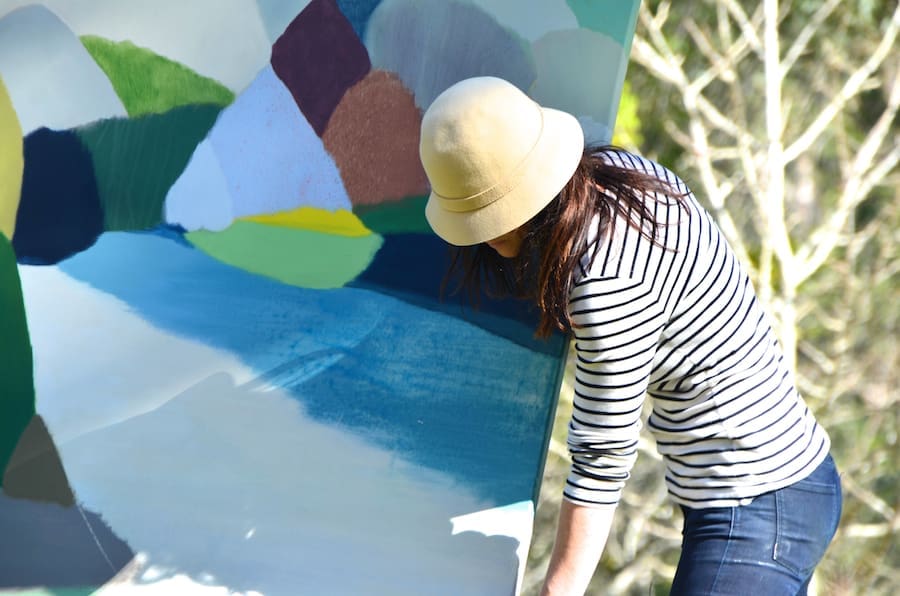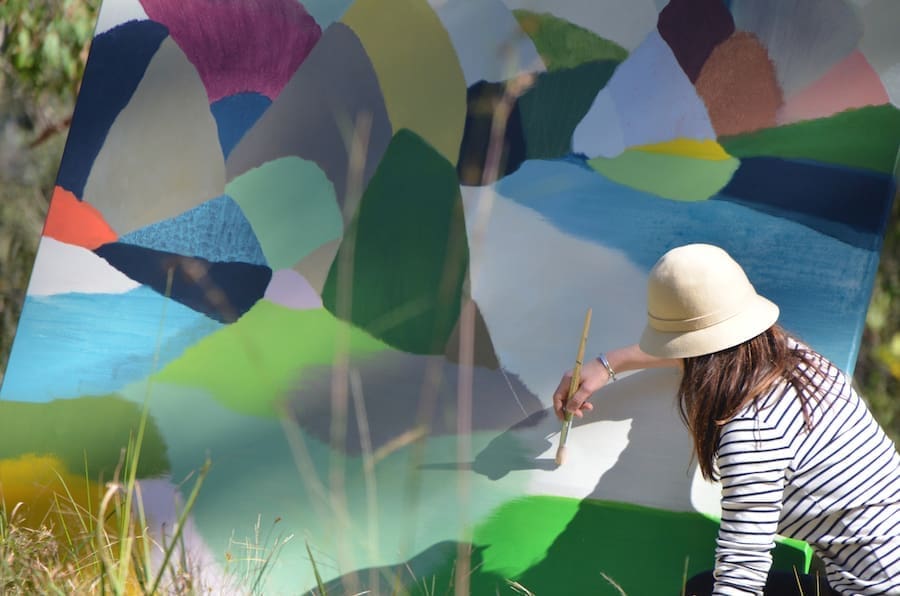 Firstly, congratulations for having your stunning art featured on The Block Glasshouse, not once but twice! What has that opportunity meant for you?
"A lot of extra work," laughs Belynda.
I worked hard all year to really try and get my art noticed and now that it's been featured on The Block and on The Design Files especially, it's generated a lot of extra work. So much I don't know how I'll get them all done!
You even had to pop onto the show to incorporate some of the turquoise blue colour from the feature wall into the painting during the first Apartment 6 challenge.
"Ha, yes I visited The Block twice, the second time I was lucky enough to be filmed and included in an episode. Always a strange feeling seeing yourself on TV."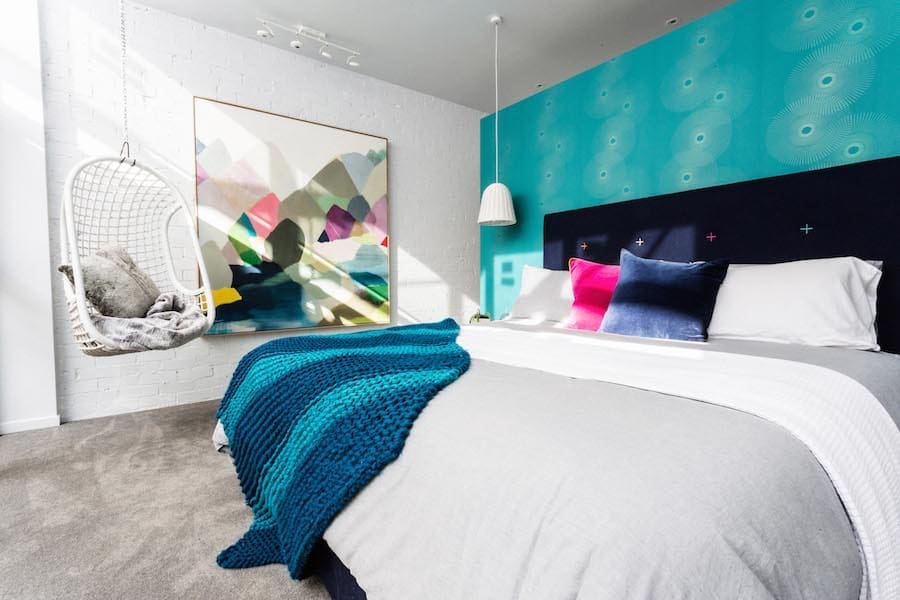 All of your paintings seem to depict the same beautiful landscape, where do you get your inspiration from?
"Nature and Australian landscapes inspire me.
"I live in country New South Wales at the end of a valley and each day I drive 20 minutes through the valley to take my girls to school and 20 minutes back.
"So while I'm not trying to directly paint where I live, I do spend a lot of time looking at and observing the valley and it's obviously doing something to me!" says Belynda.
Often I'll finish a painting and then as I drive along I'll go 'Oh, there's that mountain I painted'.
Your latest works seem to incorporate more colour, is that just a reflection of the change in seasons or do you think you've changed your style slightly?
"I think I was a bit scared of colour before. I try not to make my work too colourful, they are still mainly neutral colours — browns, greens and blues — but I have been getting a bit braver.
"Instagram has changed my life. Before I didn't know what people liked but now I am getting feedback every day, it's amazing and has definitely influenced my work."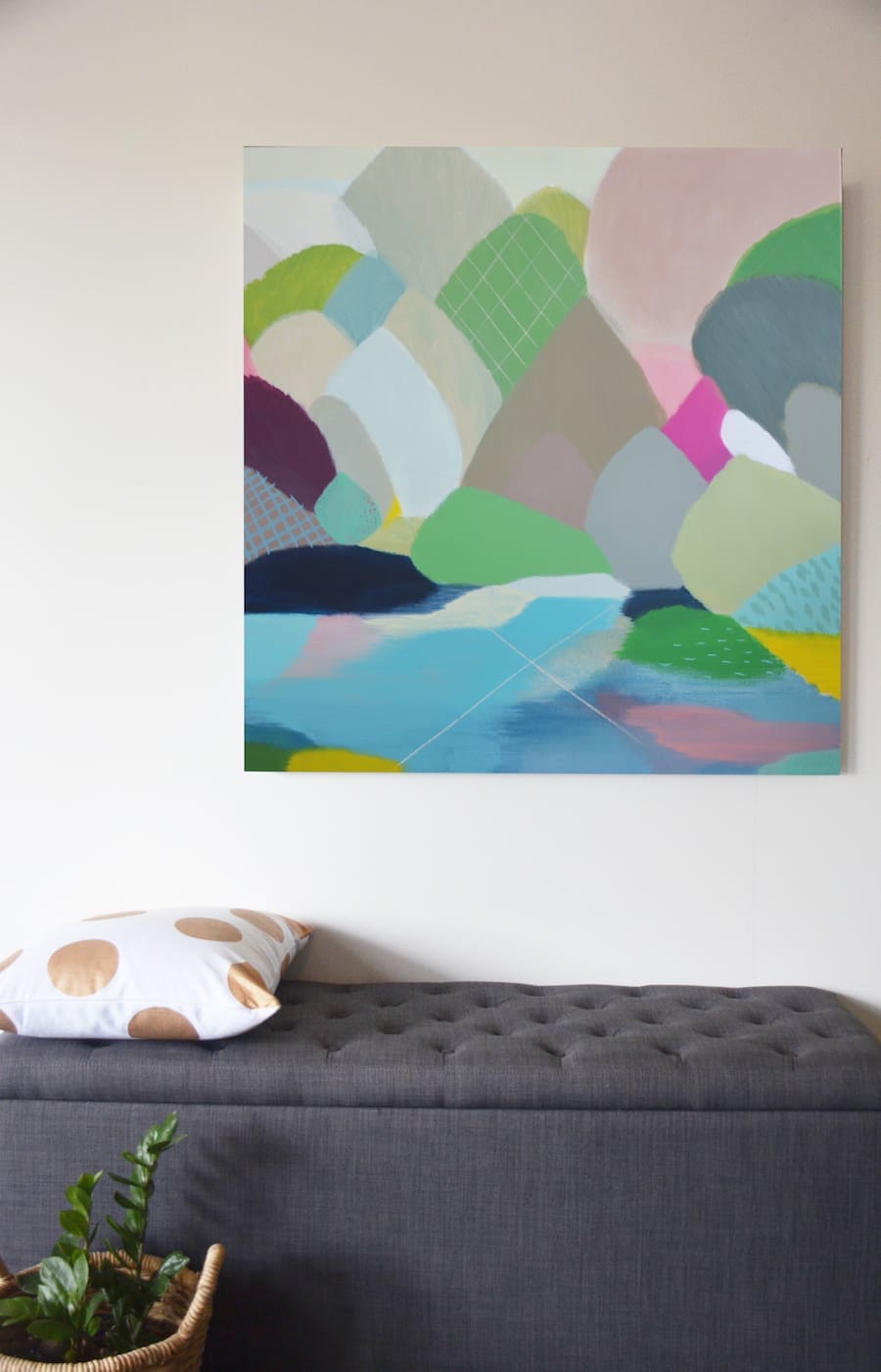 You're known for your paintings and drawings but you studied sculpture at university. Can you tell us about your journey to where you are now?
"Since I was a child I have always loved painting and drawing.
"I trained in sculpture at the Sydney College of the Arts but I think I was too young for sculpture when I left uni.
"I was getting demand from galleries to produce paintings and I've always found it easier to do a painting or drawing.
"I still love to do sculpture; my dad is a sculptor. Two years ago my paintings were being exhibited in a gallery and I thought I would create some sculptures to complement the exhibition. It took me six weeks to create six little sculptures and in the end they were too precious, I just kept them.
"I have a little book where I draw sculptures, like of tree shapes, but I never make them. Maybe when I'm really old I will make them all.
"With painting, I don't have to think, it just comes out. Painting everyday means you're always warmed up and it just happens naturally.
"Lately I am doing lots of work from paper. It's almost like going back in time because I did work from paper 15 years ago and I'm returning to that now. It's become really popular."
Where is your studio?
"I have a big white box, 10 metres by 10 metres, just outside my front door.
"If I ever go missing my girls know they can find me in there."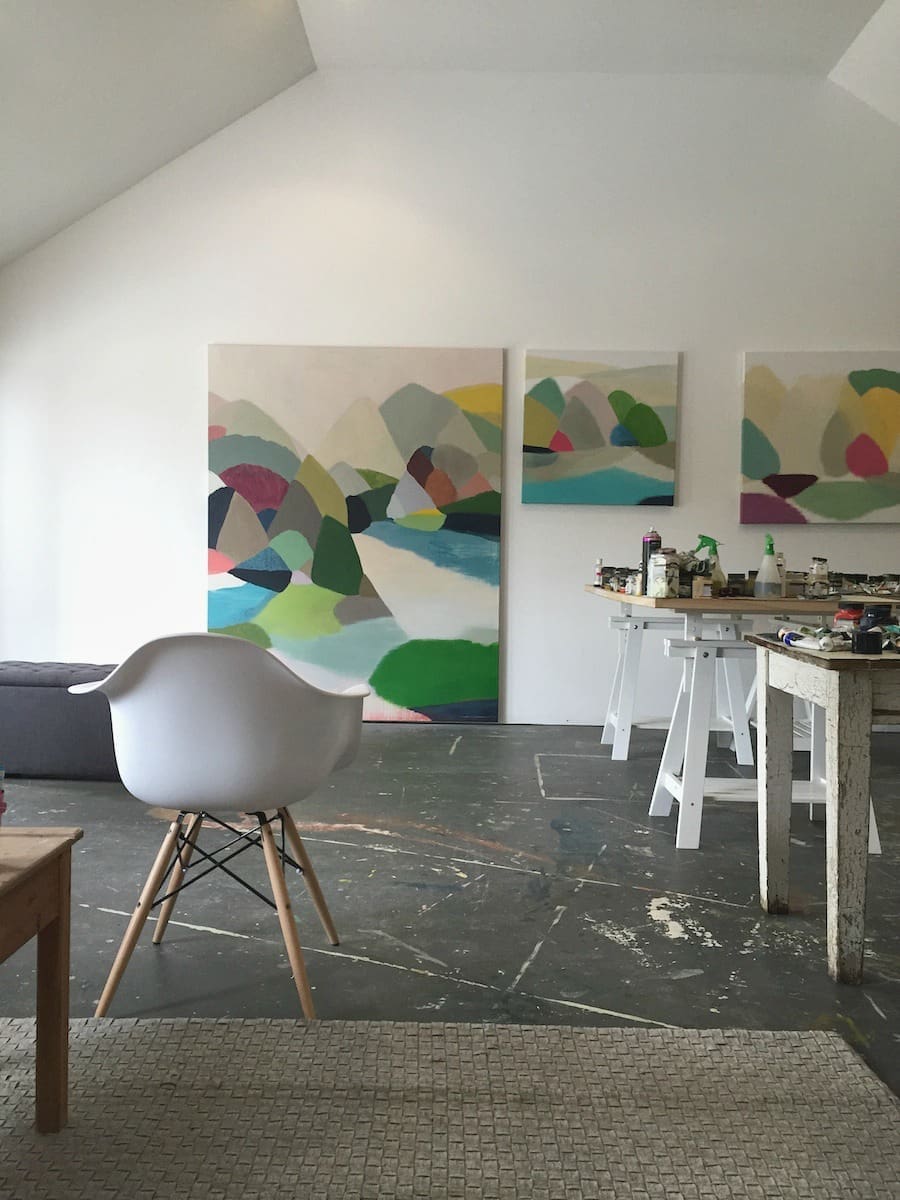 What does a typical day look like for you?
"In the morning I get the girls ready and drive them to school through the valley.
"I start painting around 9am and paint for six hours. After dinner and the girls are in bed, I'll do more painting from 9pm until late, but midnight is when I make myself go to bed.
"The hardest part is getting myself back out into the studio at night. I don't let myself sit down or lay down — that's dangerous! We bought a new sofa three months ago and I still haven't allowed myself to sit on it properly, I've only sat on the edge.
"I'm just so excited about what I'm doing right now. I don't want to waste any time. Once I get back out into the studio, I'm safe. I'll take a glass of wine and put on music."
What goals do you have for the next few years?
"I'm just happy to keep painting. That's all I want to do. Experimenting and discovering new ways with paint.
"I need to be entering more art competitions and building my profile. I'm getting there slowly."
"My girls are 6 and 14 and I don't want to miss out on them. I want to be there to help make their dreams come true. In 6 or 7 years my oldest might move out and I'll miss her and her messy bedroom so I want to enjoy spending time with my girls and husband now.
"I suppose trying to keep a balance between work and family is my priority and biggest goal."
You've achieved so much already, including being nominated for the Wynne Prize twice, what has been you career highlight?
"There have been so many moments!
"The first time I was nominated for the Wynne prize was in 2000 and there weren't the same opportunities with the internet and social media so not much came of it compared to the second time.
"Being nominated for the Wynne prize again last year was huge. To see my art hanging in the Art Gallery of NSW next to my idols was a definite highlight and it has led to so many other opportunities.
This year is just the most exciting point of my career ever.
"I have a show coming up in March 2015 with Koskela in Rosebery. September I'll also do another show in Queensland.
"And in between all that we're going overseas with our girls on a trip to Europe."
We could be happier for Belynda and her successes!
Check out Belynda's website for more information about her work or connect with her on Instagram for behind the scenes peeks and previews of her latest works.