Over the years we've nosied our way into a lot of homes but Jane's architectural new build is something special indeed.
With a great eye for design and a passion for trying new ideas, playing with colour and pushing the boundaries, we knew we were in for a treat when taking a tour of Jane's newly built home.
She is one half of Bijoux Homes, a boutique, female-run development company in Canberra that specialises in architect-designed homes.
Come and take a look around Jane's Australian design home…
Related article: Black on black: A sleek and dramatic home tour
Related article: Dark joinery and pops of terrazzo steal the show in this modern home makeover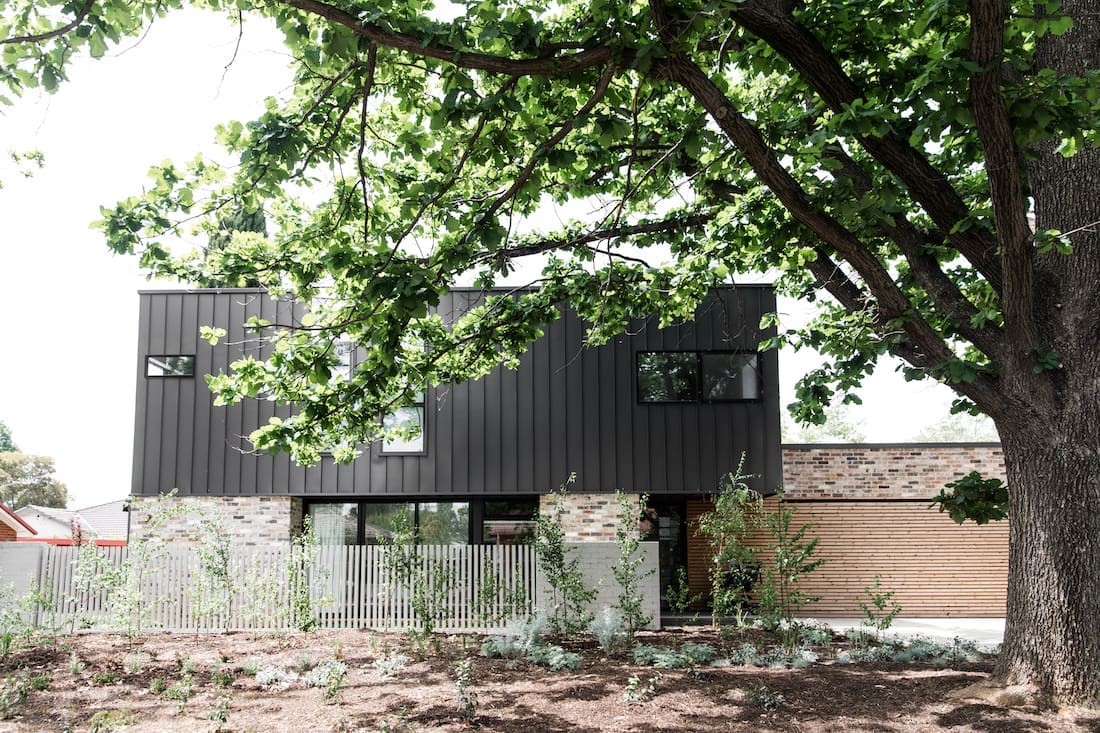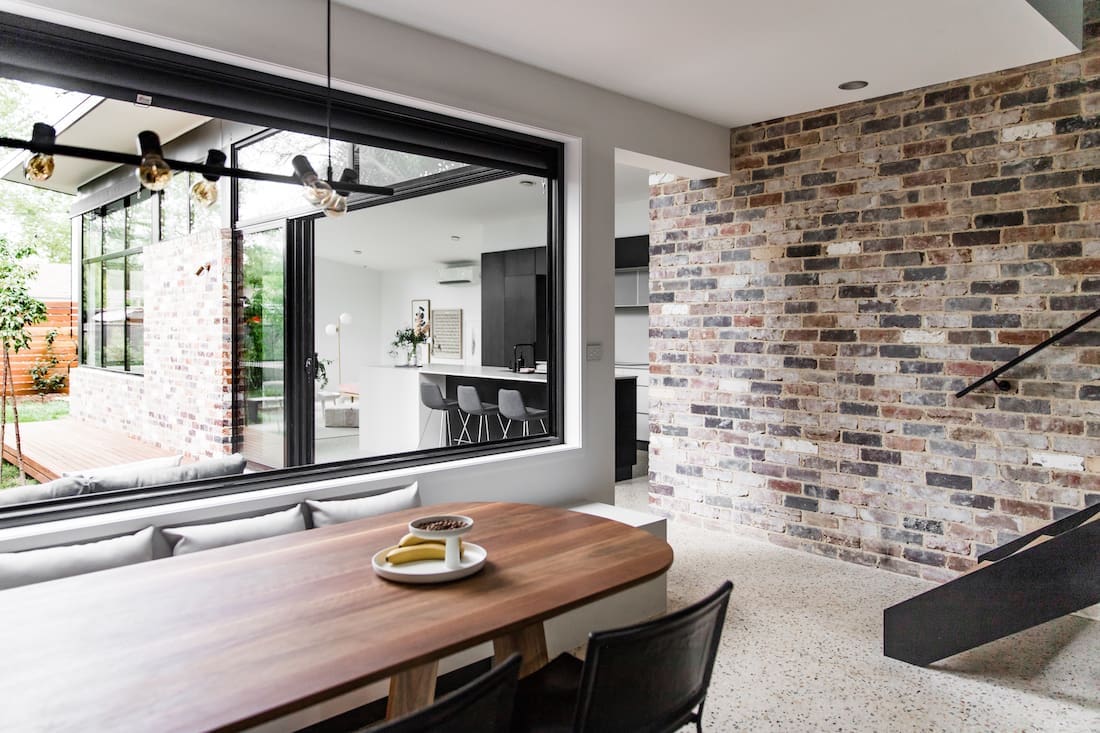 "We bought the original 1960's blonde brick three-bedroom house a few years ago with the intention of extending it. I fell madly in love with the street, which is lined with enormous oak trees. The house was a bit irrelevant actually!" she laughs.
"A work colleague recommended an architect he had worked with before so we reached out with a brief for our 'dream home'. An initial concept sketch revealed that we couldn't achieve what we wanted with the constraints of the existing house so we decided to demolish it and start again.
"The architect was living in Bangkok at the time so most of the design was done via Skype and email. A year into the process, and many iterations later, it still wasn't right. I had so many ideas, but they were competing with each other and the result was a confusing hybrid of Japanese influence and mid-century modern architecture.
"We went on an overseas trip and put it aside for a few months. With a clear head and a full belly of ravioli and gelato, I had a moment of clarity about what was most important (a dining banquette seat that captures the morning sun) and madly scribbled a concept for the ground floor and sent it off to the architect. Fortunately, he was incredibly gracious and transformed my wishes into the finished home you now see."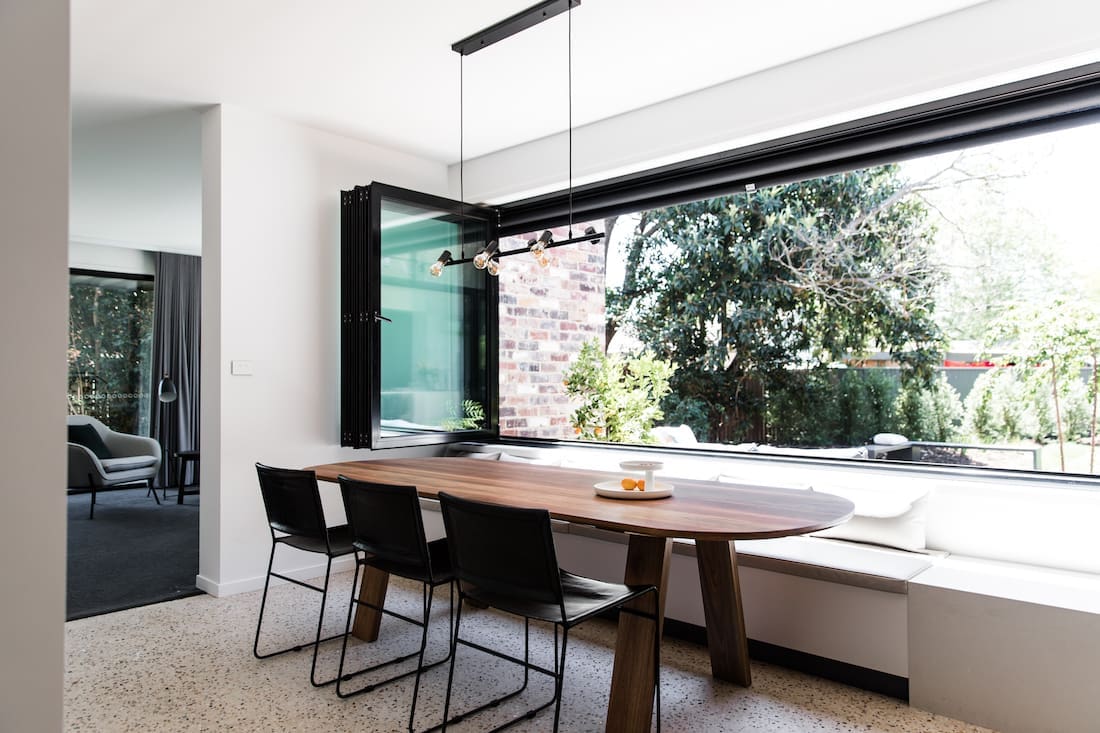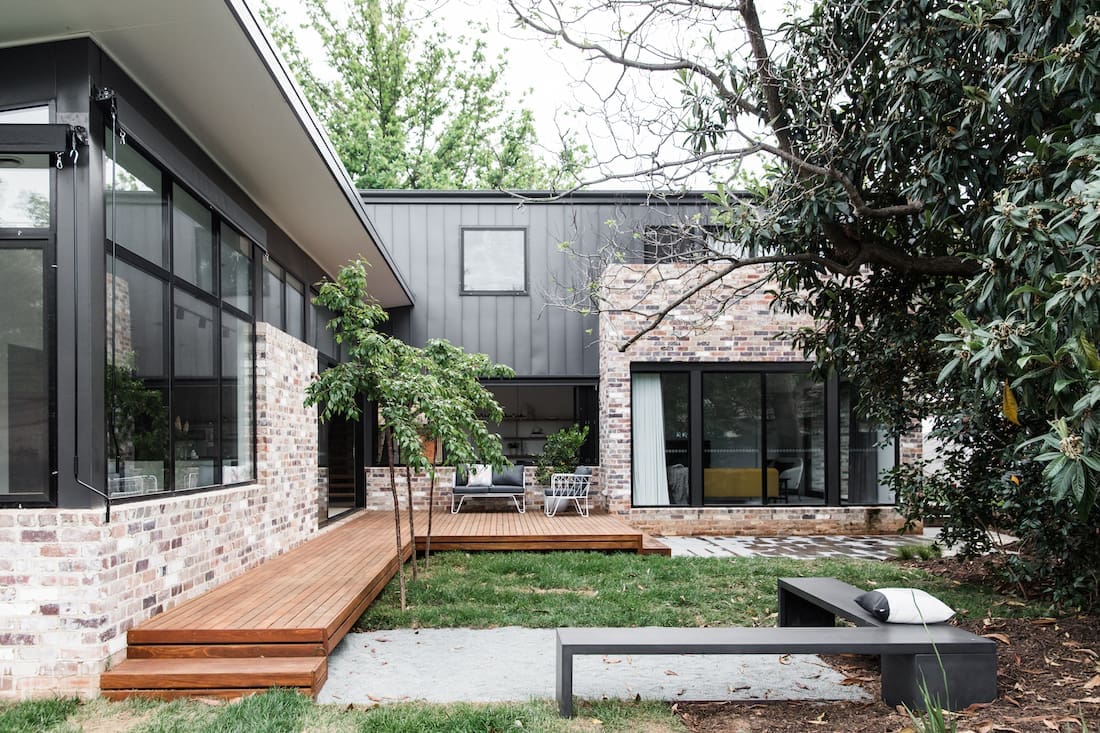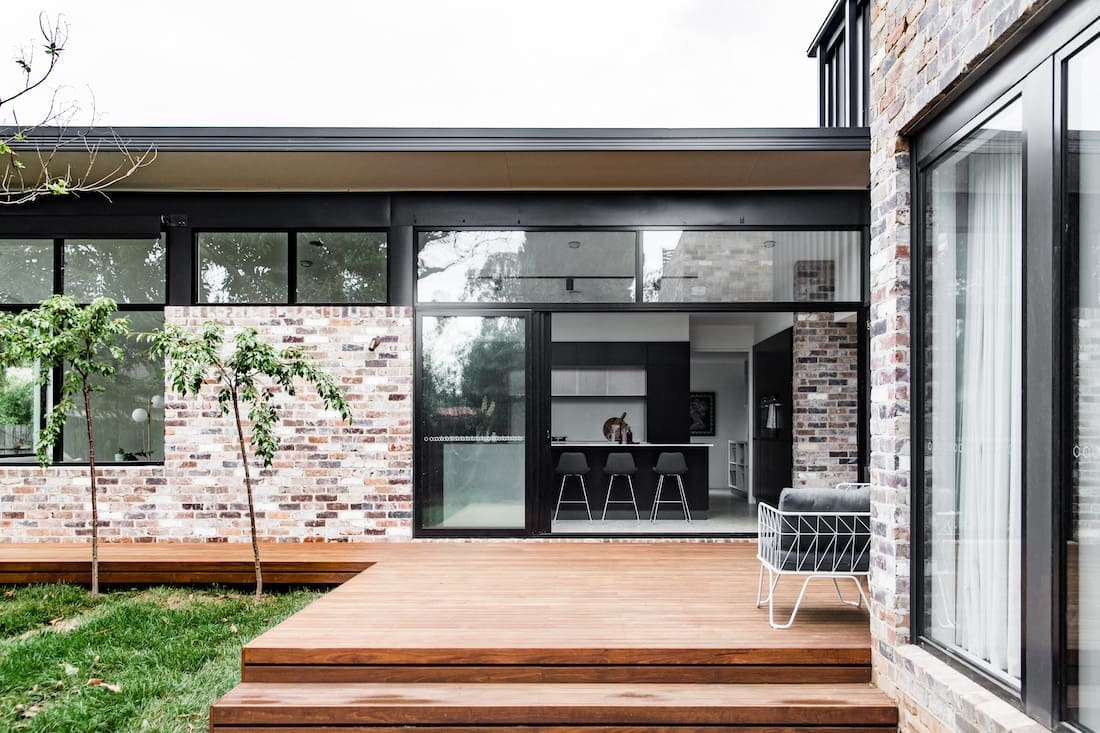 It's Jane passion for design that saw her say good-bye to the corporate world a few years ago and pursue a career in residential development.
"I wanted to pursue a creative career for a long time," she explains. "I dipped my toes in the renovation game a few years ago, selling my first property in 2015.
"What began as a side hustle has developed into a small business, and after completing a few projects, I teamed up with a friend who was doing the same thing. Isi and I are best described as property-obsessed design enthusiasts, we spend an atrocious number of hours on Allhomes and Pinterest!
"We started Bijoux Homes because we believe good design should be accessible to everyone. It's tough to buy architect-designed homes in Canberra because most people only engage a professional to design a dream home or renovation for themselves, and often hold onto it for a long time. Not everyone has the time or resources to undertake a lengthy design and build process. We want to bring more quality design to Canberra, renovating and building thoughtfully designed, carefully crafted homes that people can buy 'off the shelf'. As young women in a male-dominated industry, we approach the process from a unique perspective that we hope will be recognised in the details."
And these details can easily be seen in Jane's Australian design home — that polished concrete floor, reclaimed brick accents, raked ceiling and custom joinery throughout are just some of our favourite features.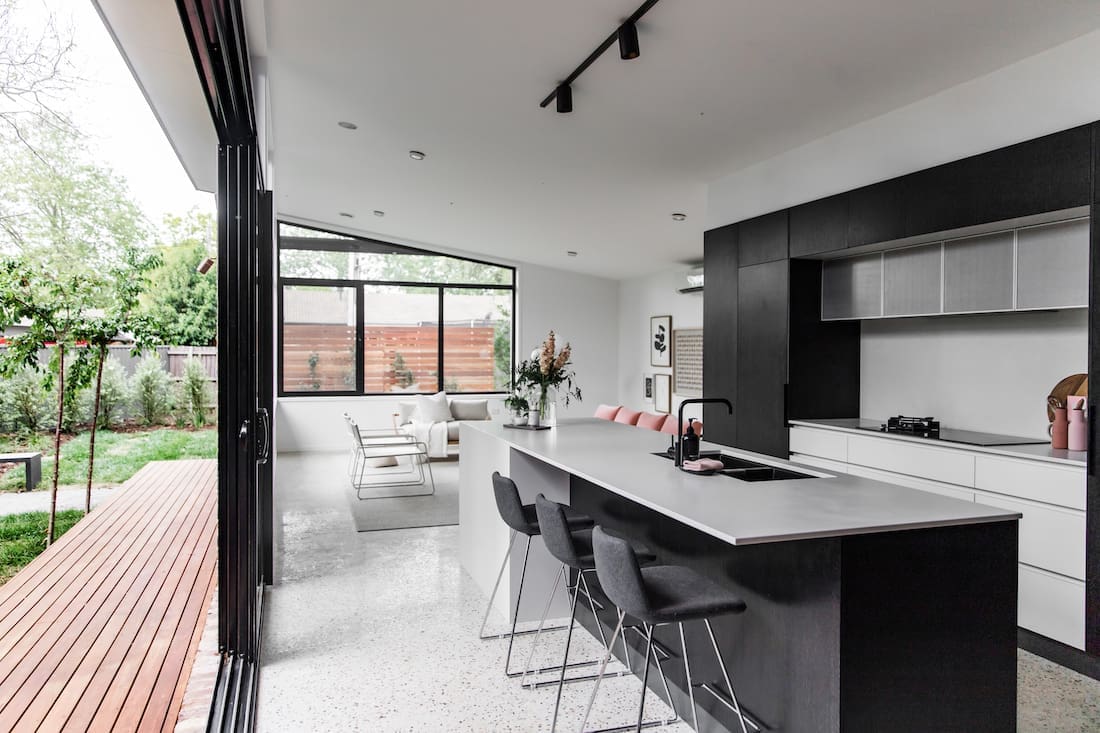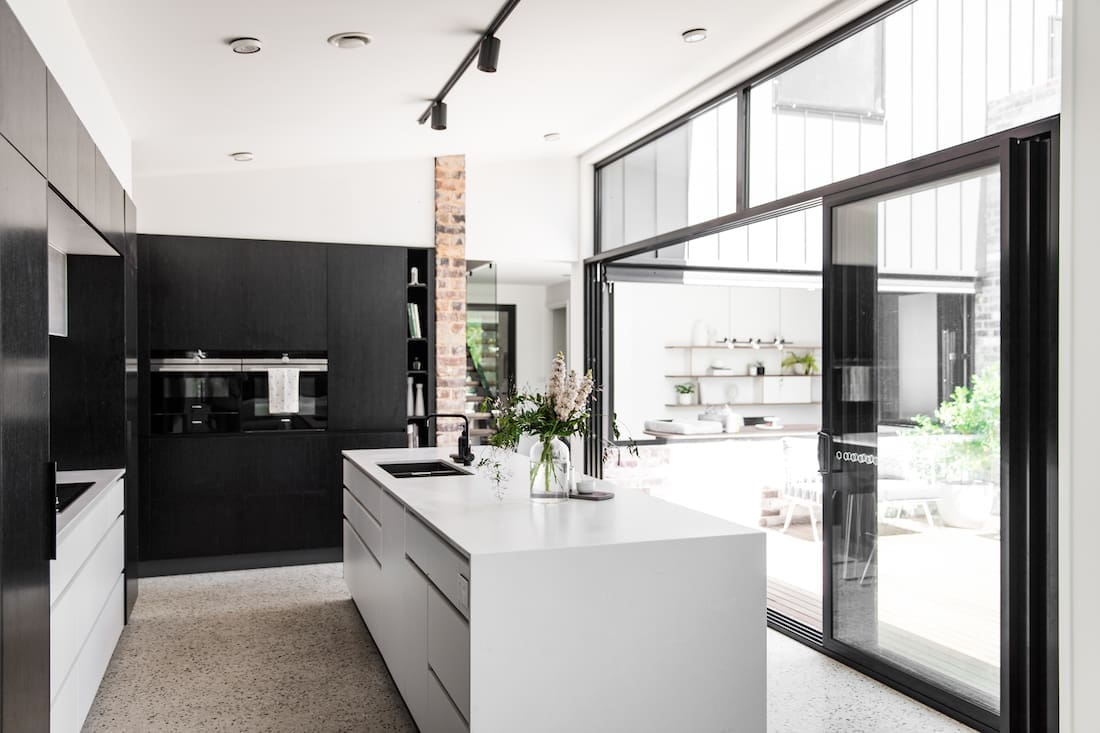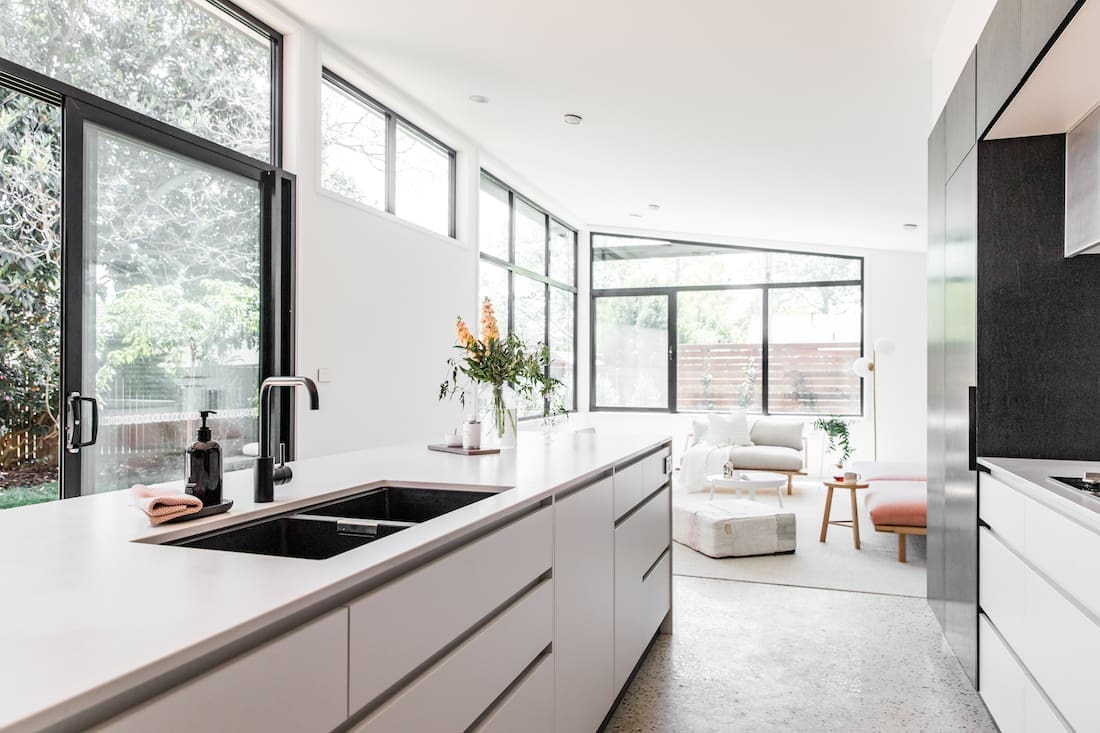 We wanted to know Jane's favourite features too.
"The texture and colour variations in the recycled bricks are beautiful. They are from old terraces and shops built in the 1940s in Surry Hills, Sydney. I often wonder who might have lived or worked in the buildings they came from, there's something precious about knowing they have a story.
"The under floor heating in the shower is pretty good in the middle of winter too!"
Building a house is a challenge at the best of times, add to that the knock down process and that this isn't a standard home, we asked Jane what her biggest learnings were.
"It will take twice as long and cost twice as much as you think," she says, "But there are lots of ways to keep the timeline and budget in check.
"Choose a designer and builder carefully, do your homework. Google them, ask to see their previous work, speak to past clients, and have a solicitor look over the contracts. Choose professionals that you like and are comfortable with, and whose work aligns with your vision. Make all your selections before you sign a building contract. It's a big job, but there's nothing worse than getting halfway through the build and discovering you have to slice the kitchen budget in half because the bathroom tiles you fell in love with cost far more than the allowance.
"Two of the resources I found invaluable were a book by local building designer Adam Hobill called 'Nail It!' and the 'Get it Right' podcasts by Amelia Lee aka 'The Undercover Architect'."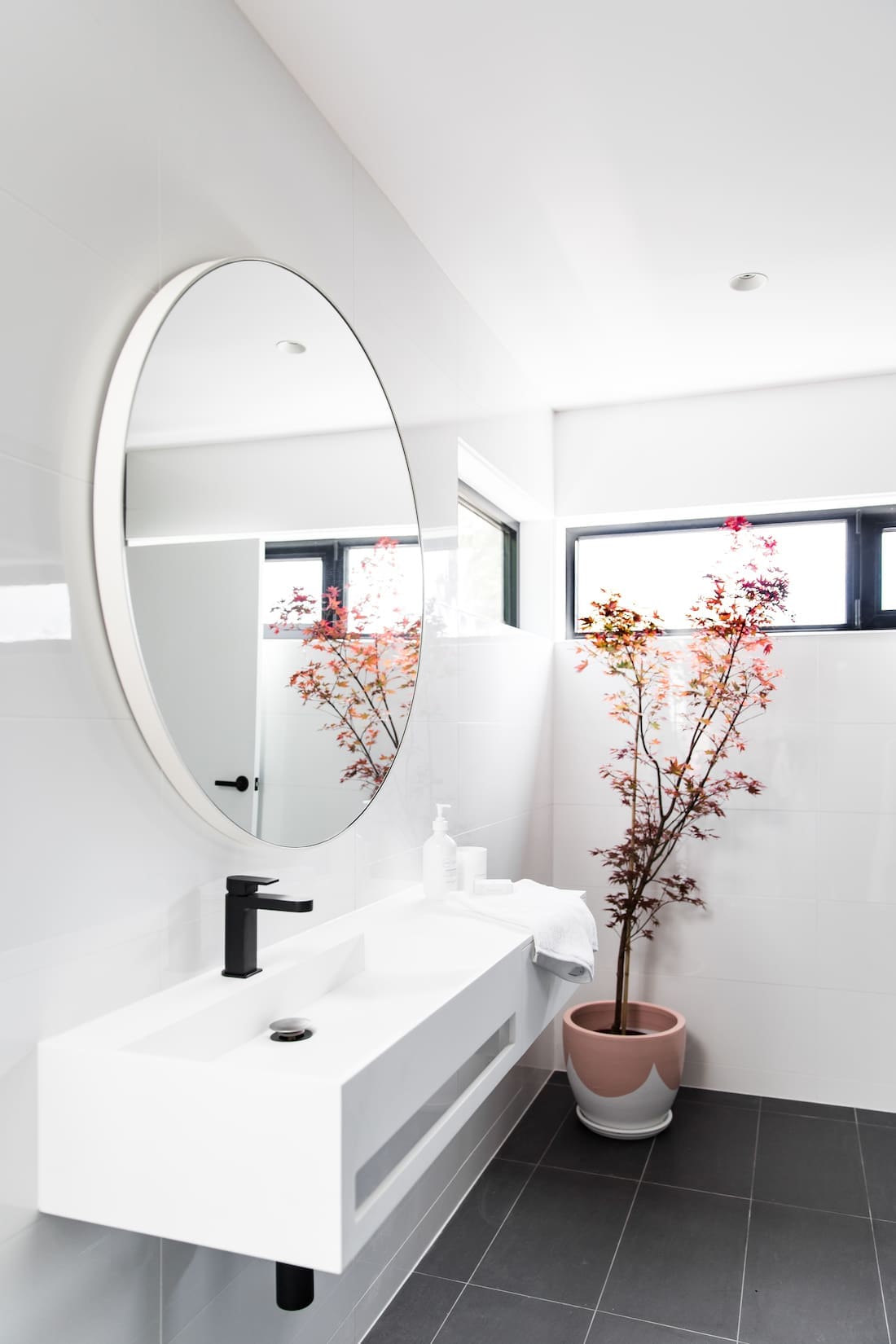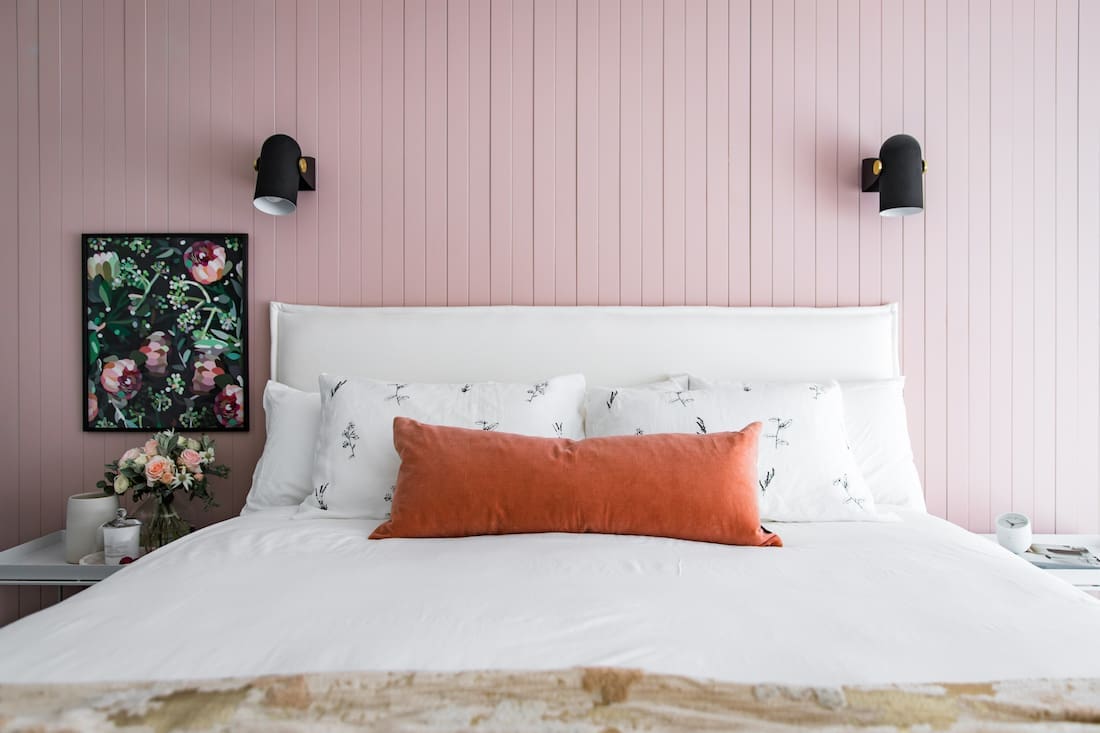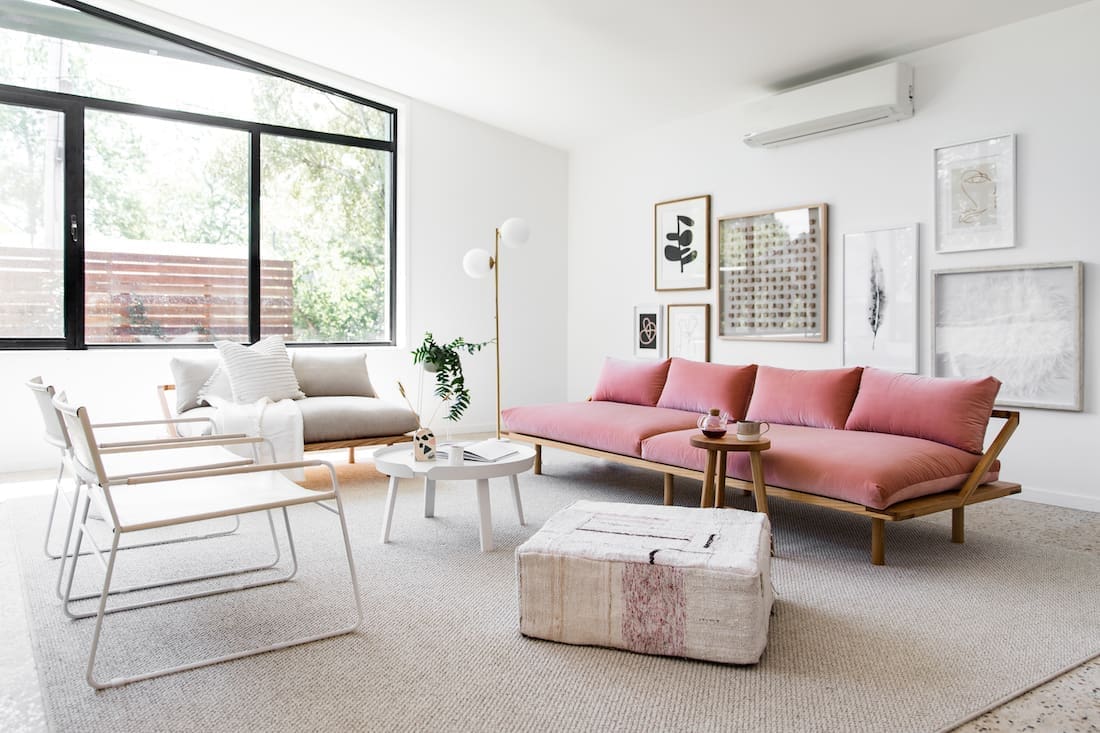 "My attitude towards knockdown rebuilds has changed since we began the design," says Jane.
"I appreciate 'ugly' buildings more, because I can see that sometimes there is beauty in something purely because it tells a story of our past and there's a comforting familiarity in the 'ugliness'. However, we live very differently to the way we did fifty years ago and our homes need to change to accommodate our lifestyle, so we need to make room for new things.
"Before the demo team rolls in, I think it's worth asking ourselves (and probably an expert) if a building can be repurposed, if not for any sentimental reason then to save money! Sometimes a renovation is more cost-effective which means we get to spend more on the things we really want."
You can connect with Bijoux Homes on Instagram or check out their website which is packed with great design tips. If you have any questions or would like to know more about Jane's Australian design home, pop it in the comments below!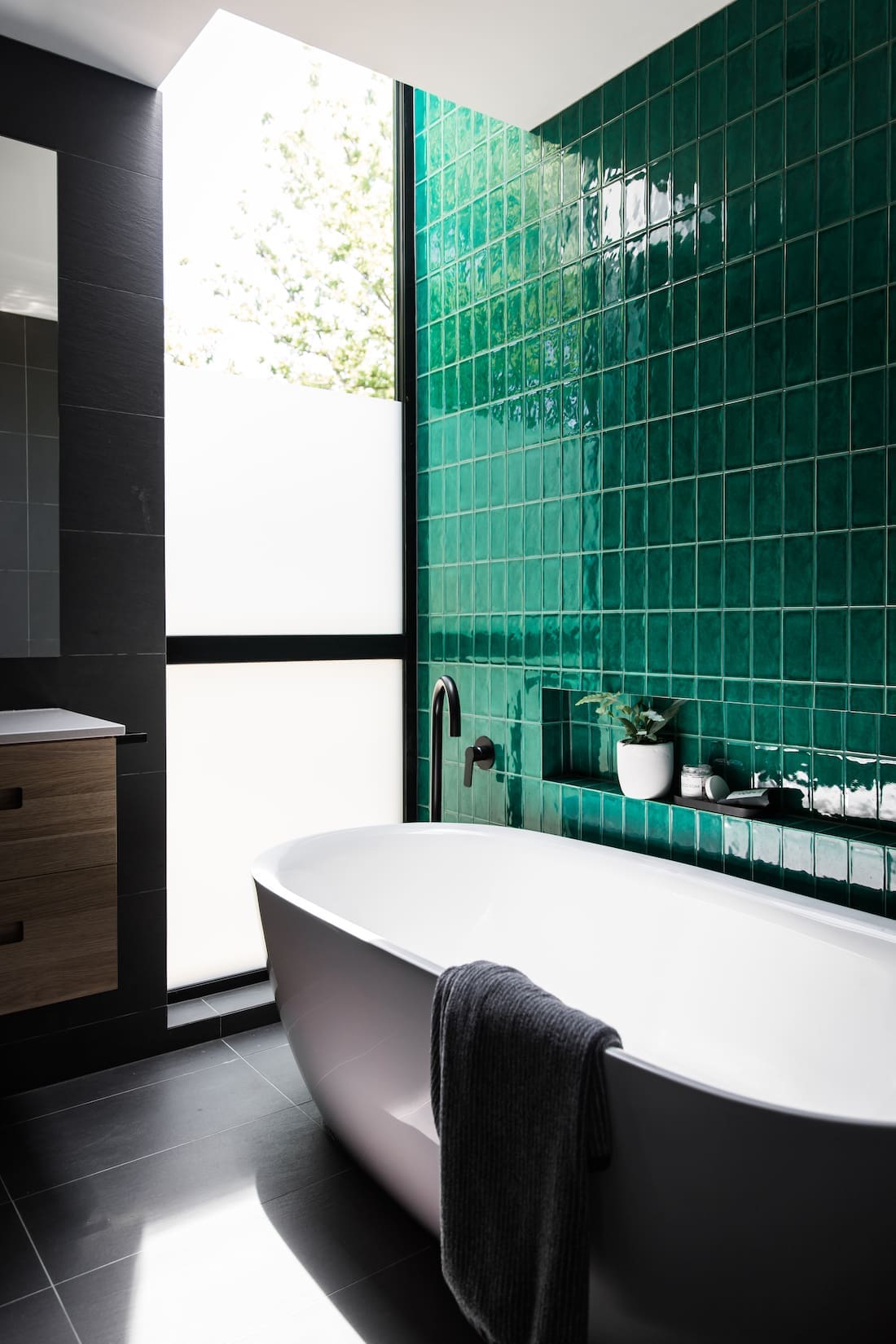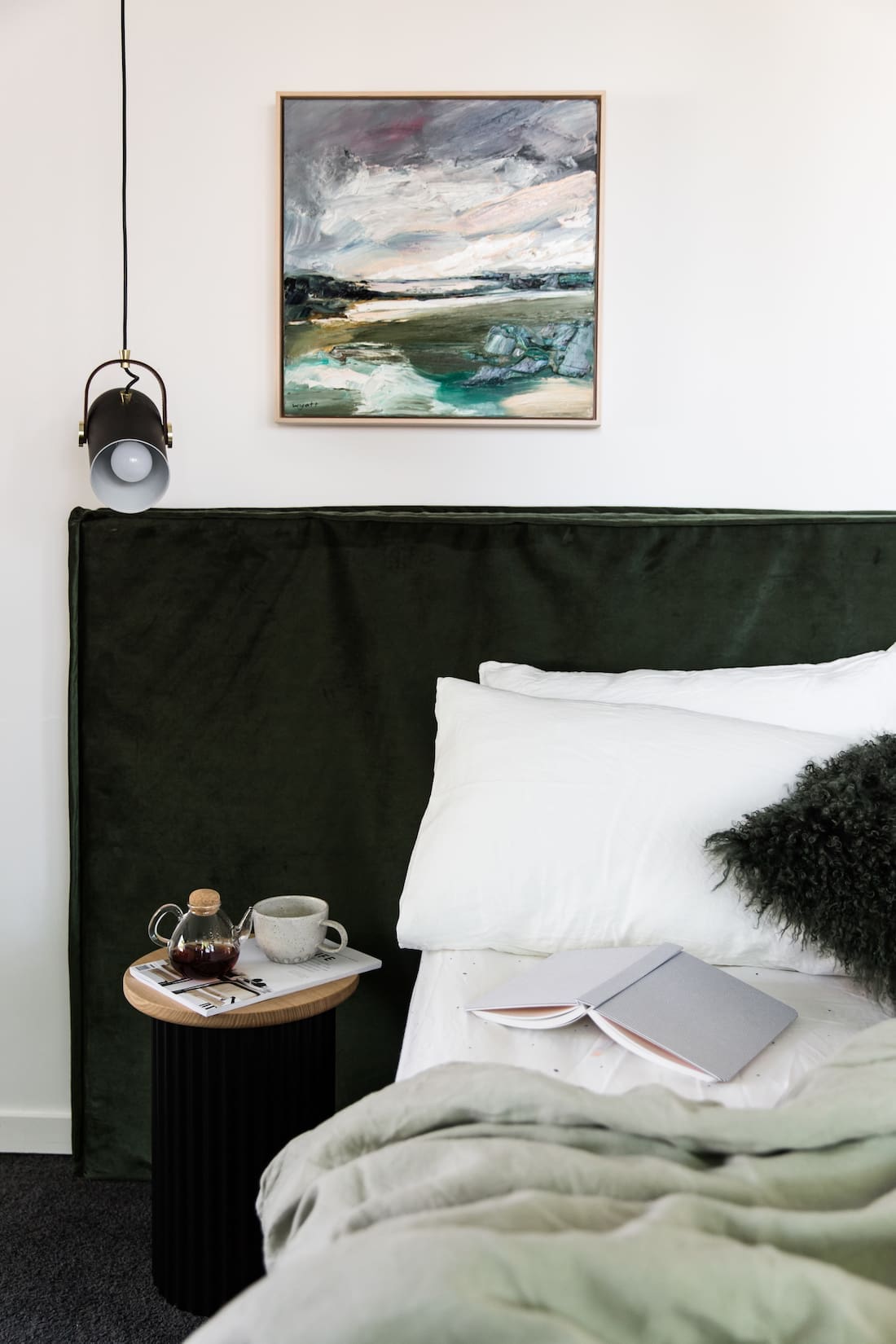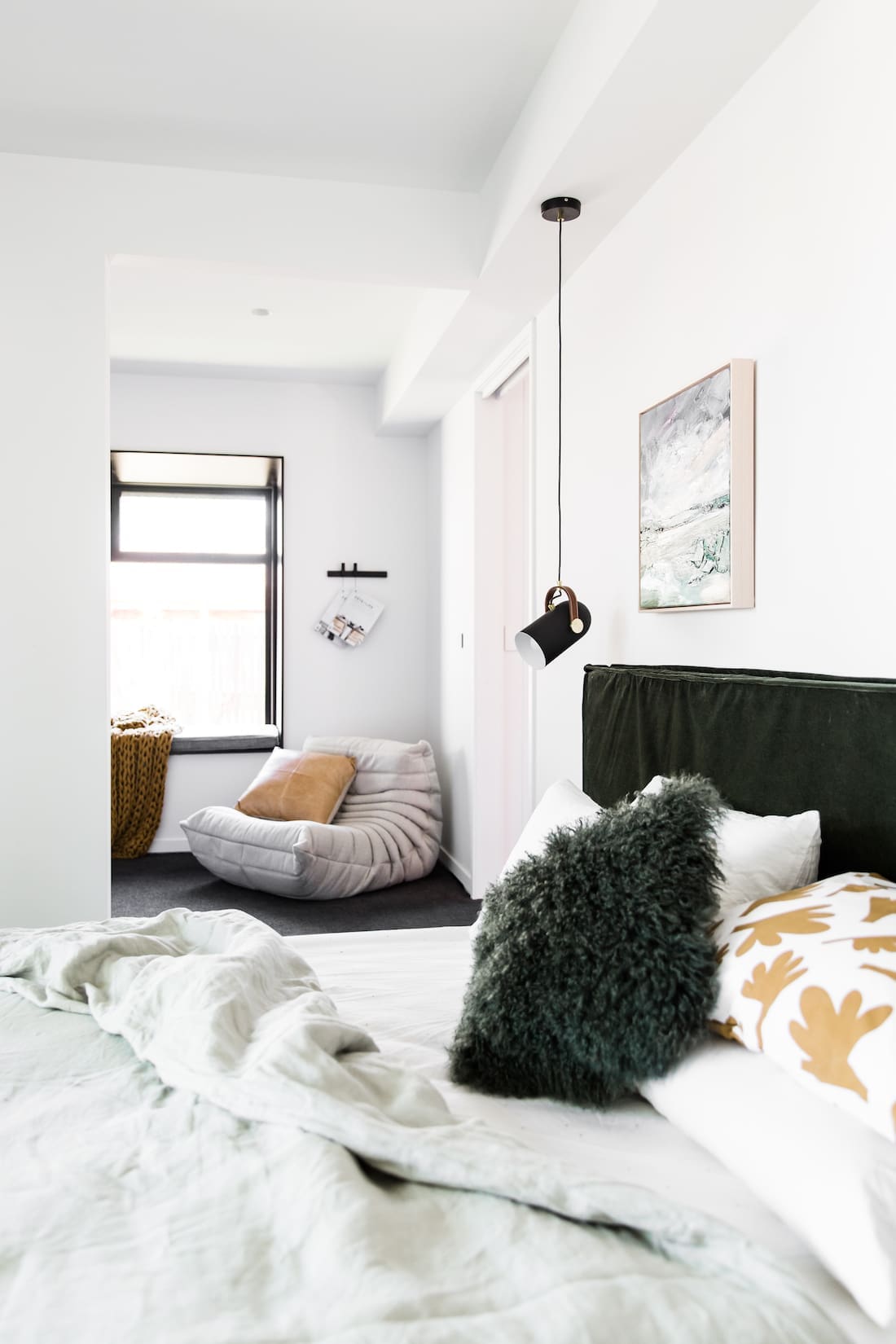 Supplier details
Because we know you'll ask, here are some of the key product used in this Australian design home.
Black metal cladding: Panline 340 Colorbond standing seam cladding in 'ironstone'
Polished concrete floor: Holcim off white with Cowra white and gold quartz and Bungendore aggregates
Deck and feature joinery: Spotted gum
Doors and windows: 'Thermeco' double-glazed thermally broken aluminium
Tiles: Tile Republic
Green bed: Create Estate from Greenhouse Interiors
Photography Lean Timms