We see a lot of Kmart in the kitchen… and for good reason! The chain-store King has so many budget-friendly, stylish buys that it can be hard to say no to! But how about kicking it up a notch and taking on one of these Kmart kitchen hacks?!
They're a fun and affordable way to give your Kmart purchase a little more personality, and you know how much we love a good DIY project!
Related article: 20 of the coolest Kmart hacks EVER!
Related article: Make it luxe for less! Awesome home Kmart hacks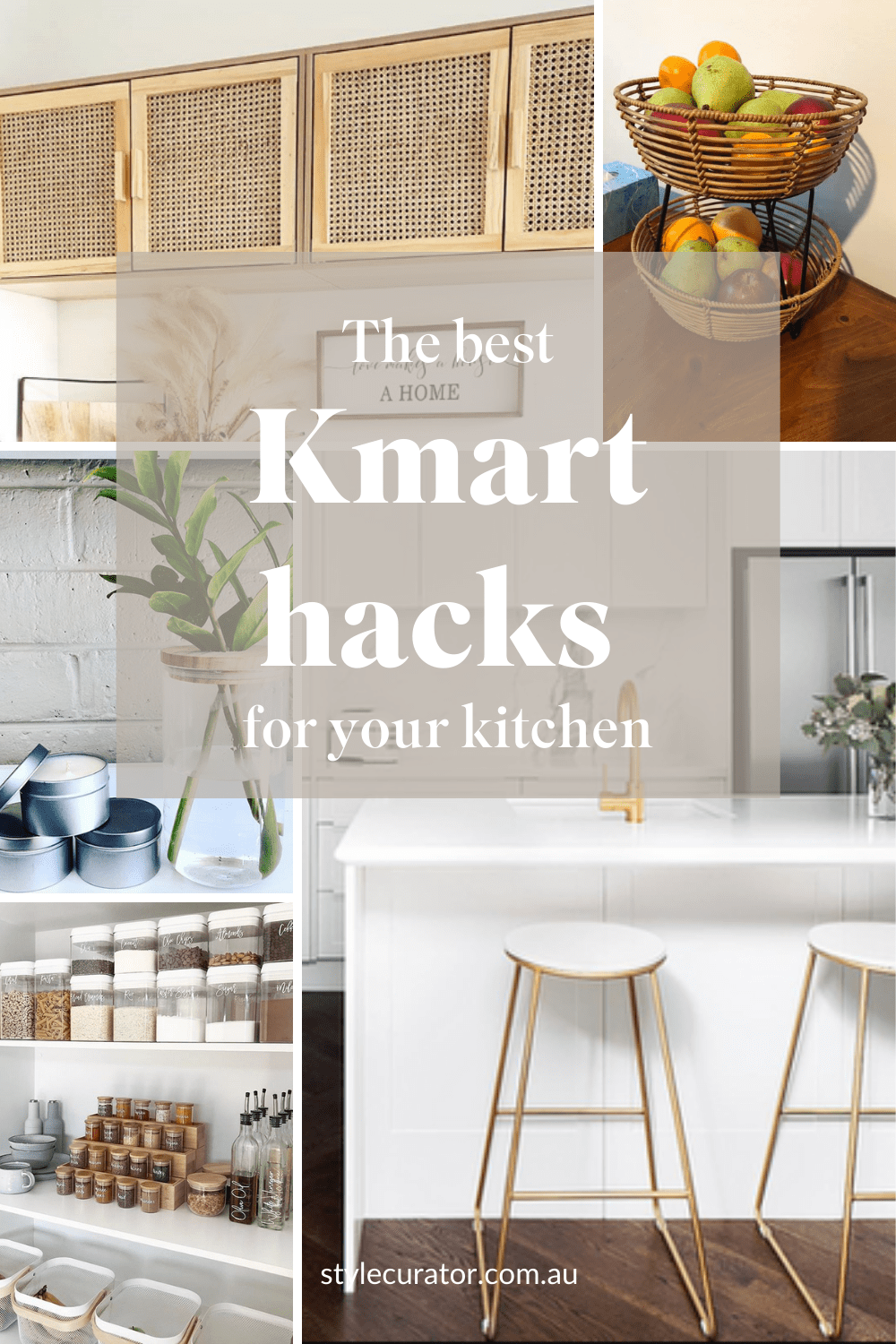 Kmart everything coffee station
Coffee is life. Fact. And Candy scored some major wife points when she presented this adorable coffee station to her caffeine-addicted husband! Using a Kmart white kitchen trolley and Kmart peg board that she joined together with a spare piece of wood, Candy created an affordable and moveable drink station. So clever!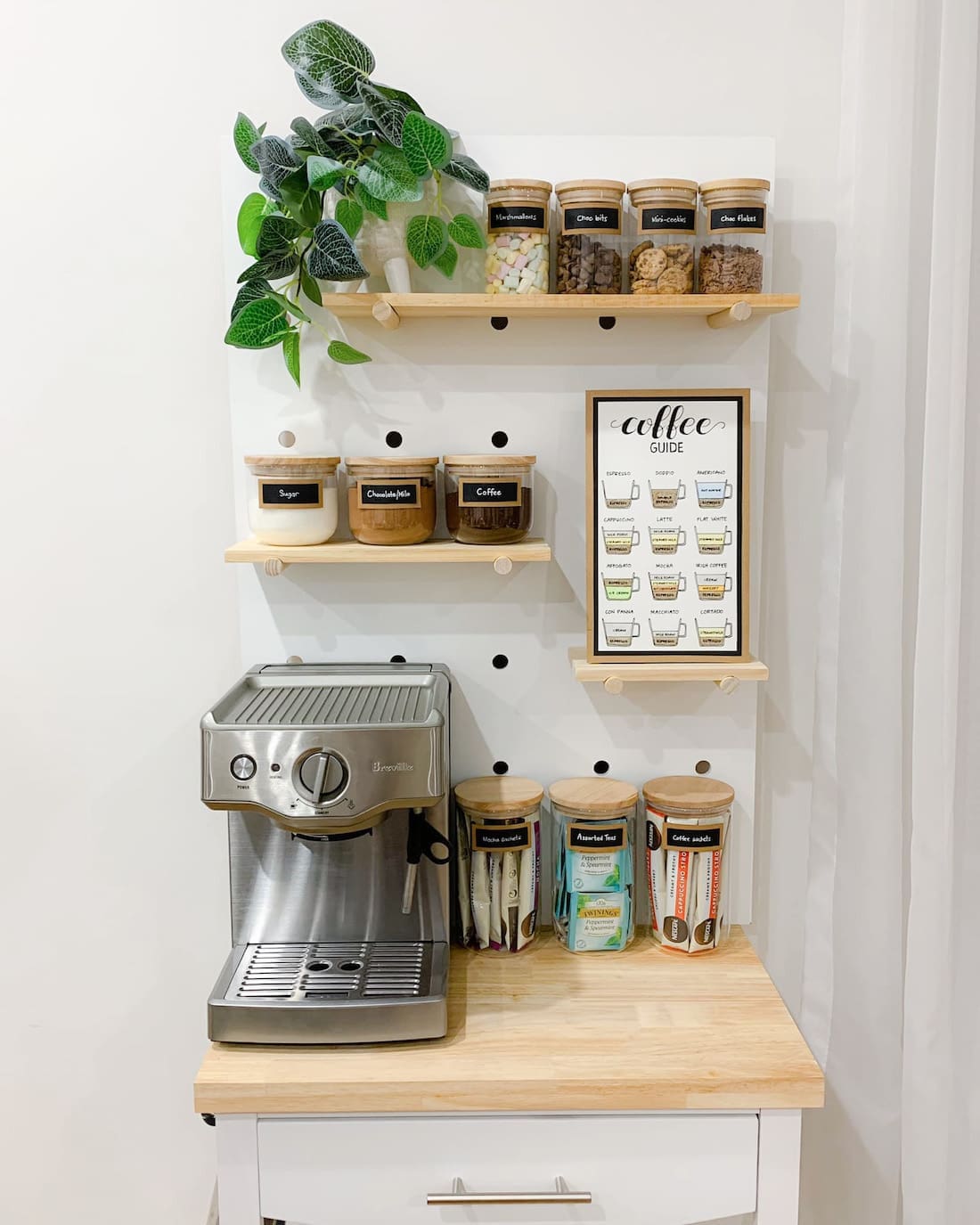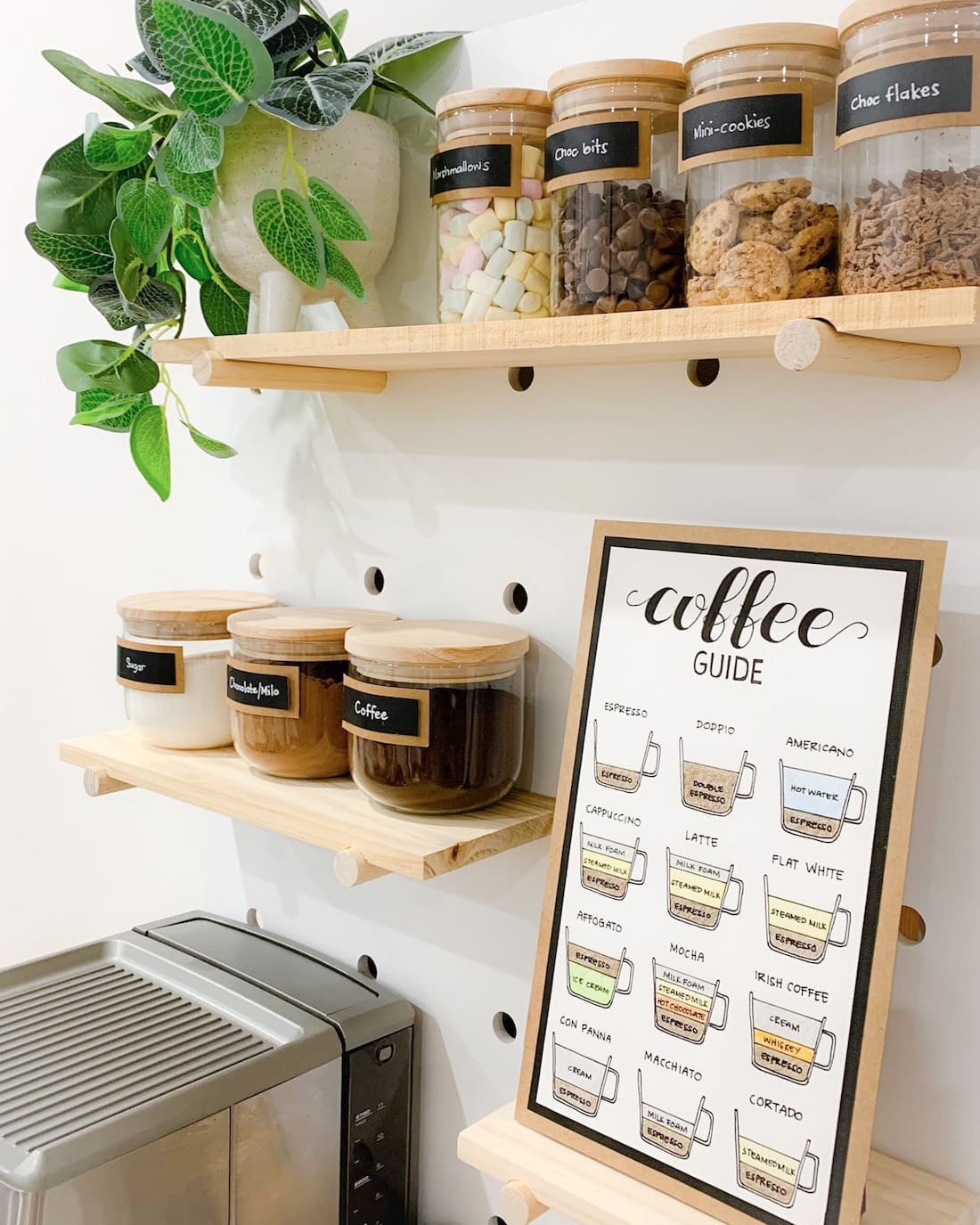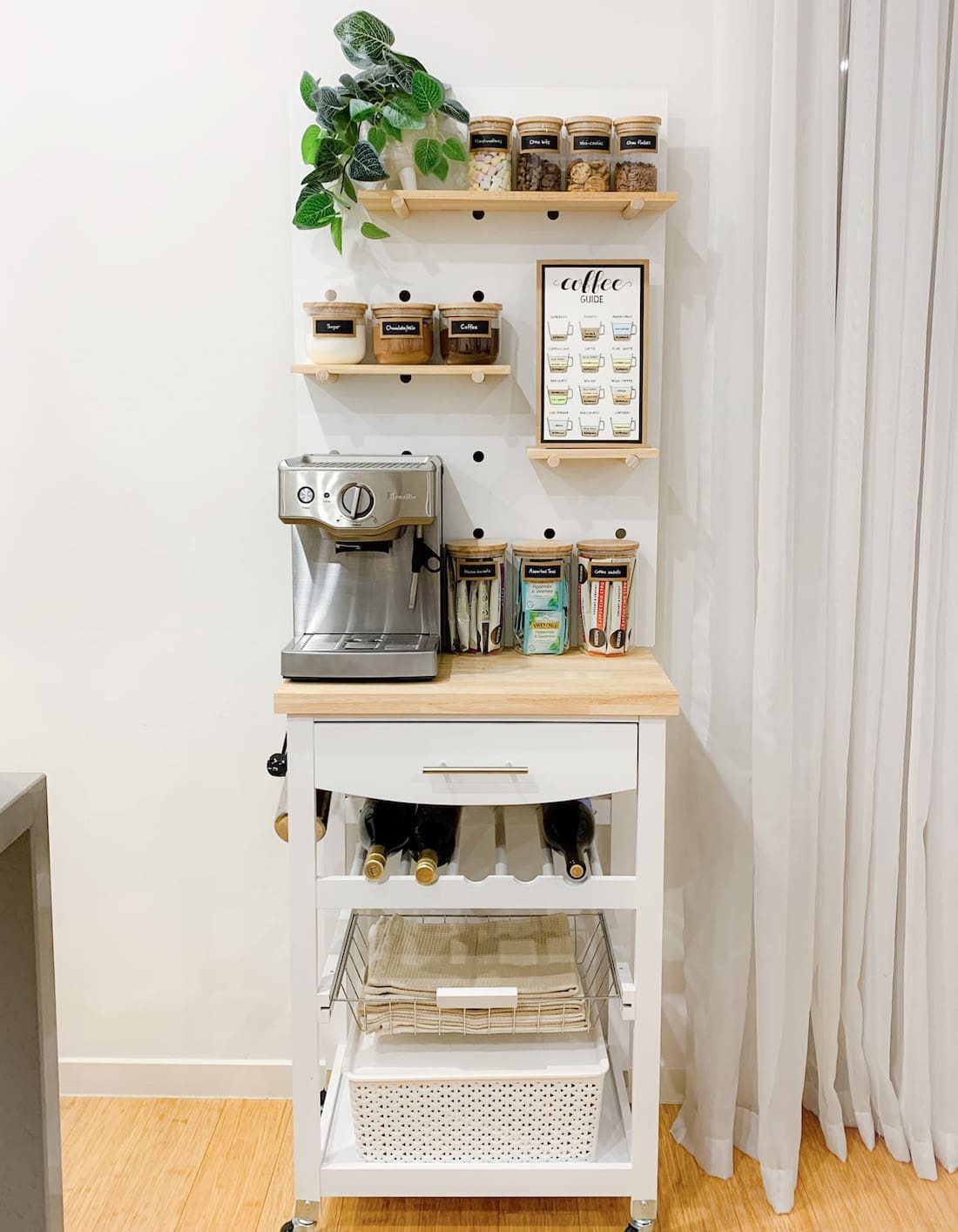 Luxe brass bar stools
Proof you can mix budget buys with luxe! Lisa from Gathering Walls gave the oh-so-popular Kmart bar stools a cheap yet glam makeover with brass and white paint. They tie in with all of her kitchen finishes and fixtures seamlessly… who would guess they cost just $25 each!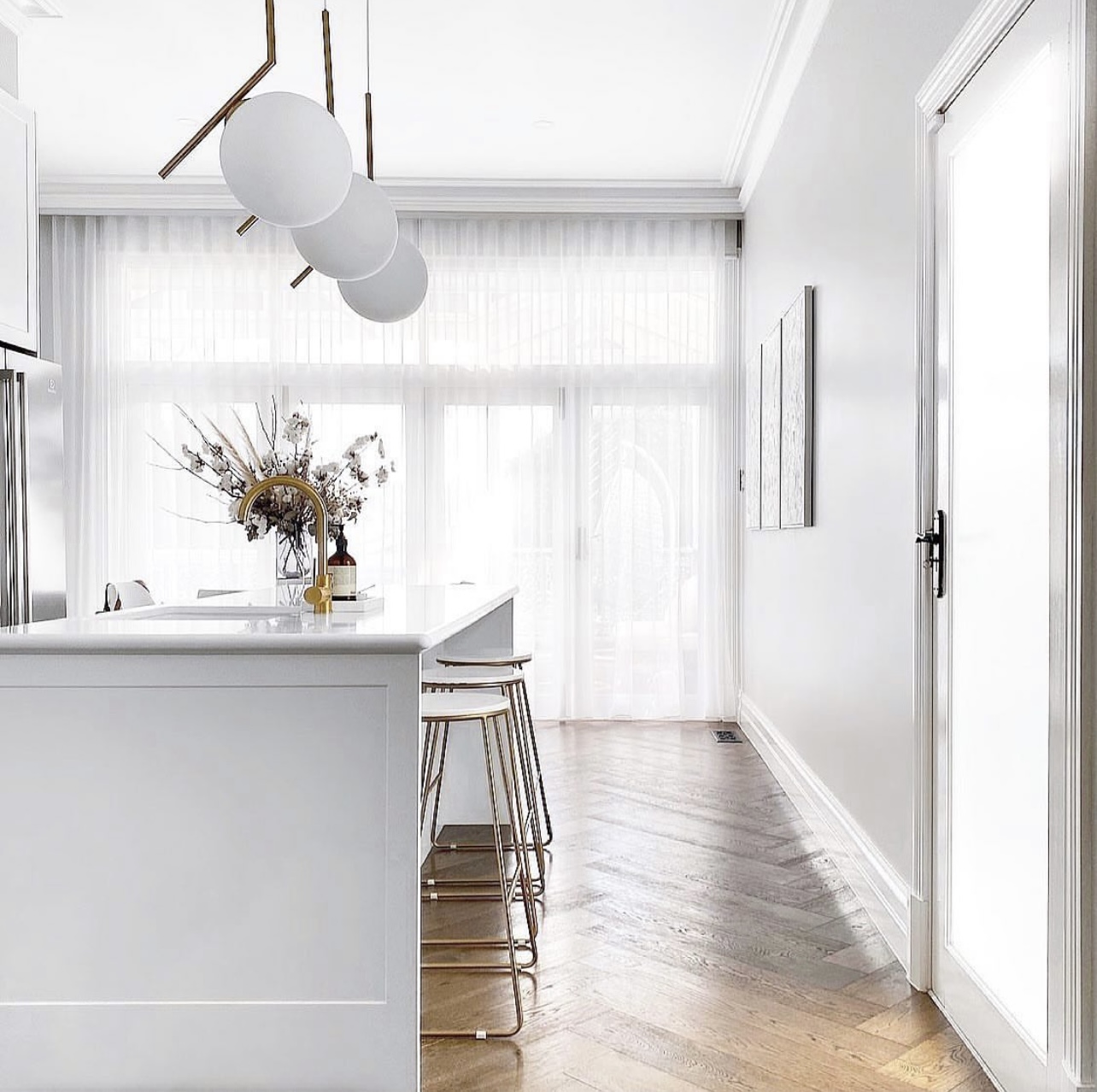 Clever space saving storage idea
Using the large and narrow bamboo drawer tidy, Nori made this clever space saving storage solution. By removing the bottom from one of the drawers, she secured them to the inside of her pantry door for a terrific result. Now she can store her kitchen wraps neat and tidy!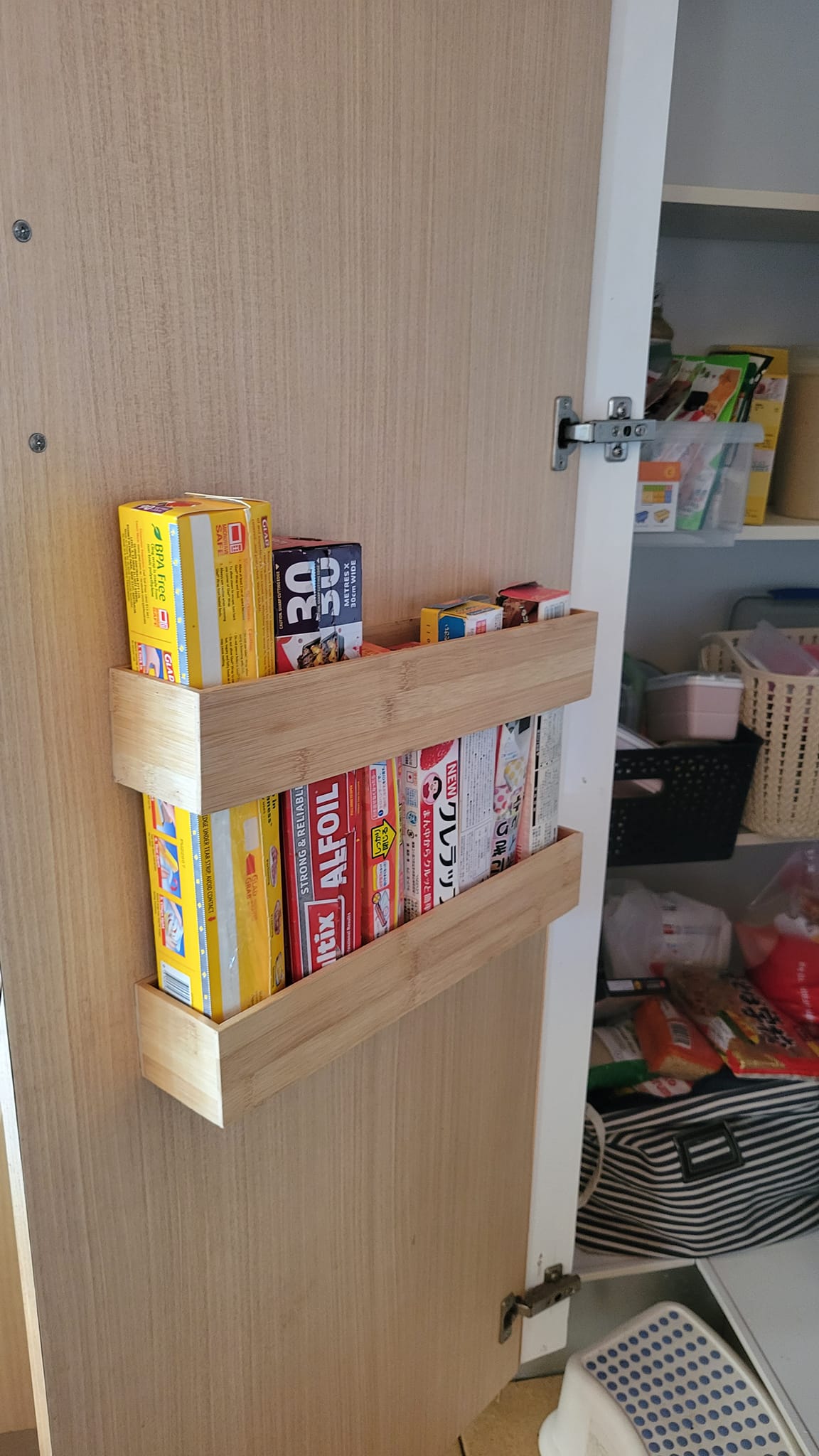 Kitchen trolley's become a rolling island
Short on space in her compact kitchen, Carolyn decided to join 4 of the Kmart kitchen trolley's and created a rolling kitchen island. Super versatile and adding some much needed additional bench and storage space.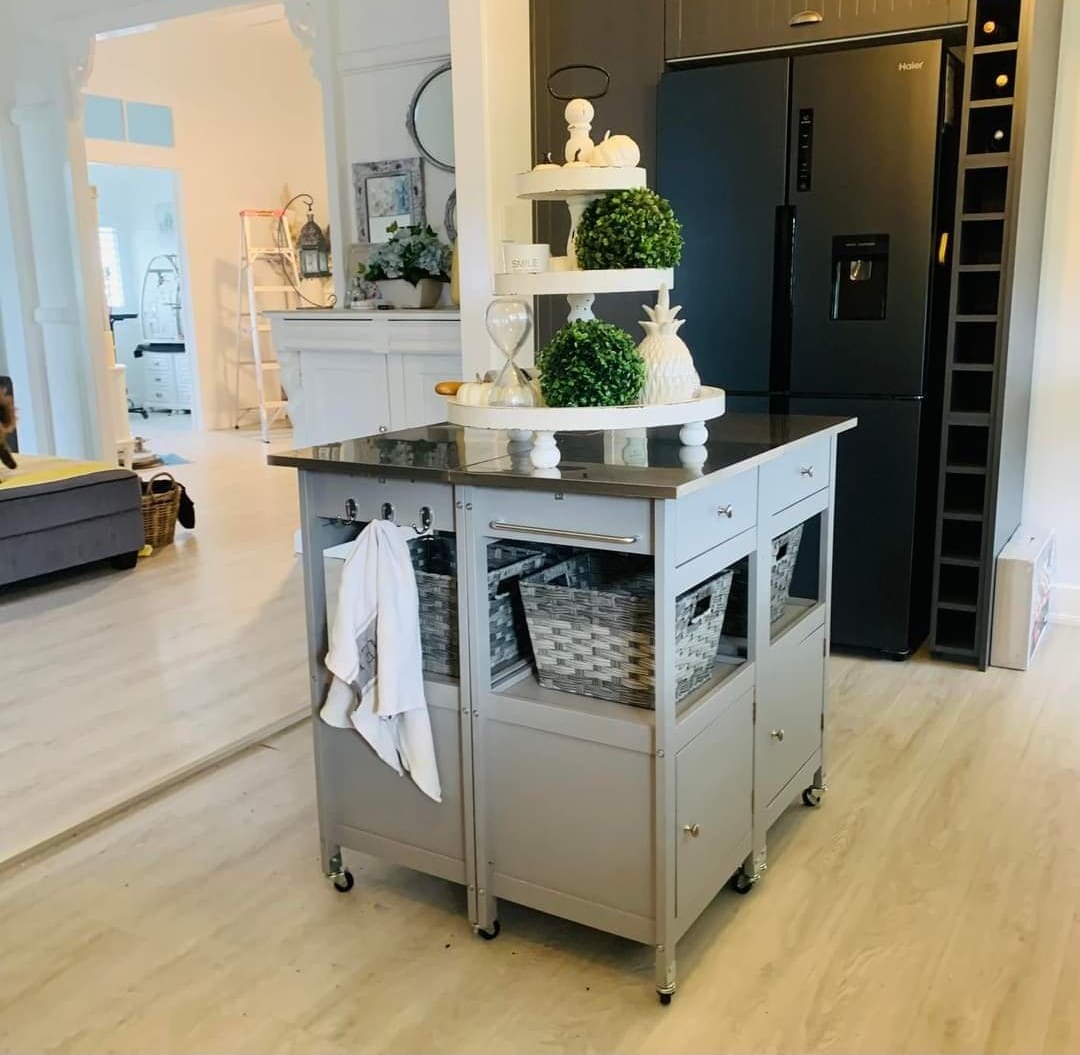 Sideboard turned kitchen cabinets
Wow! There are some seriously creative thinkers out there! When Tracey wanted extra storage space in her kitchen, she and her husband hacked their own by mounting two Kmart rattan sideboards to the wall. Presto, instant overhead cabinets for a fraction of the cost.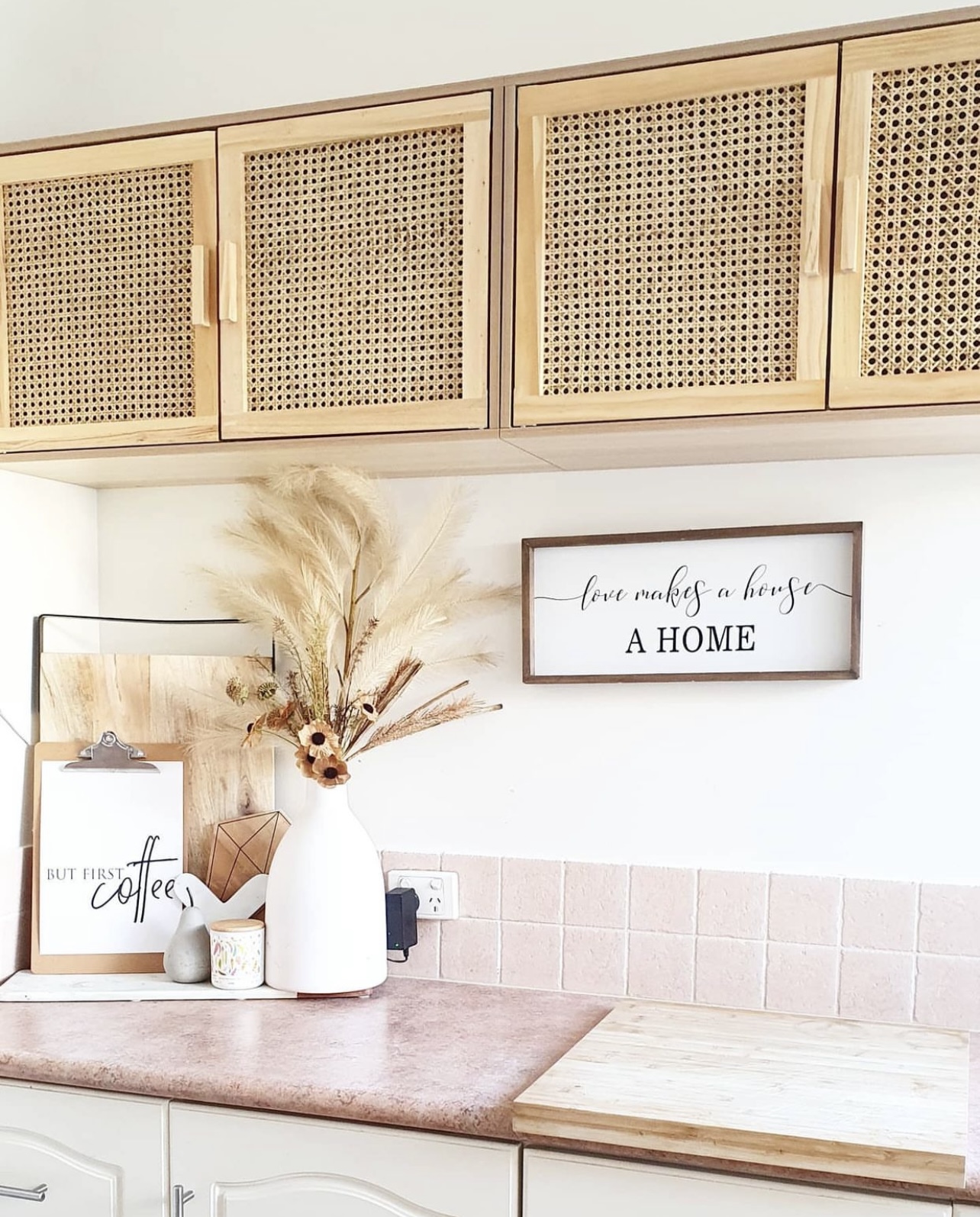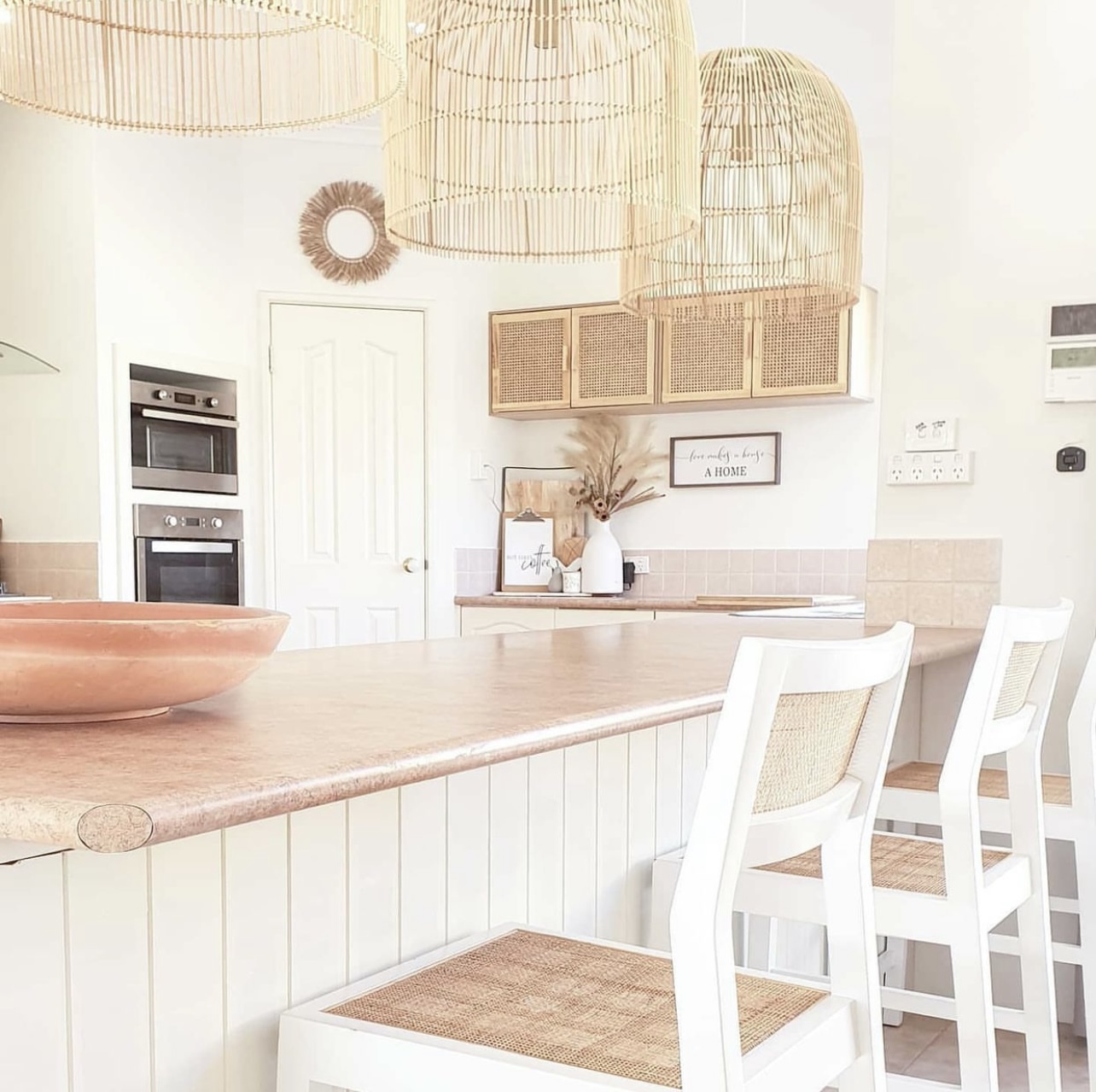 DIY wall tiles
We know! This is not a hack! But for those of you who are renting, or looking for a way to update your kitchen splash back, these self-adhesive wall tiles could be a winner. They're best suited to glass or stainless steel splashbacks. If you want the look of tiles but can't do a full reno, you know what to do!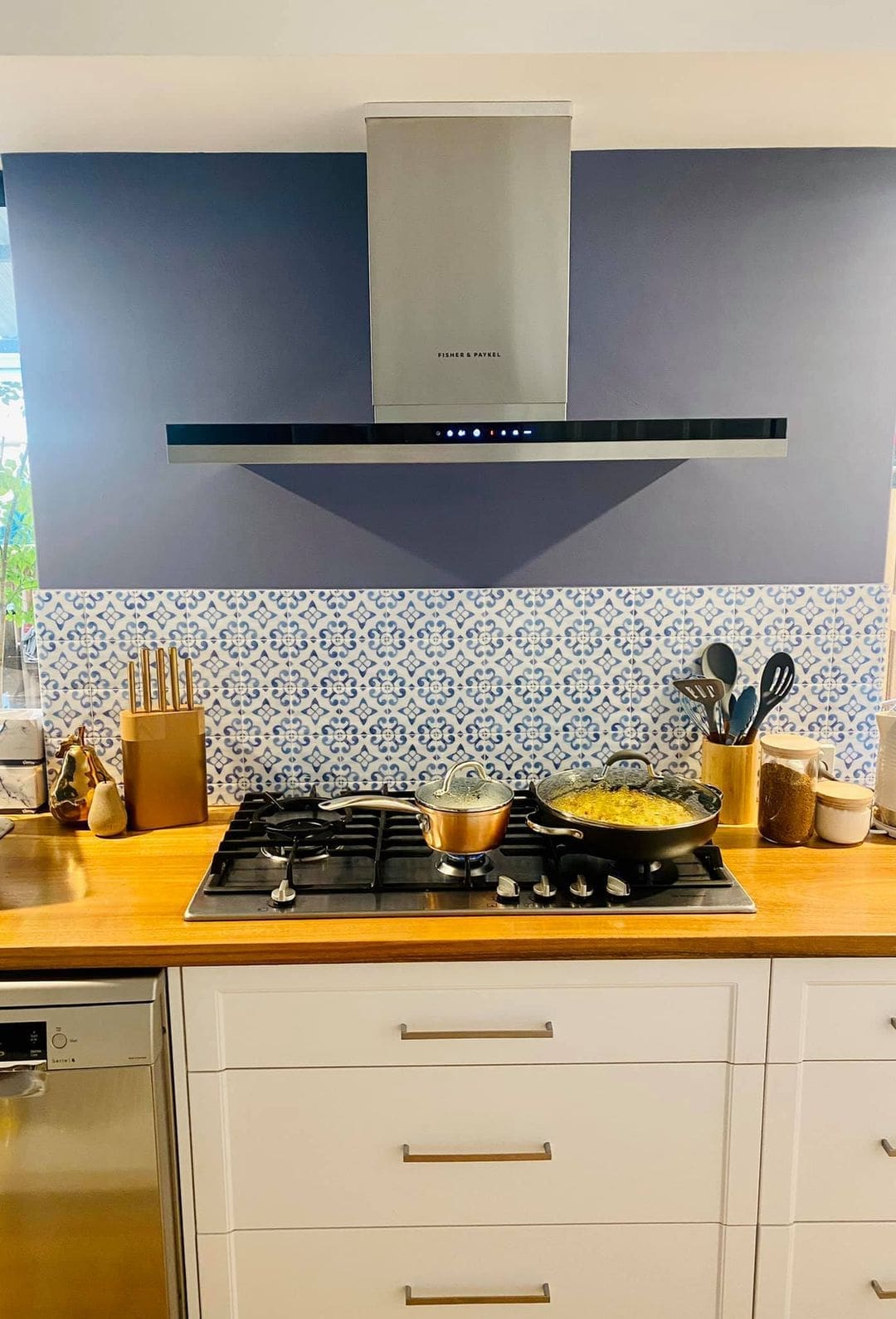 Layered fruit bowl
This nifty little fruit bowl hack got stacks of positive comments when it was shared in a Kmart hacks Facebook group. For those of you who are short on bench space, simply adding a hairpin planter stand in between two rattan bowls may be the solution you've been looking for to store all your fruit. Best of all, this is one of the easiest Kmart kitchen hacks to create at home.
Family hub planner
Any hack to make running a household easier is a winner in our book — and when it looks this darn stylish, it gets bonus points! Soph is the maker and organising queen behind @nestihome on Instagram and explains how she made this giant family planner.
"I used two sheets of the Kmart chalkboard vinyl, three of the medium and narrow drawer tidies for mail sorting and two cork boards. I used foam double sided tape to attach the drawers and a white "Posca" pen to write with".
This has got to be one of cleverest, most useful DIY projects we've seen to date! A fab example of a project done on a budget, using clever Kmart hacks to get your life super organised!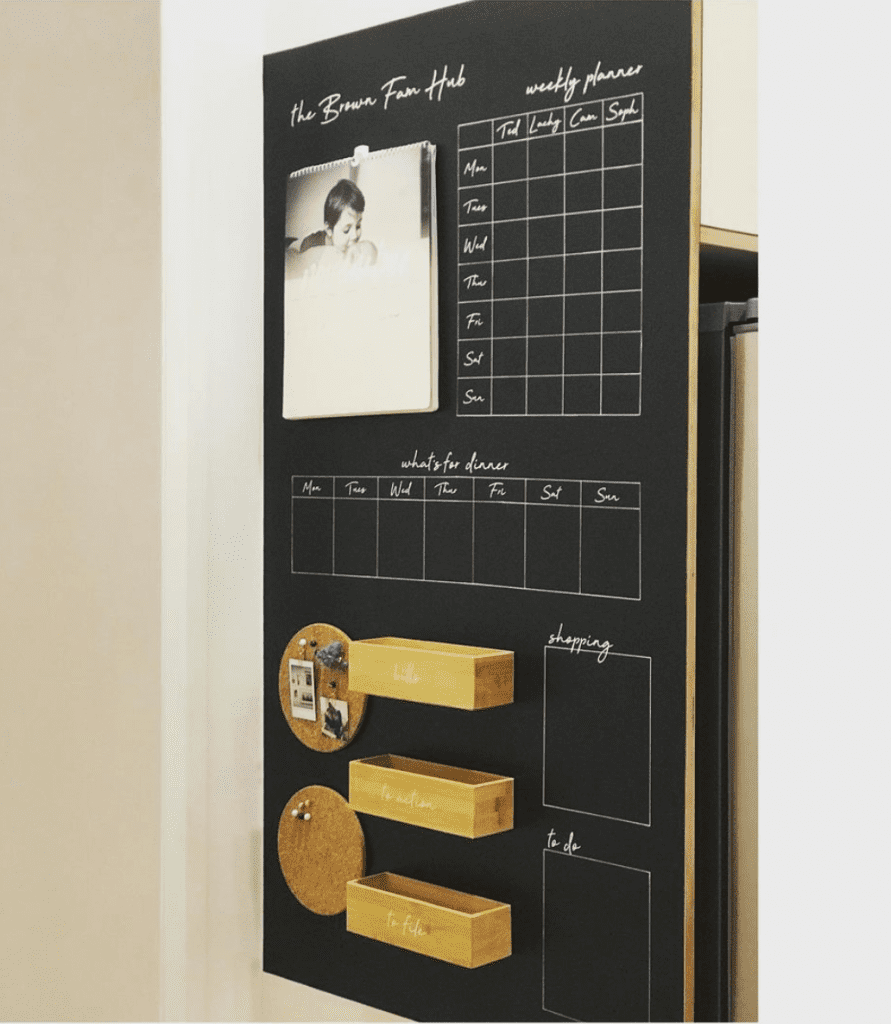 Bamboo drawers as open spice shelf
Looking for an inexpensive yet stylish way of displaying your herbs? Annie glued two bamboo drawer organisers together to create an open shelf. You can also find stylish spice labels at Kmart too!
Gina also updated her spice drawer using all Kmart products and the result was ah-MAZING! Check out how she did it here.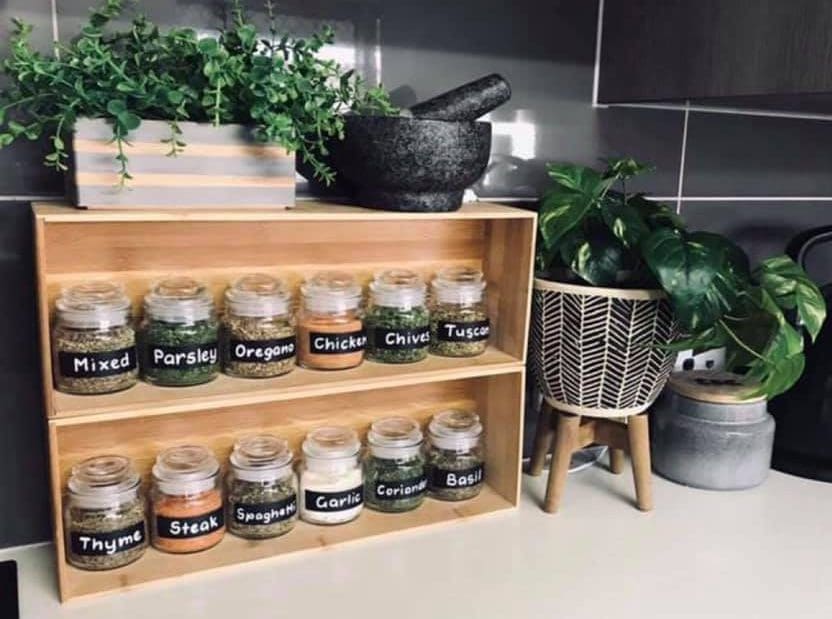 Glass canister to propagation vase
Indoor plants just keep gaining popularity and many plants are easy to propagate by taking clippings and placing them in water. Trouble is, you need to find the right vessel that can support the cutting and specialty propagation kits can be expensive. Little Seed House found the perfect solution — simply drill a hole into the lid of a Kmart glass canister!
If you'd like to try and propagate your own plants, there's no easier plant than Pothos and we share all the tips and tricks here.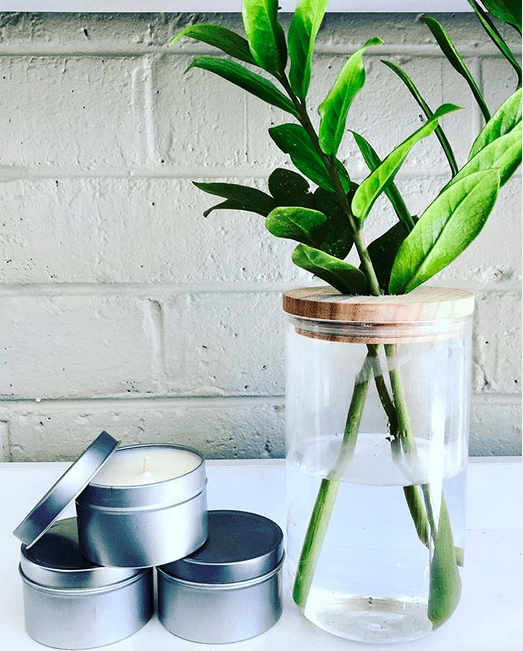 Woven baskets as kitchen storage
Talk about kitchen goals! Angela has used a selection of Kmart canisters and rectangle baskets to make the most of her open kitchen shelving.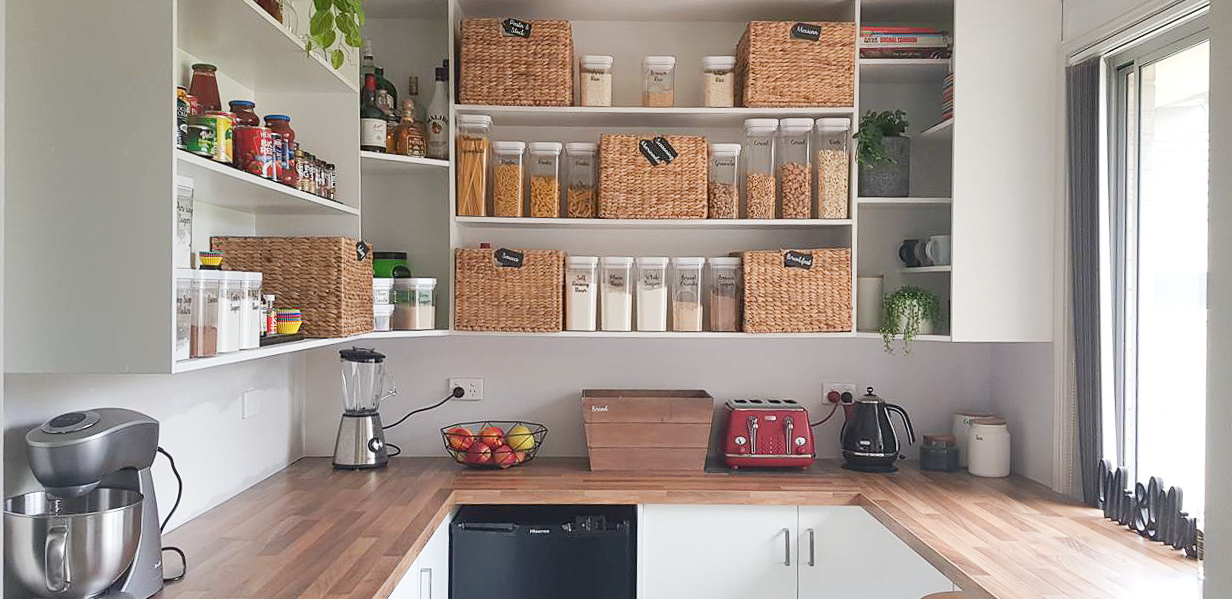 Baskets as coastal pendant lights
Give your kitchen a boho coastal feel with basket pendant lights… without the hefty price tag! Harlyard House hacked the Kmart baskets to create these on-trend pendants!
She removed the handles and placed the baskets over existing pendant lights to create these designer-look lights. Check out her account here for more inspo.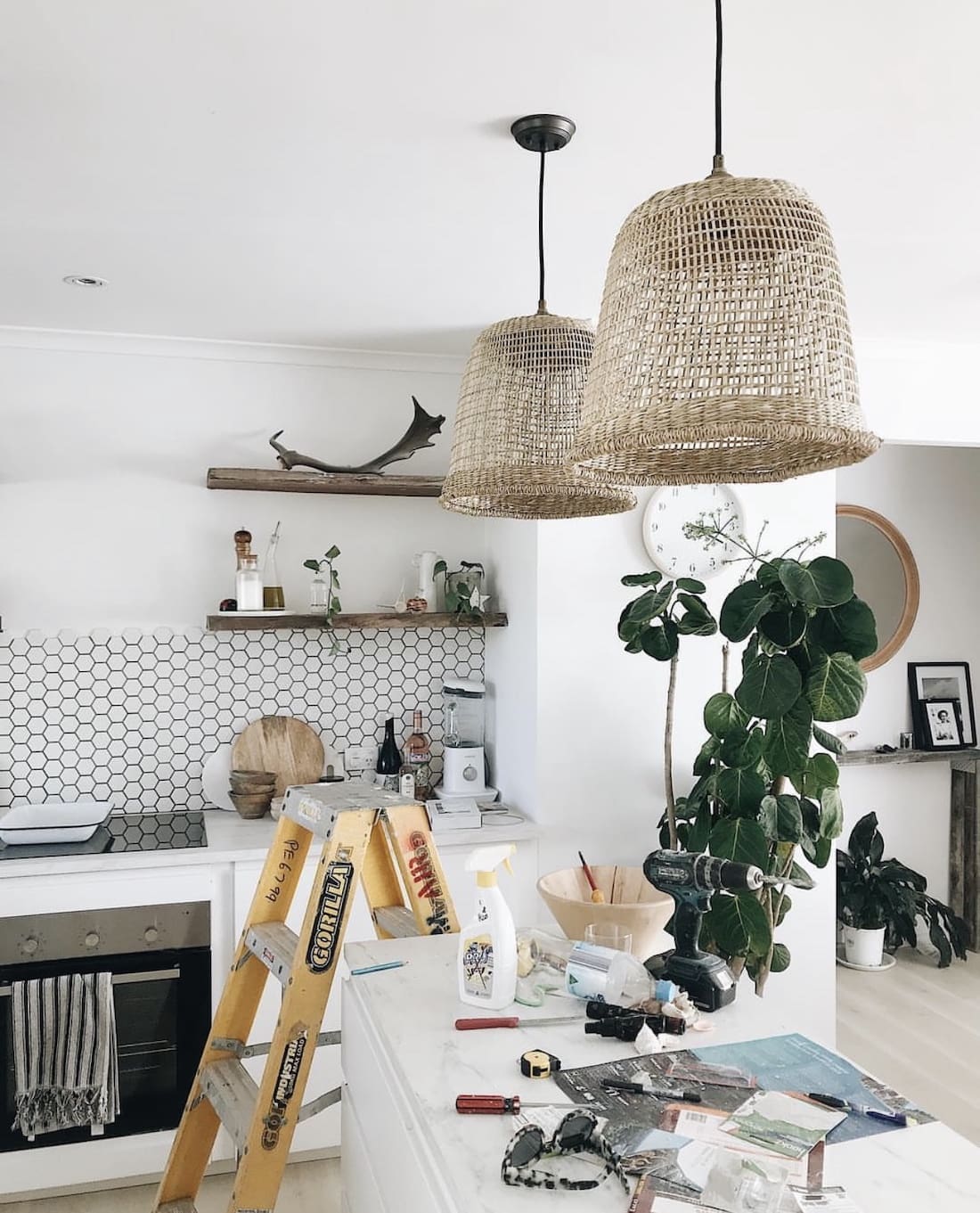 Bamboo drawer tidies as tiered spice rack
Well if this isn't stylish, tell us what is!
"We made a DIY spice rack using the bamboo drawer tidy's from Kmart by stacking them upside down to create a tiered effect," says Fliss.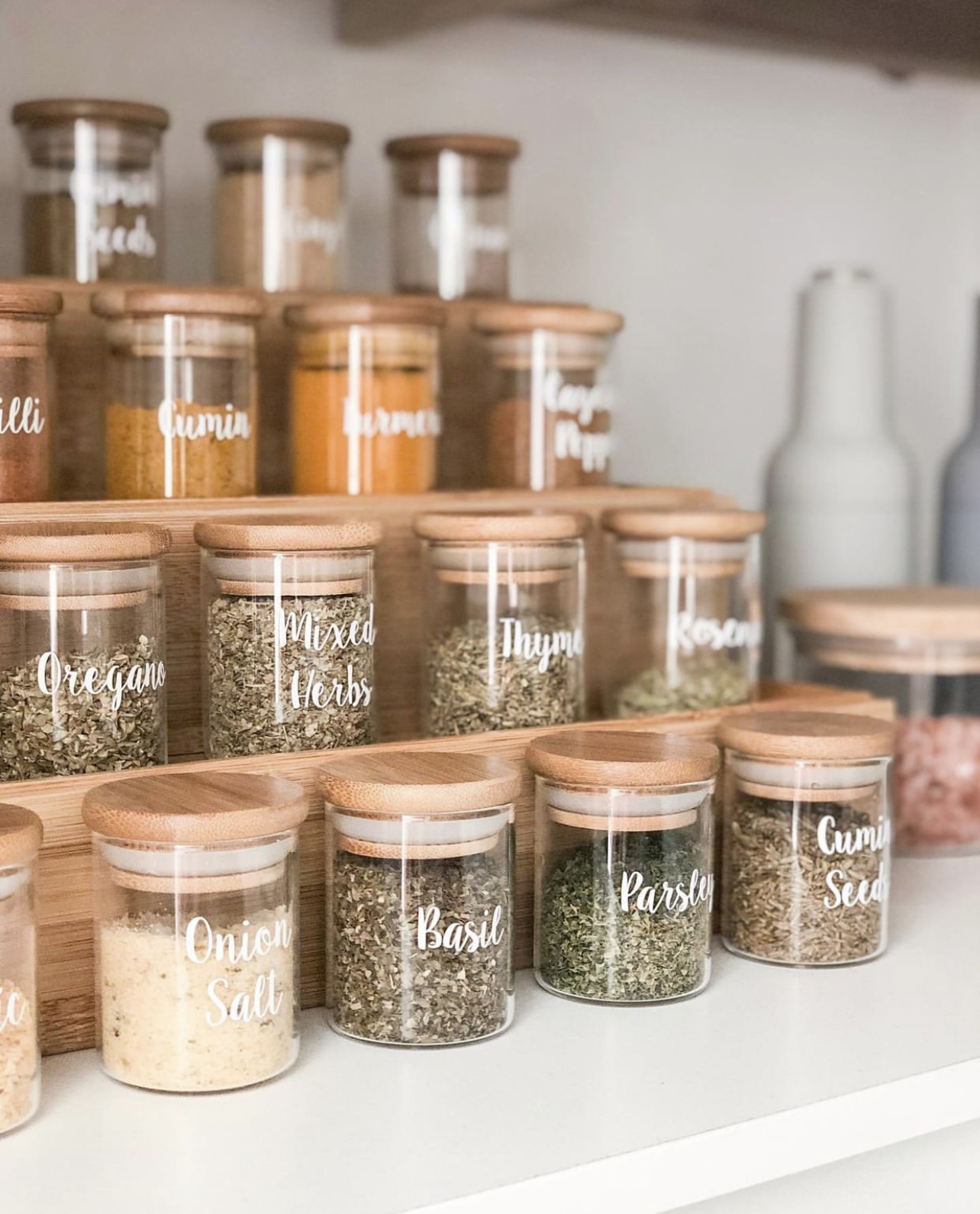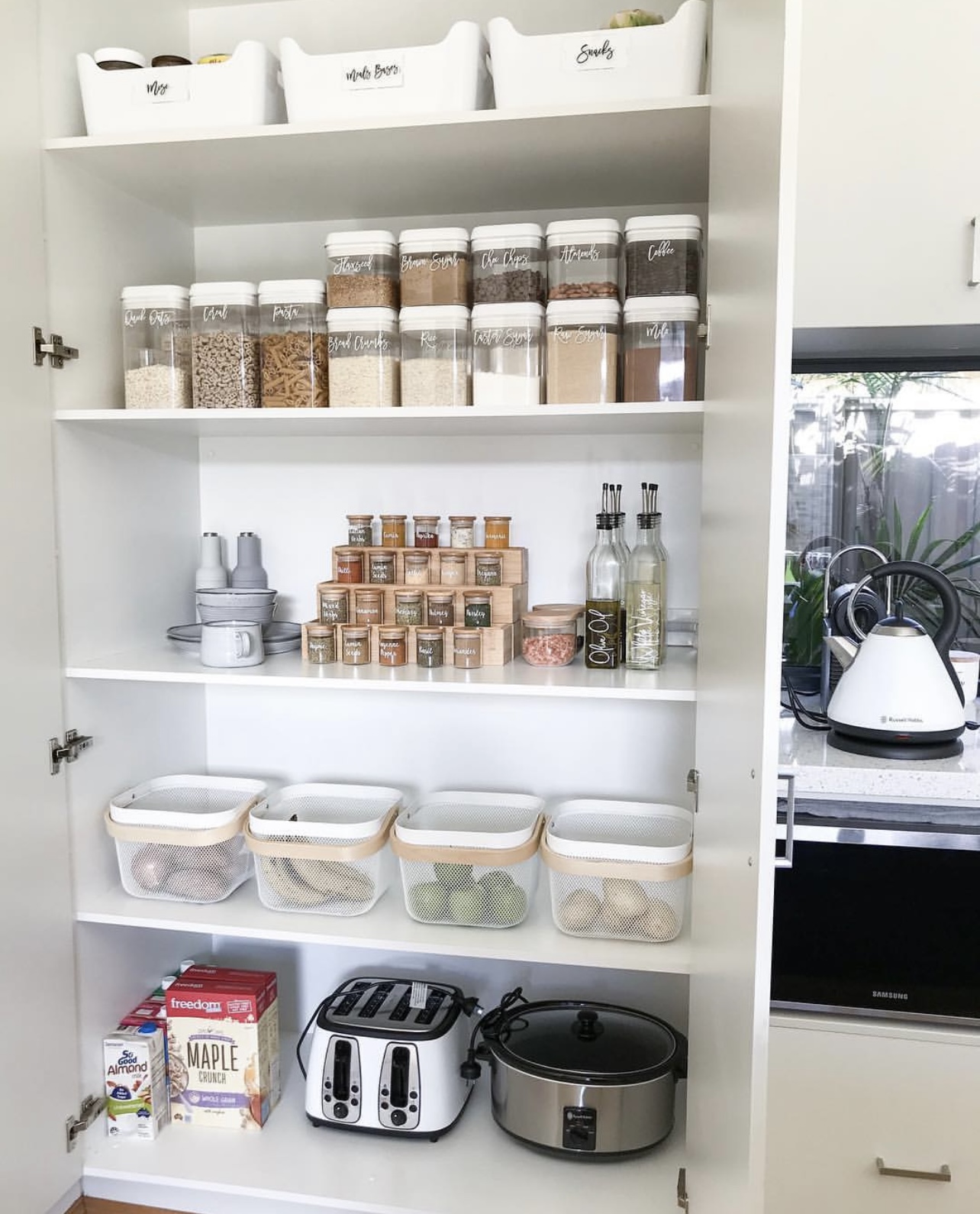 Create your own removable storage shelves
If you have high shelves in your home, it can be tricky to fully utilise the space, especially if you're renting and can't make any permanent changes. Another clever Kmart hacker came up with this handy solution. Simply secure two Kmart mesh shelves together with cable ties, trim and that's it!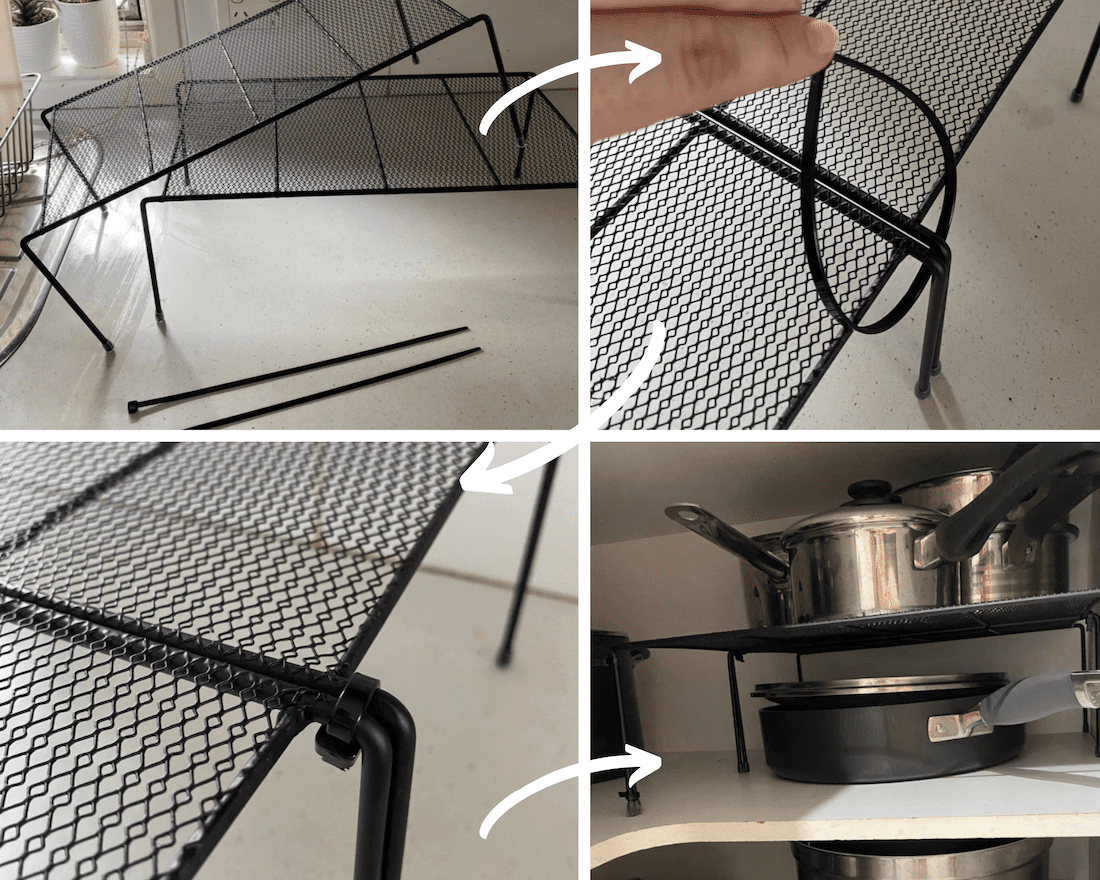 Storage solutions used as organisers
These real life home organisation pics from Our Organised Hive are brimming with clever storage solution ideas.
Some of her tips to organise your cupboards include:
wire shelves: these add an extra level of storage. Just take a look at her fridge and craft cupboard below
magnetic whiteboard: add one to the inside of your pantry for meal planning to minimise food waste (and cooking stress!)
vertical storage holder: these are ideal for organising baking trays in the kitchen cupboard
small pull out containers: you'll find so many uses for these around the home. She has used them in her fridge to keep smaller items organised and in her laundry to sort cleaning products
dish rack: an ingenious way to use these is to store your Tupperware!
large pull out storage containers: these can help to sort larger items (see her craft cupboard below).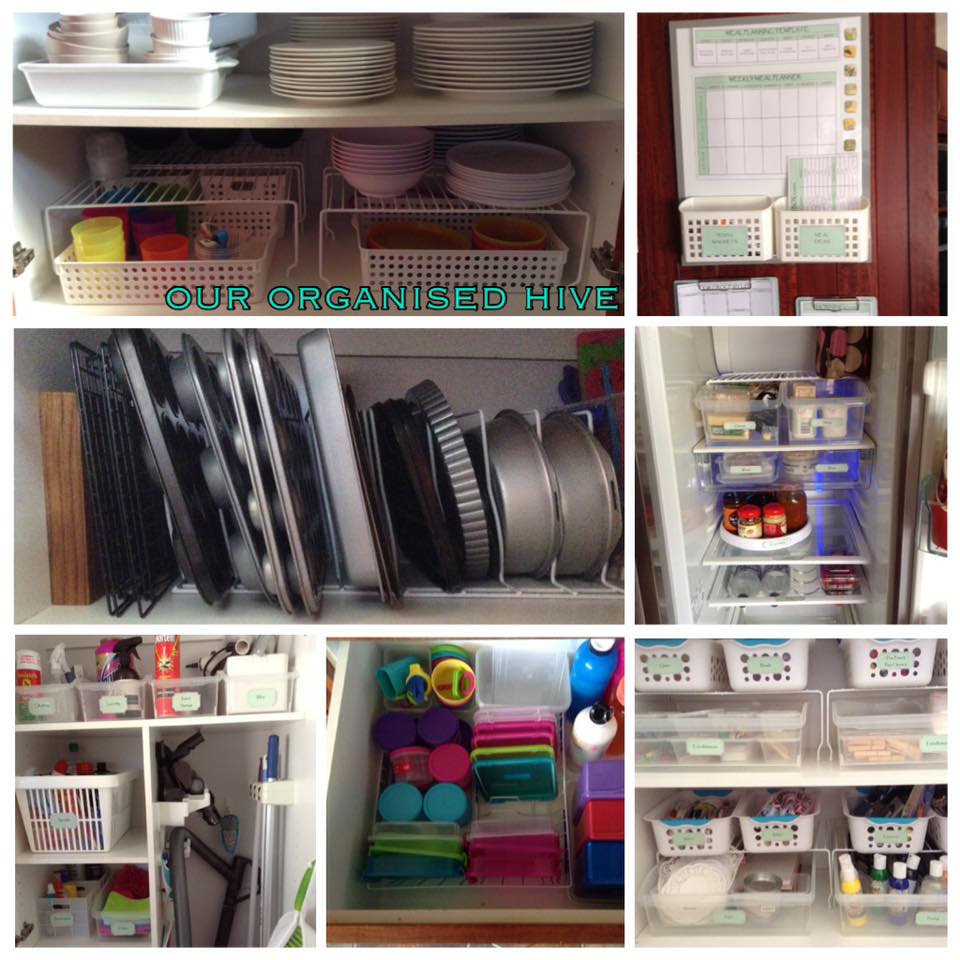 Water bottle storage
Look… this one isn't revolutionary, but it is handy so we thought we'd still include it in our Kmart kitchen hacks. These stackable wine bottle holders are a great solution for storing water bottles. They work great in the pantry or, as Style Curator writer Dan has done, put them in your fridge to have plenty of cold water on hand.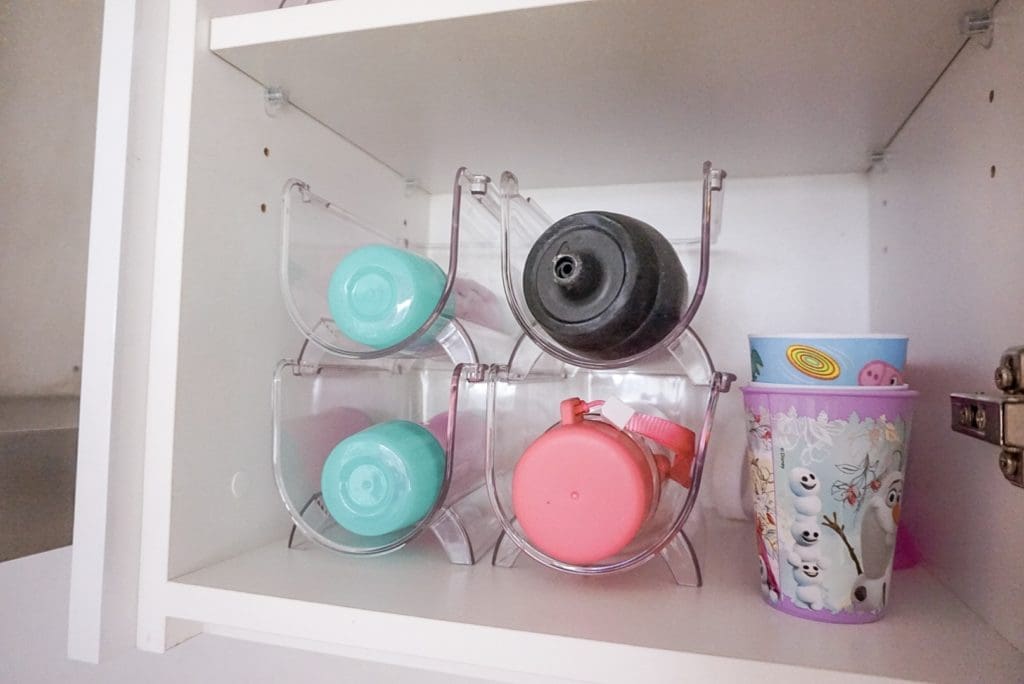 Timber lazy susan
A lazy susan is super useful in the kitchen. We love using them to store condiments, or in pantries to utilise those awkward corner spots. Kim has taken it to the next level by attaching a timber tray to the top of the clear lazy susan. Stylish and useful!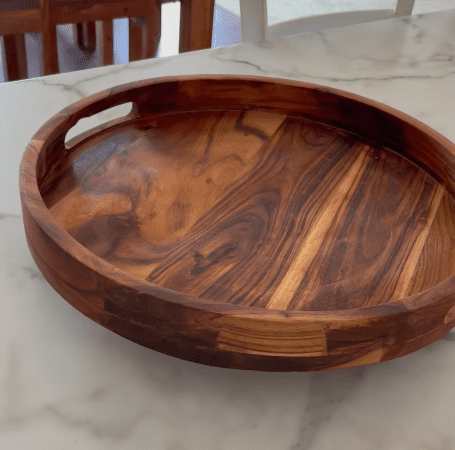 Contact vinyl as kitchen bench
This hack was all the rage a few years ago. But given many of you are renting or looking for inexpensive ways to update your kitchen before tackling major renos down the track, we've included it in this round up of the best kitchen Kmart hacks. Introducing the Kmart contact vinyl countertop hack!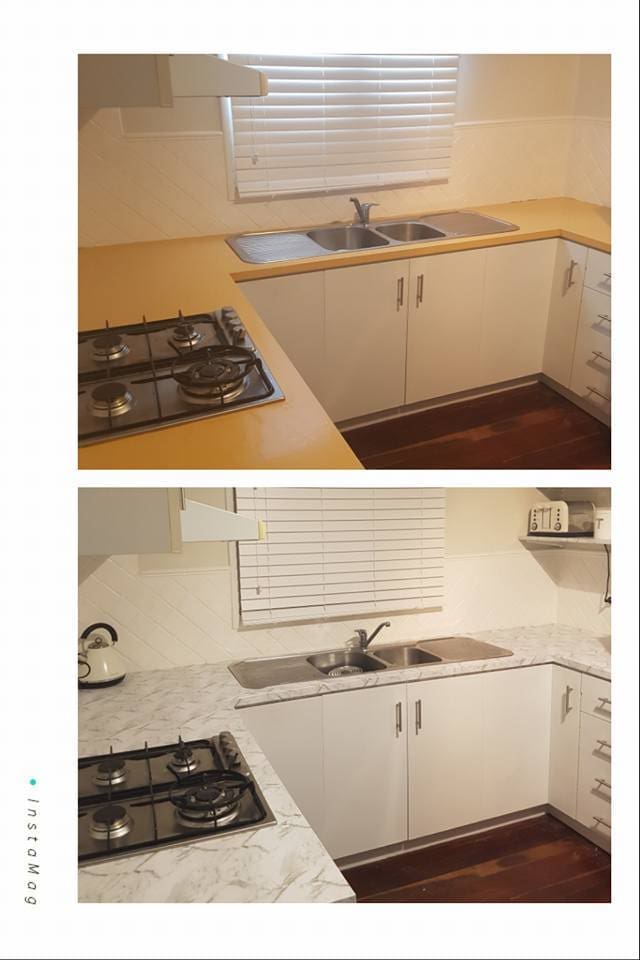 Or for a more restrained version, Eden gave her kitchen a timber-look makeover using the wood grain vinyl contact.
Another inexpensive way to makeover laminate kitchen benchtops is to give them a concrete finish — it's more long-lasting than contact — and we have the full tutorial on how to create a concrete kitchen benchtop here.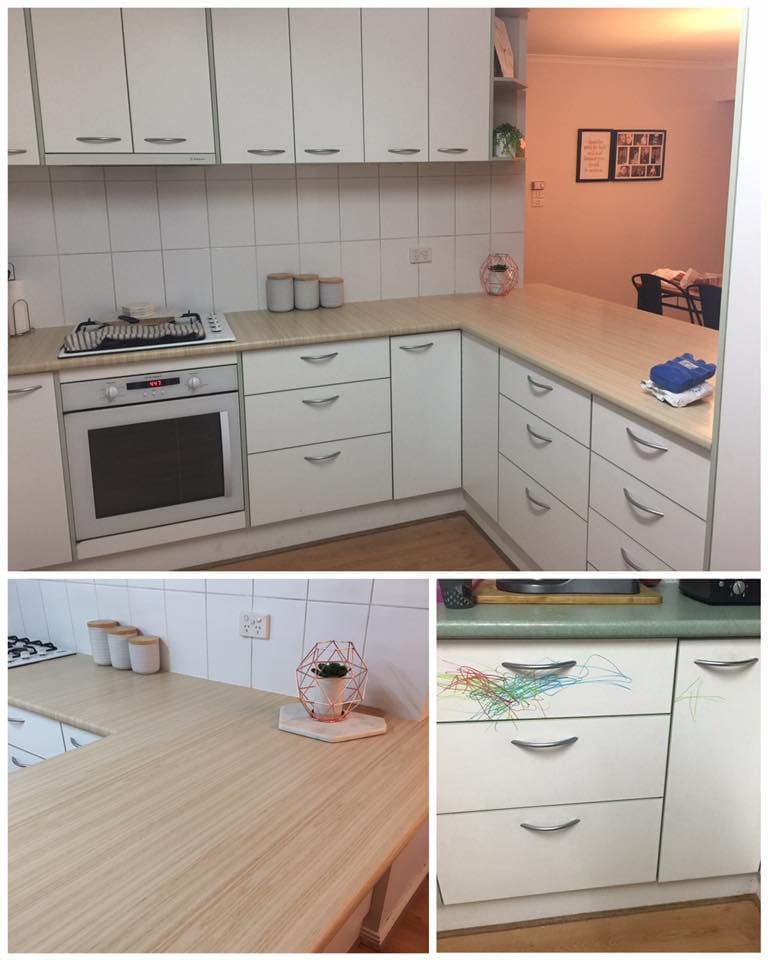 Have any of these clever Kmart kitchen hacks inspired you? Or perhaps YOU have an amazing hack you'd like to share with us? Drop us a comment below, we'd love to add it to our list!