We're constantly surprised to see our Kmart hack concrete top side table rank in our top 5 most read blog posts, month after month! It goes to show the love for Kmart hacks isn't going away any time soon so we thought we'd share 20 of the coolest Kmart hacks we've EVER seen!!
And because the Kmart hacks just keep on coming (check out the best hacks from 2017, 2018 and 2019 here!), we'll continue to share the best hacks each and every year!
Related article: Top 20 Kmart hacks of 2019
Related article: 20 of the best-ever Kmart hacks for kids
1. Room screen bedhead hack
Struggling to find a bedhead for her super-king size bed, Ceryce had this bright idea! She took 2 Kmart room screens, removed the ends and popped them together to create this fabulous new look! So creative and clever!
2. Placemat and bath mat cushions
Who would have thought you could get such great results from using placemats and bath mats (yes, bath mats!) to make cushions?! Renee is the clever mind behind this Kmart hack, taking 2 jute placemats and 2 bath mats and turning them into these fab looking cushions.
3. Stylish bookcase makeover
We love this one! Simone has taken the Kmart storage bookshelf and given it a complete transformation. She has how-to instructions on her Instagram page to show you how she made this unique piece of furniture.
---
---
4. Sideboard turned kitchen cabinets
Wow! There are some seriously creative thinkers out there! We love this idea of using the already fabulous Kmart rattan sideboard, and using them as cabinetry for the kitchen! A great way to breathe a bit of new life into a tired space with this on-trend look.
5. Chalk-painted vases
One of our fave ever DIYers, Geneva from Collective Gen, recently shared an amazing chalk paint. She has inspired SO many people to take old (or in this case, new!) vases and pots they love the shape of but not so much the colour, and give them a new lease on life.
Just like Lauren who took this trio of Kmart vases and painted them to suit her colour scheme. So pretty!
6. Canister lid turned draw handles
Have you ever thought about using canister lids as draw handles?! No, us either! But the ever so clever Pheonix Project team did, and the results are brilliant!
7. Rattan sideboard upgrade
Dani has taken the gorge Kmart rattan sideboard to a whole other level (literally) with this clever hack. She added a second one on top to create this beautiful piece with ample storage and all the style.
8. Candle lid turned hat hook
Here's another use for a candle lid that we'd never considered! Alex Tyler added a 3M sticker to the back and stuck it onto the wall, making the perfect hat hook. Simple, cost effective and downright genius!
9. Round hanging shelf gets an upgrade
The Kmart round hanging shelf has been around for a while now and we've seen it featured in plenty of clever hacks. This one from Lauren really caught our attention with her addition of a rattan backing.
Hanging in her daughters room, we think it adds a beautiful boho touch to an otherwise simple Kmart shelf. Love it!
10. Hanging pendant lights
Basket pendant lights are popping up everywhere, and along with it comes plenty of DIY hacks! Nicole has taken the base of the Kmart rattan table lamp and turned it into this fabulous hanging pendant! She shares tips, tricks and how to's over on her Instagram page the.elanora.
11. Dinosaur draw pulls
Stylish door pulls can cost a fortune but Erin has found an affordable solution for her dino-mad child. Some simple spray paint, a packet of Kmart dinosaur figurines and you've officially won the best parent of the year award!
12. Serving board side table
Using a wooden serving tray and readjusting the legs to fit your couch arm, and voila! You have the perfect side table for coffee, tea, chocolate, or wine 😉 .
13. Rattan planter becomes a dolls bed
The boho style is more popular than ever — and this extends to children's bedrooms. Chantelle, the talent behind Olive and Miles, has created a sweet boho-inspired doll bed using the Kmart planter. Too cute (and she has an Etsy store, too!)
14. Total sideboard transformation
Taking two Kmart sideboards and doing some serious hacking (pun totally intended) Clare has created a custom piece of furniture. If this look is your vibe, she's even created a handy how-to YouTube video.
15. Room divider to on-trend bedhead
Curved, rattan-style bedheads are everywhere at the moment, and some come with quite the price tag. If this is your dream style, why not take a tip from Janika who took the Kmart room divider, and simply placed it behind a bed to create a stylish new bedhead!
16. Hessian table runner pendant light
Who knew a hessian table runner could create something this cool?! Interiors lover Natalie got handy with her plain black pendant light and turned it into a real statement piece using the Kmart hessian table runner. A clever and very cost effective hack!
17. A coat of paint to the rattan cabinet
We love the impact of black and Jen has given the Kmart rattan cabinet a luxe makeover with just a simple coat of paint. Don't act like you're not impressed (and kinda inspired!).
18. Toy box upgrade
Carlie took this simple Kmart toy box and made it loads more fun with a padded top and personalised name. She even used a Kmart single bed underlay to create the padding and the Kmart hot glue gun to fix it all in place!
19. Flower wall decor
Shon took the Kmart paper flowers from the party section and added them to her daughter's bedroom wall. We love this simple but sweet (and super cost effective!) wall art idea!
20. Toy wooden camera makeover
Not so much a hack as a makeover, but this is one we really loved. This toy wooden camera is cute already, but just look how great Lucia has made it for her little man, Luca?! We love the neutral boho tones!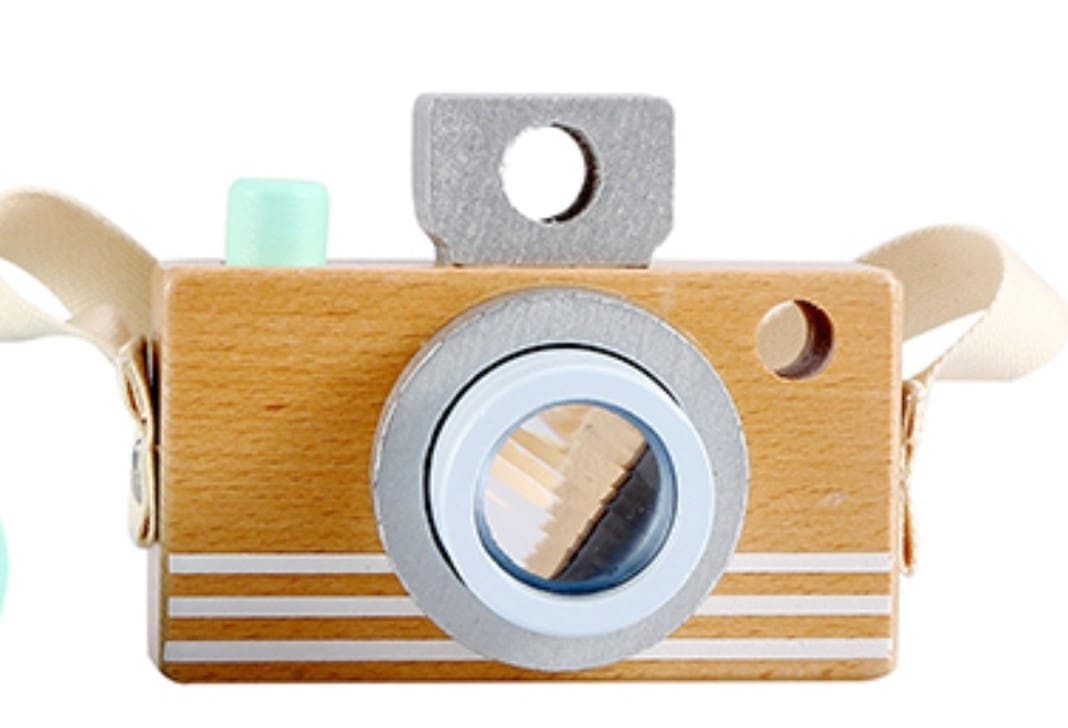 Some more we're loving…
We keep finding more and more amazing Kmart hacks! Here's a few others we've spied!
21. Bowls turn to art
We're not sure about you, but we would never have thought to turn plain old everyday Kmart bowls into decor art pieces! But seriously, how good do these look?! Just a simple coat of paint and some glue has given these bowls a whole new lease on life.
22. Kids table turned boho side table
Taking the plain kids table and adding a large woven basket on top (this one is from Freedom) has completely transformed this into a boho side table. A really creative idea which you can replicated yourself, with tips and advice from Michelle, the clever Kmart hacker, found here.
Have you spotted any other Kmart hacks that should make our list of the coolest Kmart hacks? Share a link to them in the comments below so we can all check them out!
Disclaimer: This post contains some affiliate links. This means that when you click on a link and purchase something from that site, we may make a small commission at no extra cost to you.