We're constantly surprised to see our Kmart hack concrete top side table rank in our top 5 most read blog posts, month after month!
It goes to show the love for Kmart hacks isn't going away any time soon so we thought we'd share 20 of the coolest Kmart hacks we've EVER seen!!
And because the Kmart hacks just keep on coming, we're constantly updating this article with the latest and best hacks each year.
Scroll down to find the latest hacks for 2019, and the complete list of top 20 coolest Kmart hacks of 2017 and 2018!
Top Kmart hacks of 2019
1. Family hub planner
Any hack to make running a household easier is a winner in our book — and when it looks this darn stylish, it gets bonus points! Soph is the maker and organising queen behind @nesti_au on Instagram and explains how she made the giant family planner, "I used two sheets of the Kmart chalkboard vinyl, three of the medium and narrow drawer tidies for mail sorting and two cork boards. I used foam double sided tape to attach the drawers and a white "Posca" pen to write with".
There's been such a strong response to this hack on social media that she may be selling these planners soon. Keep an eye on her Instagram account for updates.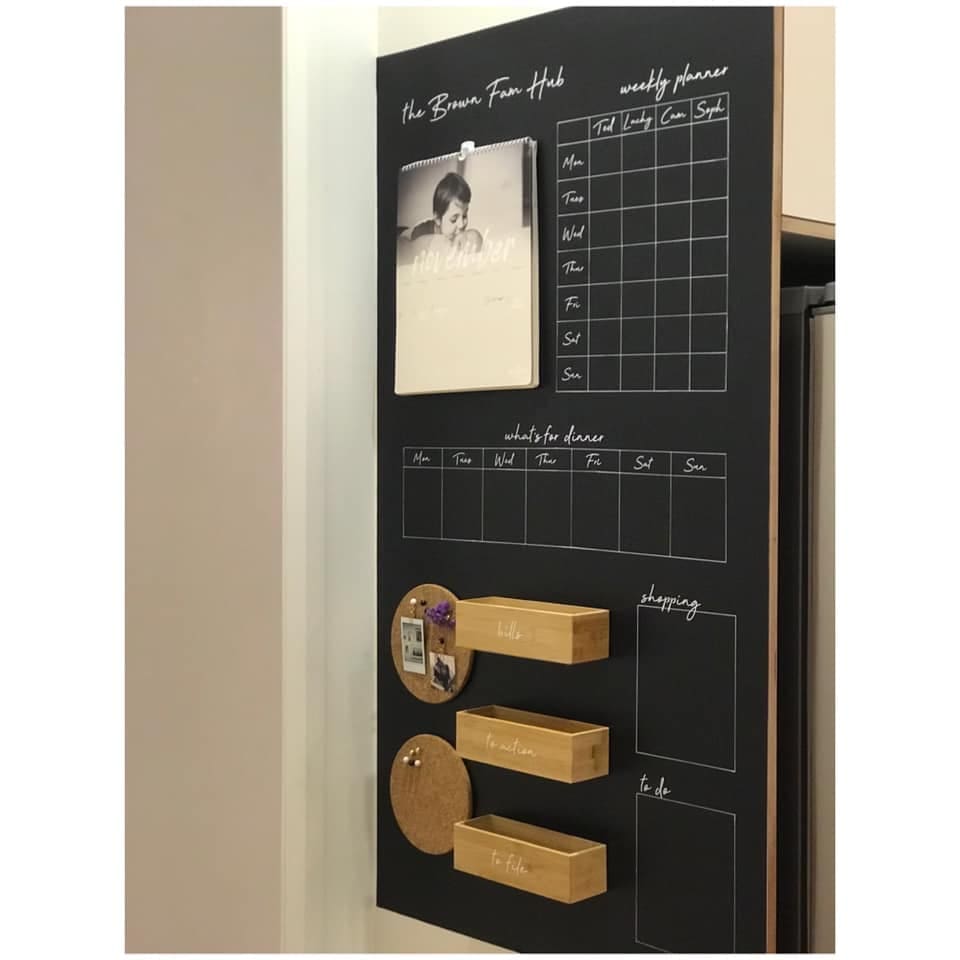 2. Inexpensive outdoor umbrella
Outdoor umbrellas cost a bomb which is what prompted Alison to come up with this clever hack! Using a $15 white plastic outdoor pot from Kmart that she filled with a brick and sand, she placed one of the $12 umbrellas inside. Her husband made the timber top from offcuts they had which holds the umbrella in place and is the perfect spot to rest a cold drink!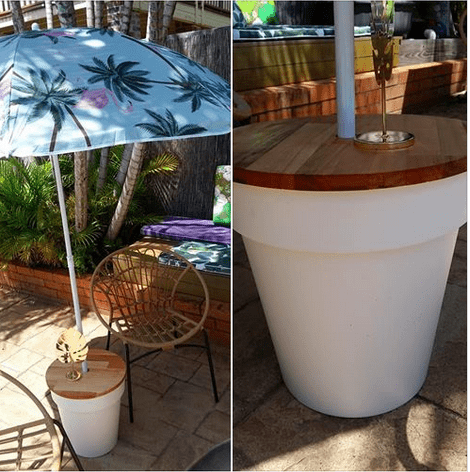 3. Wall hanging unicorn head gets a stylish makeover
This one isn't a hack per se, rather a freakin' amazing makeover! The clever mama behind Emily Mae Maree Instagram says her daughter is unicorn obsessed and couldn't resist giving the Kmart unicorn head an upgrade wrapping darker wool around the horn, attaching a cluster of faux flowers and hand stitching darker fabric down the mane. "A fun little arvo craft project," says Samantha.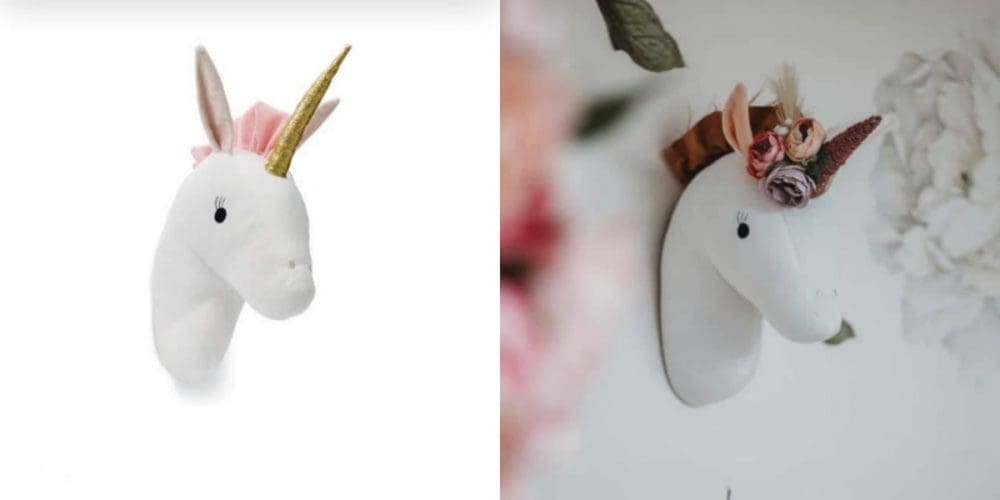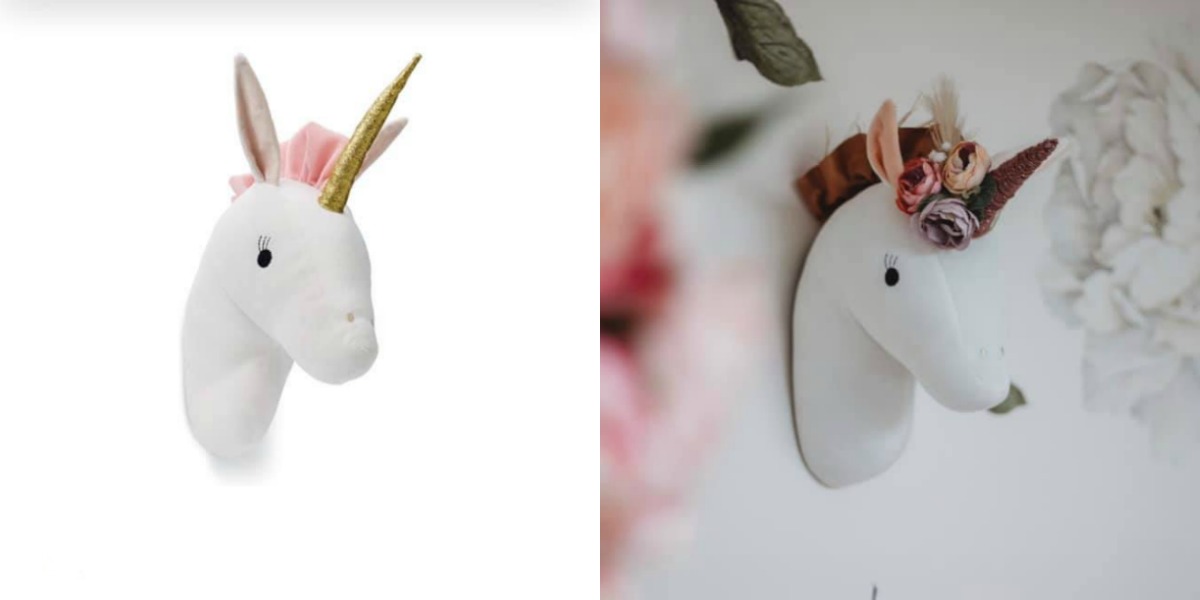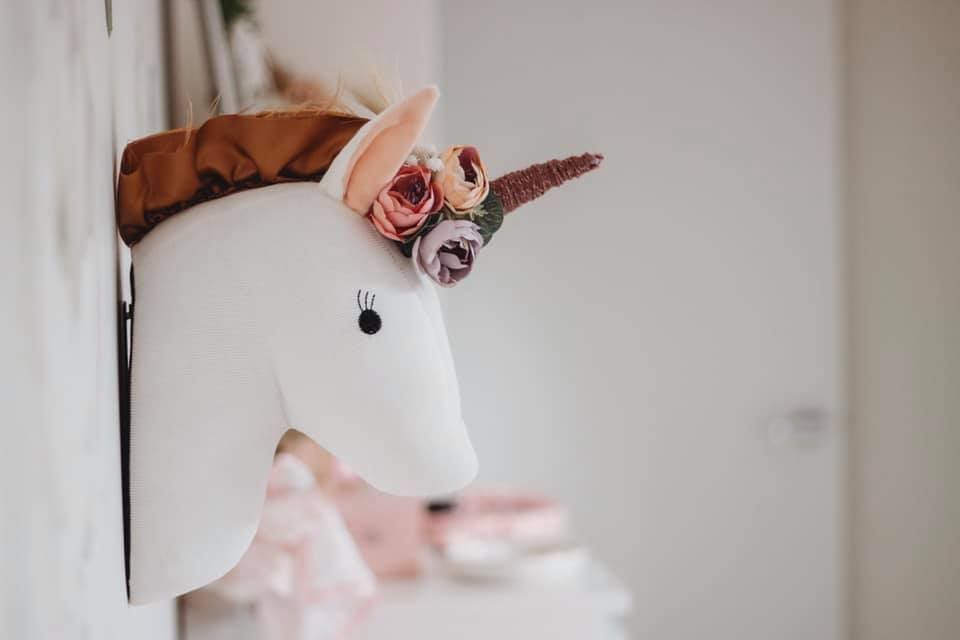 4. Jewellery tree becomes crystal jewellery dish
Our obsession for crystals is at an all-time high! One DIY we've been wanting to make for a while now is a crystal jewellery dish — a beautiful piece to have on our bedside table to hold jewellery and generate positive vibes in the space.
We used the Kmart jewellery tree with marble base (just $7!) and hacked it to create this luxe piece that takes pride of place on a bedside table.
Check out the tutorial here to find out how easy it is to make your own.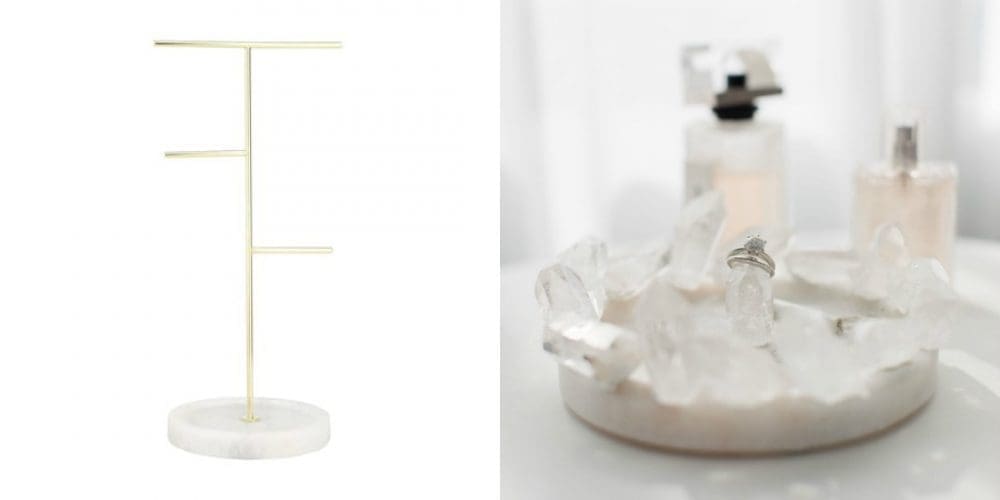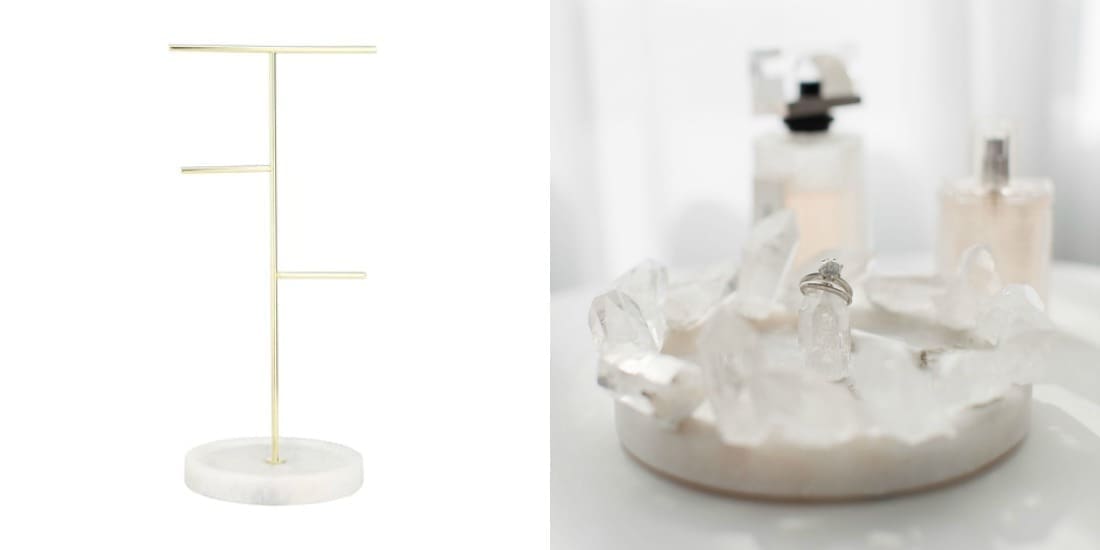 5. Turmeric dyed boho cushion
One of our fave boho cushions has been given a stunning makeover by clever Mum, Samantha. She turned it from plain neutral into a gorgeous, on-trend mustard using… get ready for it… turmeric and coffee! Honestly, these hacks seriously blow our mind! So clever!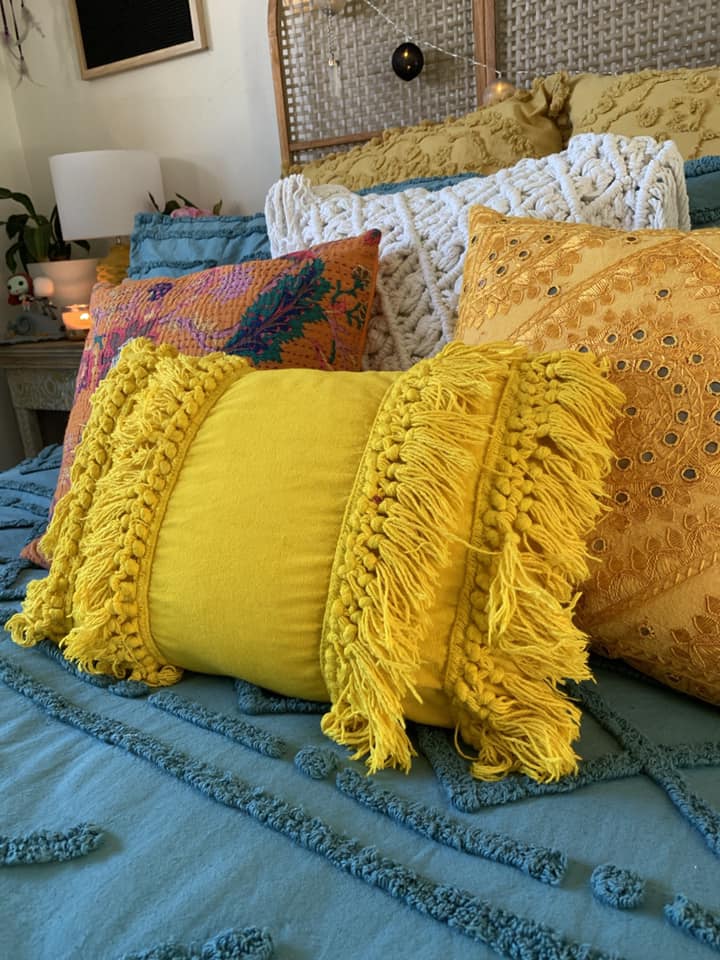 6. Bamboo ladder becomes macrame room screen
Before Kmart launched its rattan room screen, Pina of My Home Decor created this macrame room screen — perfect for a boho or coastal style interior! If you think you need to become a macrame expert to pull this off, she actually used the macrame table runners! By simply removing a few of the horizontal poles, levelling off the ladder legs so they become flush and attaching the ladders together with excess twine, she created this stylish room divider or bedhead (just imaging it with fairy lights in a child's room).
For even more Kmart hacks from Pina, check out her Facebook page My Home Decor here.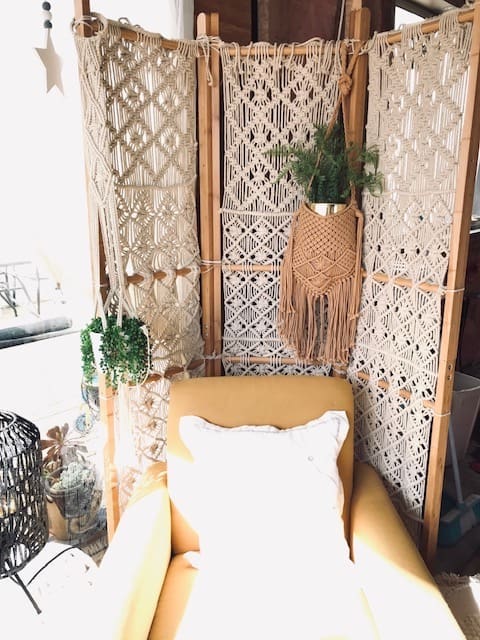 Top 20 Kmart hacks of 2018
1. Lamp as DIY wall sconce
Using a simple triangle design and several pieces of wood, Rox has taken the Kmart lamp to a whole new level! These wall sconces look so Scandi and chic, and certainly pass as a designer buy.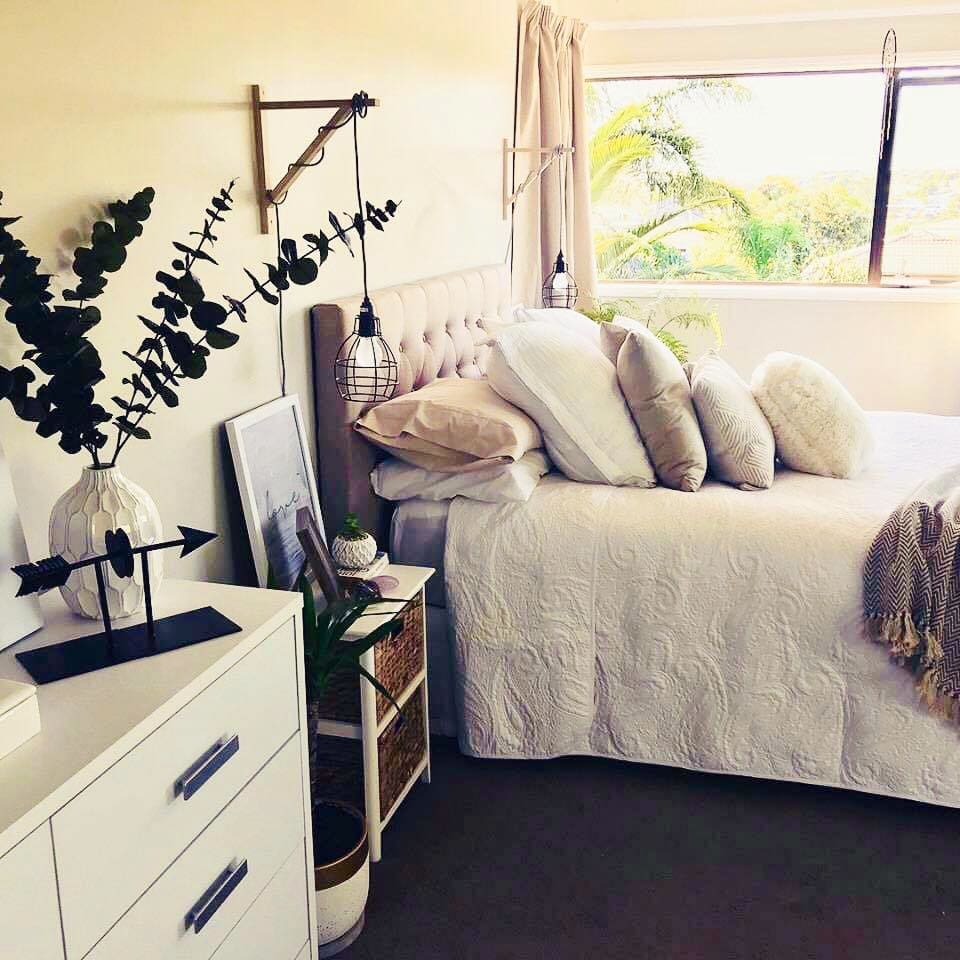 2. Hexagon mirror as statement wall art
Trying to find stylish and affordable wall art – particularly oversized wall art – is near impossible which prompted Misty to think outside the square and combine 5 hexagon mirrors. It creates such big impact and you'd never guess it cost only $60!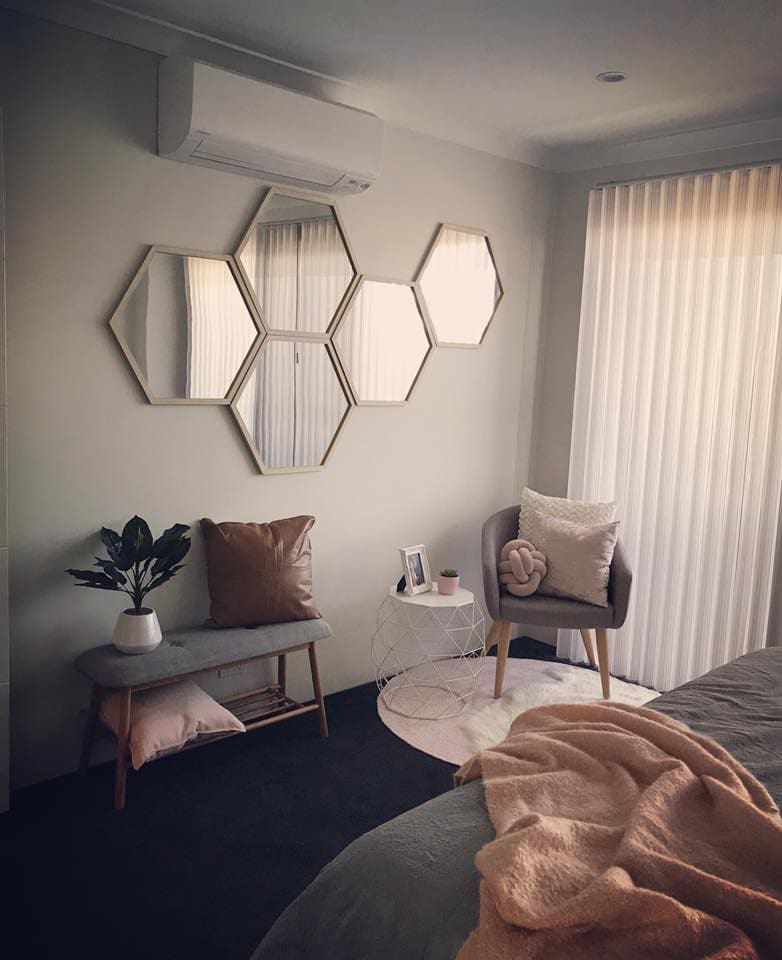 3. Industrial coffee table as luxe concrete table
Concrete top furniture costs a fortune but using a few easily accessible DIY materials, you can turn the affordable Kmart coffee table into a luxe designer-look piece!
We've already seen a few of you take on this tutorial and create stunning results. Find all the steps on how you can make your own concrete coffee table here.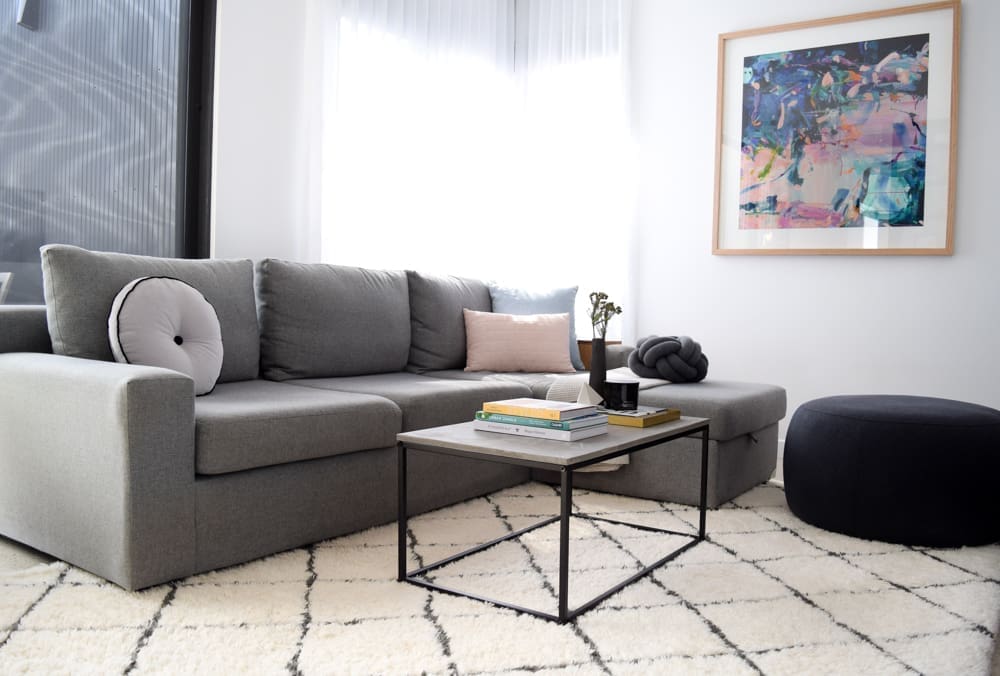 4. Woven baskets as kitchen storage
Talk about kitchen goals! Angela has used a selection of Kmart canisters and rectangle baskets to make the most of her open kitchen shelving.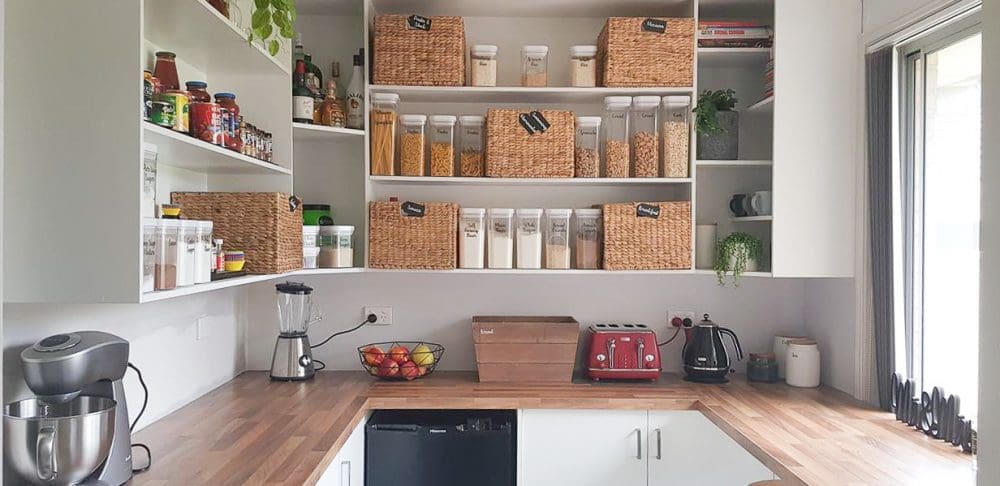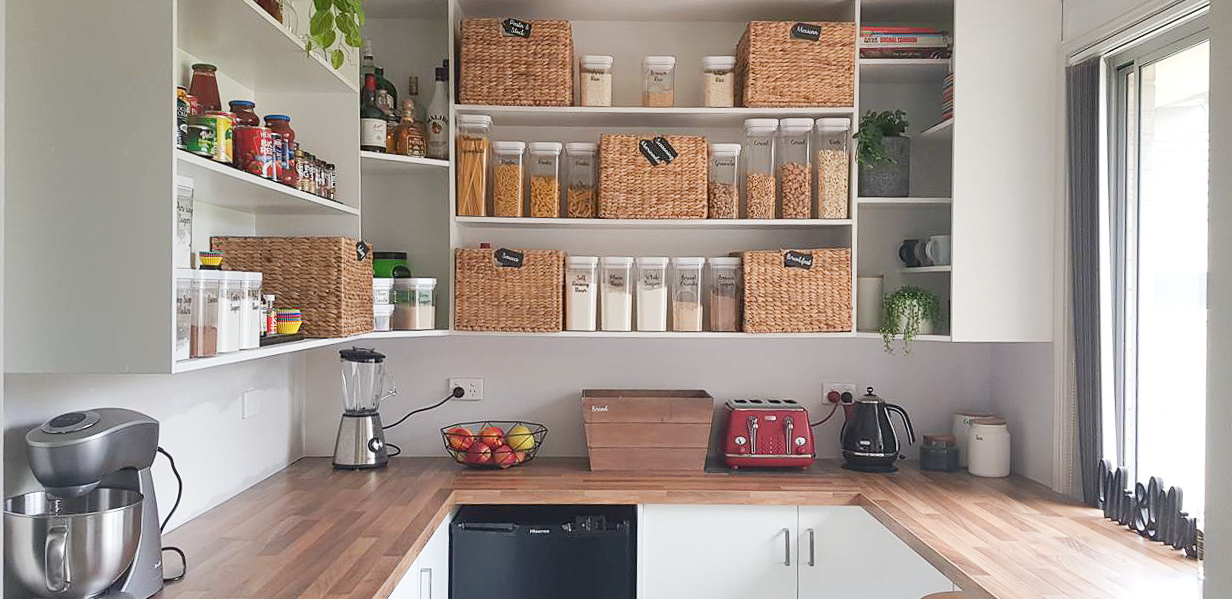 5. Shoe rack as kids grocery store
One of the most popular toys for young children is a play kitchen and/or grocery shop but with most store-bought play sets costing several hundred, it can be a large investment to make – plus the cost of all the play foods and accessories! Clever mum of five made an epic playroom for her children, including a DIY grocery store using the Kmart shoe rack!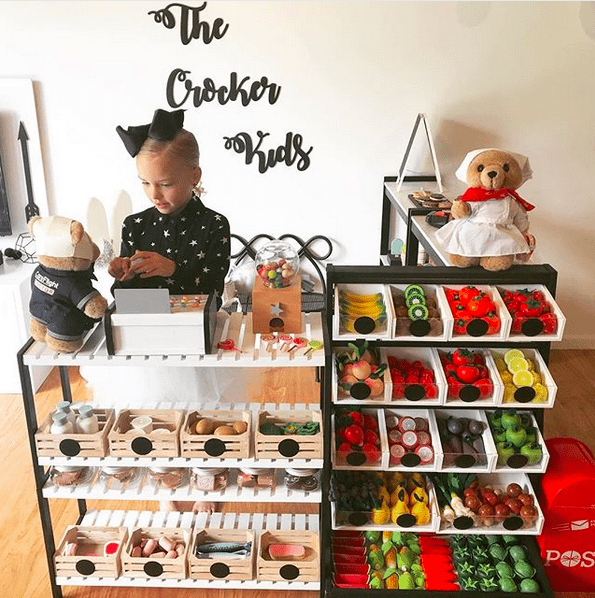 6. Placemats become cushions
Talk about thinking outside the box! Ashlee created these stylish boho cushions by simply sewing two placemats together. She shares all the steps, including how to make those sweet tassels, in her Youtube video here.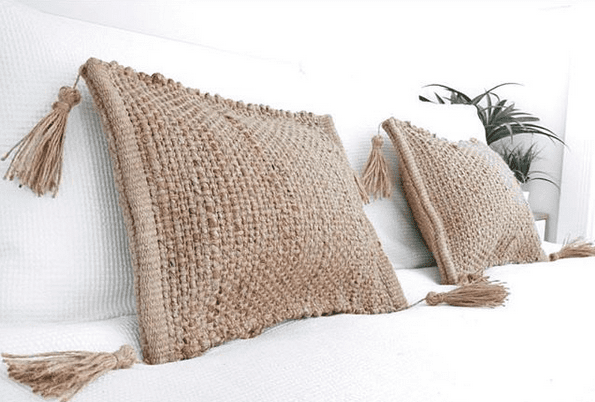 7. Baskets as coastal pendant lights
Continuing with the jute theme, we just love how Harlyard House hacked the Kmart baskets to create these on-trend pendants!
She removed the handles and placed the baskets over existing pendant lights to create these designer-look lights. Check out her account here for more inspo.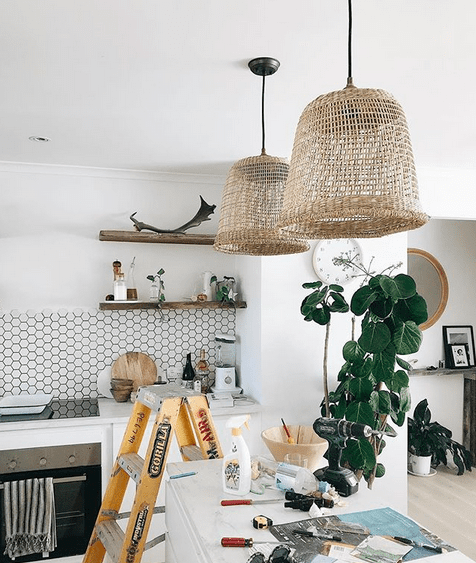 8. Kmart cubby hacks
Parents all over Australia are hacking the Kmart cubby to personalise it for their children. While there's no shortage of ideas on how you could decorate the cubby out there, here are some of our favourites.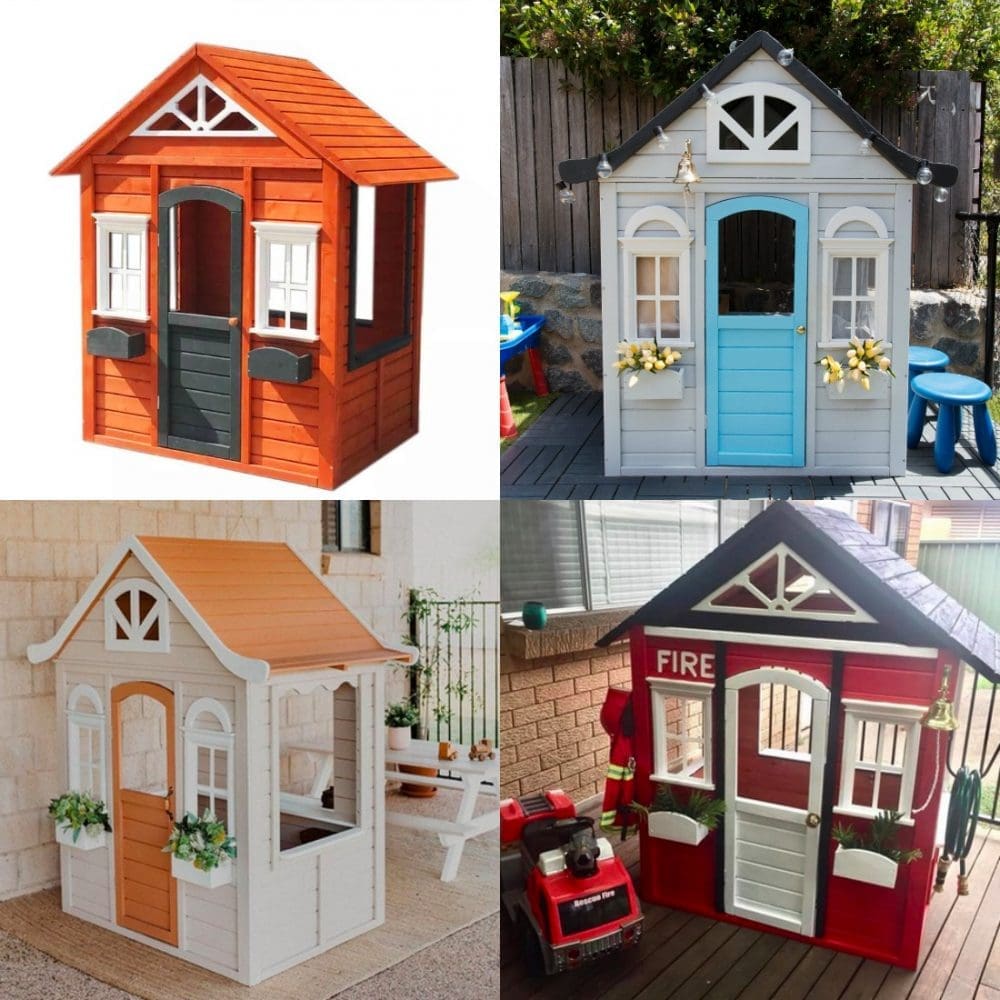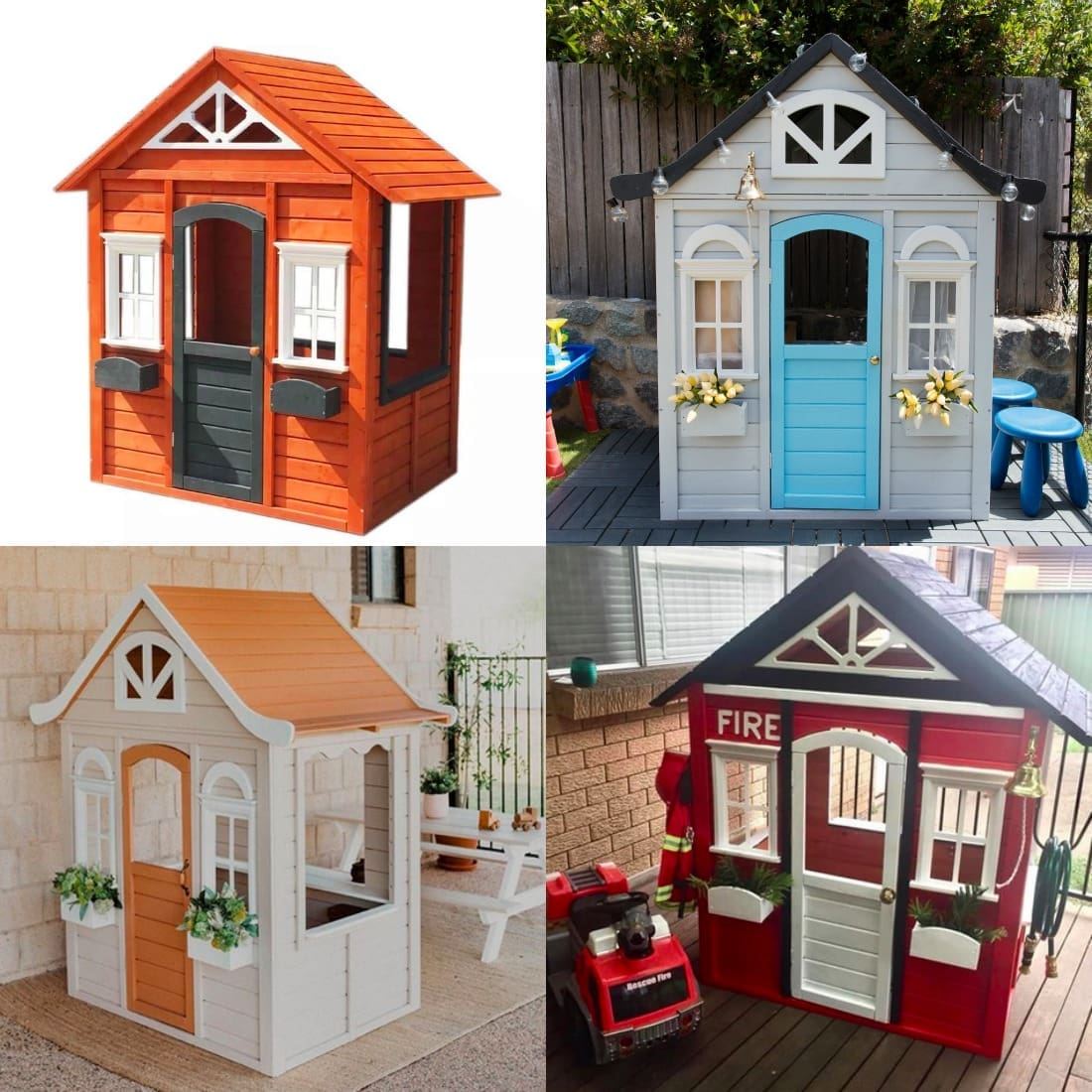 9. Caddy hack
There's more than meets the eye with this clever Kmart hack that Alanna made. She says it was an easy weekend job that required no power tools as she used the existing screws and holes.
"I wanted the caddy the same height as the bath so moved the tiers up and cut the legs to height. Then used the original top tier as a lid and now have somewhere to store my lady things," she explains.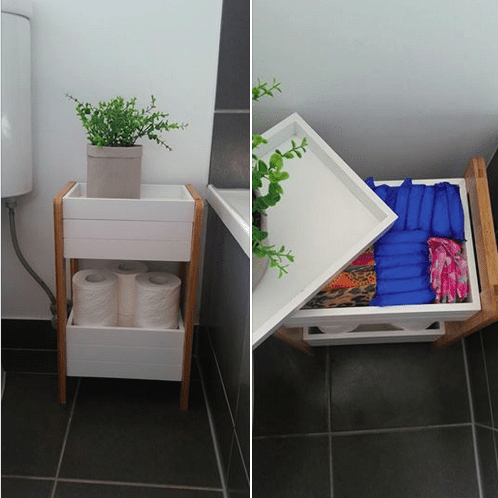 10. Table lamp gets a designer makeover
The new trend in interiors is all about creating personalised spaces that reflect your individual style. We love how Amy gave the Kmart table lamp a designer makeover using peacock print fabric and shoe polish!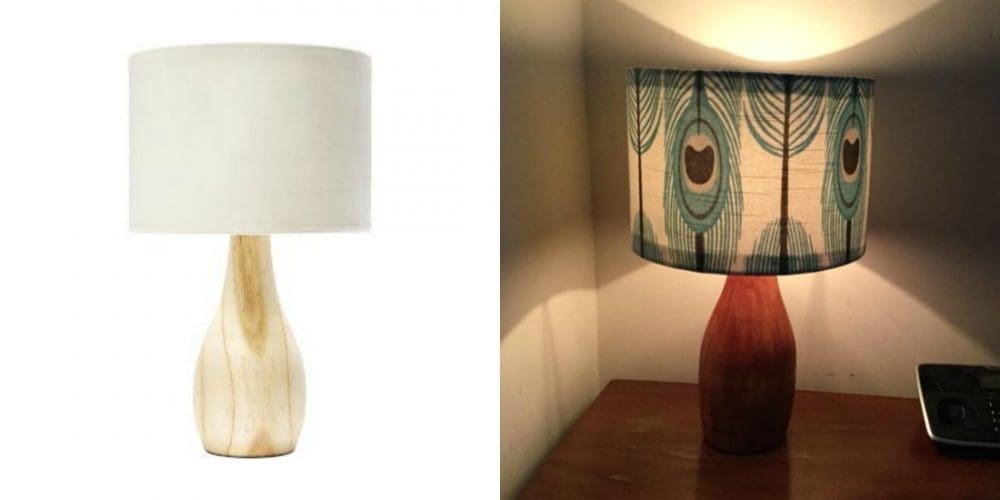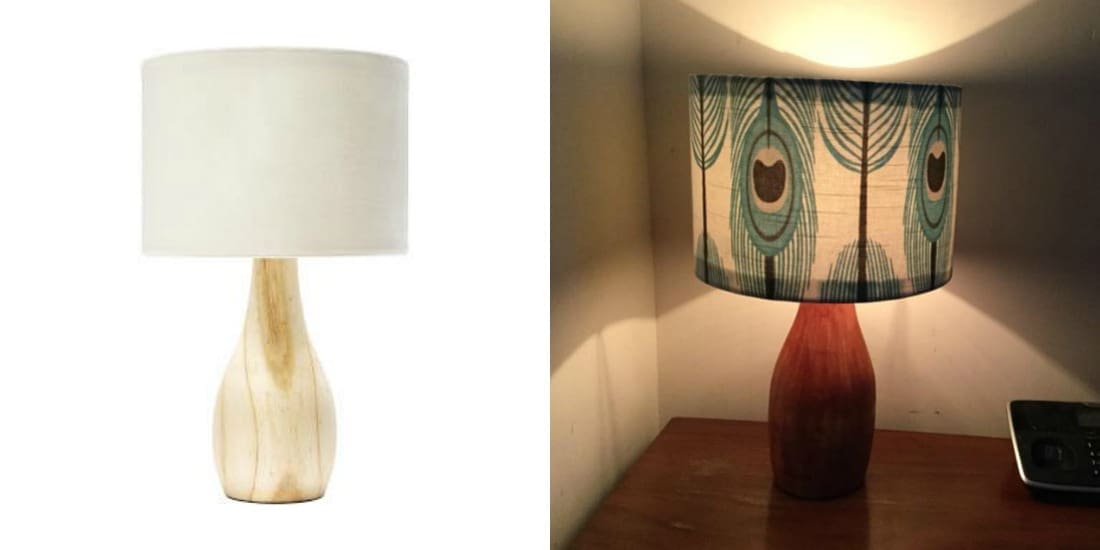 11. Memo board or lost sock holder?
Are lost socks a problem in your house? Kylie cam up with this great idea of using a memo board to 'Help find my sole mate', ha ha!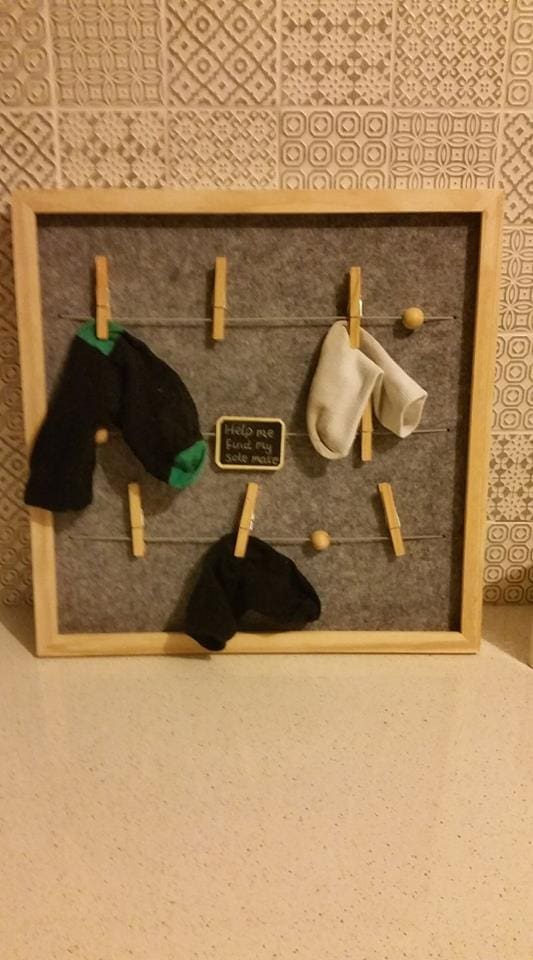 12. Kmart hack everything kids room
This stylish kids room is packed full of Kmart hacks! From the cowhide bench seat to DIY bedhead using memo boards and dowel, it goes to show you don't have to spend a lot to achieve an ultra-stylish kids room!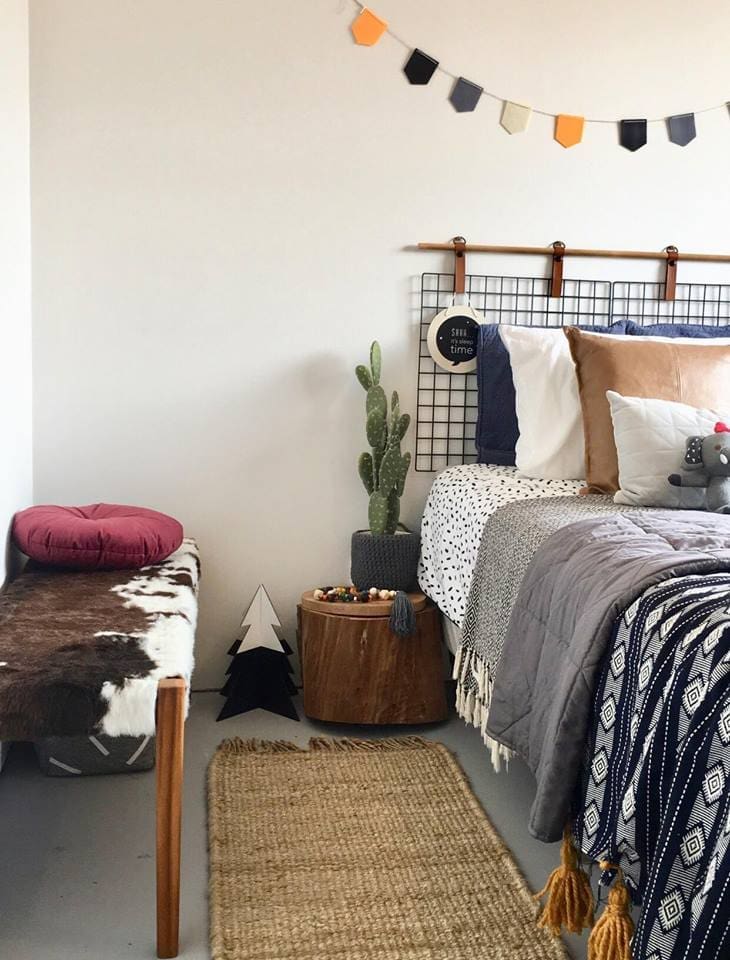 13. Veggie garden hack
It isn't until you go to buy a DIY veggie garden kit from the hardware store that you realise just how expensive they are! Libby came up with this solution using free foam boxes from the green grocer that she wrapped in Kmart timber look contact. Not only are they affordable, they're lightweight and easy to move about.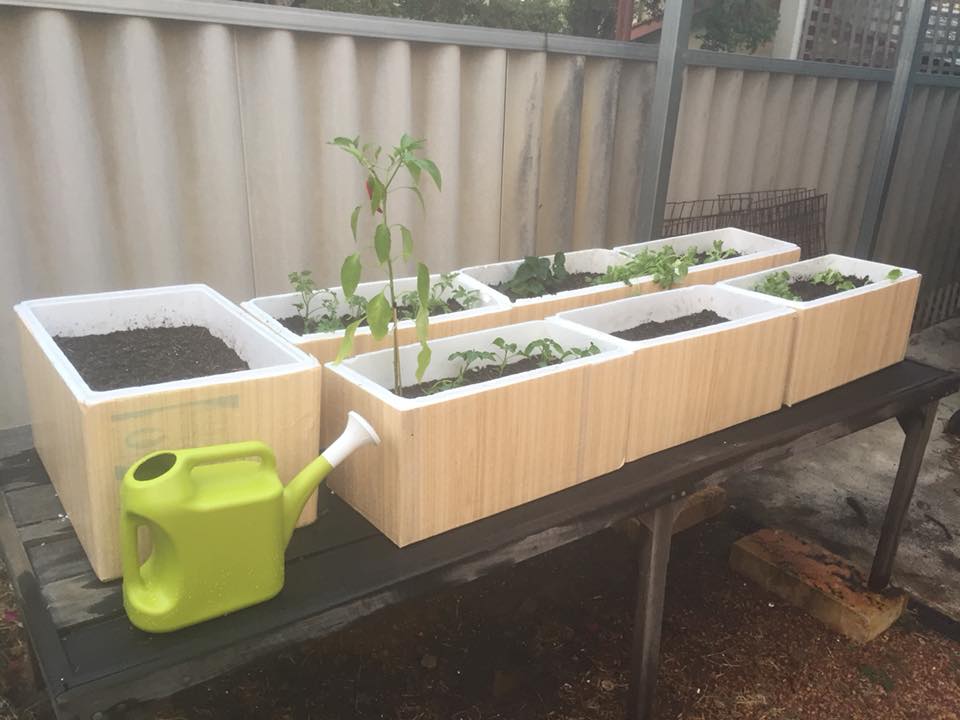 14. Towel rail as kids clothing rack
Whether it's to hold dress up clothes in a play room or baby clothes in the nursery, check out how fab the bathroom towel holder works as a clothing rack!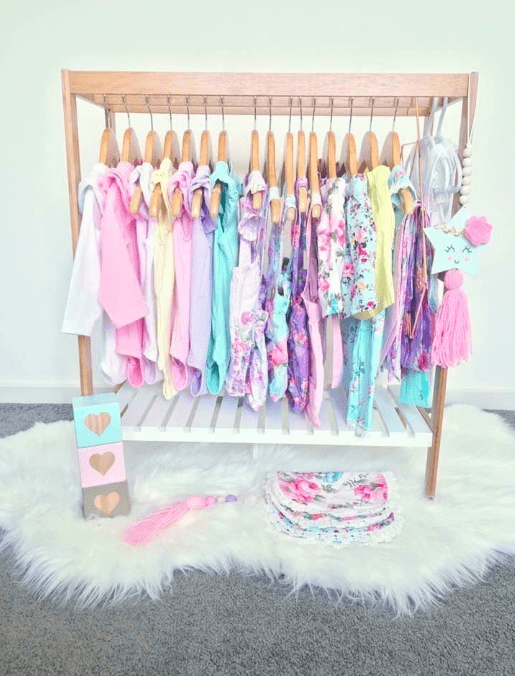 15. Hanging planters as wall pockets
You've most likely seen the Scandi-style wall pockets from high-end design stores but they come with a high-end price tag. Ashleigh created a similar look using the Kmart hanging planters. Genius!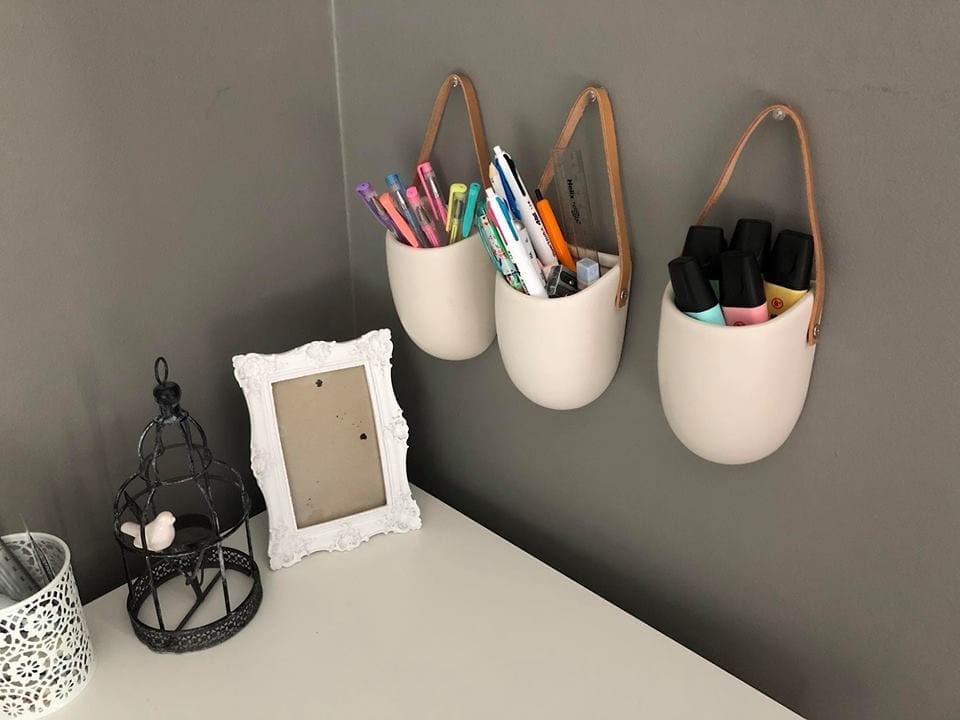 16. Bench seat as kids toy box
Struggling to contain kids toys in your house? Alana gave the outdoor bench from Kmart a stylish makeover by painting it a soft grey and applying timber letters to the face. "It fits so many toys in," she says.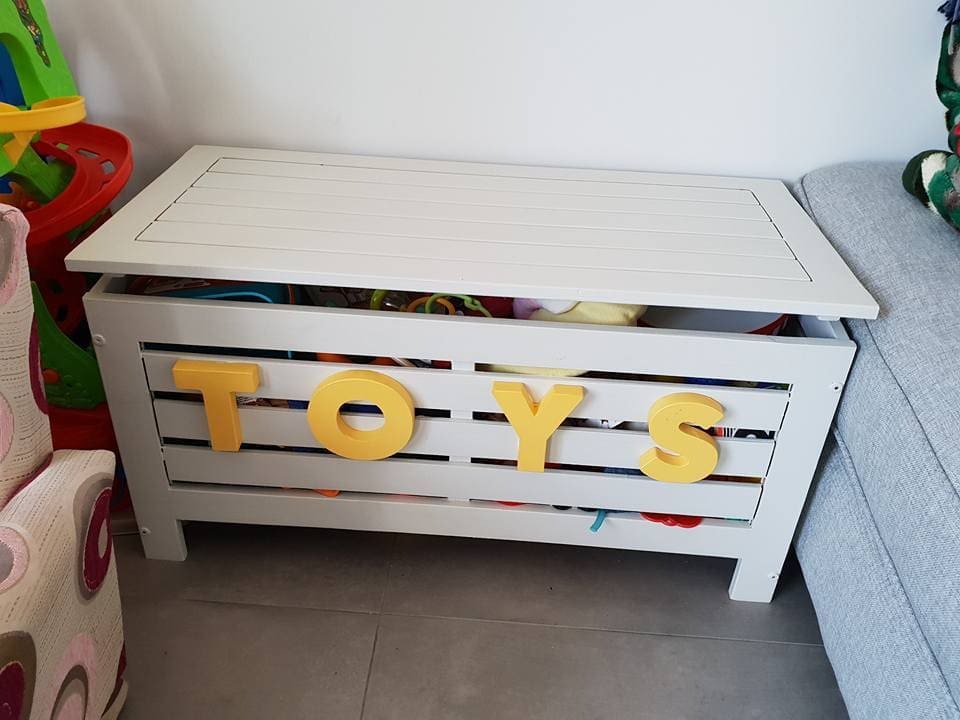 17. Bamboo drawer tidies as tiered spice rack
Well if this isn't stylish, tell us what is!
"We made a DIY spice rack using the bamboo drawer tidy's from Kmart by stacking them upside down to create a tiered effect," says Fliss.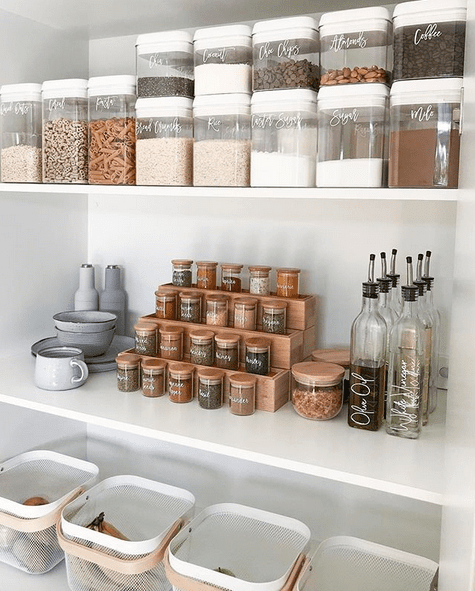 18. Bookshelves become kids storage lockers
Mum of five, Jessica-Louise made this clever storage locker hack for her children. What a great solution that many busy parents will surely want to try themselves!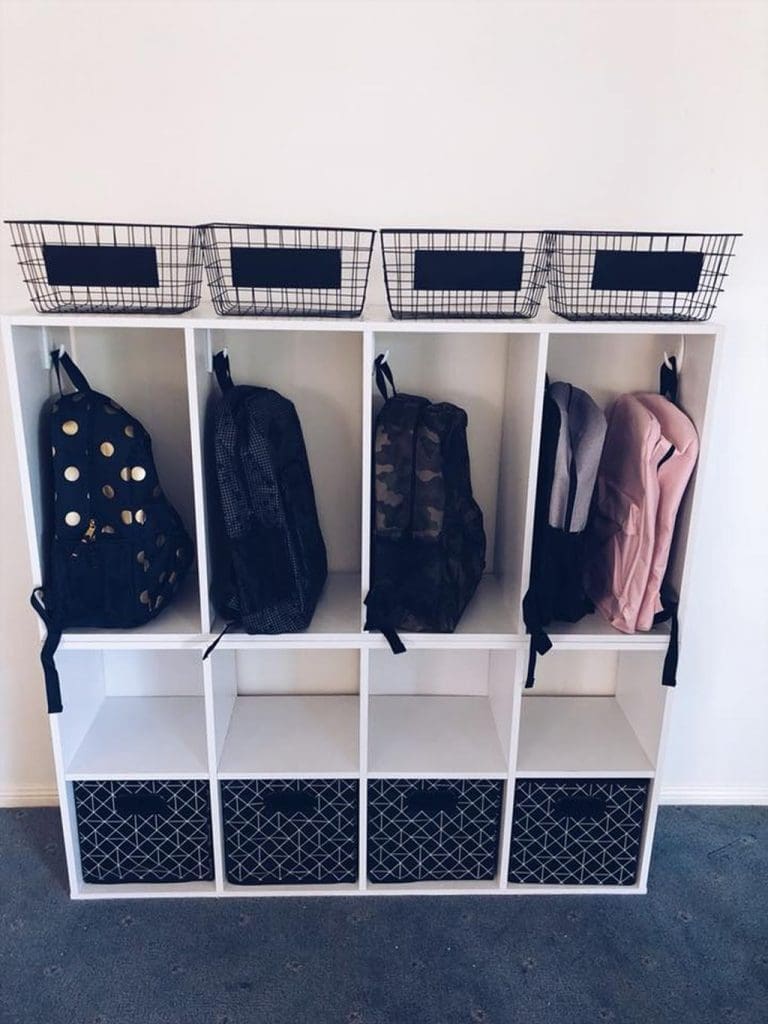 19. Bamboo utensil holder as succulent garden
Forget using the bamboo utensil holder in the kitchen when it looks this darn good as a succulent garden! The diagonal cut opening just invites indoor plants to drip over the edge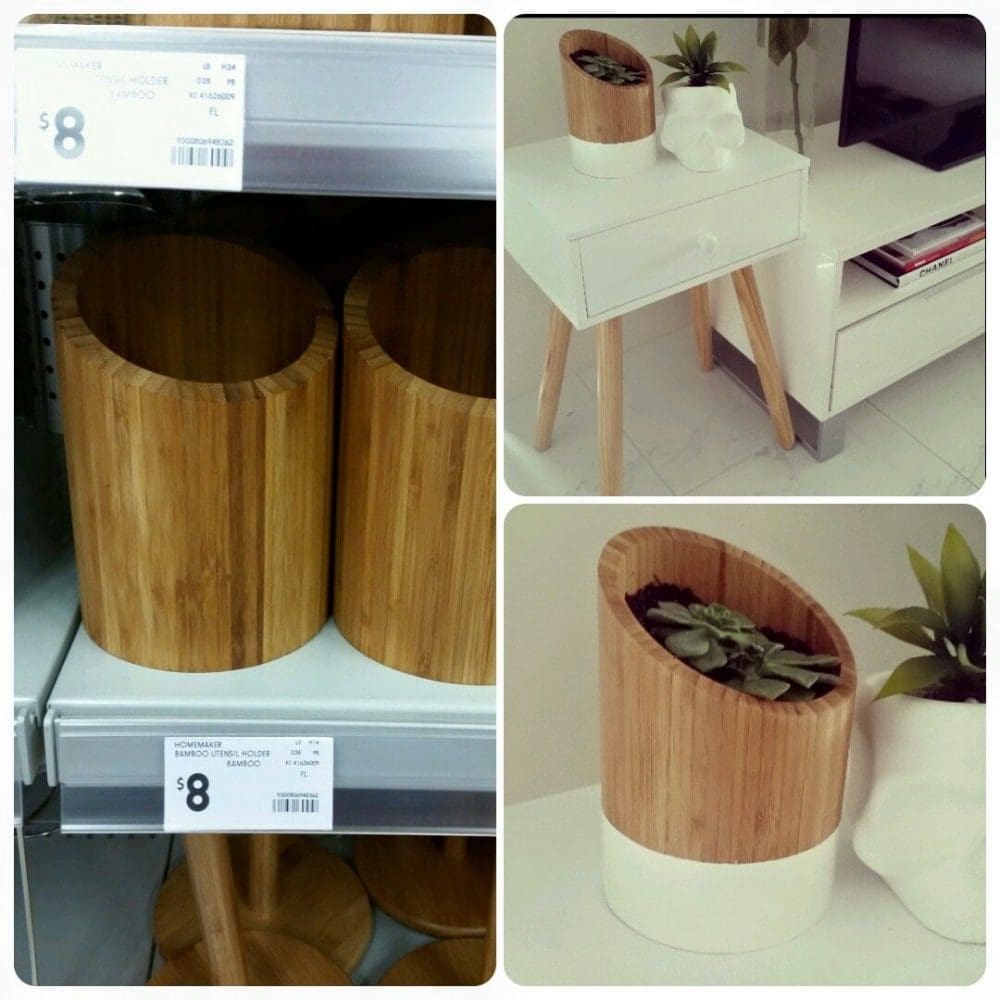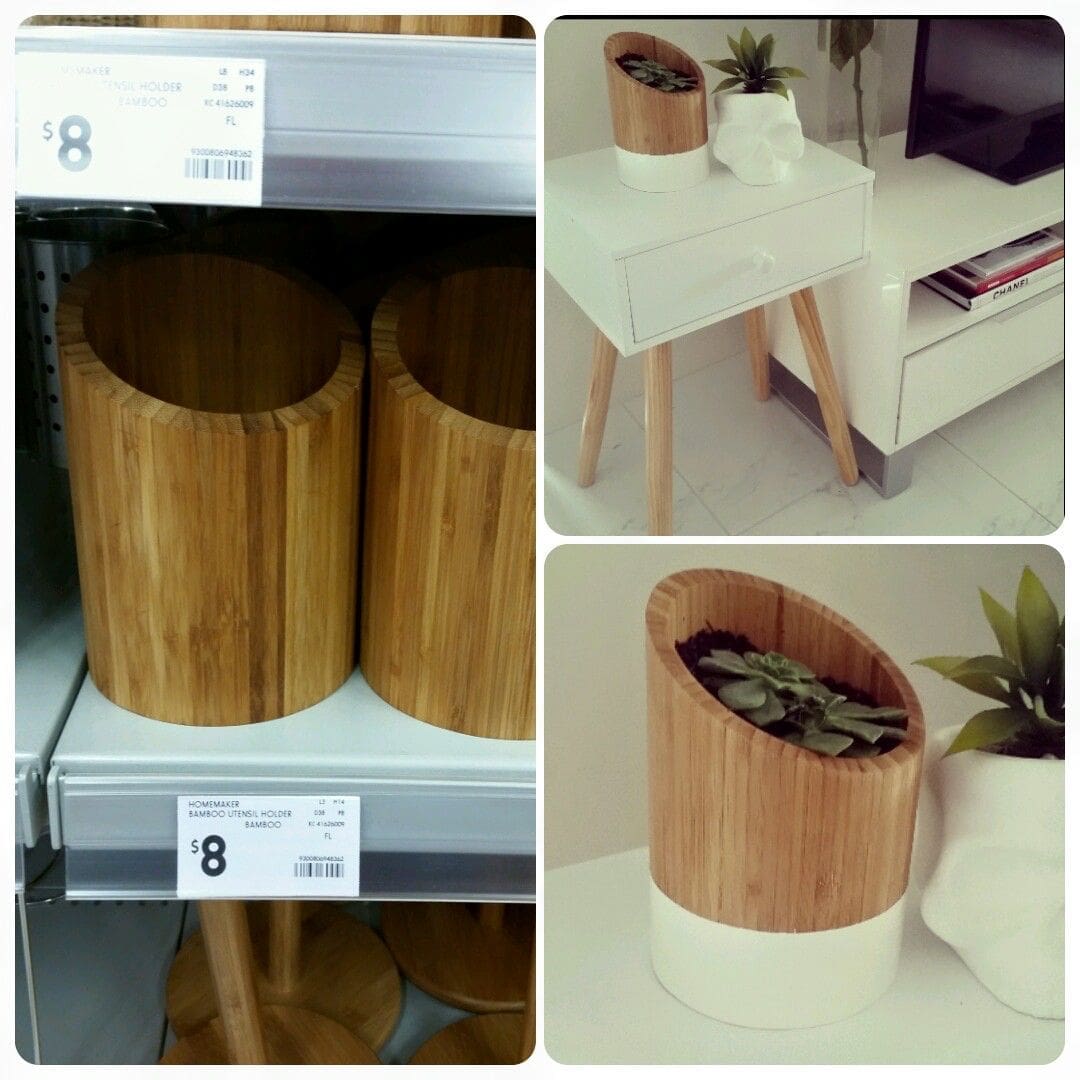 20. Boho style pot plant holder
Isn't it incredible what a bit of jute string can do? Turning this modern pot plant stand into a boho style piece that would easily pass a designer piece.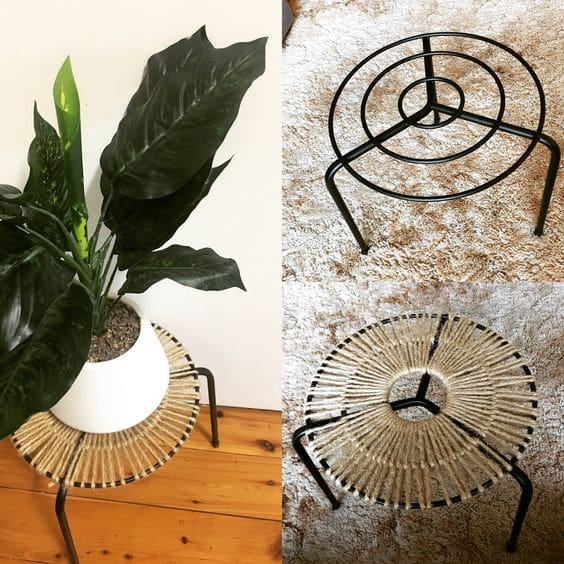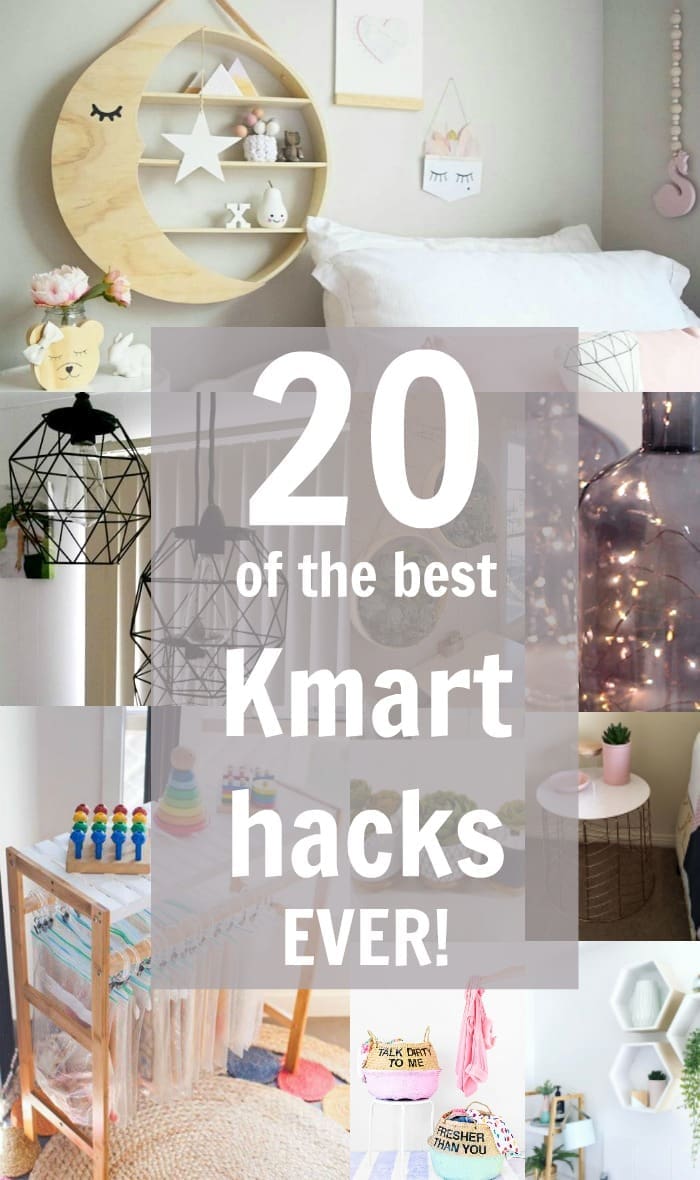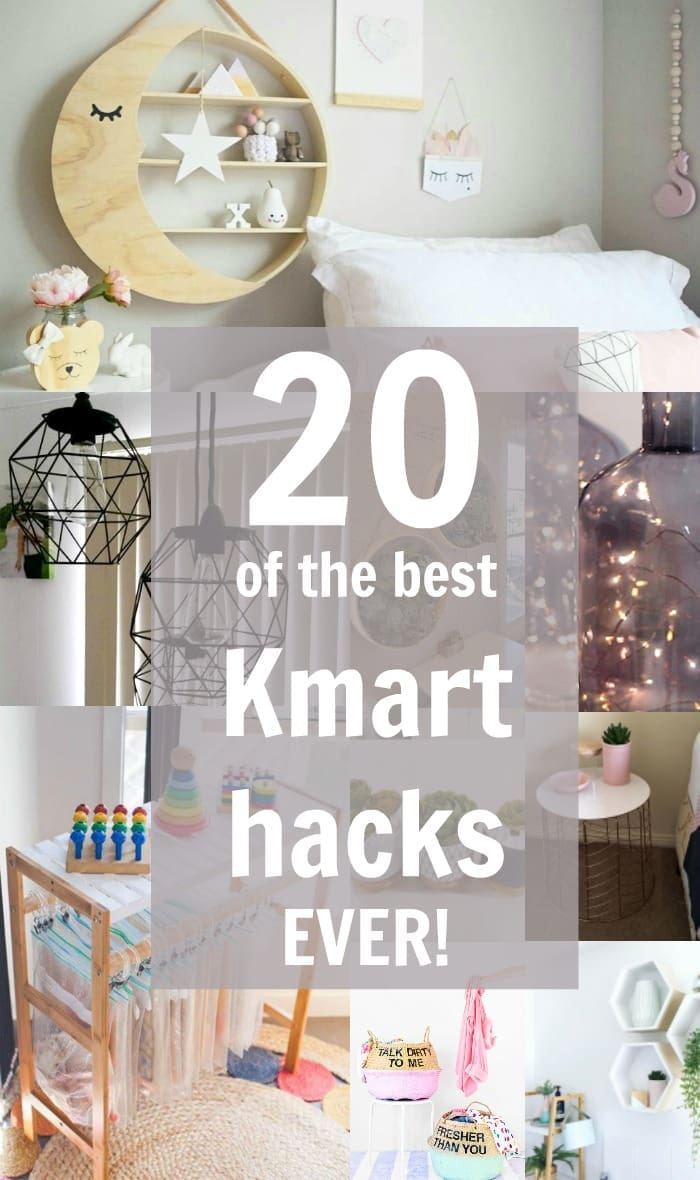 Top 20 Kmart hacks of 2017
1. Outdoor bench and planter box as internal bench and storage unit
Some people are so clever! Just check out how Belinda Leigh repurposed an outdoor Kmart bench seat and planter box into a stylish hallway bench and storage unit! The white paint gives it a real Hamptons vibe and she says she's still looking for fabric to upholster the new foam cushion top.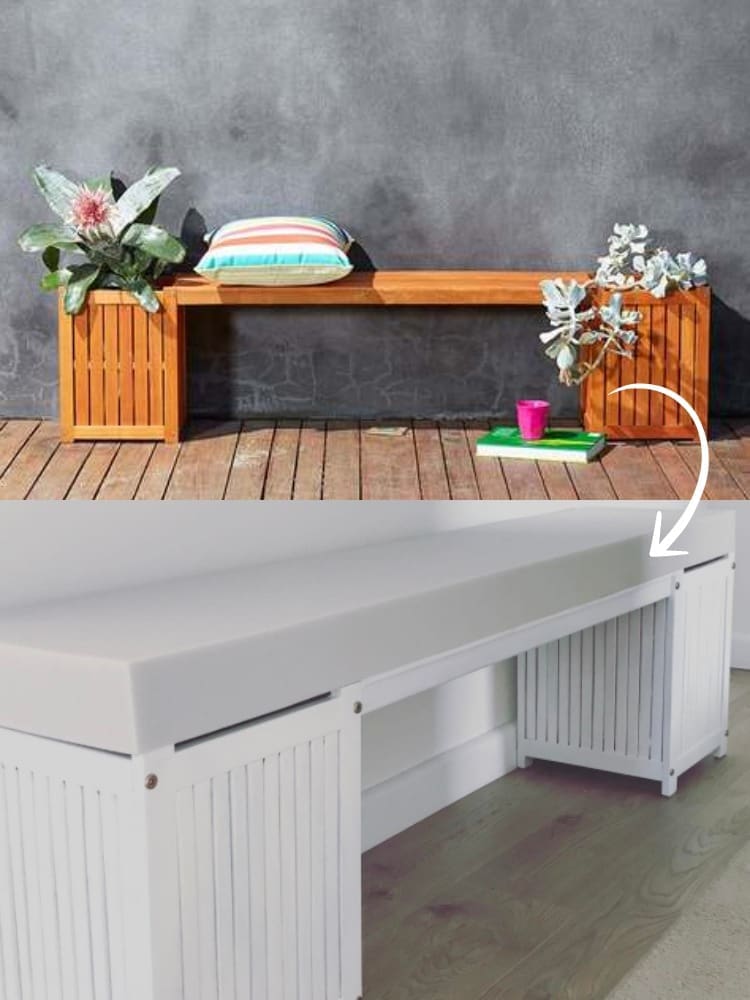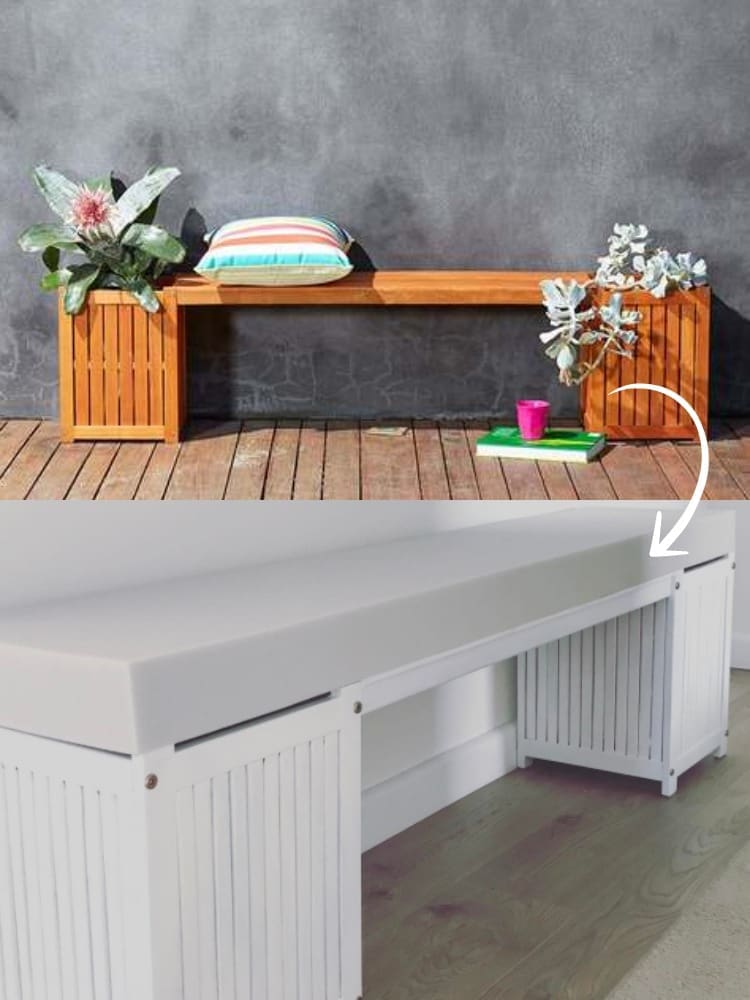 2. Wall shelves as vertical succulent gardens
A clever hack by the people at Cobbitty Bake House, they added chicken wire backing to these Kmart shelves and used them as decorative succulent gardens.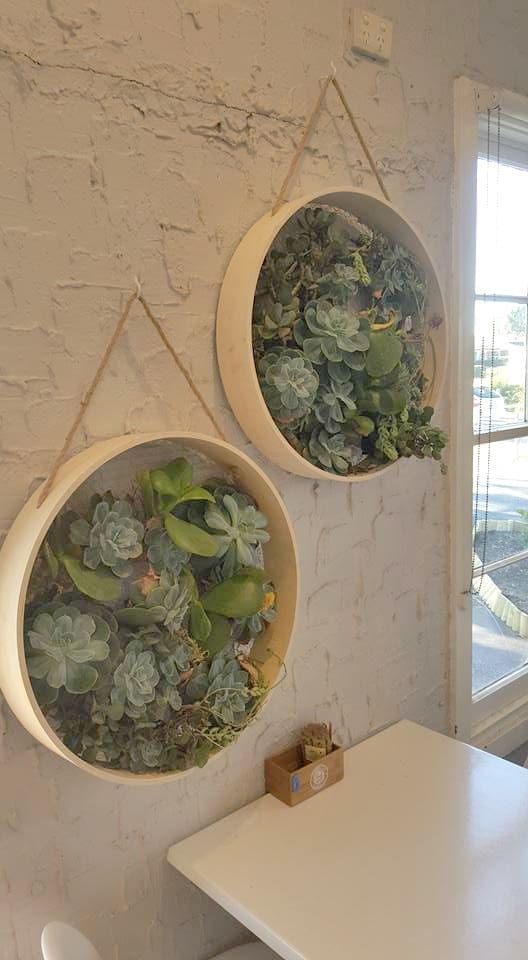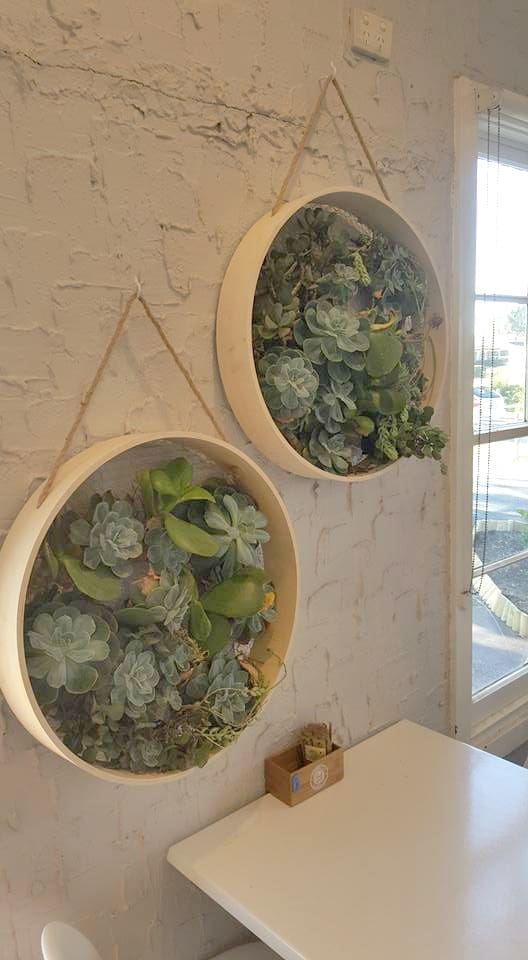 3. Hex wall pockets as laundry shelves
Bel is a regular in our #stylecuratorchallenge and we nearly fell backwards when we saw how beautifully she styled her laundry using all sorts of Kmart products in clever ways! The standout was how she used the hexagon wall pockets as laundry shelves!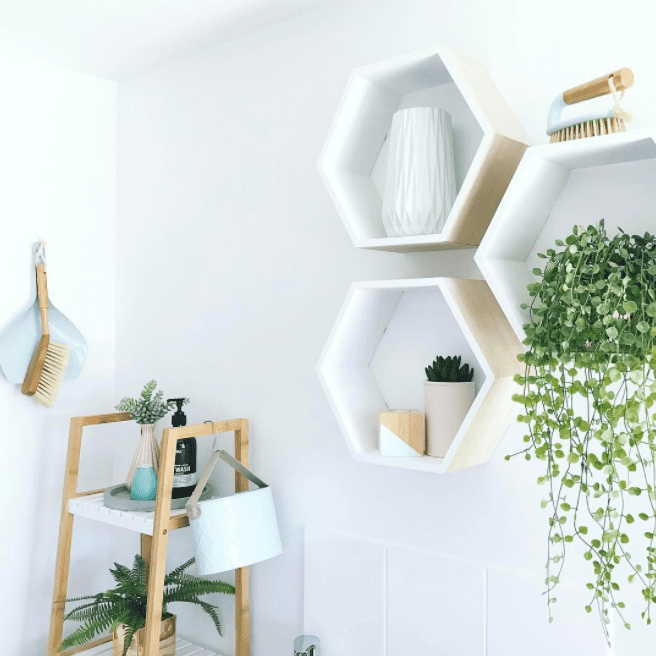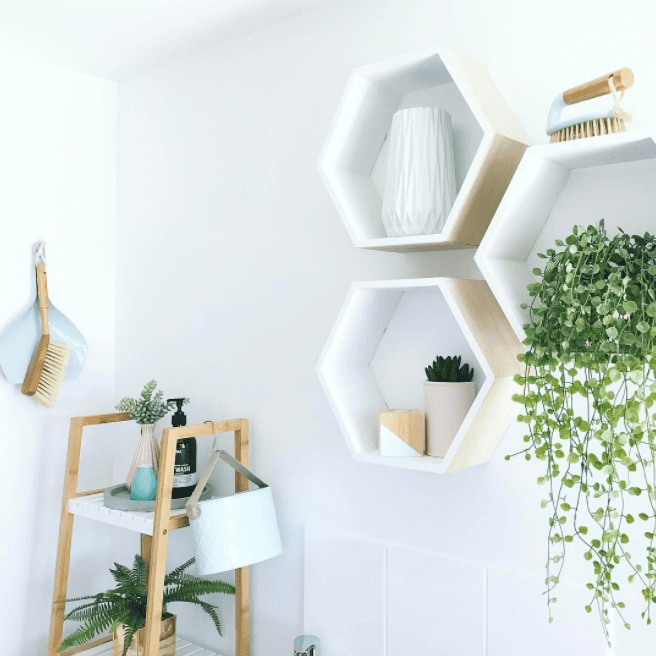 4. Glass vases as ambient table lamps
You've most likely seen fairy lights put in mason jars but have you even seen them put into decorative vases and look this darn pretty?!
These would look gorgeous in a bedroom or living room. Simply unthread the twinkle lights (she used rose gold) and place them in the vase.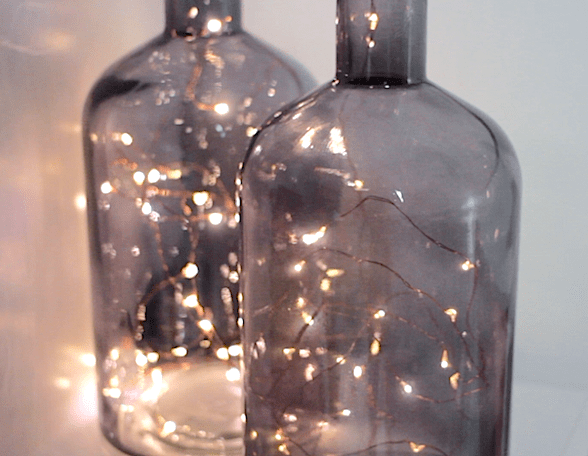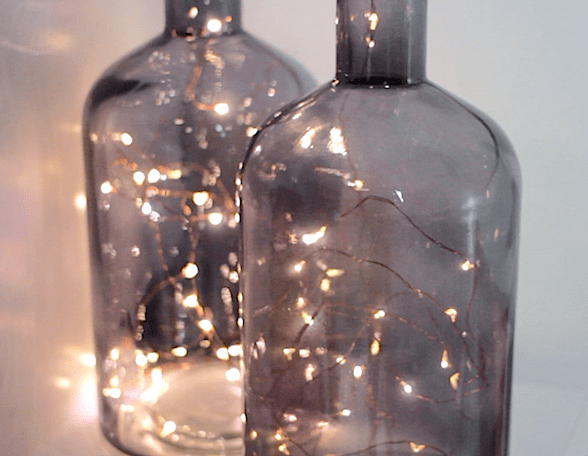 5. Contact vinyl as laptop cover
Using $3 marble contact and $5 rose gold contact, Chase Woods created an on-trend geometric laptop cover. You can check out our tutorial (including a helpful video) on how to contact your laptop here.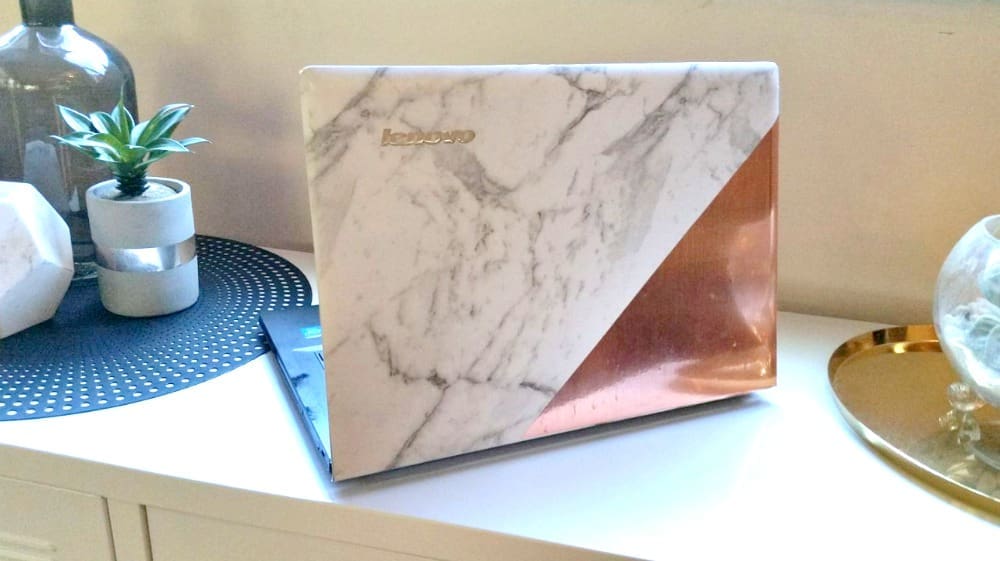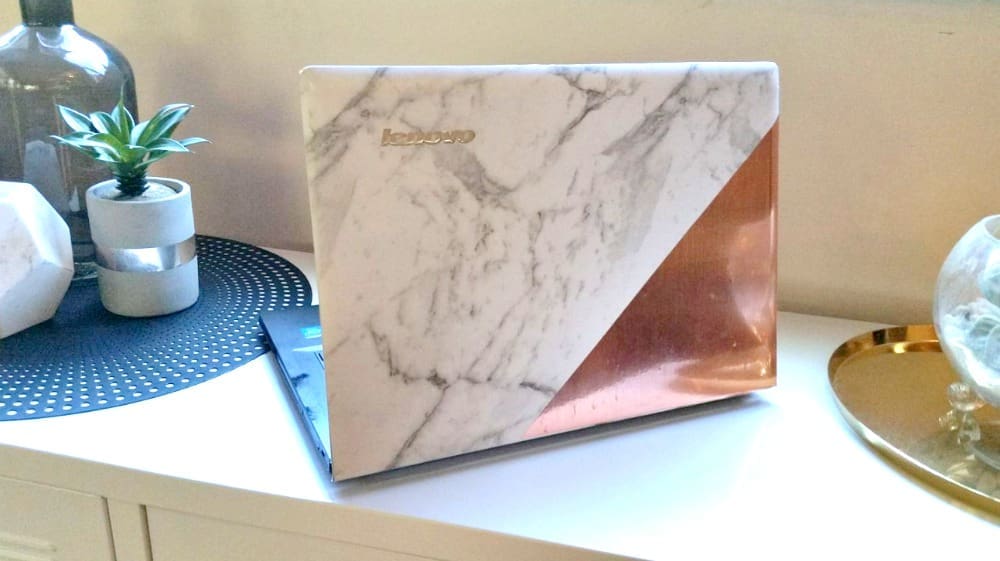 6. Bright baby play gym as stylish Nordic play gym
Ok, so this one is more of a makeover than a hack (because the item isn't being used for a different purpose than it was designed) but this mama did such a fabulous job we just had to include it in our round up!
Play gyms are a life saver in the early months but my goodness are most of them hideous, ha ha! That is unless you give it a makeover by painting the unsightly bright colours in muted tones and replace the cheap plastic toys with on-trend wooden beads.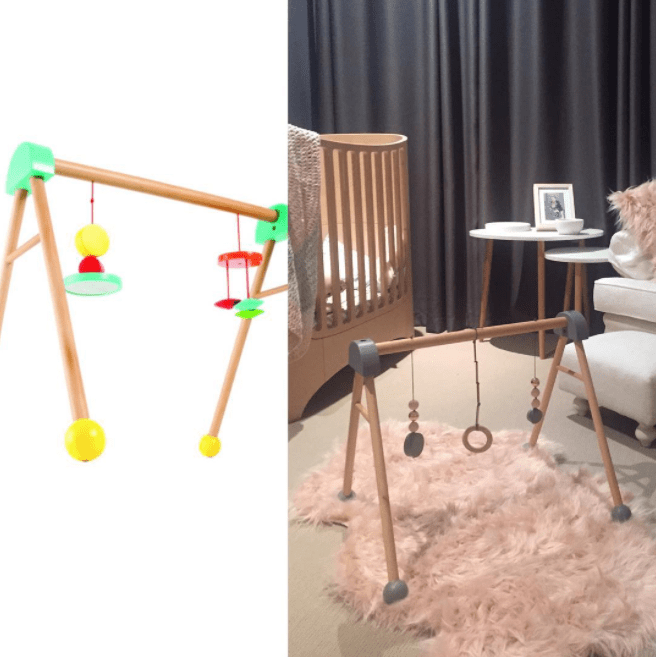 7. Wire basket as bedside table
Talk about creating a luxe look for less! Nola cut the handles off a metallic wire basket and glued a white and pink check placemat on top to create this fab bedside table!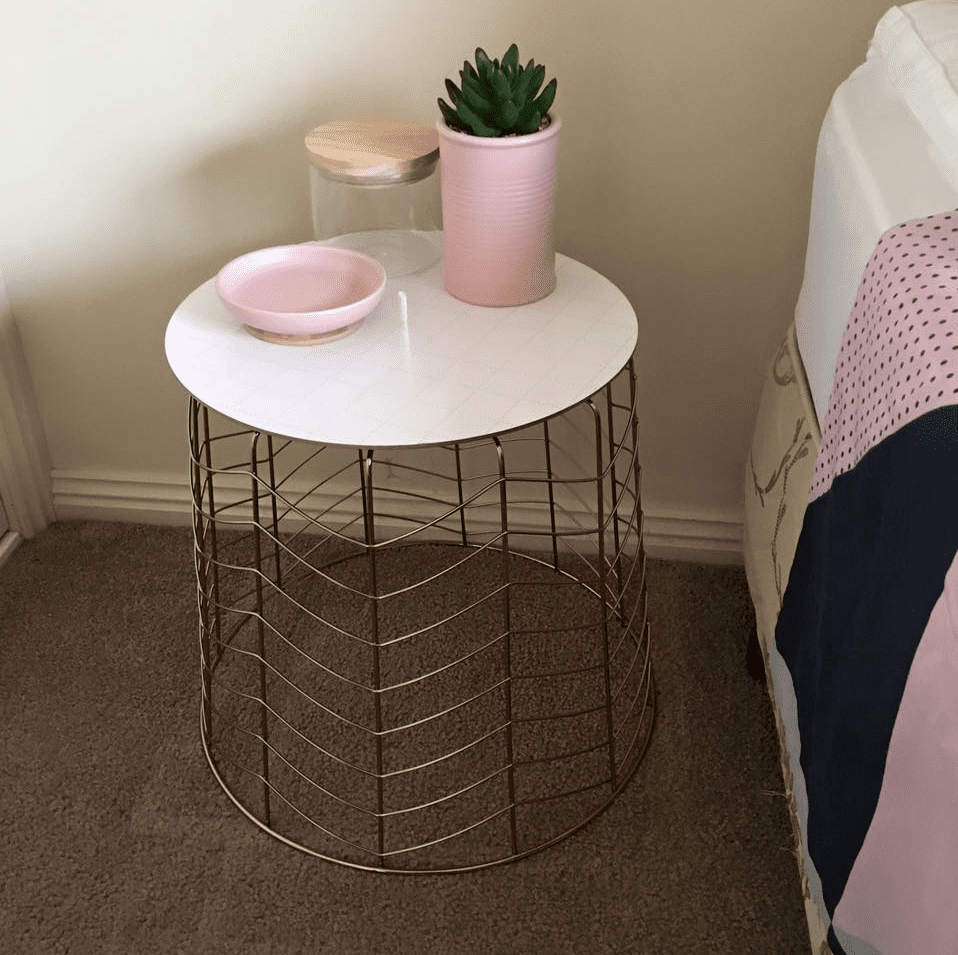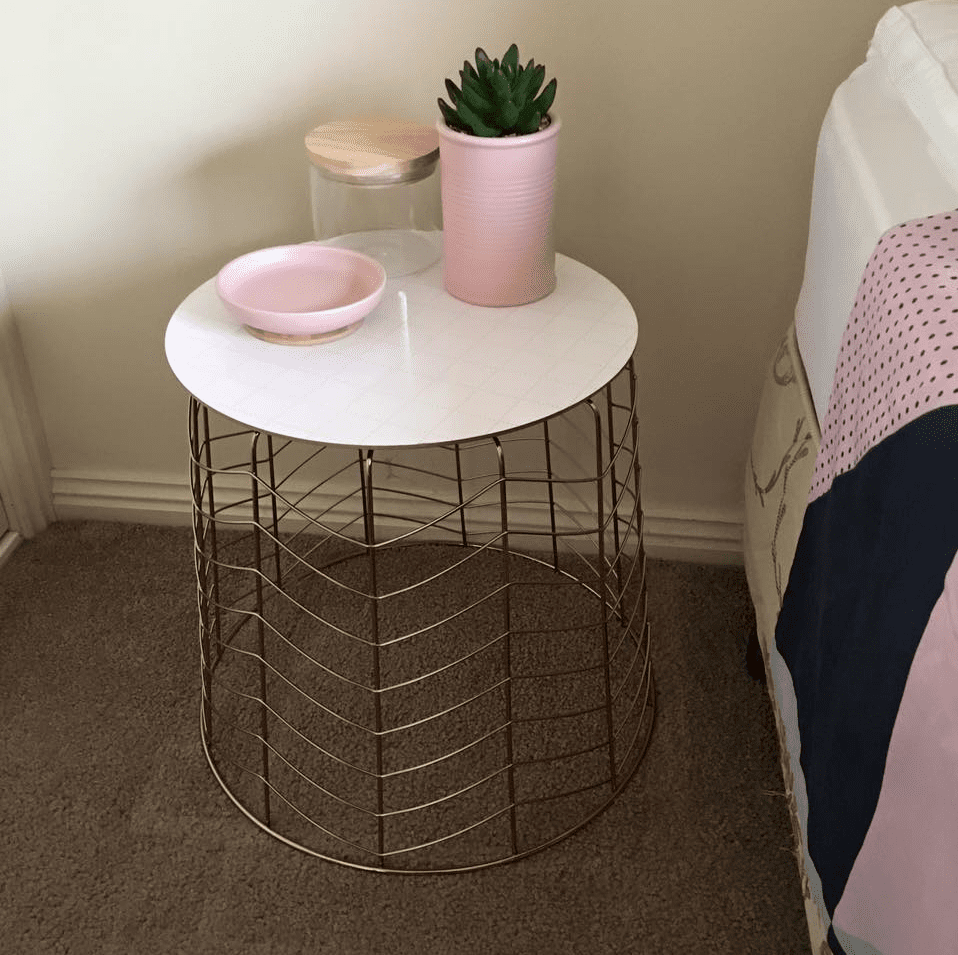 8. Bathroom trolley as pet foods station
We all know how unsightly and smelly pet bowls and open food packets can be in the home.
But just check out how clever this little Kmart hack is — turning a bathroom trolley into a pet food station complete with all the pet storage tins and food bowls too!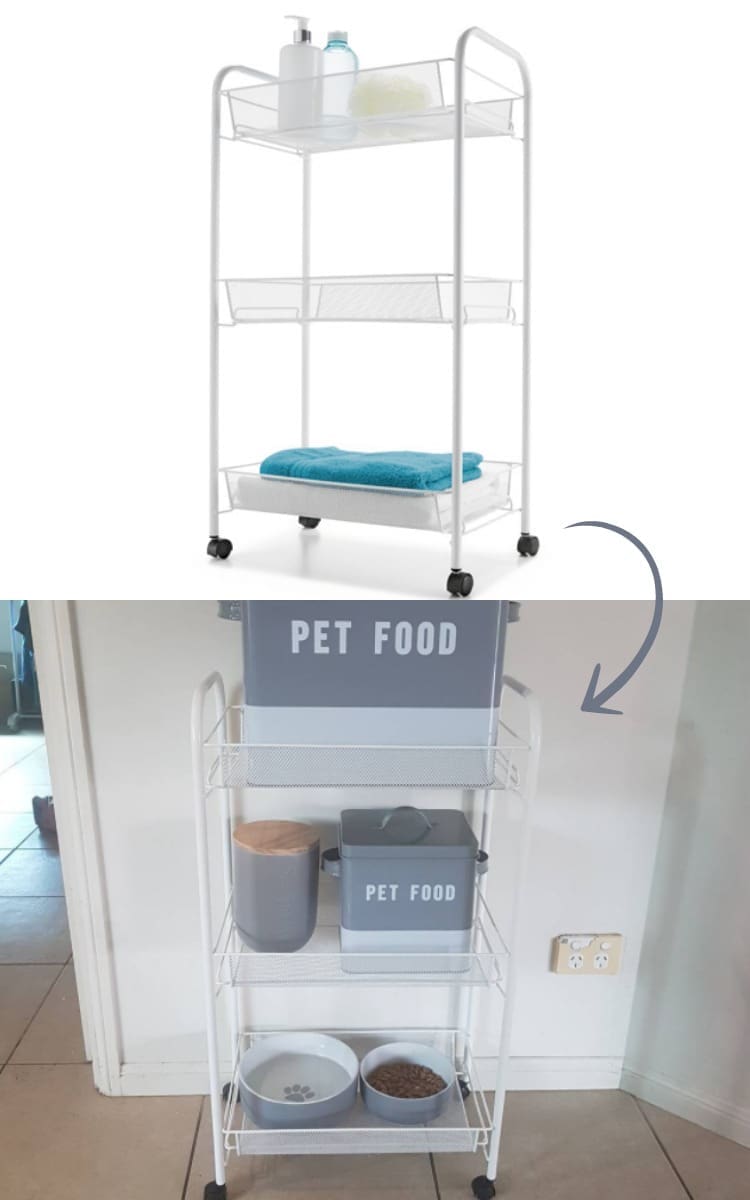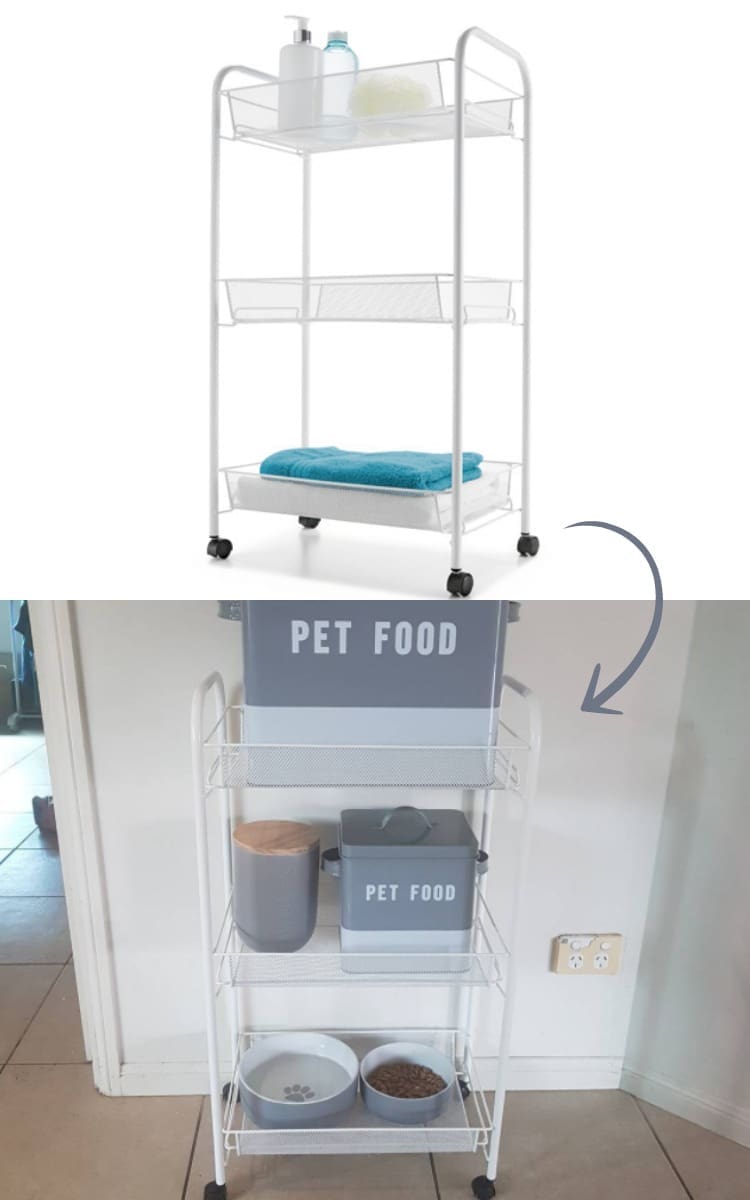 9. Contact vinyl as kitchen bench
When Beth Milburn was looking for an inexpensive way to update her kitchen until she could afford a total makeover, she used $3 Kmart marble contact to cover the gross yellow laminate!
Such a clever temporary solution to refresh your kitchen.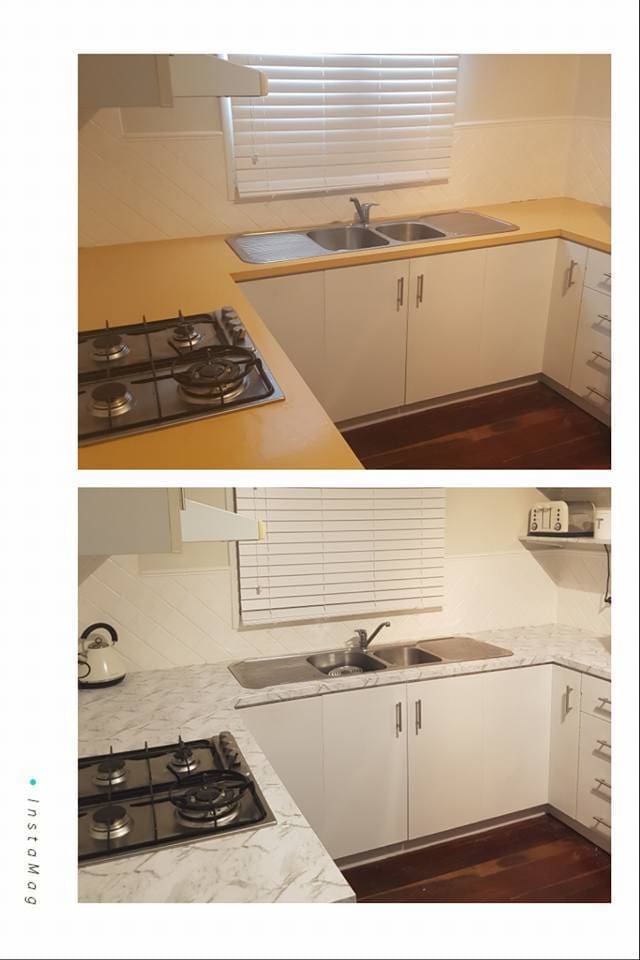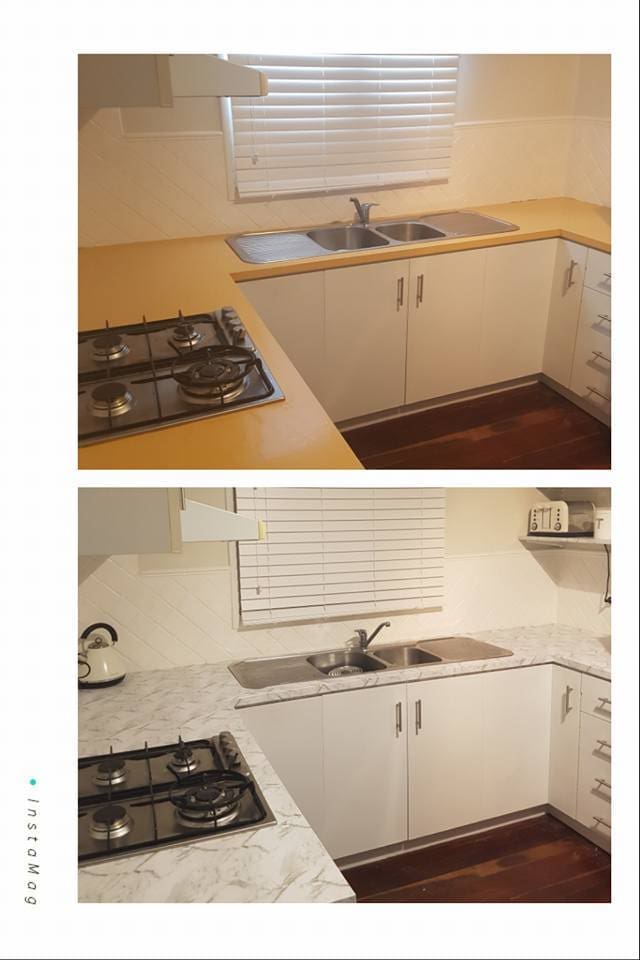 And then inspired by Beth's makeover, Eden gave her kitchen a timber-look transformation using the wood grain contact.
Another inexpensive way to makeover laminate kitchen benchtops is to give them a concrete finish — it's more long-lasting than contact — and we have the full tutorial on how to create a concrete kitchen benchtop here.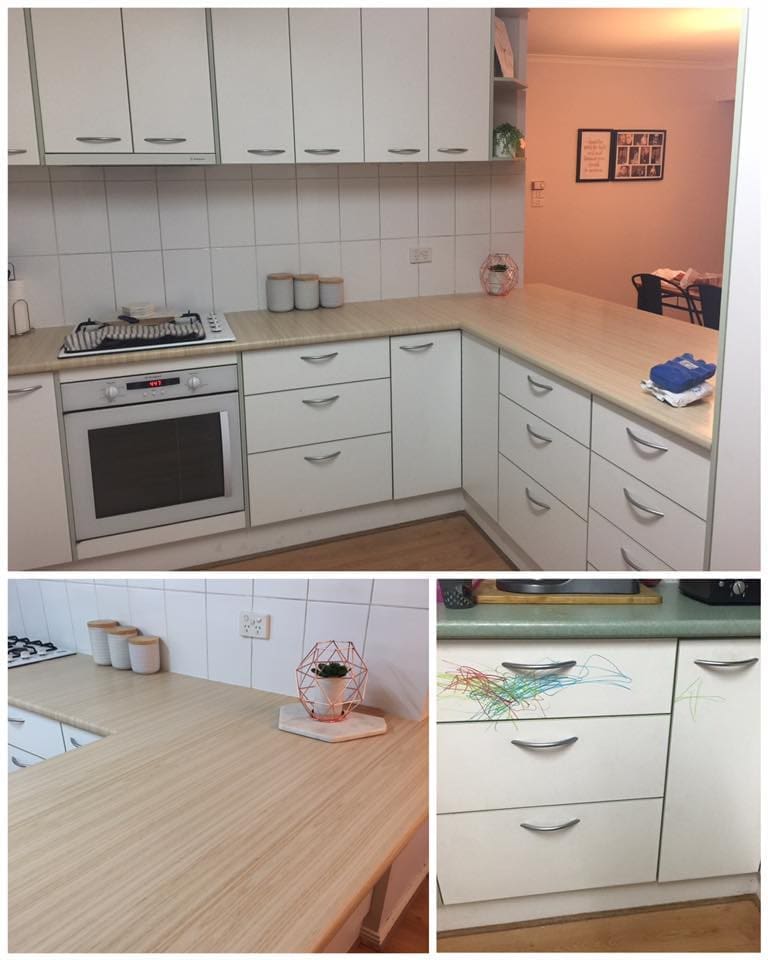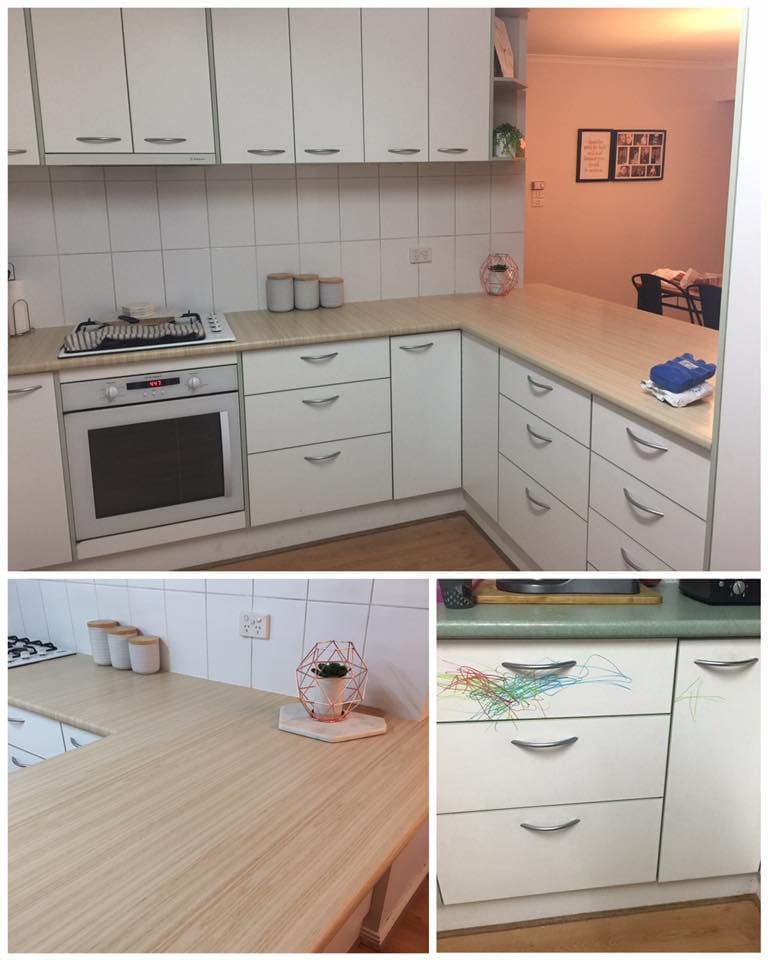 10. Pot plant stand as concrete top side table
Without wanting to toot our own horn, we love how this DIY concrete top side table turned out and for just $5 for a pot plant stand plus a couple of cups of concrete, it's an incredibly affordable way of making your own stylish side table or pot plant table as we're now using it!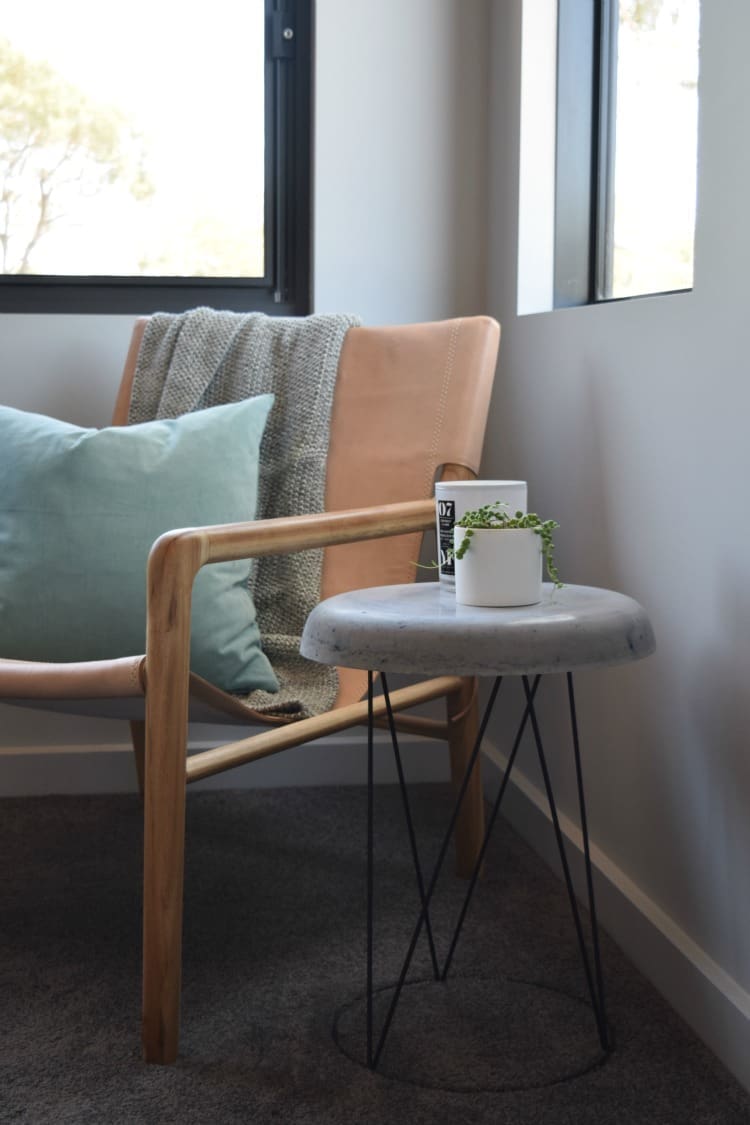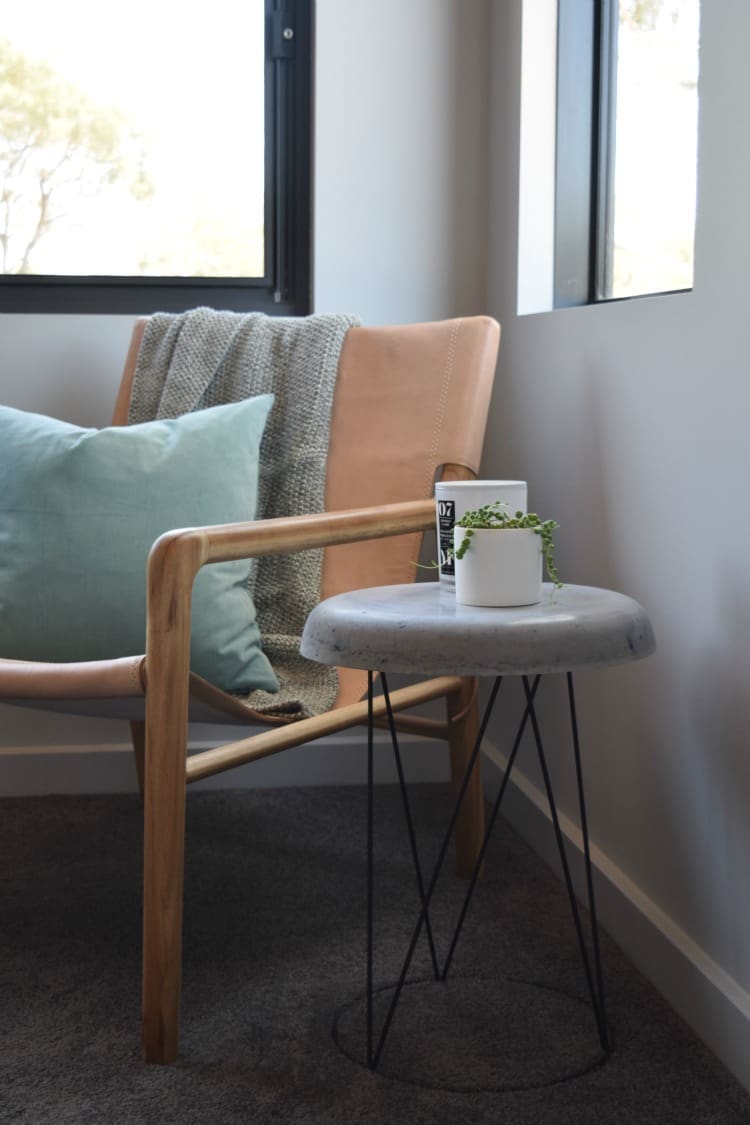 11. Book shelf as open wardrobe
Rachel hacked this $15 book shelf and turned it into an open wardrobe for her son. By simply moving some of the shelving heights and adding a dowel rod for coat hangers, she was able to create an affordable and stylish storage solution!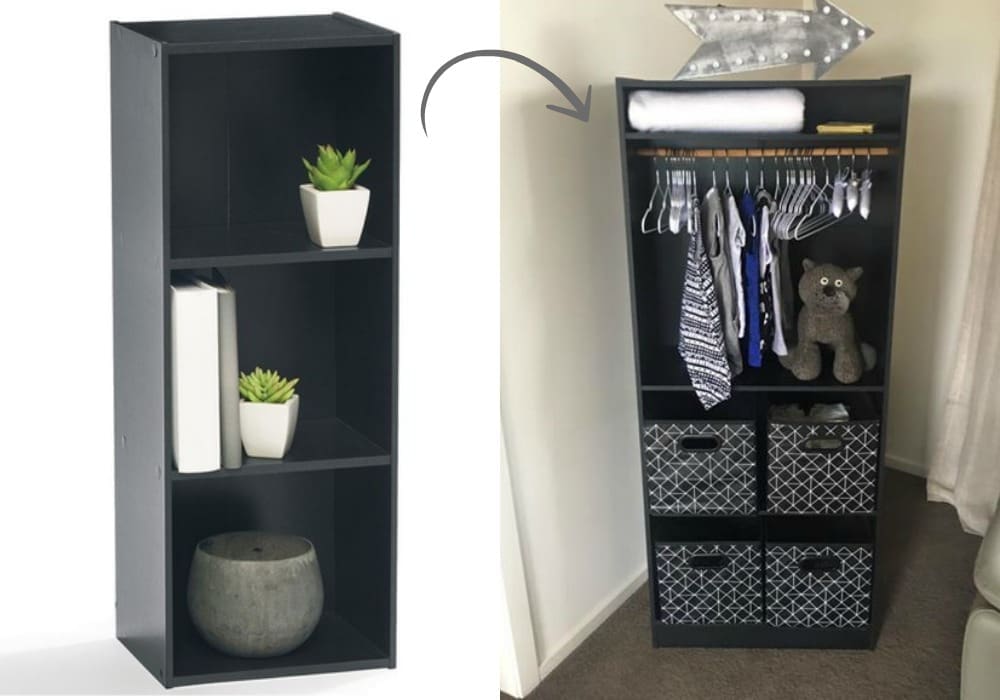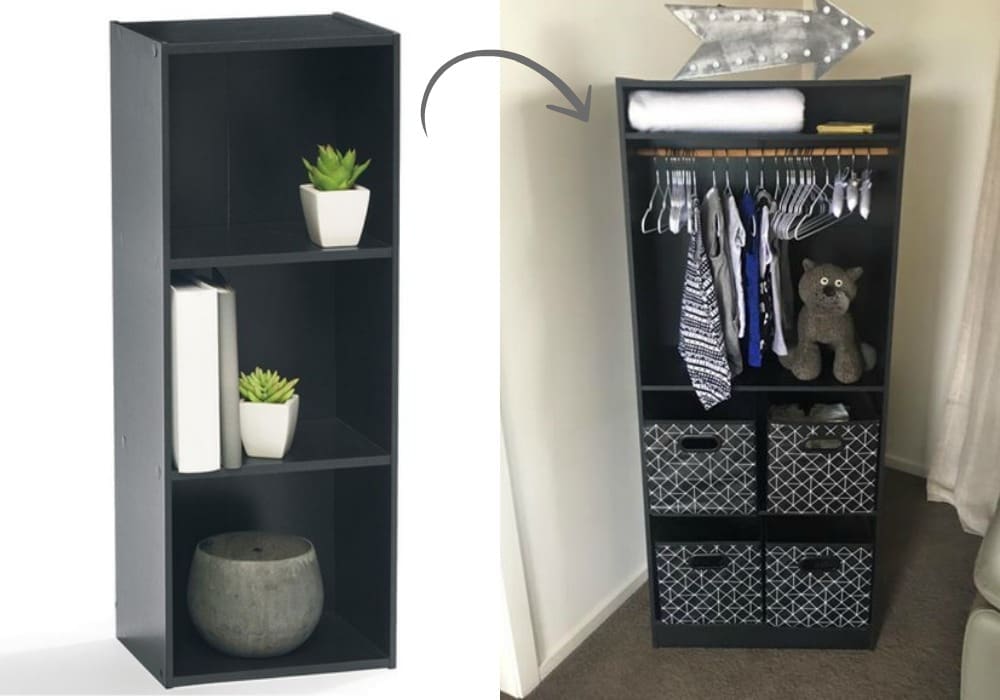 12. Candle holders as geometric pendant lights
These geometric pendant lights cost just $7 each but you wouldn't know it! Jessica's clever husband spray painted the metallic candle holders black and drilled holes through them to make these stylish pendant lights.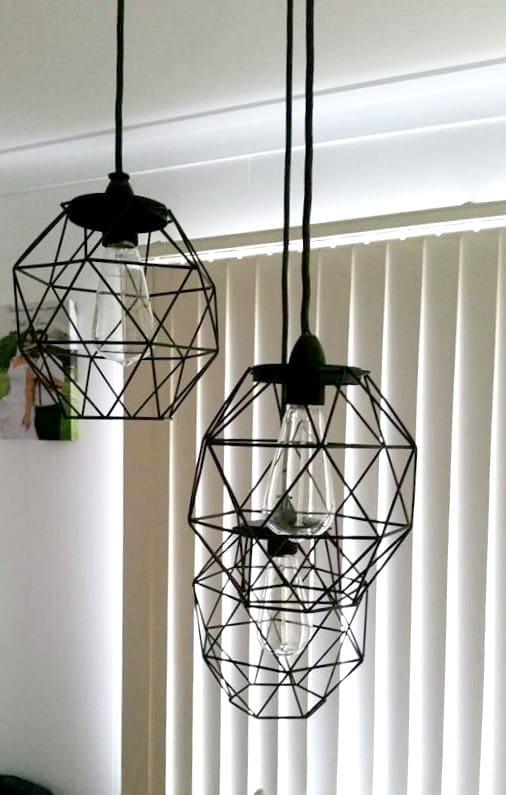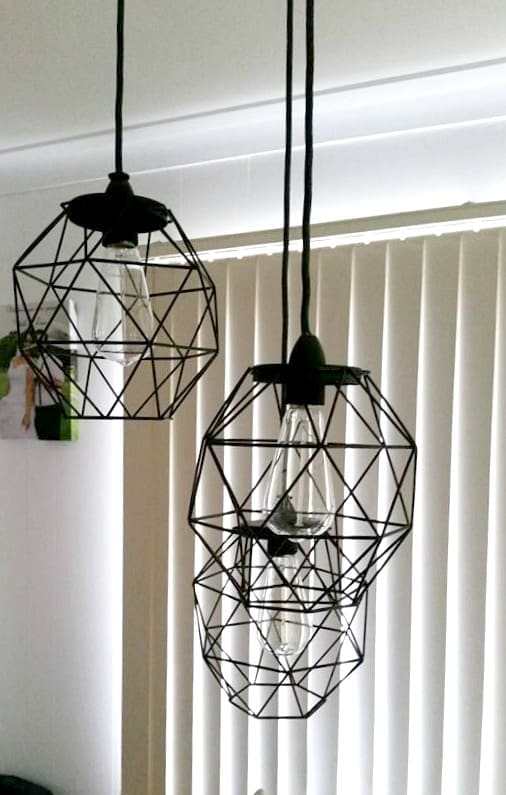 13. Round shelf as on-trend moon shelf
This one is another makeover rather than a hack buuuut it's so stylish it just had to go on the list too! Moon shapes and that 'sleepy eye' are trending in children's interiors and we adore how this makeover turned out.
You can download the PDF to make and style this moon shelf on the Make and Style It blog here.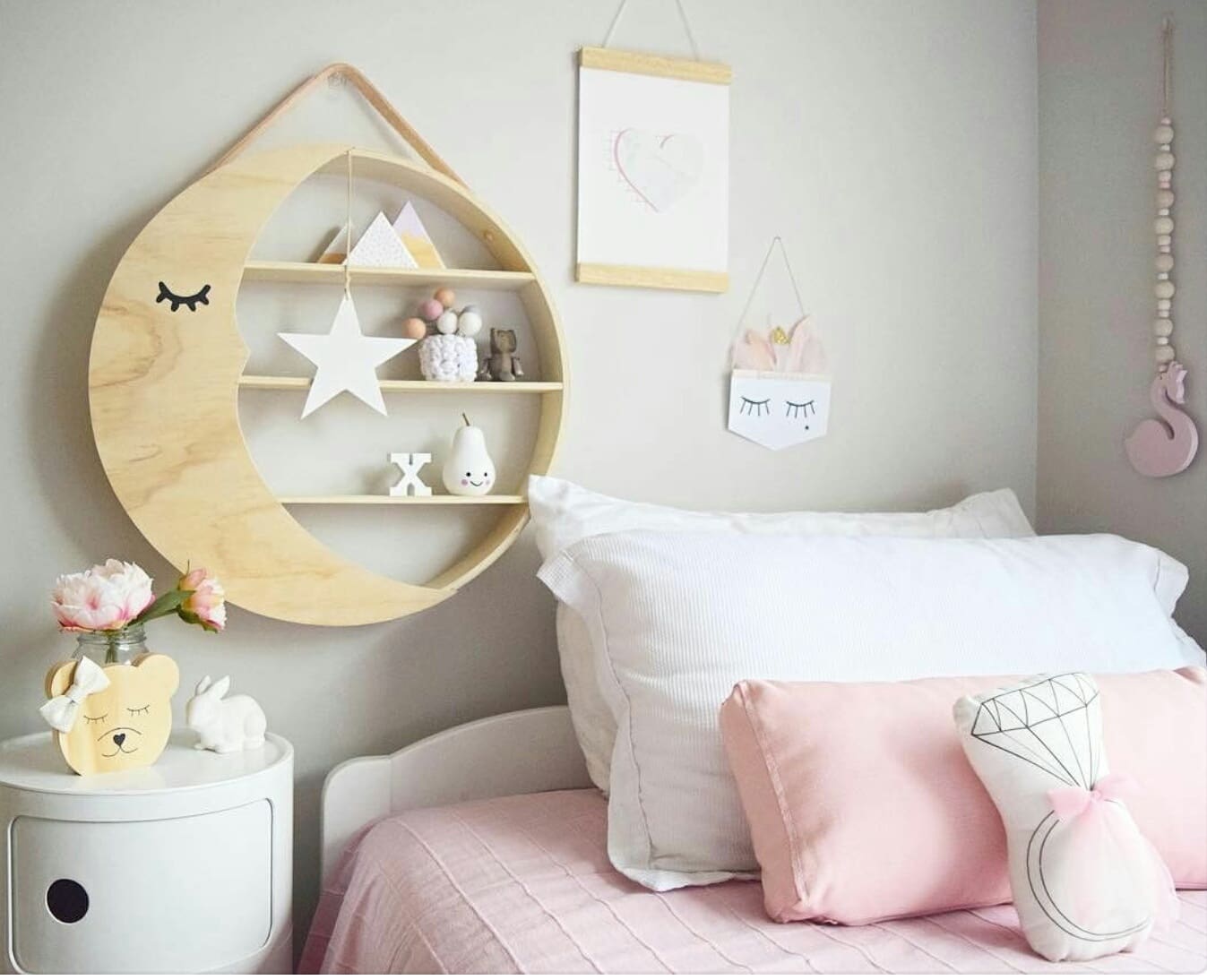 14. Kitchen canisters as succulent planters
Always looking for new ways to display indoor plants, these Kmart canisters look great as mini succulent gardens. Do as Amanda did and cluster several together, mixing patterns and sizes.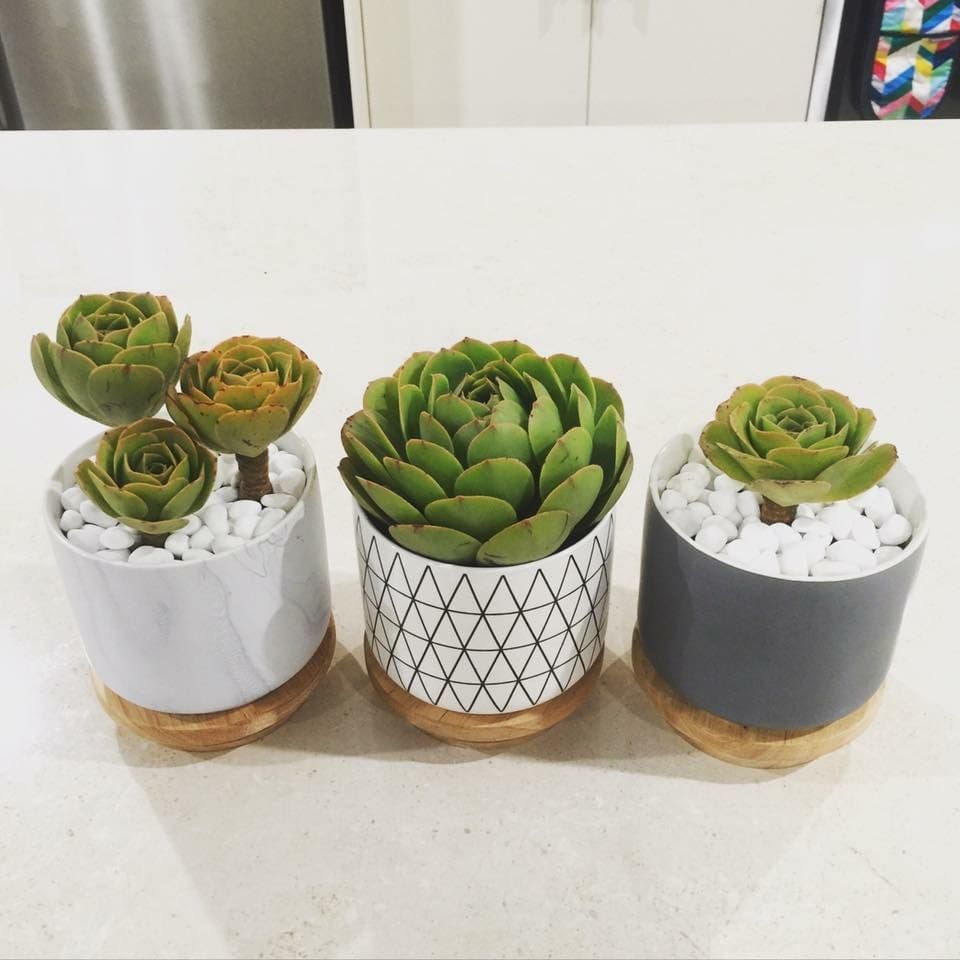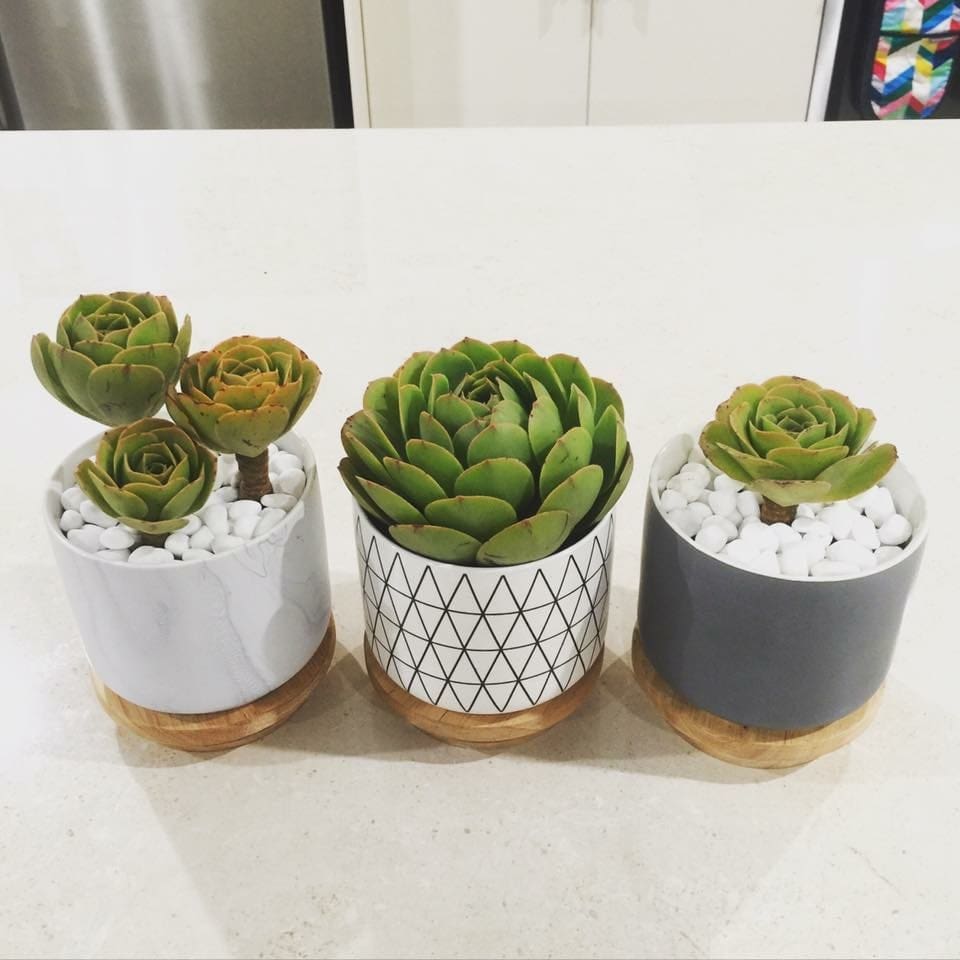 15. Storage solutions used as organisers
Our Organised Hive makes no secret of loving Kmart and not just for their home decor! She's used a bunch of storage solutions to organise her cupboards at home.
Here's what she did:
1. Wire shelves (used in her crockery cupboard, fridge, saucepan/fry pan cupboard and craft cupboard)
2. Magnetic whiteboard (used for meal planning on the inside pantry door)
3. Vertical storage holder (used for baking trays)
4. Small pull out containers (used in fridge and laundry cupboards)
5. Dish rack (used in tupperware drawer)
6. Large pull out storage containers (used in pantry and craft cupboard)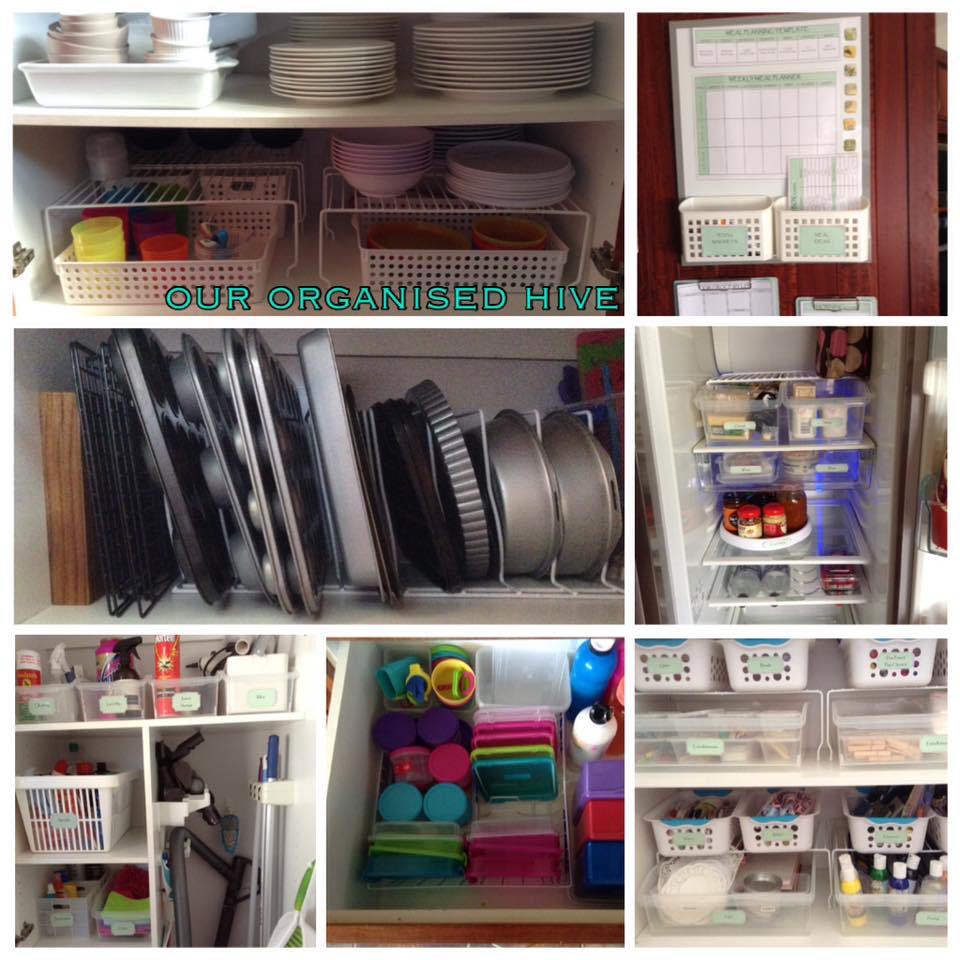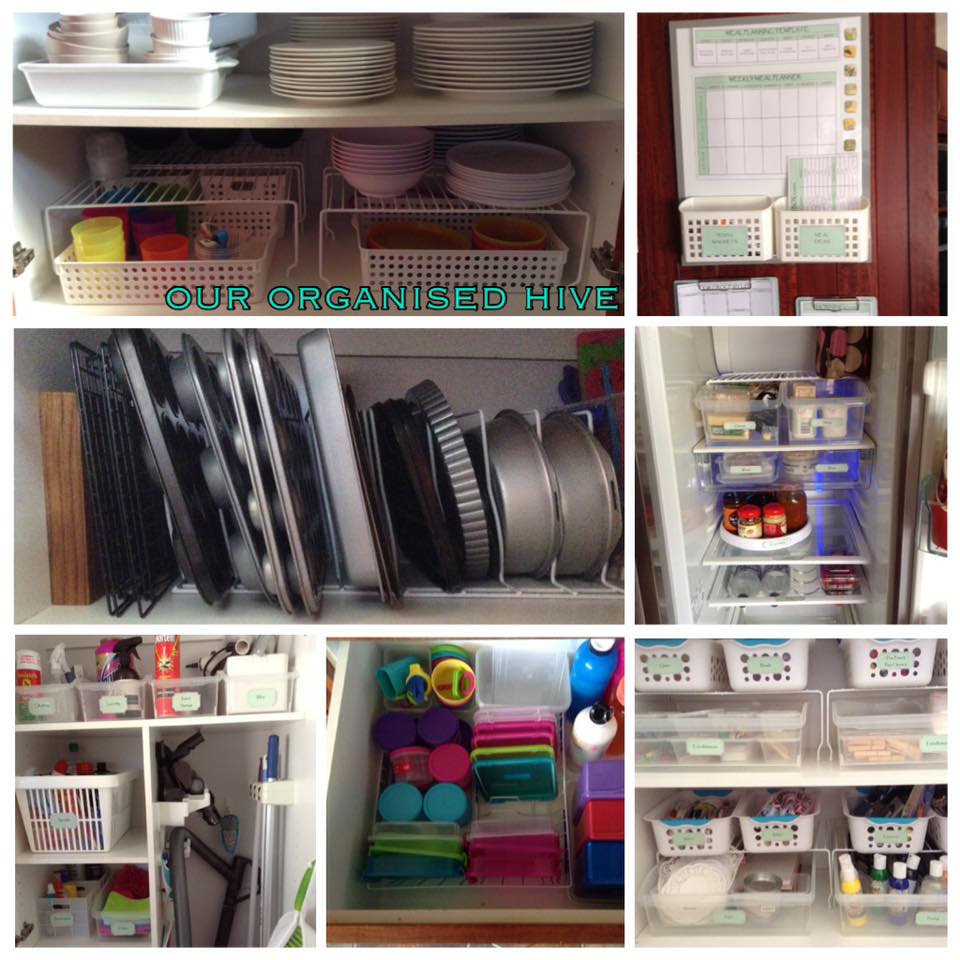 16. Belly belly baskets as laundry sorters
Such a fun hack idea, Studio DIY dip painted these belly belly baskets and used mod podge to adhere black letters to the face.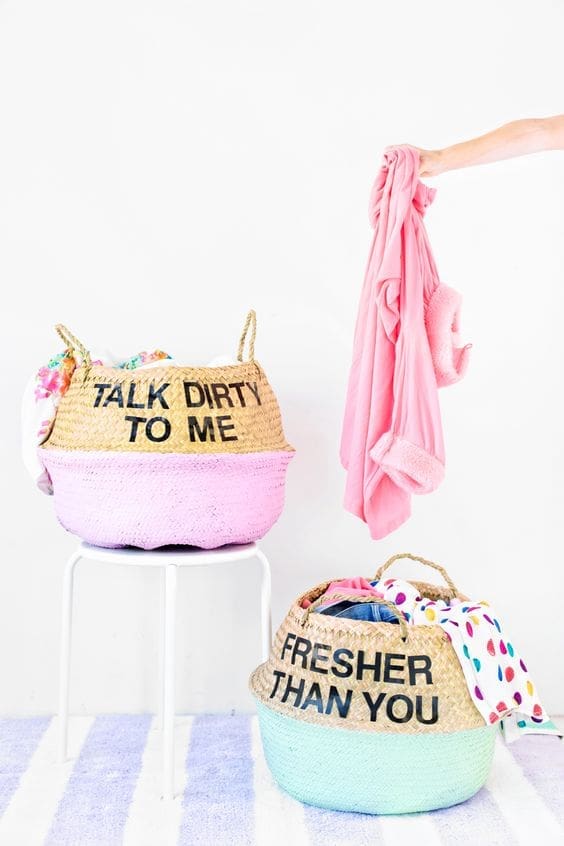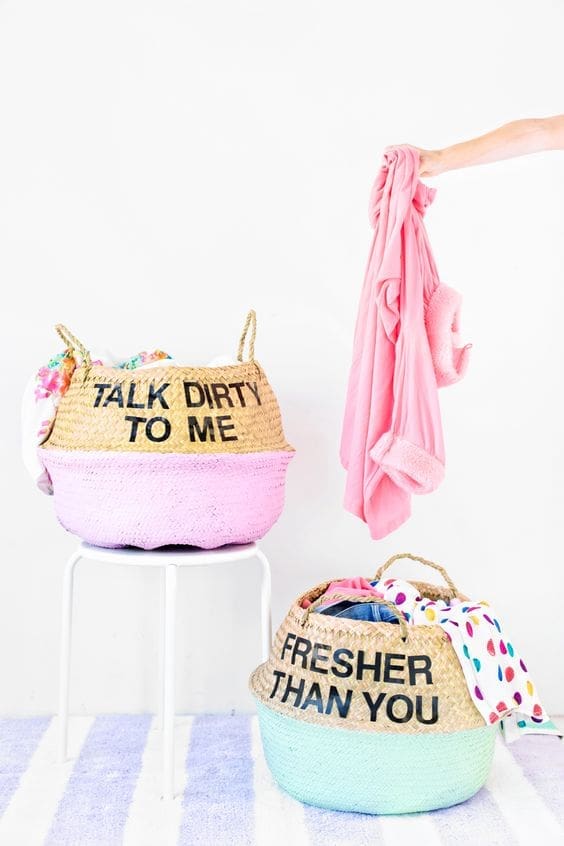 17. Veggie caddy as vertical herb garden
What a fab vertical garden idea for small spaces! Amanda Graham used this vegetable storage unit as a stylish and space-saving way to grow her herbs.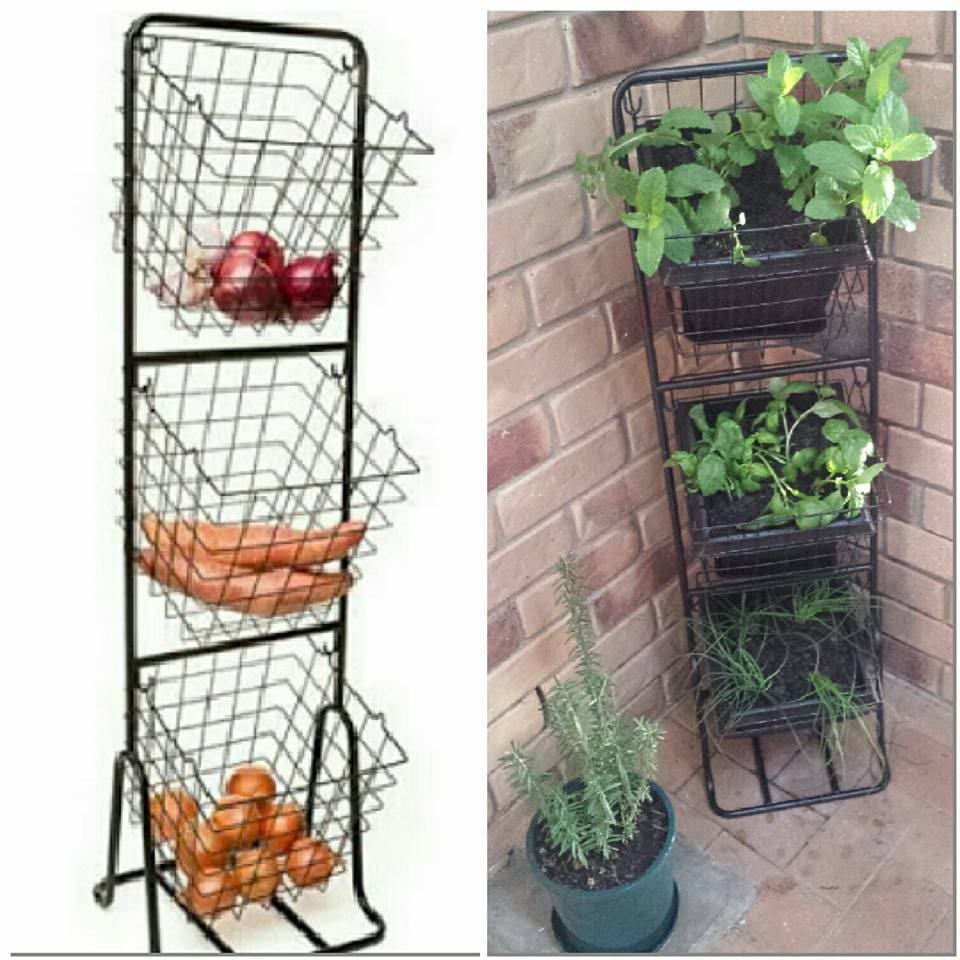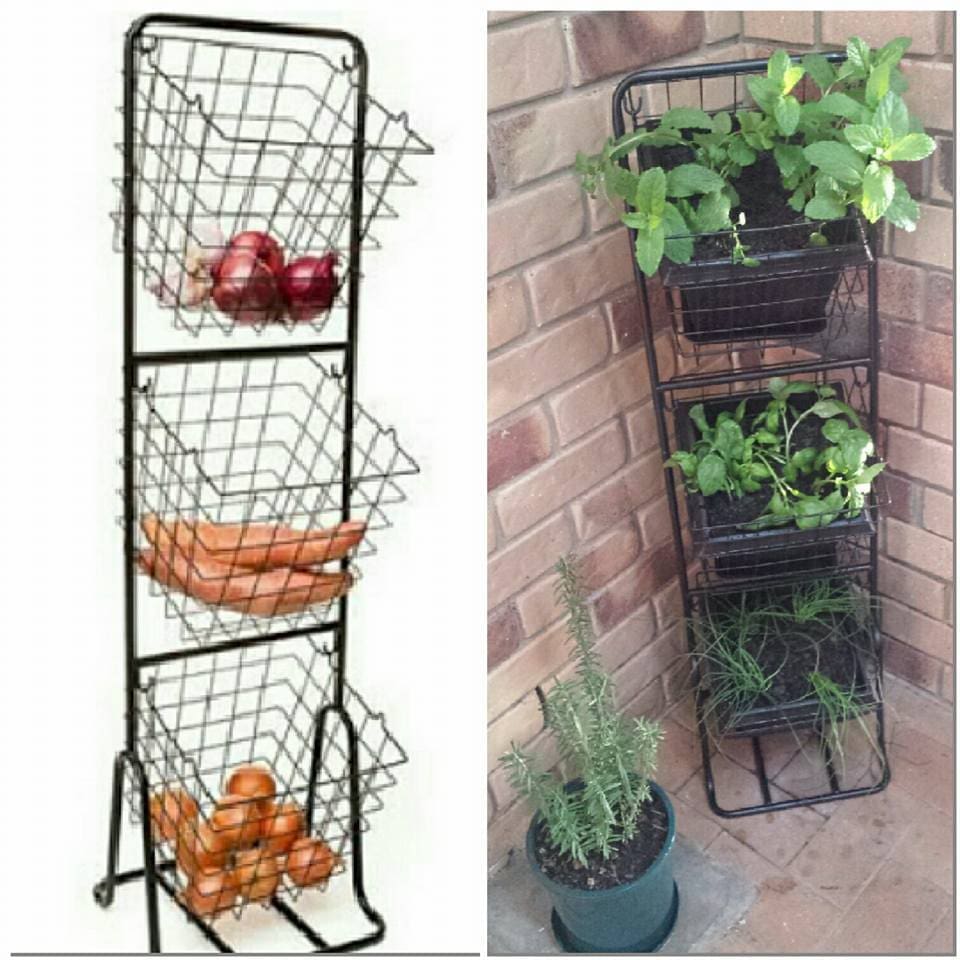 18. Hexagon planter box as beehive vertical garden
Anyone who's looked into buying a large vertical garden would know they are ex-pen-sive! Like, into the thousands expensive!
That's why we were so excited to come up with this idea of joining multiple hexagon planter boxes into a beehive configuration to create an inexpensive and easy DIY alternative. Find the full tutorial here!
19. Towel rack as toy organiser
Joelle hacked the Kmart bamboo towel rack by changing where the pieces go to create awesome puzzle and toy storage. She used shower curtain rings from Kmart and curtain clips from IKEA with large ziplock bags. Genius!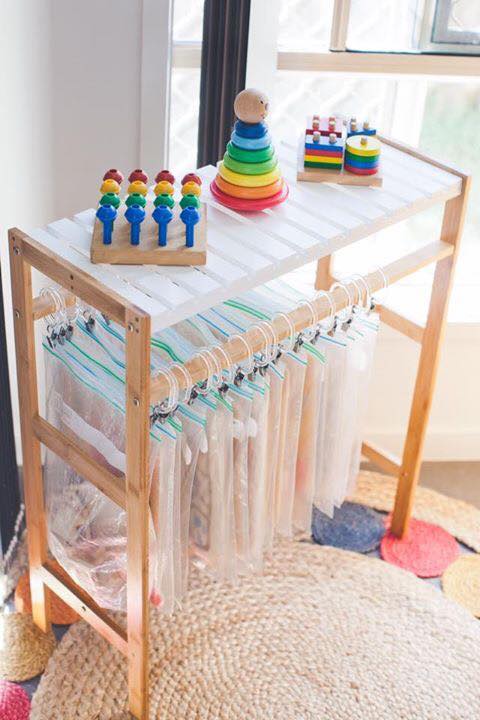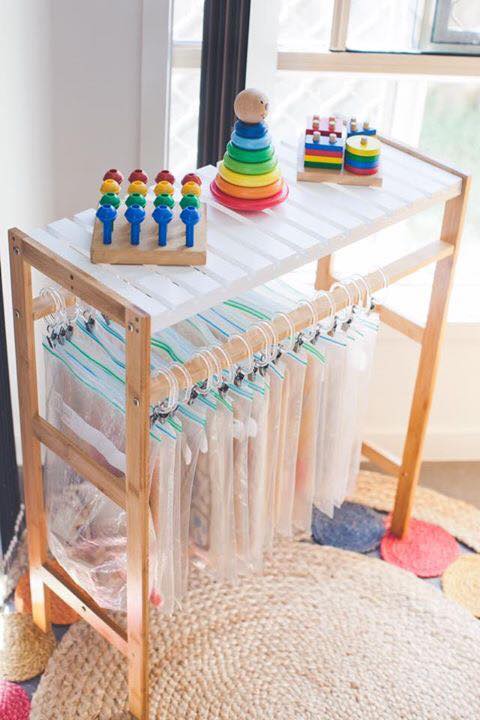 20. Wire storage baskets as vertical herb garden
Another fab herb garden idea! This time Melanie lined black wire baskets with planter liners and hooked these onto a slatted wall to create a vertical herb garden.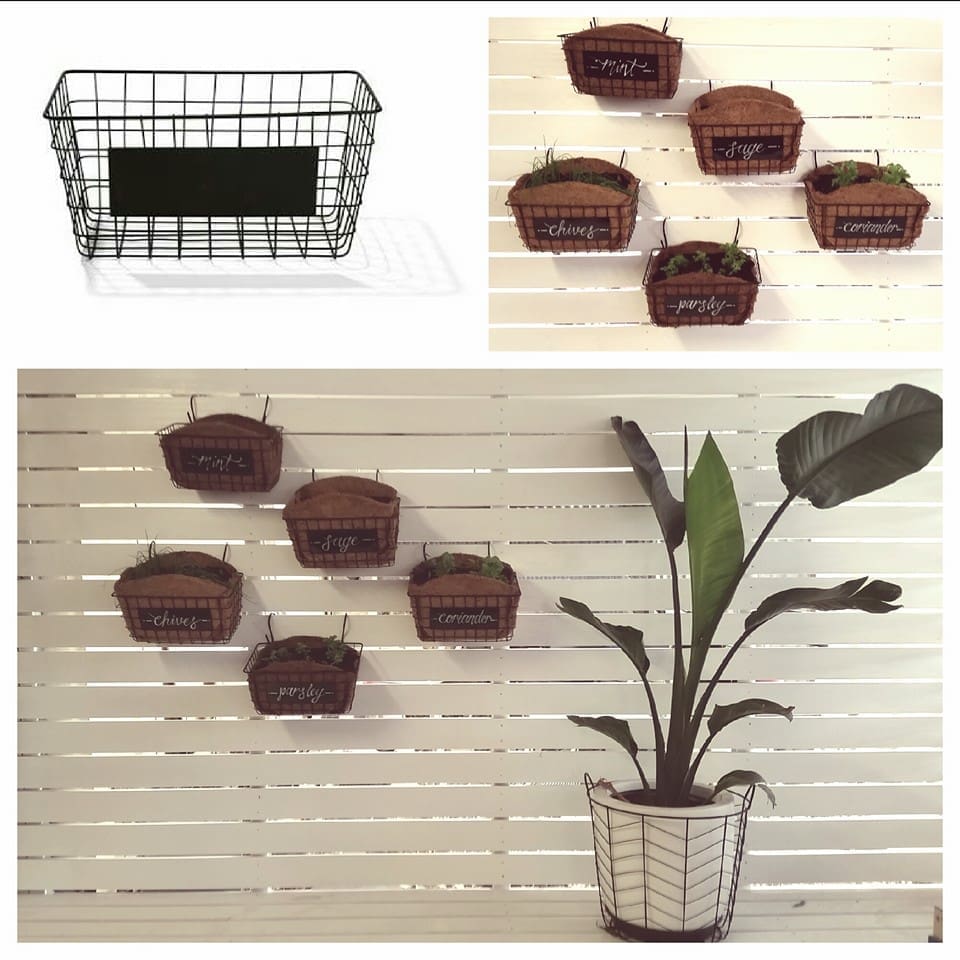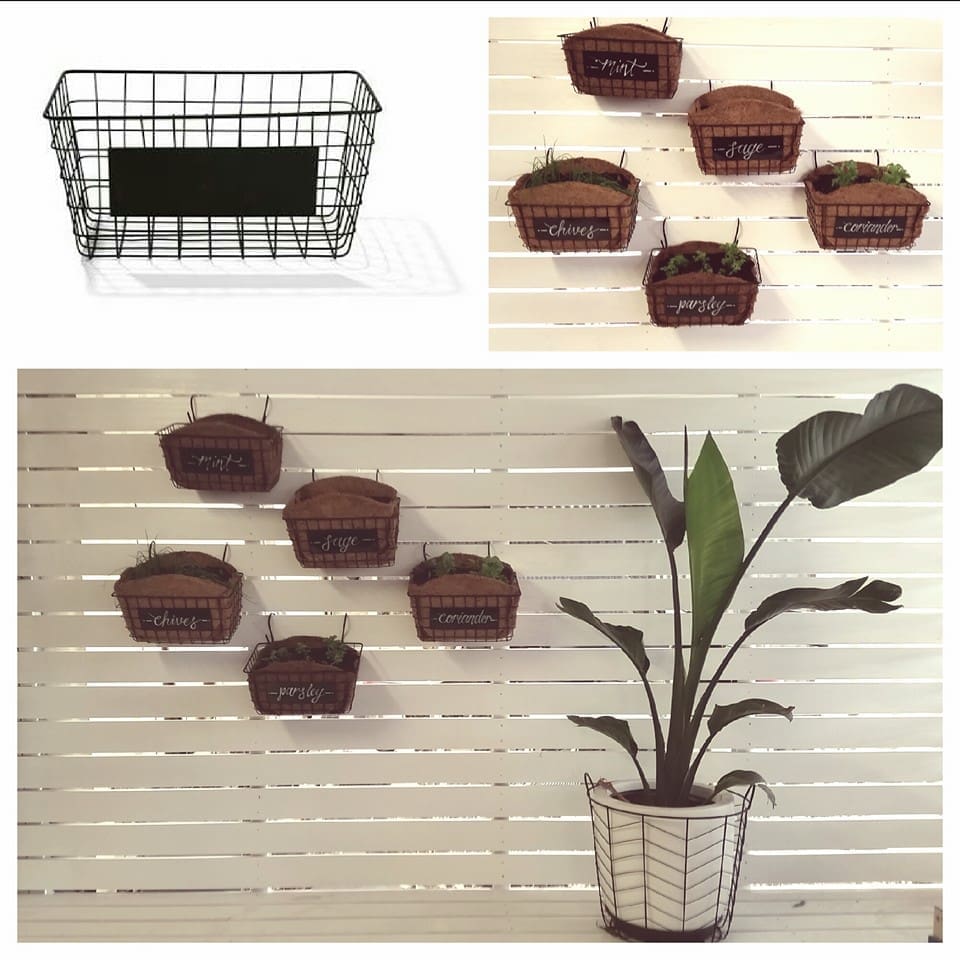 Have you spotted any other cool Kmart hacks? Share a link to them in the comments below so we can all check them out!