We're constantly surprised to see our Kmart hack concrete top side table rank in our top 5 most read blog posts, month after month! It goes to show the love for Kmart hacks isn't going away any time soon so we thought we'd share 20 of the coolest Kmart hacks we've EVER seen!!
And because the Kmart hacks just keep on coming, we share the best hacks every year (click on the related articles below to see more).
Related article: Top 20 Kmart hacks of 2017
Related article: Top 20 Kmart hacks of 2018
1. Family hub planner
Any hack to make running a household easier is a winner in our book — and when it looks this darn stylish, it gets bonus points! Soph is the maker and organising queen behind @nesti_au on Instagram and explains how she made the giant family planner, "I used two sheets of the Kmart chalkboard vinyl, three of the medium and narrow drawer tidies for mail sorting and two cork boards. I used foam double sided tape to attach the drawers and a white "Posca" pen to write with".
There's been such a strong response to this hack on social media that she may be selling these planners soon. Keep an eye on her Instagram account for updates.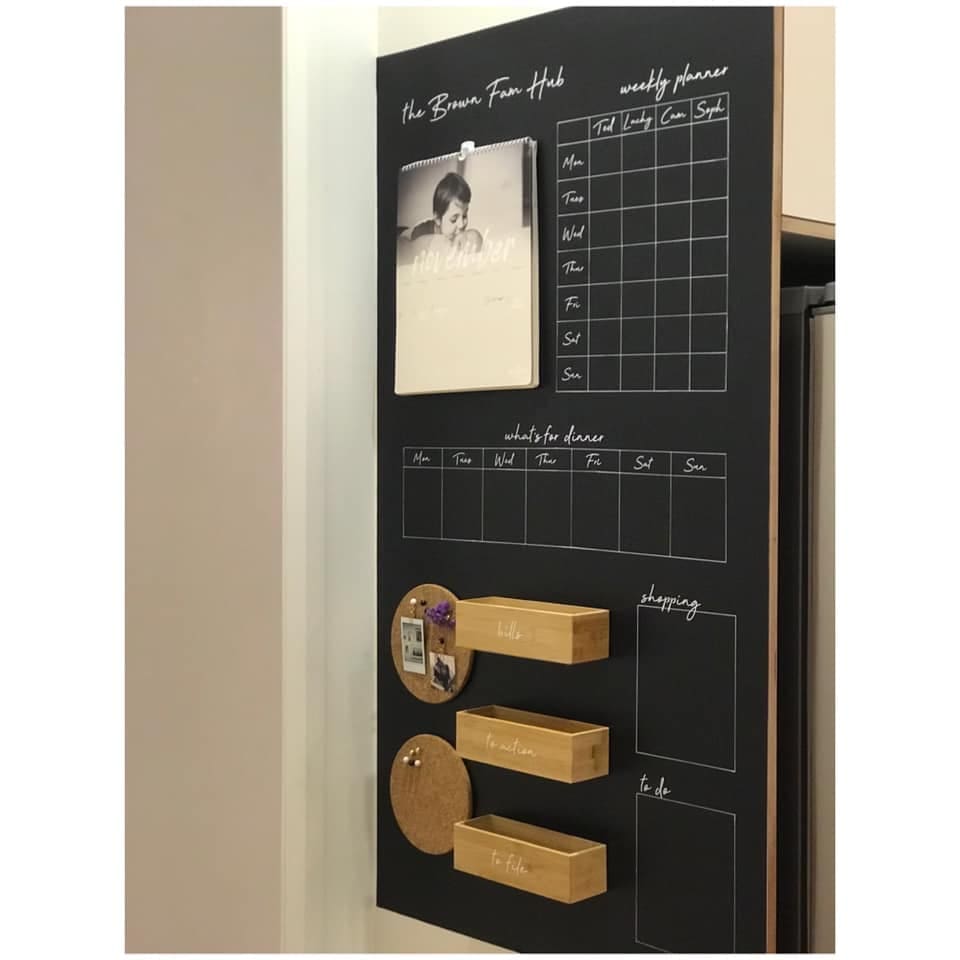 2. Inexpensive outdoor umbrella
Outdoor umbrellas cost a bomb which is what prompted Alison to come up with this clever hack! Using a $15 white plastic outdoor pot from Kmart that she filled with a brick and sand, she placed one of the $12 umbrellas inside. Her husband made the timber top from offcuts they had which holds the umbrella in place and is the perfect spot to rest a cold drink!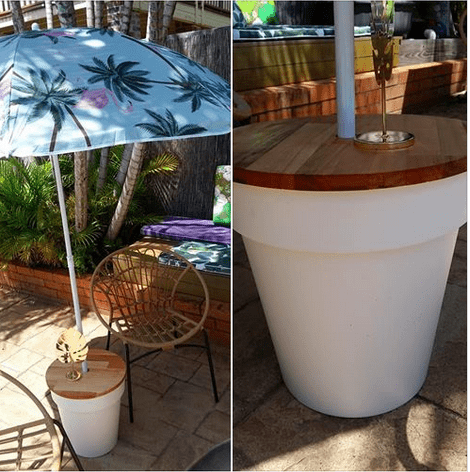 3. Wall hanging unicorn head gets a stylish makeover
This one isn't a hack per se, rather a freakin' amazing makeover! The clever mama behind Emily Mae Maree Instagram says her daughter is unicorn obsessed and couldn't resist giving the Kmart unicorn head an upgrade wrapping darker wool around the horn, attaching a cluster of faux flowers and hand stitching darker fabric down the mane. "A fun little arvo craft project," says Samantha.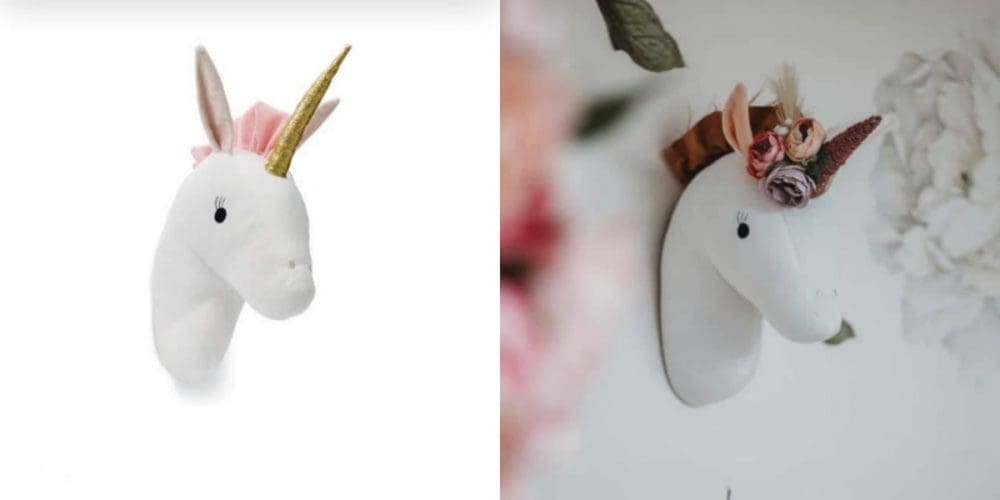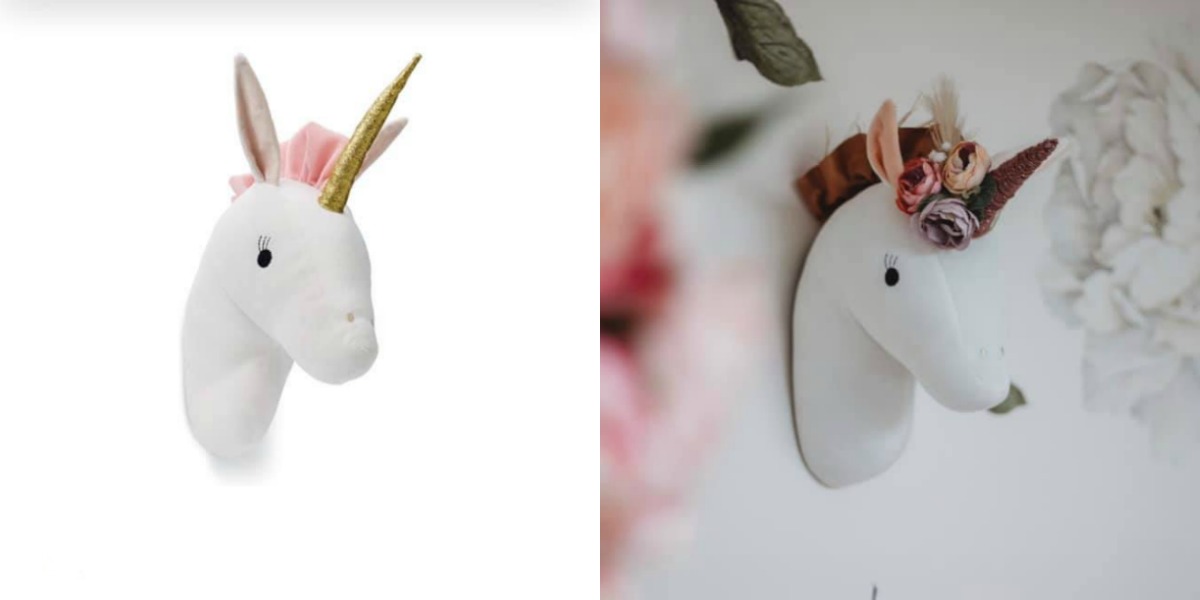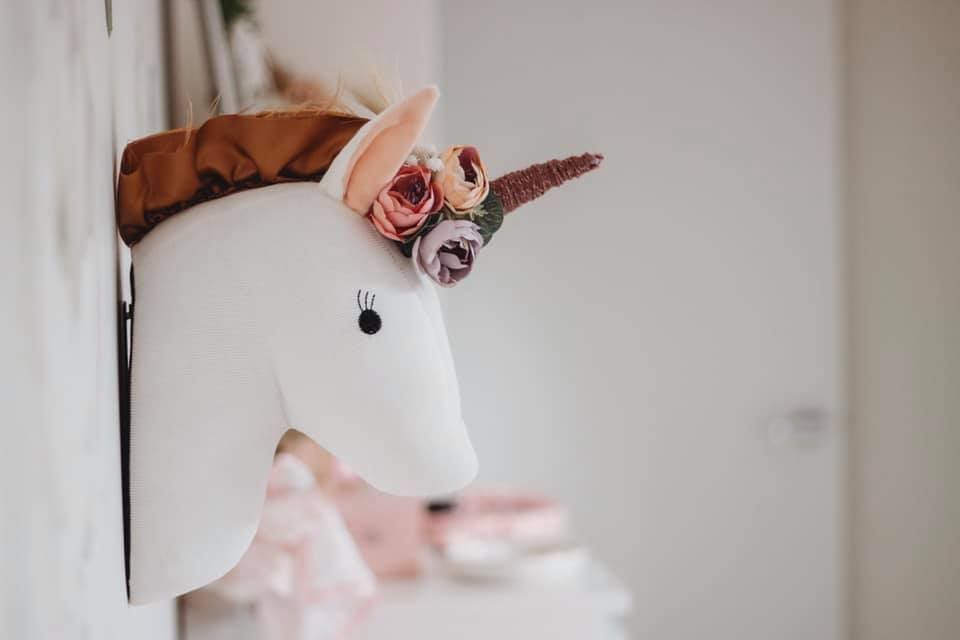 4. Jewellery tree becomes crystal jewellery dish
Our obsession for crystals is at an all-time high! One DIY we've been wanting to make for a while now is a crystal jewellery dish — a beautiful piece to have on our bedside table to hold jewellery and generate positive vibes in the space.
We used the Kmart jewellery tree with marble base (just $7!) and hacked it to create this luxe piece that takes pride of place on a bedside table.
Check out the tutorial here to find out how easy it is to make your own.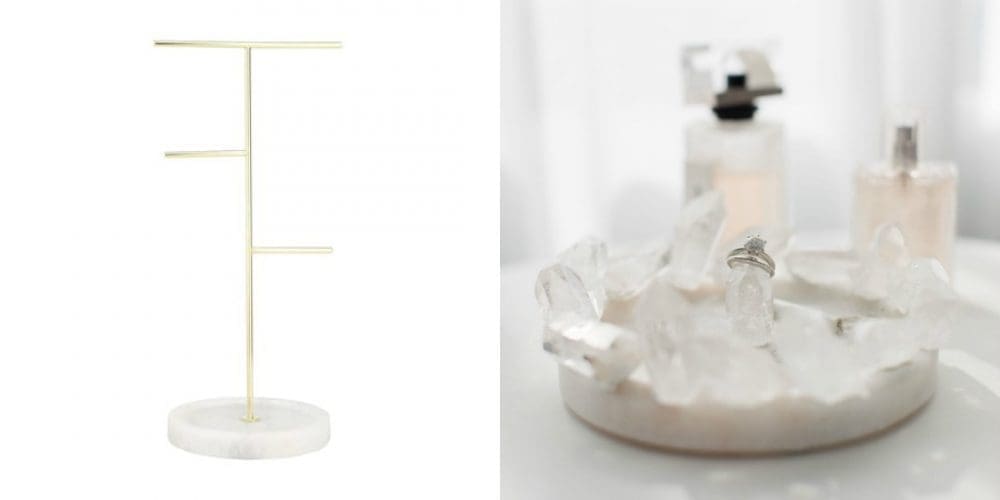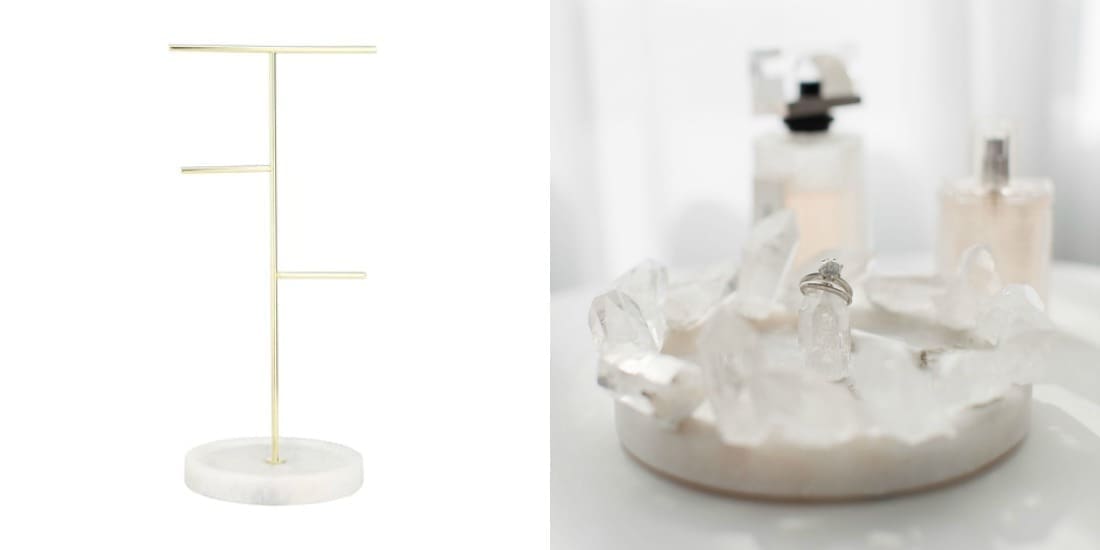 5. Turmeric dyed boho cushion
One of our fave boho cushions has been given a stunning makeover by clever Mum, Samantha. She turned it from plain neutral into a gorgeous, on-trend mustard using… get ready for it… turmeric and coffee! Honestly, one of the coolest Kmart hacks! So clever!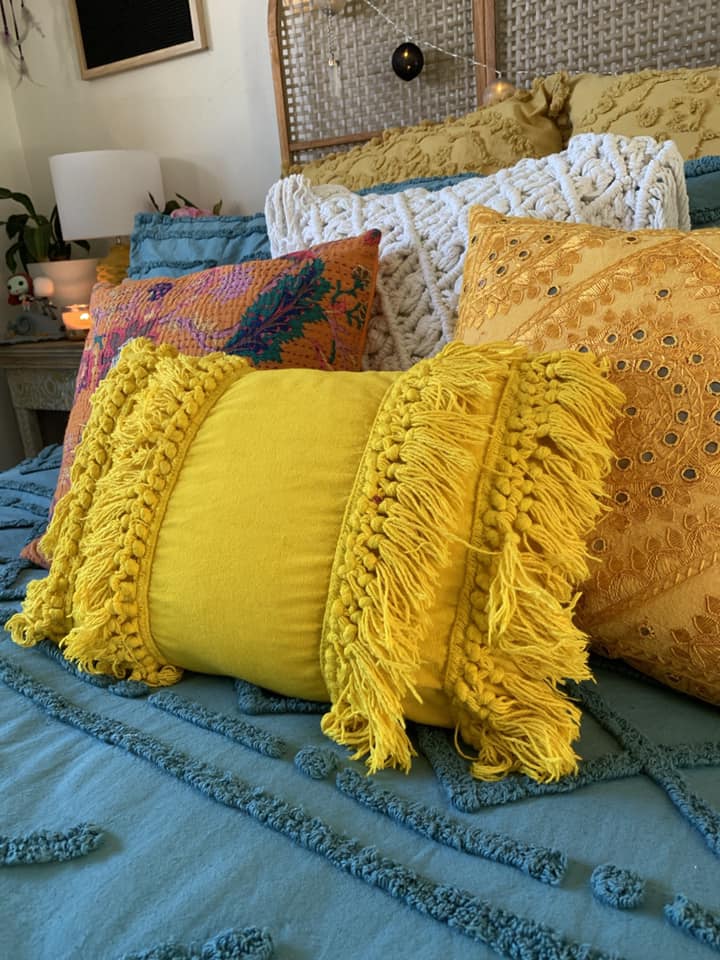 6. Bamboo ladder becomes macrame room screen
Before Kmart launched its rattan room screen, Pina of My Home Decor created this macrame room screen — perfect for a boho or coastal style interior! If you think you need to become a macrame expert to pull this off, she actually used the macrame table runners! By simply removing a few of the horizontal poles, levelling off the ladder legs so they become flush and attaching the ladders together with excess twine, she created this stylish room divider or bedhead (just imaging it with fairy lights in a child's room).
For even more Kmart hacks from Pina, check out her Facebook page My Home Decor here.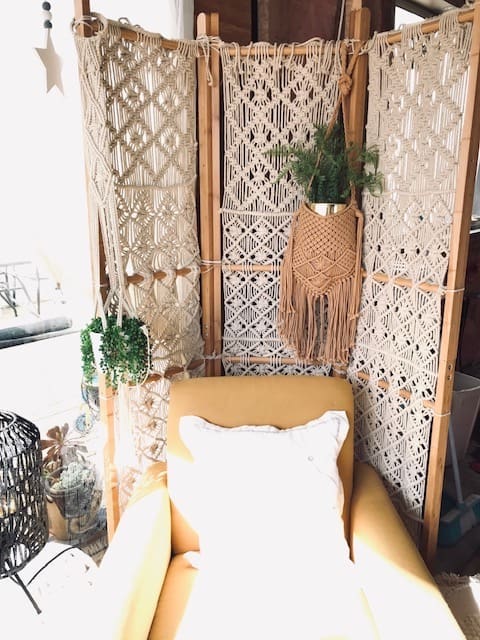 7. Kids kitchen hacks
Last year it was all about the Kmart cubby and this year parents are wowing us with how they've personalised the basic Kmart kitchen! One of our favourites has got to be this earthy and boho inspired kitchen by Sarah Grover.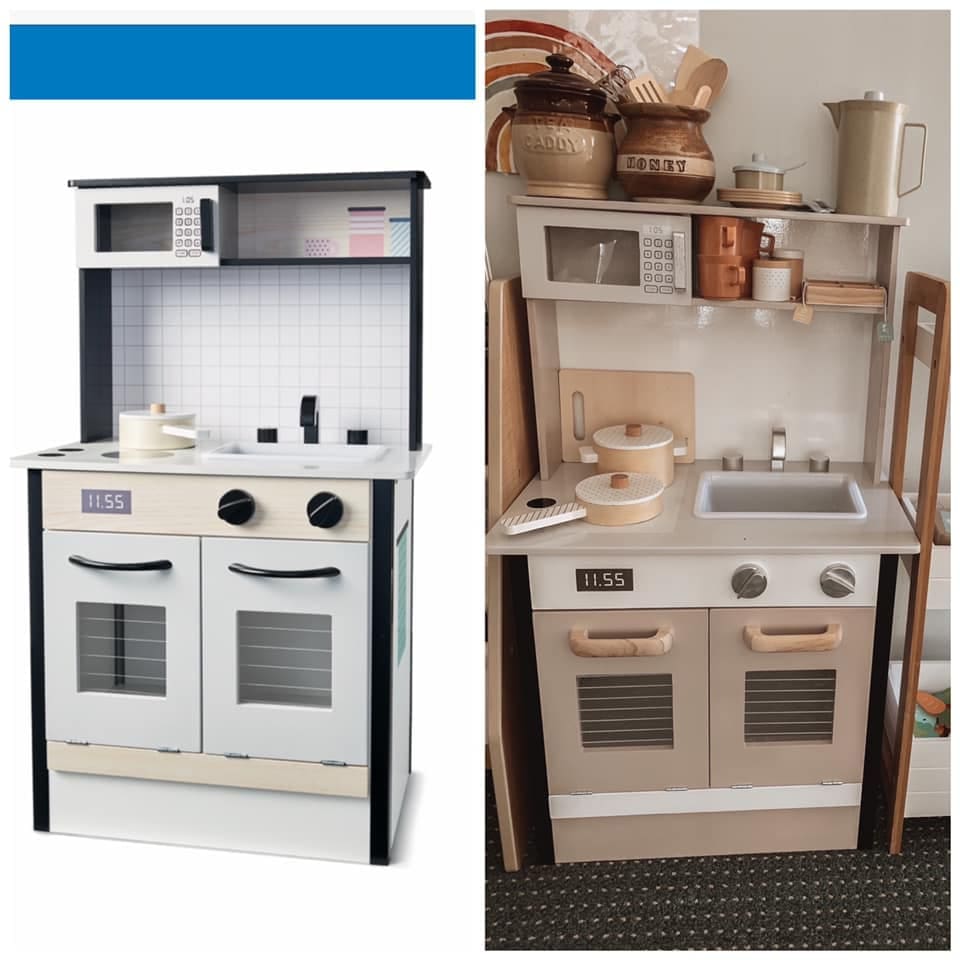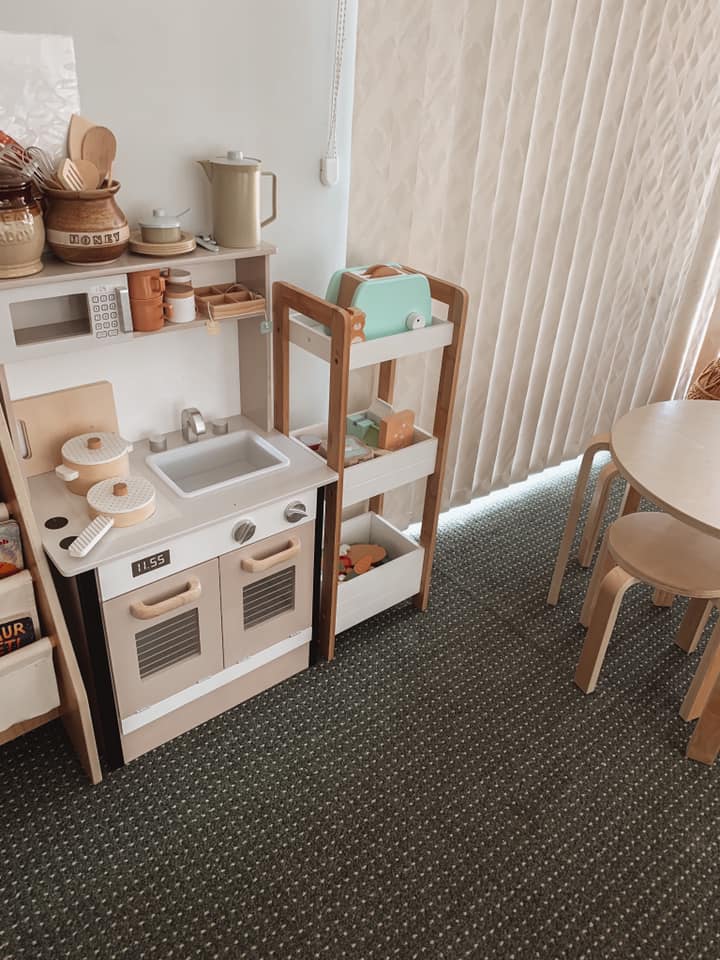 8. DIY wall art using raffia ribbon
DIY wall art can be hit and miss but we think Nikita totally nailed these coastal inspired pieces that she made using raffia ribbon from Kmart. She said she just tied raffia ribbon around plastic rings using the lark's head knot technique.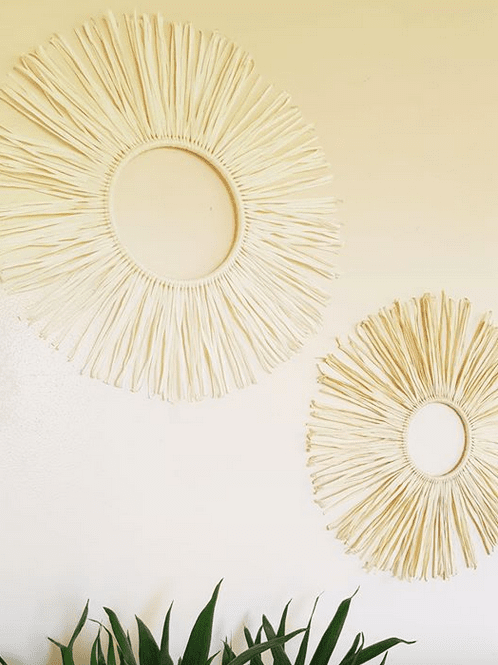 9. Bamboo drawer as floating shelf
Whether you've got a young child who loves reaching for cords or simply want a discrete way to display smaller electronics, such as your home phone, Megan has found the solution by turning a bamboo drawer upside down and mounting it to the wall. The underside is large enough to keep cables out of sight!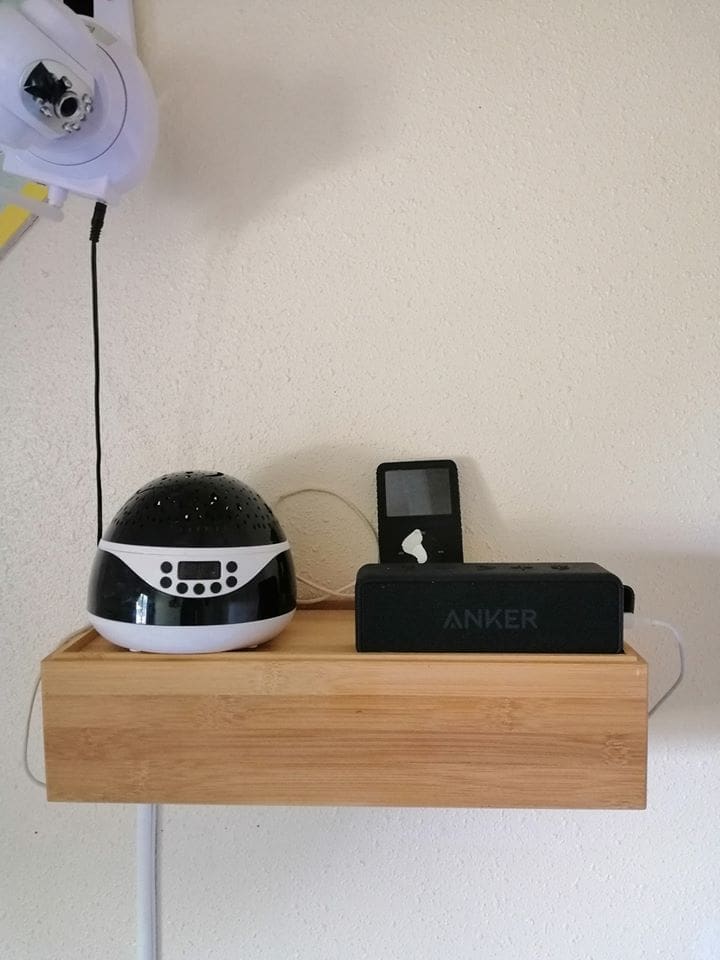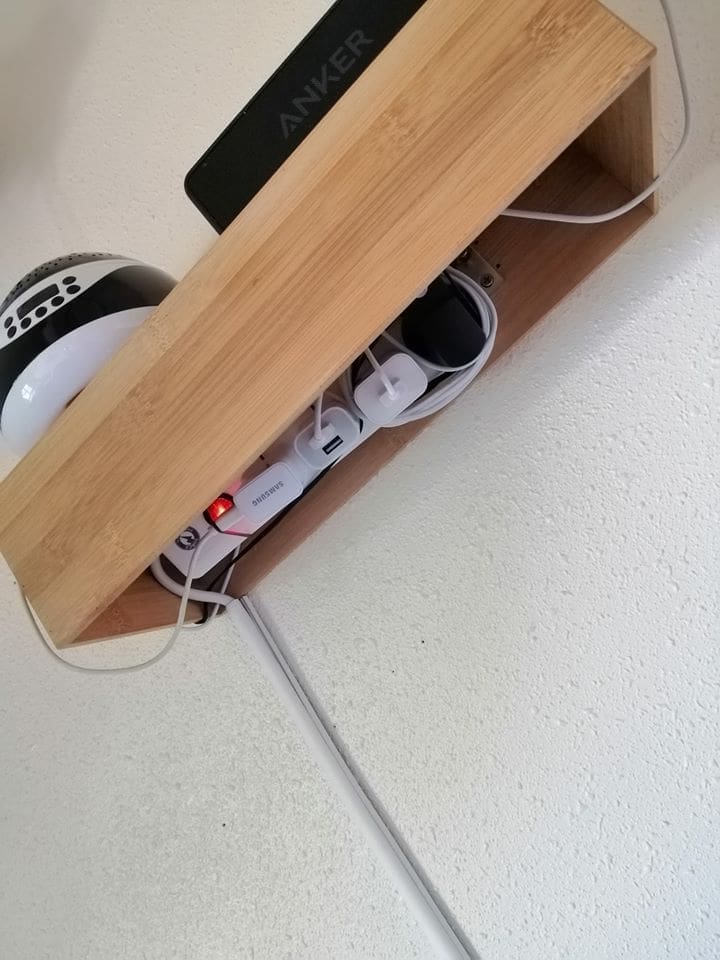 10. Basket as pendant light
Woven pendant lights easily cost upward of $100 but Sara George made this stylish one using the $14 Kmart basket. She removed the handles, made a hole in the centre for the light bulb and attached it over her dining area.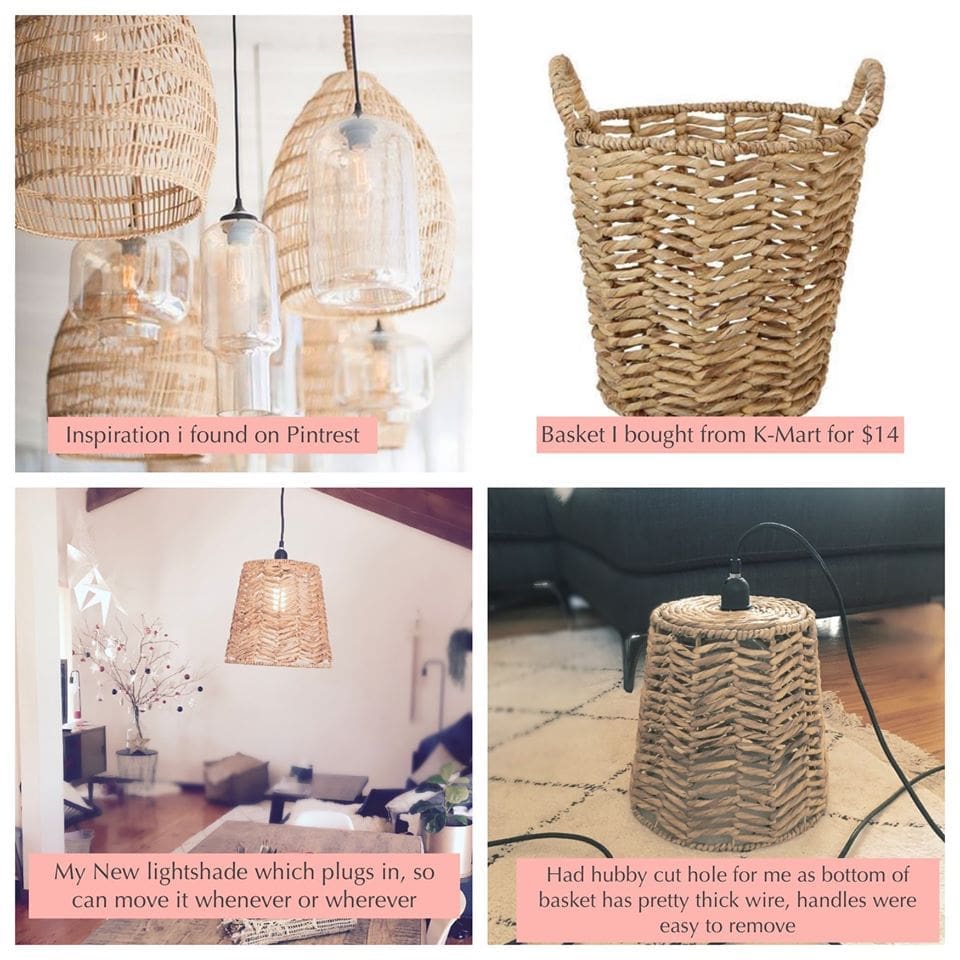 11. Plastic dinosaur toy becomes cool plant holder
Krystal turned a typical T-Rex kids toy into a cool plant holder for her Aloe plant. By simply cutting a hole into the back and painting the dino black, she created a fun piece that would be ideal in a boy's room.
12. Coffee table to bench seat
Bench seat on a budget? Yes, it can be done! Michelle used the Kmart oak coffee table as a frame and rather than screwing on the top, she finished it with woven rope she bought from Bunnings.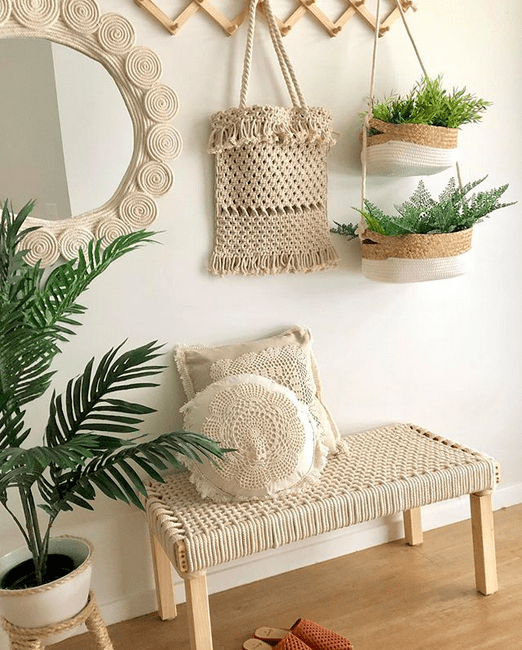 13. Bamboo storage box as planter box
Shay wanted to add some tropical plants to her rental home. She used a couple of bamboo storage boxes that she painted and lined with weed mat as a cheap and instant solution. Although the bamboo is likely to swell over time, she says this is the perfect solution for now.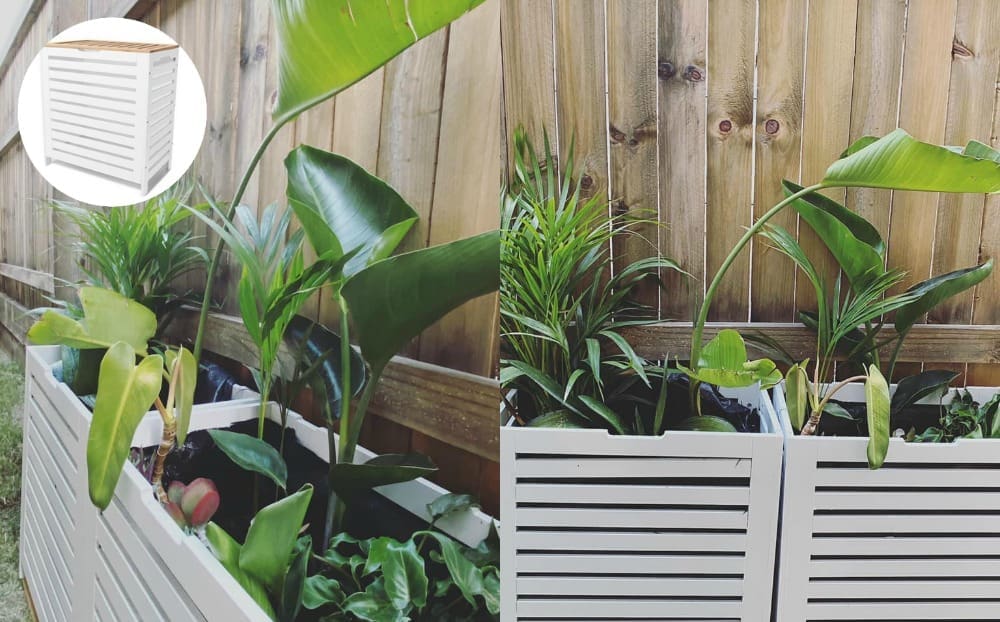 14. Bamboo drawers as open spice shelf
Looking for an inexpensive yet stylish way of displaying your herbs? Annie glued two bamboo drawer organisers together to create an open shelf. You can also now find stylish spice labels at Kmart too!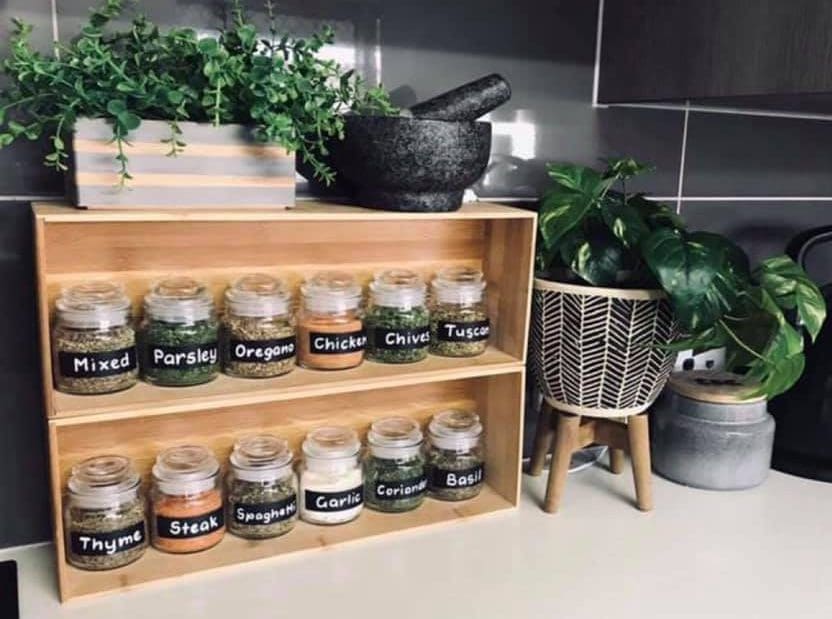 15. Tropical cushion makeover
Ok, so this one isn't a hack but it is a pretty clever makeover and given how popular the boho style is right now, we've included it in our list. Using the tropical stencil set from Kmart and black paint, she printed onto hessian fabric that she then glued onto the face of the cushions. Not bad for resort style cushions on a budget!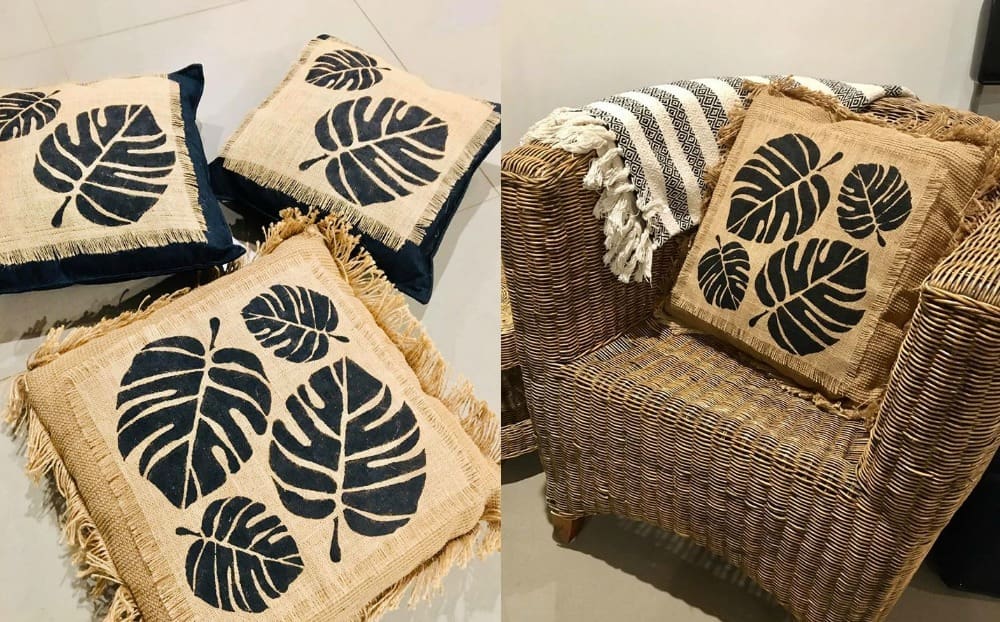 16. Kmart shelf also becomes hanging clothing rail
Using the Kmart hanging shelf, macrame string, timber beads and a piece of dowel, Tanja added a hanging rail for her daughter's favourite clothes. So sweet and stylish and definitely one of the coolest Kmart hacks we've seen!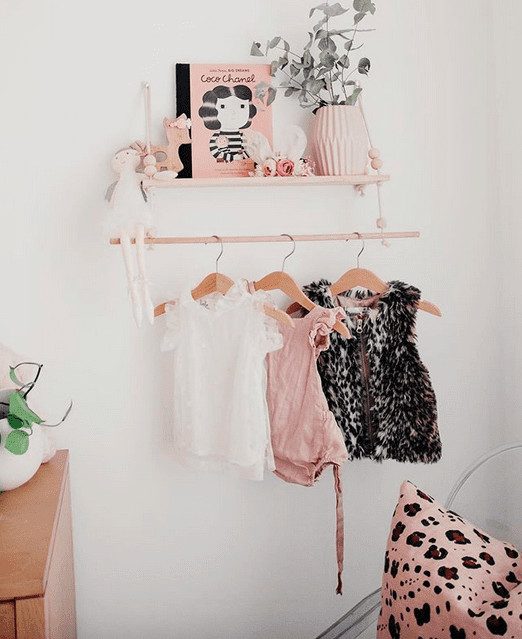 17. Glass canister to propagation vase
Indoor plants just keep gaining popularity and many plants are easy to propagate by taking clippings and placing them in water. Trouble is, you need to find the right vessel that can support the cutting and specialty propagation kits can be expensive. Little Seed House found the perfect solution — simply drill a hole into the lid of a Kmart glass canister!
If you'd like to try and propagate your own plants, there's no easier plant than Pothos and we share all the tips and tricks here.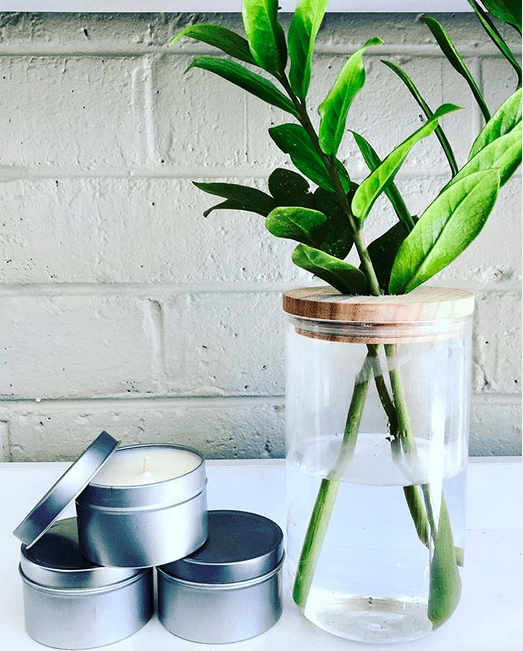 18. Outdoor bench becomes ride-on fire truck
Talk about creative genius! This ride-on fire truck that Ellie made using the Kmart outdoor bench is one of the coolest Kmart hacks we've ever seen. Read all about it on Kidspot here.
19. Tray becomes earring holder
Anyone who collects earrings would know how much of a struggle it is to keep them organised. Paige has found the solution though — mounting a Kmart tray vertically to the inside of her wardrobe!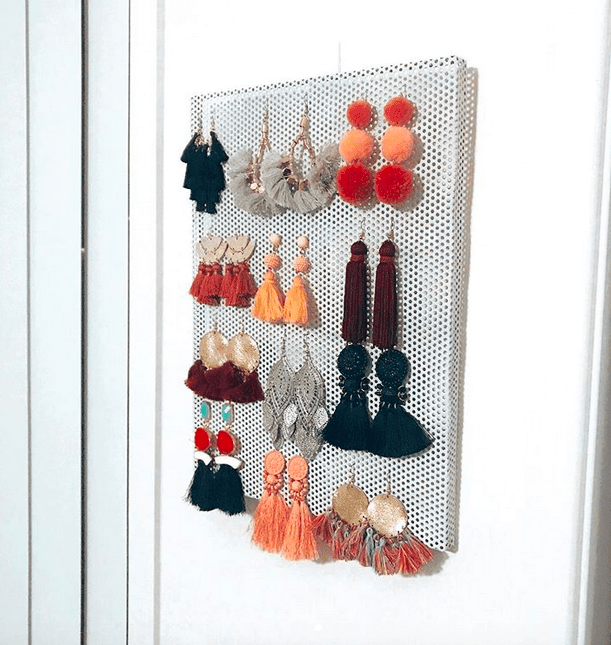 20. Laundry hamper and chopping board turns into a side table
Hats off to Michelle who hacked a Kmart laundry hamper and chopping board into a stylish side table! We think it's perfect for her tropical interior style.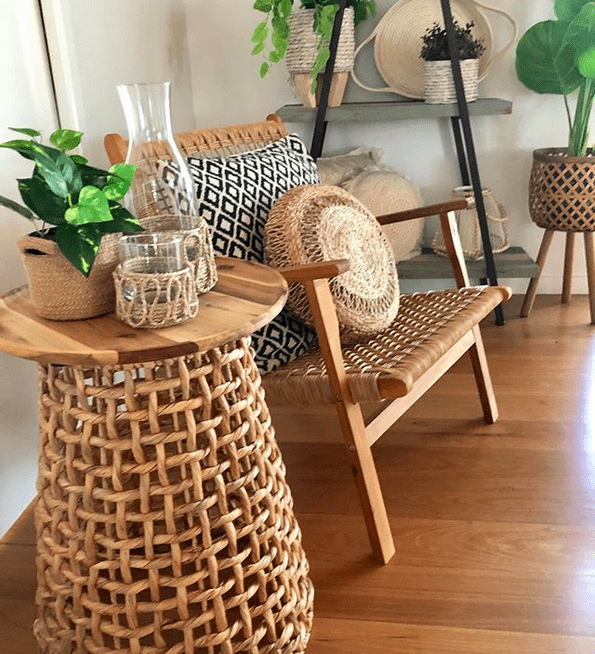 Just spotted! Latest and coolest Kmart hacks to love
Because we're constantly on the hunt for the latest and best Kmart hacks, here are a few more we've just found!
21. Toy box upgrade
Carlie took this simple Kmart toy box and made it loads more fun with a padded top and personalised name. She even used a Kmart single bed underlay to create the padding and the Kmart hot glue gun to fix it all in place!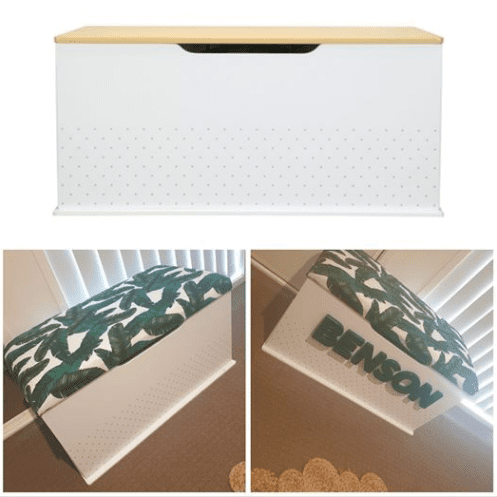 22. Flower wall decor
Shon took the Kmart paper flowers from the party section and added them to her daughter's bedroom wall. We love this simple but sweet (and super cost effective!) idea!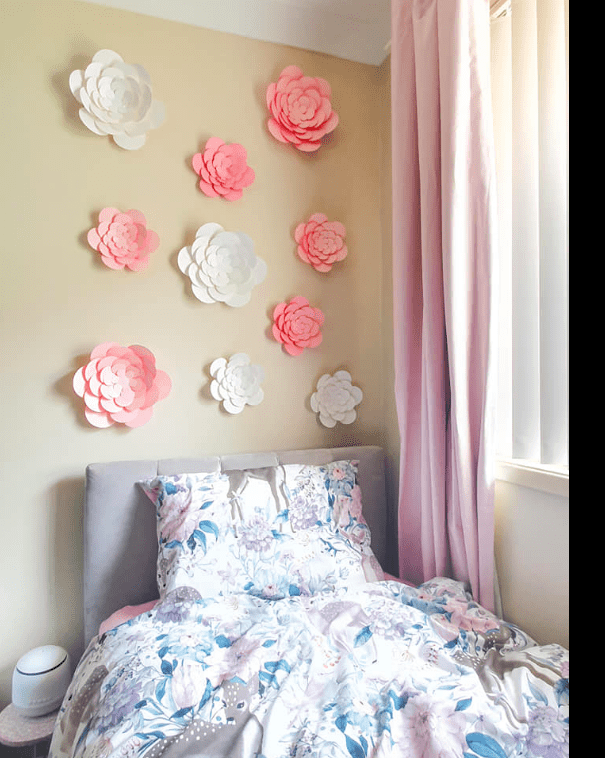 23. Room screen bedhead hack
Struggling to find a bedhead for her super-king size bed, Ceryce had this bright idea! She took 2 Kmart room screens, removed the ends and popped them together to create this fabulous new look! So creative and clever!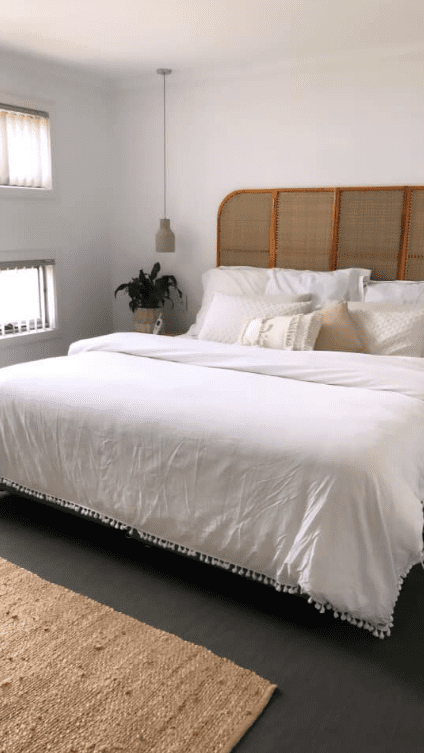 24. Placemat and bath mat cushions
Who would have thought you could get such great results from using placemats and bath mats (yes, bath mats!) to make cushions?! Renee is the clever mind behind this Kmart hack, taking 2 jute placemats and 2 bath mats and turning them into these fab looking cushions.
25. Toy wooden camera makeover
Not so much a hack as a makeover, but this is one we really loved. This toy wooden camera is cute already, but just look how great Lucia has made it for her little man, Luca?! We love the neutral boho tones!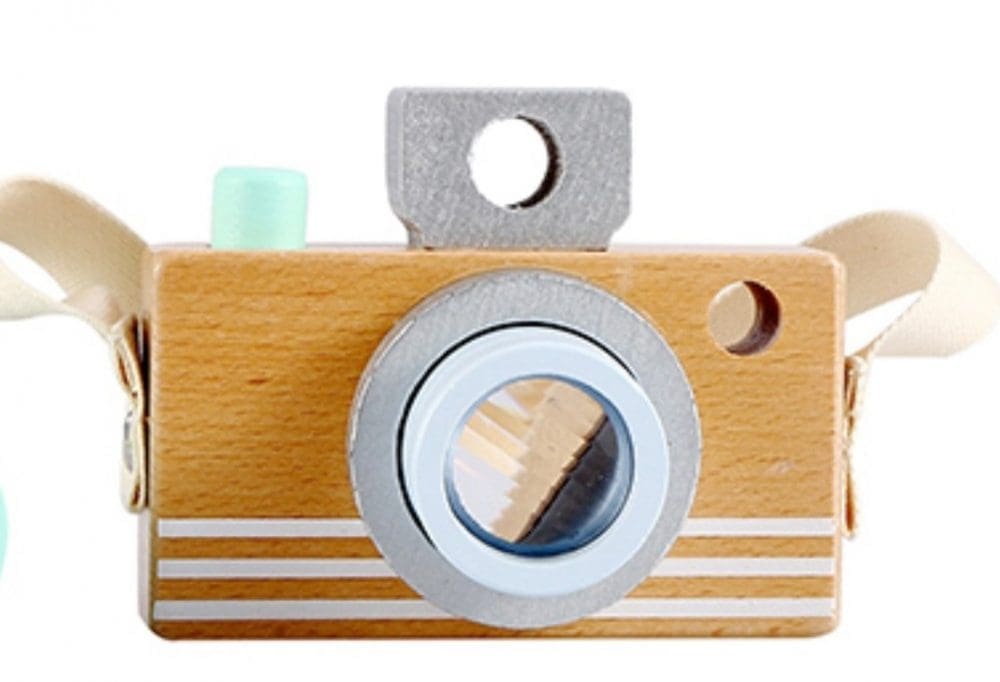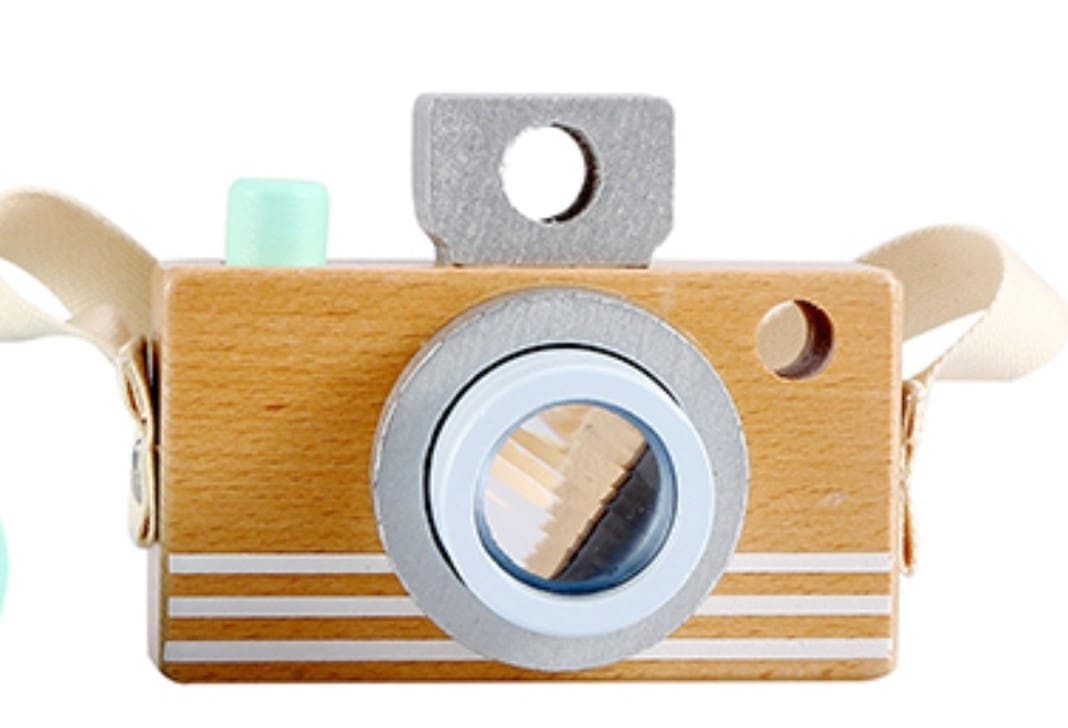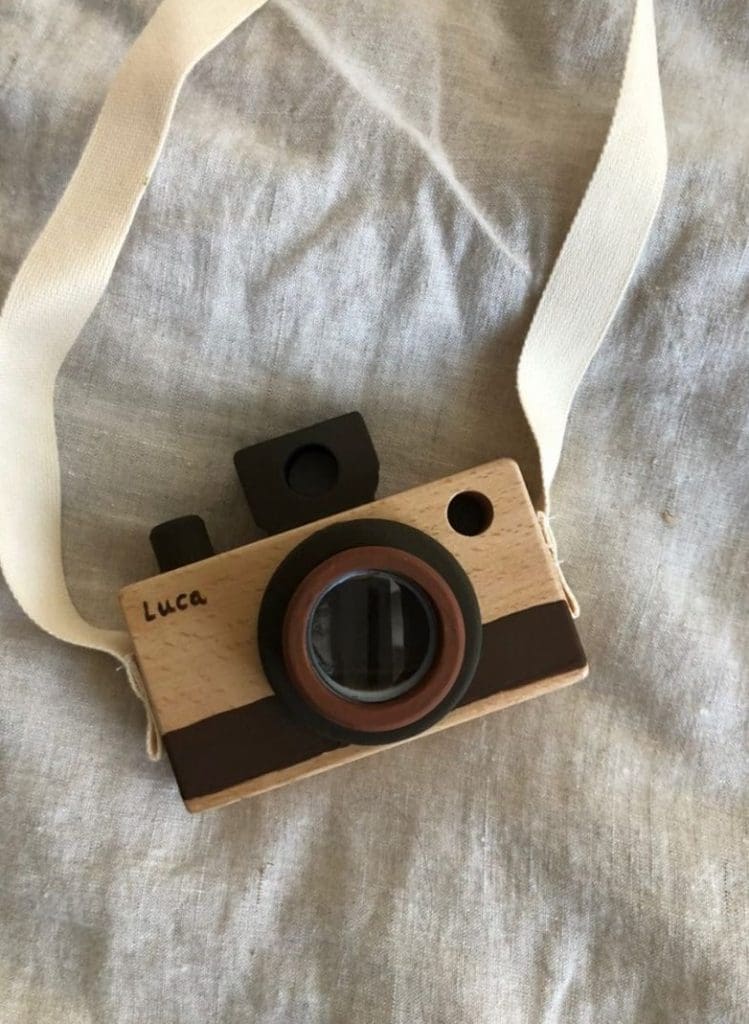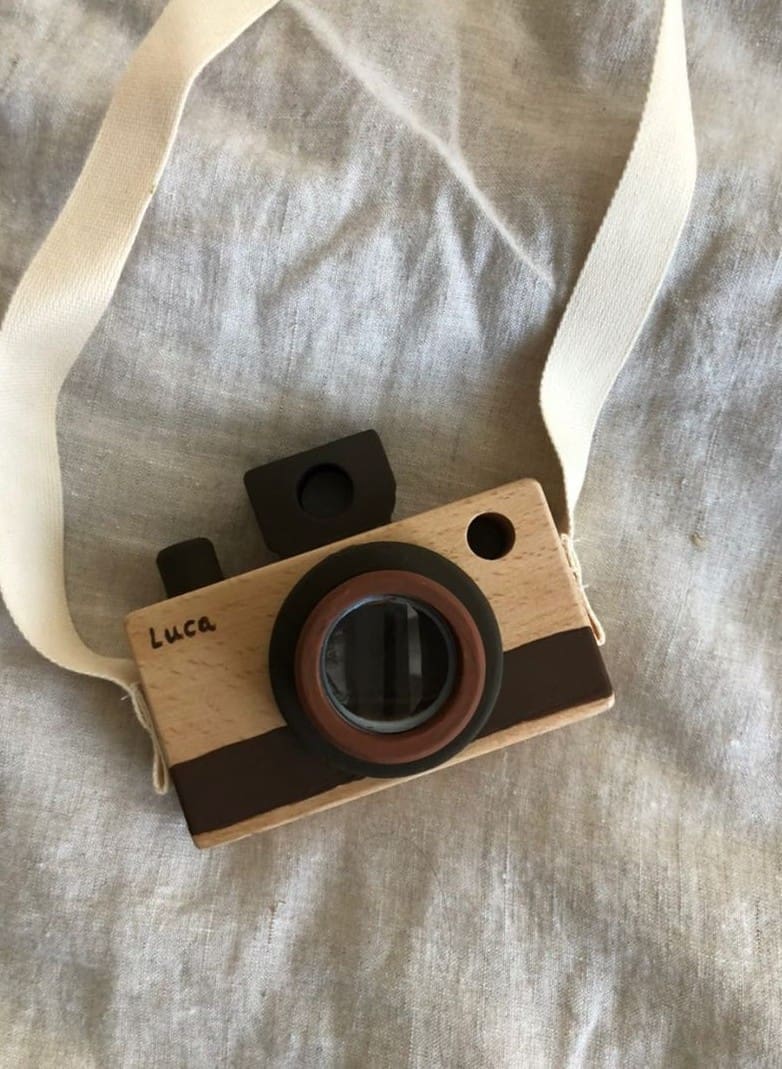 26. Canister lid turned draw handles
Have you ever thought about using canister lids as draw handles?! No, us either! But the ever so clever Pheonix Project team did, and the results are brilliant!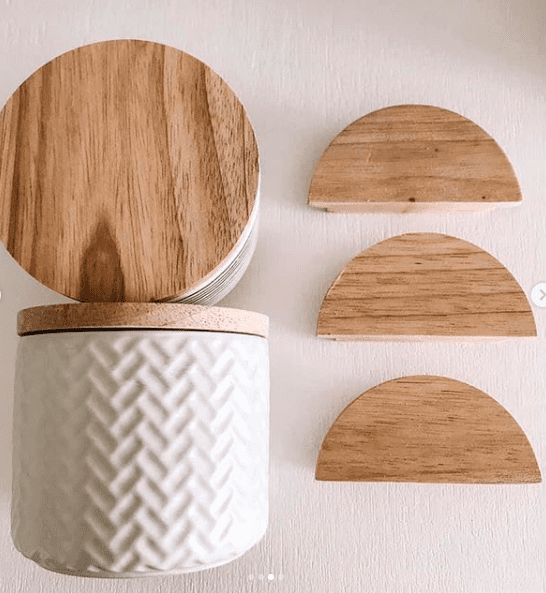 27. Rattan sideboard upgrade
Dani has taken the gorge Kmart rattan sideboard to a whole other level (literally) with this clever hack. She added a second one on top to create this beautiful piece with ample storage and all the style.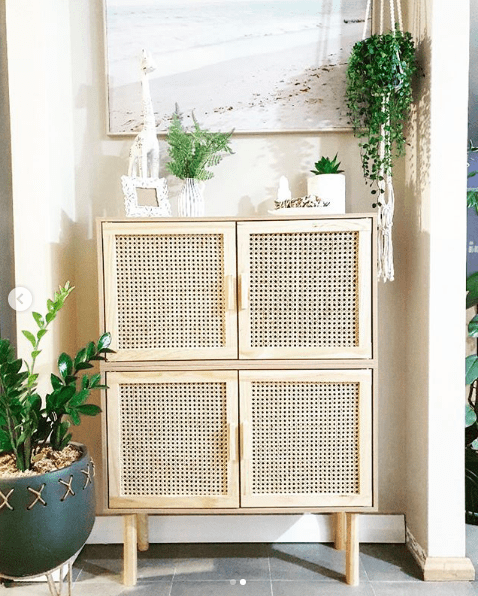 Have you spotted any other Kmart hacks that should make our list of the coolest Kmart hacks? Share a link to them in the comments below so we can all check them out!