For affordable, on-trend decor and homewares, it's hard to go past Kmart. But sometimes, those goodies need a bit of a TLC to become something really special. We've rounded up a heap of awesome home Kmart hacks to give you the inspo you need for your next DIY project!
Related article: 20 of the coolest Kmart hacks EVER!
Related article: 30 of the best-ever Kmart hacks for kids
Hanging pendant lights
Basket pendant lights are popping up everywhere, and along with it comes plenty of DIY hacks! Nicole has taken the base of the Kmart rattan table lamp and turned it into this fabulous hanging pendant! She shares tips, tricks and how to's over on her Instagram page the.elanora.
And be sure to check out her outdoor entertaining space decorated on a budget that she shared with us here.
Rattan sideboard upgrade
Dani has taken that gorgeous Kmart rattan sideboard to a whole other level (literally) with this clever hack. She added a second one on top to create an on-trend rattan chest!
Pink ottoman turned stylish side table
We don't love the original pink storage ottoman from Kmart, but we do after Zoe Gilpin from The DIY Decorator was finished with it! She gave it lick of paint, removed the fabric and foam and voila! So on trend right now!
Room screen bedhead hack
Struggling to find a bedhead for her super-king size bed, Ceryce had this bright idea! She took 2 Kmart room screens, removed the ends and popped them together to create this fabulous new look! So creative and clever!
Placemat and bath mat cushions
Who would have thought you could get such great results from using placemats and bath mats (yes, bath mats!) to make cushions?! Renee is the clever mind behind this Kmart hack, taking 2 jute placemats and 2 bath mats and turning them into these fab looking cushions.
Pot plant stand as concrete top side table
Without wanting to toot our own horn, we love how this DIY concrete top side table turned out. And at just $5 for a pot plant stand plus a couple of cups of concrete, it's an incredibly affordable way of making your own stylish side table or pot plant table as we're now using it! Definitely one of our fave home Kmart hacks!
Bowls turn to art
We're not sure about you, but we would never have thought to turn plain old everyday Kmart bowls into decor art pieces! But seriously, how good do these look?! Just a simple coat of paint and some glue has given these bowls a whole new lease on life.
A coat of paint to the rattan cabinet
We love the impact of black and Jen has given the Kmart rattan cabinet a luxe makeover with just a simple coat of paint. Don't act like you're not impressed (and kinda inspired!).
Room divider to on-trend bedhead
Here's another fab room-divider-turns-bedhead hacks! Curved, rattan-style bedheads are everywhere at the moment, and some come with quite the price tag. If this is your dream style, why not take a tip from Janika who took the Kmart room divider, and simply placed it behind a bed to create a stylish new bedhead! Certainly one to make our fave home Kmart hacks list!
Total sideboard transformation
Taking two Kmart sideboards and doing some serious hacking (pun totally intended) Clare has created a custom piece of furniture. If this look is your vibe, she's even created a handy how-to YouTube video.
Arch mirror makeover
We know paint doesn't really make it a hack, but when a paint job is this pretty, we'll allow it! Ashlee has given the Kmart arch mirror a stunning makeover, using brass-look paint to match her dreamy interior style. Swoon!
Canister lid turned drawer handles
Have you ever thought about using canister lids as drawer handles?! No, us either! But the ever so clever Pheonix Project team did, and the results are brilliant!
Hex wall pockets as laundry shelves
Bel is a regular in our #stylecuratorchallenge and we nearly fell backwards when we saw how beautifully she styled her laundry using all sorts of Kmart products in clever ways! The standout was how she used the hexagon wall pockets as laundry shelves!
Industrial coffee table as luxe concrete table
Concrete top furniture costs a fortune but using a few easily accessible DIY materials, you can turn the affordable Kmart coffee table (or any Kmart table, for that matter!) into a luxe designer-look piece!
We've already seen a few of you take on this tutorial and create stunning results. Find all the steps on how you can make your own concrete coffee table here.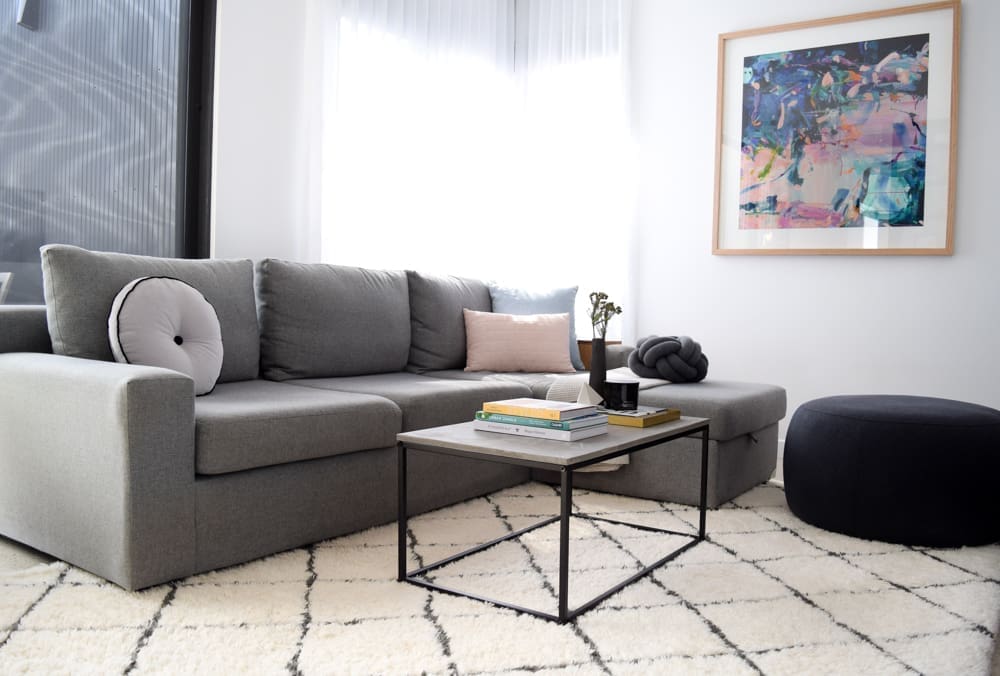 Jewellery tree becomes crystal jewellery dish
Our obsession for crystals is at an all-time high! One DIY we've been wanting to make for a while now is a crystal jewellery dish — a beautiful piece to have on our bedside table to hold jewellery and generate positive vibes in the space.
We used the Kmart jewellery tree with marble base (just $7!) and hacked it to create this luxe piece that takes pride of place on a bedside table.
Check out the tutorial here to find out how easy it is to make your own.
Chalk-painted vases
One of our fave ever DIYers, Geneva from Collective Gen, recently shared an amazing chalk paint. She has inspired SO many people to take old (or in this case, new!) vases and pots they love the shape of but not so much the colour, and give them a new lease on life.
Just like Lauren who took this trio of Kmart vases and painted them to suit her colour scheme. So pretty!
Kids table turned boho side table
Taking the plain kids table and adding a large woven basket on top (this one is from Freedom) has completely transformed this into a boho side table. A really creative idea which you can replicated yourself, with tips and advice from Michelle, the clever Kmart hacker, found here.
Hessian table runner pendant light
Who knew a hessian table runner could create something this cool?! Interiors lover Natalie got handy with her plain black pendant light and turned it into a real statement piece using the Kmart hessian table runner. A clever and very cost effective hack!
The perfect puppy / cat bed
This one won't suit all breeds, but if your furry friend is on the smaller side, the Kmart rattan dolls bed could be the perfect spot for them! It's a super affordable option and bang on trend!
Serving board side table
Using a wooden serving tray and readjusting the legs to fit your couch arm, and voila! You have the perfect side table for coffee, tea, chocolate, or wine 😉
Turmeric dyed boho cushion
One of our fave boho cushions has been given a stunning makeover by clever Mum, Samantha. She turned it from plain neutral into a gorgeous, on-trend mustard using… get ready for it… turmeric and coffee! Honestly, one of the best home Kmart hacks. So clever!
DIY wall art using raffia ribbon
DIY wall art can be hit and miss but we think Nikita totally nailed these coastal inspired pieces that she made using raffia ribbon from Kmart. She said she just tied raffia ribbon around plastic rings using the lark's head knot technique.
Candle holders as geometric pendant lights
These geometric pendant lights cost just $7 each but you wouldn't know it! Jessica's clever husband spray painted the metallic candle holders black and drilled holes through them to make these stylish pendant lights.
Laundry hamper and chopping board turns into a side table
Hats off to Michelle who hacked a Kmart laundry hamper and chopping board into a stylish side table! We think it's perfect for her tropical interior style.
Tropical cushion makeover
Ok, so this one isn't a hack but it is a pretty clever makeover and given how popular the boho style is right now, we've included it in our list. Using the tropical stencil set from Kmart and black paint, she printed onto hessian fabric that she then glued onto the face of the cushions. Not bad for resort style cushions on a budget!
Coffee table to bench seat
Bench seat on a budget? Yes, it can be done! Michelle used the Kmart oak coffee table as a frame and rather than screwing on the top, she finished it with woven rope she bought from Bunnings.
Basket as pendant light
Woven pendant lights easily cost upward of $100 but Sara George made this stylish one using the $14 Kmart basket. She removed the handles, made a hole in the centre for the light bulb and attached it over her dining area.
Definitely a winner for clever home Kmart hacks.
Bamboo ladder becomes macrame room screen
Before Kmart launched its rattan room screen, Pina of My Home Decor created this macrame room screen — perfect for a boho or coastal style interior! If you think you need to become a macrame expert to pull this off, she actually used the macrame table runners!
By simply removing a few of the horizontal poles, levelling off the ladder legs so they become flush and attaching the ladders together with excess twine, she created this stylish room divider or bedhead (just imaging it with fairy lights in a child's room).
Outdoor bench and planter box as internal bench and storage unit
Some people are so clever! Just check out how Belinda Leigh repurposed an outdoor Kmart bench seat and planter box into a stylish hallway bench and storage unit! The white paint gives it a real Hamptons vibe and she says she's still looking for fabric to upholster the new foam cushion top.
Wall shelves as vertical succulent gardens
A clever home Kmart hack by the people at Cobbitty Bake House, they added chicken wire backing to these Kmart shelves and used them as decorative succulent gardens.
Glass vases as ambient table lamps
You've most likely seen fairy lights put in mason jars but have you even seen them put into decorative vases and look this darn pretty?!
These would look gorgeous in a bedroom or living room. Simply unthread the twinkle lights (she used rose gold) and place them in the vase.
Boho style pot plant holder
Isn't it incredible what a bit of jute string can do? Turning this modern pot plant stand into a boho style piece that would easily pass a designer piece.
Wire basket as bedside table
One of the first ever home Kmart hacks we discovered is this side table Nola made using a metallic wire basket with a placemat glued on top! It's inspired so many versions, including that more tropical laundry hamper and chopping board side table earlier in the list.
Kitchen canisters as succulent planters
Always looking for new ways to display indoor plants, these Kmart canisters look great as mini succulent gardens. Do as Amanda did and cluster several together, mixing patterns and sizes.
Bamboo utensil holder as succulent garden
Another way to display those beautiful, easy to grow! Forget using the bamboo utensil holder in the kitchen when it looks this darn good as a succulent garden! The diagonal cut opening just invites indoor plants to drip over the edge
Did you discover any home Kmart hacks to try at your place? Which is your fave? Or maybe you've got a Kmart hack of your own you'd like to share with us! Tell us in the comment section below!