Over the past few months we've been sharing some incredibly talented Australian emerging artists thanks to bluethumb, Australia's largest online gallery.
We're really excited about this final artist who's abstract work is so captivating, we're tipping her as one of the hottest artists to watch!
Today we're chatting with Kristine Lubinski to find out how she made the step into the world of arts, her inspiration and what drives her!
Tell us about yourself and how you became an artist?
"I am an artist, graphic designer and mother. I've been designing for almost 20 years and have worked with a diverse range of clients, creating everything from brands and websites to surface patterns and editorial illustrations. Shortly after the birth of our daughter 8 years ago, my husband acquired a disability as a result of a ruptured brain aneurysm, so I began seeking a gentle art practice to help weave my way through this new and challenging chapter of life. Compared with the demands of client work, I found art to be meditative and peaceful, and I began to happily obsess over how to explore colour and shape in new ways," says Kristine.
"My home studio is located in the beautiful Hunter Valley, about 10 minutes drive to the heart of wine country. My canvasses, easels, paper and paints are scattered throughout our little cottage as though they are part of the furniture."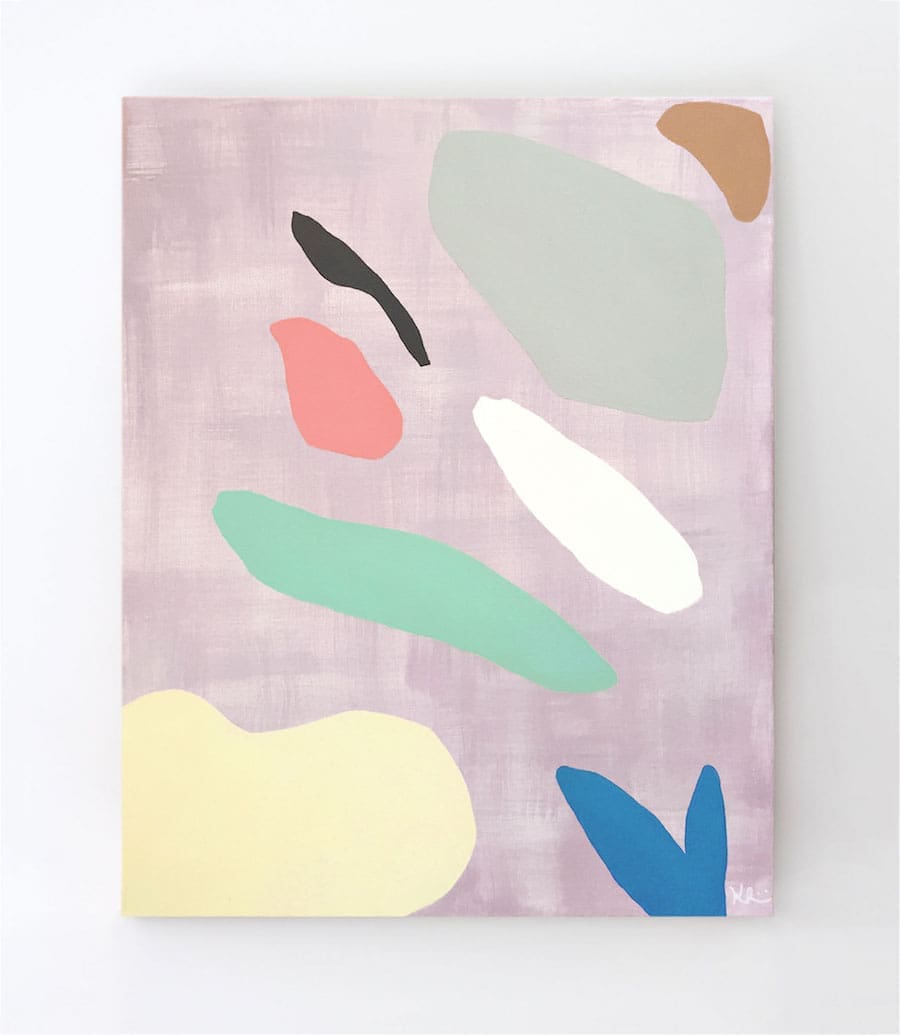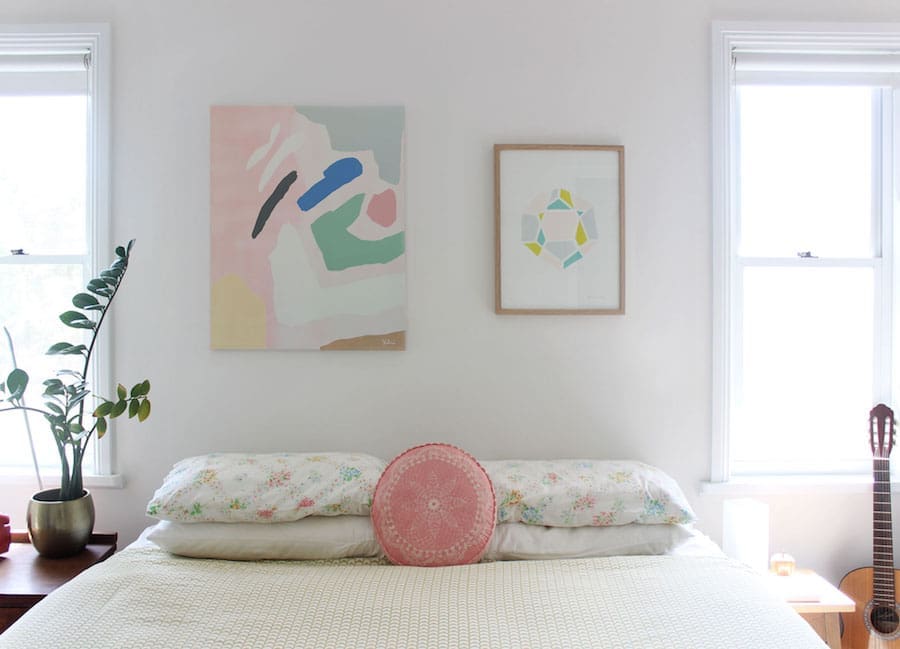 Where does the inspiration for your art come from?
"I find shape and colour inspiration in natural forms, whether it be plants, landscapes or the human body.
"I like to deconstruct and alter perceptions so the original shapes are just barely recognisable. I'm an astute observer, and I like to get close. Sometimes it will be the tiniest imperfections in a cement footpath that inspires a work. I'm also very interested in shadows and the 'scenes between' — the absent spaces connecting solid forms that are equally present and valid but often overlooked. It's the quieter, less visible aspects of life and nature that draw me in."
What are your preferred media?
"I create in a wide variety of mediums including acrylic on canvas, watercolour, gouache and hand-pulled screen prints.
"Possibly due to my roots in graphic design, I am enamoured with paper and love the tactile qualities of thick, luscious art paper and the relationship colour has when applied to it. I also love to create digital work and have had my patterns licensed for use in fashion textiles.
"I'm a graphic design lecturer at a local college where I teach digital design fundamentals and multimedia design. Being an educator ensures my digital skills are kept sharp and I love to use these skills in my art and design practice, through pattern design and also animation. Most of my pattern ideas have been born from doodling with Adobe Draw on my iPad, something I do to relax."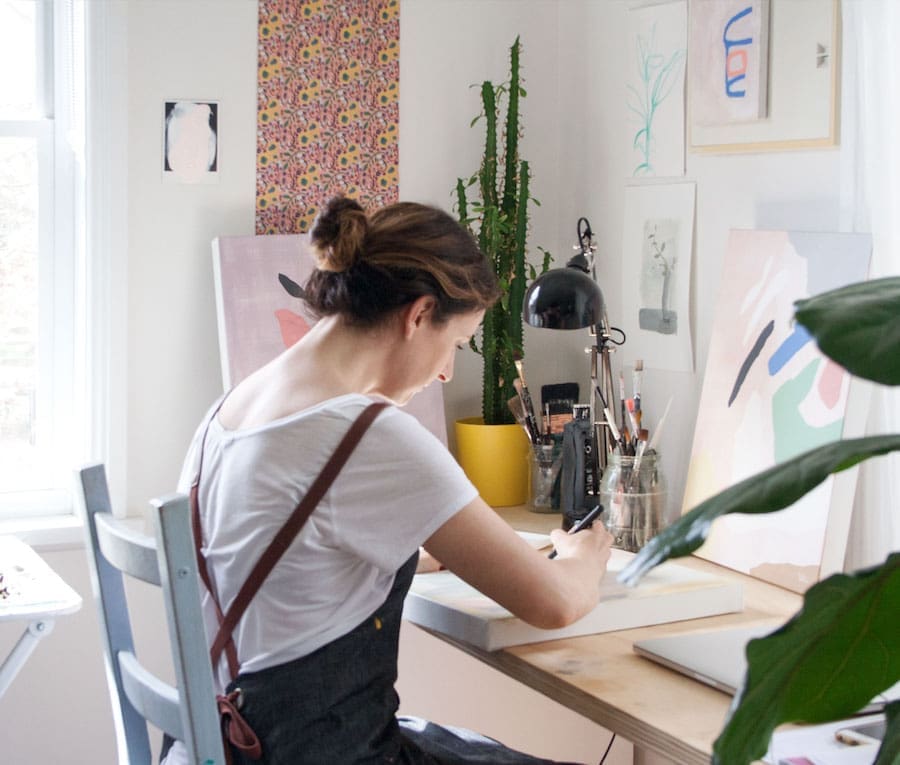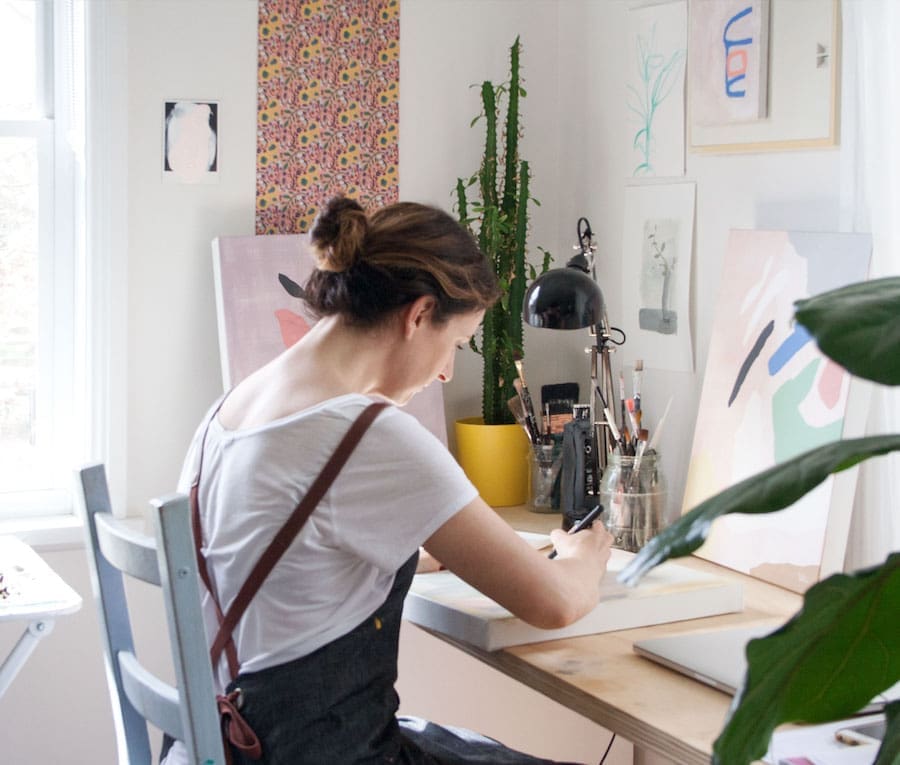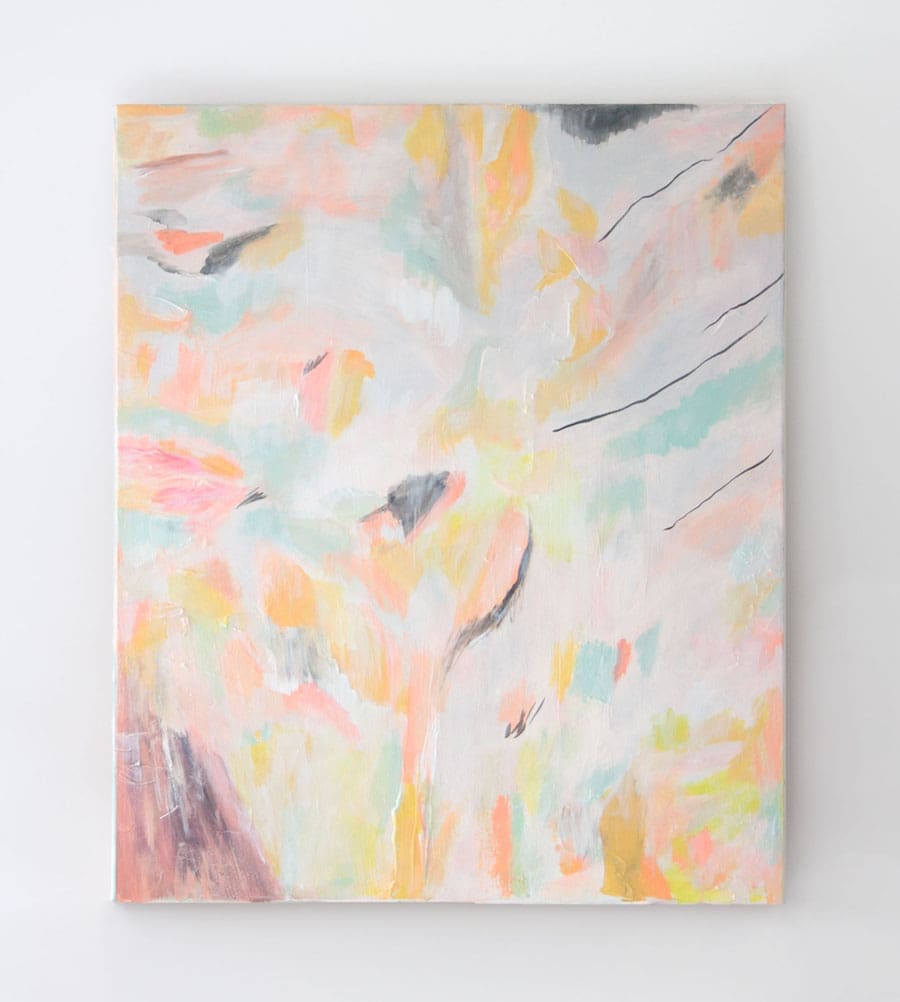 How has your journey as an artist changed?
"My style is constantly evolving and changing — I am by nature a curious researcher and I love to explore new mediums. There's just so much to explore, so there will always be a sense of diversity with my output. The challenge for me is to focus on one particular area for long enough to create a significant body of work."
Why did you join BlueThumb and what has it meant for you and your career as an artist?
"I joined bluethumb to challenge myself to put my art out into the wider community.
"It has been difficult for me to identity as an artist, as I have been a graphic designer for so long. I think there are many graphic designers out there who want to be artists, however find it difficult to transition into the fine art world and say out loud 'I am an artist'.
"A little self-belief and a mindset shift is required!"
What do you love most about being an artist?
"I love mixing colours, and then seeing how they relate to the texture of a canvas or paper through gentle abstract shapes.There is nothing quite so appealing to me as seeing the peaceful beauty of colour sitting on a gorgeous surface. It's pure magic. Especially hues and shapes that somehow link back to the earth or the human body."
What are your goals or dreams for the next 12 months?
"I would love to have a solo exhibition at a gallery where colour and abstract shapes are celebrated. I'm working on a new range of screen prints and a surface pattern collection, soon to be launched on my website www.kristinelubinski.com."
Thank you Kristine for sharing your stunnign work with us! To keep up to date with her incredible work, follow @kristinelubinski on Instagram and to see her current available works, check out her profile on bluethumb.