It's now been 2 years since we moved into our home and overall I'm so happy with our house — it has great flow, there's no wasted space and I love the feel of it — that is, except for our laundry!
Our laundry was originally designed to be in our dining area (and our dining room be a much smaller space) but as we were building, I realised our dining room would be so small that it would only just fit a dining table and certainly no sideboard. I love to have friends over and wanted a dining space that would be large enough to entertain comfortably, so we deviated from the architect's plan and put the laundry in our oversized garage instead.
Related article: Laundry renovation reveal: Gina's new laundry
Related article: How to style your laundry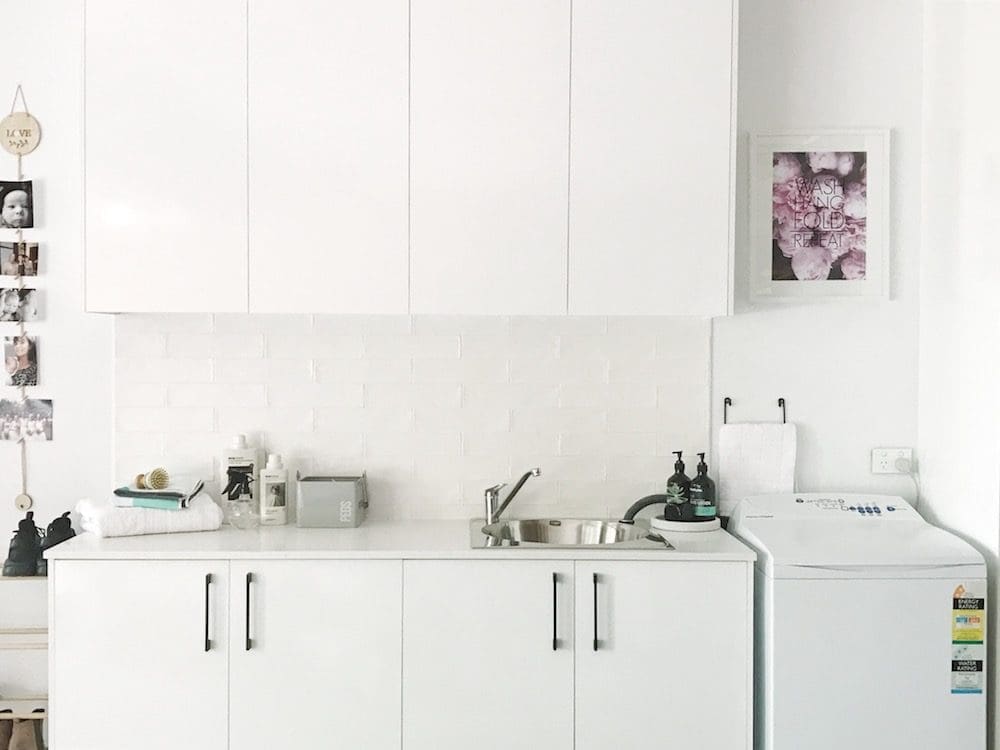 The only trouble being that this was a relatively last minute decision and no thought was put into our laundry whatsoever.
What we ended up with was some random cabinetry along one side of our garage and I've never liked this as a laundry solution.
Here is the best my laundry has ever looked with some very over-exposed photography and moving everything out of my laundry space…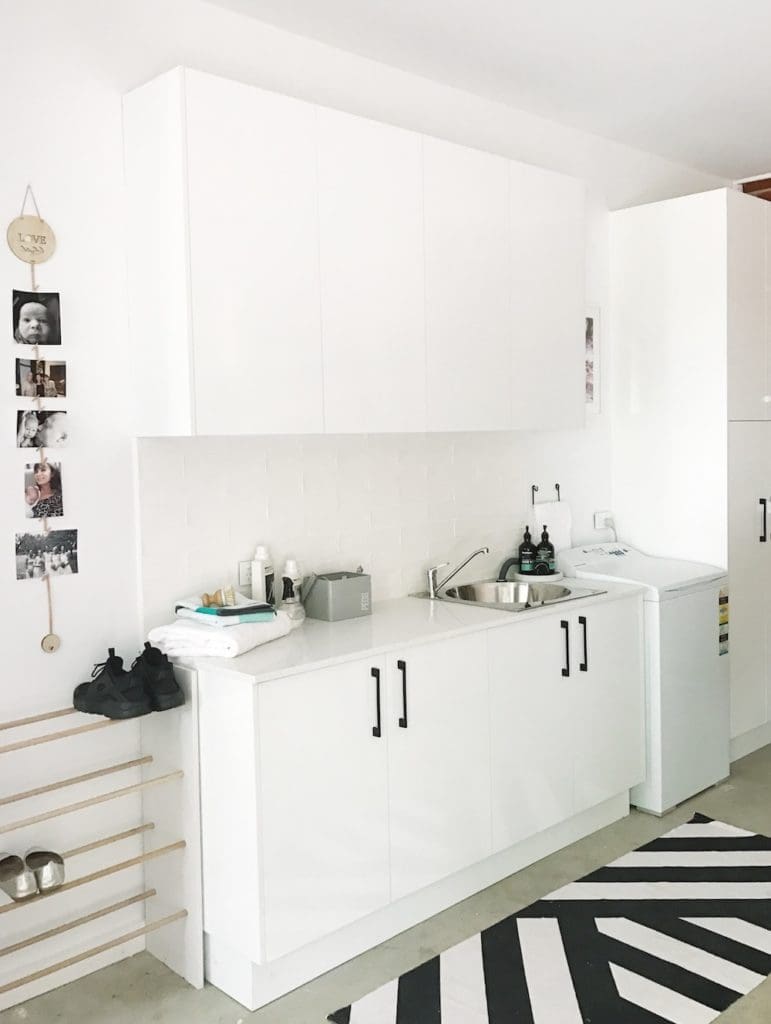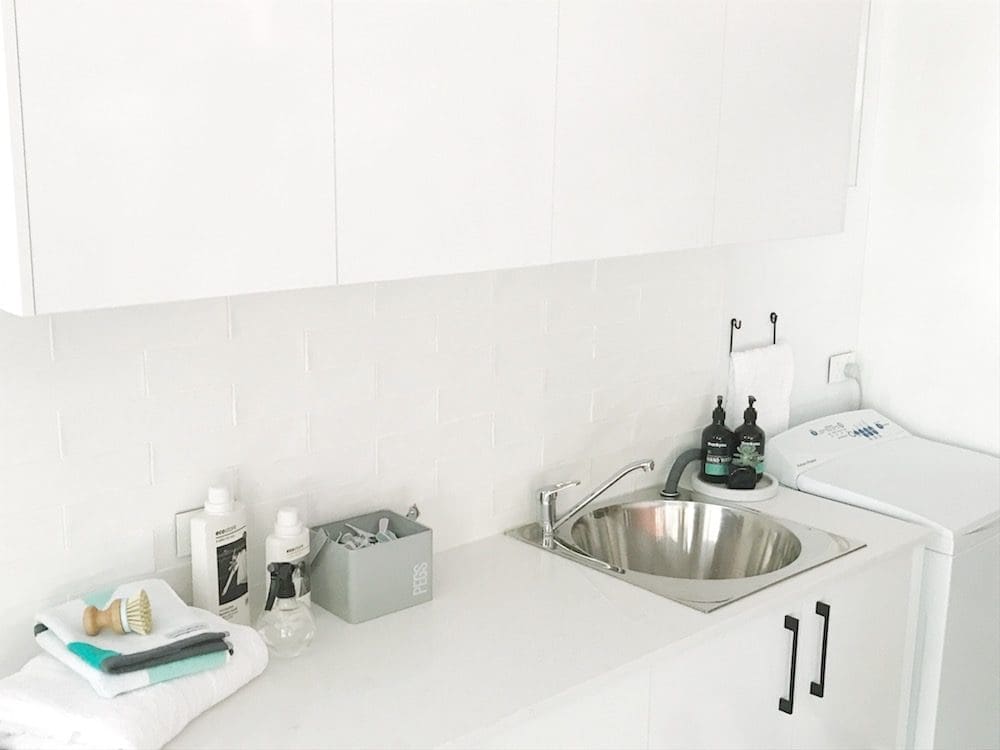 … In reality, my laundry usually looks more like this — an absolute bomb site where the bench is covered in hardware and usually the floor is so cluttered, I can barely walk through…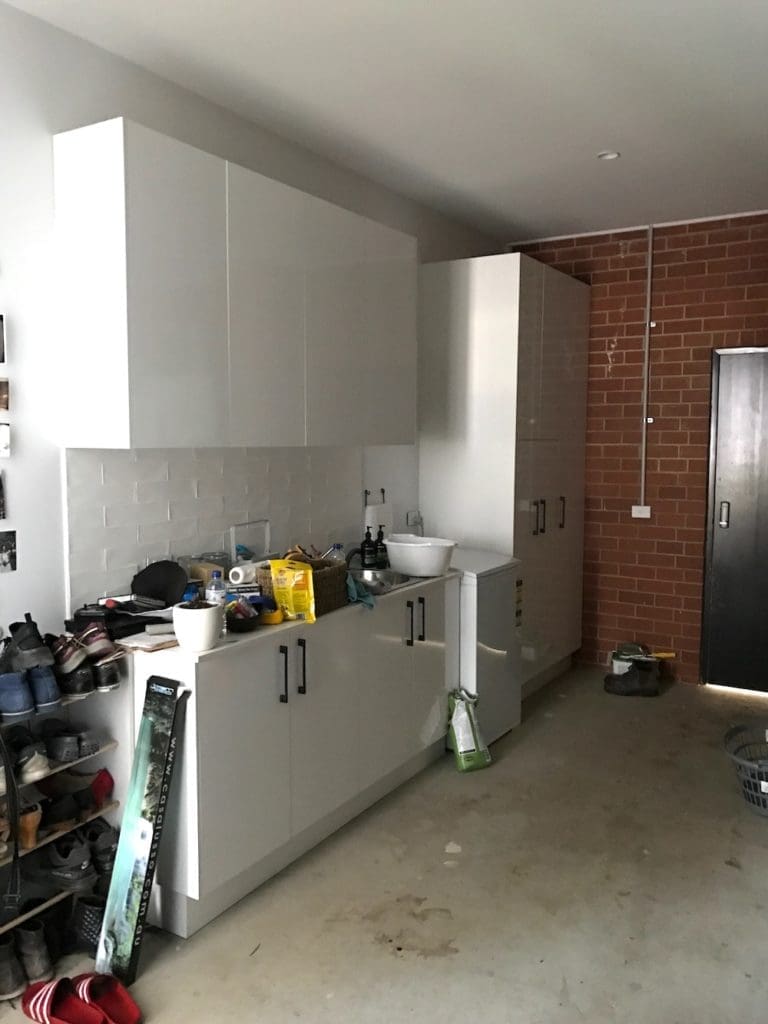 What makes this even worse is that we have a door by our garage that many people use as an entry. So it's like 'Ta da, welcome to my mess of a garage/laundry'… not the kind of first impression I want to create.
As you can see, it's one of my biggest building regrets and I've decided enough is enough — it's time I finally put some thought and effort into our laundry space.
Improvements I intend to make
Definitely on the 'to do' list in here is:
fix cabinetry so my washing machine isn't just randomly plonked in the middle
tile floor because this stained concrete slab is just YUCK
build a wall to divide the laundry from the garage so it will become a laundry/mud room
possibly render or plaster the red brick back wall so the overall space feels lighter and brighter
style and make it feel like a welcoming space.
The past few weeks I've been getting quotes from various trades and fingers crossed my new laundry will be complete by mid-November.
Next week, I'm going to share more of my laundry inspiration and product selections and I'd LOVE your suggestions and ideas too xx
Update
See my completed laundry reno here. I'm so happy with how we resolved this space and I'd love you to let me know what you think!