Supported by Denman Prospect
We constantly hear the saying 'kitchen is the heart of the home' so it's no wonder that when building or renovating, this space comes with a lot of pressure to get right.
Having a highly functional and ergonomic kitchen is just as important — dare we say it, more important — than one that looks good. So before getting swept up in cabinetry finishes or splashbacks, take the time to consider a layout that will best suit your lifestyle.
In this article, we're discussing the most popular kitchen configurations.
Related article: 9 ways to design indoor outdoor living into your home
Related article: Stylist-approved tips to add cosiness to open plan homes
One wall
Starting with the simplest layout is the 'one wall' kitchen or 'pullman' as it's sometimes referred to. As the name suggests, this design is when cabinets and appliances are fixed on a single wall, but modern designs also include an island, which evolves the space into more of a galley style with entry points at both sides.
This kitchen layout is ideal for people who need to fit a kitchen into a smaller space, such as a townhouse or studio, as it's the ultimate space saver.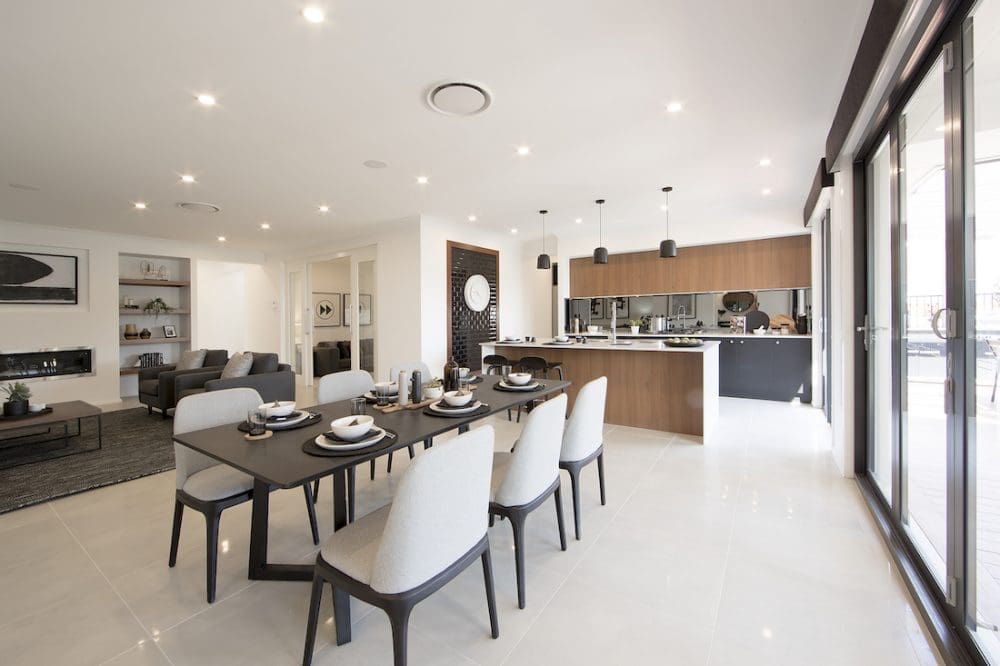 Galley
A galley style kitchen is characterised by two parallel walls of kitchen cabinetry and appliances with access into the kitchen at either end. For this reason, it's also called a 'walk through' kitchen.
The main benefit of this style is space savings — you can fit more overhead cabinets and storage in this layout than in an open-plan kitchen, and it essentially doubles the bench space and storage space of a 'one wall' design. This type of layout also avoids difficult corner cupboards or complex bechtop shapes, which can save costs. However, this design isn't ideal for people who like to entertain in and around the kitchen, which is why it's been losing popularity.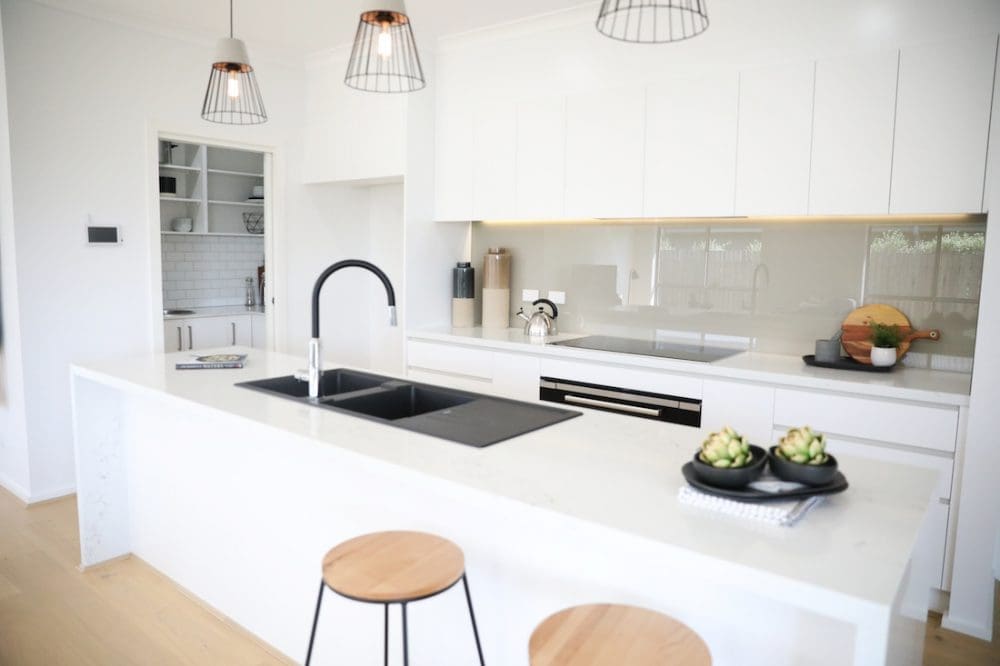 L shaped
A more popular kitchen design is the 'L shape' as it solves the problem of maximising storage and bench space while still suiting an open plan home. This design is versatile but generally consists of cabinetry running along two adjoining walls, forming a shape of the letter 'L'.
This design suits a space that doesn't allow enough room for an island but where a generous kitchen is still required. One of the main benefits of this design is that it doesn't create a 'traffic' problem where you need to step around other people in the kitchen. It works especially well when there is a window along one wall where the sink can be situated, or if it is a bi-fold window to outside, a serving bar to promote indoor-outdoor entertaining. This type of layout also supports a workspace to one side, which can be integrated into the kitchen joinery.
Despite all these pros, if space isn't an issue, we would still suggest a kitchen with an island, as these are generally the most ergonomic.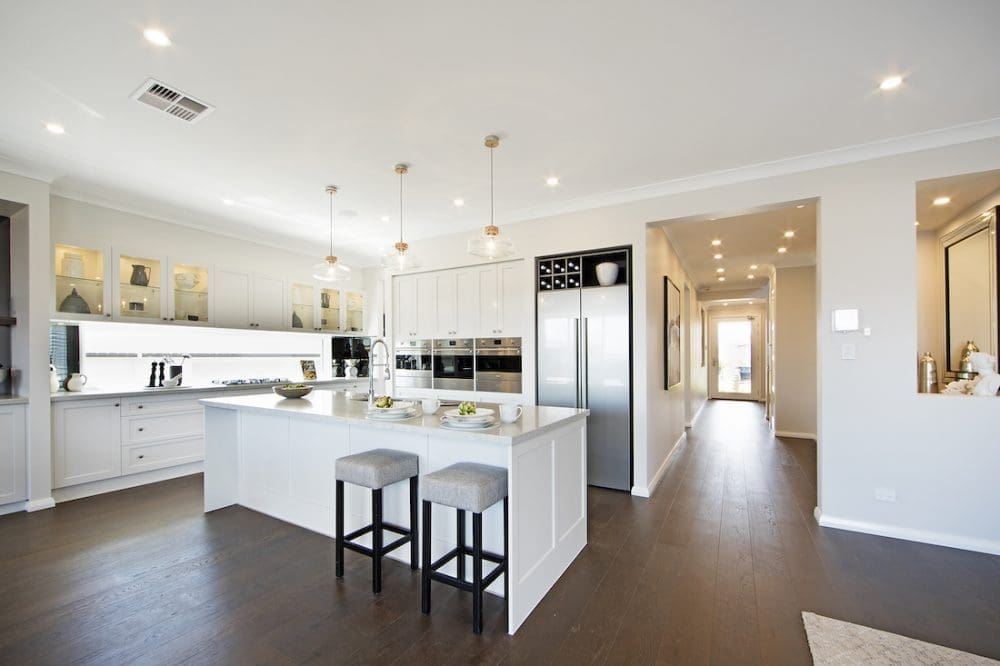 U-shaped
A popular design for traditional style homes is to run cabinetry along three walls to form the letter 'U'. Often the central wall would have a large window with a sink below, and overhead cupboards along the remaining walls. Many modern designs also include an island bench in the centre.
Depending on the width of the walkways, this design can still allow good flow, plenty of workspace and storage space.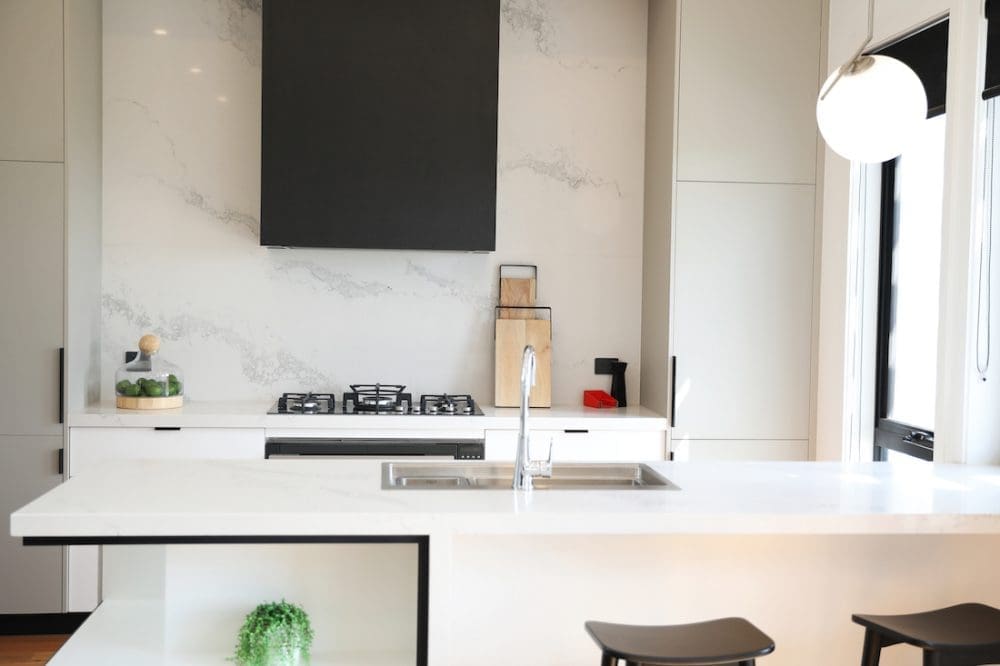 With an island
Our favourite kitchen designs generally always incorporate an island for reasons to do with looks and function. An island bench serves many purposes — from more workspace to prepare food, a place to eat informal meals, for children to do homework, and to entertain guests while you're preparing meals. Some kitchen islands also include a built-in dining table.
The most ergonomic kitchen layouts use a 'triangle' design where there are only a few strides between the sink, fridge and oven in the shape of a work triangle. Most kitchen islands feature a sink or cooktop which help to condense the size of this work triangle, reducing the walking distance between these most used zones of the kitchen and therefore making it far more efficient.
For aesthetic reasons, an island is a great way to introduce serious wow-factor into your home. Some ideas to elevate your kitchen island are to use a stunning piece of stone as the countertop, playing with designs to create an island that resembles furniture with freestanding 'legs', or incorporating an open bookshelf under the island. Islands also lend themselves well to feature lighting above, whether that's a set of pendant lights, architectural suspended light, or a large void or skylight to let in natural light.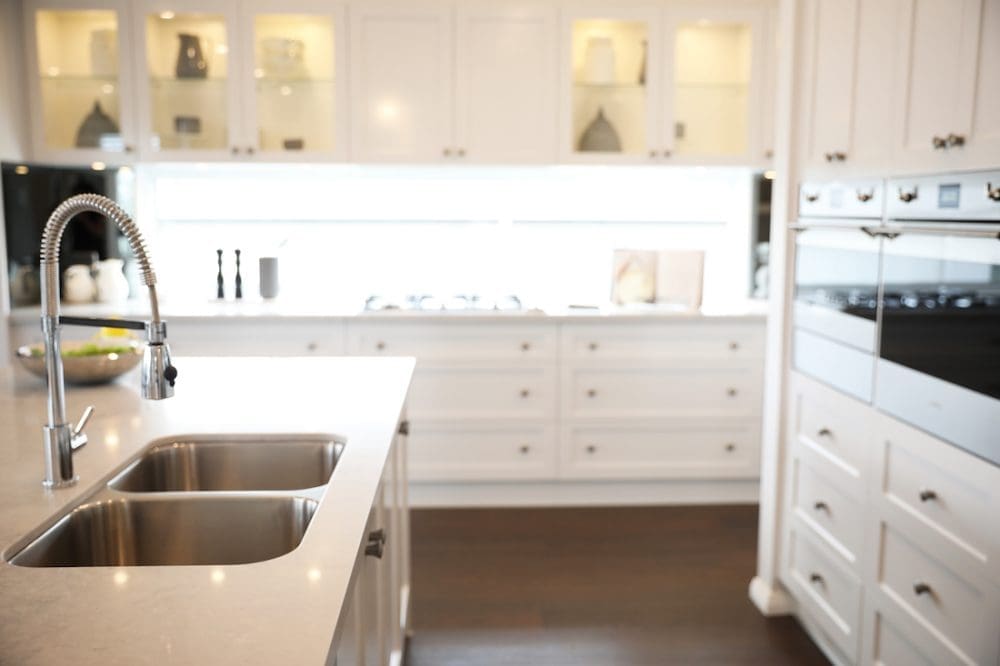 If you live in or around Canberra, there is an impressive range of kitchen displays to check out at Denman Prospect display village — a must-visit destination for anyone planning a new home or major renovation.
We hope this guide on the most popular kitchen configurations helps you with your planning.