Supported by Denman Prospect
There's a growing trend to blur the lines between indoor and outdoor spaces. And in Australia, where we can enjoy the outdoors most of the year, it makes sense to design better connectedness between indoors and out. These are 9 of our favourite ways to design indoor outdoor living or blur these visual lines in your home.
Related article: Inspiration gallery: VJ panel living room walls
Related article: Design greenery into your renovation: How to create an indoor outdoor connection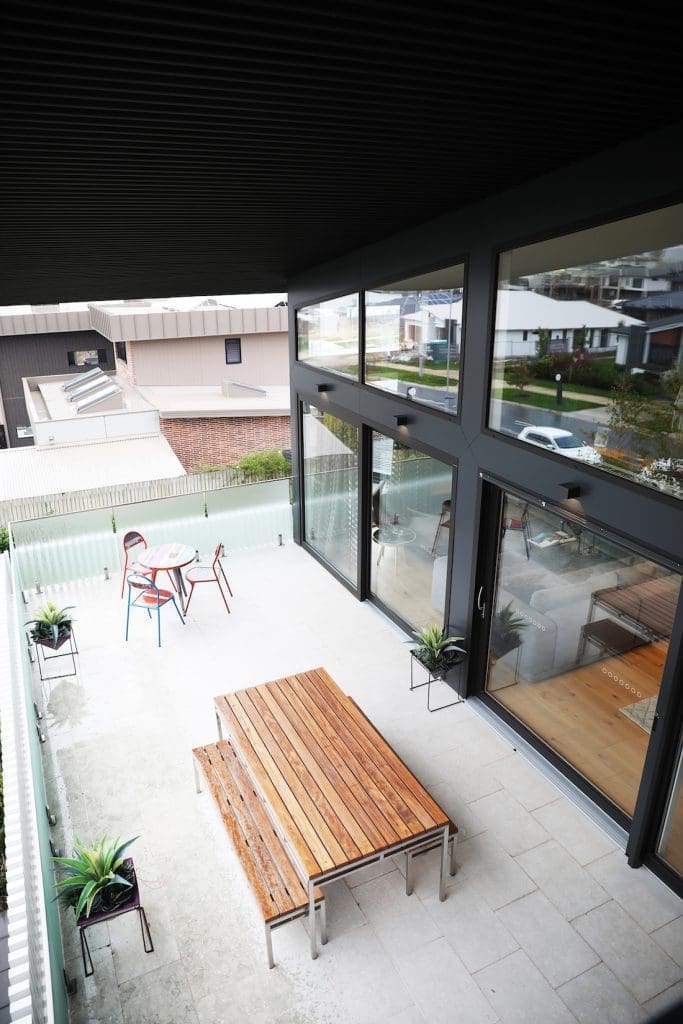 Living areas that open to outside
Installing glass sliding doors in your living or kitchen areas is the easiest way to instantly create indoor/outdoor connection.
Glass doors have the benefit of removing the visual barrier between these zones, offering easy passage, and allowing more natural light too.
In some homes, almost the entire wall is made from glass doors, allowing the backyard to become an extension of the indoor living areas.
There are more door options than ever before, from commercial-grade sliding doors, to bi-folding doors, stacking doors or even large pivot doors, so why not push the design boundaries.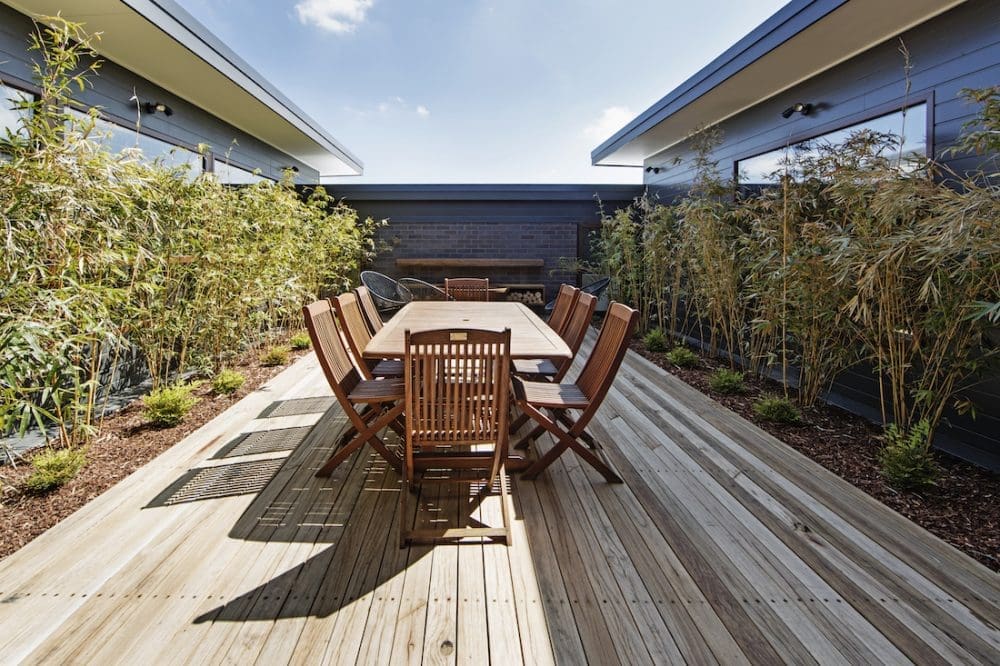 Internal courtyards
A design idea that allows you to make the most of your outdoor space is to design the house around it — introducing the internal courtyard.
These can be done on a small scale in the form of an atrium that's just for looks (think a smaller internal garden) or on a larger scale where your internal courtyard also features outdoor living spaces and even a pool.
Designing your home around a courtyard means you can access this space from more areas of the home and it truly does blur the lines between indoors and out.
Outdoor living room
Create the ultimate entertaining zone — outside! Outdoor living rooms are becoming a staple in new homes and for good reason.
There are endless ways you could design these, from completely sheltered to semi-exposed, on a large veranda or in a terrace style, with an intimate feel surrounded by lush landscaping or open to the vast landscape beyond.
What's essential is comfortable seating that invites outdoor entertaining and good lighting that allows your gathering to kick on beyond sundown. Complete the space with an outdoor fireplace which will make you want to use this space 365 days of the year. Or add a sense of fun with a hanging chair or swing!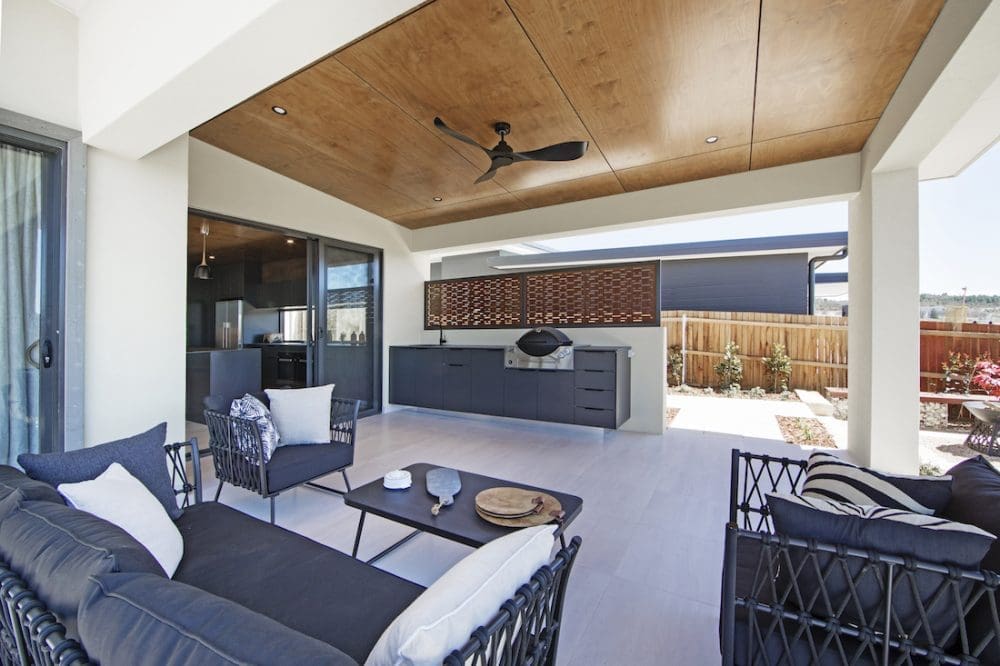 Outdoor kitchen
Elevate your outdoor space to the next level with an outdoor kitchen. While luxe outdoor kitchens include a sink with hot and cold taps, in-built BBQ or pizza oven, and possibly an outdoor fridge, you can create a simpler design on a budget that's still functional.
Add a table and chairs to complete the alfresco kitchen, and don't forget some good heaters too!
Check out this article for all the design tips and tricks you need to create the ultimate alfresco kitchen.
Bedrooms with outdoor access
It isn't just your living areas that can benefit with open access to outdoors — create a connection to your garden or outdoor spaces from your bedroom too.
Whether it's a small balcony where you can enjoy your morning coffee, or doors that open directly to an external courtyard, there's a lot to love about the flow and energy this brings to your bedroom.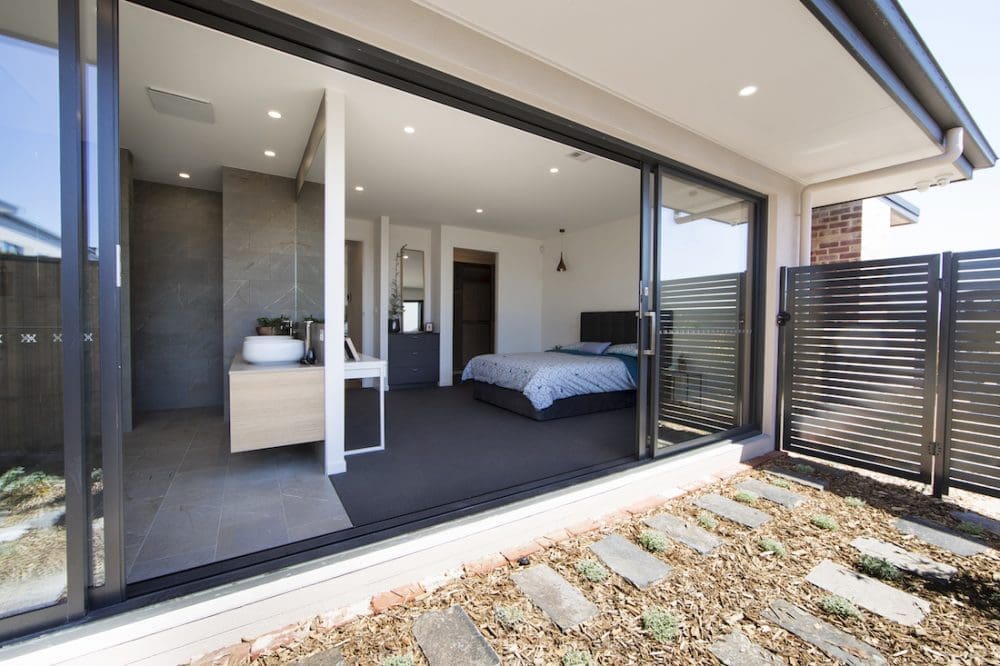 Room with a view
If you're lucky enough to live somewhere with a view, such as the mountain terrain surrounding Denman Prospect pictured here, then you'd be crazy not to make a bold design statement where the view can steal the show.
Using floor to ceiling windows — or better yet, moveable glass doors — that offer unobstructed views is our favourite way to take full advantage of your location and create the greatest sense of connection to nature.
Read this interview with Architect Shannon Battisson where she explains how she has designed her next home in Denman Prospect to maximise the views.
Firepit
Welcome relaxed outdoor winter gatherings with a fire pit. It's easy to set up this zone that essentially just requires a fire pit and some informal seating — and this doesn't have to be traditional seating, logs or even large outdoor floor cushions could be used.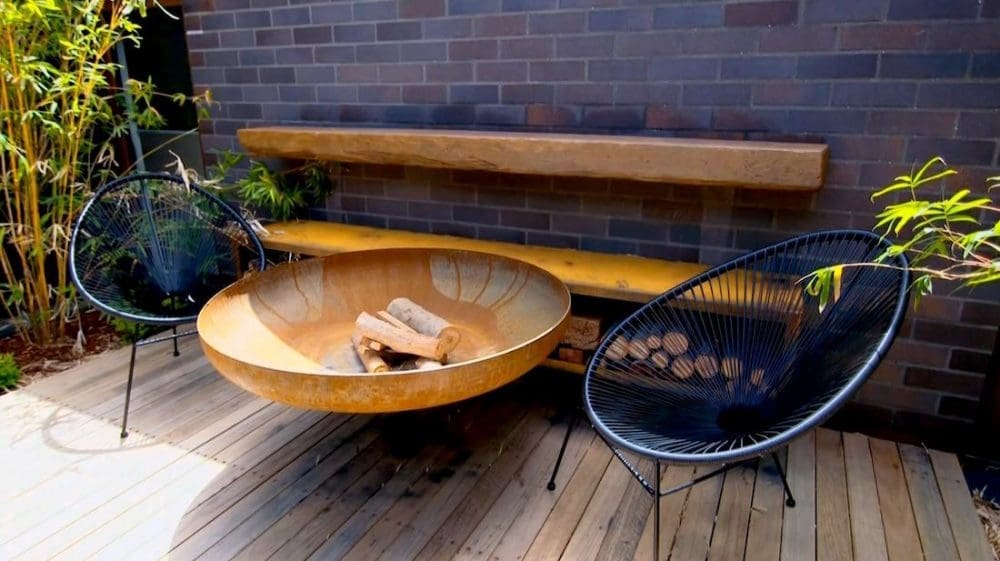 Sunroom
A design feature that lost popularity for many years is the concept of a sunroom but it's been making an appearance again lately and we're not complaining about it.
A space that's more protected from the elements than an outdoor living room, a sunroom is a space to appreciate the natural world just beyond and allow plenty of natural light into your home. Alternatively, a conservatory made entirely of glass is another idea we love and can offer an architectural edge to your home.
High windows
The final idea to make this list is high windows. As more people are embracing high or raked ceilings, there comes the opportunity to line the walls with high windows that will flood your home in natural light. High windows also offer beautiful views to the treetops or sky, creating another connection to nature. Let's not forget skylights or glass panel ceilings either.
We hope these ideas on how you can seamlessly merge indoor and outdoor spaces has inspired the design of your new home or renovation.