Who has been watching Reno Rumble?
The first show aired last night and we were killing ourselves laughing! The two teams are total opposites — the Blue team (aka House Rules team) were fighting and didn't understand the rules of the game, while the Red team (aka Block team) got straight into it.
Those rules are a little tricky though… we've dubbed Reno Rumble as 'The Block meets Survivor' and here's why:
– each week each couple must deliver two rooms
– first rooms revealed on Wednesdays will be judged and the couple with the highest score will have 'immunity'
– second rooms are revealed on Sundays and the team (red vs blue) with the lowest overall scores will face elimination.
Tonight we saw the first rooms revealed so let's get into them!
Blue team
The Blue team also known as the 'Bluetongues' are past House Rules contestants. In some ways they have the advantage, having experienced competing and renovating against other couples in one house before — so the idea of having 'zones' in a house and working on top of each other won't be new.
The brief for this house is 'Contemporary Coastal'.
Michelle and Steve
The first room revealed was Michelle and Steve's master bedroom. Both judges — Darren Palmer and Romy Alwill — felt it met the brief and loved the coral artwork, woven seat at the foot of the bed and cushions.
Romy thought the head of the bed felt sterile though and wanted to see more texture, she even went so far as to call it 'vanilla'. While we would have preferred to see a beautiful lime wash timber panel wall, rather than the timber-look option they went for (do you think it's vinyl or wallpaper?), we're still impressed for a week 1 room!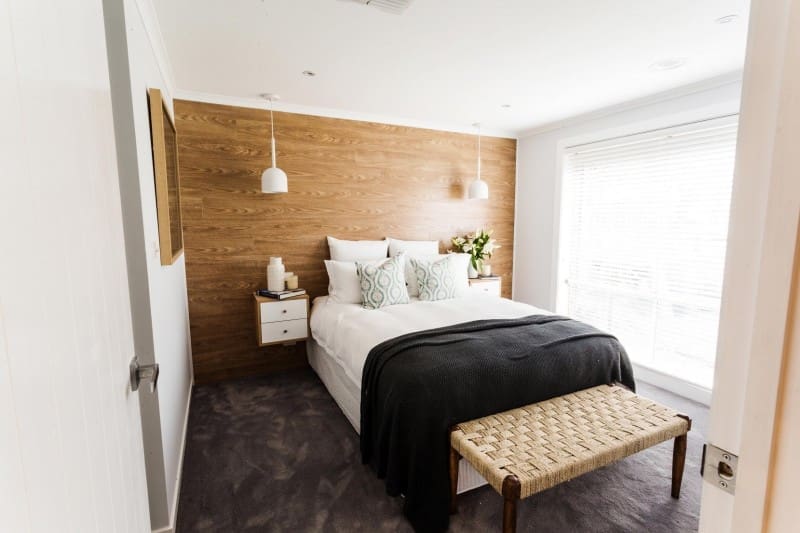 Chris and Nick
Chris and Nick's room was revealed next. Darren thought it was a great teen room but then Romy pointed out it was for a 23 year old…
Despite the young styling and random Meerkat ornament on the bedside table, Darren thought they got all the big items right like the timber feature wall, wardrobe and TV.
We can empathise with Chris and Nick who said they got stuck between trying to create a coastal room in line with the brief or a blokes room for him. With a few new styling choices though, this room is a winner!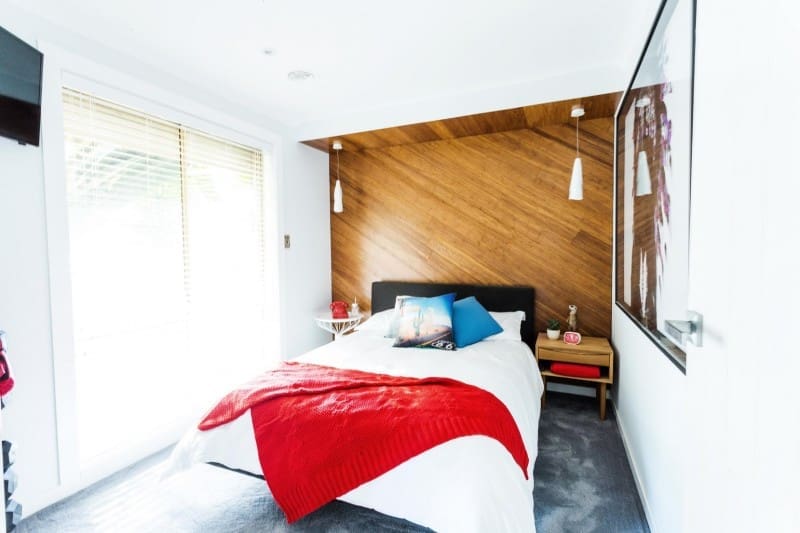 Ben and Jemma
The blue colour palette, use of timber and watercolour-inspired artwork in this guest bedroom all got big ticks from us. It felt like Ben and Jemma got the balance between contemporary and coastal right — we'd certainly love to be a guest at this house!
Buuuttttt new judge on the block, Romy, disagreed. She felt this room wasn't hitting the brief at all, saying it's too 'hotel like' and needs to feel like a home. Other than the timber bed head, she couldn't see any elements of coastal at all. We'll have to disagree on this one — what about you? Do you think the room is coastal contemporary?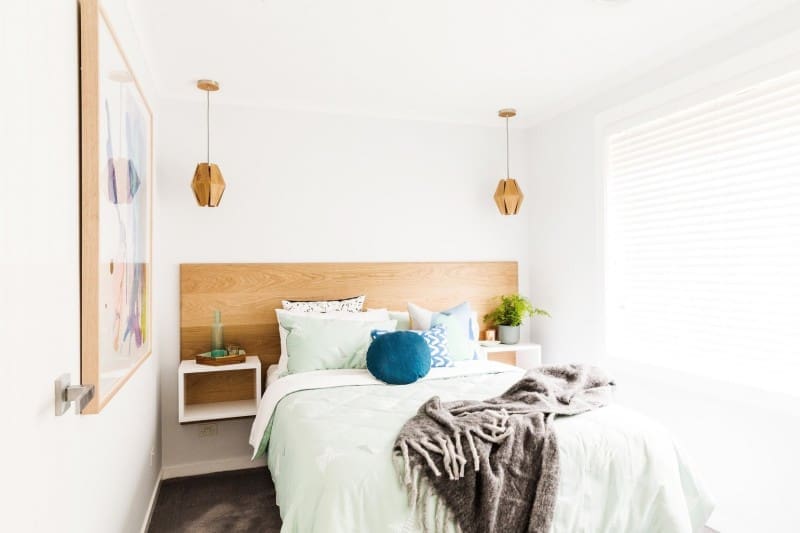 Carly and Leighton
Tasked with turning a large dungeon into a retreat for Hayley, Carly and Leighton created a trendy space using a grey and copper colour palette. Both judges thought this room was on brief and one of the strongest rooms in the house.
While we loved the room, it felt less 'coastal' to us than the guest bedroom and more in the realm of 'industrial luxe'. Huge tick from us though for using that stunning Armadillo & Co rug — WANT. SO. BAD.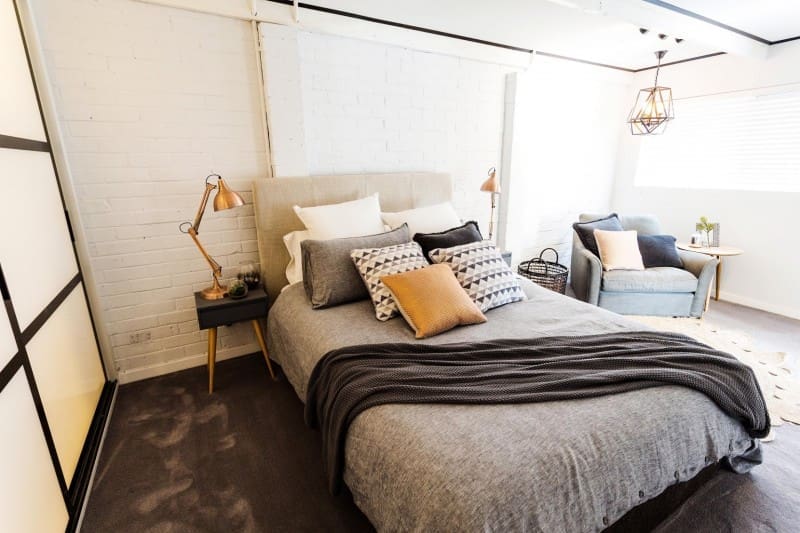 Red team
The Red team also known as the 'Redbacks' are past Block contestants. Just quietly we think these guys have the upper edge in terms of design eye. And we're putting it out there that Michael and Carlene are our favourite couple and we totally want them to win, ha ha!
The brief for this house is 'Contemporary Classic'.
Josh and Jenna
'Loving it' and 'very elegant room' were the judges' comments as they walked in to the master bedroom.
They quickly picked up on the use of black throughout which the couples agreed would be the 'grounding' colour in the home this week.
While the judges like the balance of femininity and masculinity, Romy felt the artwork was a bit jarring for a bedroom and Darren would have like to see more storage in the bedside tables.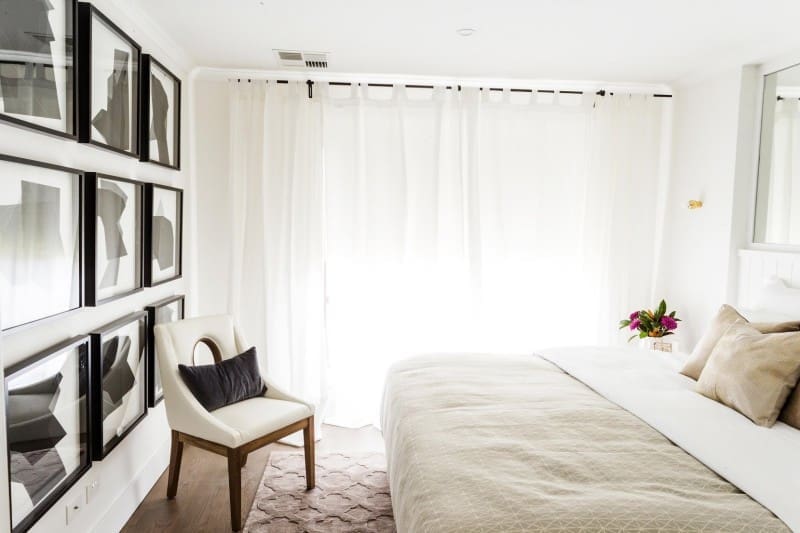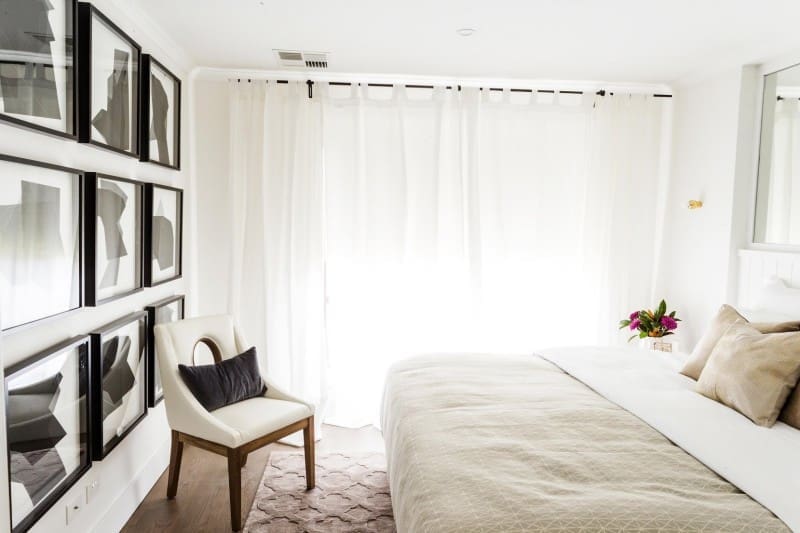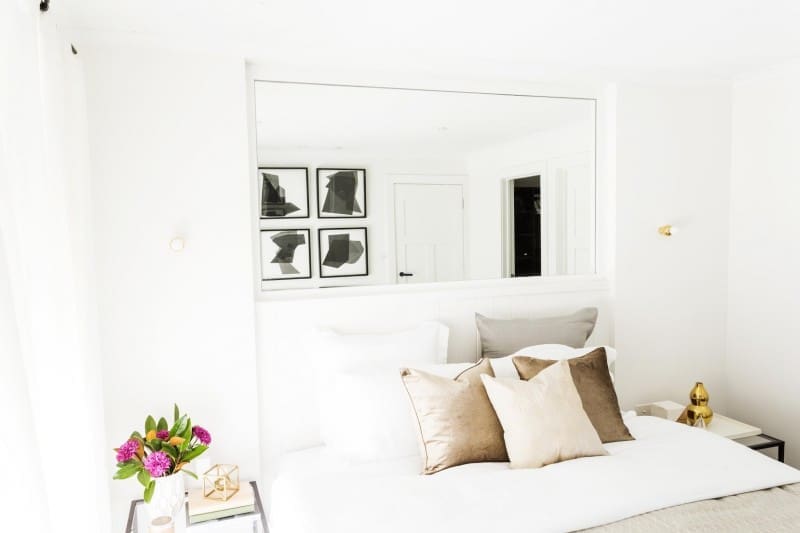 Jess and Ayden
Hot off The Block, Jess and Ayden are straight into their next reno challenge and clearly these guys didn't need a warm up this week!
Darren said he couldn't find one fault in the room — big praise! This room is for grandma Dot and feels like a warm and inviting space we're sure she'll enjoy 🙂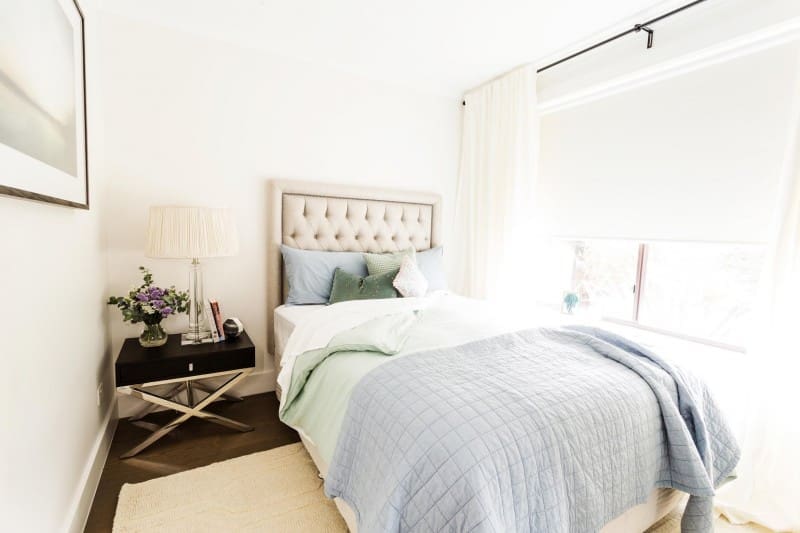 Michael and Carlene
Oh how we've missed Michael and Carlene! Carlene's styling is our favourite of any Block contestant, ever. Fun, colourful and always stylish!
The judges said this room for adult daughter 'feels right' and we agree. The bedhead is such a fab colour and the right balance of contemporary and classic.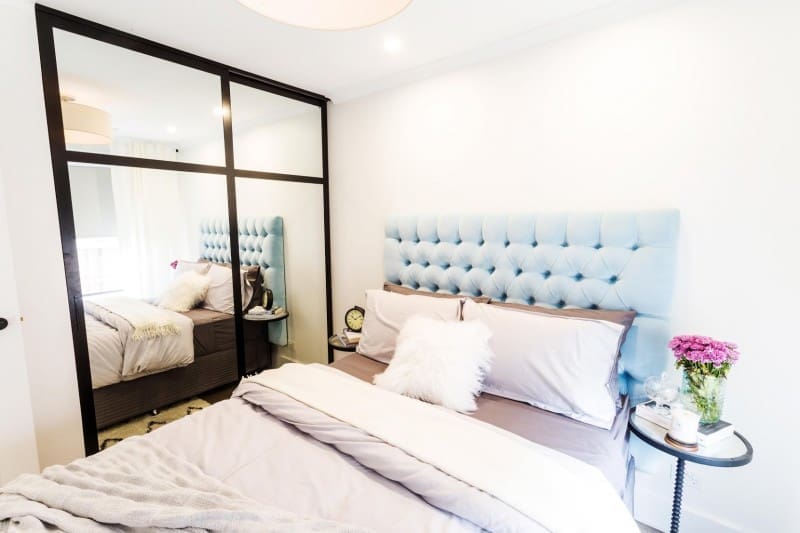 Kyal and Kara
Last room revealed was Kyal and Kara's man cave — 'wow, wow, wow' to quote the judges.
Darren and Romy loved this space, especially pointing out the custom-made bar, artwork and boy's toys like the audio system.
Seriously, how did they do this in 48 hours??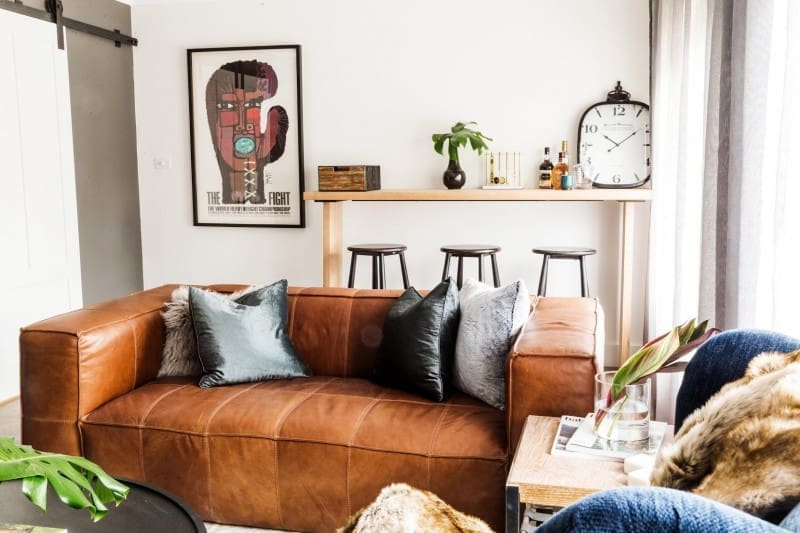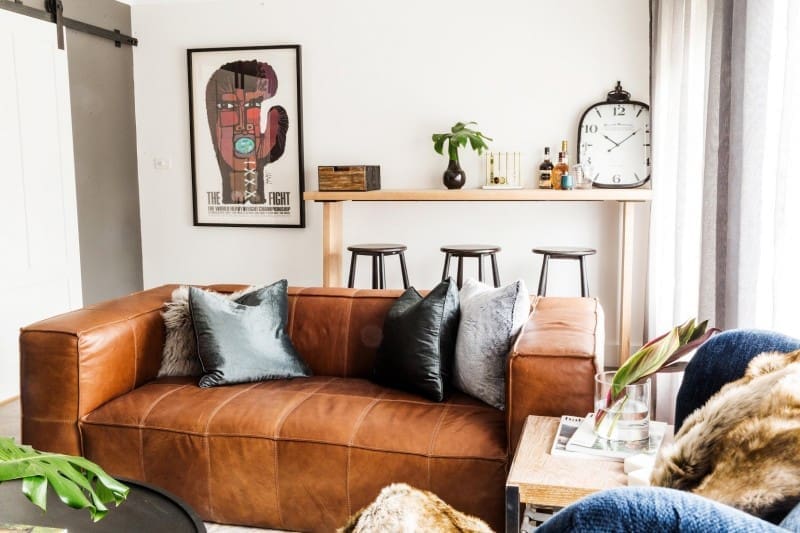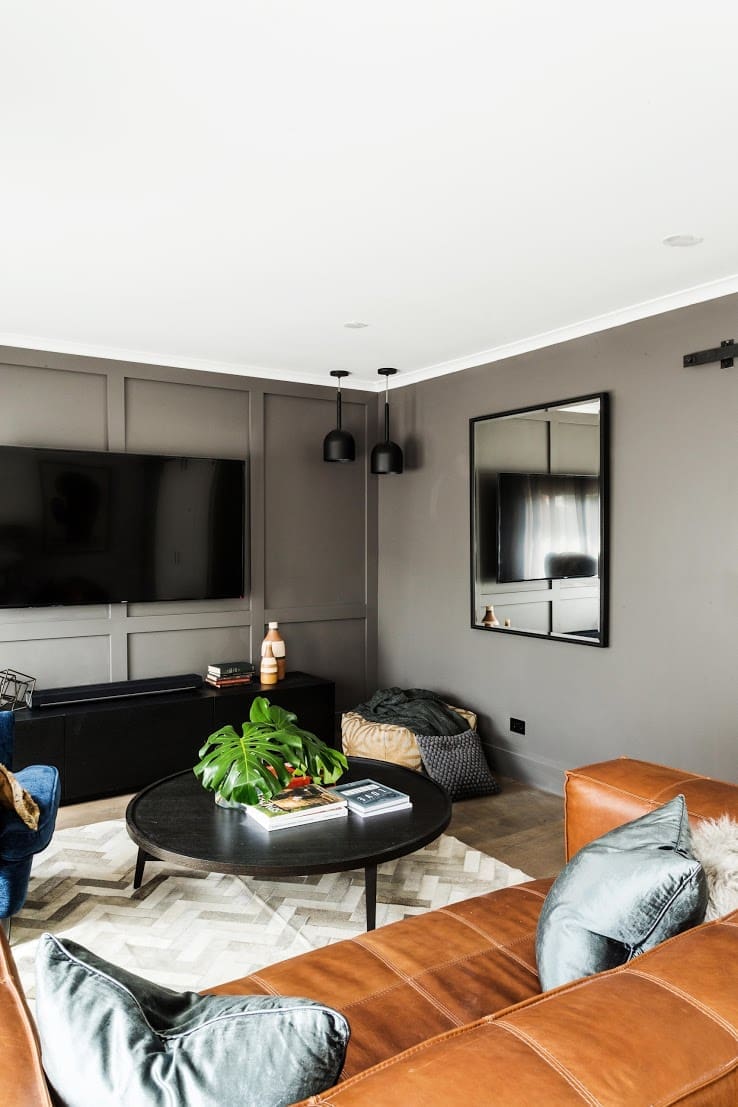 What do you think you think of the Reno Rumble week 1 bedrooms? Were you impressed? Tell us in the comments below!