There's always something so special about a house that an architect has designed for their own family. It's a license for their creativity and experimentation to run wild. And that's exactly what you can expect from today's home tour through Ocean House, a breathtaking cliffside home designed by Rob Mills, of Rob Mills Architects & Interiors (RMA).
We chat with the award-winning architect to discover more about this coastal retreat.
Related article: The flowing curves and fascinating facade of Ribbon House
Related article: ab House: A new build with playful and sentimental elements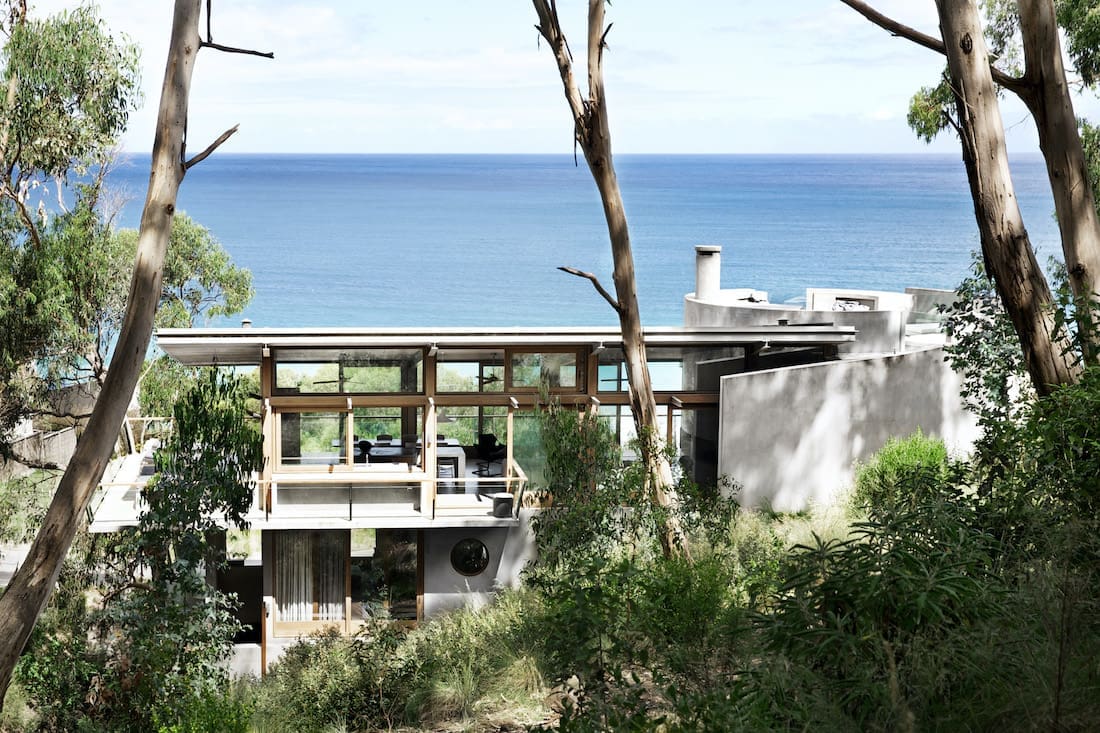 Perched on the cliffside in Lorne, Victoria, Rob has a strong sense of connection to the area.
"Everything is more personal when it involves your own family, and this particular site is very close to my heart. My family has holidayed along the Great Ocean Road for generations — my great grandfather was the first family member to enjoy a break here — so we have many wonderful memories," explains Rob.
"I actually found this piece of land when we were on holiday in Lorne. It's a vertical site with a steep slope, and it has a beautiful creek flowing through it. It was a site that was challenging and inspiring and unique — exactly what an architect needs."
Unlike designing for a client, Ocean House was designed solely for Rob's family and friends to gather… and that enabled total design freedom.
"At RMA, we're always considering new ways to bring our clients' dreams to reality, but in this case, I was the client so I could experiment a little!
"For example, I had wanted to enclose an entire room with curtains to create a truly serene space for a while. So, I tried it in this house in the bedroom, with a natural linen curtain encircling the space. You feel cocooned and safe from the outside world."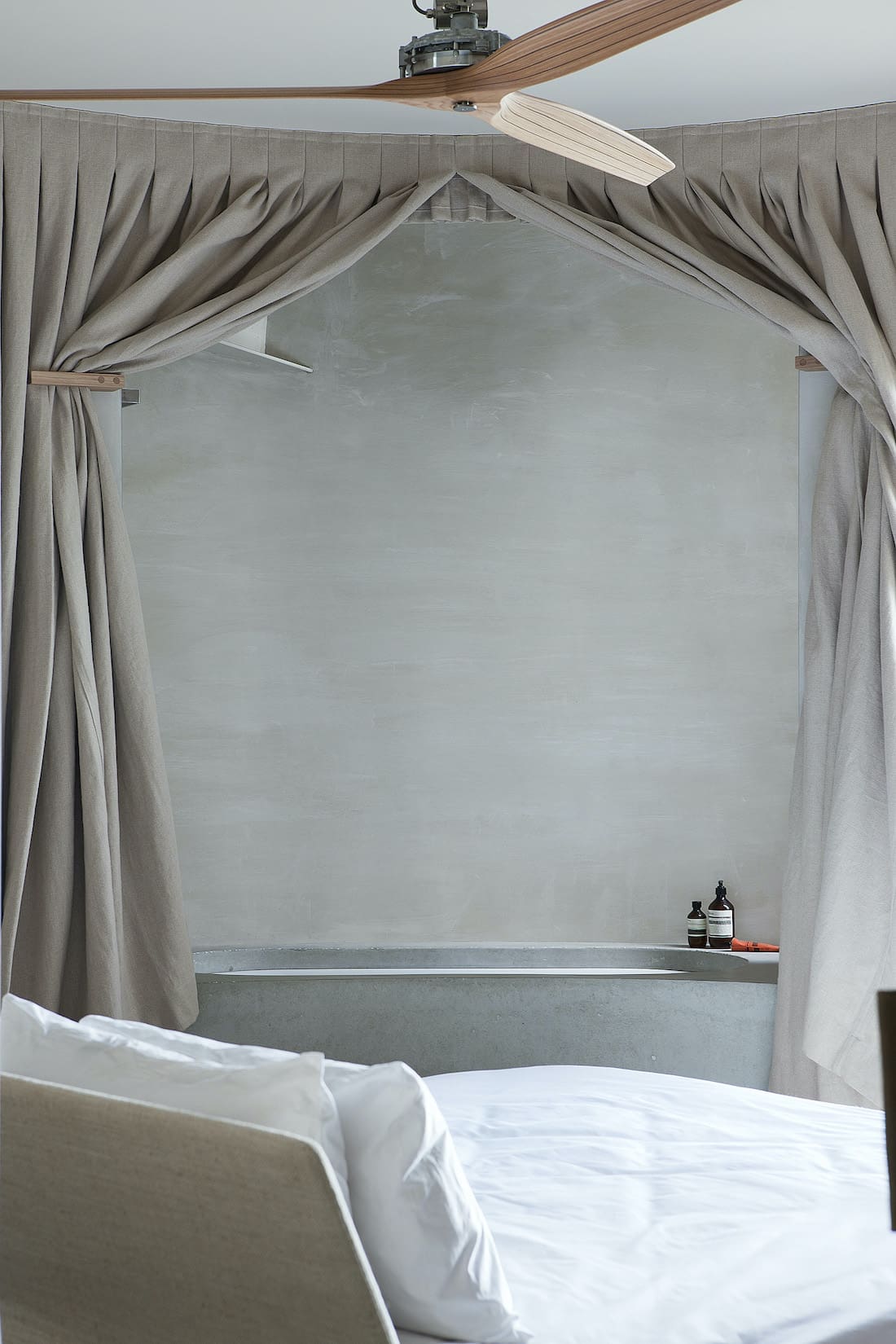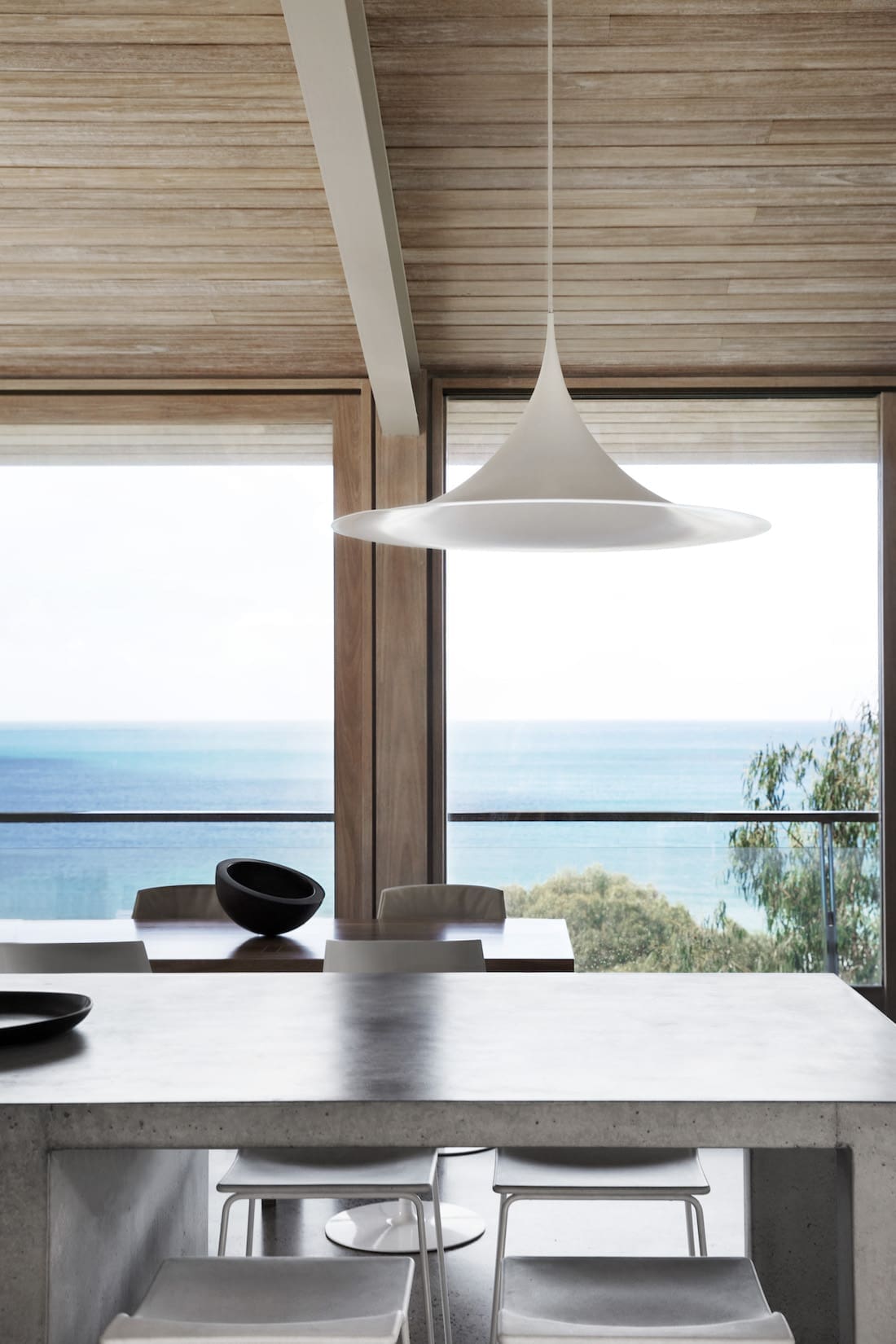 Concrete and glass feature heavily and Rob explains how the environment informed his materials palette.
"Building a home to survive within a marine environment is always a challenge," says Rob.
"I first thought I would build a timber shack, but after examining the local topography and challenges with planning codes, I decided to use concrete. It's timeless and durable; it helps to reduce sound; and it has a favourable thermal mass. If there is a fierce storm, it also ensures the house is very well sheltered.
"I incorporated neutral tones and natural materials found in the surrounding landscape to feel at one with nature. It creates a calming, sensory experience as your eyes move seamlessly from the forest to inside and out to the sea.
"Although I often favour rich colours, if I had used them in this case, I would have lost that association to the land."
We're always keen to know an architect's favourite aspect of a completed project — and especially when it's their own.
"In every design, I long to create a connection with nature, and I believe I achieved that here through the open plan living, kitchen and dining area. It has unobstructed views of the ocean from one side and sweeping views of the forest from the other," smiles Rob.
"It makes this an exceptional place to cook and entertain friends and family. The use of glass diminishes any barrier between the serenity inside and wild elements outside. You're as close as you can be to the trees, the surf and the sky."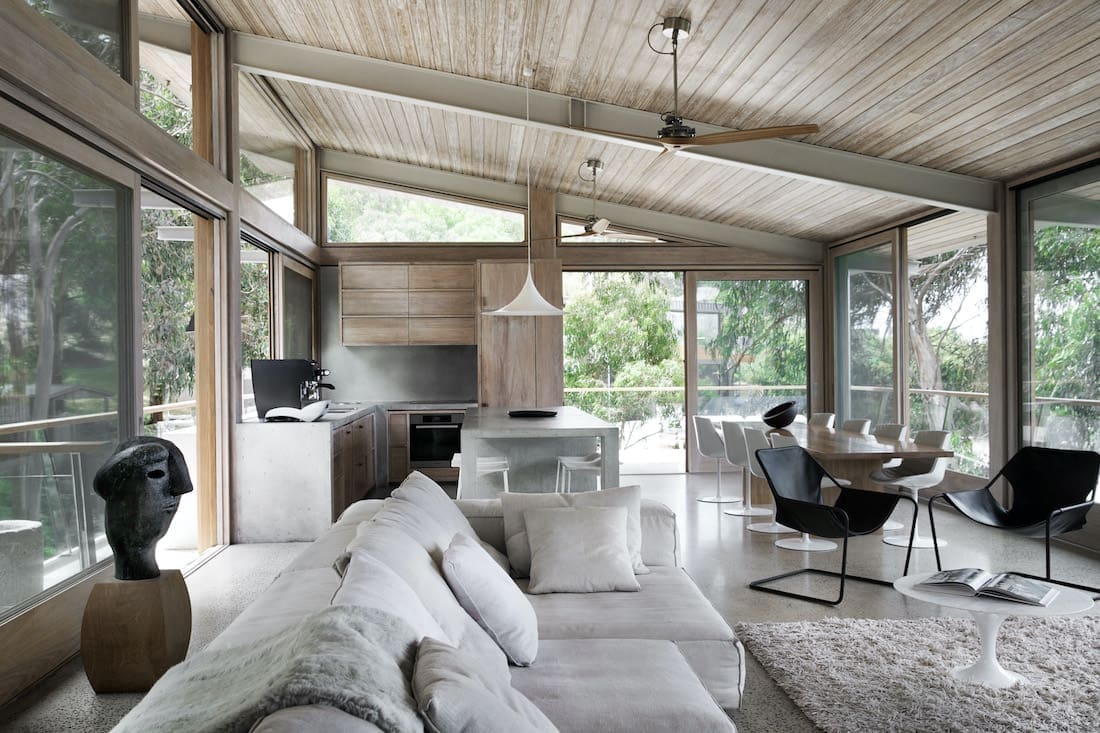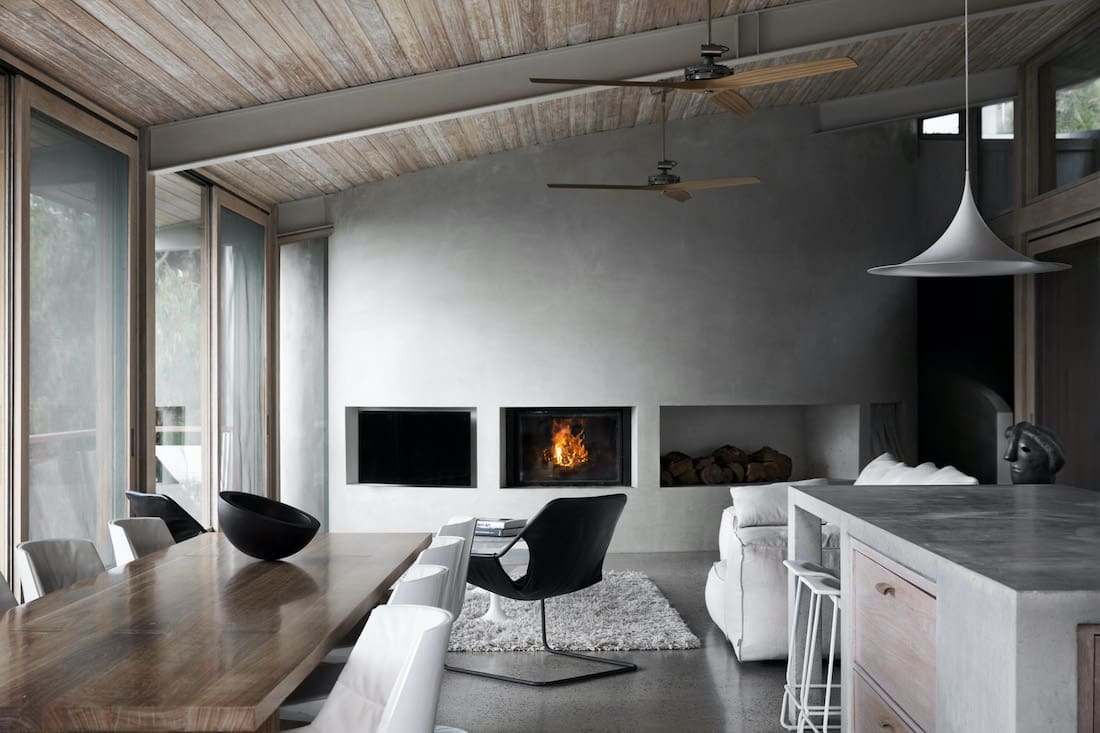 One of our favourite feature of Ocean House is the use of stucco throughout the home, creating a sense of security and seclusion.
"Stucco is one of my favourite materials. I like to describe it as velvet on wall. It's also very versatile and non-toxic," says Rob.
"In the bedrooms, I used stucco to line the curved walls, which also helped soften noise. This creates a peaceful acoustic environment, which we all love when relaxing in bed.
"Like the rest of the house, I coloured the stucco to match the bark of the trees outside."
It's clear when chatting with Rob that Ocean House holds a special place.
"Elements of the architecture and the interiors of Ocean House have inspired other projects, such as Great Ocean Road Residence, which similarly draws upon its coastal environment.
"However, some of the same design language can be found within urban projects too, such as Hampden by RMA, a collection of nine luxury residences in Armadale.
"I believe what all of my projects share with Ocean House is a deep connection to the landscape, and a calming, healthy home for an enriching quality of life."
Thanks to Rob for taking us on a tour of Ocean House. Discover more and see all of RMA's projects on their website or connect with them on Instagram for loads of design inspo.