1. Declutter
Like with most areas of the home, it helps if you start by decluttering — you'll be able to clear away unused or unwanted items, and actually discover everything you've been storing in your pantry!
So how do you declutter?
Remove everything from the shelves and decide if it's something you'll use again and should keep or if it should be discarded or given away.
Obviously expired foods (and I bet you'll find more than a few) should be thrown away but anything you bought during a random health kick that you're never going to touch again, for example, could be given to that healthy friend of yours.
You may also find these decluttering tips helpful.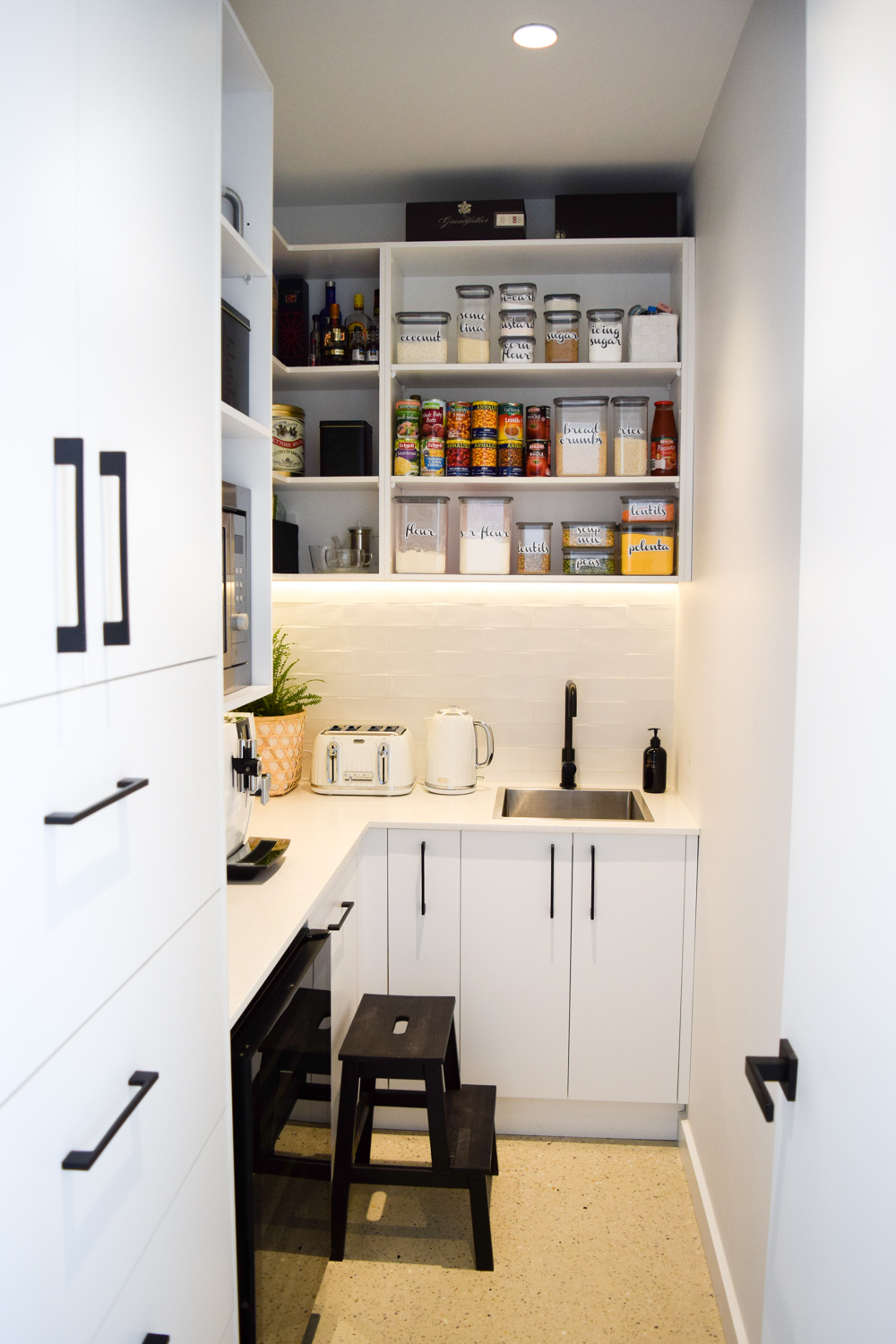 2. Creates zones and decide on logical placement
An easy and logical way to organise your pantry is by grouping items.
What makes sense and works for you, won't necessarily work for everyone.
Personally, I like to keep all my baking items together, all my food staples (flour etc) together, canned foods together, pastas and other carbs together… I think you get the picture.
It's also fun to create a mini coffee station where you can display anything from your coffee machine (I have a Jura J6) and favourite mug, to coffee beans and even coffee art print.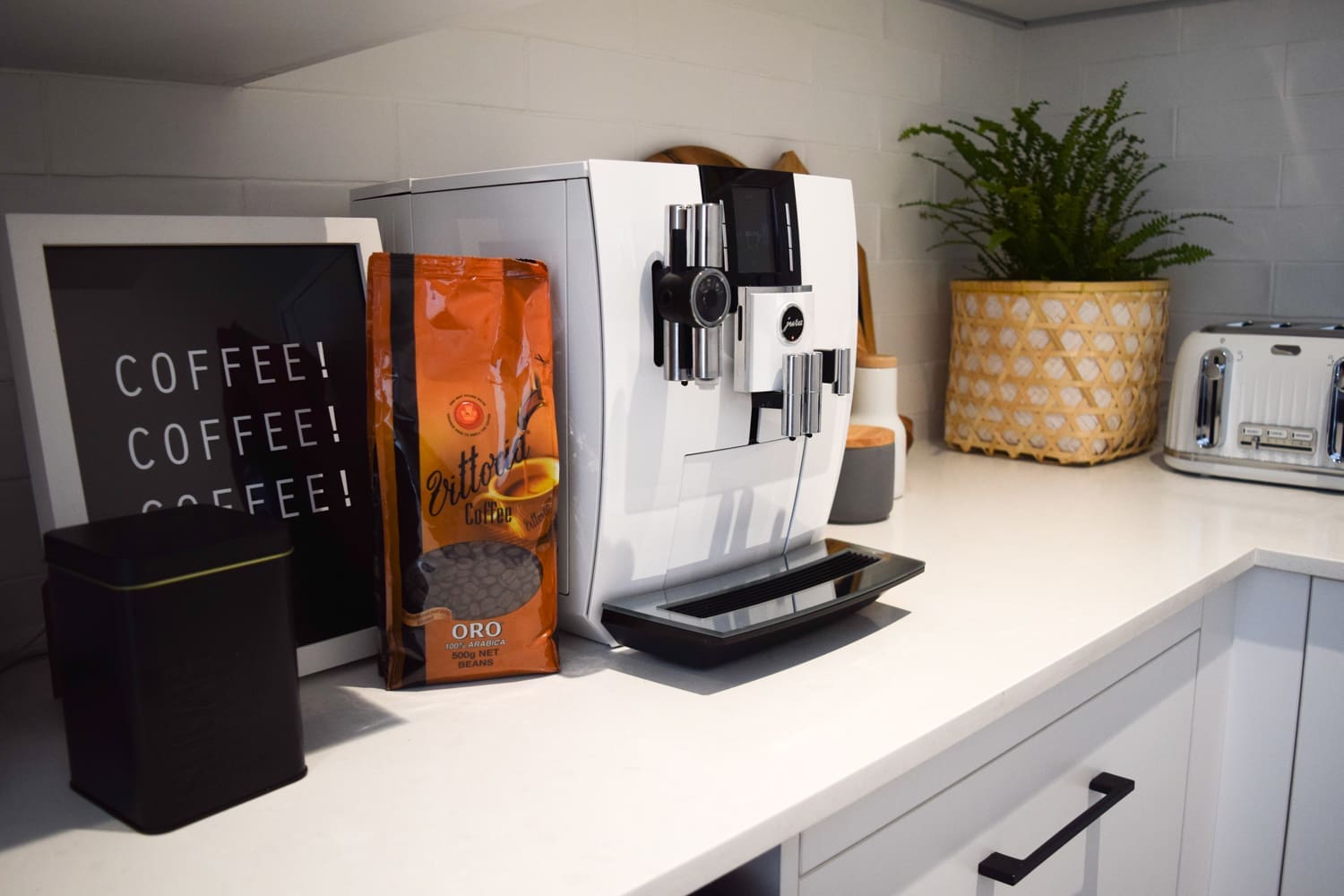 3. Find storage solutions to suit your needs
One of the triggers for me to style and organise my pantry was the amount of food I was wasting — items going stale, or simply forgotten about and expiring.
I decided to put most perishable items in clear (BPA-free) plastic containers from Kmart so I could easily glance and see how much of each product I had left.
To help find items quickly (and to add a little extra style), I made labels by simply printing out the words in a font I liked ('Channel' from PicMonkey if you want the same) and cutting them out neatly, and then sticking these onto the face of the containers using clear contact. Tip: use a label maker to put the expiry of the food on the underside of the container so you won't be left guessing if items are still in date.
Check out this quick video to see just how I did it!
4. Sort appliances
If you find your pantry is looking chaotic or you have very little usable bench space, the issue may be there are too many appliances taking up prime real estate.
My pantry was feeling cramped so I was very selective about what appliances would stay on the bench — coffee machine, toaster and kettle were the only ones to make the cut (and I treated myself to the new Euro kettle and toaster from Kmart). All other commonly-used appliances were put in the open shelving just above and appliances I rarely use were put in the upper cupboards.
I even found there were a few appliances I could giveaway as they weren't being used, freeing up even more space.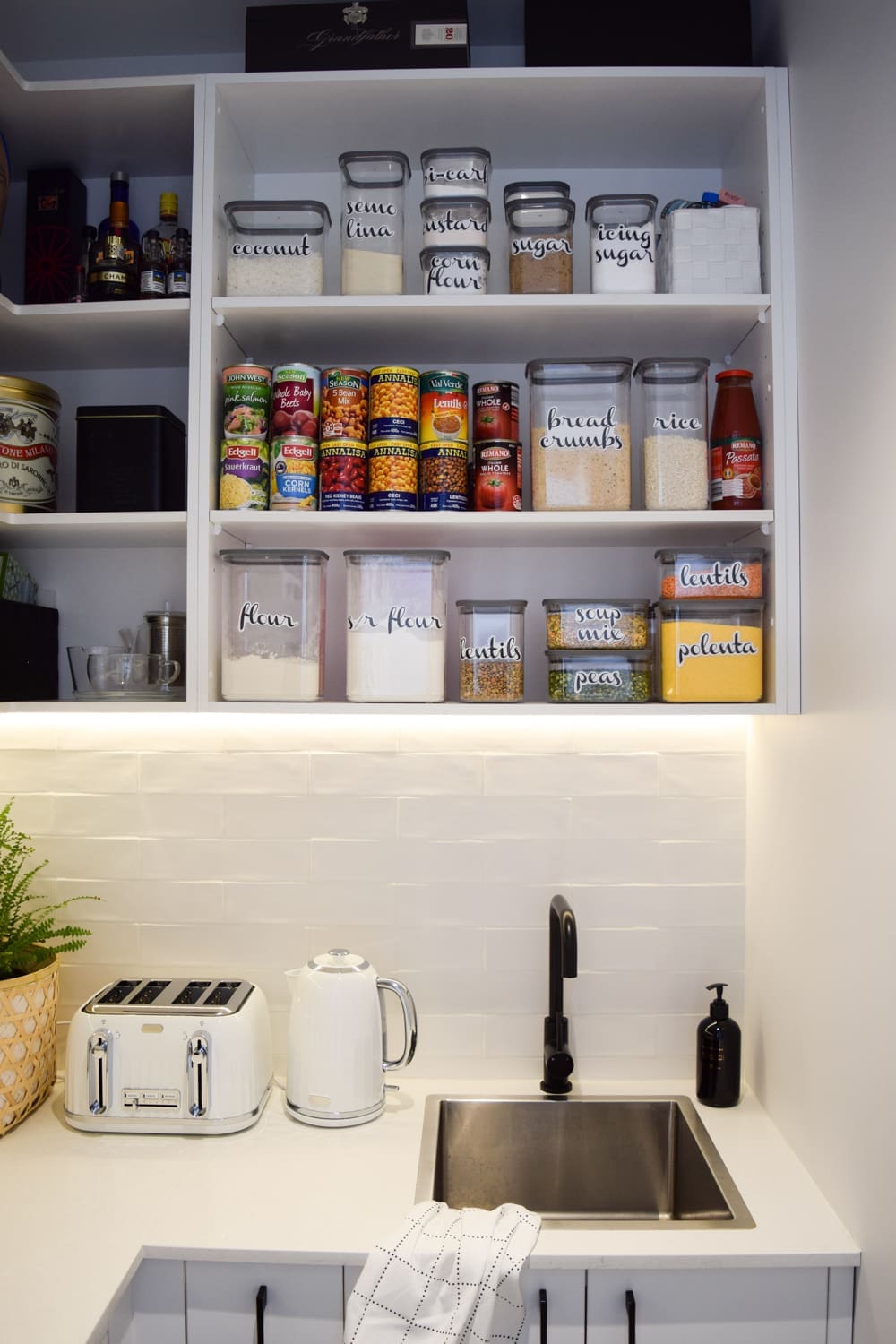 5. Look for opportunities to save space and hide mess
To make your pantry as functional as possible, it's a good idea to see if there's any way you can save space or keep your pantry tidier for longer.
I love using baskets to store items as they appear neat and tidy, even if they aren't. I've placed all my baking items in one basket, and all my teas in another. In a pull out drawer, I've also used baskets to store 'like' items such as nuts.
Reusable shopping bags were taking over, so I used a nifty folding trick to shrink the size of them and you can watch this quick video to see how (once you get into it, it only takes a couple of seconds to fold each bag).
6. Create a kitchen vignette
A vignette, or styling arrangement, is a way of adding serious style to your pantry.
If you have bench space or open shelves, you could rest several cutting boards in different shapes, sizes and materials, and place some vessels or salt and pepper grinders in front.
In mine, I've used a mix of high-end Scandinavian pieces with affordable finds from Kmart.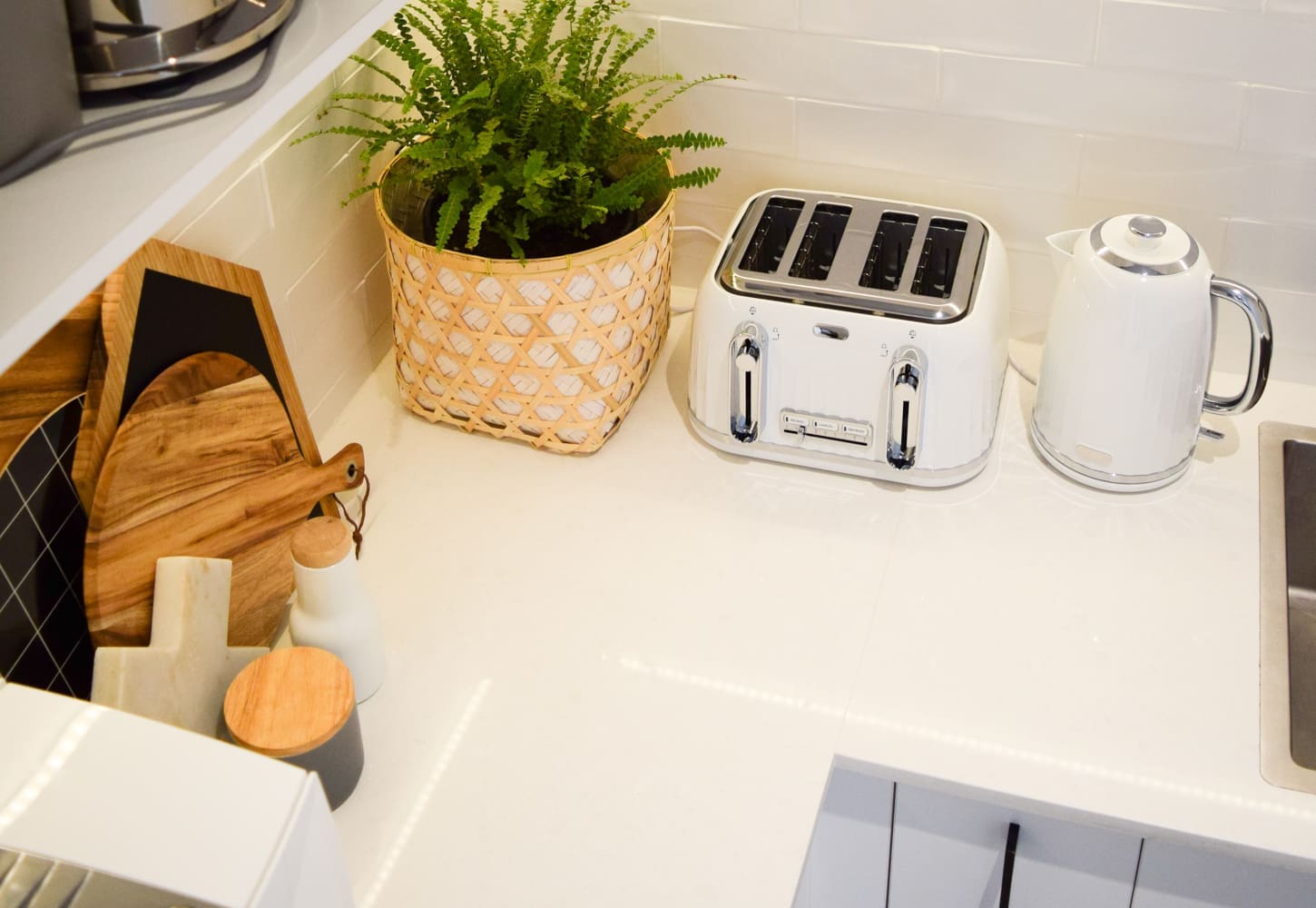 7. Embrace natural elements
I love incorporating natural elements into every space I style — it adds warmth and life.
In my pantry, I've got a fern in the corner which is absolutely thriving. If you don't have a green thumb, faux plants can work too or dried branches such as eucalyptus branches are another option.
While adding plants (faux or real) to your pantry won't be possible for everyone, perhaps finding storage baskets made from natural materials is? I placed my plant in a large woven bamboo basket to add another natural texture to the space.
There you have my favourite ways to style and organise your pantry! Do you have more to add to the list? Share them in the comments below!
*Disclaimer: some of the items pictured in this article were gifted by Kmart.