A shared children's bedroom can be a daunting thought for any parent to consider. Not just for juggling sleep-time routines but how to style the room to suit the little residents and also create a beautiful, practical space.
Today we take a look around Alice and Ted's bedroom, styled by their Mumma Cat, a Melbourne-based stylist from 'Styled by Cat'.
Cat shares her styling tips and process for creating a magical shared bedroom for her son and daughter, so let's take a look around.
Related article: Dinosaur themed boy's room: A peek inside Patrick's big boy room
Related article: Amazing makeover: From beige and bland to a super cool kid's bedroom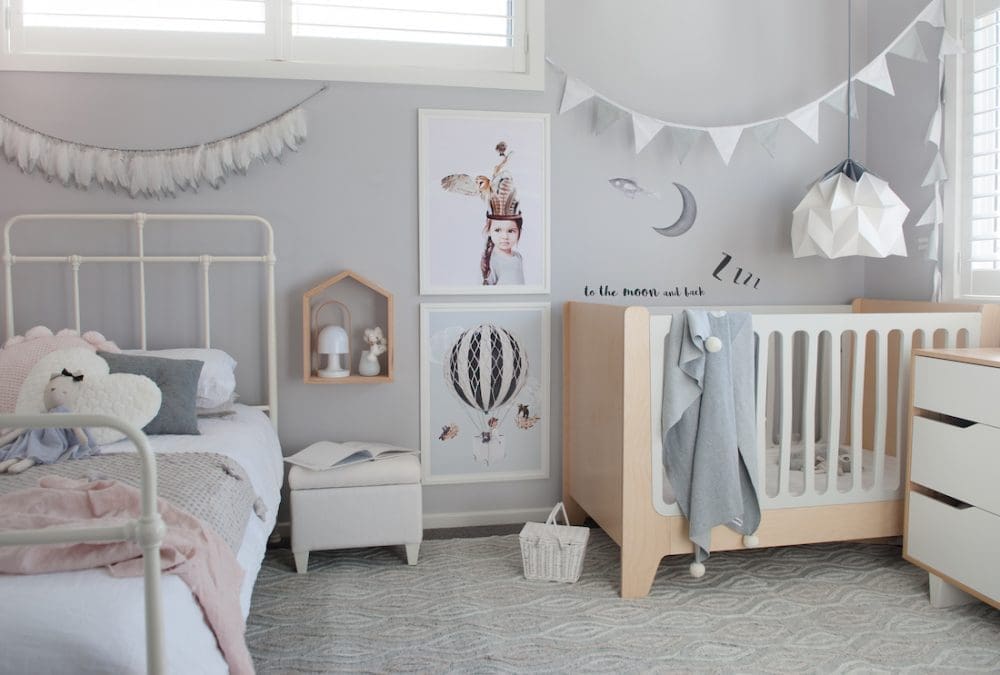 "I always start my room design with choice of artwork, and in this case, the inspiration behind the artwork were my 2 little bebés Alice (7) and Ted (3).
"One of my challenges was Alice is in Grade 2 and is moving out of that early childhood stage, where she feels like more of a big girl and doesn't like anything too babyish," Cat says.
"I needed to find artwork that had a sense of sophistication for Miss Alice while still being playful and whimsical for little Ted. The Linn Wold prints from My House Loves were perfect, and the rest of the room design flowed from there."
Cat explains that finding the perfect girl/boy balance for a shared bedroom starts with pieces to suit each child's individual style, but still with a sense of cohesion.
"From a styling perspective, having a boy and girl 4 years apart sharing a bedroom definitely has its challenges.

"All children differ in their likes and dislikes, their favourite colours etc. To begin introducing a sense of each child's personality, I choose 2 artworks from the same collection, and involved the kids in the process."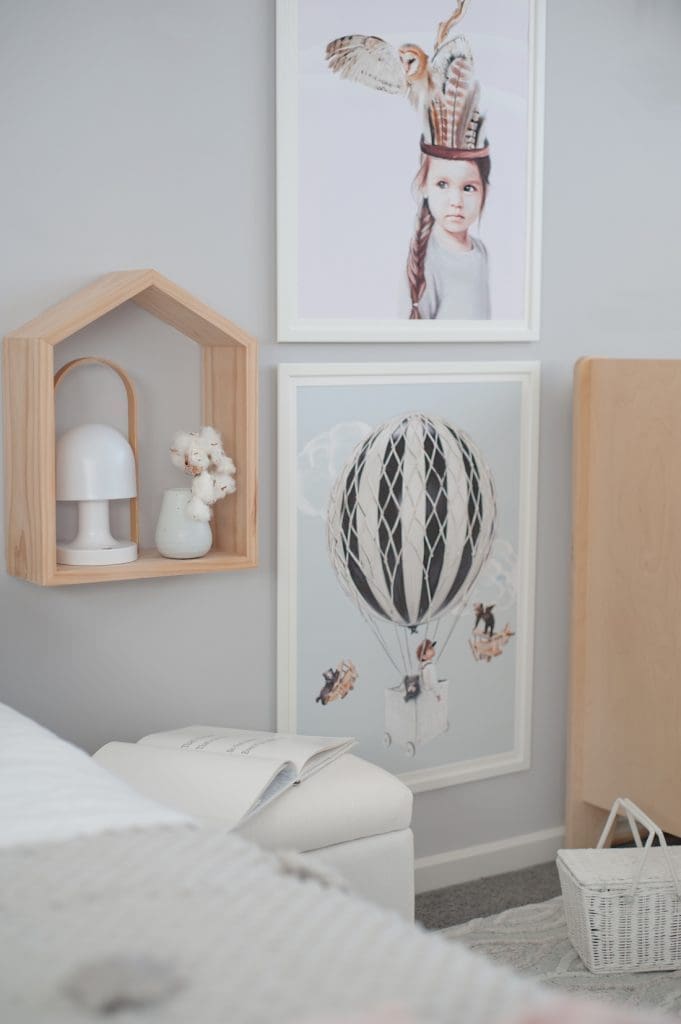 "This way, they each got an artwork they love, but there is still a sense of
cohesion because they're by the same artist," Cat explains.
"The same is true with toys and decorative items. For example, choosing different soft toys from the same range.

"In terms of the sleep-time routine, they actually love being in there together but staggering bedtimes can help, so that Ted is asleep before Alice goes to bed."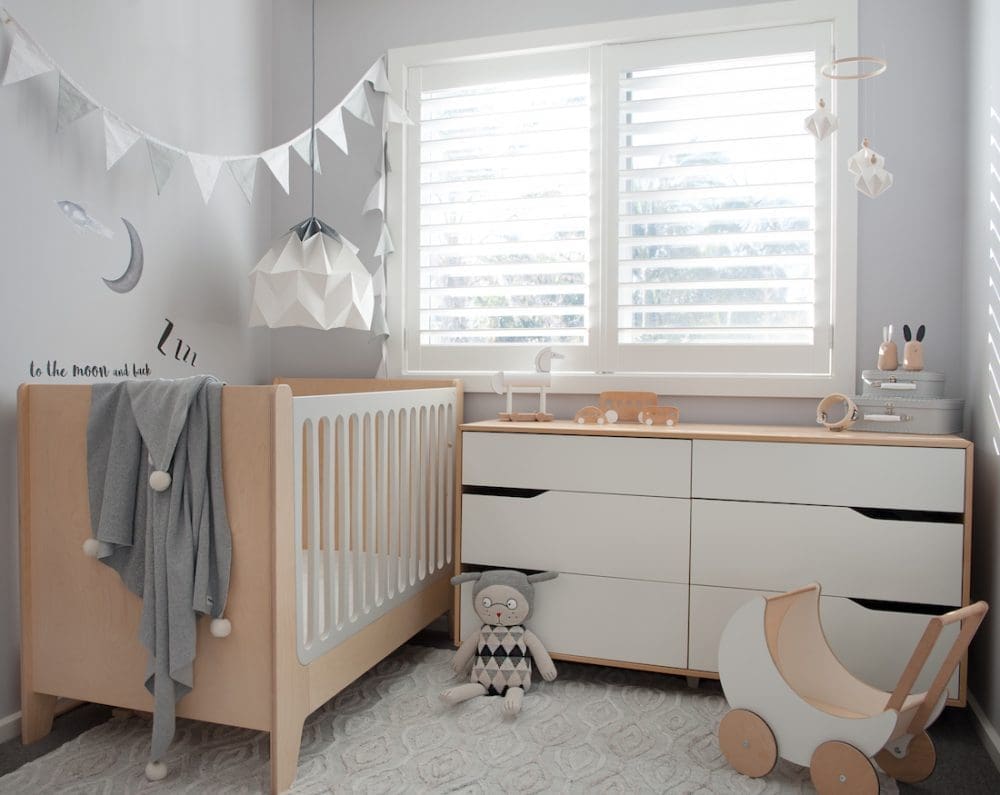 Even professional stylists come up against some challenges and Cat's little ones room was no different.
"I had to experiment with the wall decals over Ted's cot quite a bit, swapping different decals in and out and playing with different configurations. It took a week or so of moving them around before I was happy," she says with a smile.
Along with the beautiful artworks that inspired the whole room design, Cat says the rug is another favourite of hers.
"The Miss Amara rug has such a beautiful subtle texture and really helps create
a sense of warmth to bring the two sides of the room together."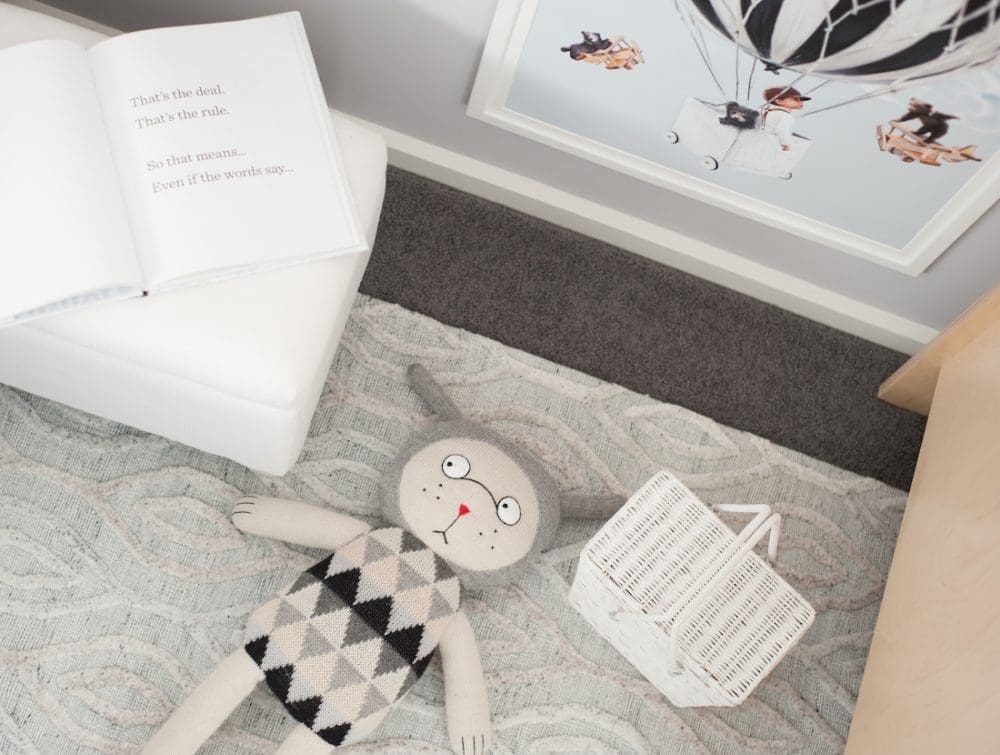 It comes as no surprise that Cat has made a business out of her eye for style.
"'Styled by Cat' is my styling baby that grew out of my Instagram feed. I now offer a variety of product styling and photography services, as well as interior styling.
"A lot of my work is with children's brands, and with parents planning a new nursery or children's room makeover, although I do love styling for home decor brands too."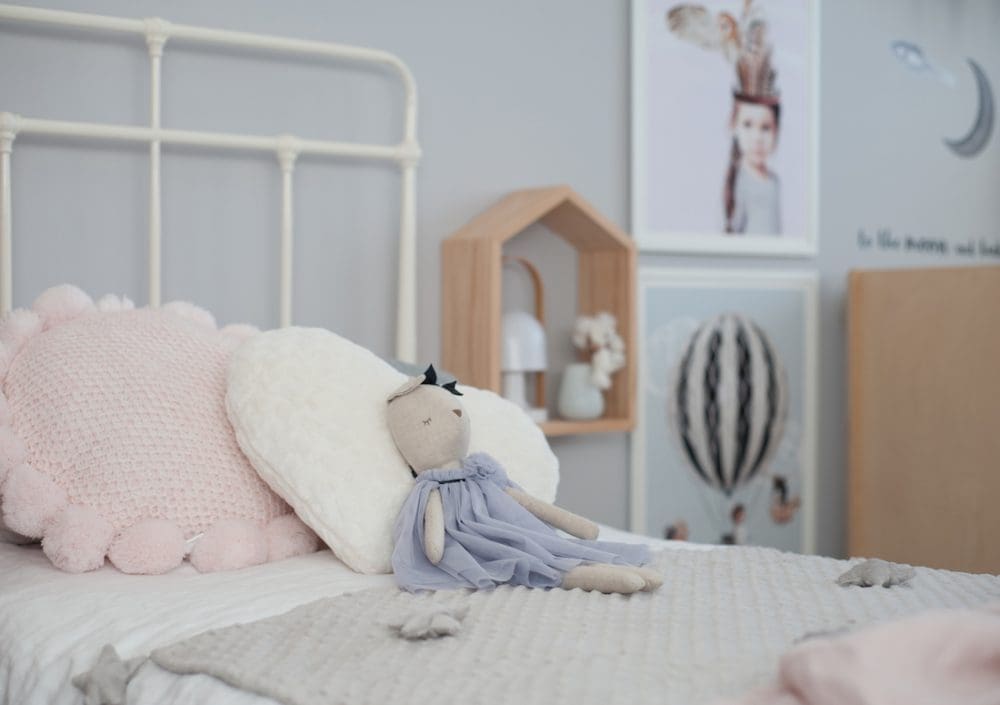 Styled by Cat's top 5 tips for styling a nursery or children's bedroom
1. Always start your design with art
"Try to choose something that reflects your child's personality and interests, but that
can also grow with them so you're not having to update too often. Mrs Mighetto, Linn Wold, and Violet Eyes are my go-to's for beautiful prints."
2. Get creative with storage
"Use a variety of baskets and other items such as decorative suitcases to store away all the toys and mess. And look for furniture with built-in storage, like the storage ottoman next to Alice's bed," Cat says.
"Wall shelves are also great for storage and for styling up your favourite items out of reach of little hands."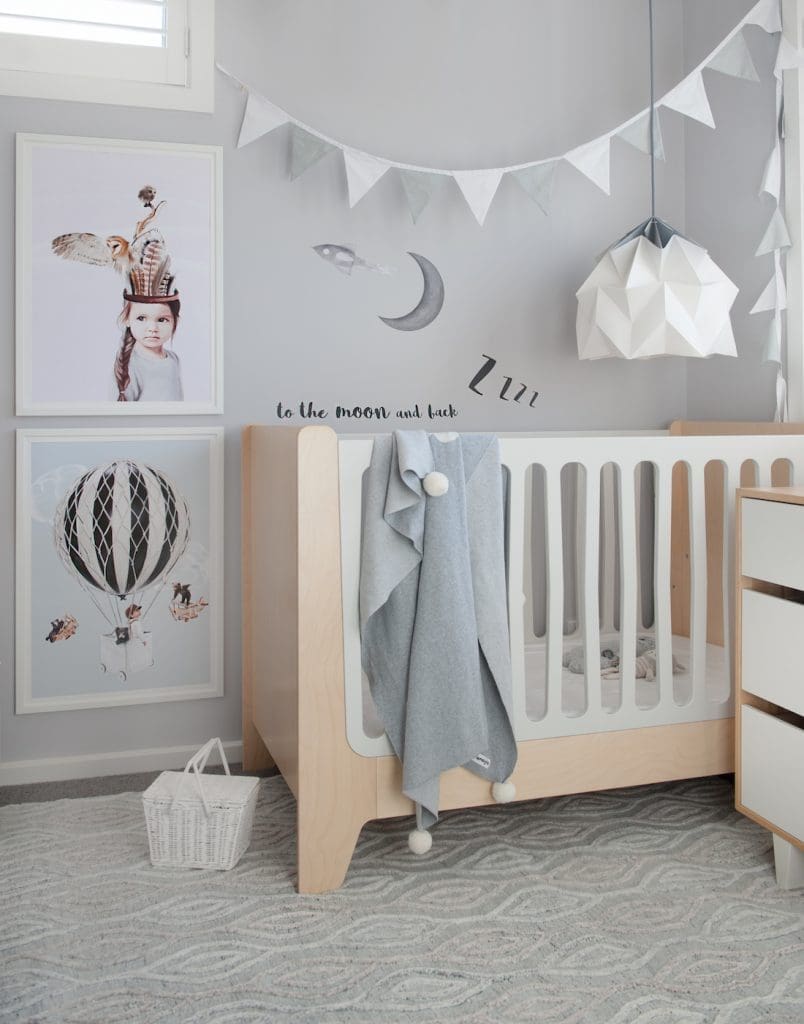 3. Keep it neutral
"Major items like wall colour, flooring, and bedding are best kept in neutrals," Cat says.
"Add some dimension with different textures and materials, and then pops of colour that tie in with your artwork choice."
4. Create inviting spaces for children to play
"Canopies are one of my favourite decorative items – they create the perfect spot for a quiet story or a tea party, and they look beautiful too.
"Floor rugs also help define play areas and are cosy for little people to sit on.
"Miss Amara are my favourite for large floor rugs and OyOy, Bella Buttercup and
Cloud Den are my favourite for playmats."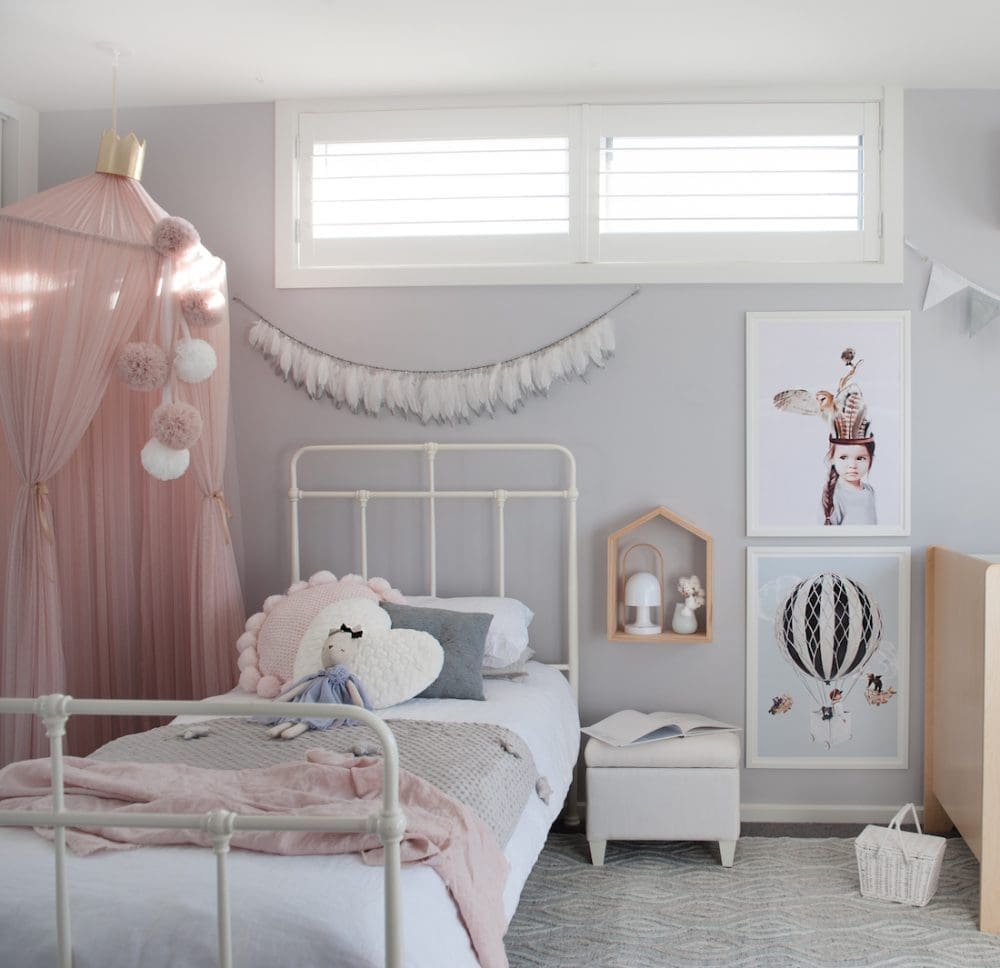 5. Go second-hand
"For those on a budget, keep an eye on baby and toddler buy/swap/websites – there's loads on Facebook!" says Cat with excitement.
"There's a huge secondhand market for beautiful, good quality nursery items. Save money and feel good by reusing and recycling, it's good for the planet and your pocket!"
With such a keen eye for detail and knowledge of so many beautiful brands, we just had to ask Cat to share a few more of her favourite places to shop for nursery and kids decor.
Thank you Cat for showing us around your shared children's bedroom and for spilling all your tips! To find out more about Styled by Cat, visit her website or take a scroll through her beautiful Instagram feed.