We love master bedroom week on The Block! It really showcases the teams' styles and sets the tone for the rest of the home. Yet again, in our opinion, the judges got it all wrong! But you're not here for the drama, you're here for the pics, so let's check them out!
Related article: The Block 2021: Week 2 — Guest ensuite reveal
Related article: The Block 2020: Week 3 — Master bedroom reveal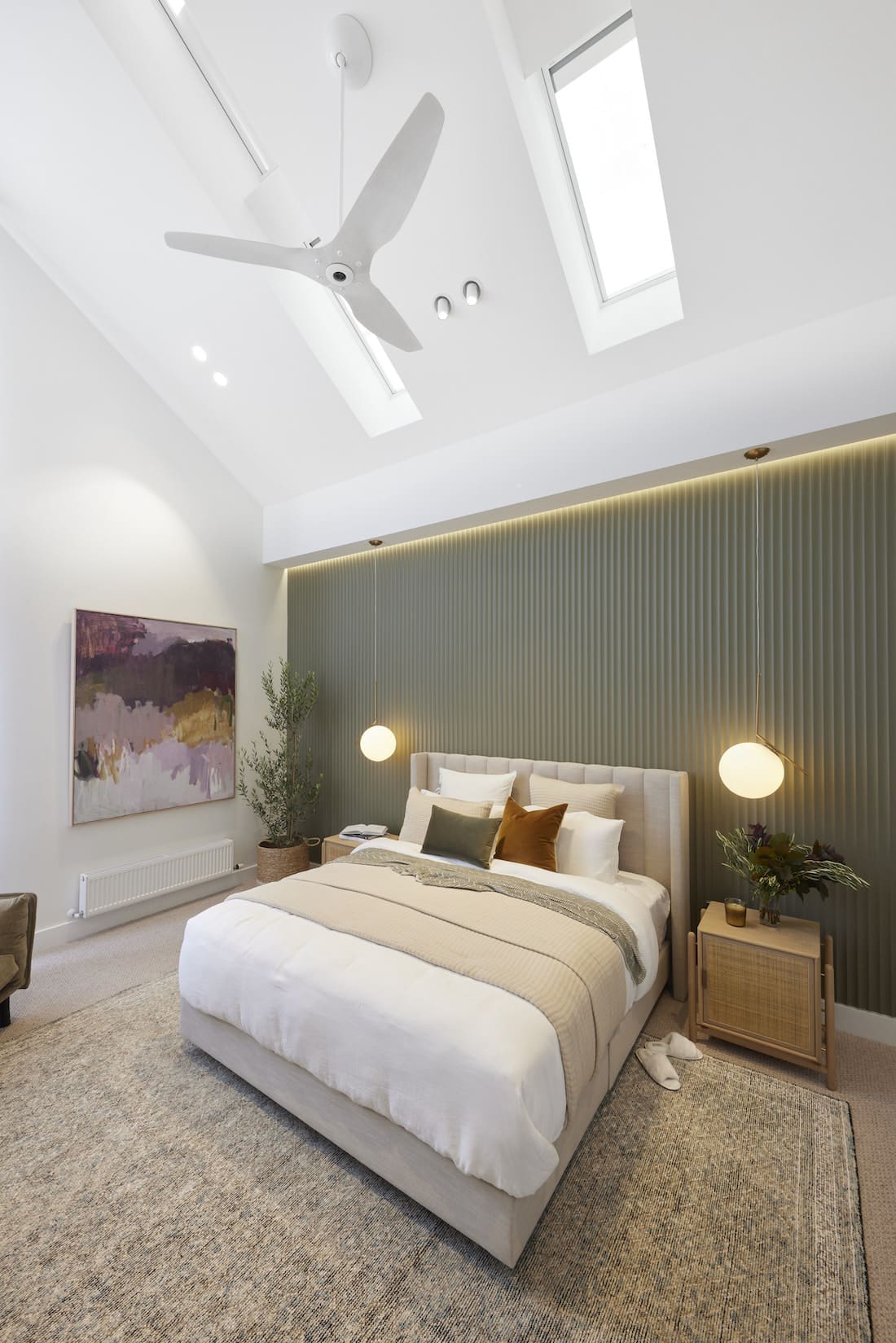 Ronnie and Georgia
That ceiling! Oh my goodness, it is perfection! Talk about a statement! Ronnie and Georgia's master bedroom was divine. So far they haven't put a foot wrong, so we were surprised to see them come in 4th place with a relatively low score.
Our fave features were the scalloped sage green feature wall and that cathedral-like window. The walk-in wardrobe was a touch on the small side (by The Block standards) but utilised a lot of smart storage solutions to maximise the space. The judges agreed it could have done with more space but the room as a whole was noted as being, 'Enormous, vast and cathedral-like… [they are] the masters of sophisticated subtlety.' So… why such a low score then, guys?!
Cost: $24,500
Score: 23½ / 30 (4th place)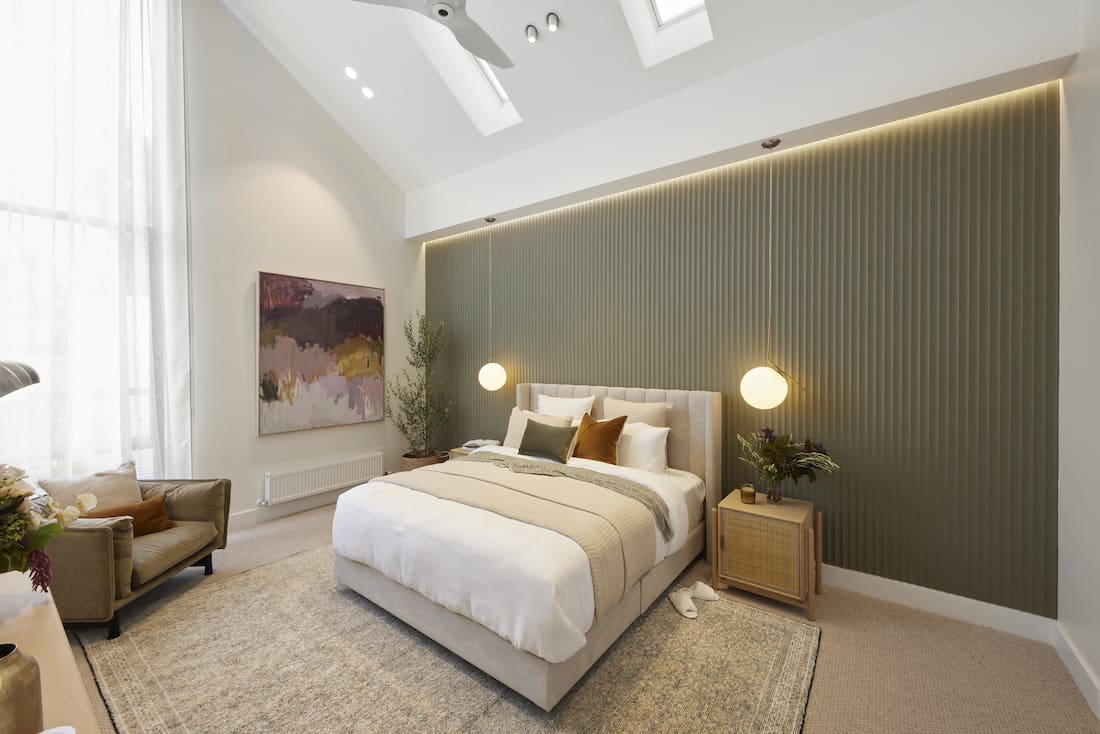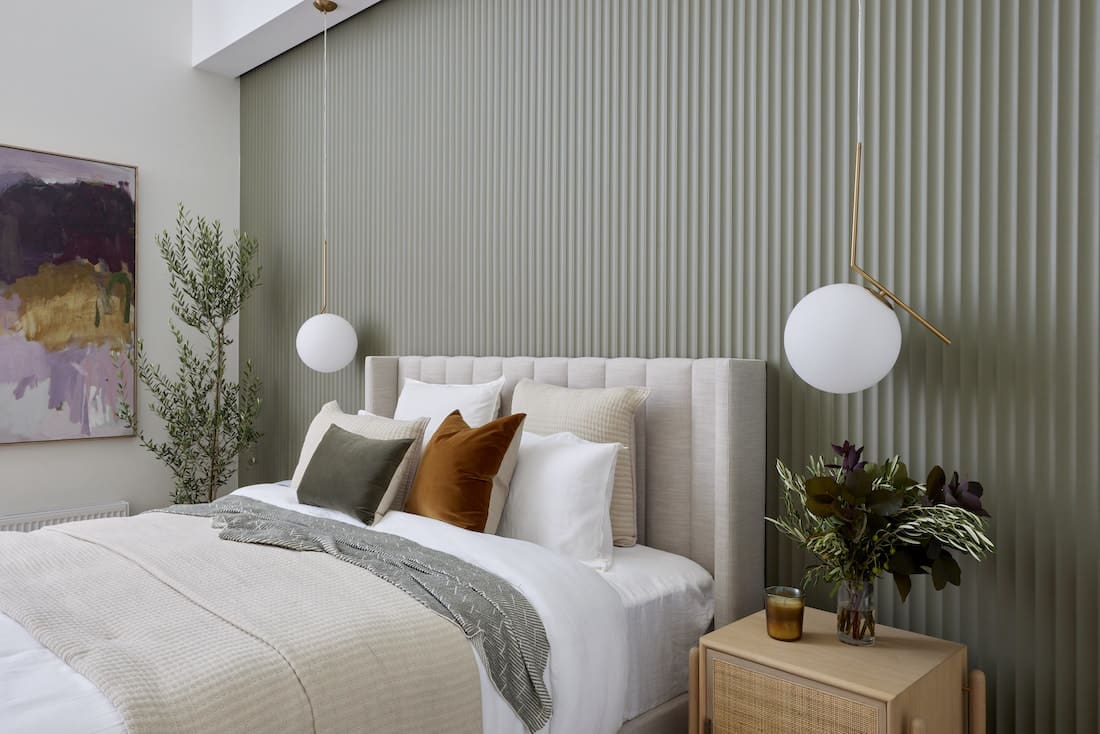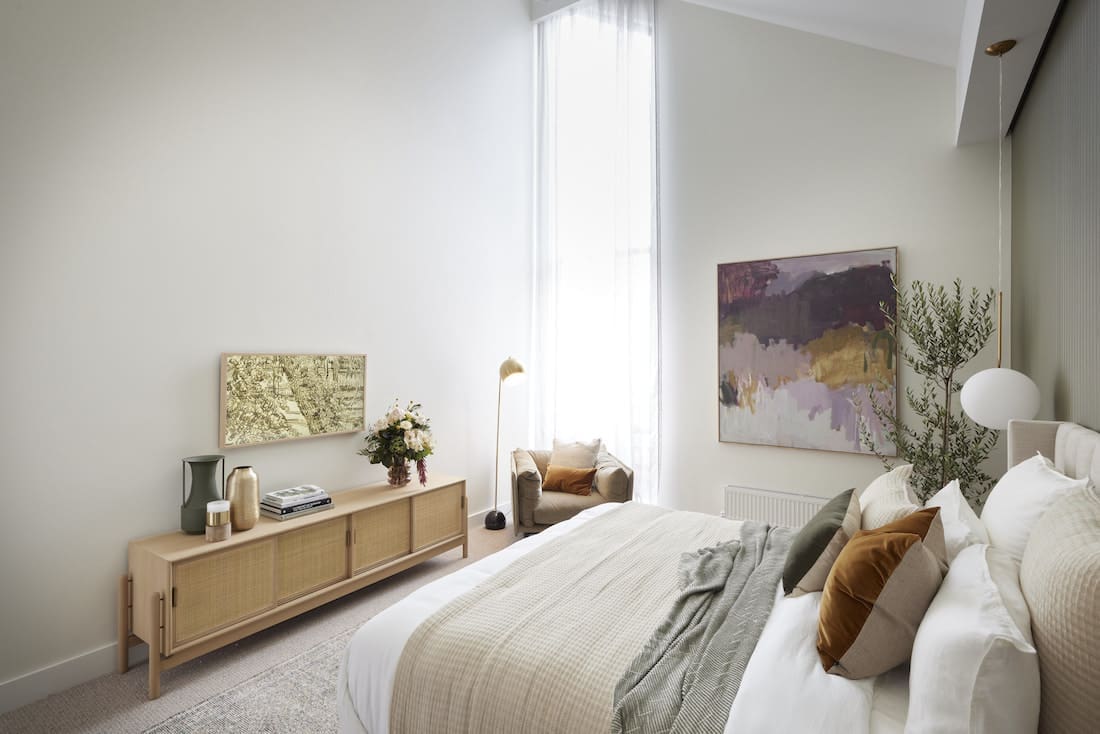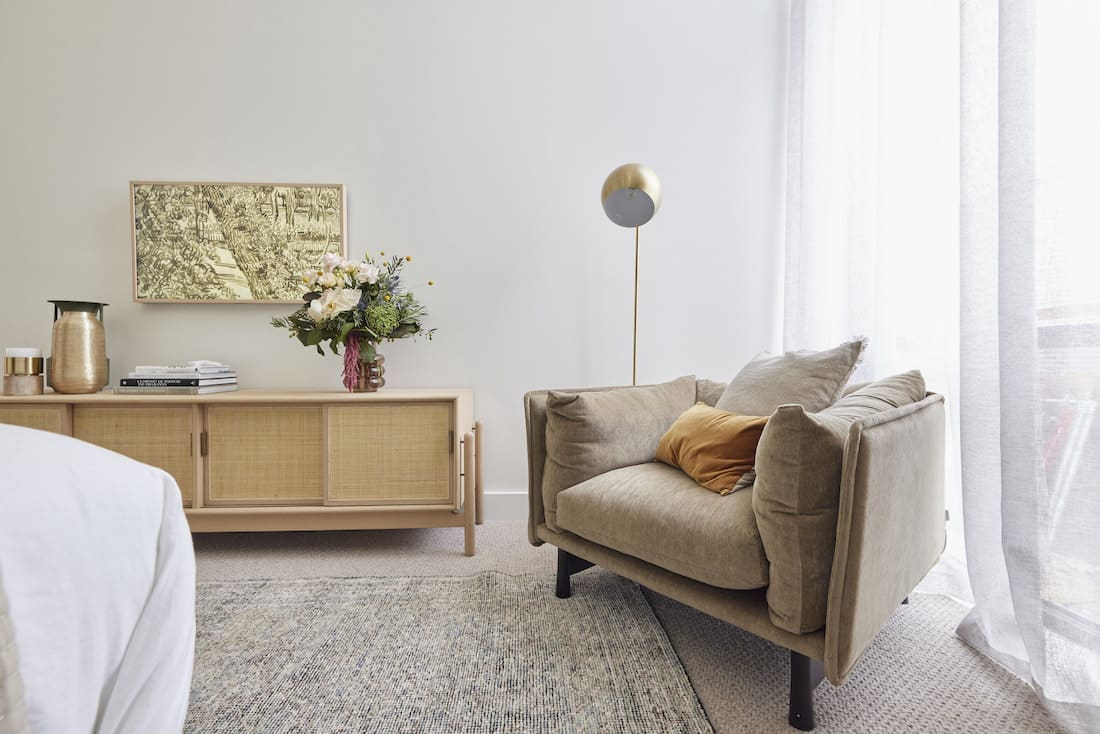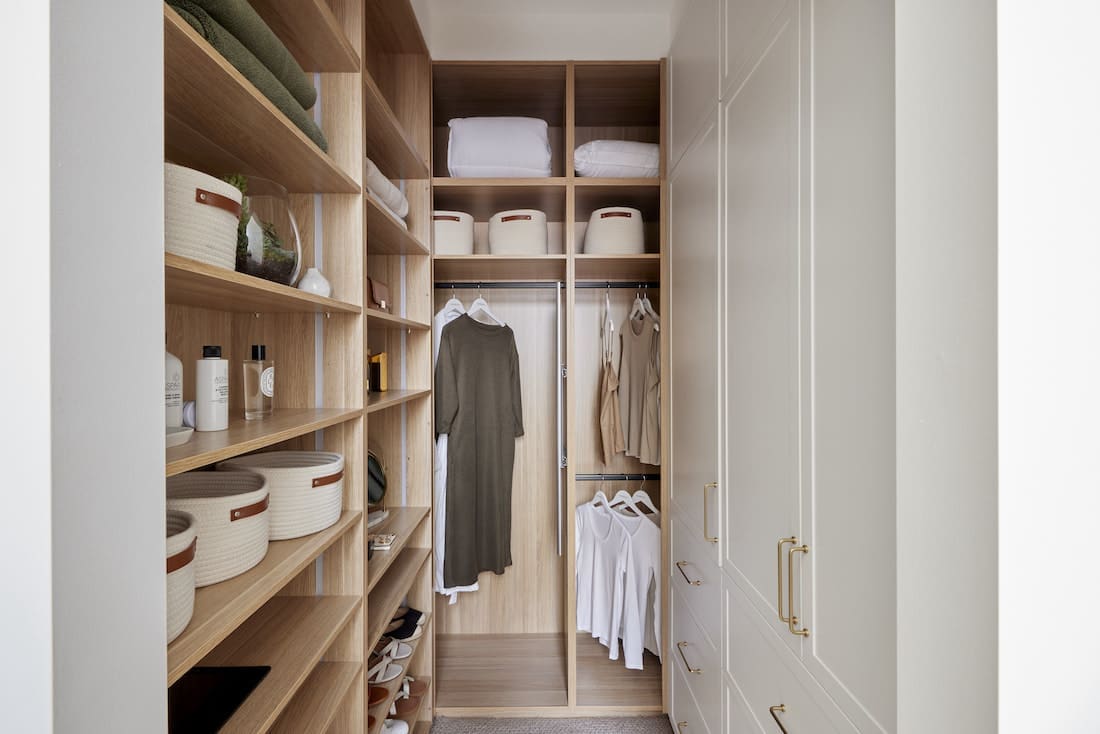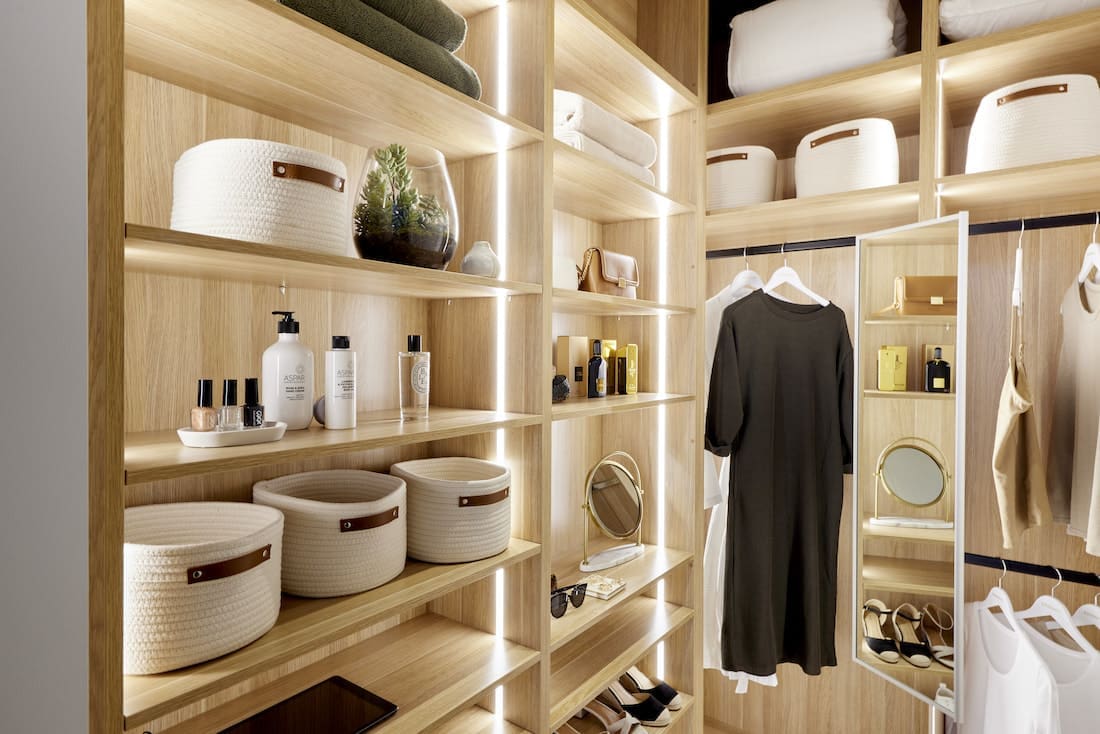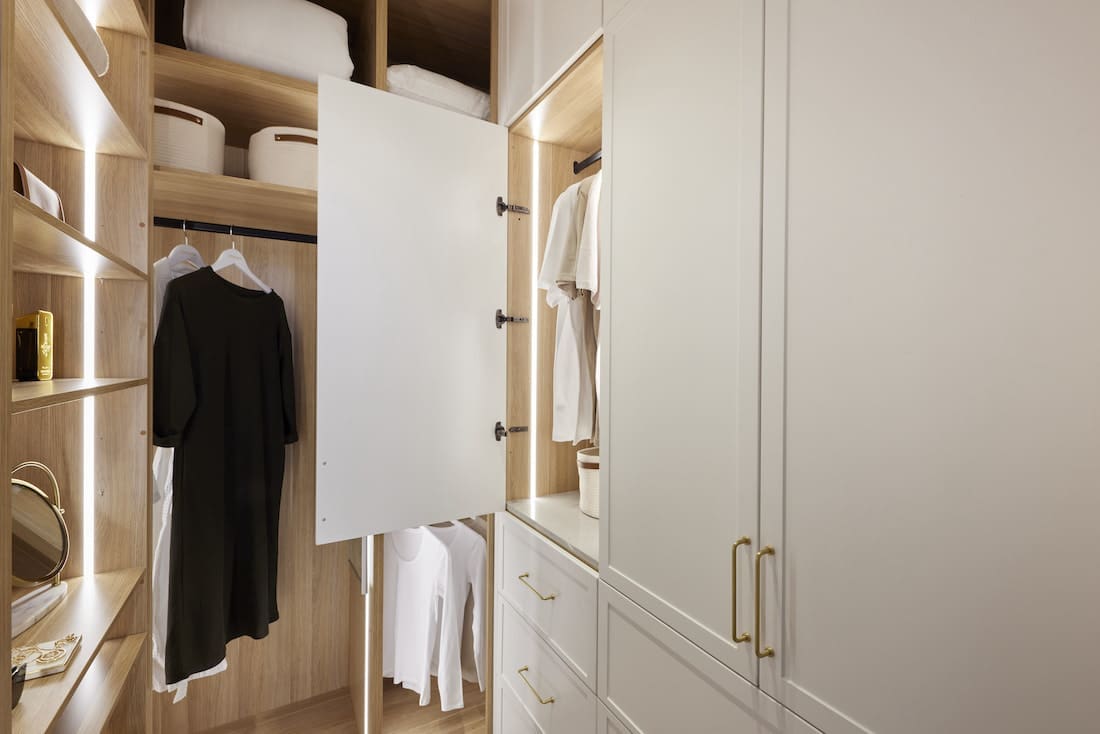 Mitch and Mark
It's pretty… that was our initial thoughts on Mitch and Mark's master bedroom. But we weren't blown away. It was all very nice and well done. Bed styling was on point, lovely sideboard and gorgeous skylights. We also loved the little outside space the boys styled up too.
A stand out in this room for the judges and us, was the XO canvas print by artist Jonathan Gemmell. We chatted to this hugely talented artist not too long ago. You can read our interview with him here.
And also, we know it's not all about the styling, but we want/need to get our hands on one of those ginormous COAST essential oil candles! Love! If you spy anything you love in the rooms each week, you can shop them in The Block Shop.
We loved the walk-in robe — stunning, spacious, with great shelving and hanging options. But yeah, probably not our number 2 pick for this week.
Cost: $20,376
Score: 26½ / 30 (2nd place)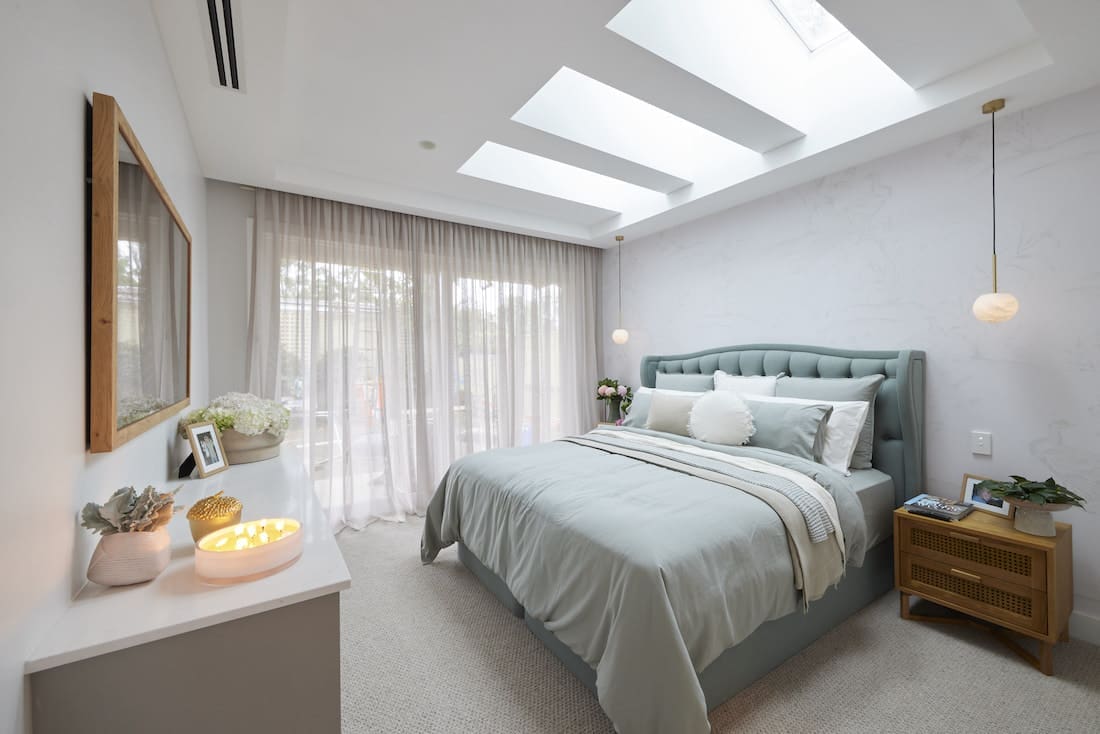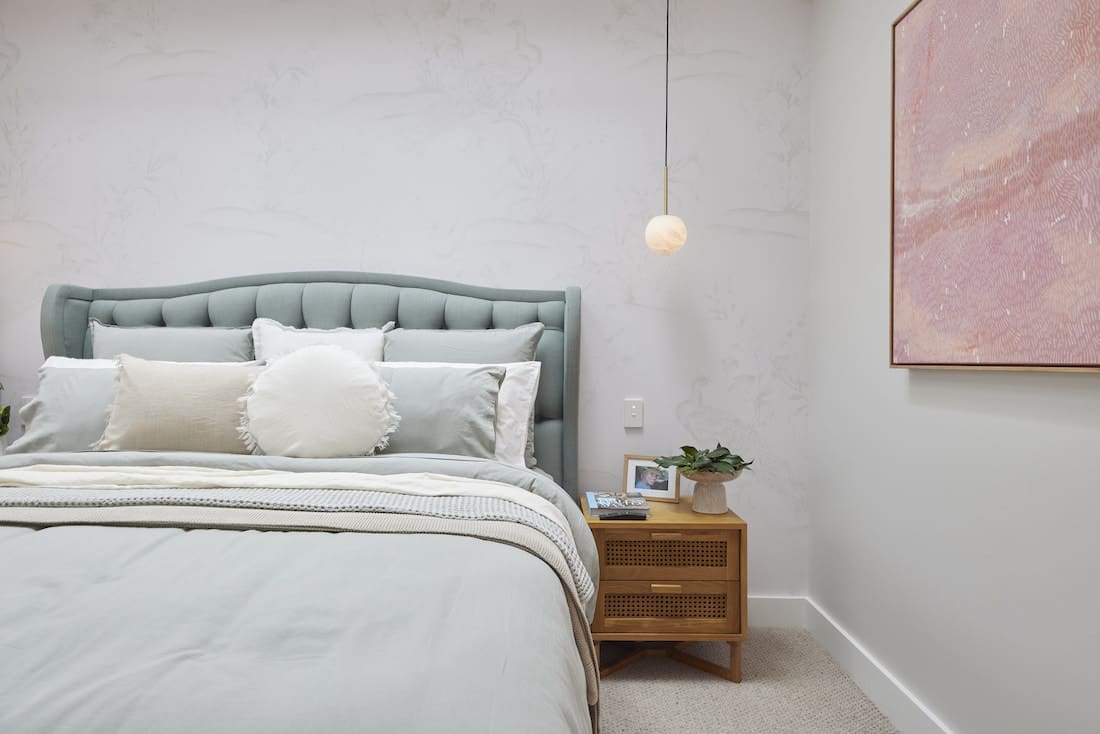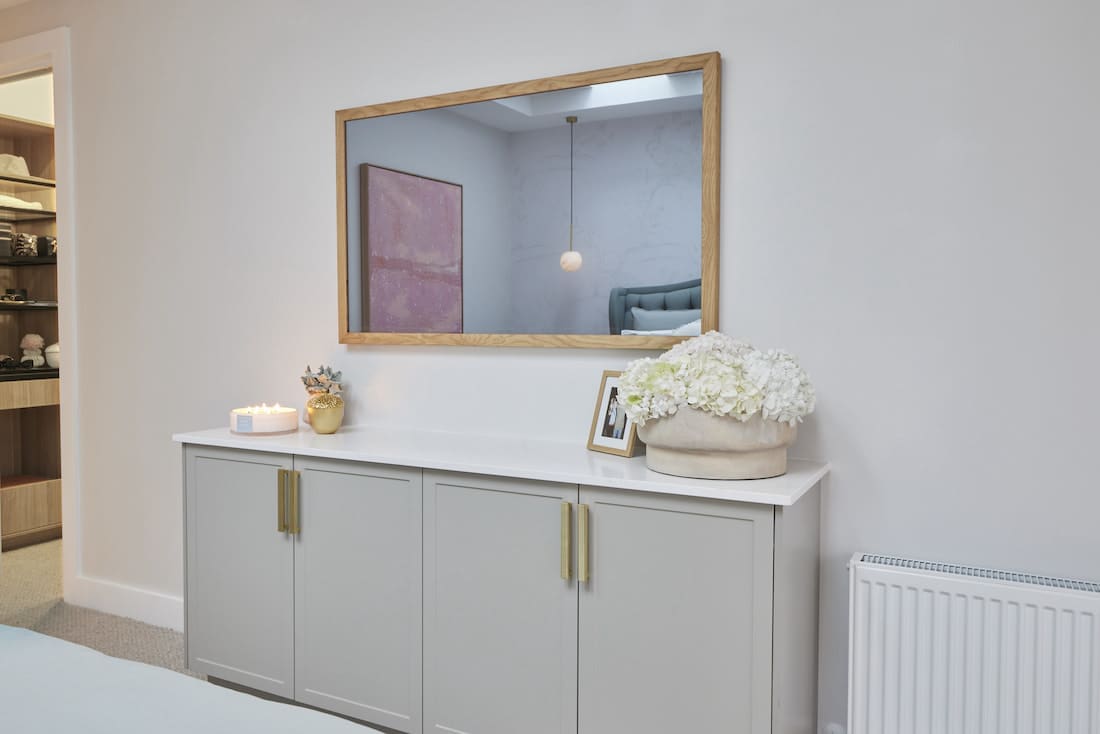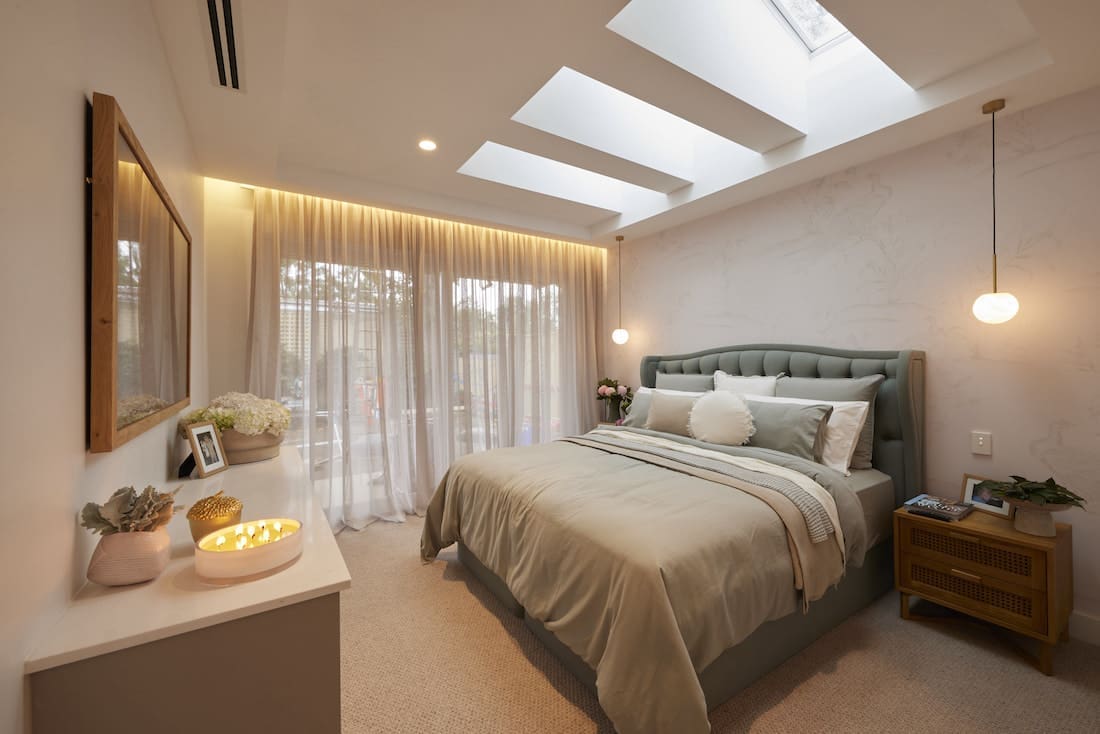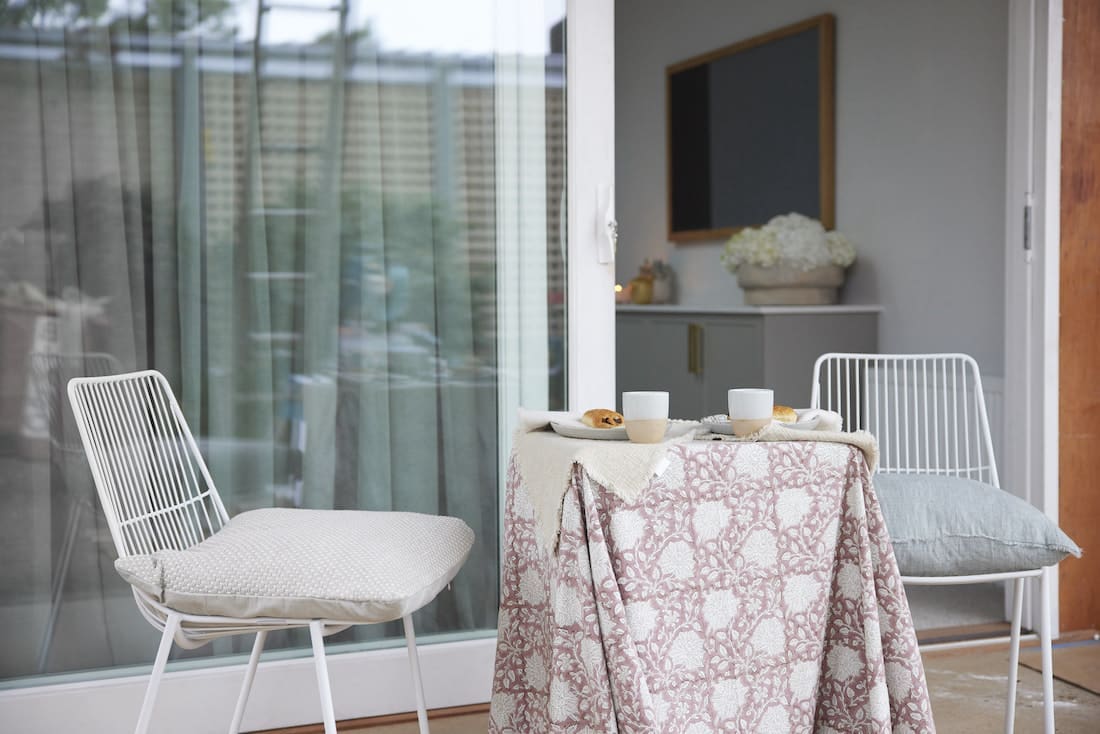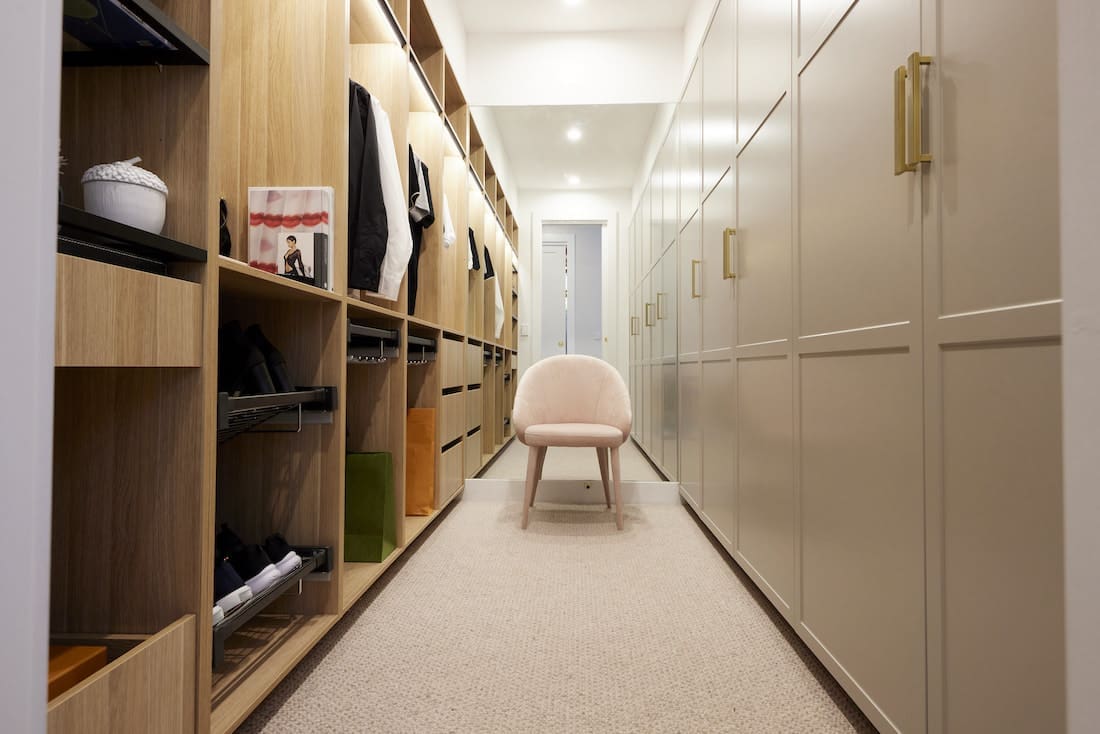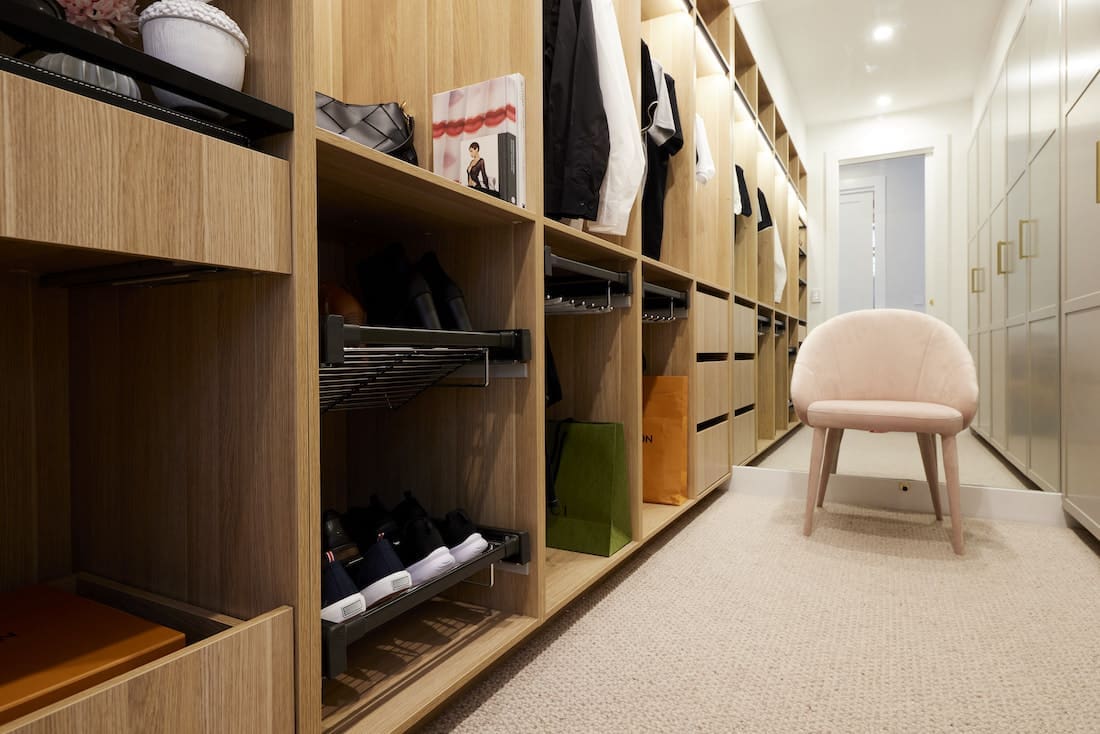 Tanya and Vito
The team who loves things a little on the quirky side made another big statement in their master bedroom this week. That bedhead! On one hand, we love that they took a big risk. The style and shape is gorgeous yet it feels quite heavy and somewhat out of this world (alien-vibes anyone?). We prefer master bedrooms to have a sanctuary-like feel and there's a bit too much going on in here.
One thing is for sure, the judges couldn't get enough. Raving about the styling, the colour palette (which we admit, is beautiful) and the wardrobe.
The couple chose two custom wardrobes. The white walk-in style and the timber built-in… While storage is always a good idea, we feel like a sideboard or set of drawers would give a little more flexibility to potential buyers.
Big ticks from us for the skylight, large rug under the bed and beautiful artwork that Tanya did herself. Talk about talent!
Cost: $25,649
Score: 24 / 30 (3rd place)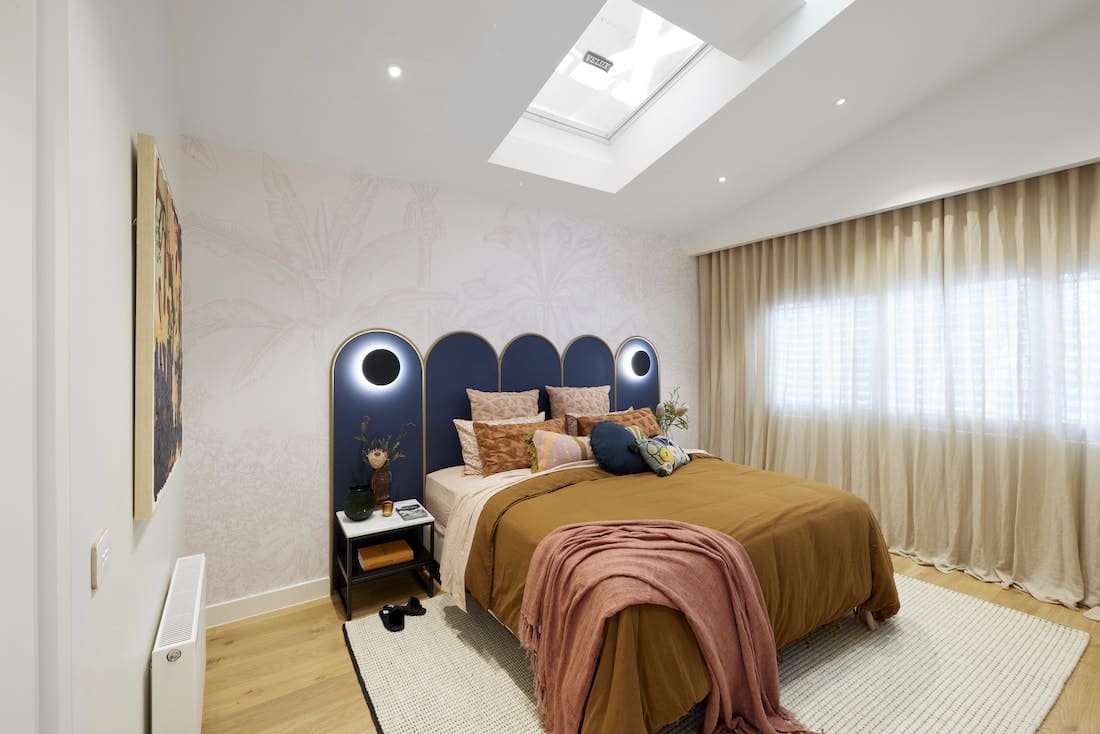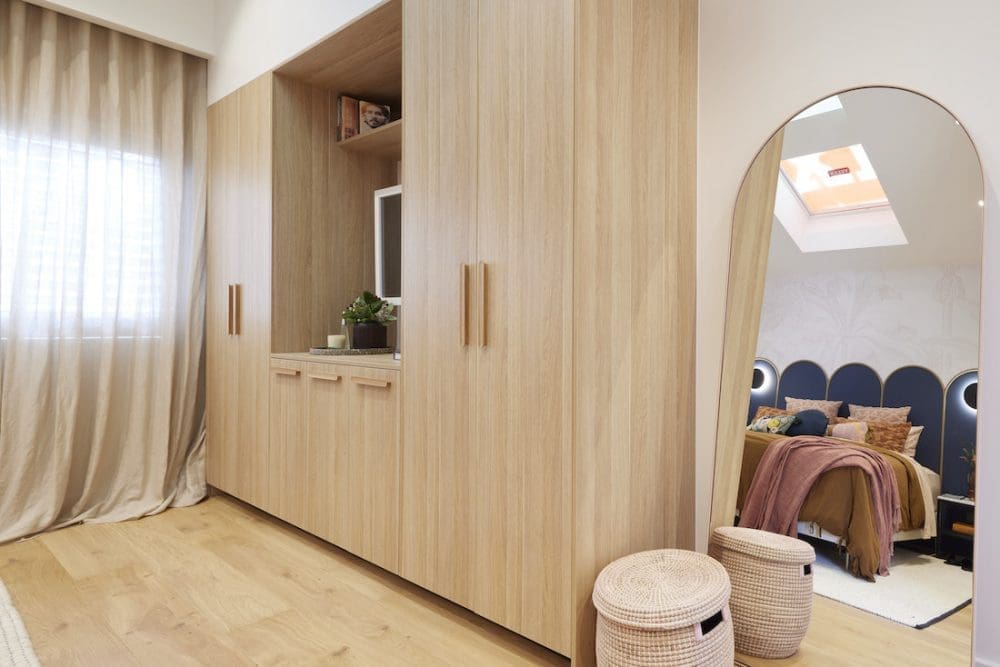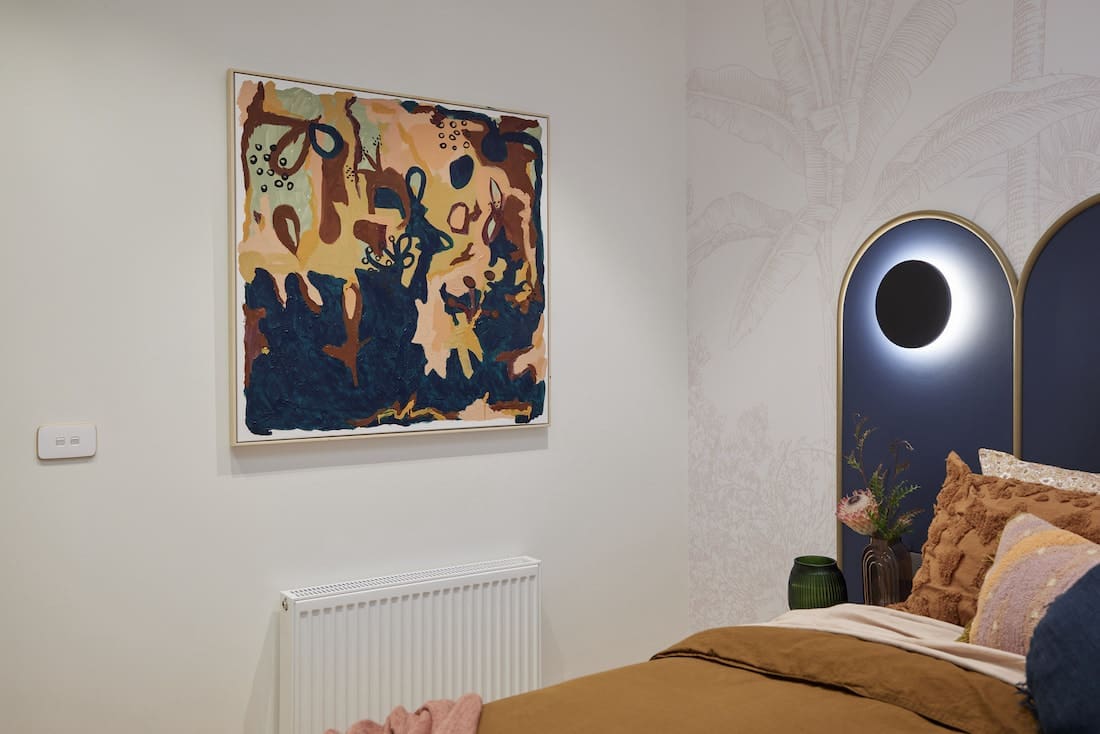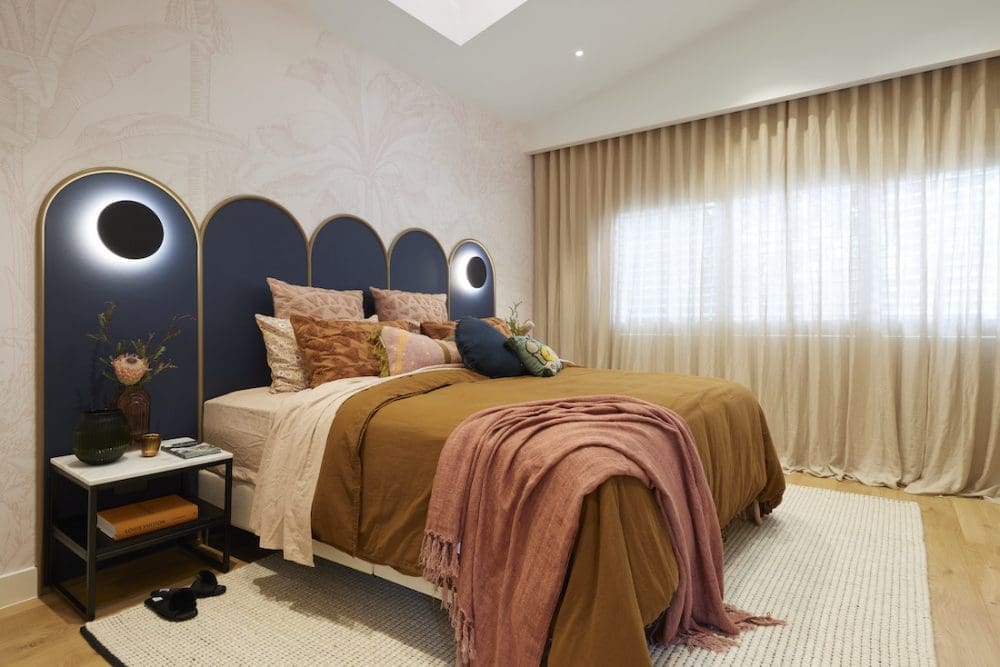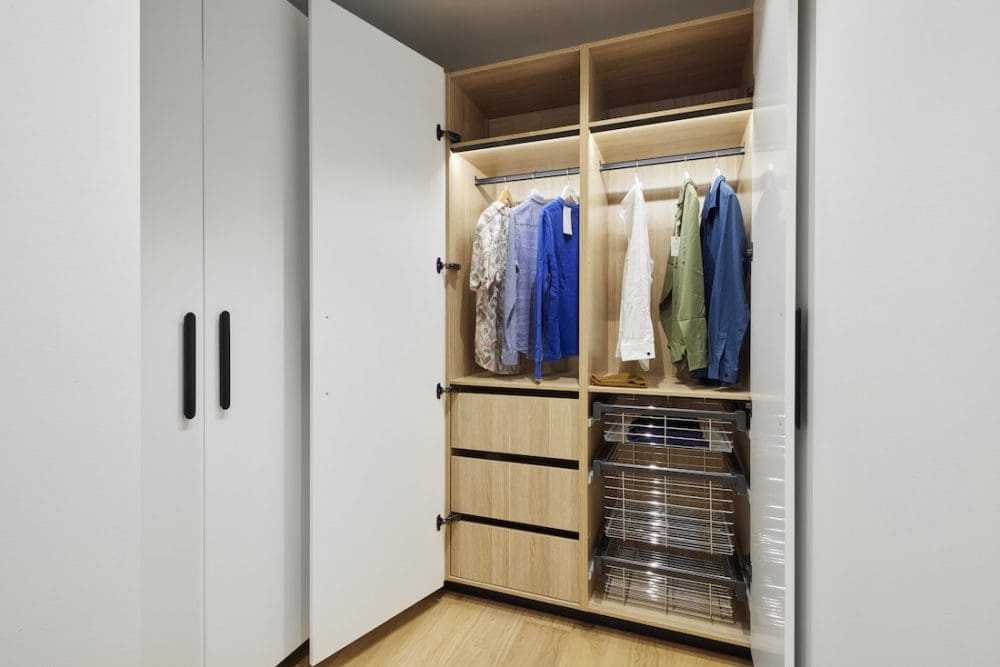 Josh and Luke
These guys came in 1st place this week. And this is where the judges lost us.
Yes, it's pretty and oozes luxe, but is it the winning room? You tell us!
Look, we thought the ceiling was stunning, and loved the walk-in wardrobe (although those glass doors aren't practical for everyday living). We also liked the bedhead and the divine artwork at the entrance to the walk-in robe. But that's where the love kind of ended for us.
Without going into too much of the drama, Josh and Luke were deemed to have made a 'controversial' choice because they created their master bedroom in what was the double garage. In doing so, the room is spacious, filled with light and separated from the rest of the house with its own view to the courtyard.
Again, not all about the styling but we left with a feeling of underwhelm.
Cost: $19,830
Score: 27 / 30 (1st place)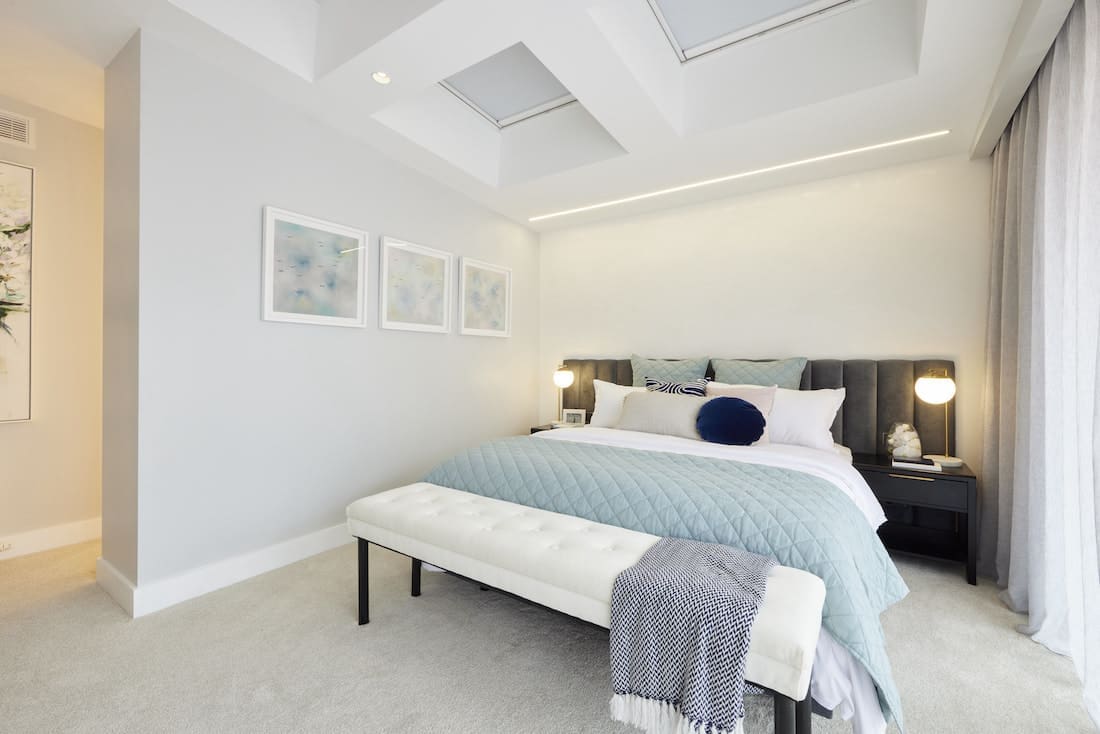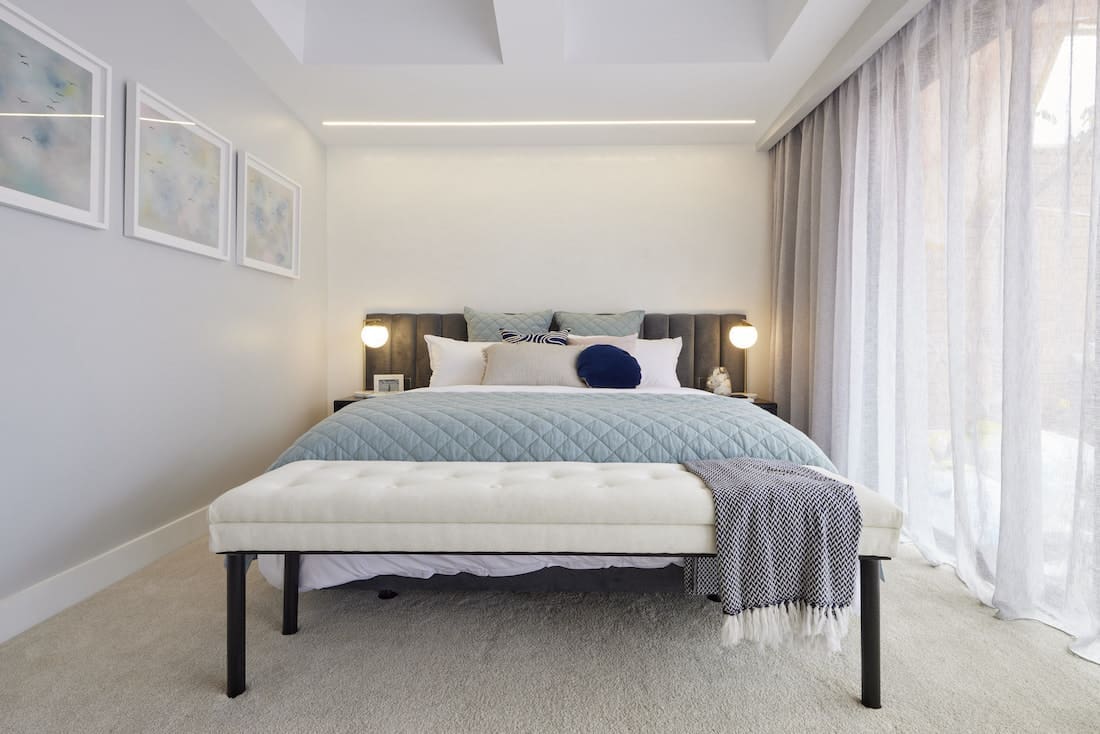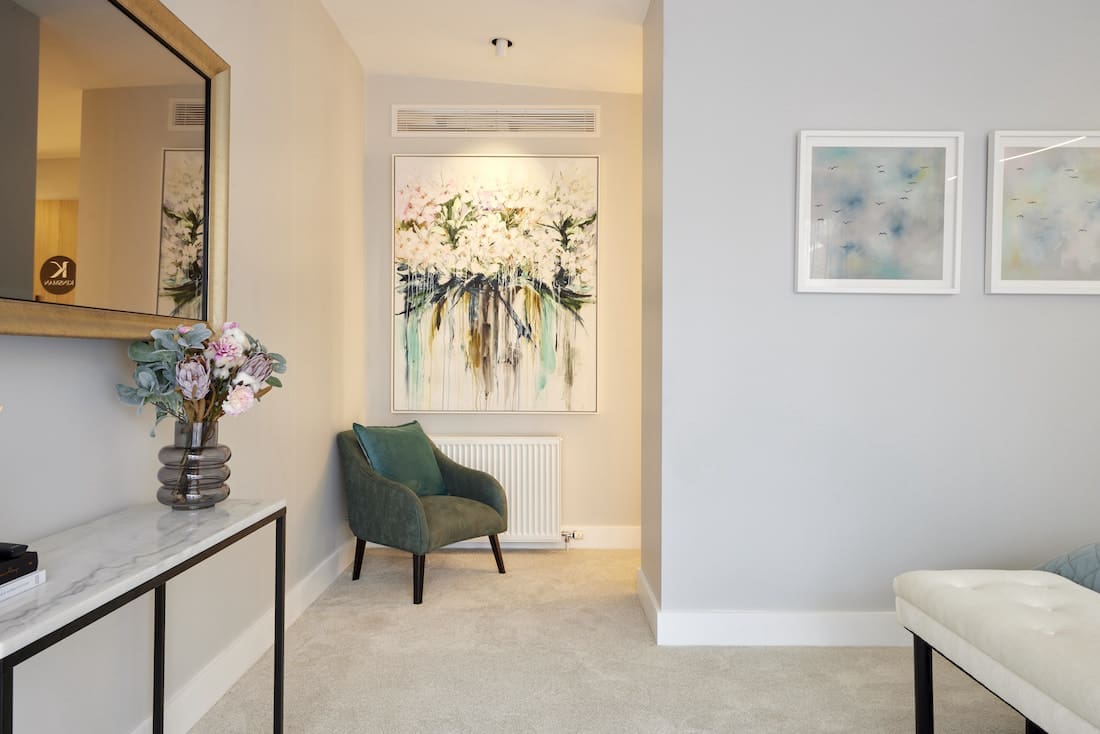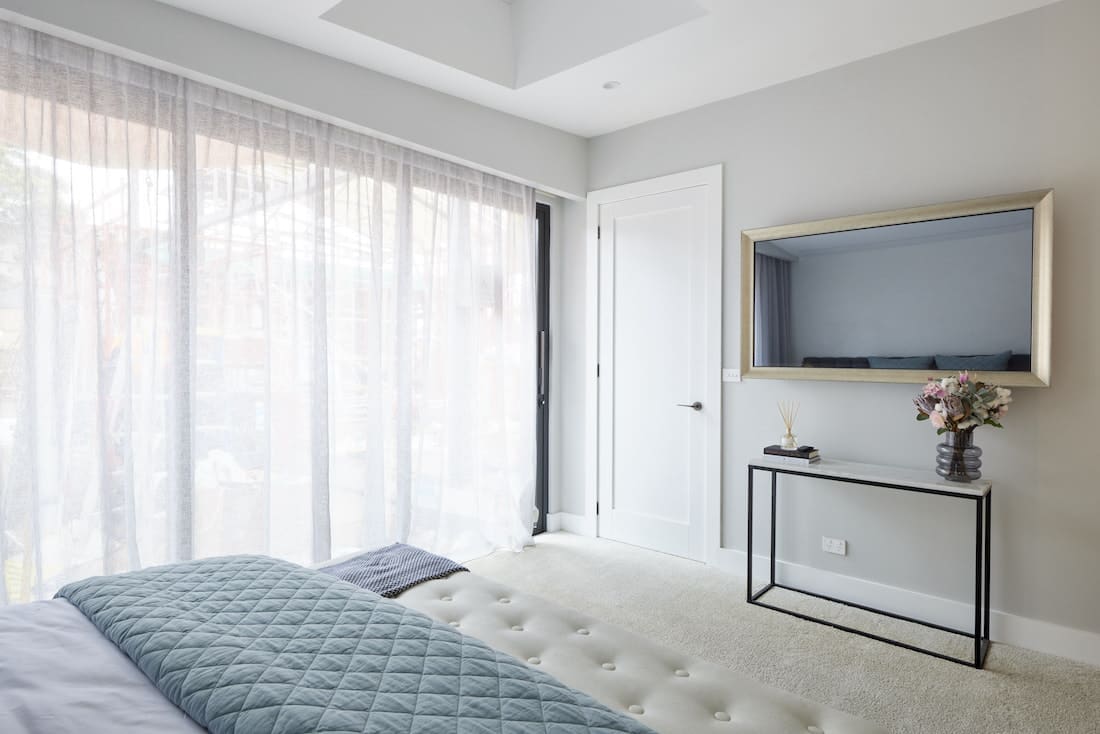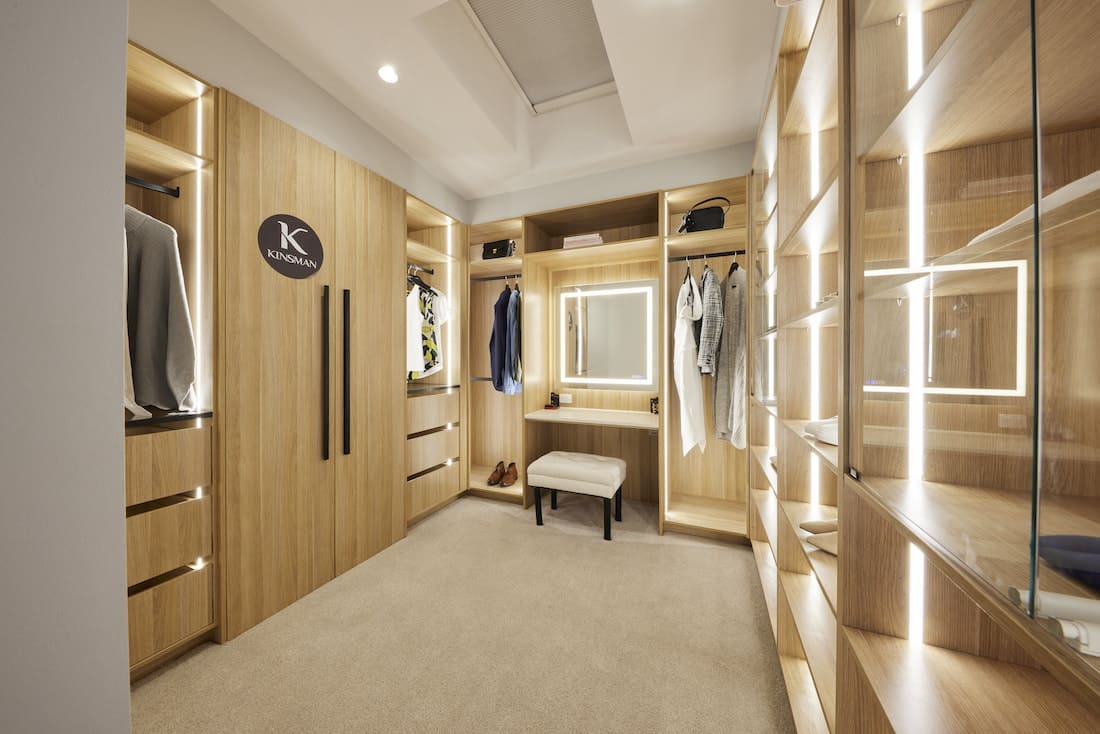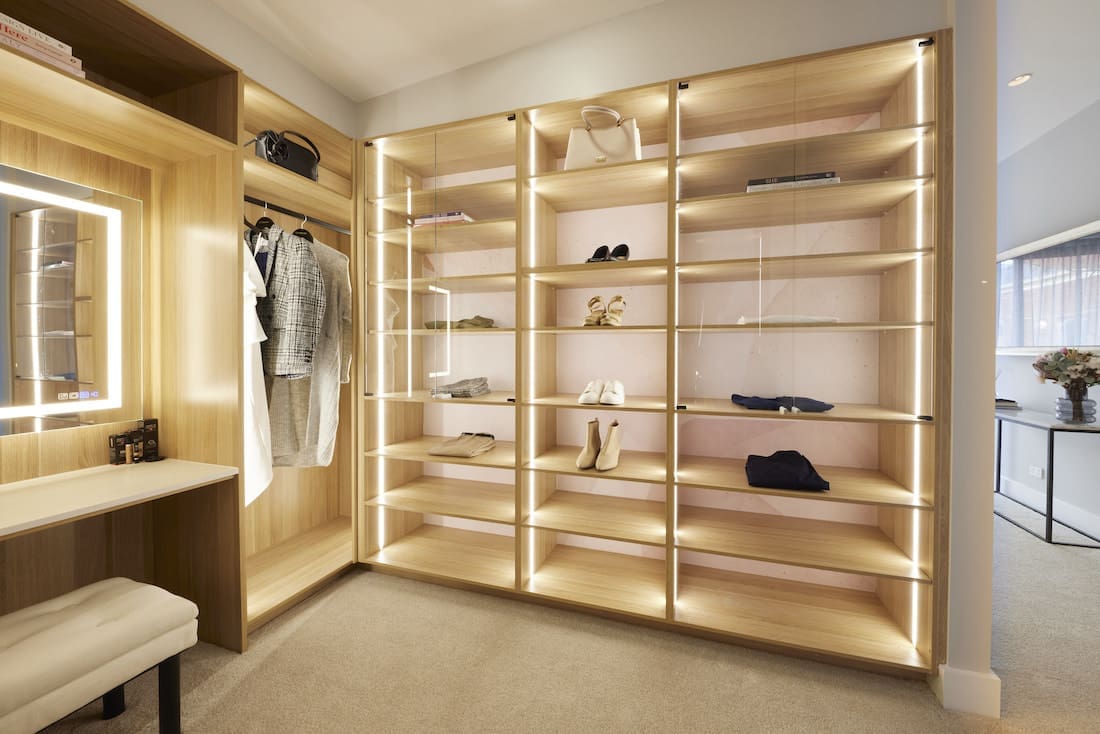 Kirsty and Jesse
Kirsty and Jesse delivered a really lovely room this week with lots to like. Firstly, can we take a minute to admire the skylights and ceiling details? They give the room a unique and architectural feel.
We also though the panelling was a nice detail and more contemporary take on what they did in their guest bedroom in week 1. Loved the arched doorways and the walk-in wardrobe, while a little tight, had plenty of generous storage space and was a simple and sophisticated design.
Although the judges were immediately impressed by their master bedroom, on closer inspection they found a few negatives that left the couple in last place. These included the artwork, furniture choices (Shaynna felt the styles clashed), and under-sized walk-in robe.
Cost: $24,920
Score: 22½ / 30 (5th place)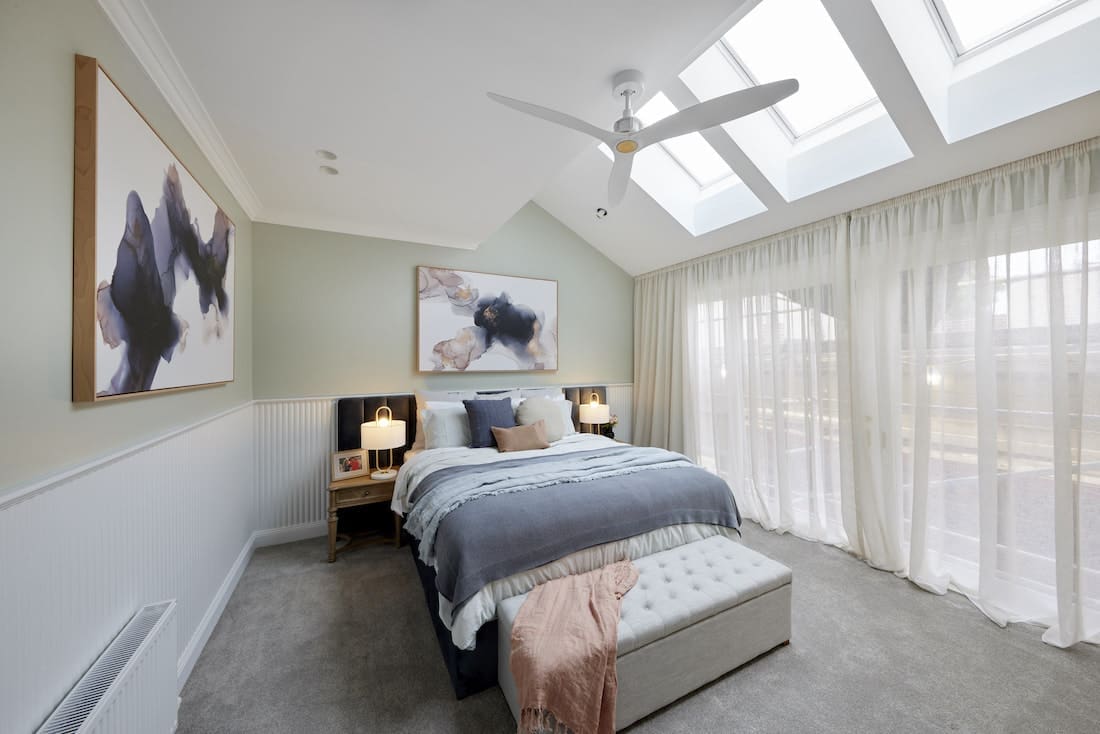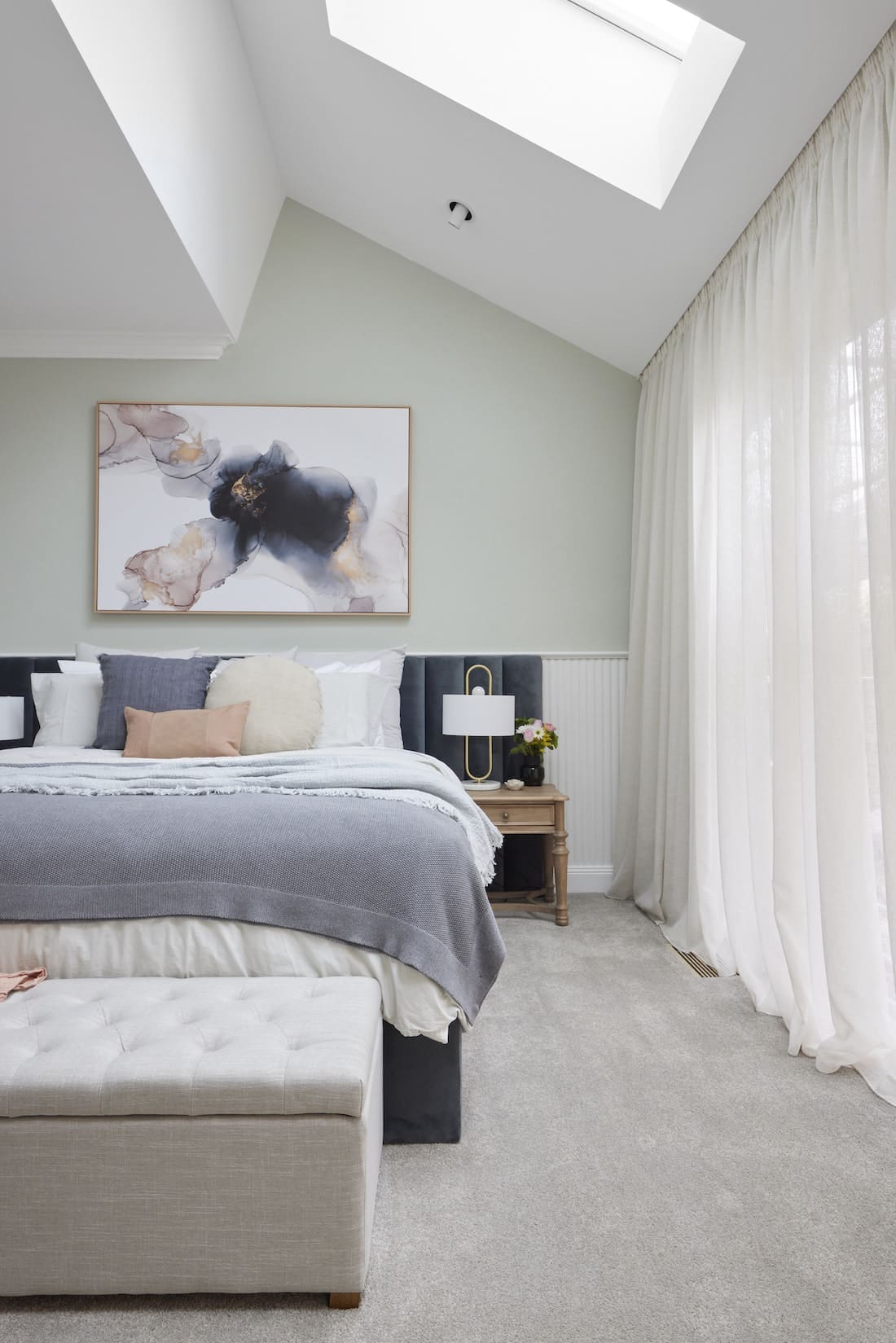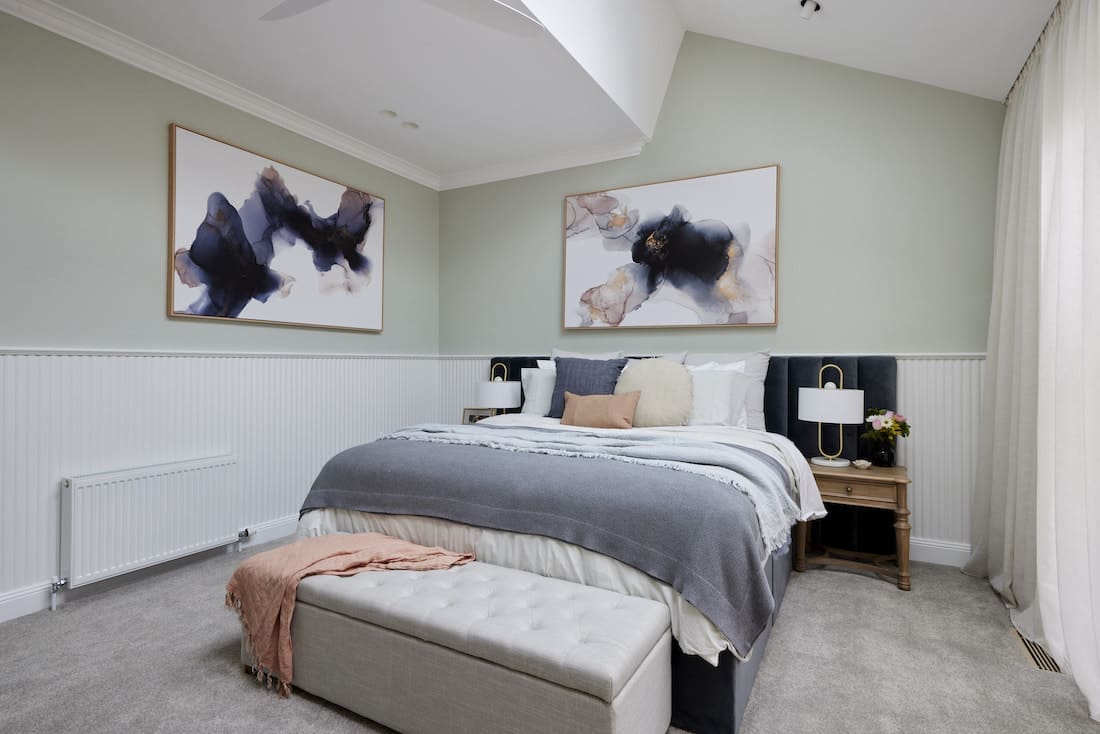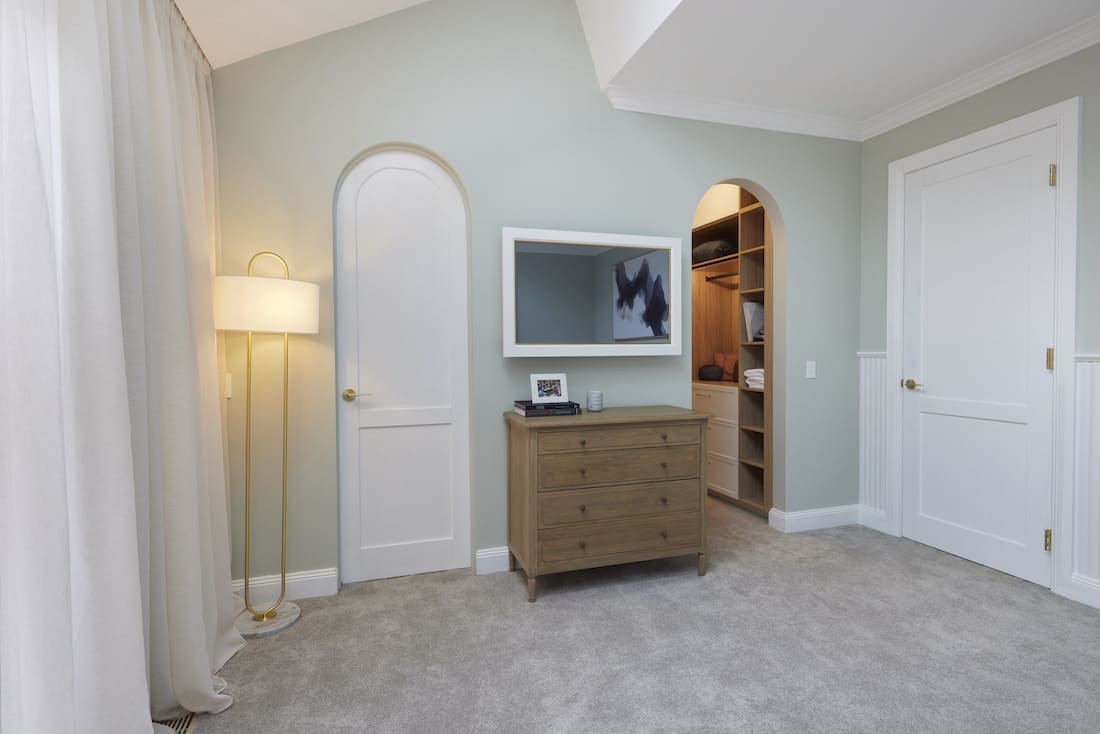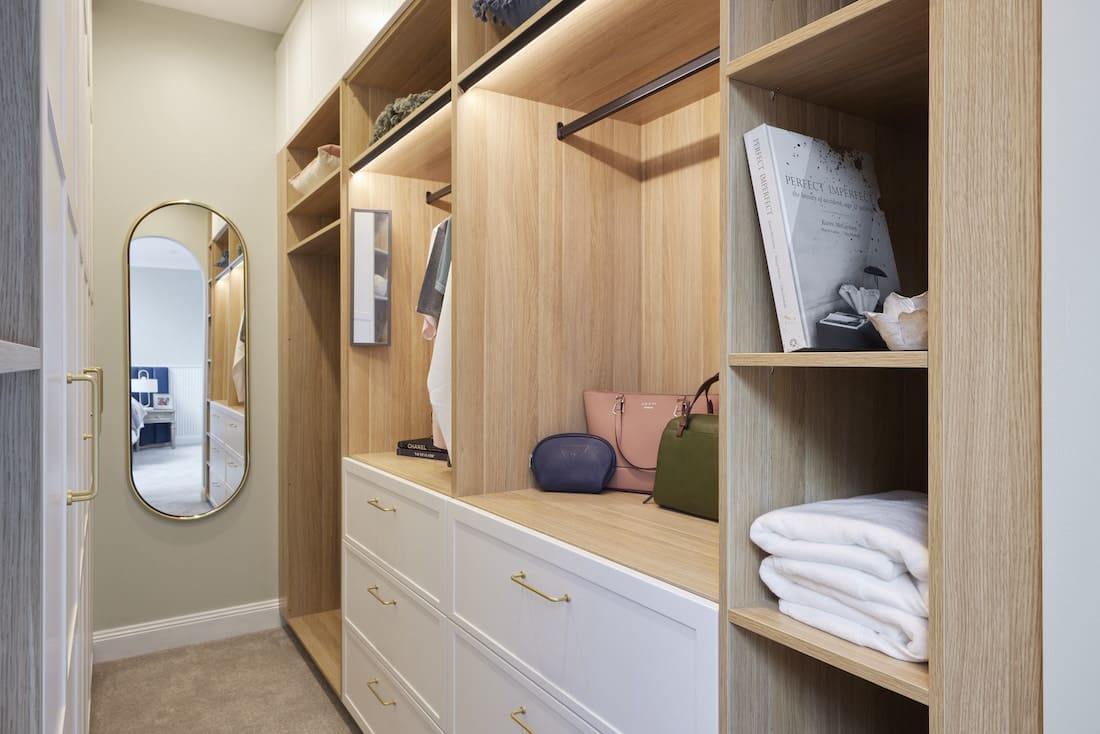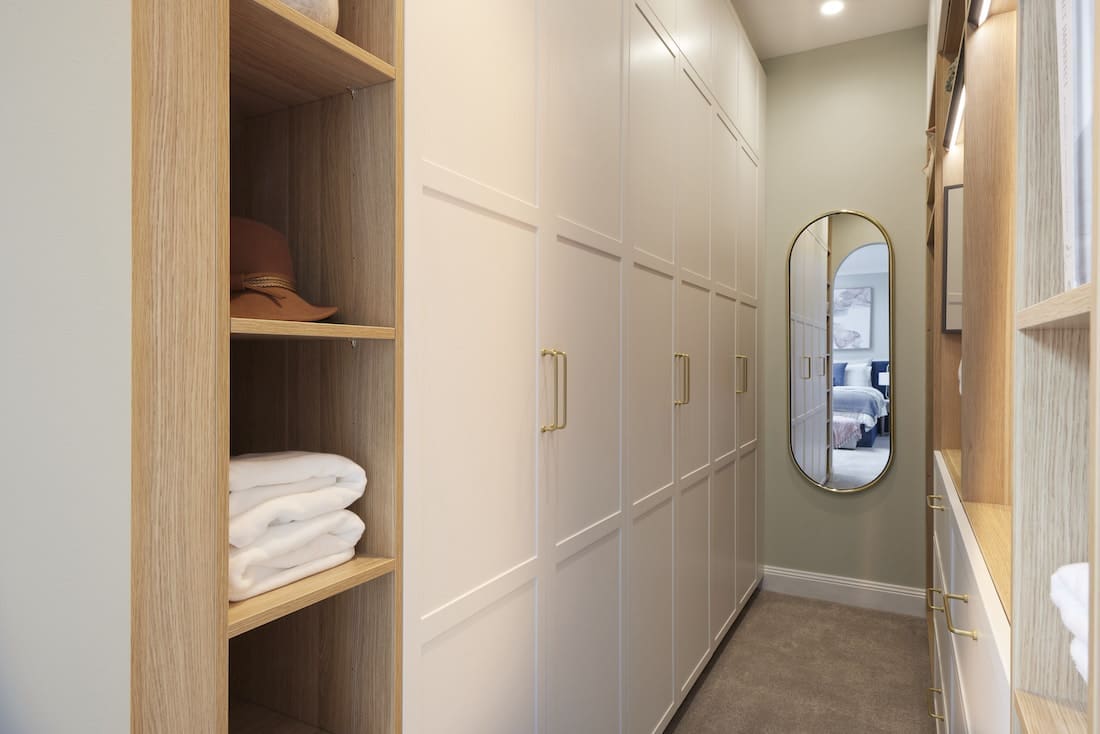 What did you think of this week's room reveals? And the judges thoughts and scores? Did you agree? Tell us in the comment section below!
Be sure to check out The Block Shop if you've spied something you love in this week's room reveals. And you can catch all The Block 2021 goss on the nine now official website.
All imagery by David Cook Photography