There's no denying the impact TikTok is having on the home! With literally billions of videos on the platform, you can find tips on everything from entertaining (salami roses anyone?!) to reno advice, and our personal favourite — cleaning hacks! Everyday people are spilling their best kept cleaning tips and tricks and we've scoured through hundreds to find you the best of the best.
Get ready to take on some deep cleaning with this round up of the top 7 TikTok cleaning hacks for your home!
Related article: Best essential oils for cleaning and our top cleaning HACKS to use them around your home
Related Article: Make it luxe for less! Awesome home Kmart hacks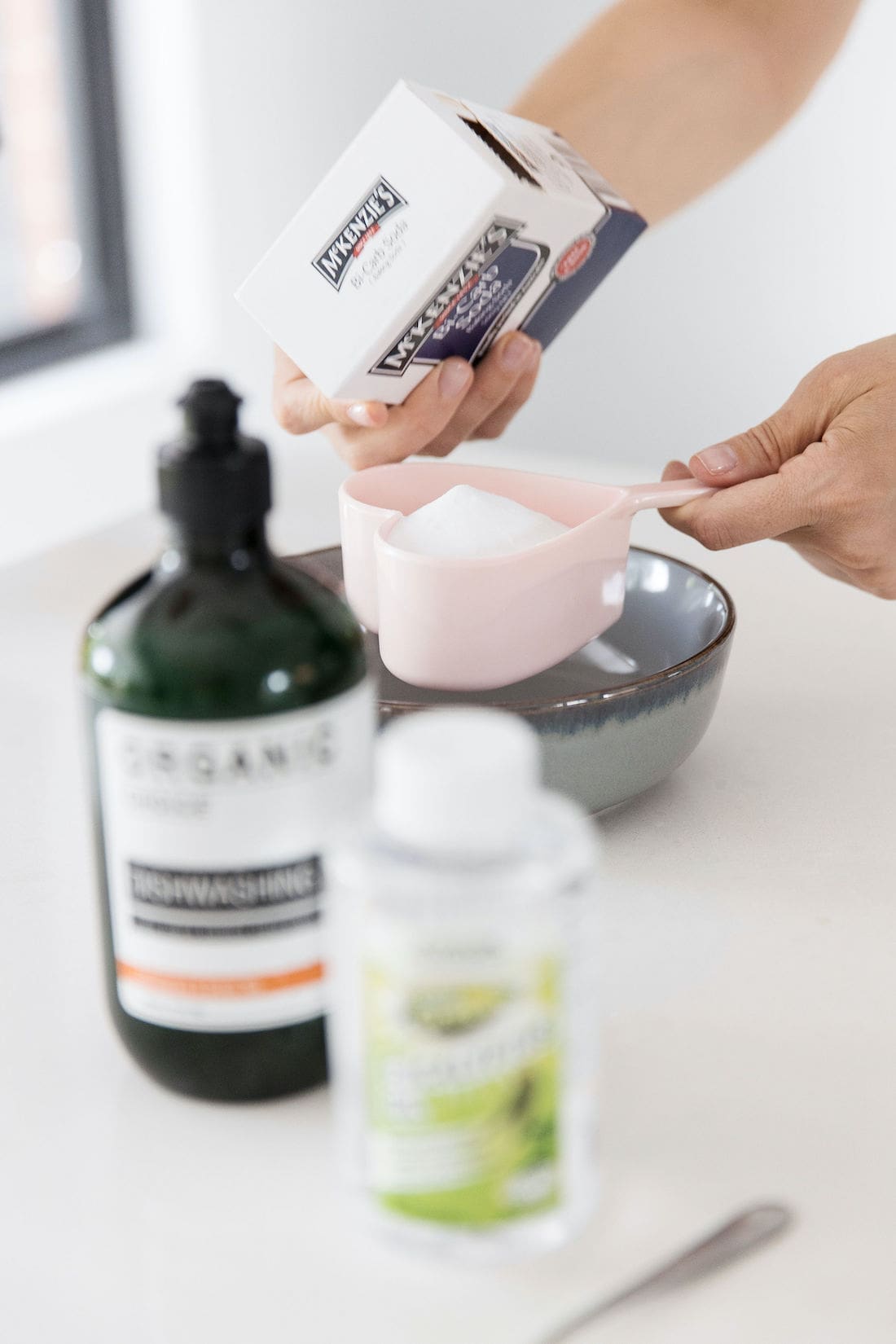 1. Our natural shower screen hack
Without wanting to toot our own horn too much, our natural shower cleaner hack proved super popular! Reaching over half a million views (when we had only 9 TikTok followers, mind you!), this is a must-save cleaning recipe that has many uses around the home.
Shower screens can look dull overtime from a buildup of limescale and soap scum. Our paste formula of bi-carb soda, natural dish soap, and eucalyptus oil is sure to help you clear the grime from your shower screens and also help keep them looking brand new for longer.
And if you aren't already, find us on TikTok at @StyleCuratorAU!
2. Drain clearing hack
There's just one word to describe blocked drains — gross! Hair, dirt and grime can lead to blockages and even awful smells. In the moment, you may be tempted to use dangerous chemicals to clear the drain yourself, or even if you're more cautious to call a plumber. But you can save the expense by using this simple vinegar and baking soda TikTok hack by @CleanThatUp.
Warning: Graphic cleaning content ahead!

3. Whiter clothes with white vinegar tip
It's so tricky keeping your clothes bright and white. But, TikTok user Liz (@LizLuxeHome) has an inexpensive, natural trick of using white vinegar instead of fabric softener. She says it helps whiten, soften and further brighten your clothes. This hack also has the benefit of reducing odours. Win win!
Note: Some washing machine brands advise against using white vinegar in your machine.
4. Easy mattress cleaning tip
You may think cleaning your sheets every week may be enough, but mattresses absorb everything from your sweat to dead skin. Gross, we know! In addition to your weekly linen wash, it's recommended to deep clean your mattress 1-2 times a year.
You'll find plenty of videos online showing different methods of deep cleaning a mattress, some ranging from half an hour to even 24 hours. But our fave is this one by TikToker Jessica Haizman's (@jessicahaizman). Watch the quick video below to see her quick and natural deep clean process using only bi-carb and eucalyptus oil.
5. Minimise glass streaks hack
Streaks can be the bane of any clean, leaving messy lines all over your glass and shiny surfaces. Here, Chantel (@Mama_Mila_) shares her surprising hack to bring that shine to your glass, mirrors, and appliances. Using only two microfibre clothes and a pump of shaving cream, it's a cleaning hack we're also keen to try.
6. Bring back your old bathtub with this hack
Whether your bath is where you go to wash off the day, or relax for half an hour twice a year, bathtubs can be a struggle to keep clean. Body oils, dust and dirt not only stay in your bathtub, but they can also stain. As a result, they can become hard to scrub clean. Below, TikToker Carolina (@carolina.mccauley) shares her bathtub cleaning routine that only needs vinegar, baking soda, and dish soap.
7. Cleaning your stainless steel sink hack
Nothing gives you that clean kitchen feel like a sparkling sink, are we right?! If you have a stainless steel sink, give it a deep clean and brink back its shine using this cleaning hack. TikToker Jade (@Jadesaine) swears by a mix of dish soap and baking soda to bring back the radiance of your steel sink.
What's your favourite from this round up of TikTok cleaning hacks? Or have you spotted any others we should also add to the list? Tell us in the comment section below and we can't wait to share more cleaning hacks and tips with you on the blog soon!
This article was first published in July 2021 and continues to be updated with the best TikTok cleaning hacks.