Reducing the number of chemicals you use around your home can only be a good thing — for our families and the environment. Today we're sharing a comprehensive list of natural and low-tox cleaning recipes for every zone of the home that you can make yourself. Using the best essential oils for cleaning, get ready to make some simple swaps that will help save on your hip pocket, create a healthier home and reduce our impact on the environment.
We've also developed a stack of helpful graphics with these recipes so you can save them to your Pinterest account or print them off at home.
Related article: 3 of the BEST natural cleaner recipes: Your starter kit to chemical-free cleaning
Related article: Make your own room spray: Natural DIY room sprays are easier than you might think!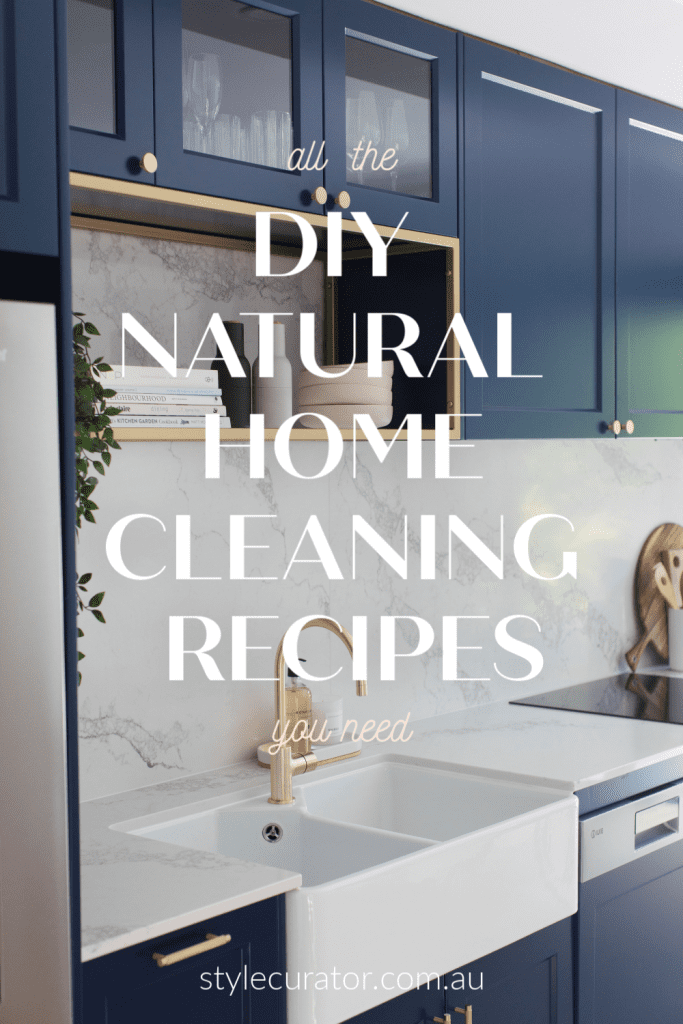 Why essential oils?
Essential oils can be used for effective, non-toxic cleaning thanks to their antibacterial, antimicrobial and antiviral properties. All our tips and cleaning hacks are simple, cost-effective and better for the environment.
We recently shared an article about our top 10 essential oils and as promised, all our recipes and hacks in this posts will feature oils from this list.
Use these oils alongside castile soap, cheap and cheerful bicarbonate soda (aka bicarb soda aka baking soda but NOT to be confused with baking powder!) and white vinegar.
Important: As with any new cleaning product, we recommend doing a test patch first with any of these recipes — JUST in case!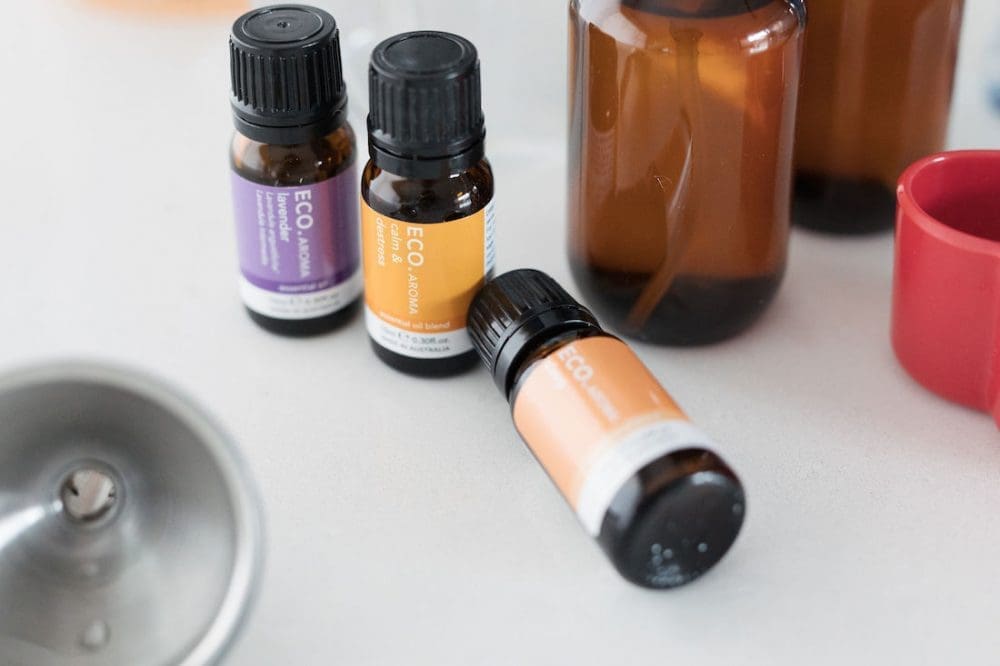 Kitchen cleaning hacks
Dishwasher cleaner
Show your dishwasher a bit of love by giving it a good clean, minus the chemicals.

Simply sprinkle 1 tbsp of bicarb soda in the bottom of your dishwasher, fill the tablet container with white vinegar along with 5 drops of lemon essential oil and run on the hot cycle.

Simple, effective, natural.
Sink cleaner
Use orange oil to polish up the kitchen sink by mixing a few drops with bicarb soda and scrubbing well with a sponge. Then step back and check out that shine!
Or to remove water marks from a stainless steel sink, dip half a lemon in salt and use it to gently scrub your sink.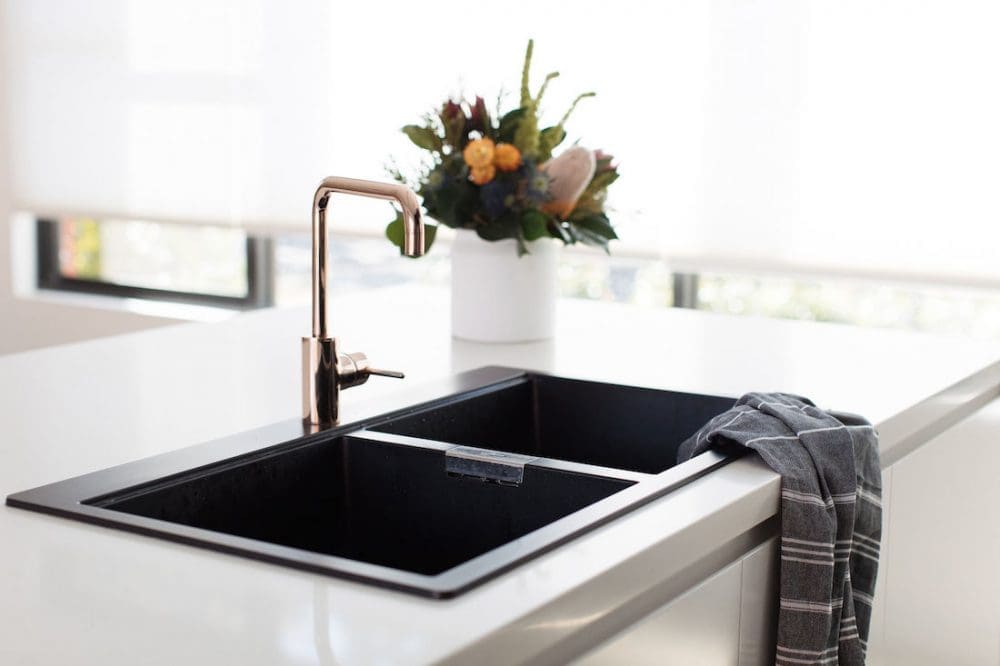 Kitchen wipes
Use a combination of eucalyptus and citrus oils (we love lemon) to make your own kitchen wipes. Super easy and they smell wonderful!
Here's how to make your own kitchen wet wipes:
Grab a roll of paper towel (we find Viva works best) and this 2L Kmart storage container.
In a measuring jug, add 1.5 cups of distilled water (or simply use cooled, boiled water), 2 tbsp castile soap and 20 drops of essential oil (eucalyptus and lemon are our top picks).
Stir together then pour half the mixture into the container. Push in your paper towel and carefully pour the rest of the mixture evenly over the top of the paper towel.
Carefully wriggle out the cardboard core and gently pull the middle piece of towel up so it's ready to go. Allow the liquid to soak in before you start using them.
There you have it, DIY kitchen wipes!
Fridge refresher
Fridge not smelling too crash hot? Ditch toxic chemicals that can linger and create toxic odours, and try our natural fridge cleaner spray instead.
To make a natural fridge cleaner, simply combine:
1 cup of salt
5 drops of lemon oil (or any of the citrus oils)
half a litre of hot water
Stir until the salt is dissolved and use it to wipe down the inside of your fridge.
To keep it smelling nice, pop a few drops of lemon (or your preferred citrus oil) onto a cotton ball and place into the fridge.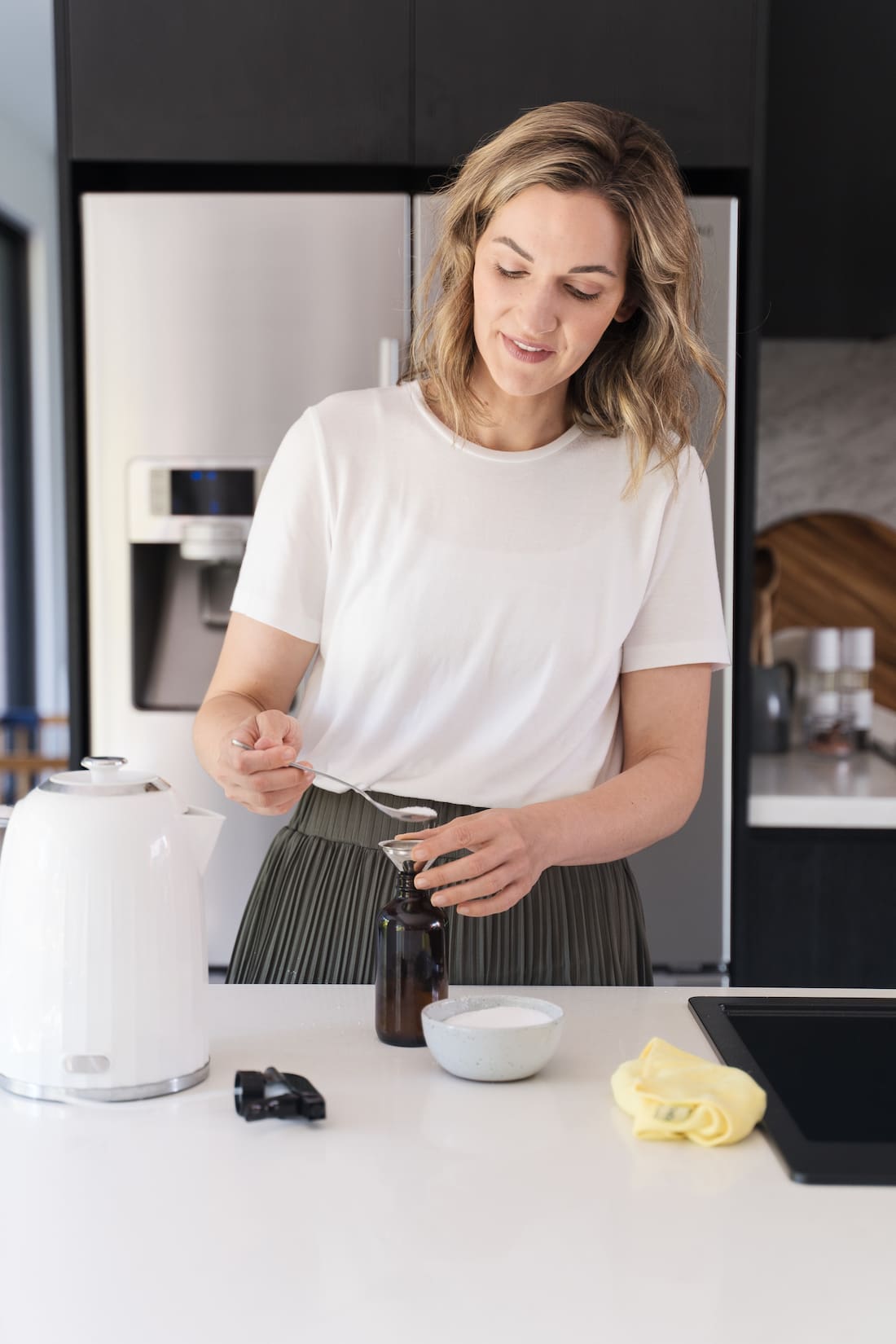 3 kitchen sprays
Add lemon oil to your DIY all-purpose cleaner (unless you have natural marble countertops or splashback where citrus oils should be avoided).
You can check out our 3 natural cleaner spray recipes here.
Natural cleaning paste
Get those pots and pans sparkling with an all natural cleaning paste.

Mix 1 cup baking soda, 2 tbsp castile soap, 15 drops of orange essential oil and 1/8 cup water.

Store in a glass jar and grab it out any time your saucepans need a good clean.
Cut through grease and grime
Use your favourite citrus oil to directly cut through grease spills and messes. A few drops onto the surface and a microfiber cloth will eliminate oil residue.
Floor cleaner
For tiled areas, try mixing white vinegar with hot water and lemongrass essential oil to cut through dirt and grime.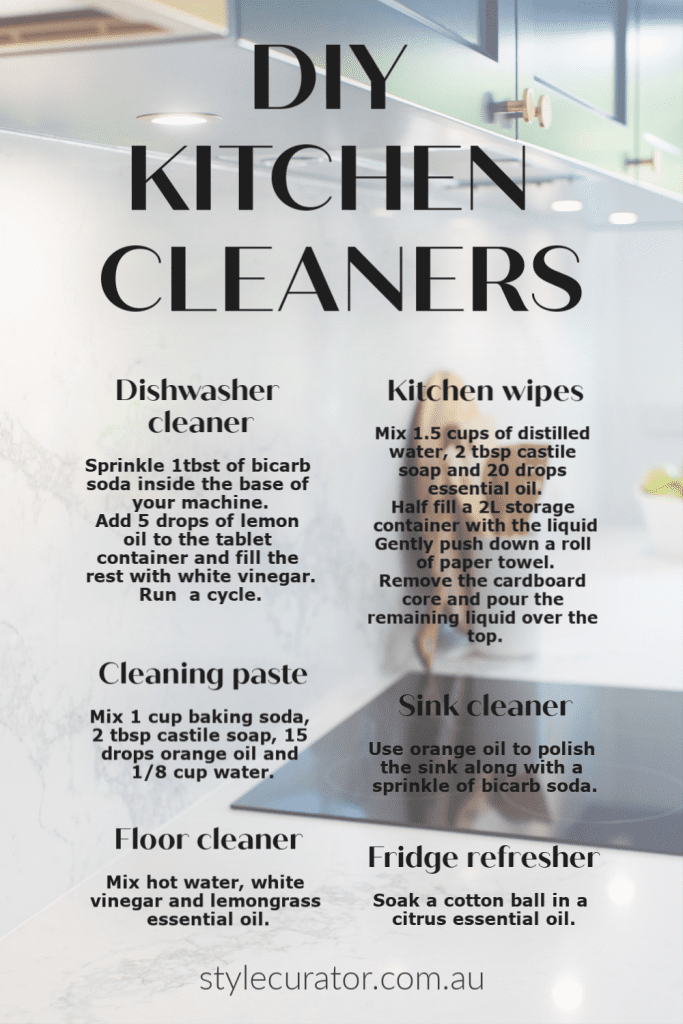 Natural bathroom cleaning recipes
Soft scrub
A soft scrub has so many uses in the bathroom — use it to get your shower screen sparkling clean, remove grime from your vanity and basin, in and around your bath, and even your toilet, too!
Watch the video below to see how easy it is to make our favourite soft scrub cleaner and find more detailed steps here.
And here's another soft scrub cleaning recipe to try using clove oil.
Just mix all ingredients together to form a paste and store in a glass jar. To use, spread over the area you want to clean using a cleaning cloth, leave for 5 minutes then wash off.
Toilet spray
Ditch the fake fragrance-filled toilet sprays for our make it yourself recipe here.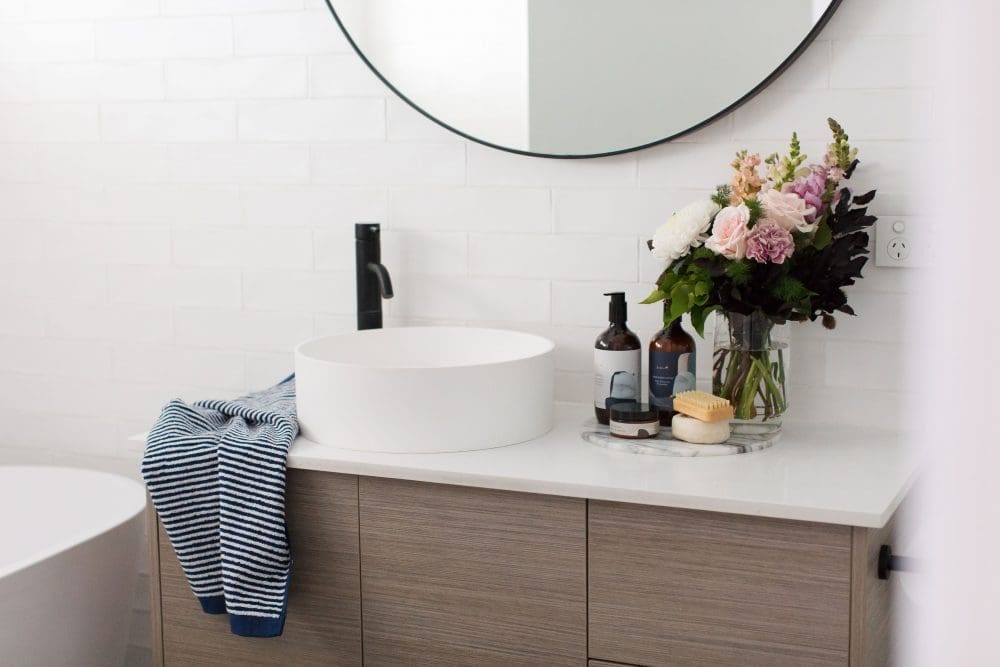 Toilet fizzies
Make an all natural toilet cleaner by using our DIY bath fizzies recipe. Just swap out the oils for eucalyptus and tea tree. Then, simply drop one into the toilet watch it fizz up (it's like a bath bomb for your toilet!) and scrub away. These are great at disinfecting and deodorising your toilet (and they're kinda fun too!)
Foaming handwash
Make your own foaming hand wash with just three ingredients! Start with a foaming bottle — you can find these online OR reuse one from a store-bought foaming soap.

Add 1 tbsp of castile soap, 20 drops of your favourite essential oil then top up the bottle with distilled water (or just use cooled, boiled water).

We love orange and peppermint for the bathroom, or tea tree, lemon and eucalyptus for the kitchen.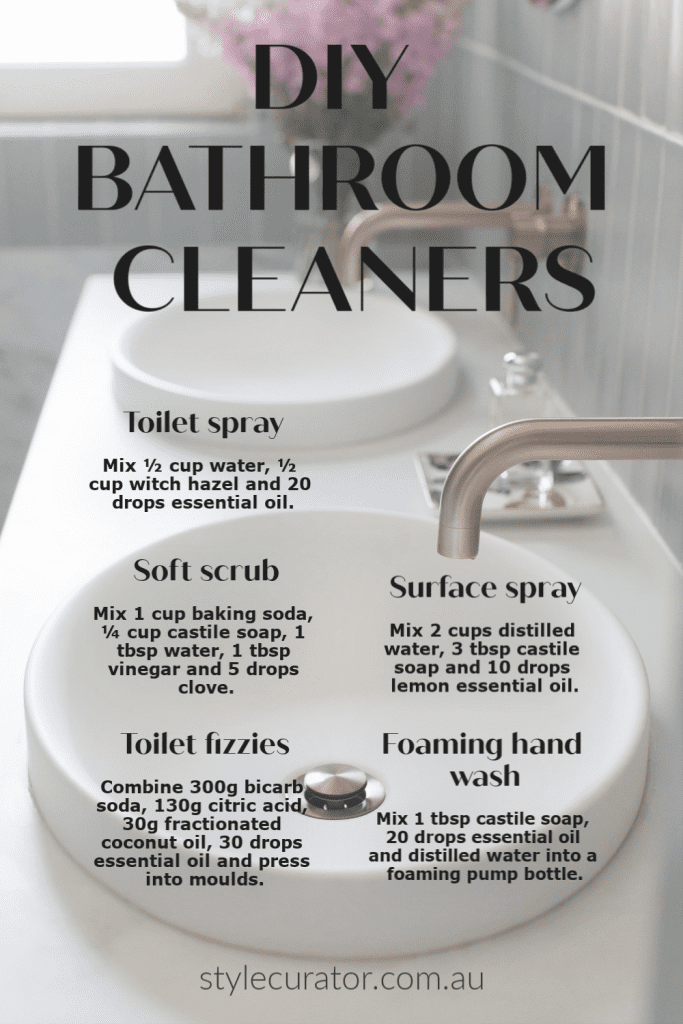 Easy laundry cleaning recipes
Stain treatment
To treat oil-based stains, apply eucalyptus oil directly to the stain and allow to evaporate before washing as normal.
Washing booster
Add some drops of eucalyptus to the washing machine before starting your cycle for that added boost to your washing.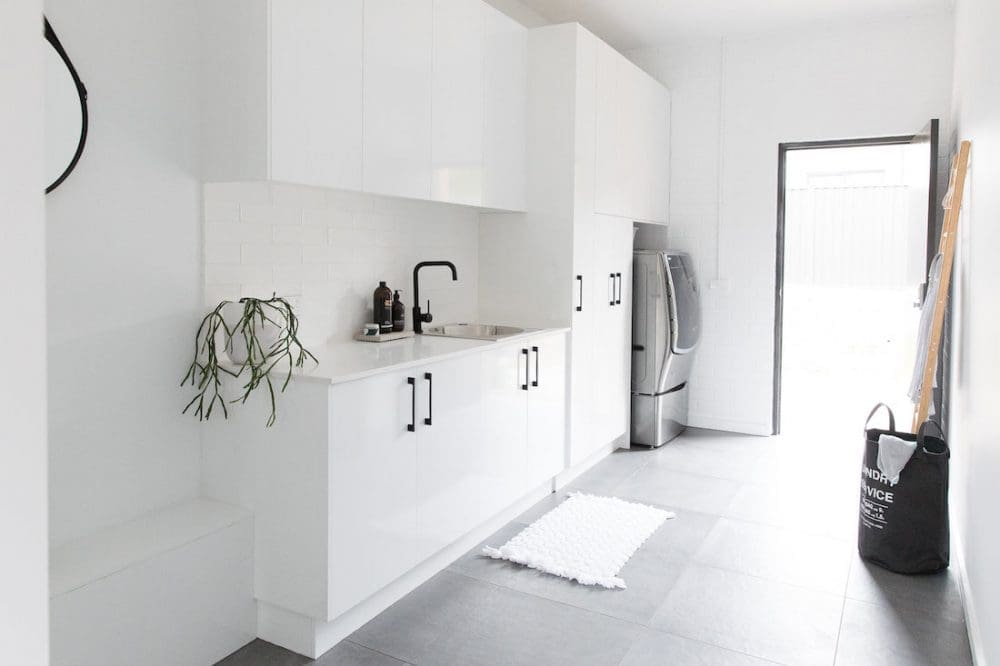 DIY washing powder
Want to make your own washing powder? Here's how!
Chop the soap into pieces and blitz in a high-speed blender until it becomes a fine powder. It needs to be super fine so it will break down in cold water.

Add the epsom salts, washing soda and bicarb and blitz again for 30 seconds at medium speed.

Carefully add your essential oils then mix again for 20 seconds at high speed.
Store in an airtight container — done!
Sleepy sheets
When washing your linen, add a few drops of lavender into the detergent dispenser for fresh, beautiful and sleepy-smelling sheets.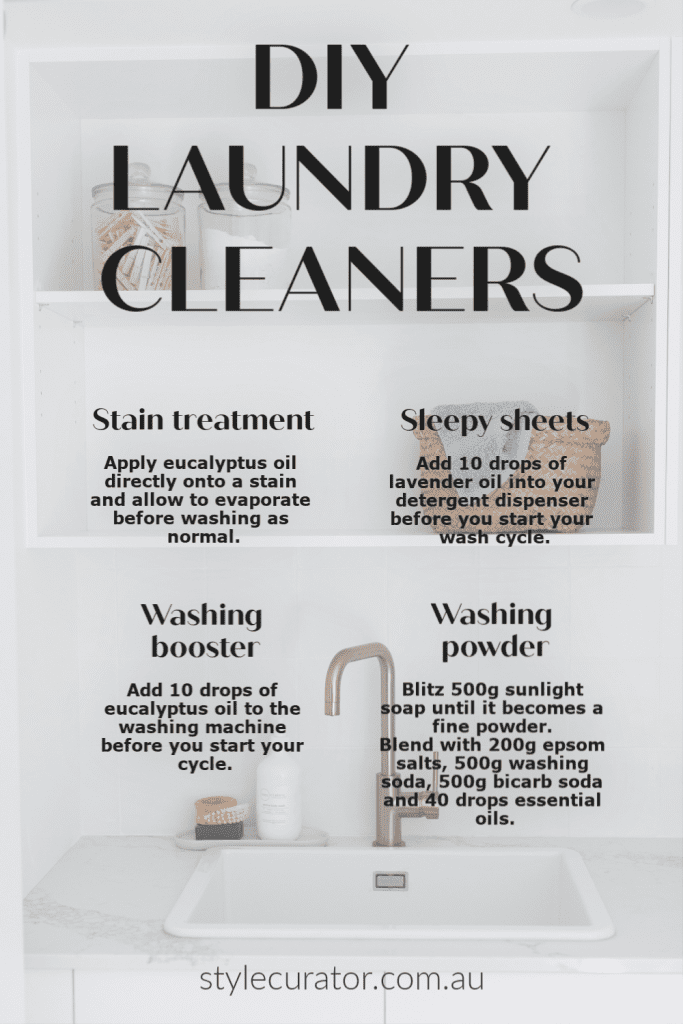 Other natural cleaning swaps for around the home
Simple phone cleaner
Just a couple of drops of lemon oil onto your cleaning cloth gets your phone sparkling (and removes all those hidden germs that lurk on the surface!).
Carpet / sofa / mattress cleaner
Sprinkle 1 cup of bicarb soda and some essential oils to clean a whole raft of things around the home. Like fabric sofas, carpets or your mattresses. We love lavender for the bedroom, tea tree for the couches and a zesty citrus mix for the carpets.
Sticky labels be gone
Get rid of sticky label residue with just a few drops of lemon oil and a bit of elbow grease, straight onto the spot.
Our DIY cleaning recipes are safe to use around children as there's no sign of any nasty, harmful chemicals.
What did you think of these DIY recipes, tips and tricks? Are you keen to give a few a go? Tell us in the comment section below and we can't wait to share more essential oil tips with you on the blog soon!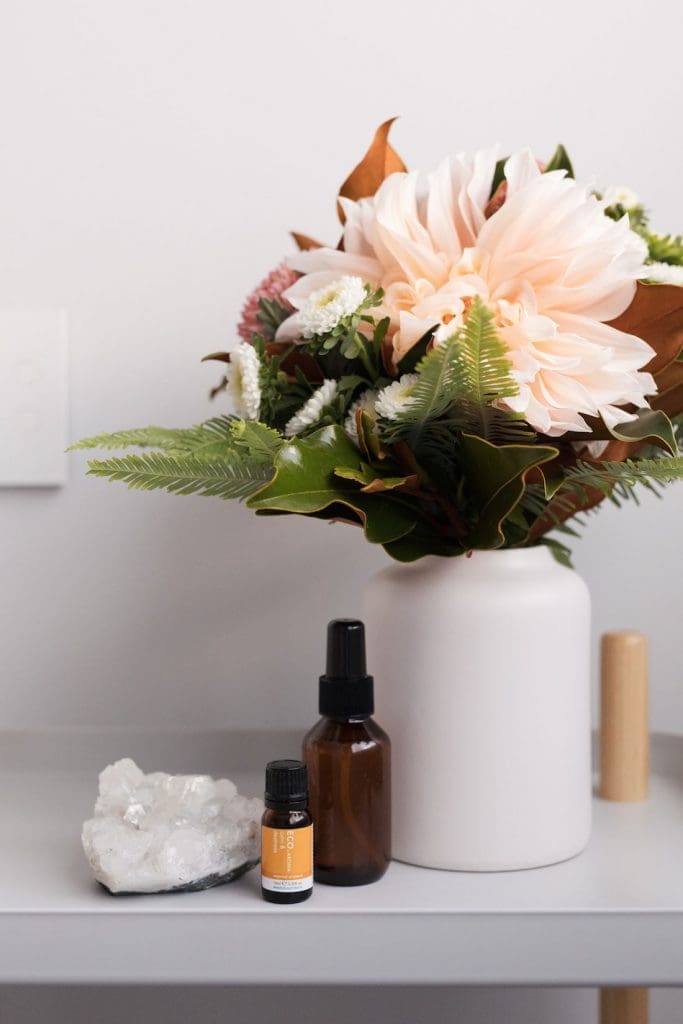 Disclaimer: This post was originally published in January 2020 and continues to be updated with the best natural cleaning recipes and hacks. It contains some affiliate links. This means that when you click on a link and purchase something from that site, we may make a small commission at no extra cost to you.