With only 3 weeks until Christmas, the time to start our gift shopping is NOW!
Does your mind go blank as soon as you try to think about what gifts to buy? Hopefully our 10 Christmas gift ideas for him and her will have just the thing.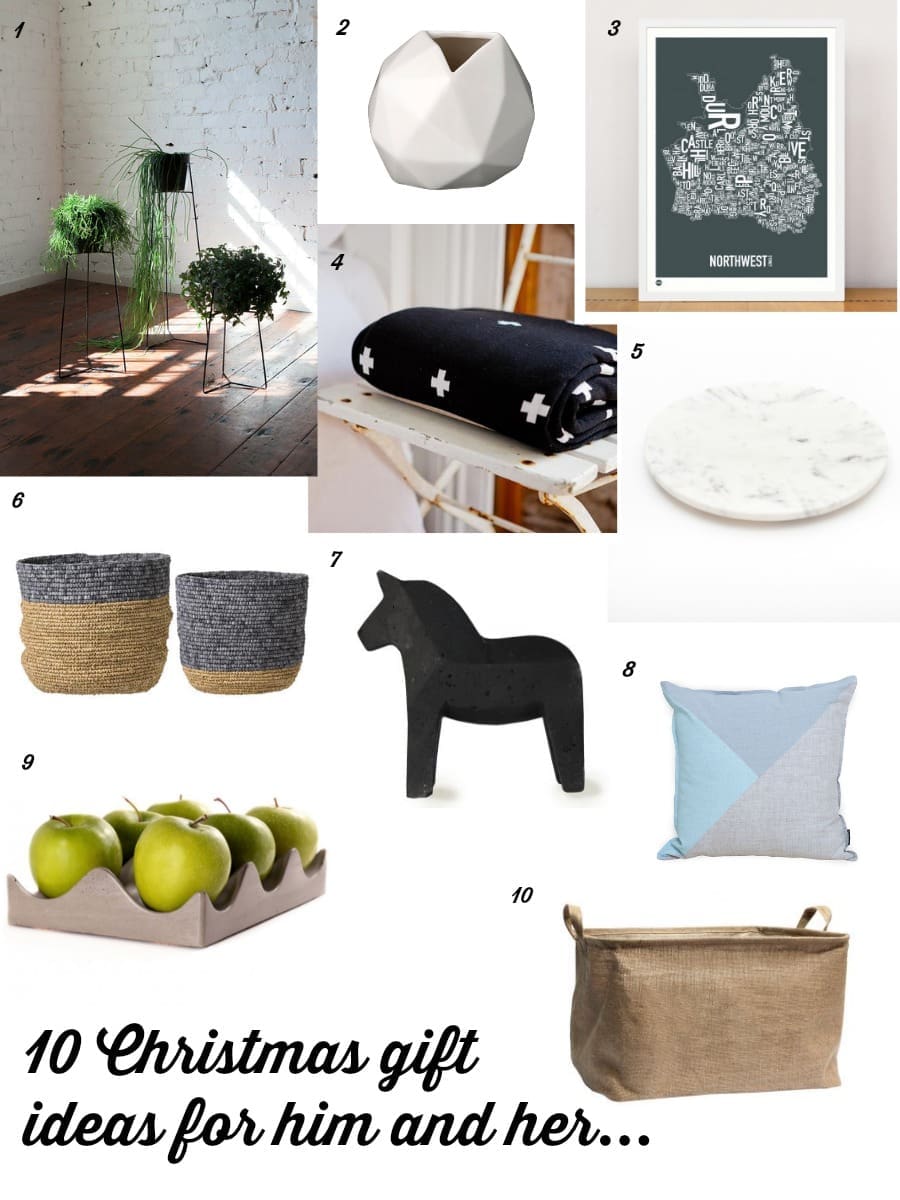 1. Pot plant stand from Trestle Union from $95
Pot plant stands are a great way to display plants in your home and these three-legged stands with hexagonal base from Trestle Union are the most stylish ones we've seen. Available in black, clear coated steel or white, and a range of sizes.
2. Danish white geometric ceramic vase from Urban Couture from $79
These shiny pearl white Danish and Scandinavian style geometric vases are a perfect home decor accessory for the minimalist home. Great for the living room, bedroom and dining room areas.
3. District wall prints from Burbia from $35
A fun and fresh take on wall prints for your home. The prints are available for districts across Australia — each print includes the names of the suburbs in that district beautifully designed. Select from a range of colours and sizes. Also available on tea towels from $25.
4. Cross blanket from Jasper & Eve $98
Light weight, reversible cross blanket is ethically manufactured using 100% cotton. Incredibly soft, it's ideal as a lap blanket.
5. Flared dish from Marble Basics $50
We're obsessed with marble and the clever girls at Marble Basics have a range of bowls, trivets and trays for the kitchen, bathroom and garden — all made from marble. Be quick, selling out fast!
6. Scandinavian basket from The Design Hunter $170
Available in black and grey, and small and large sizes, we love the earthy material and tones of these baskets.
7. Concrete Dala horse from Zakkia $39
The Dala Horse has become a symbol of traditional Swedish handicraft, its name coming from its home province, Dalarna, in central Sweden. This concrete Dala horse is a modern interpretation of this traditional wooden piece.
8. Pastel summer cushion from Jasper & Eve $69
This gorgeous cushion is printed with blue and grey geomtetric triangles. Perfect on it's own or mixed up with others! It has been designed, hand screen printed, then sewn in Melbourne. Even better, environmentally friendly water based inks have been used in the screen printing process.
9. Grey concrete fruit bowl from Zingness $87.50
A modern take on the traditional fruit bowl. We love the design and raw concrete finish.
10. Jute oversized basket from Zakkia $29.90
This rustic oversize jute storage basket is great for storing larger items, such as throws or cushions. It also works well for magazines and newspapers.