Supported by Hafele Home
Tiny, organised pockets around the home, where everything has a dedicated place, has never been more appreciated or trending. But how do you create these sanctuaries of order? Here are 10 genius ways to organise your home!
1. Pantry goals
Without a doubt, one of the most popular and viral home organisation ideas is to have a fabulously organised pantry. We've seen celebrities and everyday people alike, turn their pantries into perfectly organised spaces where every food packet and bottle has been meticulously placed.
Don't be disheartened if you don't have matching, stylishly labeled containers — while aesthetics matter, it's ultimately about functionality.
Whether you have a pantry cupboard or a walk-in pantry, here are some great ways to organise the space.
Baskets for food packets
One of our favourite pantry organising hacks is to use baskets. Smaller baskets are great for food packets and keeping small items organised, while large baskets can store excess food neatly out of sight. Baskets can also help you to utilise the very top shelf of your pantry.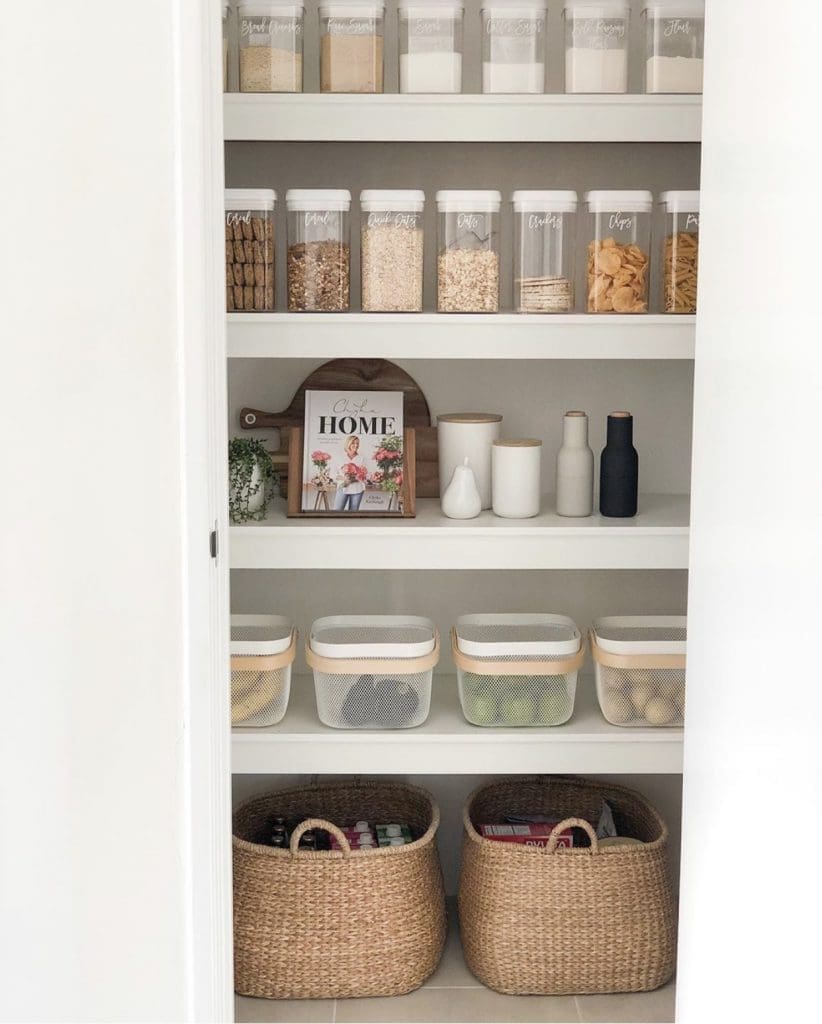 Lazy Susan for bottles
Rather than having to reach behind and rearrange bottles to get what you need, place them on a Lazy Susan. You can find these in a range of sizes, in timber or plastic, and they have the added benefit of protecting your shelves from staining.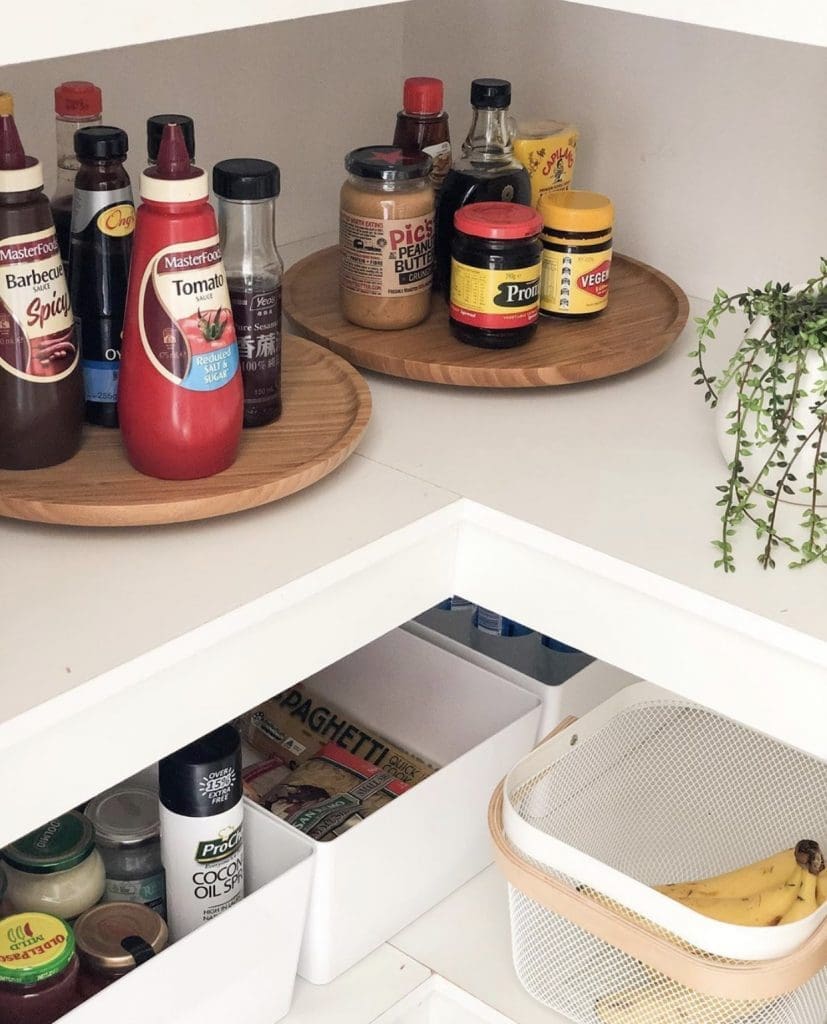 Racks for the back of doors
If you have a cupboard style pantry, you can create a stack more functional storage space by investing in a few smart racks for the back of your cupboard doors. While you can readily find thin wire versions available, we love the extra depth and sturdy design of these multi-level, adjustable shelving racks from Hafele (pictured below).
For even more pantry styling and organisation tips, check out this article.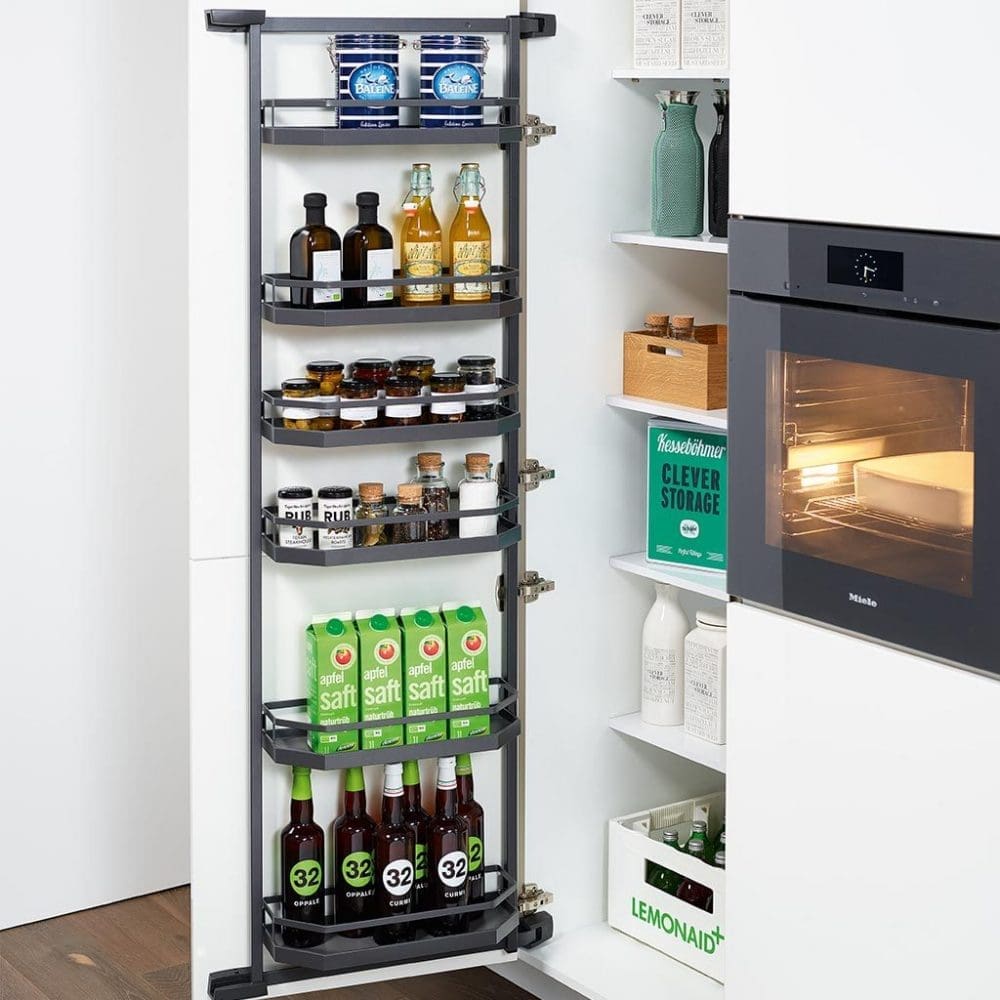 2. Under sink area
Who else is guilty of having a dumping zone under their kitchen sink?! This small space can be brought to order with just a few tricks.
Removable hooks on the back of doors
We've never met a removable hook we didn't like. These genius things can add storage to the inside of any cupboard, and we especially love them for items you need to grab frequently like a dustpan and brush.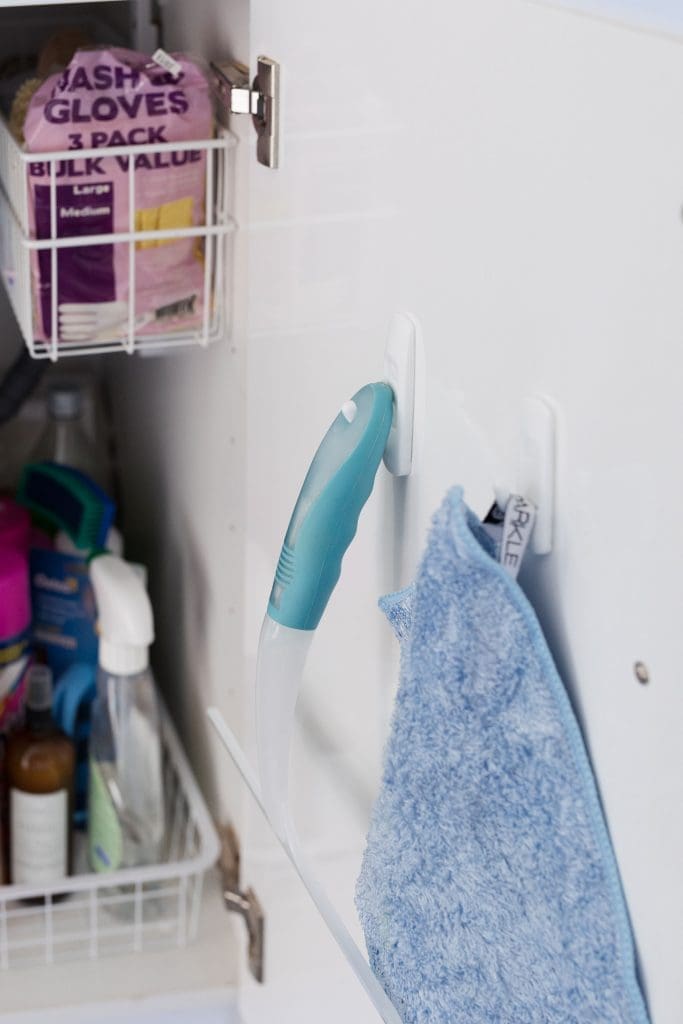 Wire baskets
Depending on the width of your cupboard, you may also be able to fit a few wire baskets to the side. These help you take advantage of the height of your cupboard and are a handy spot to store extra washing gloves, sponges and other kitchen essentials.
Pull out cleaning caddies
An even better solution than wire baskets are these neat pull-out cleaning caddies from Hafele. Mounted to the base of your cupboard, they simply slide out and are detachable for easy cleaning.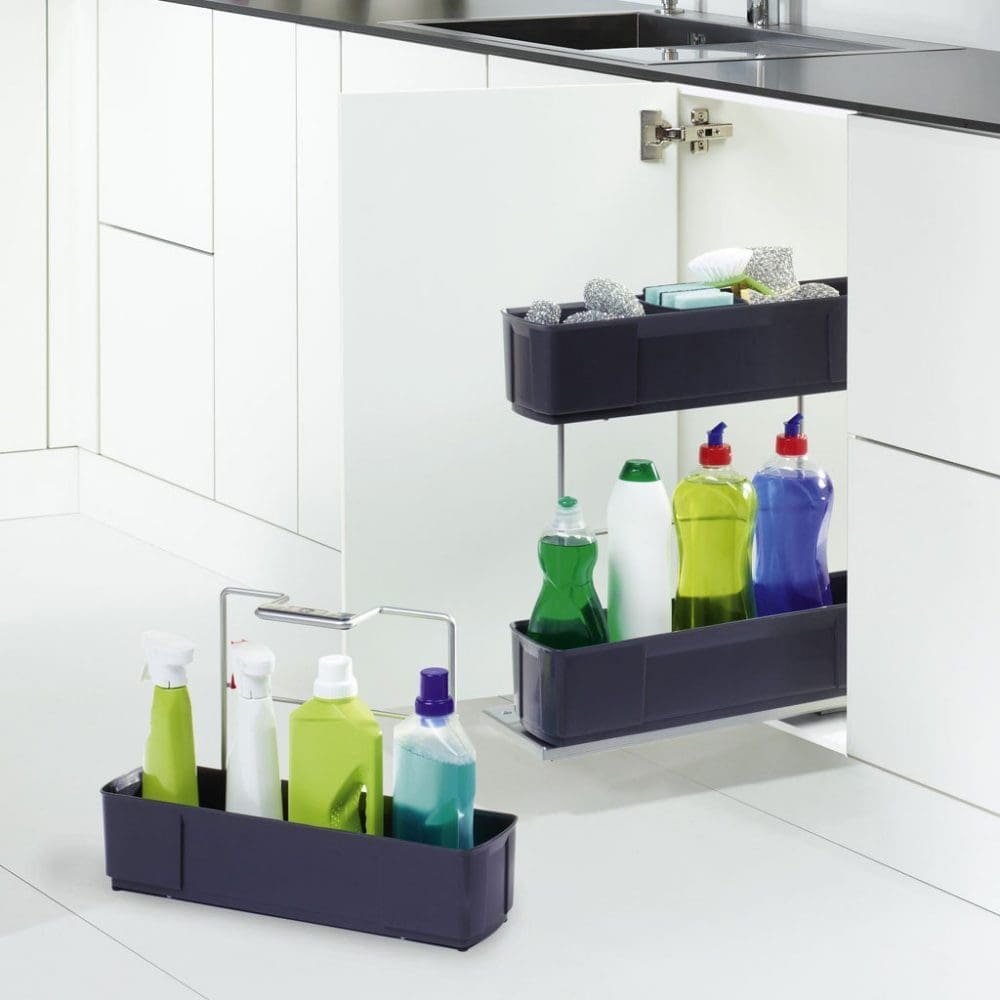 3. Craft organisation
Perhaps it was the recent period of isolation but crafting is on the rise. While many of us don't have the space for a dedicated craft room, there are ways we can keep our supplies organised.
Ribbon box
Anyone with more than a few reels of ribbon would know the challenge of keeping them neat and tidy. One clever blogger has come up with an inexpensive solution.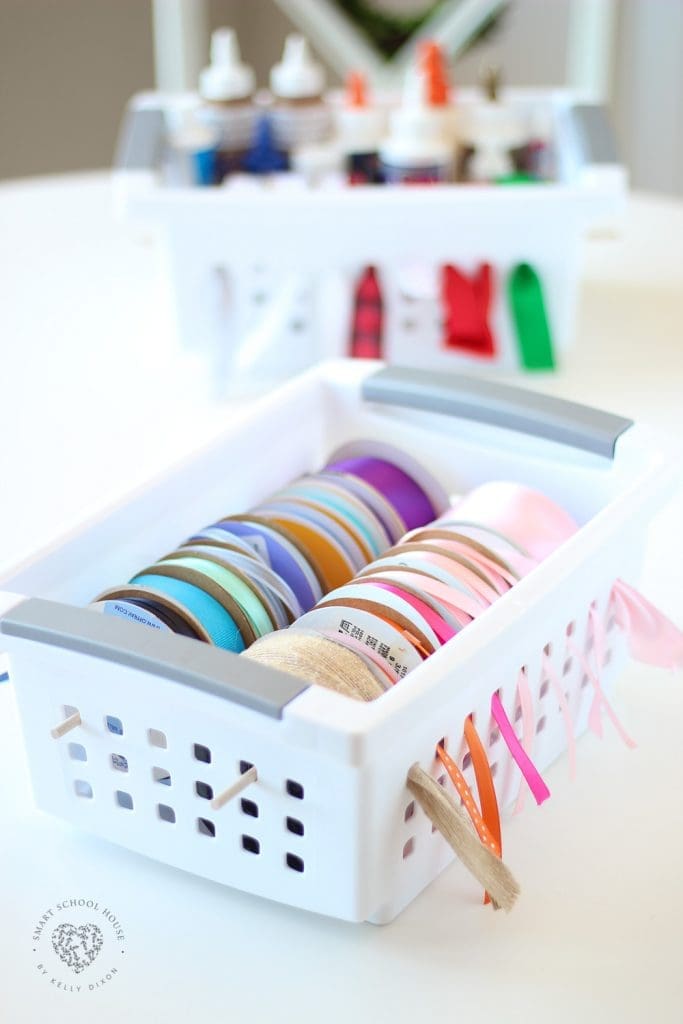 Pegboard
From holding tools, buckets of stationery, sewing supplies or rolls of wrapping paper, a pegboard is a stylish and space-saving solution!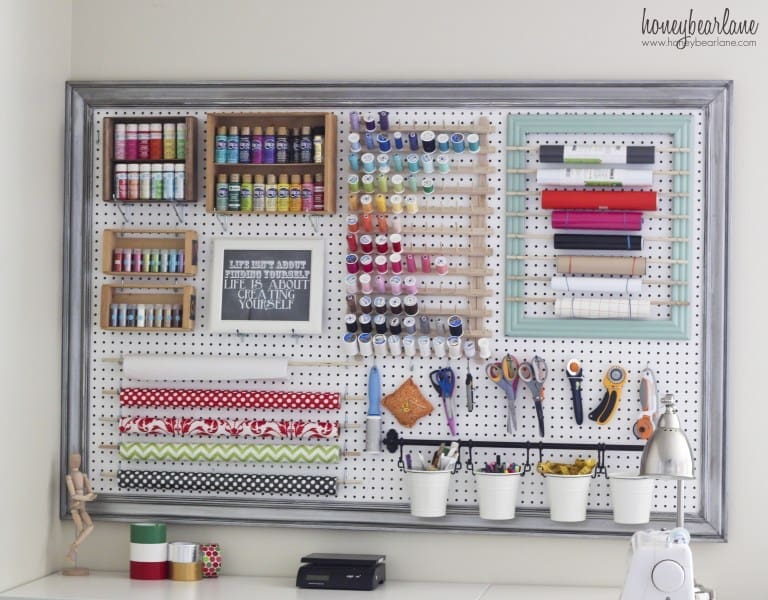 Storage cube
If space allows, a cube storage unit seems to be the must-have item in every craft room. Given they can store just about anything — especially when teamed with baskets that fit into the cubes — it's easy to see why.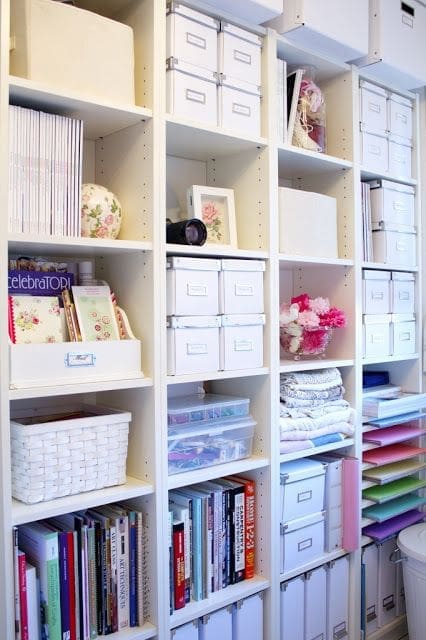 Plastic storage boxes
And if your craft space is simply a cupboard rather than a room, how's this for organisation goals?!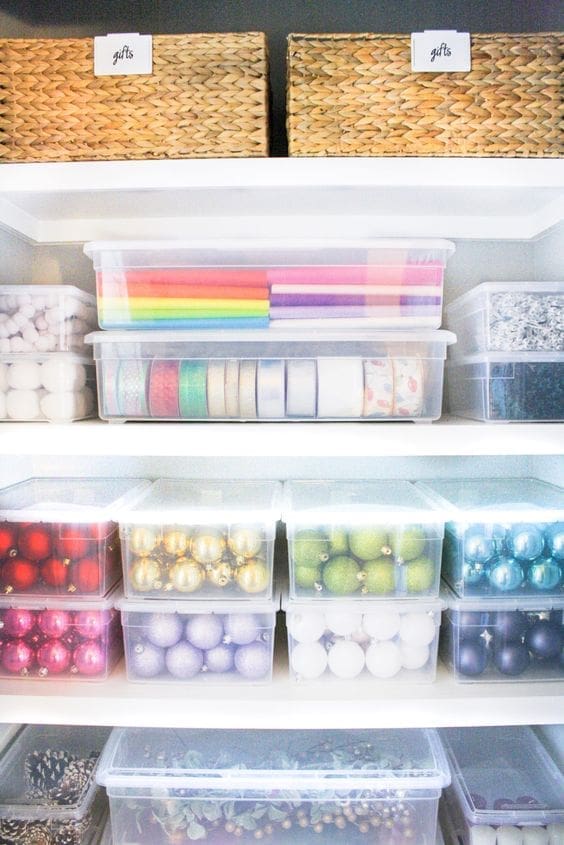 4. Fridge organisation
Just like pantry organisation, well-organised fridges are also having a moment. Plastic drawers to utilise the depth of your fridge, trays to keep like items grouped together, and drink dispensers are just a few of the storage solutions that are turning everyday fridges into #organisationgoals.
Find our top tips to organise your fridge here.
5. Cable organisers
It's great that some devices are now wireless but many appliances and electronics still require cables which can become tangled or an unsightly mess. Here are a few ways you can keep them under control.
Washi tape labels
A cheap and cheerful hack that will avoid the need to unplug everything in your dock before actually finding the thing you need is this washi tape label idea. Simply use paper tape around each of the plugs to label what they are!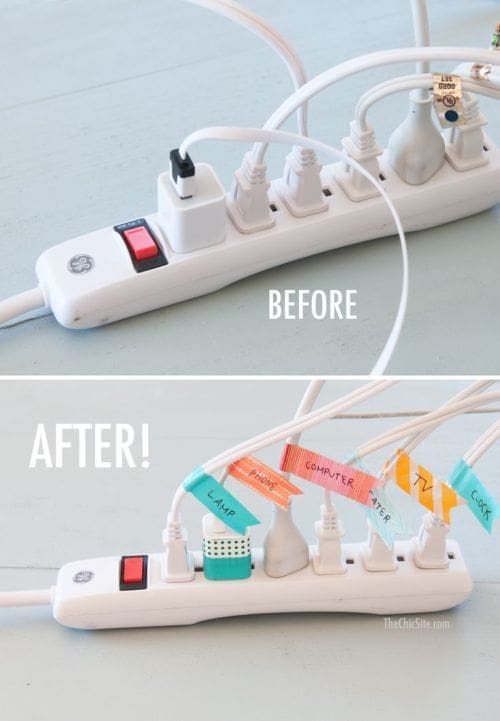 Cable basket
Designed to run underneath your desk, this affordable cable basket keeps your power and data leads safe and out of sight.
Cable outlet
When it comes to needing to access your cables, there are stylish ways to do that too. This Salsa cable outlet from Hafele Home is probably our favourite for larger cords with its slim matte profile.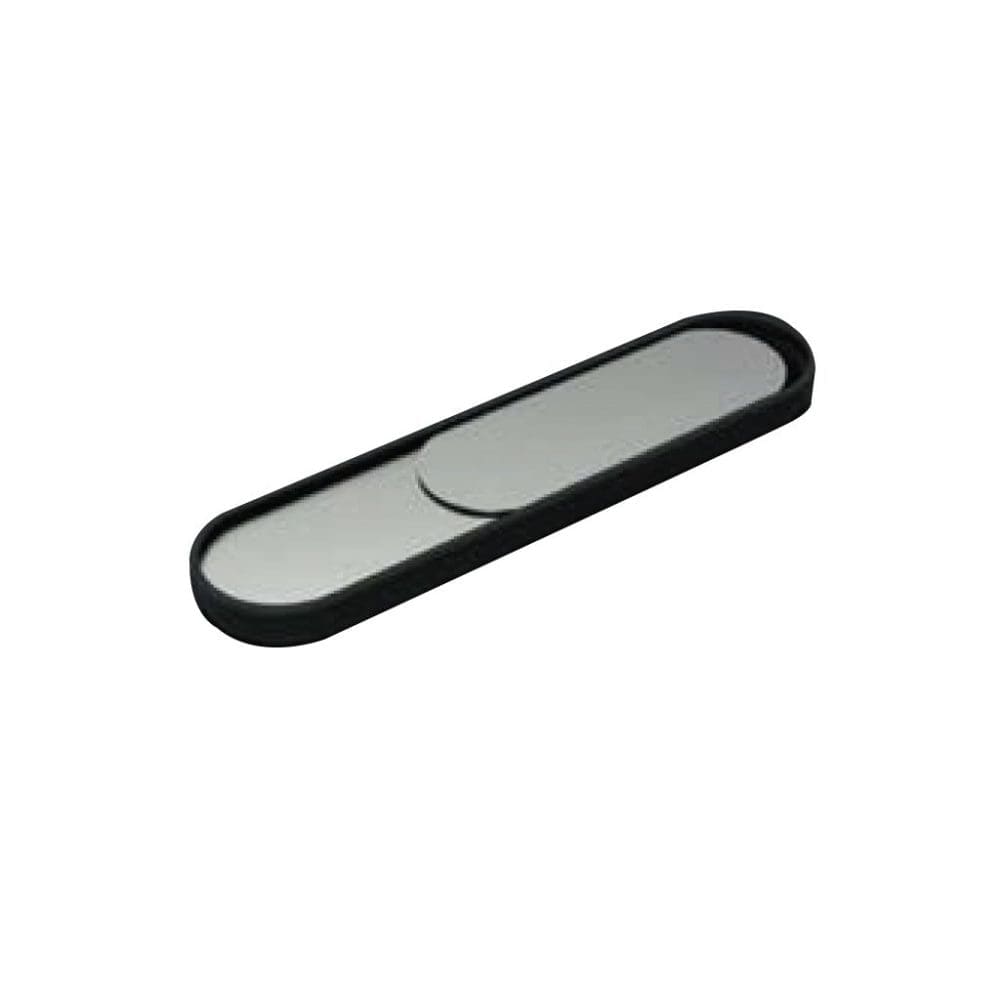 And for all those little cords like USB cables or headphones, you can find a stack of discrete silicone clips that can be mounted to almost any surface.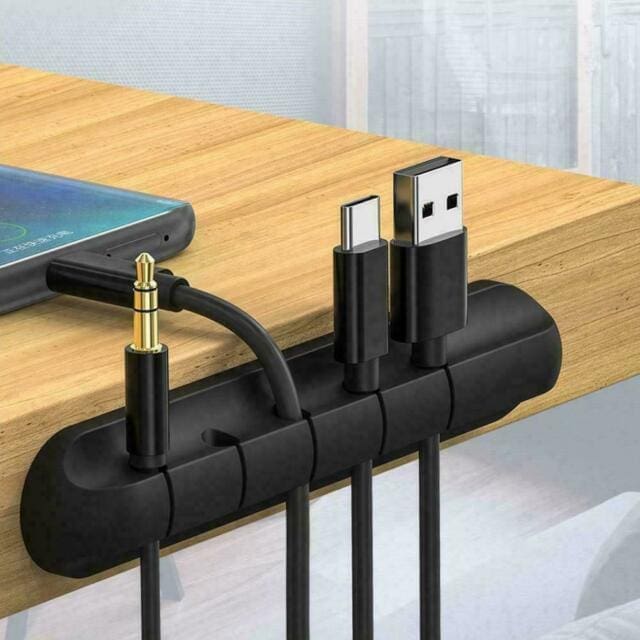 6. Under bed storage
You may have seen those great gas-lift beds that reveal a huge storage compartment underneath the mattress but even if you have a regular bed, there could be plenty of hidden storage space you aren't taking advantage of.
From inexpensive slim plastic baskets that can roll away under your bed to DIY trolleys or trundles, there's probably a way you can turn this hidden area into an extra storage space.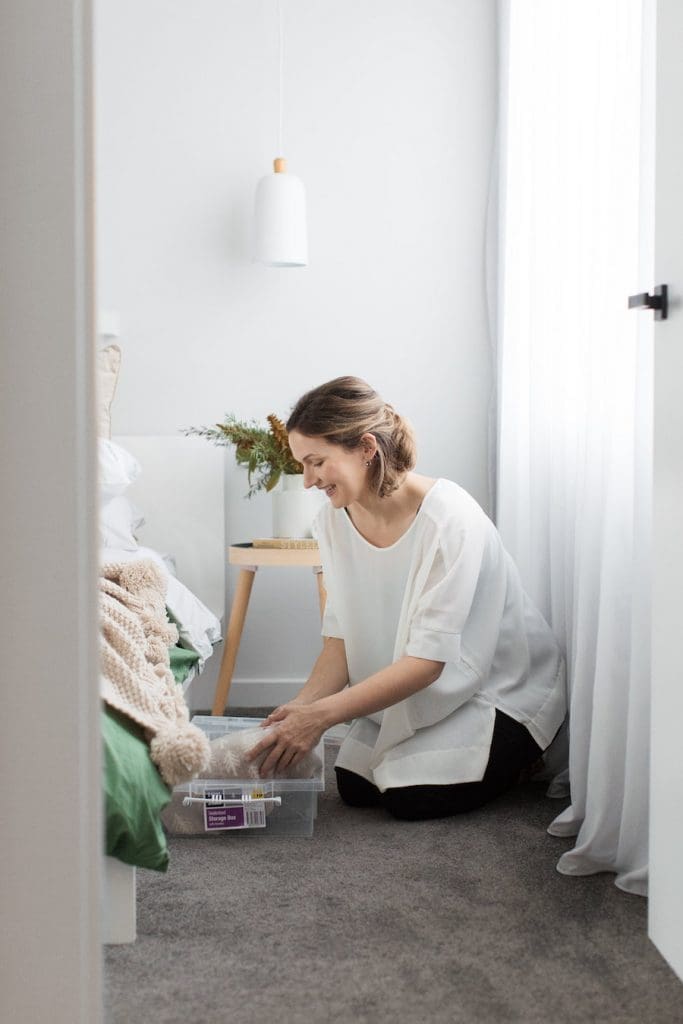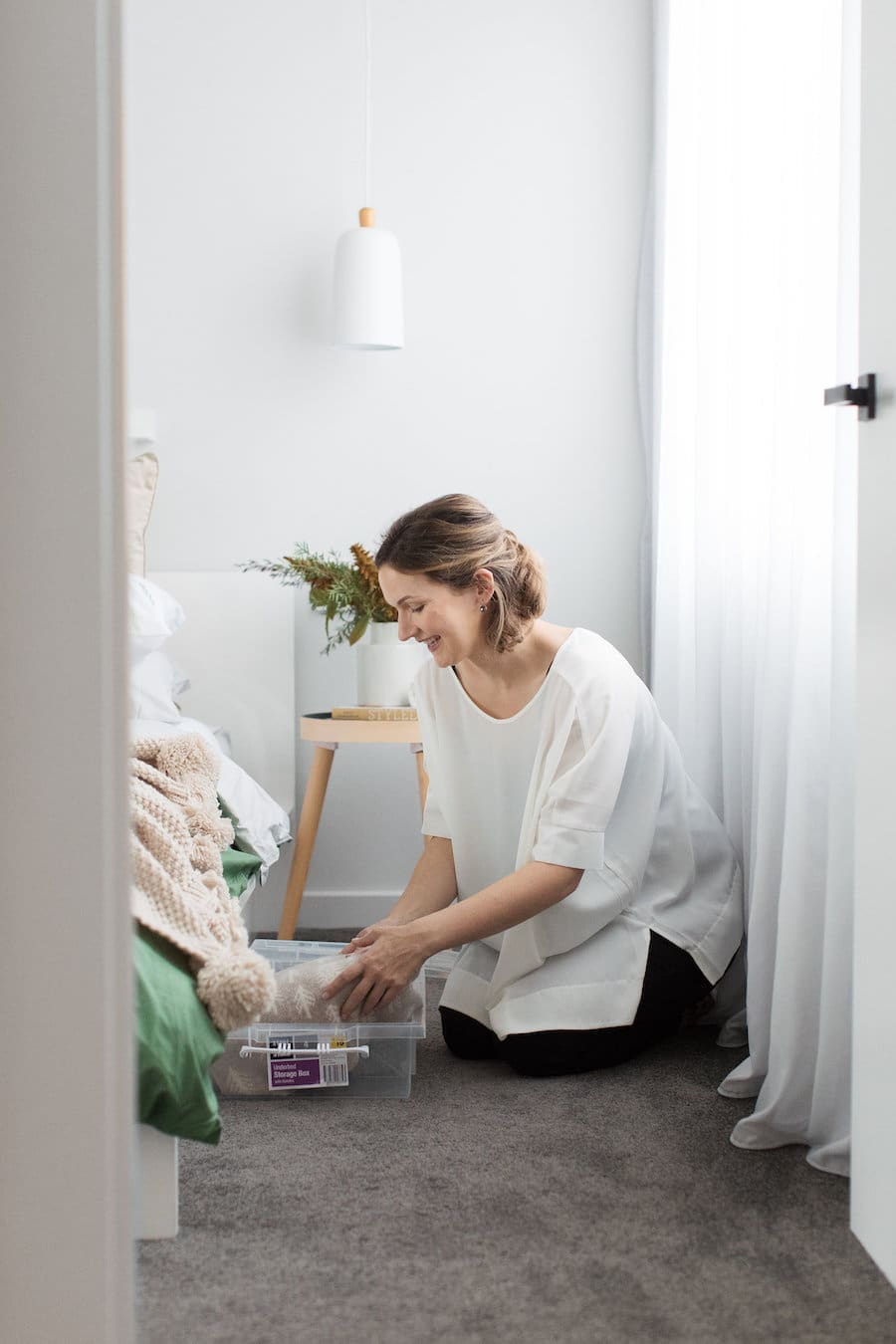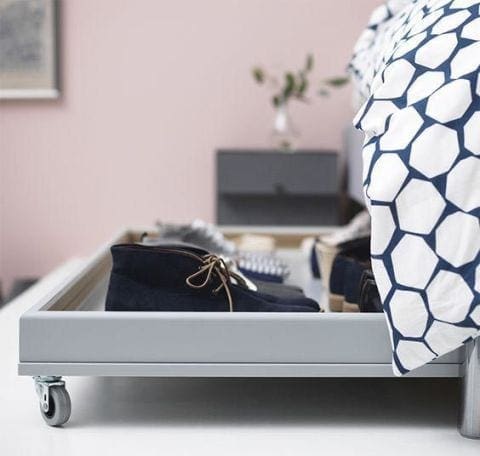 7. Cleaning cupboard
Is it a fight to get your broom or mop out of the cleaning cupboard? The solution could be broom clips. These simply stick to the side of your cupboard and effortlessly hold these items in place.
8. Garage organisation
Let's be real for a minute, how is your garage looking? If it's anything like ours, this zone of your home could do with some serious HELP!
Our friends over at Haus of Cruze showed us that this space can be far from generic — just check out their recent epic garage makeover below!
And as for the storage hacks we can steal from them? Heavy duty metal racks are ideal for running along your garage wall — they can act as both a workspace when a timber shelf is used or as storage shelves. Plastic boxes (preferably not clear or opaque) can keep all of your tools and other garage items hidden away. Just as in the craft room, a peg board is also a great idea for utilising wall space, especially when teamed with moveable shelves, magnetic strips or hooks.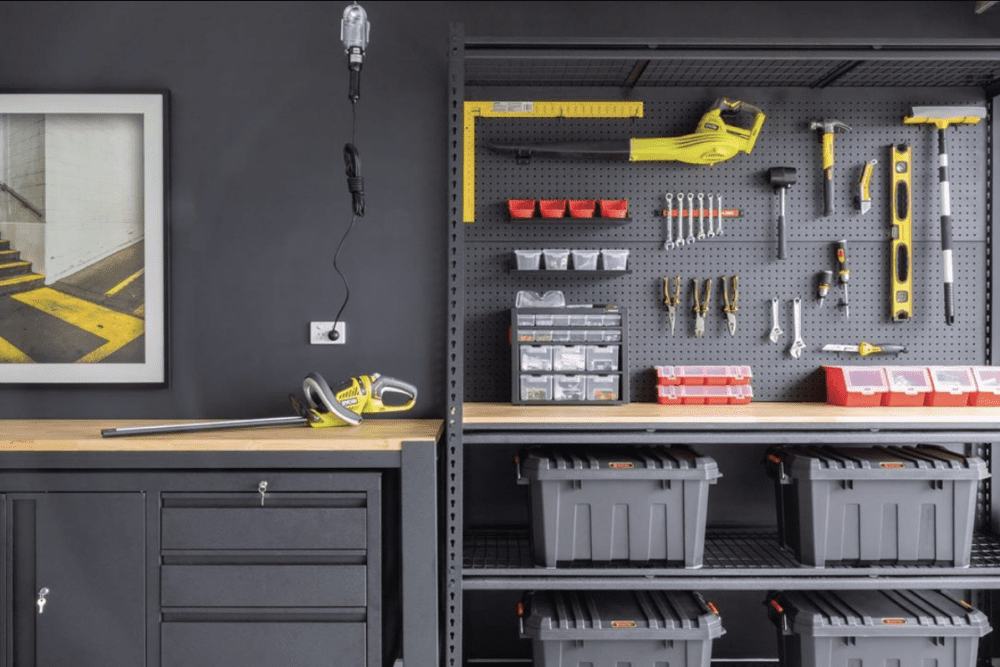 9. Drawer inserts
From inexpensive plastic drawer inserts to luxe timber ones, there's no denying how practical these are in turning a drawer from a disorganised junk drawer (we know we're not the only ones to have these!) into a neatly compartmentalised space.
You can use different types of inserts for every type of drawer around your home — from the kitchen to your bathroom and even your wardrobe! Check out the great range of drawer inserts on the Hafele Home website here.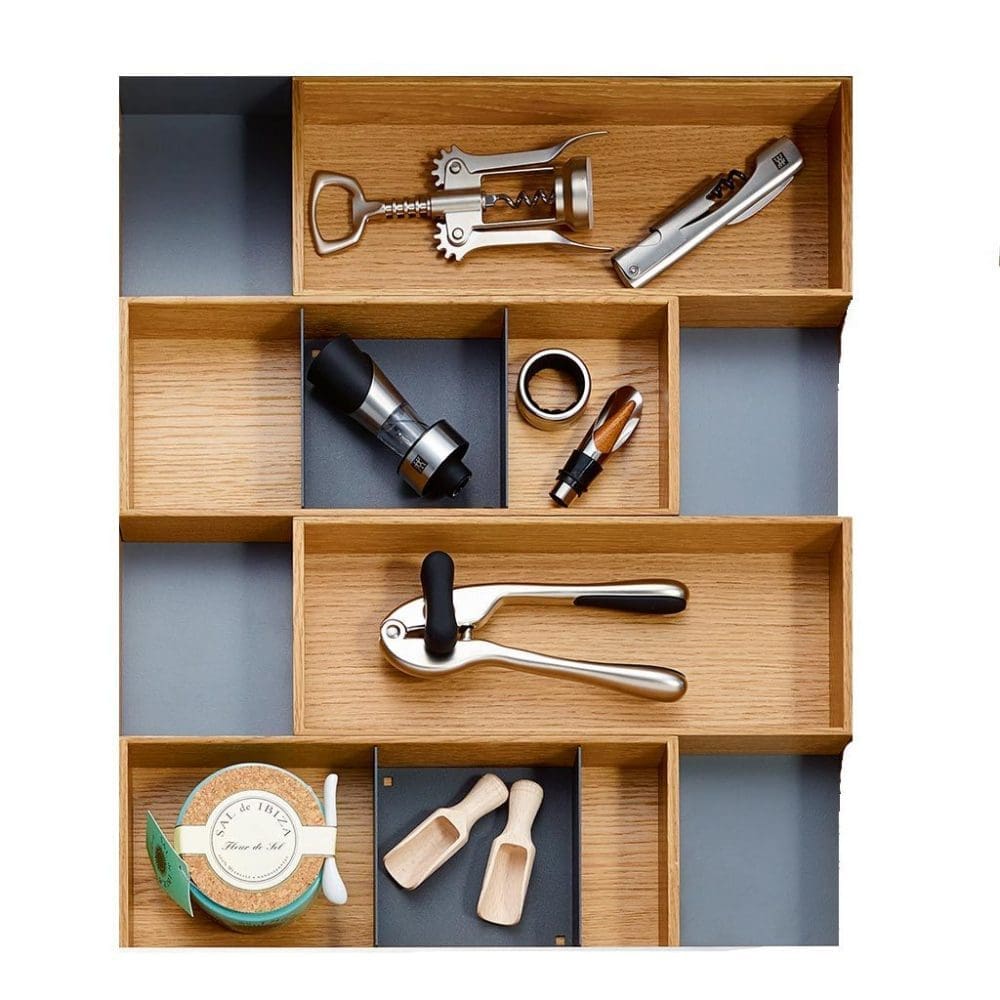 10. Wardrobe organisation
Saving the best until last, one zone of our home that will bring a smile to your face every day if organised well is your wardrobe. You don't need a huge walk-in wardrobe to get moments of joy from this space, in fact, all of these ideas can be used in a regular cupboard style wardrobe.
Clothes organisation
Hands down our favourite hack to make the most of your wardrobe is to incorporate pull outs. From pant racks to pull out wire baskets, these allow you to take full advantage of the depth of your wardrobe.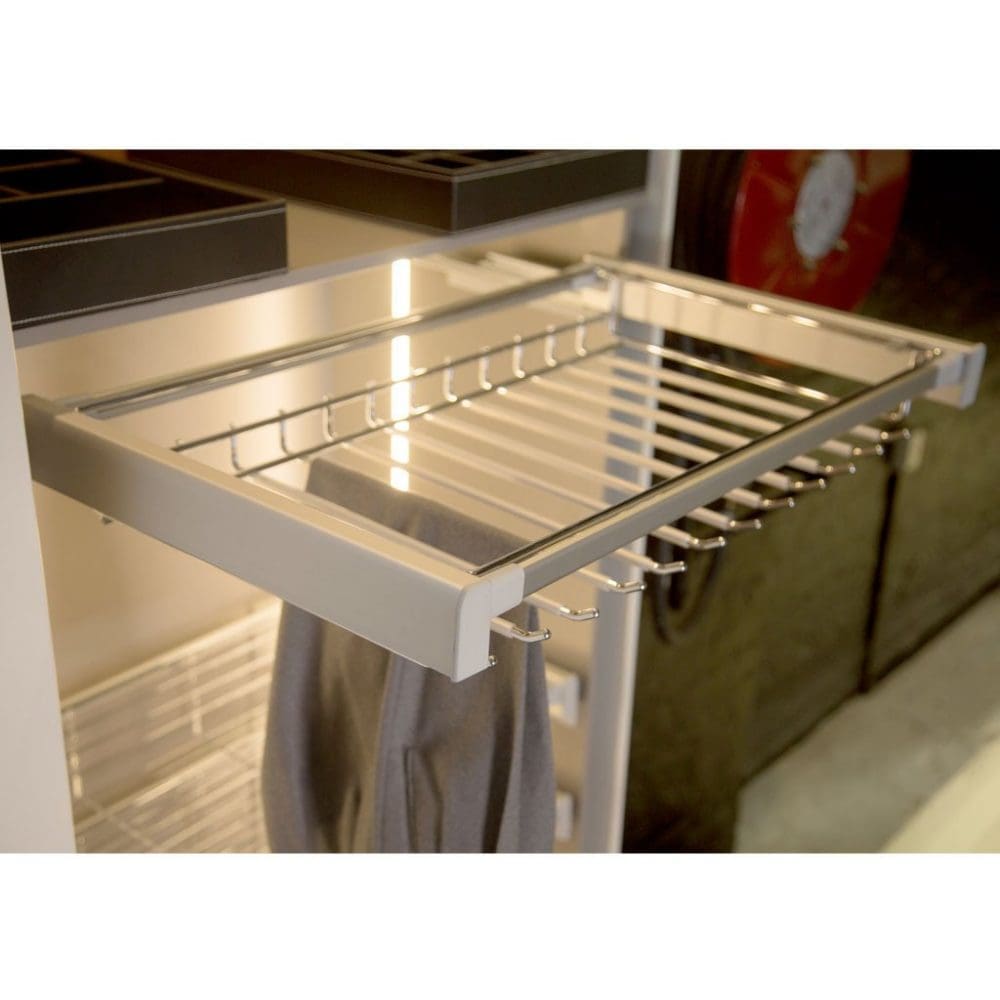 If the dimensions of your wardrobe don't allow for pull outs though, the next best thing is to utilise baskets as they act in a similar way to drawers. Use the Marie Kondo method of storing things upright so you can immediately glance and see what's stored inside.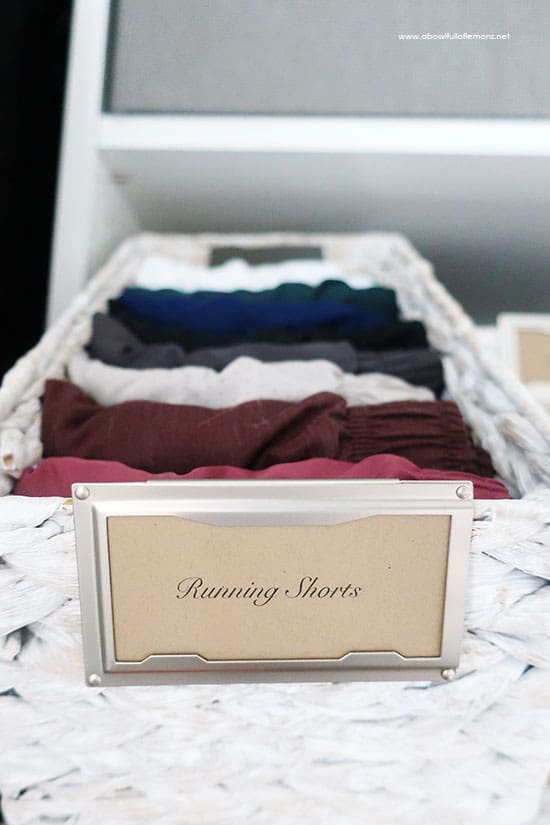 Shoe organisation
Is there ever a thing as too many shoes? If you believe not, chances are you could do with some clever ideas to organise your collection. From simple wall mounted brackets to luxe pull out shoe racks, and the always popular shoe boxes, there's certainly a lot of choice on the market now to keep your shoes organised.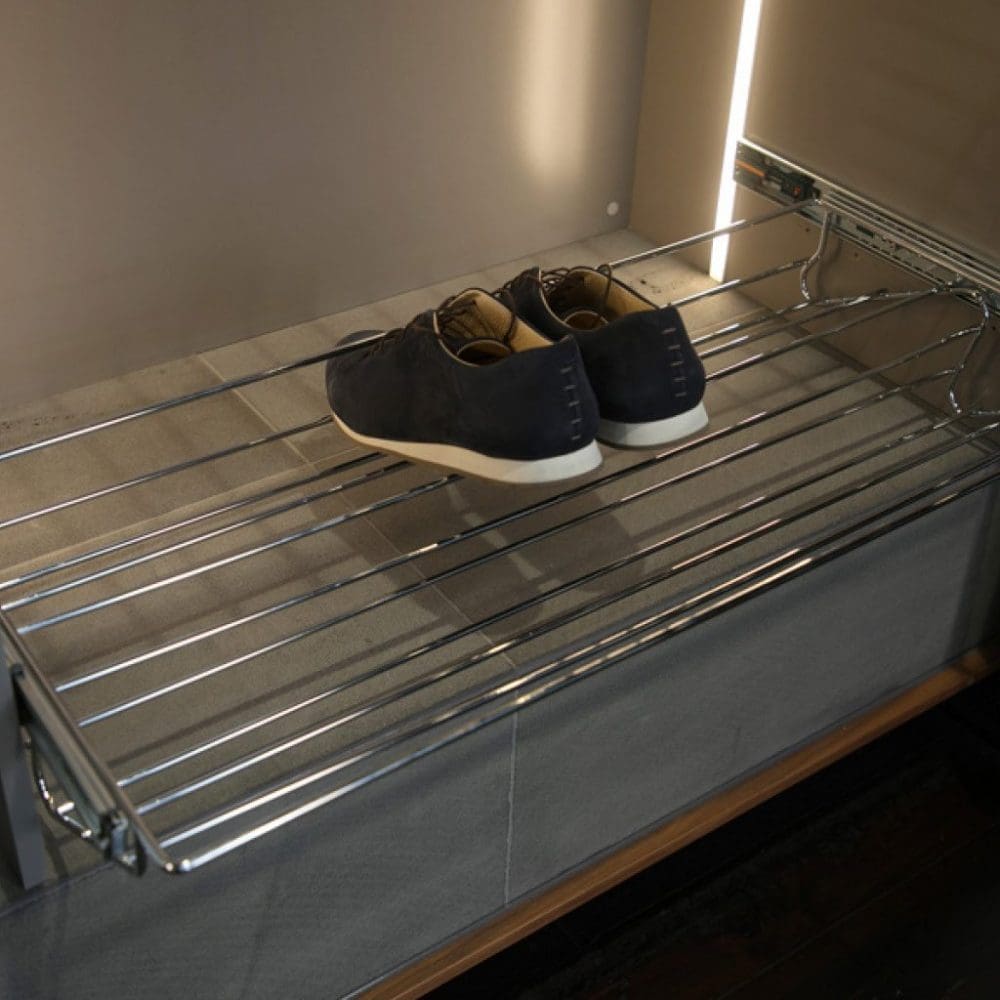 If you do opt for the shoe box idea, steal this trick of attaching a photo of the shoes to the face of the box.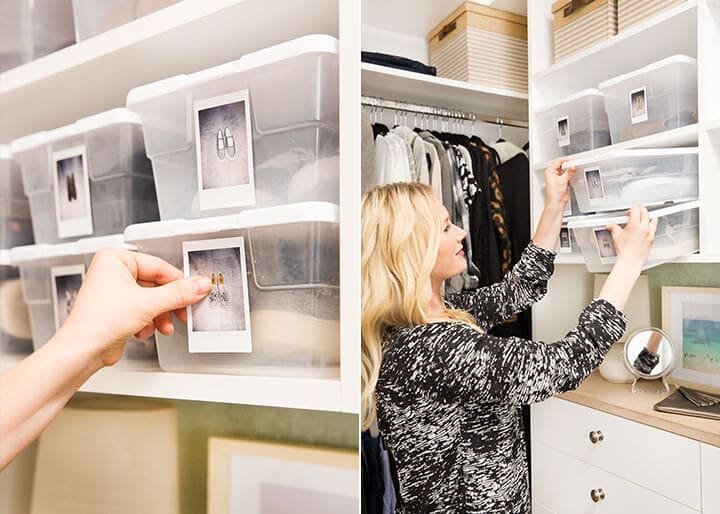 Accessory organisation
Whether it's belts, ties, scarfs or hair bands, there is a clever way to organise just about every accessory in your wardrobe.
You can find purpose-designed solutions, such as pull out belt racks or tie racks, or crafty hacks on sites like Pinterest. If you're lucky enough to have a spare drawer in your wardrobe, we love the luxe look of using drawer organisers to keep accessories organised just like the pic below.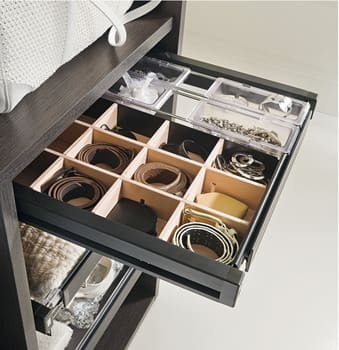 We hope you've been inspired to try some of these genius ways to organise your home and get moments of happiness when looking at your newfound order. Do you have any other home organisation hacks you can share? Drop them in the comments below.
Check out more home organising ideas