Supported by West Village
The other week we shared the inspiring new West Village development that will soon be coming to West End in Brisbane.
This project is unlike any we've seen — oozing with very latest global design features, luxurious outdoor spaces, and drool-worthy finishes throughout.
It's not surprising given the cred of the team behind the project — global award winner Hayball is the architectural force, ACME & Co lead the hospitality and commercial fit outs, and award-winning Sekisui House are the proud developers.
With so many aspects of the project we'd love to steal, it's hard to select just 10 of our fave features but here they are!
Statement entrance
These residences feature tranquil lobbies that are simply breathtaking! With soaring green landscapes, and an open-air terrace design, they create the ultimate wow-factor entrance while making the most of Brisbane's sub-tropical climate.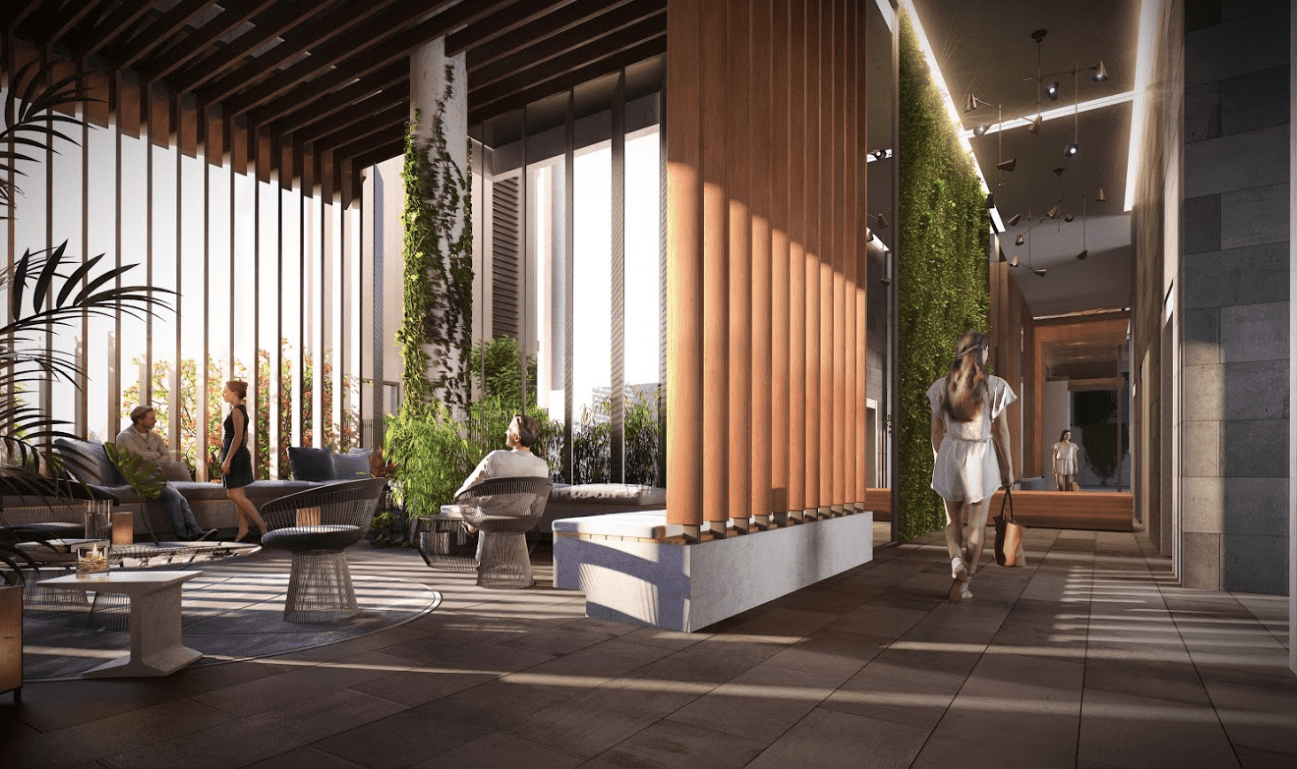 Mirrored kitchen splashbacks
In truth we want to steal every feature of these kitchens including full-height cupboards, striking shadowlines and beautiful cabinetry but the mirrored splashbacks are top of the list for the way they enhance the kitchen space.
Not just elegant and on-trend, mirrored splashbacks also have the advantage of no grout which makes cleaning a breeze.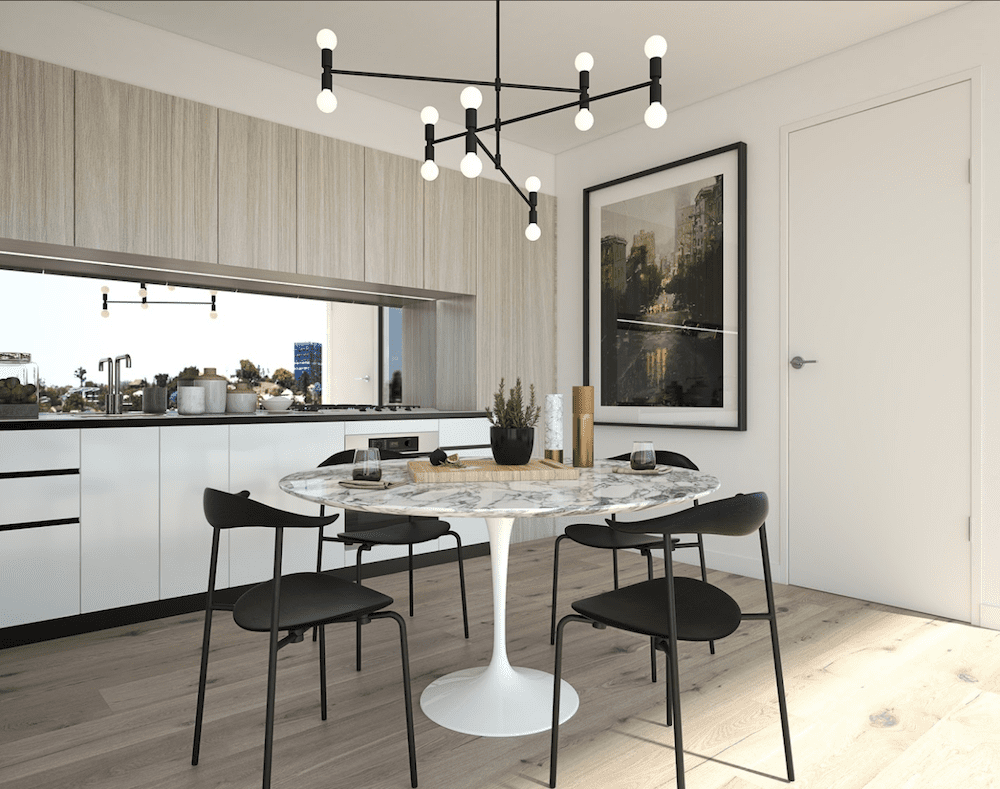 Timber grain finishes
Bring warmth and a high-end feel to your home by using similar timber grain cabinetry and flooring featured throughout the new West Village residences. We give big ticks to the grey-brown colour palette that creates a neutral base that would work well with a range of interior styles.
Storage for days
One of the biggest and most understated luxuries we can have in the home is storage and there are loads of clever storage ideas to steal from West Village.
Oversized cabinets behind mirrored doors in the bathroom reconstituted stone shelves are a refreshing change from heavy vanity units typically seen in bathrooms.
Open bookcases behind nib walls, full height cabinets in the kitchen and deep drawers are some of the other clever storage solutions you can pinch for your next project.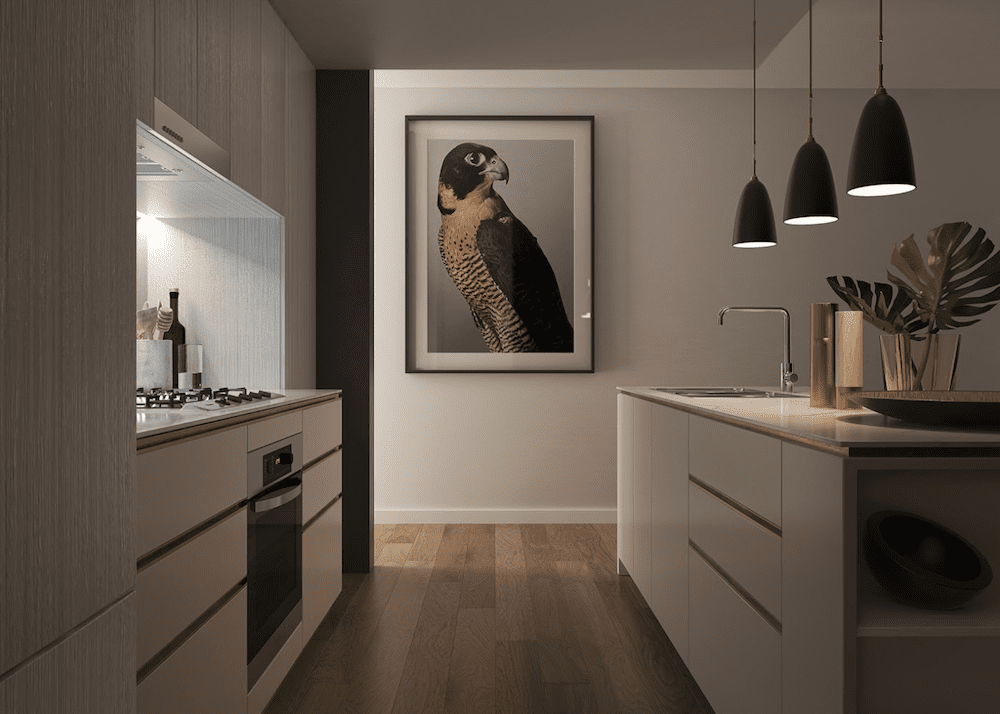 Deep entertainer terraces
It's a rare treat to get house-like proportions in an apartment but that's one of the perks of the residences in West Village, including deep entertainer terraces that flow from the kitchen and dining areas. Even the one-bedroom apartments have 12m2 balconies!
Turn the terrace into an extra living space with an outdoor dining setting or informal lounge and finish with layers of planting in pots.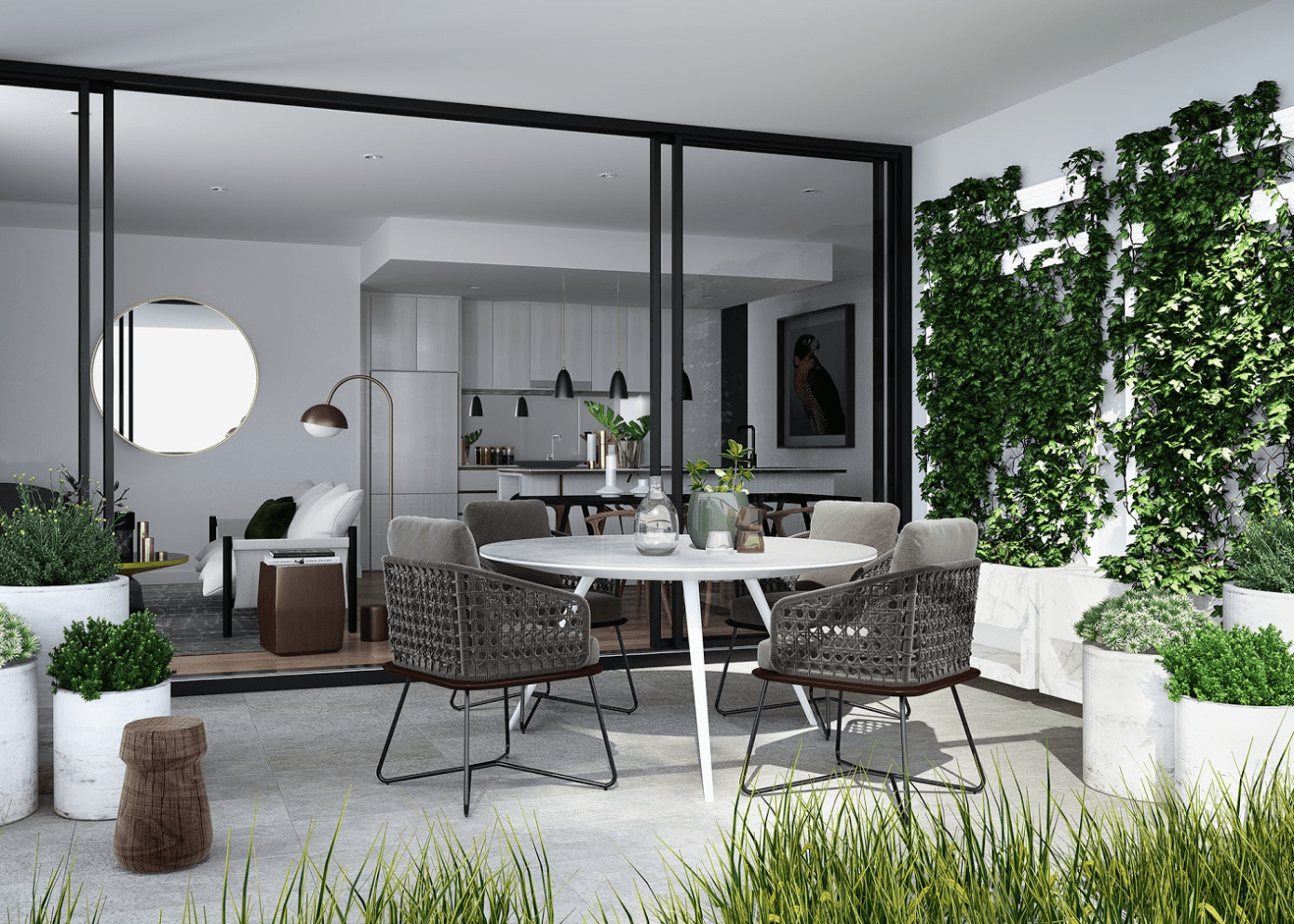 Ultra sleek bathrooms
With mirrored overhead cupboards, in-wall cistern toilet, and elegant tiles carried from the floor up the feature walls, these bathrooms get the balance between sleek and warm just right. Ok, that's three design features in one but seriously, what better space to start or end the day!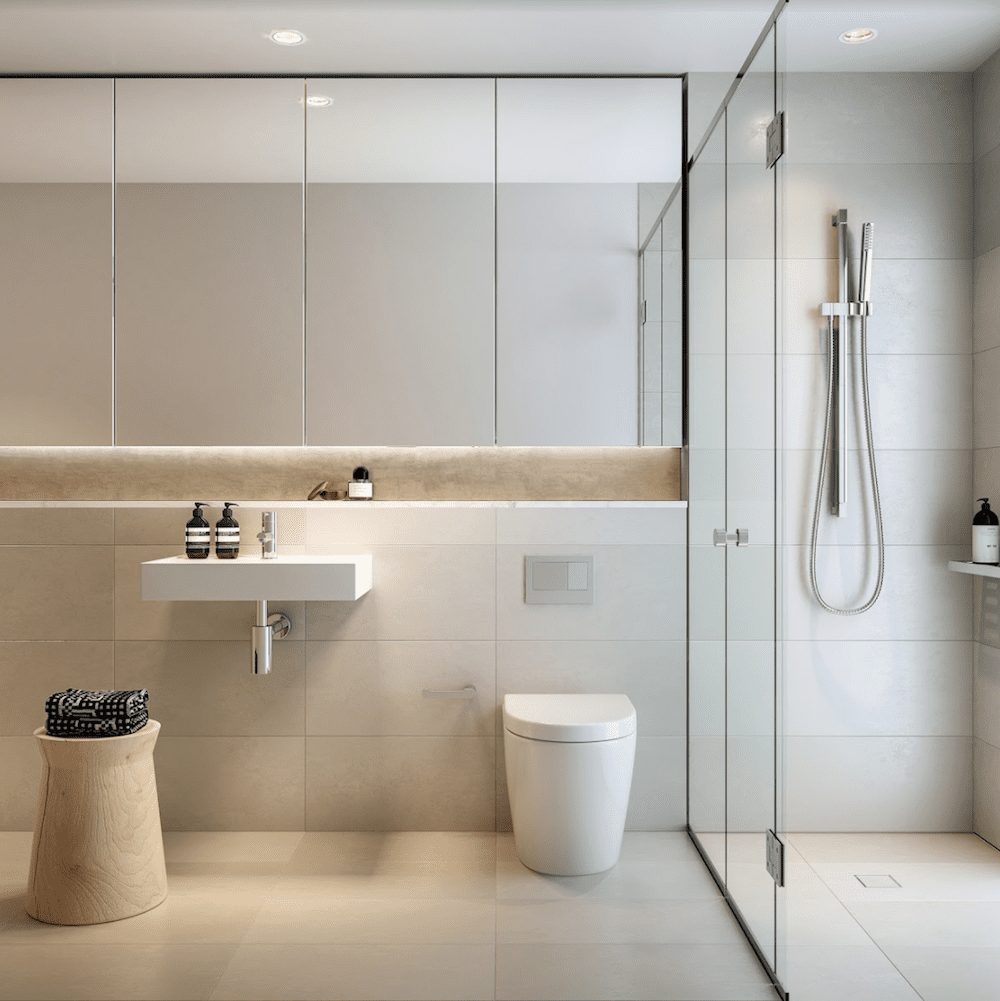 Stacking doors
Open the indoors to the out with a wall of floor-to-ceiling glass stacking doors.
We are obsessed with this design feature that's generally only seen in commercial spaces. Oh how our hearts beat for a fully collapsible glass wall! Coupled with extra-high ceilings, the sense of space this creates is breathtaking!

Luxuriously serene pool
Reserved for residents and guests are various recreation and wellness zones including a podium pool that dreams are made of!
If you're looking for a serious luxury feature to steal for your home, this would have to be it! Set amongst lushly landscaped gardens high above, this pool blurs the lines between indoors and out.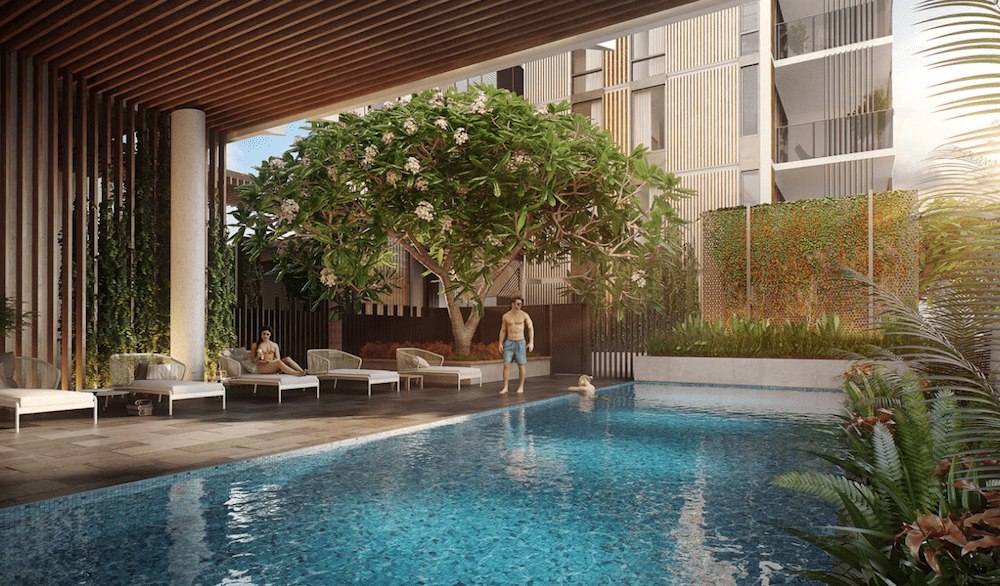 Outdoor theatre
Another feature that blends indoor-outdoor living is the moonlight cinema. Why not enjoy airy alfresco living and consider stealing some of these features for your outdoor lounge room?!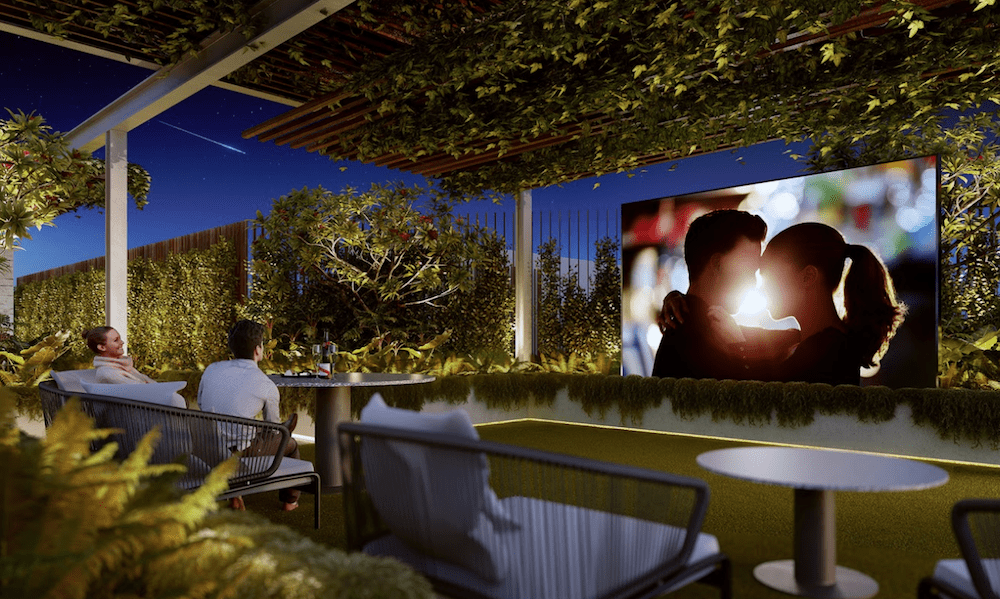 Fire pit
Finish your outdoor lounge room off in style with a fire pit. This last luxe feature to make our top 10 list will create the perfect ambience to your outdoor space — giving warmth and flickering light.
We say all the time that inspiration for the home (or next renovation or build) can be found all around us and we're certainly getting a big dose of inspiration from the new West Village project.
If you live in Brisbane, you could even be one of the lucky few to call this new neighbourhood home! More details about West Village can be found on their website here.
You can also book in for an exclusive VIP tour of the display suite at 97 Boundary St, West End here.