VJ panel living room walls are seriously hot and a trend we just never seem to tire of — and it's pretty obvious to see why! This classic material brings style, interest and texture to a room and is quite an affordable design option (that many people choose to DIY).
VJ, or 'vertical joints' (also known as tongue and groove) are a wood panel feature that looks amazing in any room of the home — especially the living room.
This inspiration gallery is thanks to a Style Curator reader request. So come take a scroll through our fave VJ panel living room styles.
Related article: Dining room inspiration: 10 totally different (but gorgeous) dining room styles
Related article: Do you know what your interior style is? Take the quiz!
1. Classic white
This subtle use of VJ wall panelling creates a simple, understated look. It's the perfect style for this relaxed living space and add interest without taking away from the rest of the room.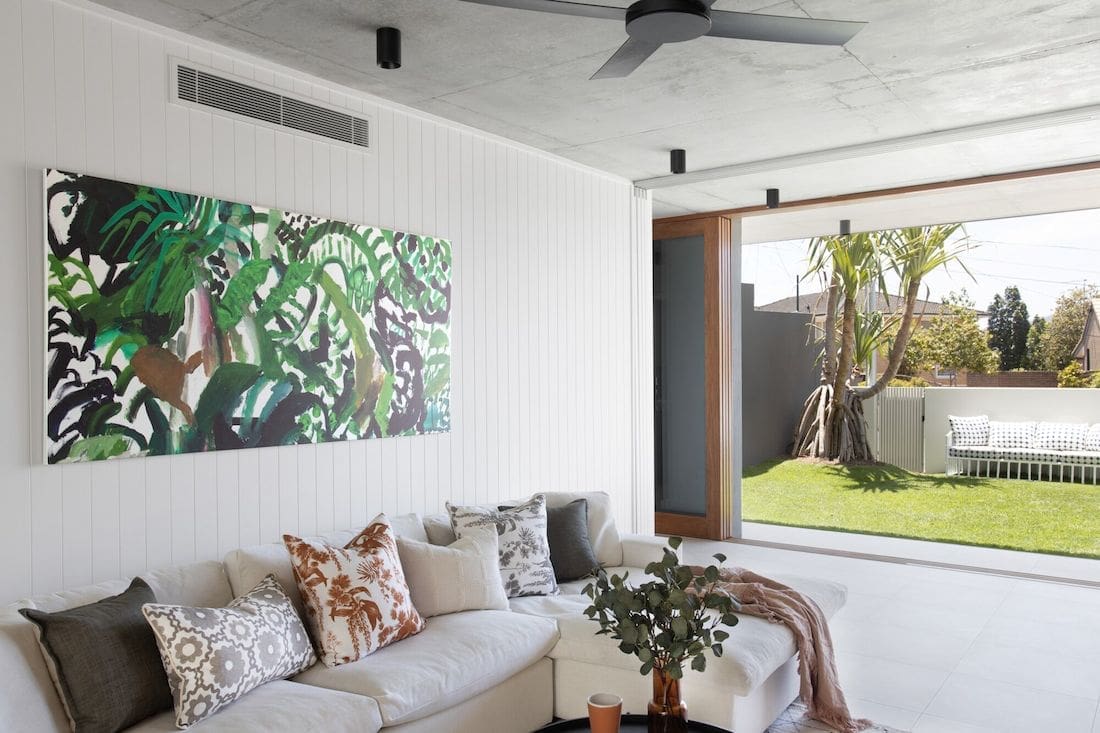 2. Bold joinery
Incorporating VJ panelling into your joinery adds an extra element of elegance and sophistication. We love how this room has gone one step further with bold black paint, creating a real statement in the living room.
3. Mix of textures
This home we recently shared on the blog uses a mixture of textures and features. From that fish tank, simple white VJ panelling and paired with a timber feature… it sounds busy yet works to perfection.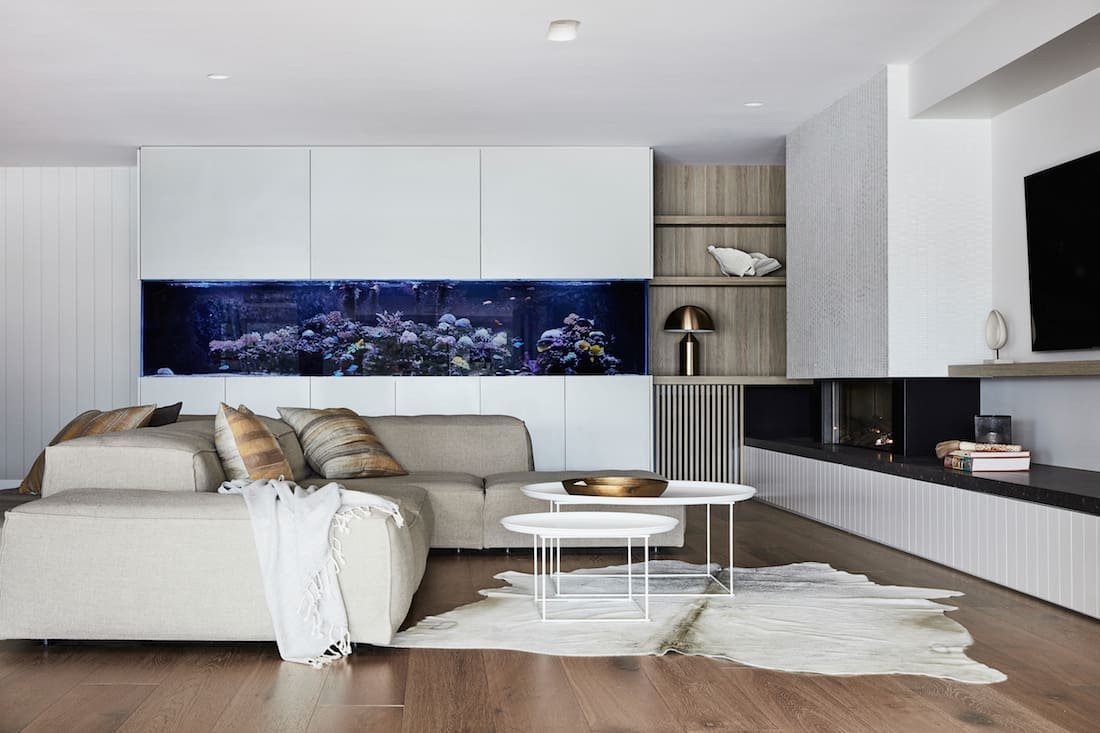 4. Wide and simple
It's white. It's simple. But it is anything but plain. Pairing beautifully with the natural timber flooring, this wide and simple VJ panelling creates a perfect, classic look.
5. Go dark
One of our fave Instagrammers, @diyshelley has done it again! The dark VJ panel living room wall looks amazing against her soft furnishings and pops of greenery. She uses this feature across many areas of her home and we LOVE it!
6. Emphasise those architectural details
This one is for the true VJ panel lover. Wrapping around all the corners and doorways — and even using it on the ceiling — this design doesn't hold back!
7. Boho luxe
Just WOW… right?! This incredible, bold feature wall creates a beautiful boho luxe vibe in this living room. By painting her VJ panel wall Dulux Frontier, Bonnie from Three Birds Renovations shows us how to go big or go home!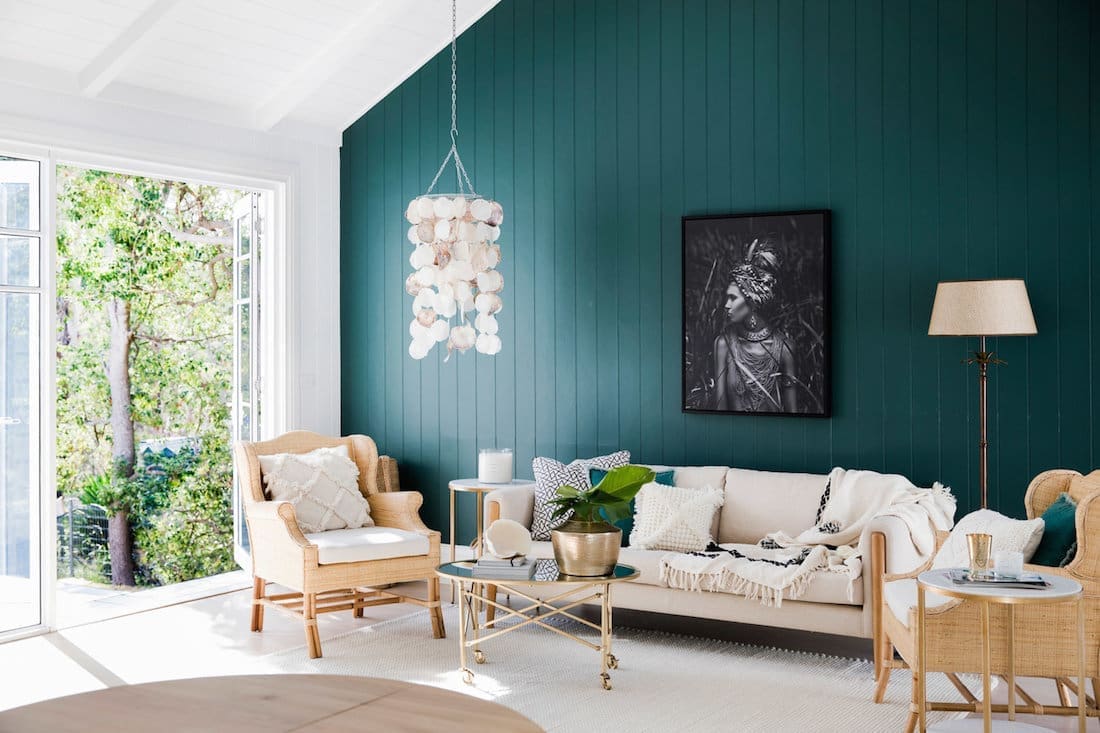 8. Classic style
If you don't want to go bold, but a plain white VJ panel living room wall just doesn't quite float your boat, perhaps this inspo pic with floating shelves in front could be the answer?
9. Half-height feature
A great way to make a real statement is by using a half-height VJ feature. These subtle green panels are a dreamy addition to this coastal-meets-country living room.
The half-wall panelling feature can be seen throughout this home we featured earlier on the blog.
10. Take it to the top
If you're lucky enough to have extra high ceiling heights in areas of your home, we say emphasise these with VJ panels! Just take a look at the statement it makes in this elegant living room.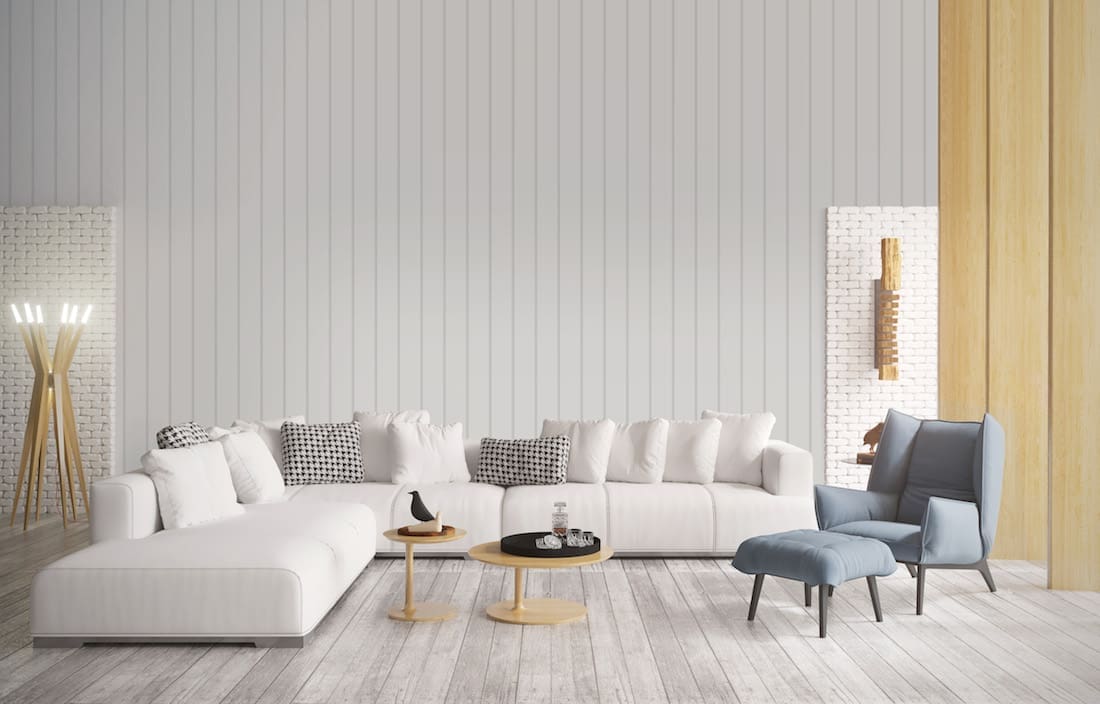 Which was your fave VJ panel living room? Has it inspired you to add a feature wall at your place? Tell us in the comment section below!
This article was inspired by a reader's request. If you have an article you'd like to see on Style Curator, drop us an email at hello@stylecurator.com.au or tell us in the comment section.