The other week we shared the bathroom trends to let go of, those that have run their course and will soon be hitting their used by date. But what are the new design statements to make in bathrooms?
Top Australian Interior Designer Neale Whitaker shared his insights at the official showroom launch of Tile Republic in Canberra on Friday.
Neale is best known as the stylish English judge on 'The Block' but his knowledge and expertise come courtesy of his successful publishing career of over a decade at the helm of Aussie style bibles Belle and Vogue Living. In recent years, he's also been in the design driving seat on the hugely successful 'Love It Or List It Australia' where he is lead Interior Designer and co-host.
These are his bathroom trends to embrace!
Related article: How to decorate your bathroom: Bathroom styling tips and tricks
Related article: A colourful bathroom that's full of fun, texture and terrazzo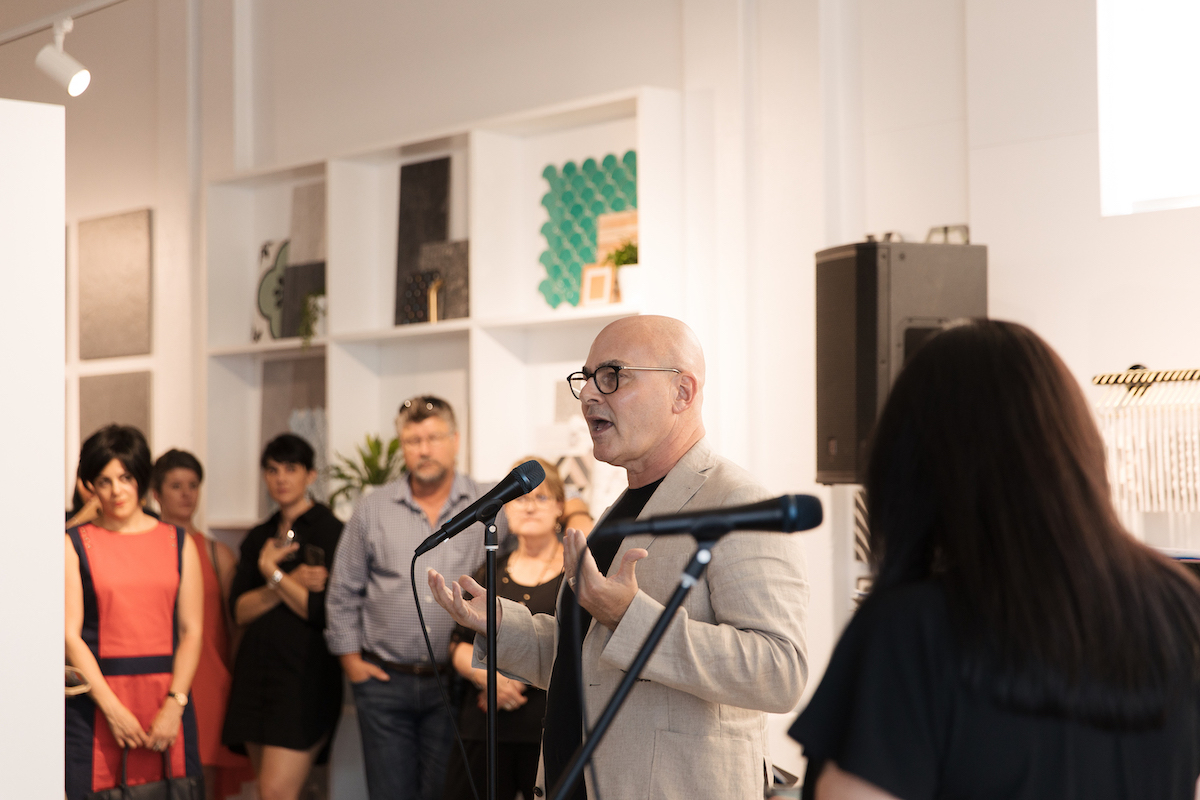 1. Rule breaking
Neale's immediate response to the biggest bathroom trend right now was 'Individuality'.
"People are starting to have fun and not necessarily conforming to the rule book any more. They're mixing it up and that extends to the bathroom," says Neale.
"I'm loving the fact that people are taking more risks with interior design and interior decoration than we've seen for a very, very long time."
Mixing up materials is one of the ways people are breaking the rules and putting their own stamp on bathrooms — concrete or marble, combined with coloured or ceramic tiles are just some of the ways you can do this according to Neale.
"Basically, people are just having a lot more fun with design again."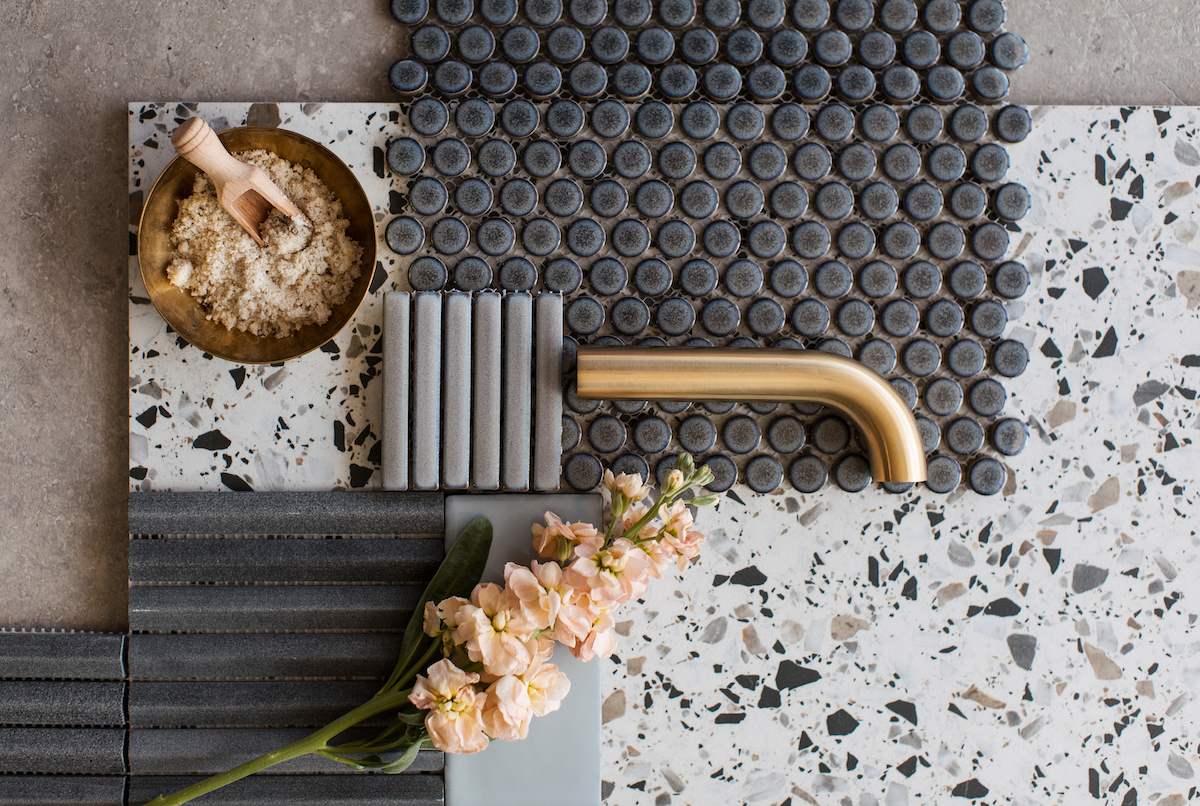 2. A new take on the feature wall
"I'm also seeing a trend towards — and I hate to use the phrase 'feature wall' because it has negative connotations — but yeah, feature walls," says Neale.
"Big sheets, large tiles like those in the back of the showroom [he indicates to a wall in the Tile Republic showroom where there are 2.75 metre tiles on display] are being used as one whole wall in the bathroom and this is a trend in itself."
Not only do large format tiles like these make a strong design statement by creating a seamless finish, they also have the added benefit of minimal grout resulting in less maintenance.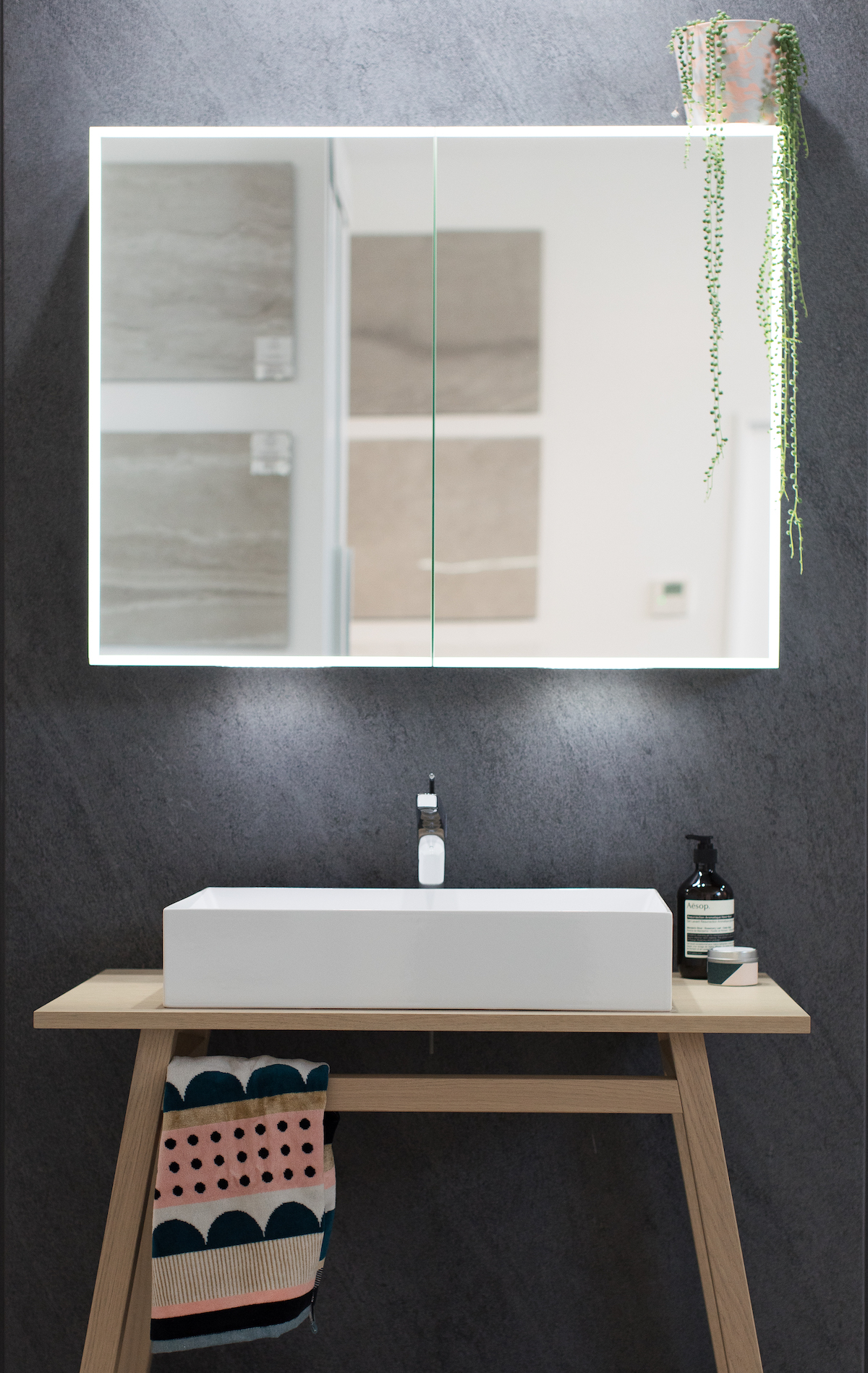 3. Focal basin
"I love statement sinks, statement bowls," says Neale. "People are playing around with different shapes and different looks."
A personal favourite of Neale's is a deep forest green ceramic basin by Parisi that he spotted in the showroom, "It's the most beautiful sink and green, as most of you know, is a very prominent colour in bathrooms."
He suggests placing a focal basin on a floating vanity, "I'm a huge fan of floating vanities that allow you to have baskets underneath."
Alternatively, he says wall-mounted basins (those without a vanity and simply have a basin attached to the wall) are also gaining popularity.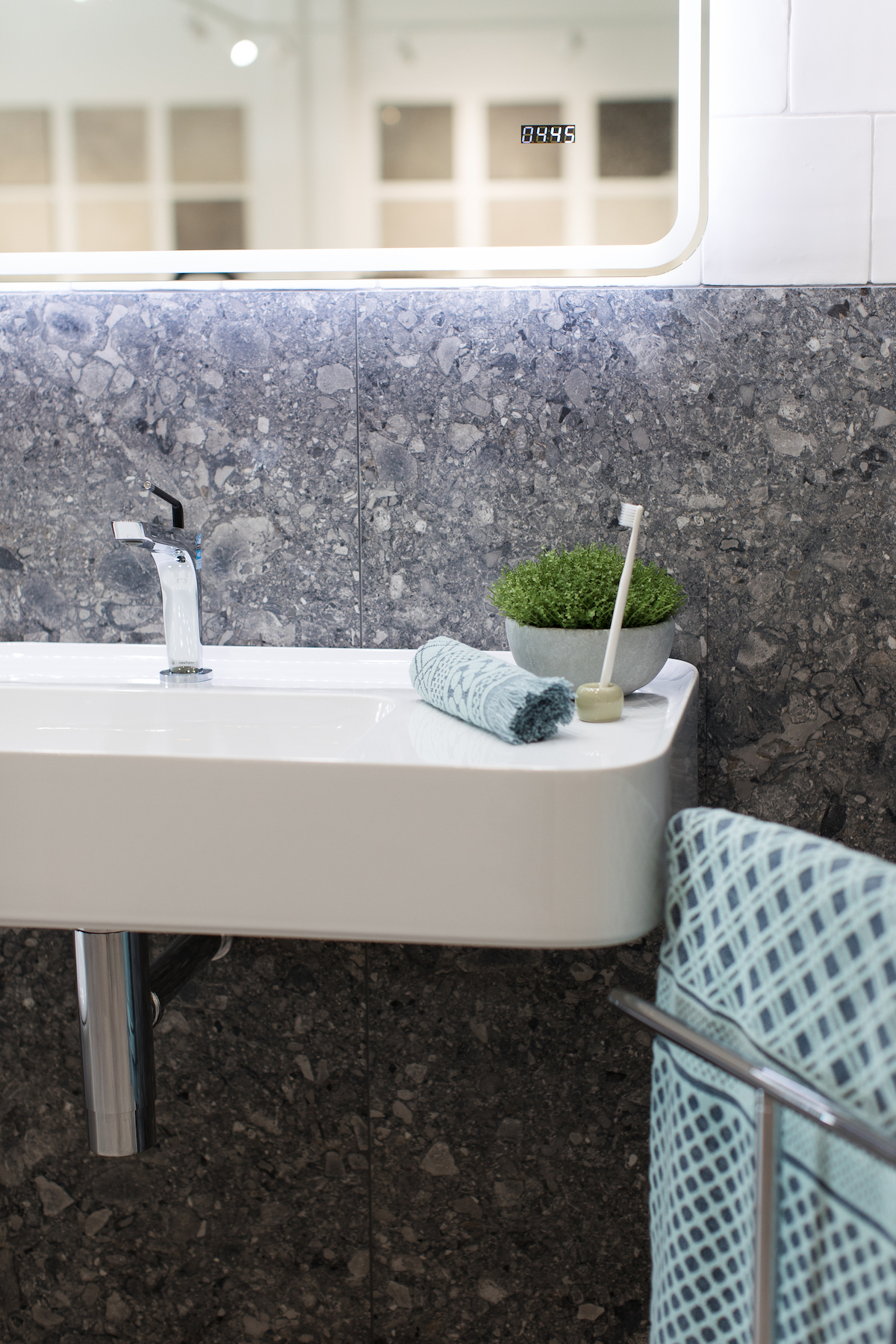 4. Colour and pattern
"I'm also starting to see a lot more colour coming through," says Neale.
"If you're looking at being a bit more adventurous and a bit more decorative in the bathroom, then my best advice is 'a little goes a long way'.
"We're seeing some amazing decorative tiles at the moment. Like this wall back here [points to a range of black and white encaustic tiles], are some of my favourite tiles at the moment.
"But just be careful of the impact they can create. If you want to make a feature wall out of coloured tiles, then use them in conjunction with something that's neutral to temper it."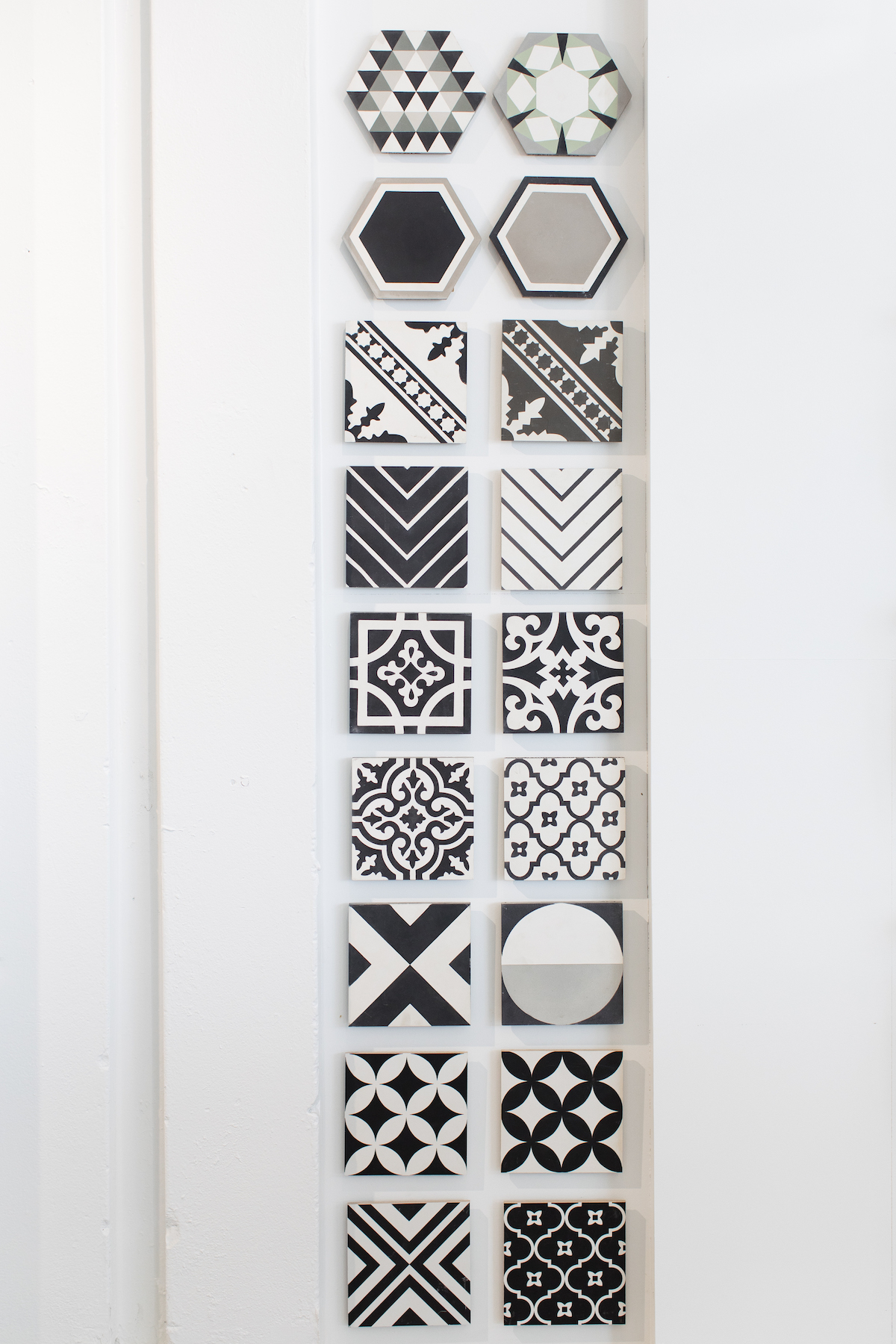 5. Tapware finishes
Neale says another way you can create a bathroom with individuality is by exploring different tapware.
"I do love the brushed metal options that are around at the moment — I particularly love gunmetal but also brushed copper and brushed brass. I think they're absolutely beautiful.
"But I'm still a big fan of black tapware. When black tapware first came in, people were really nervous about it. 'It's a bit strong for me', 'It will probably be out of fashion within the next few years.' No, it hasn't. It's been with us for a really long time now. It's a strong option that isn't going anywhere anytime soon. And, black tapware goes beautifully with coloured tiles."
After sharing his insights, Neale offered this sage advice. "Trends can be difficult things. I'm not the biggest fan of trends for trends sake. In the home, it's really important that we use the things we love and bring joy. If you love the trend, if the colours that are on trend are the ones you love, great. If not, then ignore them. Go with what you love."
If you're planning a bathroom renovation, check out the Tile Republic website for loads of drool-worthy tiles and bathware, or pop into their showroom at 121 Newcastle Street, Fyshwick, Canberra. You can also connect with Tile Republic on Instagram for plenty of bathroom inspiration.
Photography by Thorson Photography