An often-forgotten room in the home when it comes to styling is our bathroom – yet it's generally the first room we go to when we wake up and the last room we're in before going to bed.
A little styling effort goes a long way in the bathroom and here are our top tips on how to decorate your bathroom.
1. Create an arrangement on your vanity
With a few easy tricks, you can turn your hand soap and tooth brushes into a stylish arrangement.
Firstly, add a tray! Using a base of a tray or trivet will instantly make items feel as though they belong.
Add an odd number of items on top. You've probably heard us share this tip before but it's one of our favourite ways to make an arrangement feel balanced. Placing 3, 5, 7 or any other odd number of items on a tray always looks better to the eye.
Incorporate some natural elements, such as a bristle brush, piece of coral, small plant or flowers, and play with the height and scale of items i.e. using some taller pieces with shorter.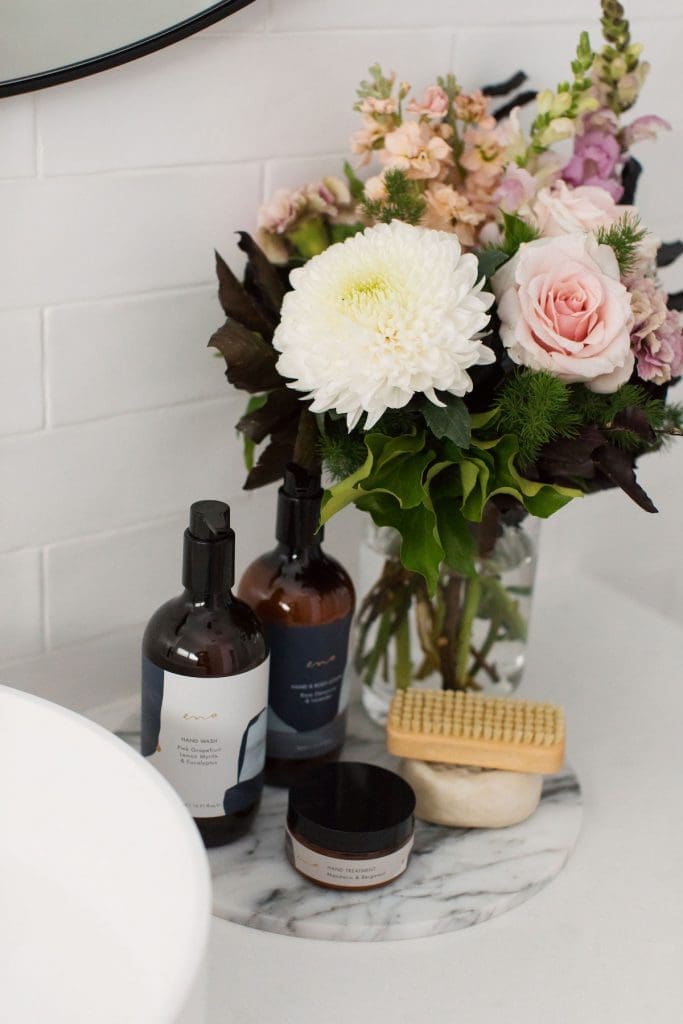 2. Consider styling a bath tray
If you have a bathtub, why not style a bath tray? Not only does it look fab, it could help you get into the habit of regular baths – such a great self-care ritual.
This bath tray from Pillow Talk is one of our favourites or this one from Catch is also a great buy. Alternatively, you might like to make your own like the one we've used below. Follow our easy DIY bath tray tutorial here.
It's up to you what items you place on top – perhaps you want to keep it minimal with just an indoor plant or candle? Or perhaps you'd like to set it up ready for your next bath with everything from bath salts, body brushes, small towel and even a good book?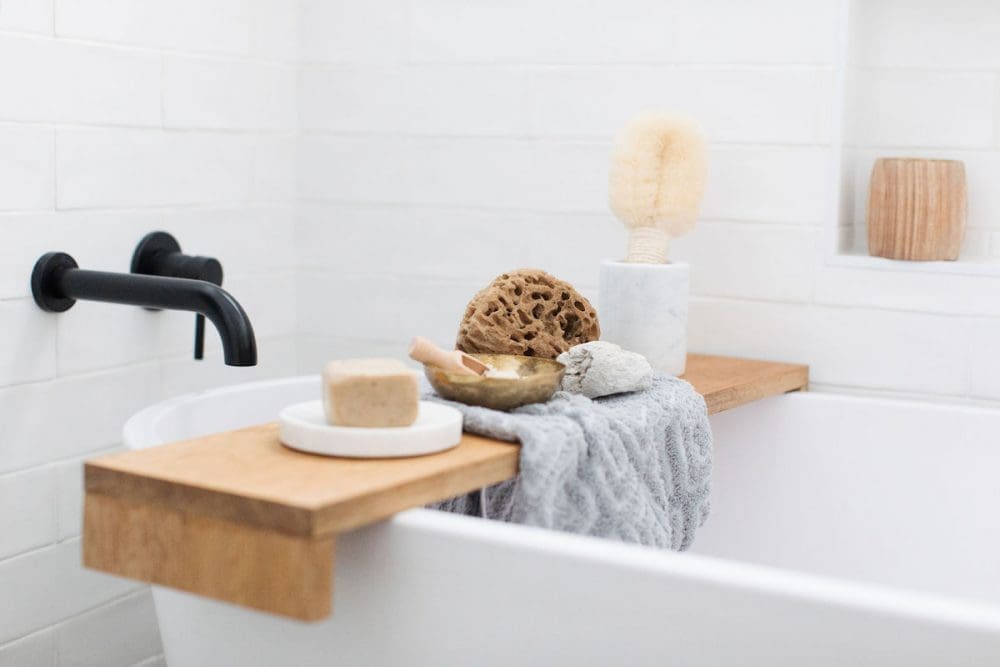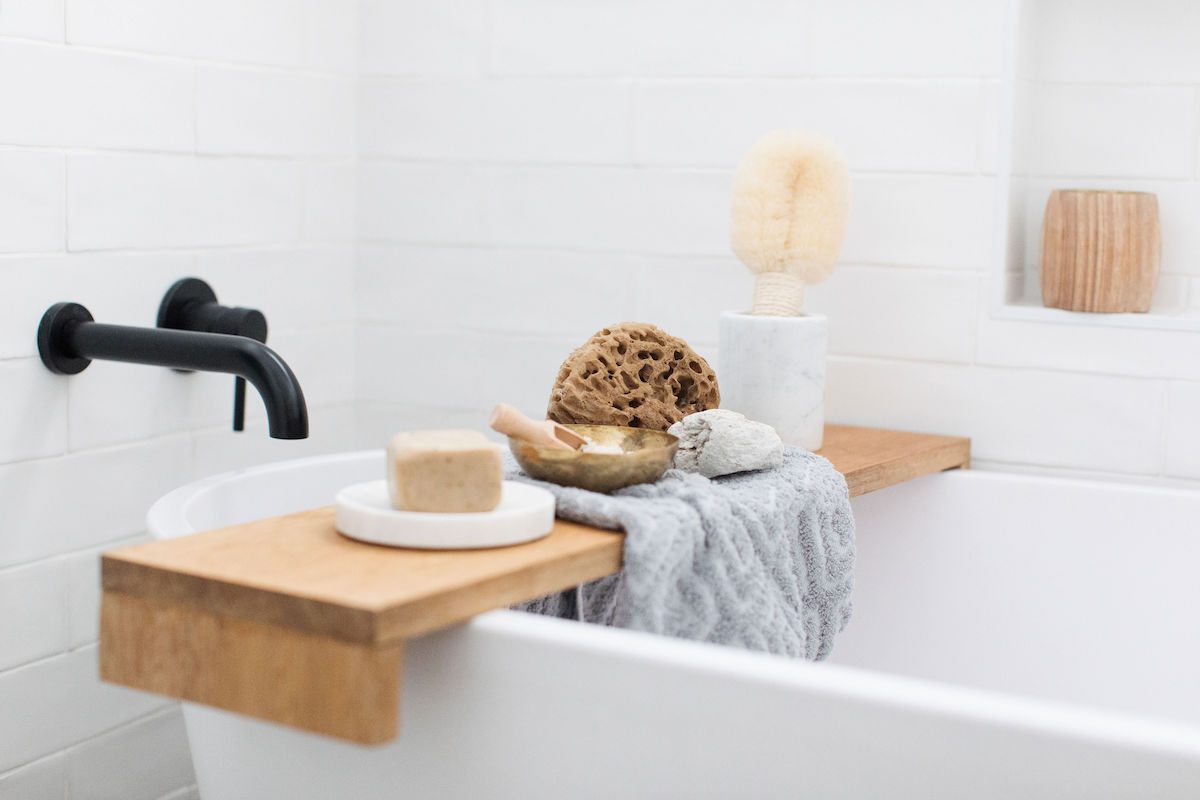 3. Style a stool
If you don't have a bath or would prefer not to use a bath tray, perhaps styling a small stool is another idea to try?
From the iconic Mark Tuckey eggcup stool to a bargain find from your local thrift shop, there are plenty of places you could pick up a stylish stool in your price range.
Candles, crystals, small towels, body products or brushes are just some of the items you could arrange on top.
4. Keep niche styling minimal
Did you catch our bathroom trends to let go of? Emphasising wall niches was top of the list!
There are ways we can make our shampoo and conditioner look more stylish though – perhaps transferring these into non-branded, neutral bottles or just adding one small plant for that pop of life?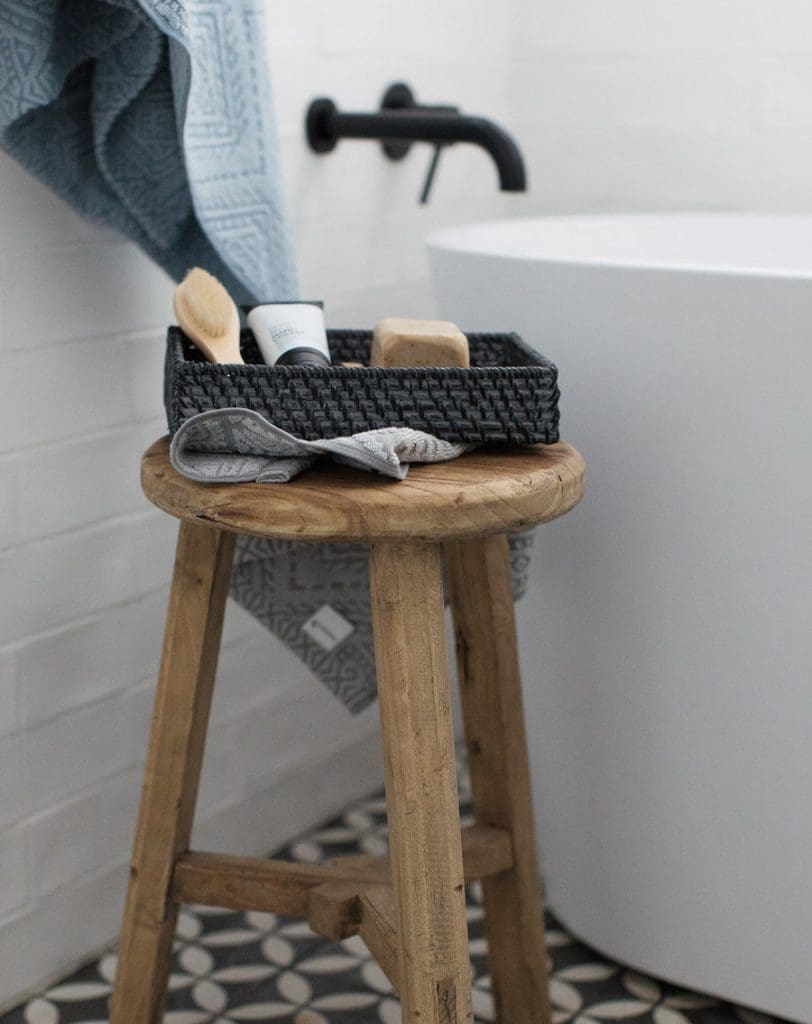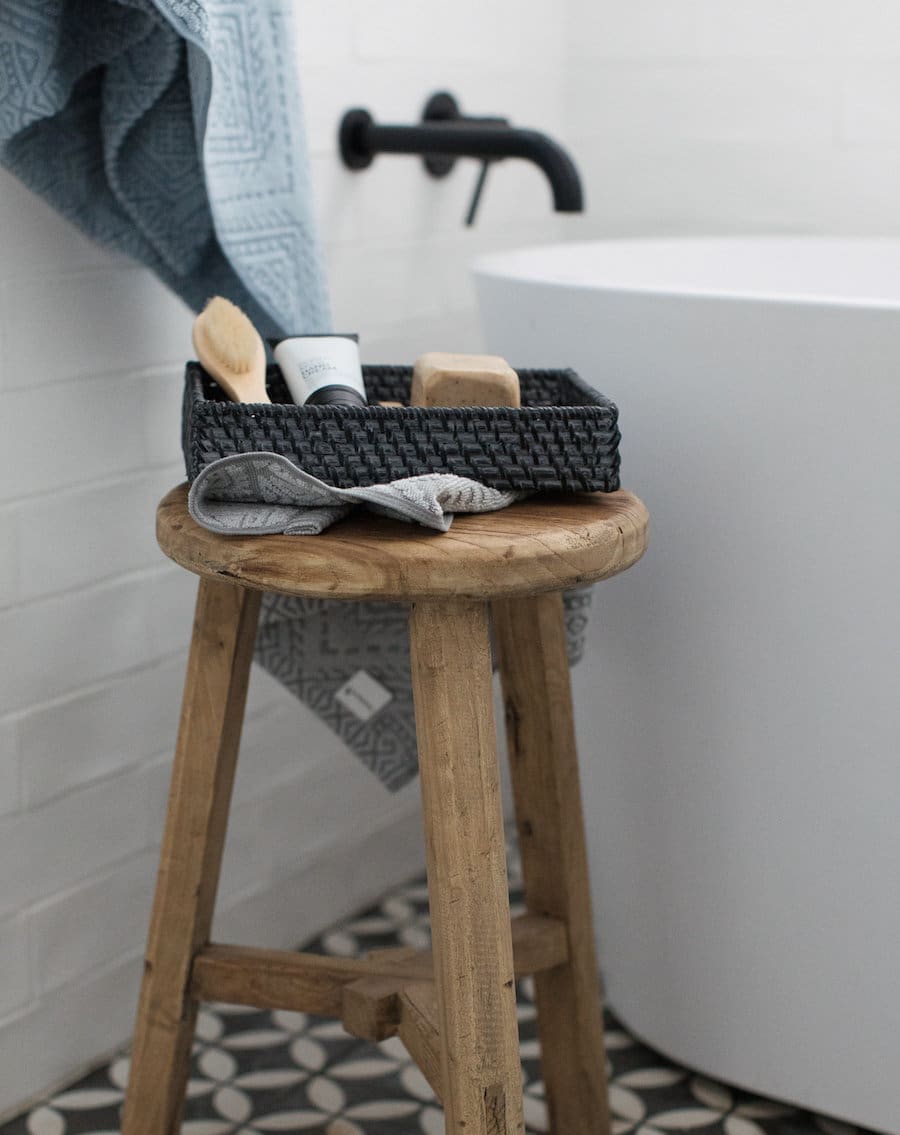 5. Use towels like art
Add a big splash of colour and interest to your bathroom with towels – treat them like art in your bathroom.
Stylish towels are easier to find than ever with retailers such as Adairs and Freedom stocking a great range of affordable yet luxe towels, or boutique online stores like L&M Home where you can find locally designed towels like the sophisticated Apollo towels we used below.
6. Use a bath mat
Soften the appearance of hard tiled floors with a bath mat. We love those that have a bit of texture or bamboo mats that add warmth.
You can also find round bath mats or those with a quote, like the popular 'Nudie Rudie' mat, for a bit of fun.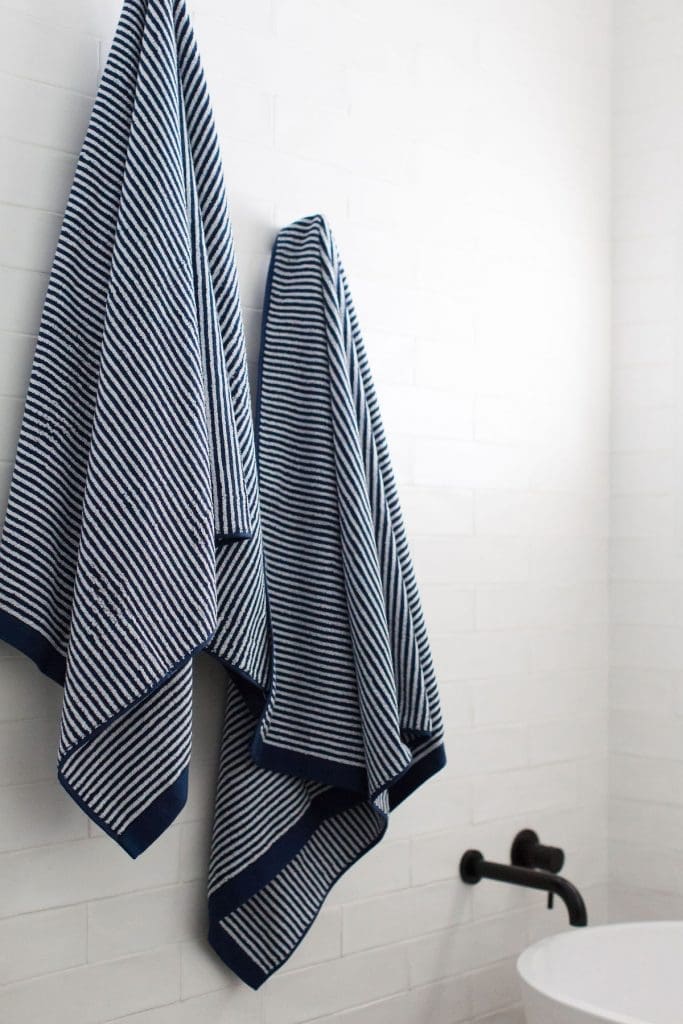 7. Add indoor plants
If you haven't already, look for a way you can incorporate some indoor plants into your bathroom.
A large plant next to the shower, hanging planter by the window or small indoor plant on the vanity are some of our favourite places to add plants.
Have you got any other bathroom styling tips to share? We'd love to know how you decorate your bathroom!
Photography by Thorson Photography