With her pastel colours painting florals and fun, it's no wonder Amy Gibbs is the queen of collaborations. Amy's gorgeous paintings have featured on clothing, gift wrap and tech accessories, among other things.
Her joyful designs make us feel happy looking at them. And we just know this is an artist you're going love as much as we do.
Related article: The fun, quirky and rainbow abstract art from Anna Price Art
Related article: Fun loving, summer inspired art from Catherine Hayler Art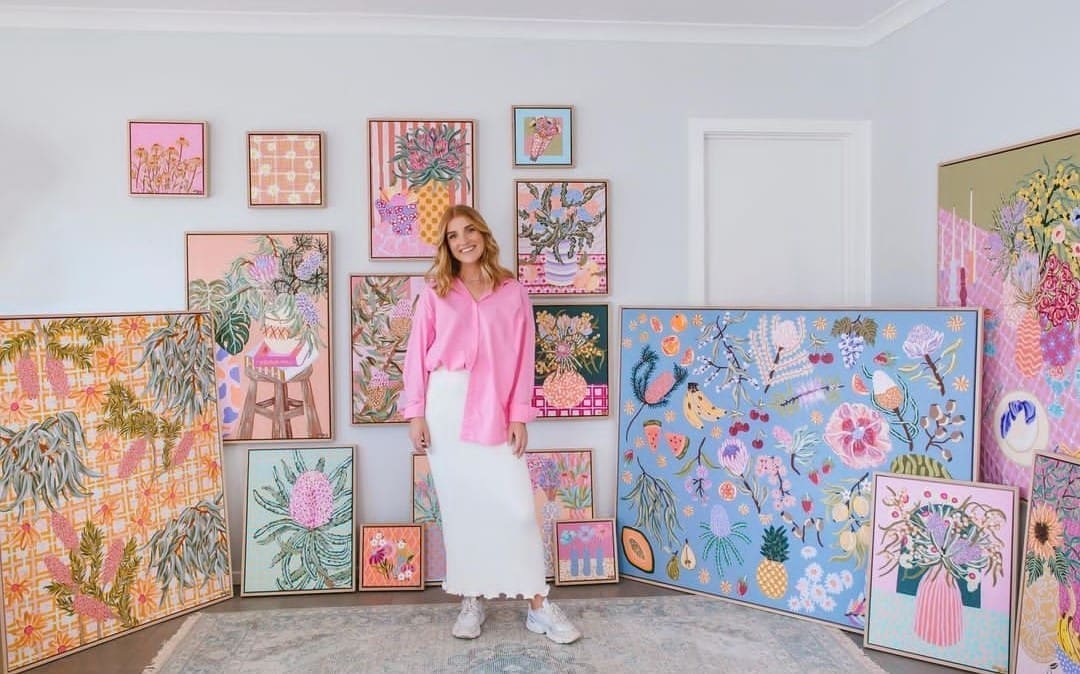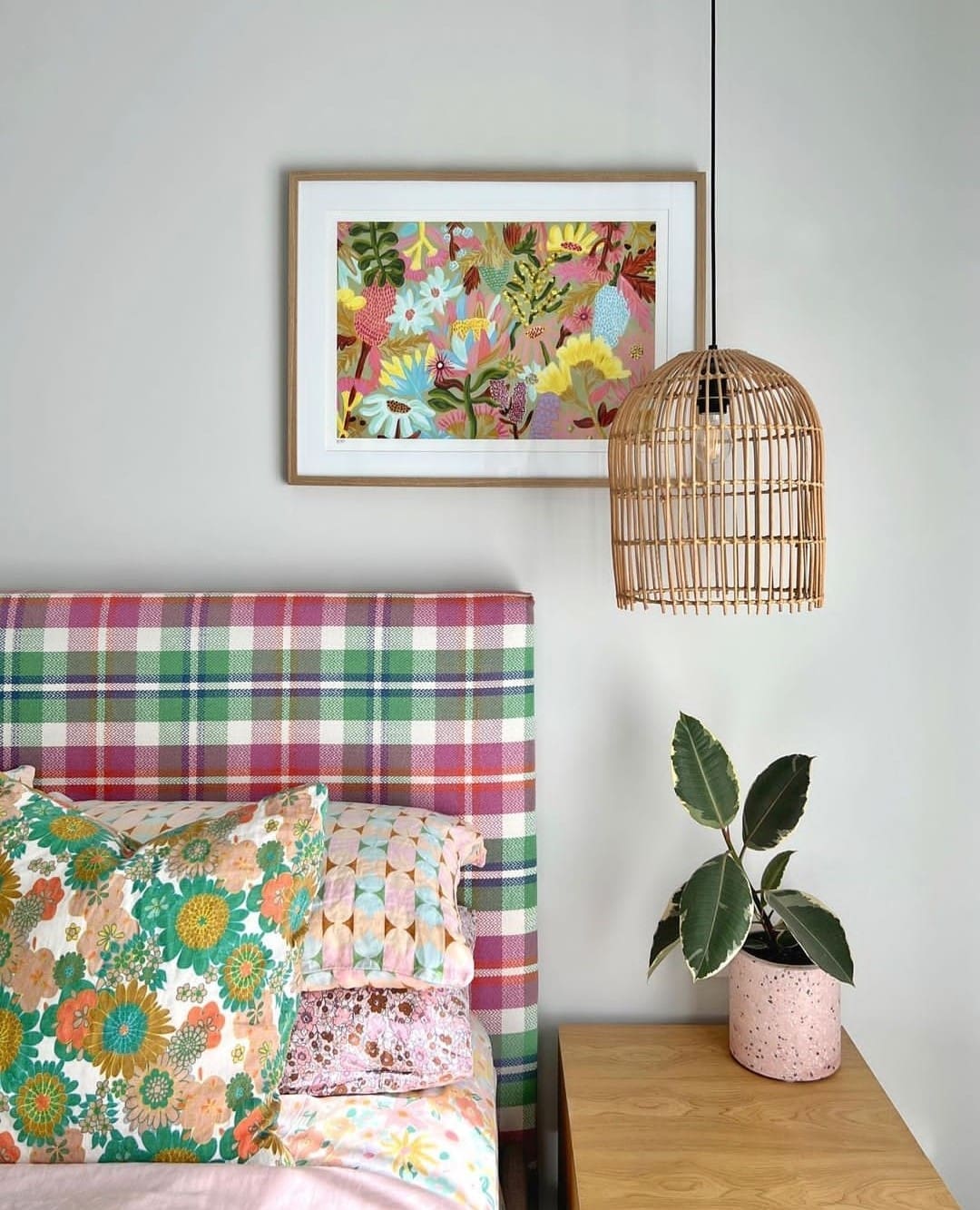 Hailing from Victoria, Amy wears many hats. Mum (and a dog Mum!), artist and designer, just to name a few!
"I'm a 26 year old artist and designer, living in the little seaside town Point Lonsdale. I live with my beautiful daughter Tallulah, my ever supportive husband Jake and our 2 four-legged loves Alfie and Bowie. Life is full to the brim with love, joy and organised chaos. But I wouldn't have it any other way!" says Amy with a smile.
"When I'm not behind a canvas, I love the beach, playing netball, coffee, margaritas, DIYs and home styling. But being a Mum is my greatest joy. Tallulah is such a happy, smily, funny little girl. She honestly just makes life so much better!"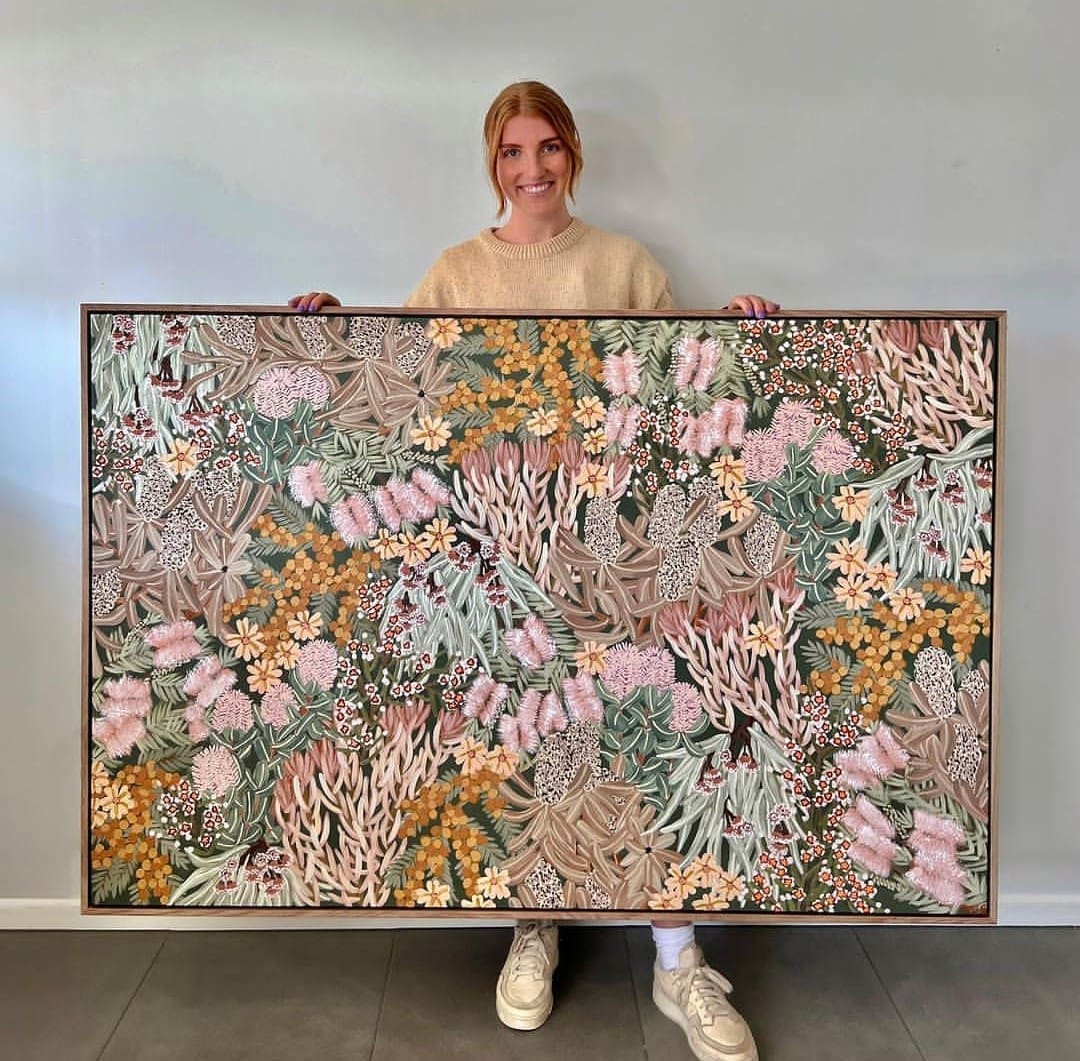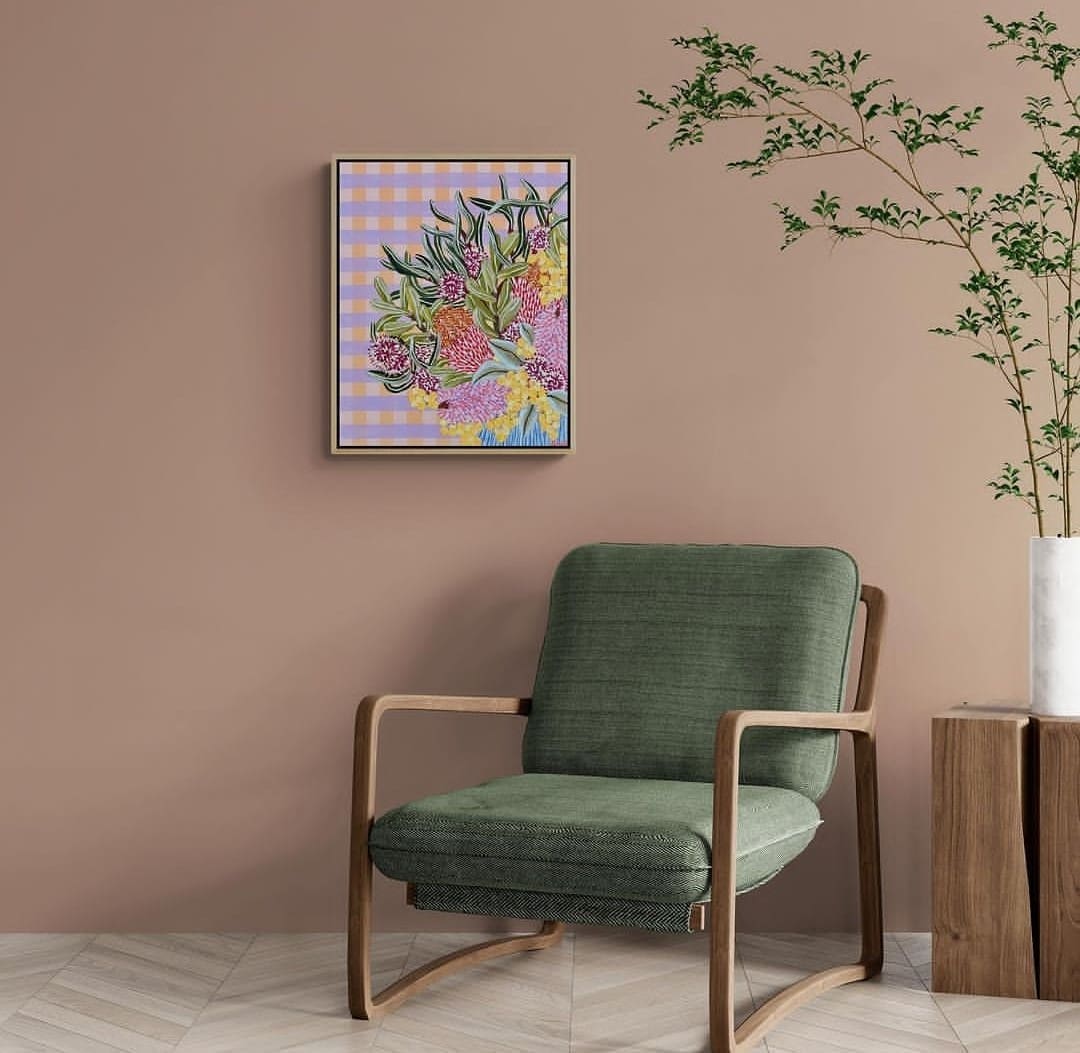 It took being stuck indoors during those monotonous lockdowns for Amy to uncover her talent.
"As cliche as it sounds, I truly became an artist by chance. Living in regional Victoria, we experienced some pretty dire lockdowns during the global pandemic. So in May 2020, with a lot of spare time on my hands, I decided to buy a cheap canvas and some paints and have a go at creating an artwork," Amy explains
"I had not picked up a paintbrush since my year 12 studies in 2014! I posted my finished piece on my Instagram, and without boring you with all the nitty gritty details, the rest was history!
It's pretty crazy to think that I wouldn't be in this career without the pandemic. The universe absolutely works in mysterious ways. I am so grateful that it led me to where I am today.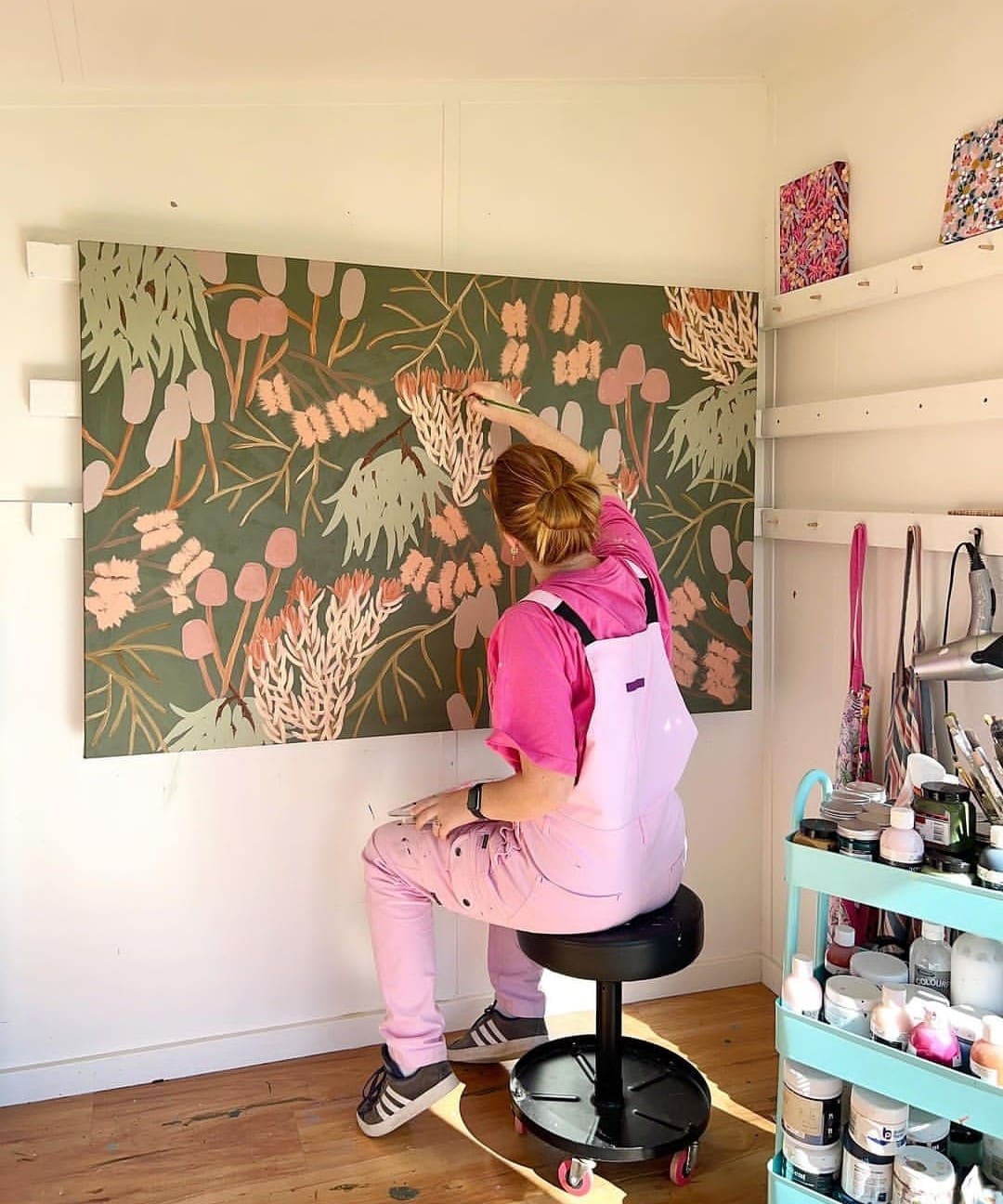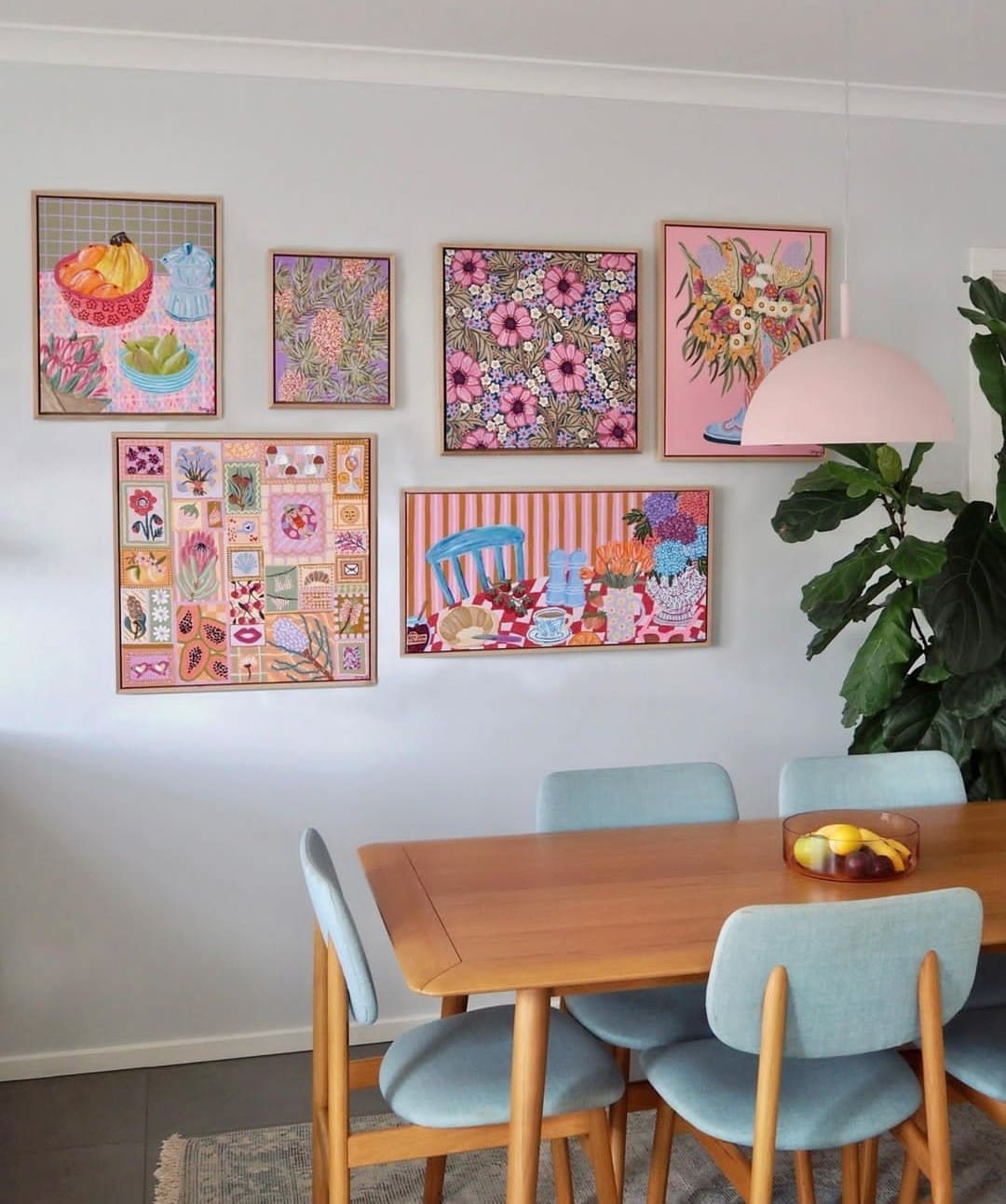 And it's not just us who's captivated by Amy's beautiful artwork. She has worked on collaborations with a number of brands… with even more in the making.
"I've been very lucky to collaborate with a number of local and international brands which I absolutely adore," says Amy excitedly.
"Back in 2020, my artwork was selected as a winner of the Kip & Co Art Series. My design was made into a tea towel and sold nationally. This was a huge achievement in my budding career and helped launch me in the direction of becoming an artist.
"I've been fortunate enough to create prints for a picnic range with The Somewhere Co, sustainable Christmas gift wrap with Paper Pak, and a tech accessories range through The Dairy.
"I also have a few exciting collaborations in the pipeline which I can't wait to share!"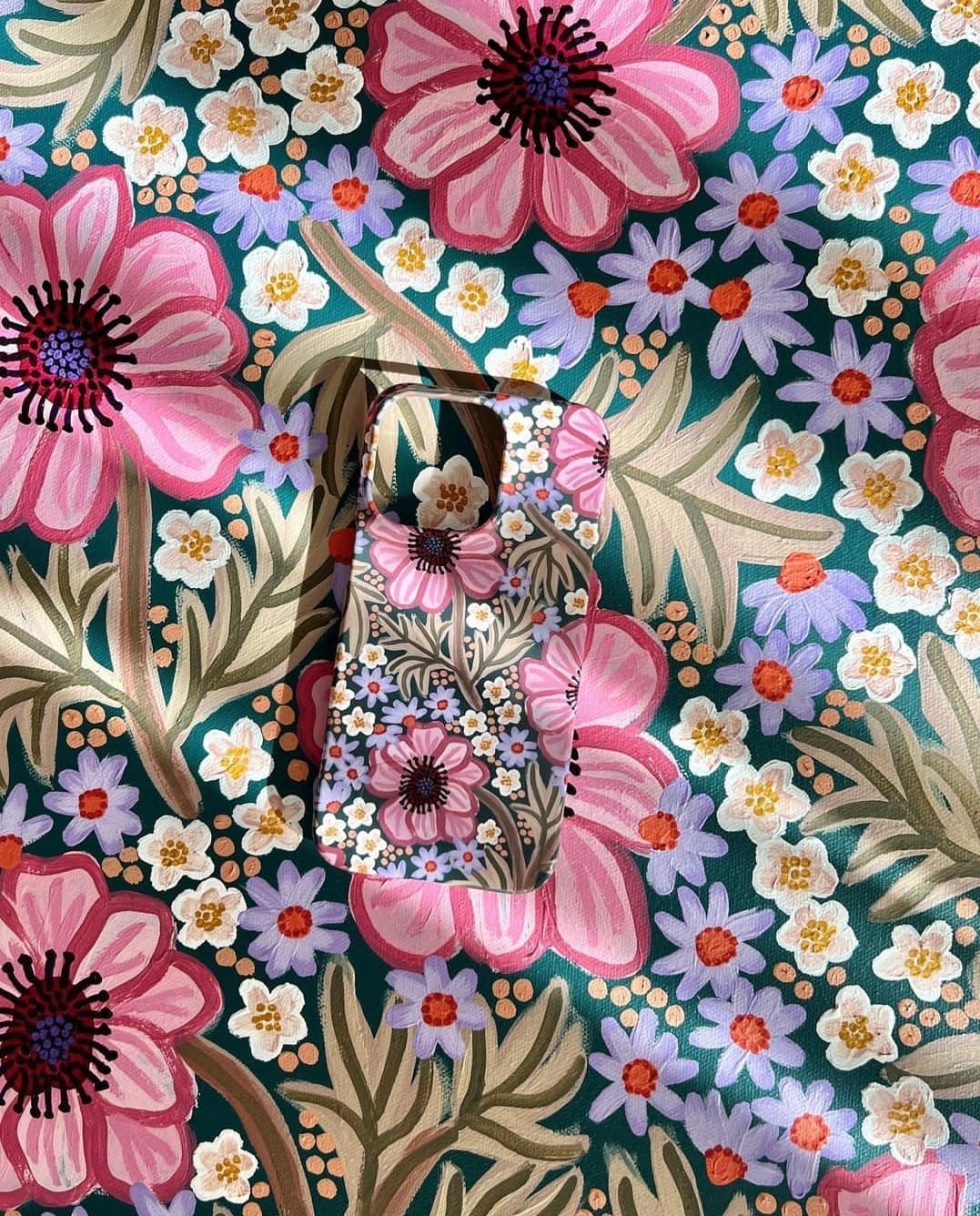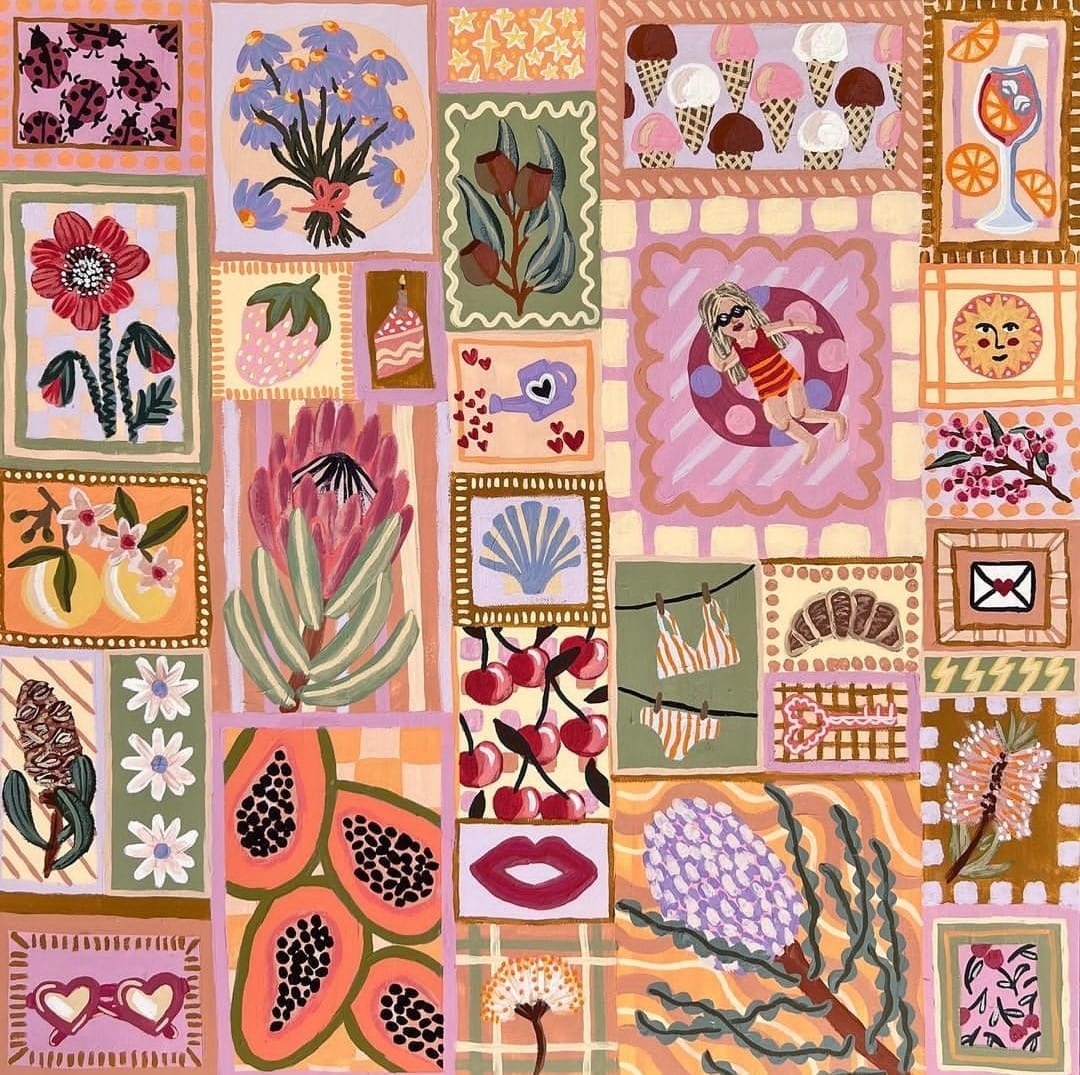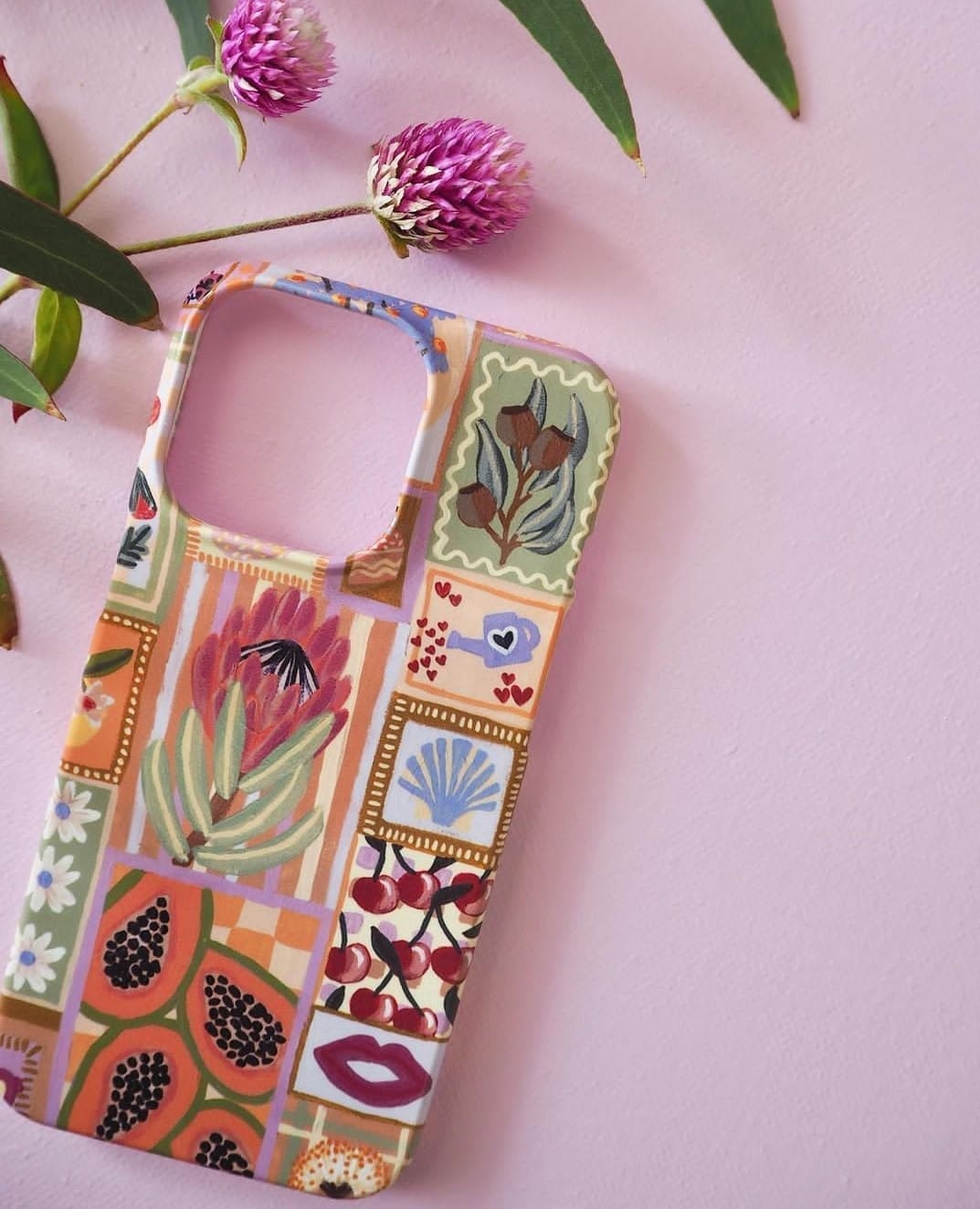 A planner by nature, Amy loves order and organisation… but not when it comes to her art.
"My life admin is planned to the nth degree. I'm such a type A personality — my friends and family can attest to this!" she laughs.
"And yet, with my painting, I'm very intuitive. I don't really do a whole lot of planning before I put brush to canvas. Some people do mockups on the iPad, paint colour swatches… but I've never been like that.
"I literally make up my colour palettes as I go. I guess the beauty of acrylic paint is that it's so fast drying, so if I don't like a colour, I just paint over it!
"Having worked as a textile designer in the fashion industry for a number of years, I gained a lot of experience working with creating colour palettes and ensuring shades work harmoniously together. I suppose that may have helped with my art practice too."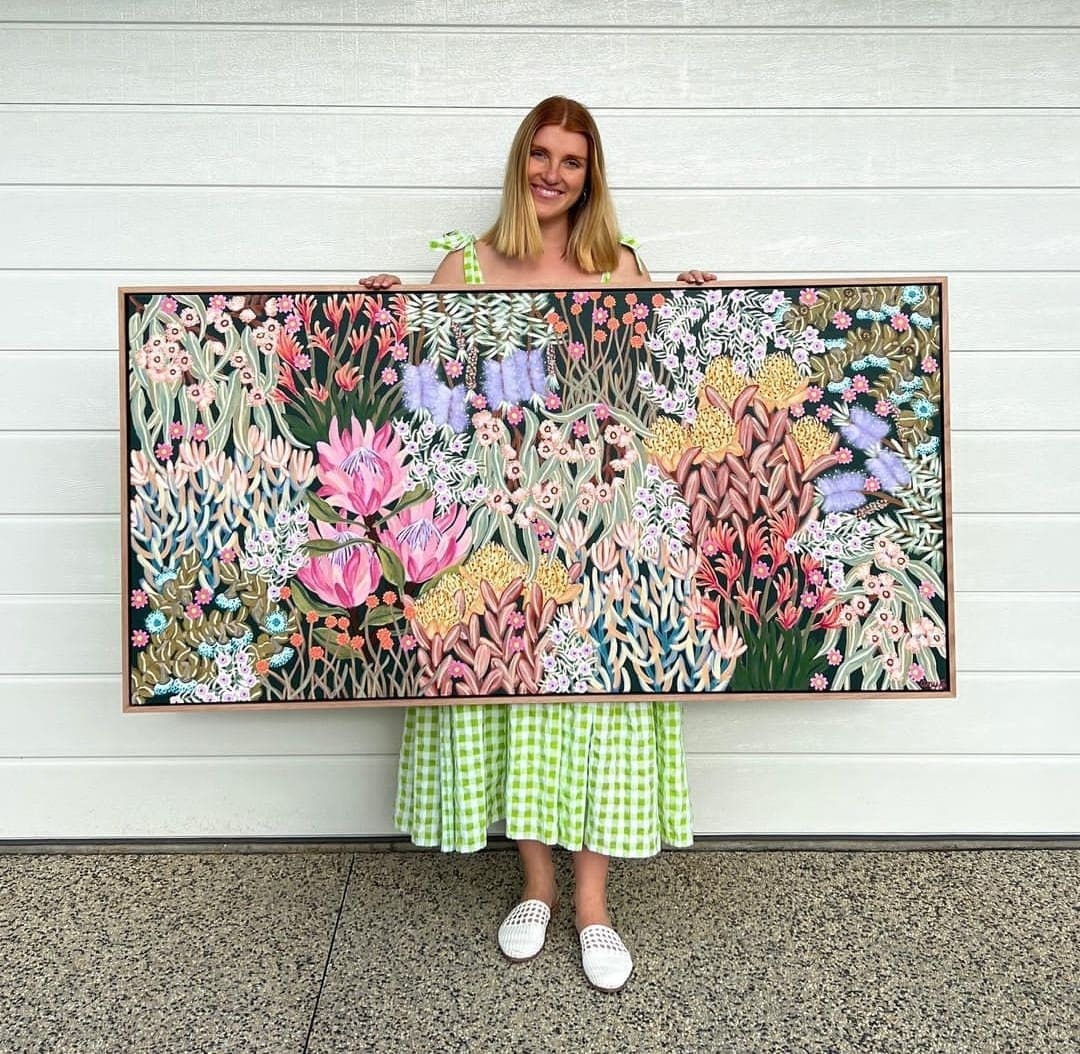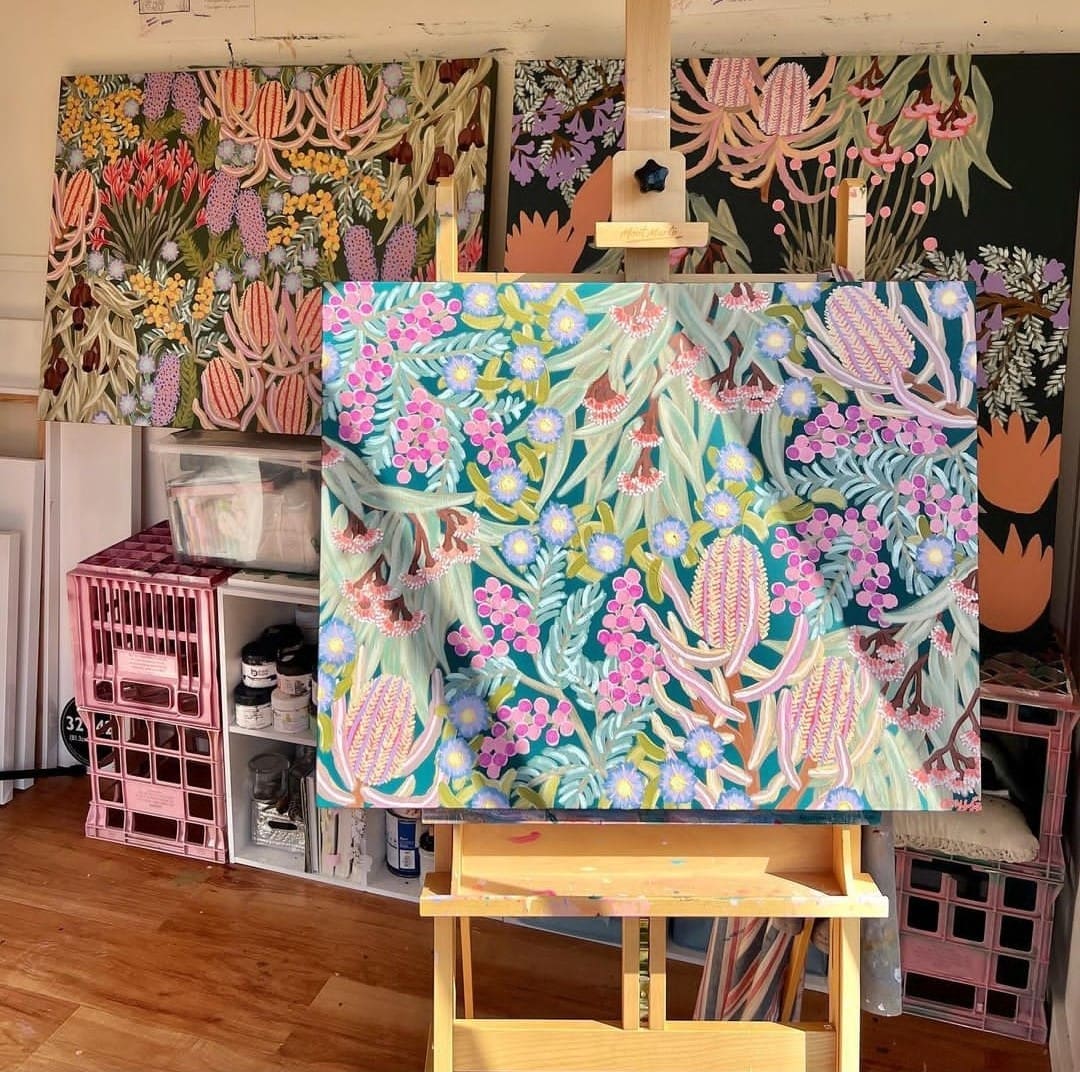 There's often a floral or nature-inspired theme seen in Amy's vibrant paintings.
"I've always loved flowers. I think it stems from my love of colour!
I love that every time you look at a flower, you notice something different. No two flowers are the same, and there can be so much extraordinary in the ordinary.
"When I create a painting for a client, there is planning involved as I have parameters to meet. However, when I'm just creating artwork for the sake of creating, I paint what feels good, what's inspiring me and what makes my soul happy," Amy says.
"I may have gone for a walk that day and spotted some gorgeous banksias. Or eaten a fresh punnet of strawberries and been inspired by their red vibrancy.
"Although it is my job, art is and always will, be an escape for me. A mindfulness task that leaves the stresses of life at bay. If I overthink and over-plan it, the end result often turns out quite average."
With more collaborations in the works, a second solo exhibition and more additions to her online store, the future looks bright (and colourful!) for Amy Gibbs. We can't wait to see what's in store!
A huge thank you to to Amy for taking the time to chat with us. To see more of Amy's collection, check out her Instagram, Jumbled, or take a look on her website.