The contestants revealed their second bedrooms on The Block last night and there were some mixed responses from judges. We didn't agree with everything they had to say so let's check out each room and our highlights.
Related article: The Block Triple Threat: Week 4 cellar, laundry & powder room reveals
Related article: The Block Triple Threat: Week 5 living and dining room reveals
Tim and Anastasia
Taking out the win this week with 27 out of 30 (minus one point so a final score of 26) is comeback couple, Tim and Anastasia.
The judges were in a state of shock when they entered their bedroom, wondering if it's the same couple who delivered that cringe-worthy bedroom in the first week.
We couldn't help but feel it was a mirror image of the bedroom Darren restyled for them… and he was wondering the same thing saying he wants the couples to feel they "own the decisions" in their apartment.
Neale kindly offered them some rope saying it looks as though they've taken a lot from the mentor session and gone even harder, faster and further with it. To which Tim and Anastasia agreed.
We don't want to sound like we're hating on Tim and Anastasia because goodness knows they're getting enough of that on social media but we're still waiting for them to show us their individual style. There's been a lot of chopping and changing as they replicate rooms straight out of magazines or even from previous contestants… let's see if this bedroom really is their style and if they can run with it through the rest of their apartment.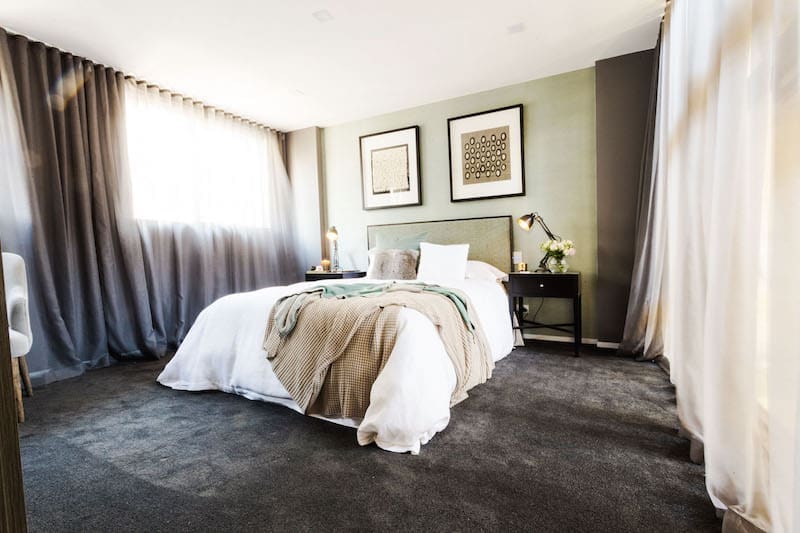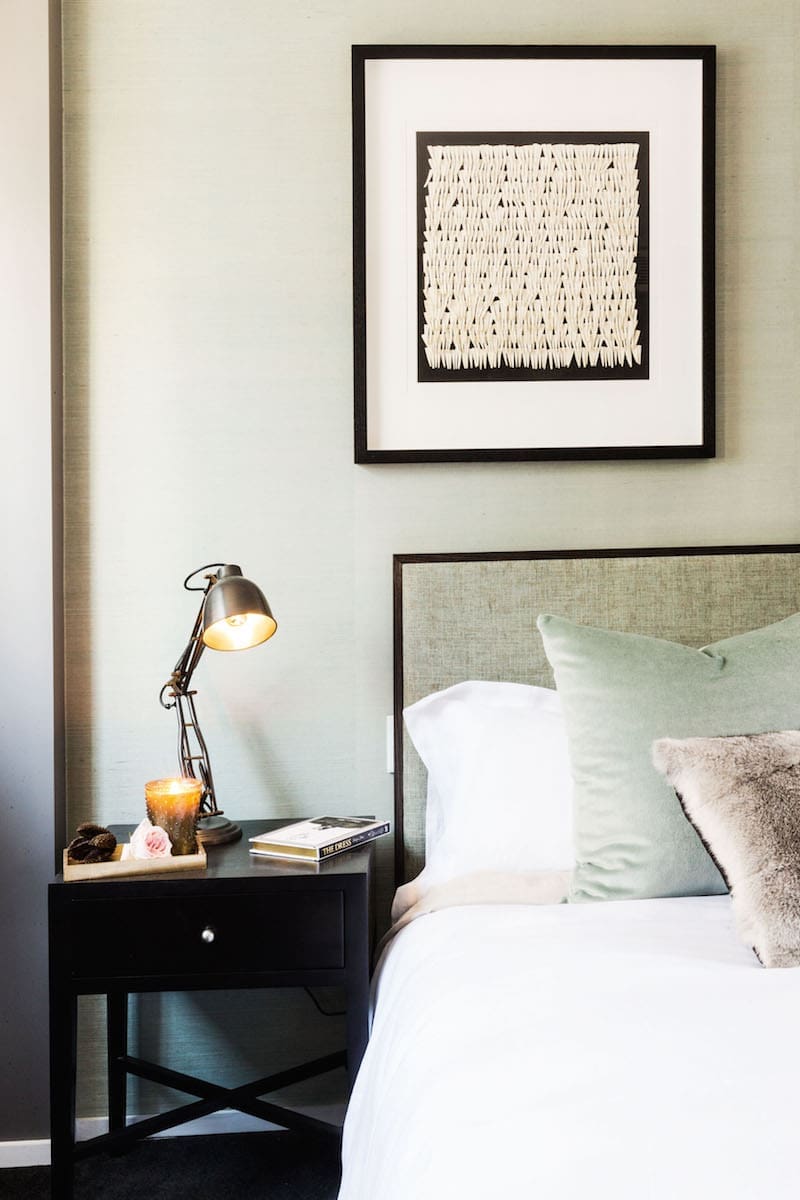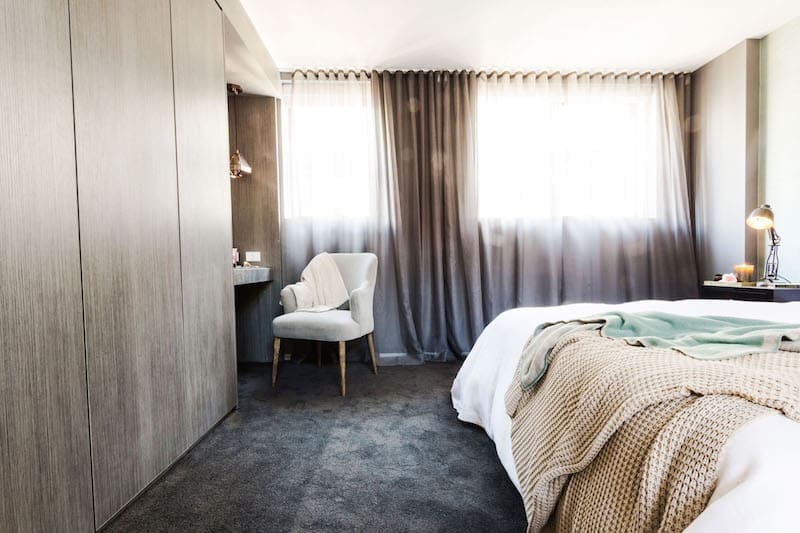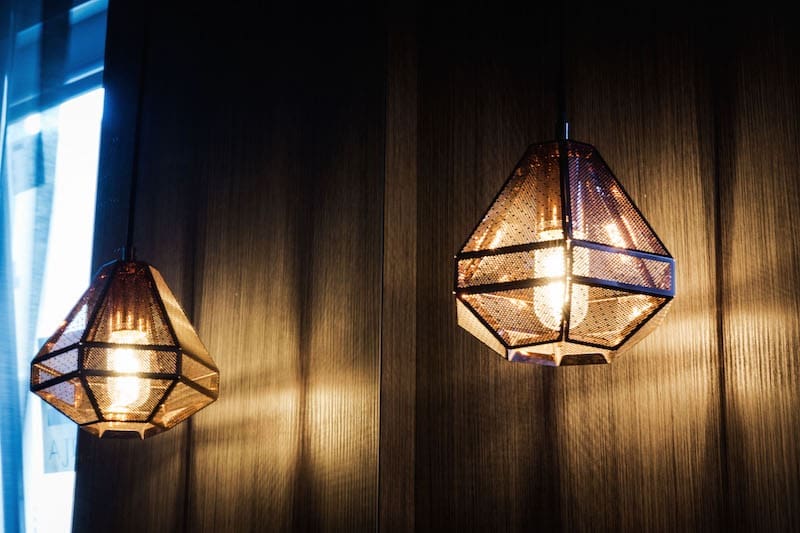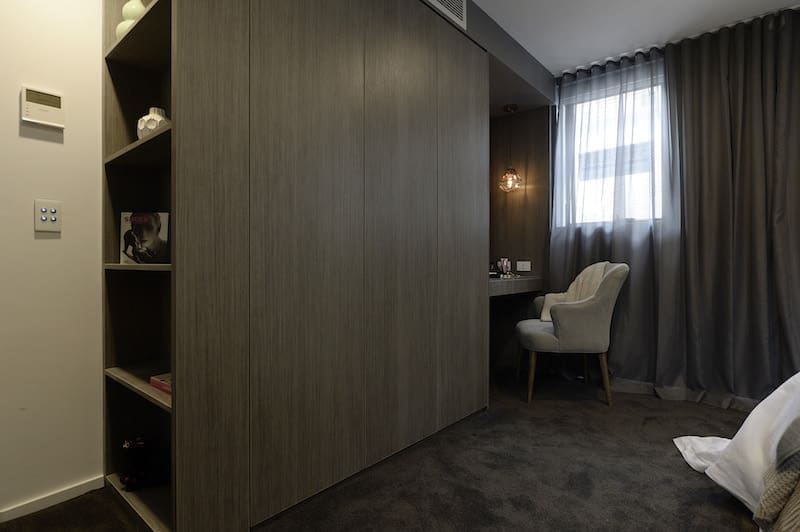 Darren and Dea
Hats off to Dea this week for managing the renovations without Darren who was in hospital (all better now though 🙂 ).
During the week all contestants had to take part in a bed making challenge at Jimmy Possum, with a brief to deliver a colourful, bold and patterned bed. She listened to the brief and created this loud leopard and lilac number, seeing her walk away with $5,000 extra in the bank.
At the end of the day though, she had to make the bed work in her room — and weren't the results impressive?! We're so with #teamneale when it came to the judges verdict, leopard print is always a good idea and the way Dea pulled the room together really impressed us. While this isn't how we would style our home, we would certainly love to check into a boutique hotel styled this way.
This style has been dubbed by some as 'baroque reloaded' and overseas forecasters have been naming it as one of the top trends for 2015. We're a fan of the moody colour palette of rich lilac and brown, and love that Dea has pushed the envelope to bring a completely new look to The Block.
What did you think of this room? Were you with Team Shaynna or Team Neale?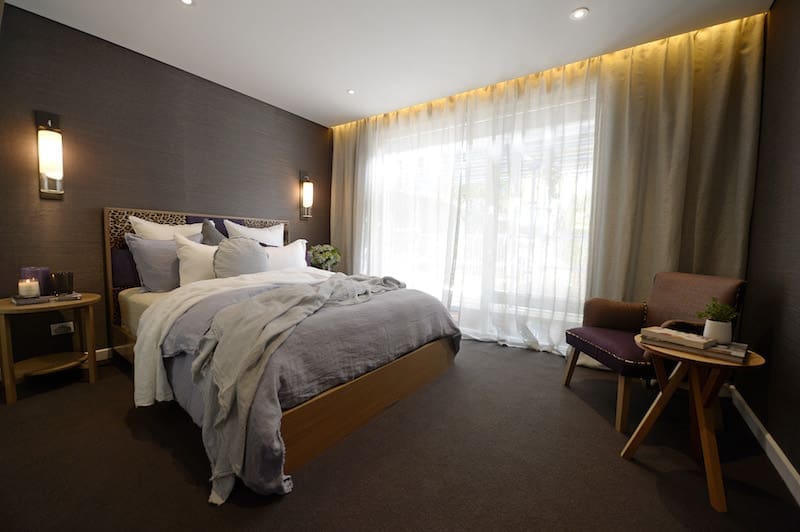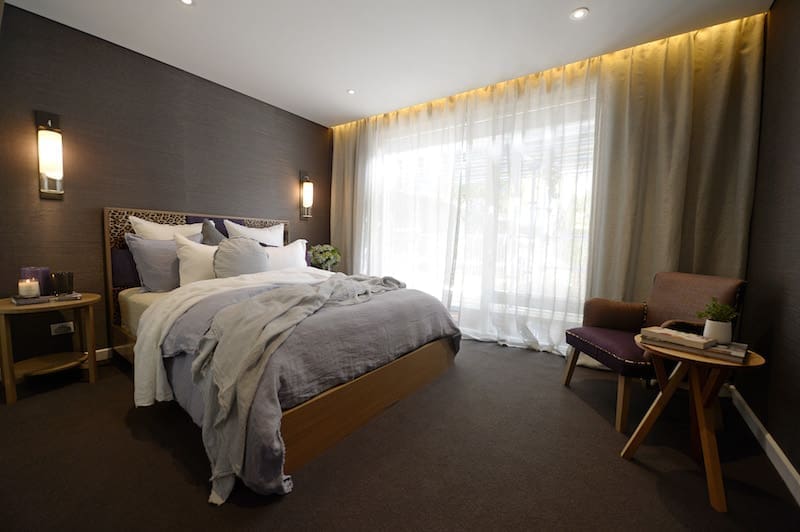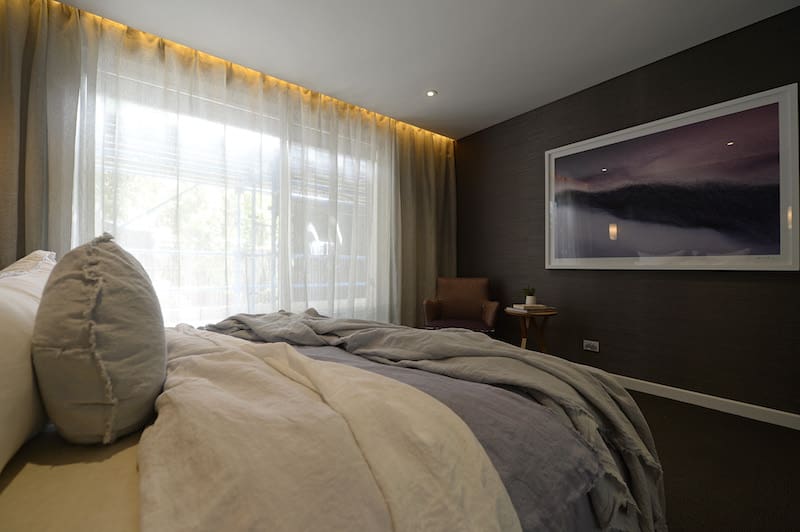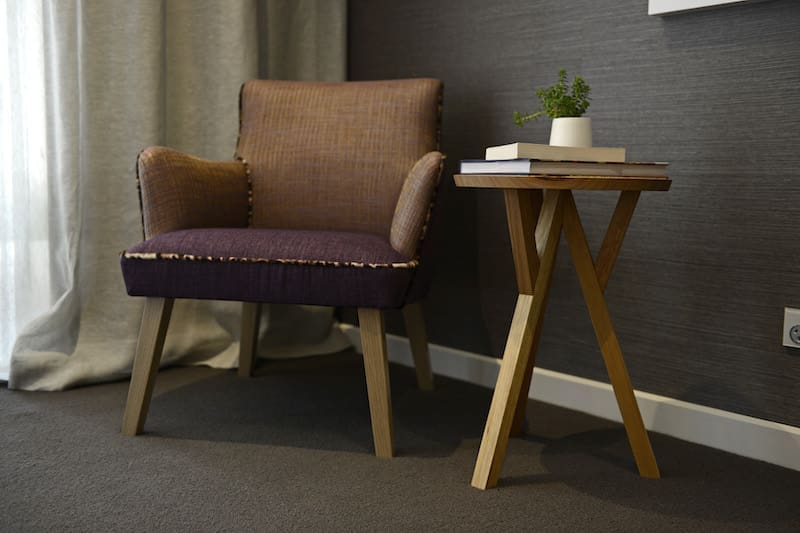 Josh and Charlotte
In third place this week with 24 1/2 out of 30, is Josh and Charlotte with their crisp Colonial-feel room.
Neale said "this is them back on track" and all the judges were a fan of the muted colour palette with pops of aqua.
While Neale thought the styling was a bit twee (he wanted to see larger and more confident pieces), Darren said it was just his style! We're a bit divided, loving the small pot plants and glass orbs, but still feeling over all things birds after is was such a huge décor trend a few years ago.
The couple got big ticks from the judges and us for their lighting plan. All the task lighting was in the walk areas and at the wardrobe while under mount LEDs gave a soft glow around the bedsides.
Despite the judges saying they got their confidence back, they still thought it lacked the energy and excitement of the elimination rooms. I guess we'll wait and see if they can step it up next week!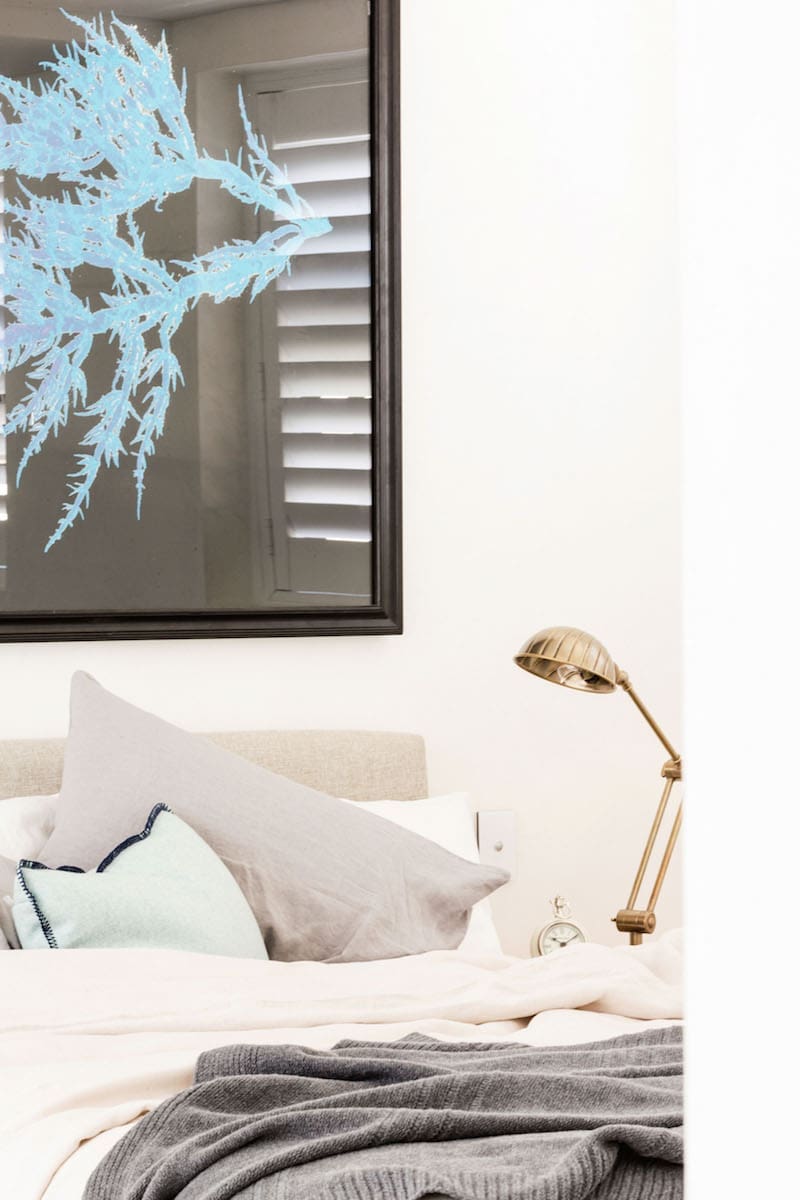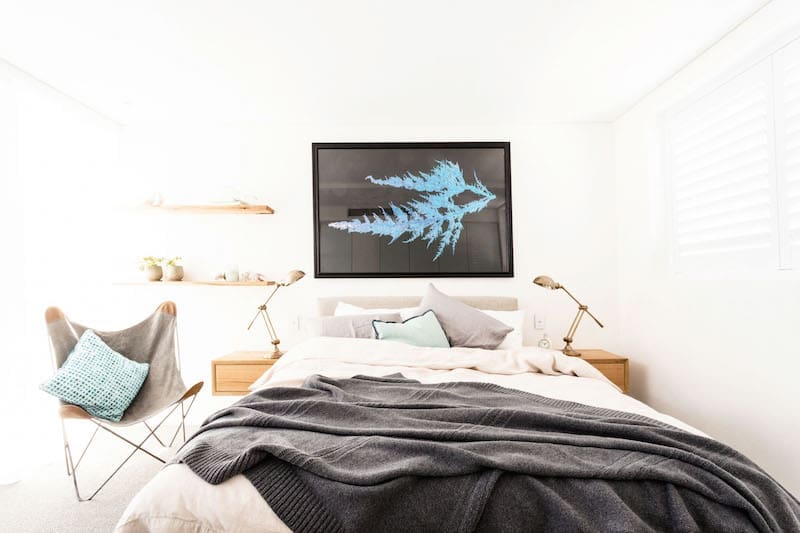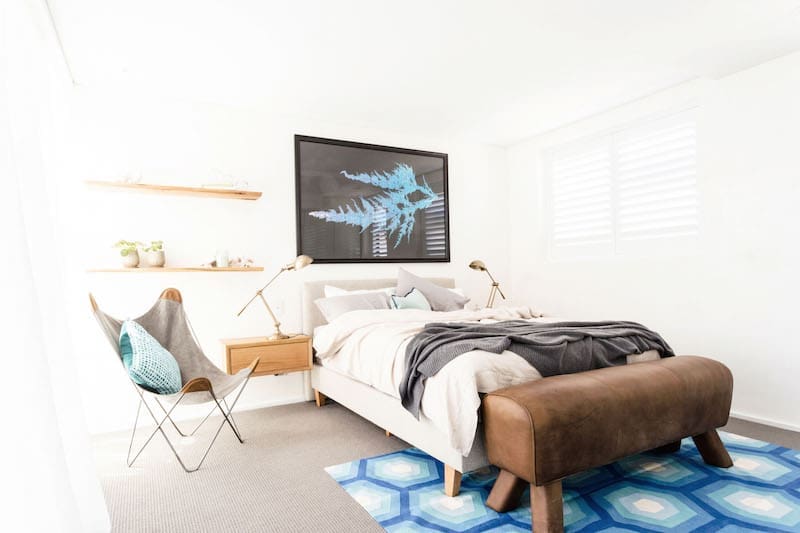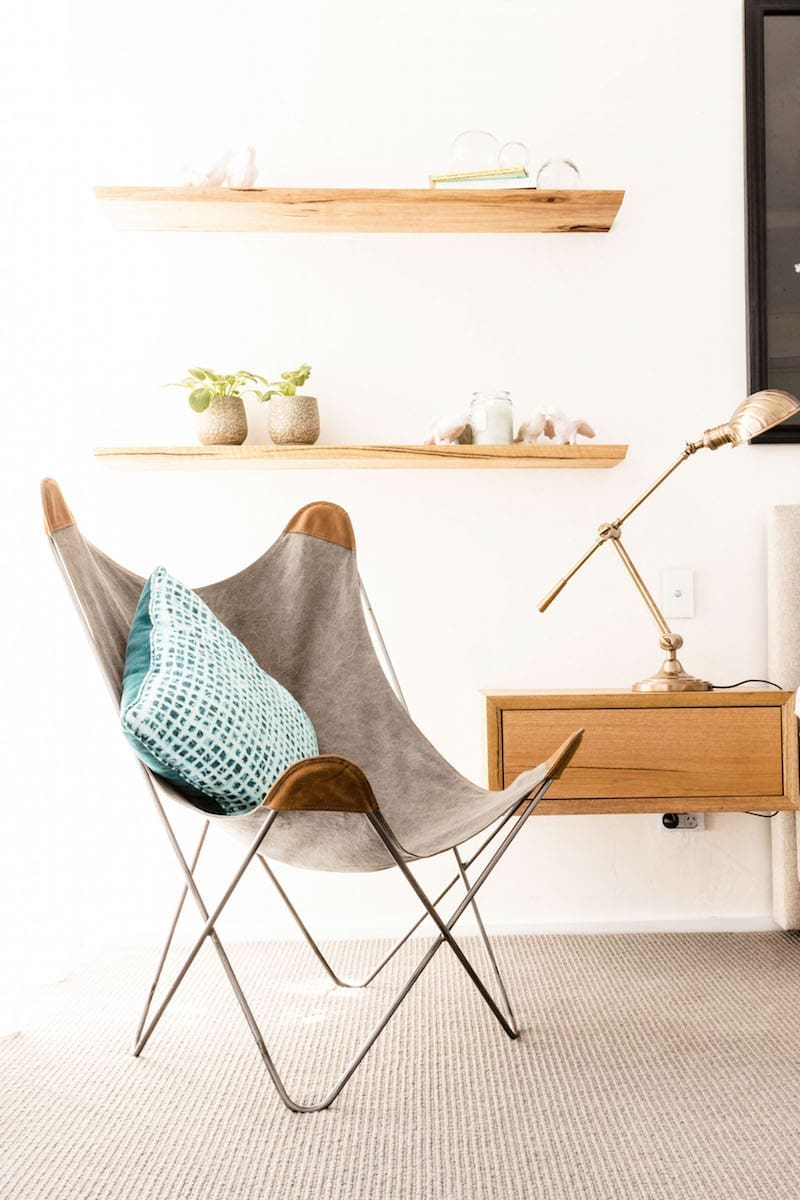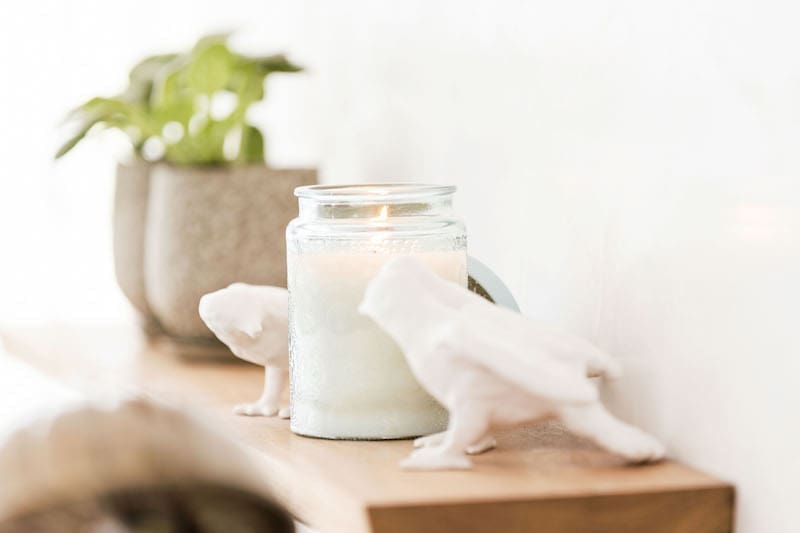 Jess and Ayden
This week Jess went on an one-on-one styling session with Neale where he talked about the use of colour, texture, contrast and scale to create rooms with wow-factor and balance. So he had big expectations going into her room… unfortunately he was a bit disappointed…
He could see she took on his styling advice for the rug selection and pendant lights but that was about it. The 'hero' piece in the room was missing and the overall styling was definitely lacking.
The thing that immediately stood out to us were those out-of-proportion bedside tables and what made them look even worse were the tiny ornaments she used to style them. We've seen great things from Jess before and are confident she'll pick up her game.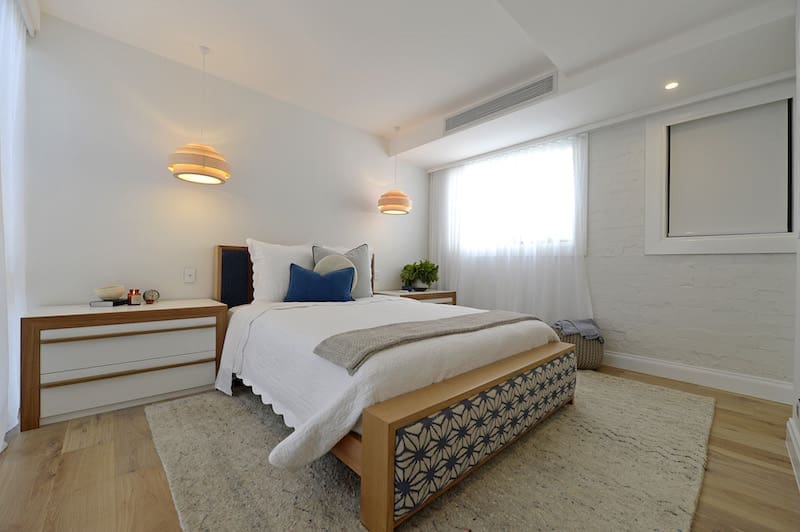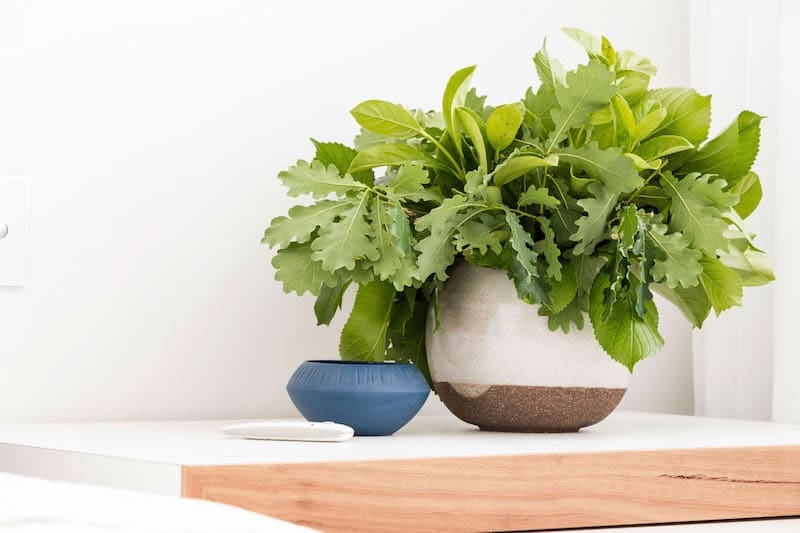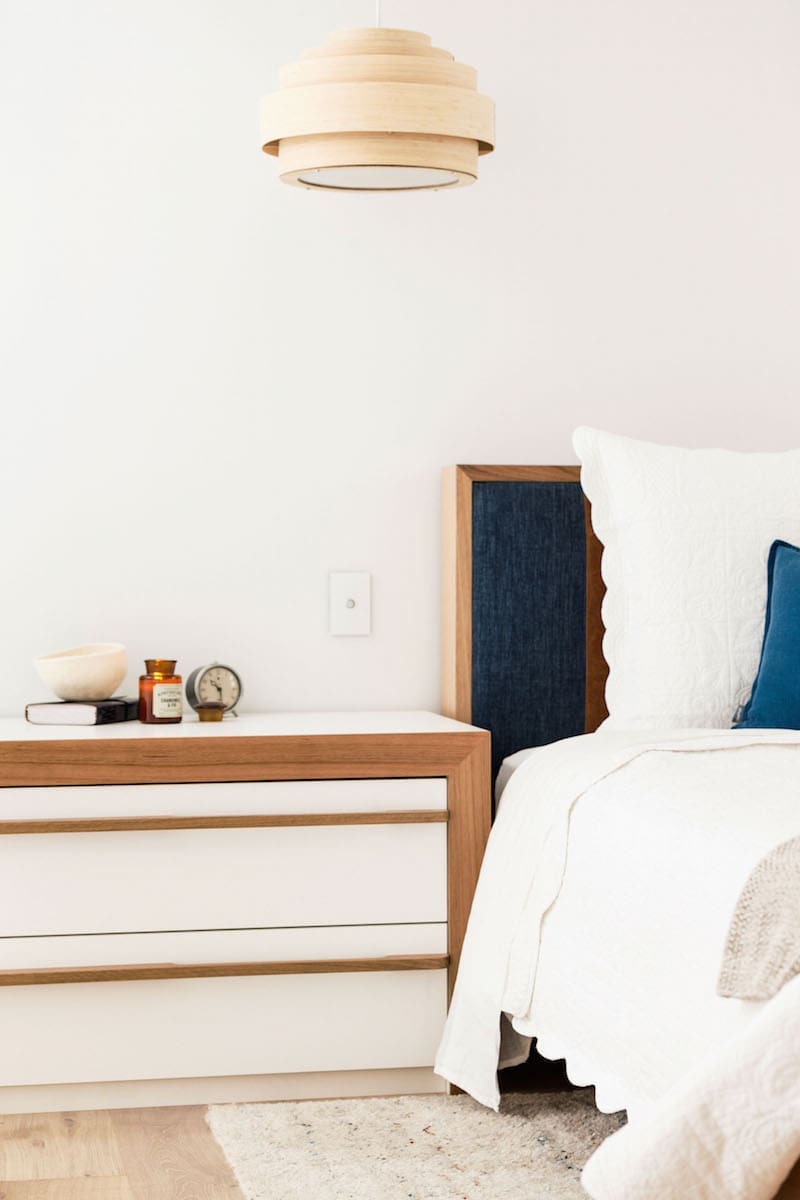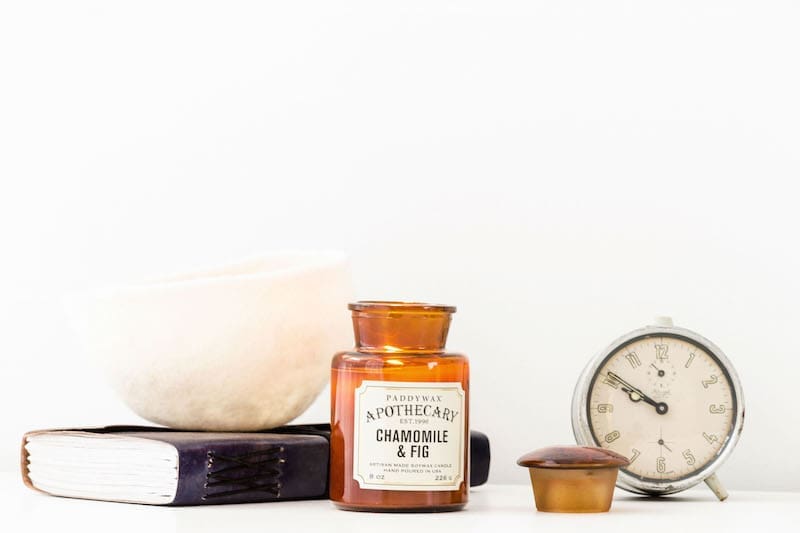 What did you think of this week's second bedroom reveals? Tell us in the comments below!