If you've been following our renovations at Bonnie's house, you'd know we COMPLETELY GUTTED her kitchen.
The original kitchen was far too small to be functional (it had no pantry and could barely fit a small fridge) and the original cabinetry had well and truly passed its expiry date.
Bonnie was eager to create a larger, more useable kitchen that would suit their entertaining lifestyle. We shared her remodel goals here which included a long wish list of features, and shared detailed design plans with you here.
Now we're excited to share her finished kitchen with you! So you can really see the difference her new IKEA kitchen has made, we'll share before and after photos from each angle.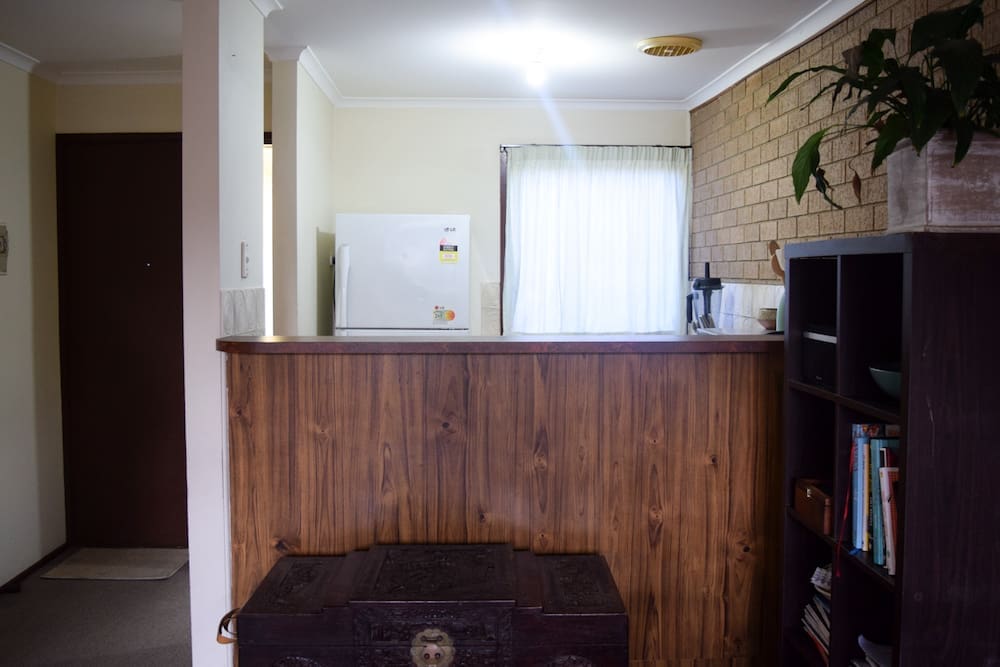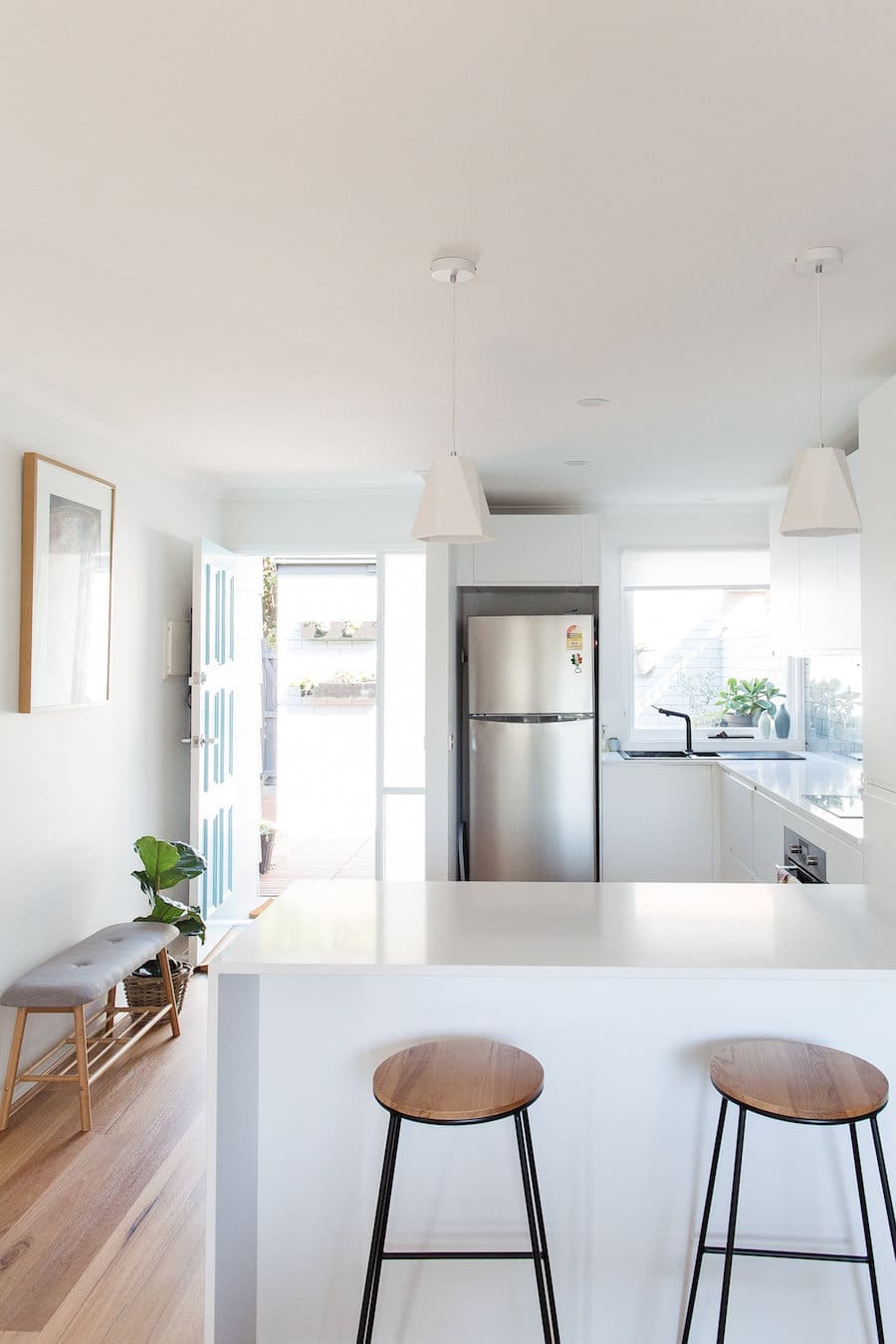 Above you can see that we removed the small partition wall and extended her kitchen by 2.8m. This opened up the flow of her home, while also giving us much-needed space to add a full-height pantry and integrated appliances.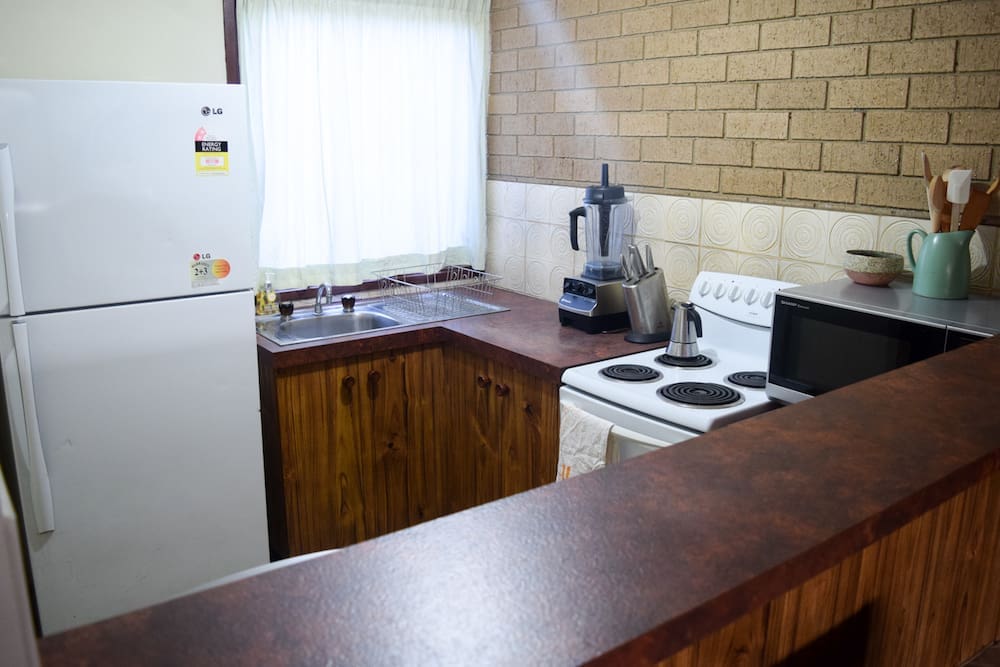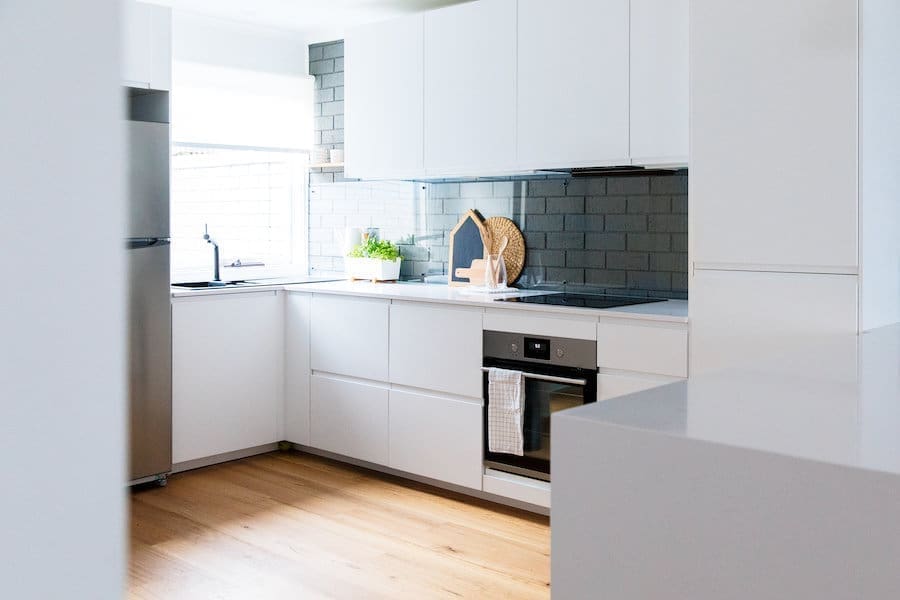 The original u-shaped design could barely fit 2 people. Now her kitchen comfortably fits 4-6 people and has better access to other living spaces. We kept a similar layout for the fridge, sink and oven to keep electrical and plumbing costs down.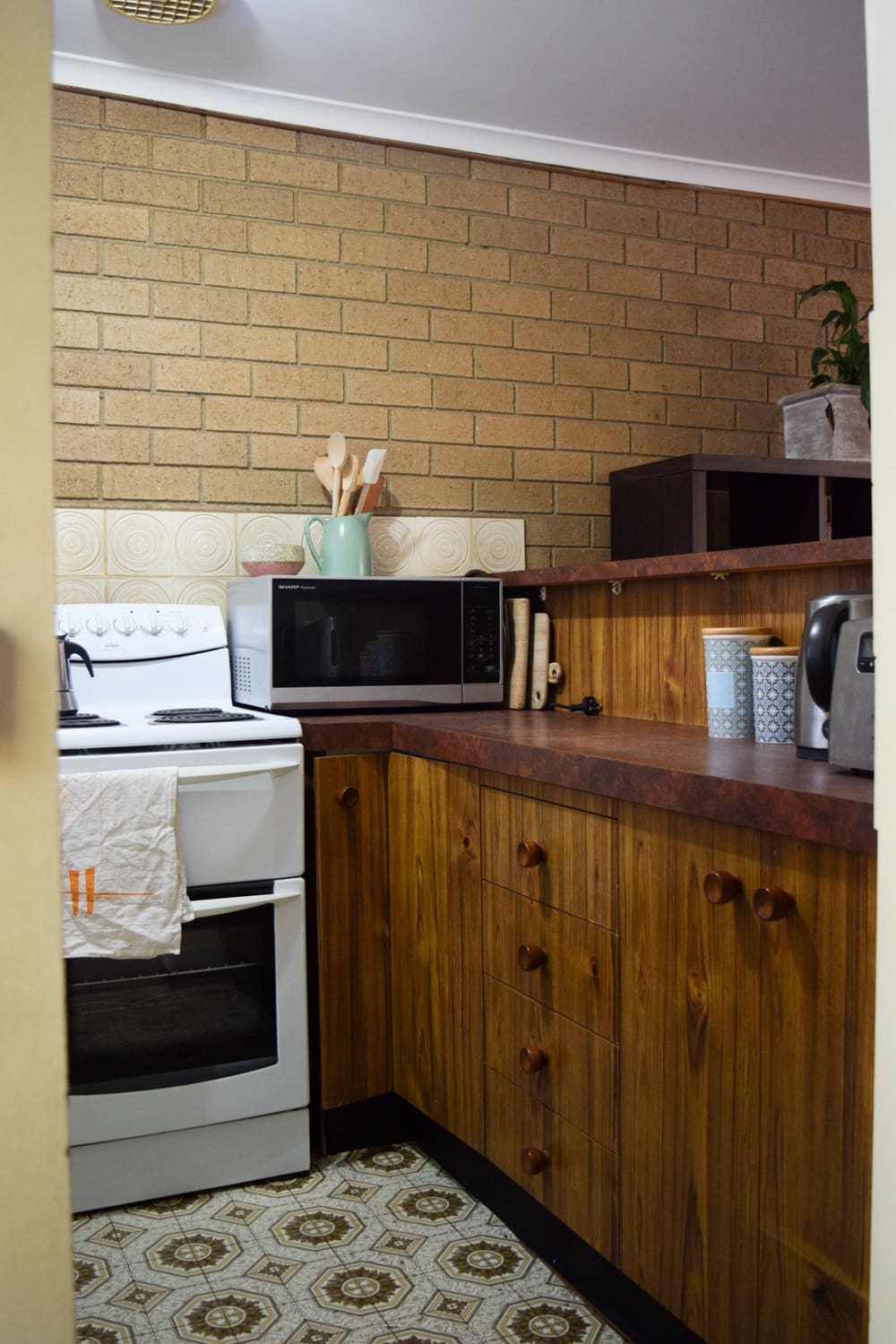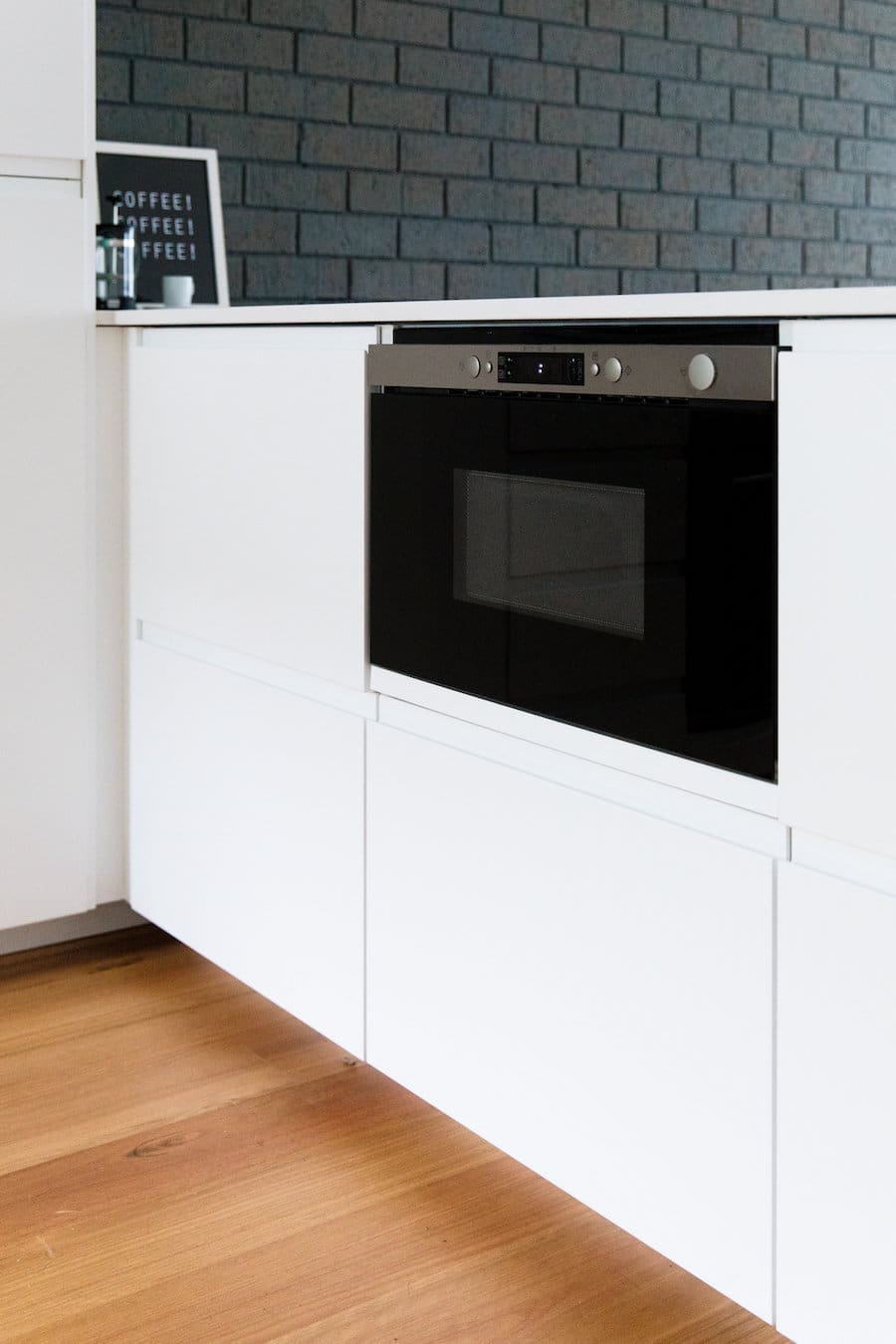 To save bench space for prep-work, we positioned her microwave just below the island. The size of the microwave also fits perfectly with the IKEA drawers (we love those clean lines!).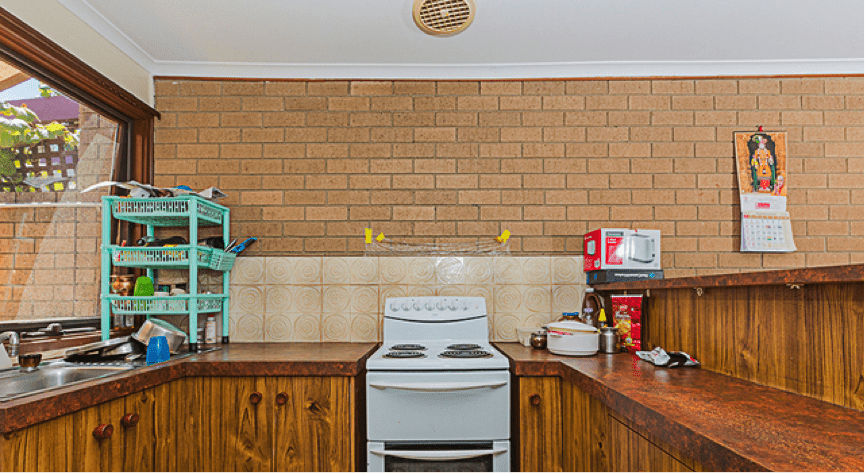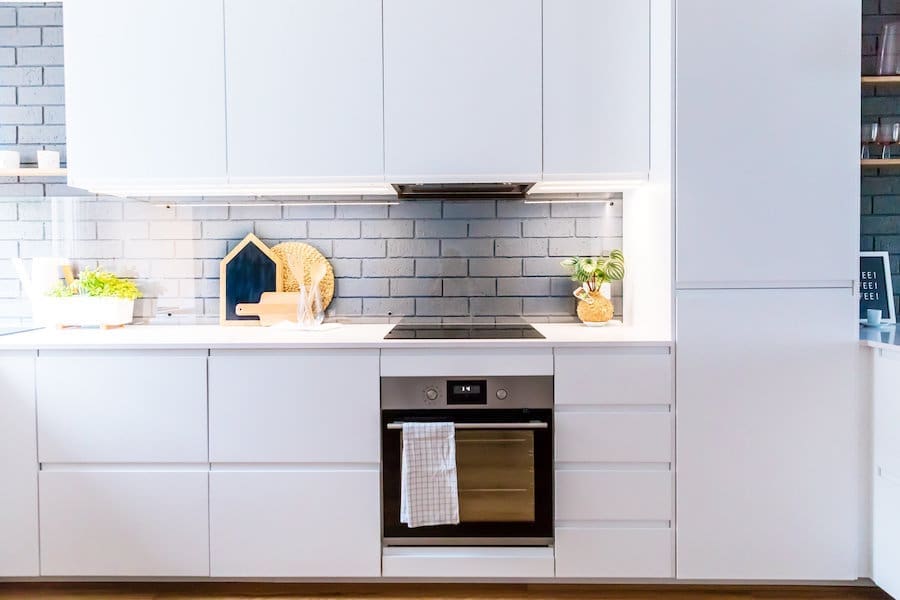 These images possibly show the transformation the best – from brown brick, brown splashback, brown bench top, brown cabinetry and even brown lino flooring, we took it all out and replaced it with a mix of materials in a neutral palette to create a contemporary and airy kitchen.
We intentionally used a simple colour palette of white and grey as Bonnie has been unsure if she will stay in her home (and possibly extend) or sell, so we didn't want to use any strong colours or finishes that could divide buyers. However, we achieved interest and warmth with that exposed brick wall splashback, timber flooring and floating shelves, and lighting plan.
If you have any questions about the materials we used or choices we made in here, please post them in the comments below and we'll get back to you asap.
After photography by Thorson Photography
Disclaimer: we designed and installed this kitchen in collaboration with IKEA.