The bedroom is often the most neglected room in the home when it comes to decorating. Out of sight and out of mind from guests means it often gets lowest priority. But having an inviting bedroom that reflects your personal style can make all the difference when it comes to sleep, relaxation, and comfort. After all, a bedroom should be YOUR place. By adding a few simple touches of character, you can turn your bedroom into an oasis that's just as stylish as any other room in your house. To inspire you to zhuzh up your bedroom, we're sharing 7 of our favourite ways to add unique character to your bedroom decor.
Related article: Styling a masculine bedroom: A dramatic men's bedroom makeover
Related article: 10 instant updates to refresh your bedroom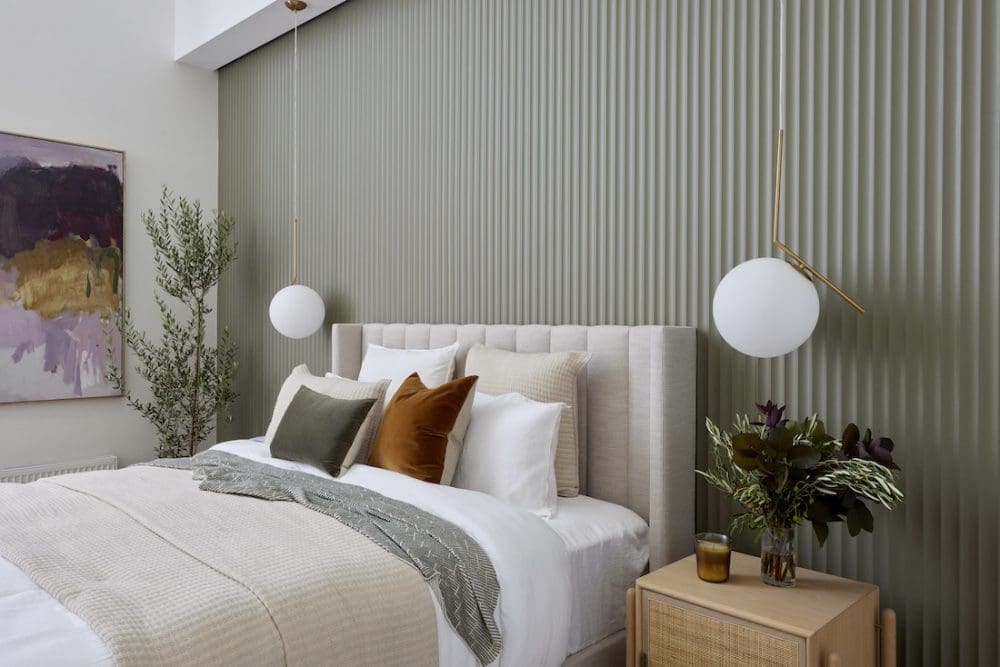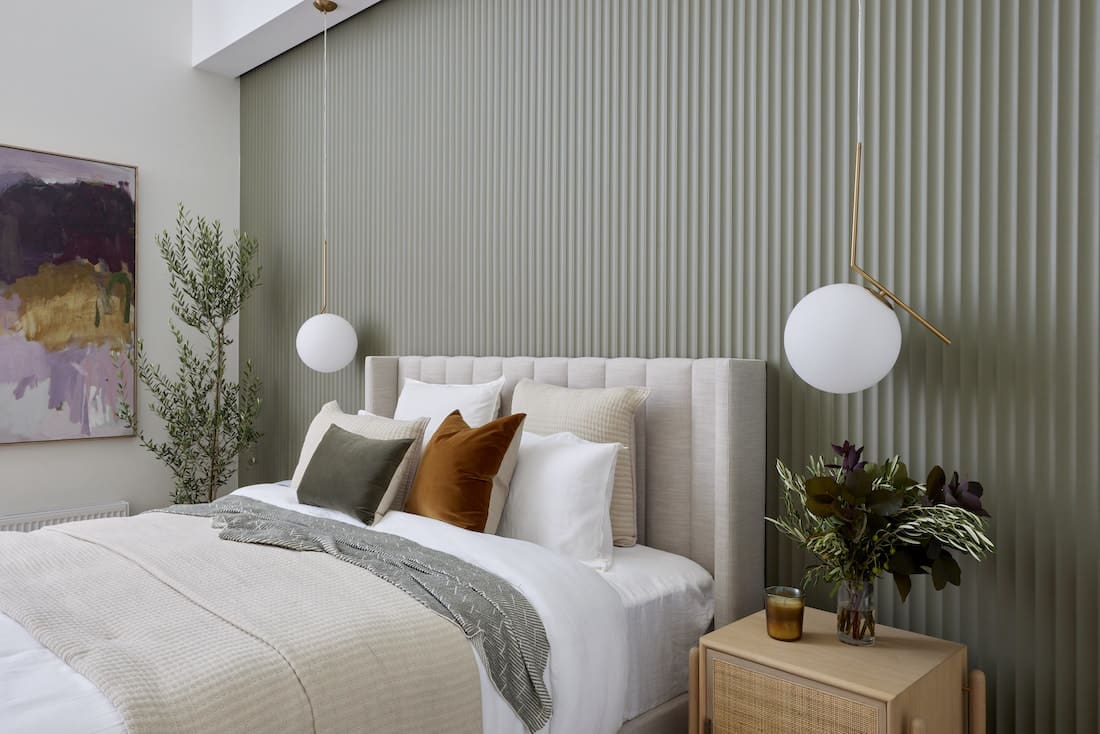 1. Incorporate bold colours
If you're tired of the same old beige and plain shades in your bedroom, why not try livening things up with some bold colour? This year we're seeing a major shift in design trends towards greater use of colour and pattern. Colour is back in a big way! You don't need to go all out and paint every wall. Even just a pop of colour here or there can transform your room.
Designer tip: if you want to introduce a modern version of a feature wall, change up the texture. It's a little dated to just throw a splash of paint on one wall unless you introduce a new material. For an example on how to create a contemporary feature wall, take a look at that bedroom pic above. Ronnie and Georgia used a cove wall panel material to introduce texture and colour in their master bedroom and we're sure you'll agree it certainly adds interest and personality.
2. Have fun with quality bed sheets and pillows
If painting your bedroom is too much commitment, why not embrace colourful bedding instead? We often say bedding can be like art for your bedroom.
There are plenty of different styles, designs and materials of bed sheets and pillows to choose from, so you can easily add personality and flair to your bed. And while you're at it, we suggest treating yourself to a quality set of bed sheets and pillows so you can have the best sleep possible.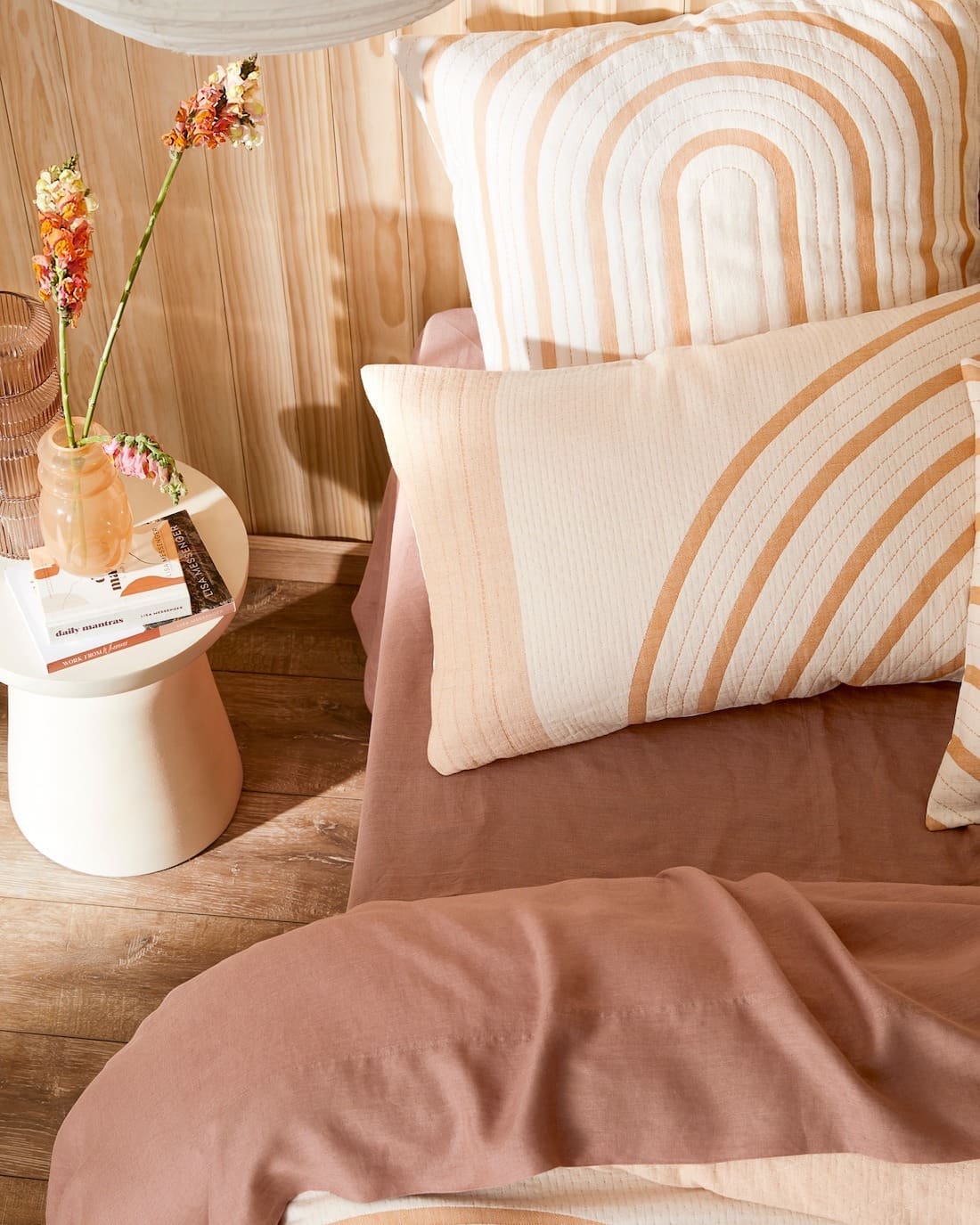 3. Review your lighting
Choosing the proper lighting for your bedroom can make all the difference! Instead of bright, harsh fluorescent lights looming over your head, try a few lamps that are both subtle and dimmable. Having these lower lights with multiple settings allows you to easily adjust the mood depending on whether you're winding down for bed or getting up in the morning. Either way, the softer ambience of subdued lighting helps create an overall calming atmosphere for relaxation.
4. Hang interesting artwork
Adding artwork to your home or workspace instantly adds interest and makes the space feel more homely. And this rings especially true in the bedroom. Banish bland walls and look for artwork that fits your aesthetic — whether that's an abstract painting, photographic print, still life painting or even a wall hanging, such as a weave. Art doesn't have to sit behind a frame… and it doesn't have to cost a fortune either. Check out our top places to buy affordable wall art here.
Stylist tip: don't forget to hang each piece correctly. Consider the height of the room and, ideally place the artwork at eye level so that it looks perfect in its new home.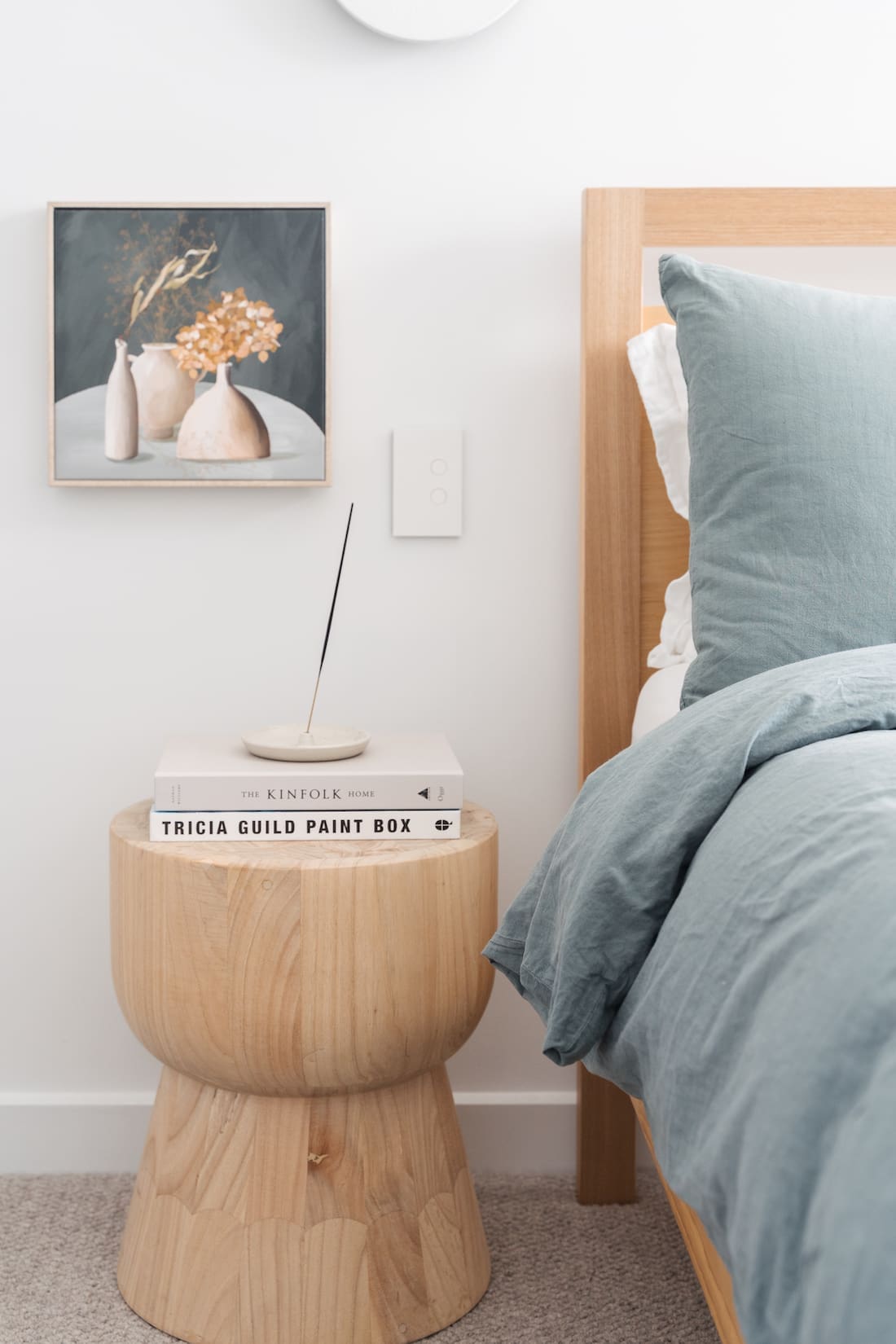 5. Add a touch of nature
Adding a touch of nature to your bedroom decor can be done in a number of ways. Firstly, you could use indoor plants or a vase of flowers to bring life and colour into the space. If you're not a fan of live plants, artificial plants achieve the same visual impact or you could use a dried floral arrangement instead. These can help to bring a feeling of peace and tranquillity into the room, while also adding interest with their vibrant colours.
6. Use texture
Want to know a top stylist tip to make any space feel more sophisticated and inviting? Using texture!
Mixing smooth with rough, sleek with organic, and weathered with new, gives a room depth and a lived-in feel that's welcoming.
Not sure where to begin? Start by layering in some comfy throw blankets or pillows with interesting textures, like velvet or jacquard. Then add softness to your floors with rugs featuring traditional patterns, fluffy fibres, or flat-weaves. When combined together, the various elements will add up to a cosy look and feel. It can be a great way to upgrade the look of your bedroom decor without doing much work.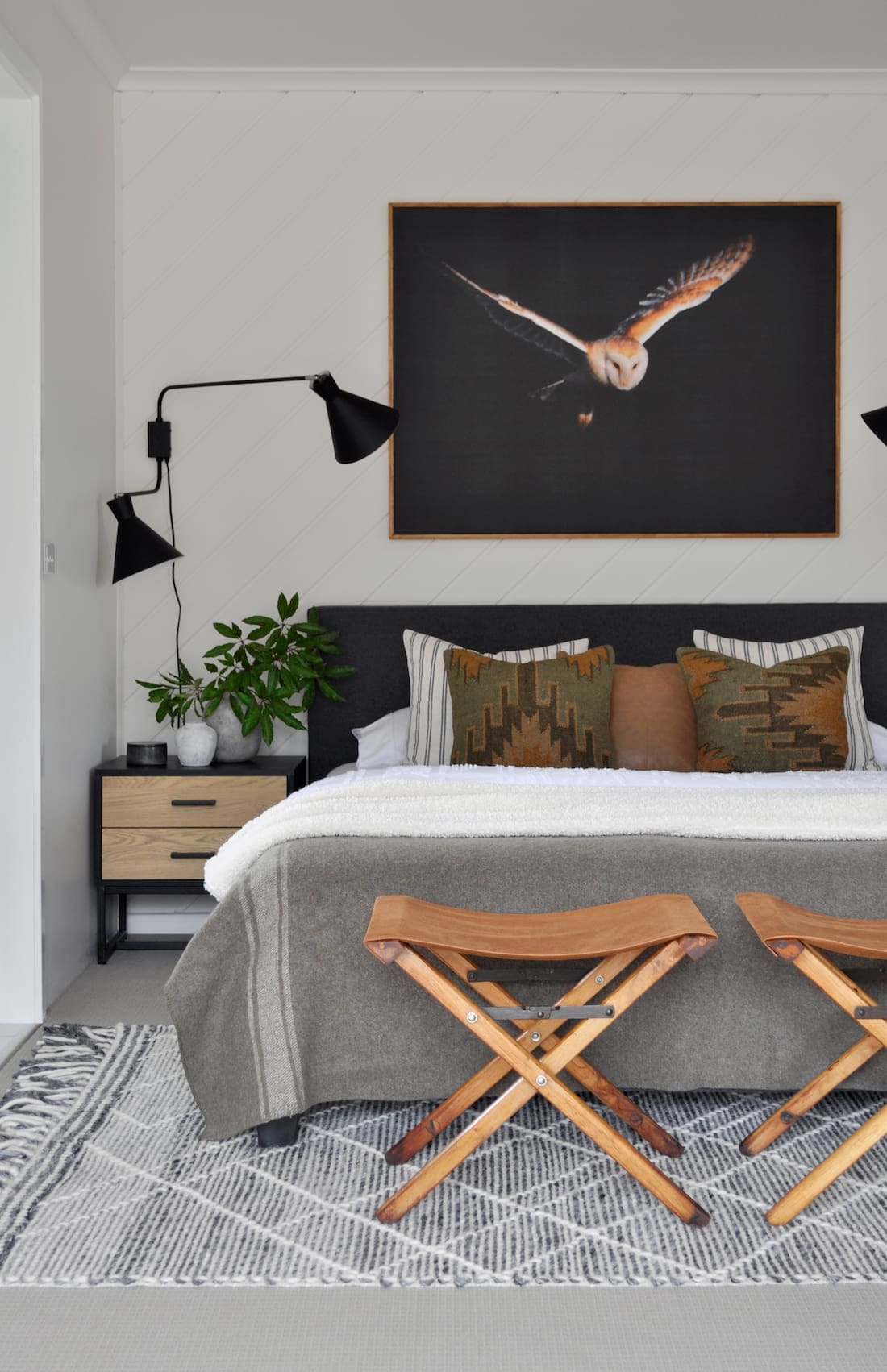 7. Use unique accessories
Finally, add that finishing layer of style and make the space truly your own with unique accessories. Have you collected any items on your travels that you could display on your bedside table or dresser? Perhaps you've recently had some wonderful experiences and could print out these photos to frame and display in your room.
As our bedrooms are out sight from guests, you can really express your personality and make the space your own. Get creative and make it a place that reflects your unique vibe!
We hope these ideas on how to make your bedroom look and feel inviting inspires you. These are just a few ways you can make your bedroom a warm and cosy space that you want to wind down in after a long day. Do you have other top bedroom styling tips you want to share? Post them in the comments below!