Supported by Canberra Outlet
With Christmas less than 3 weeks away, the time for Christmas shopping is now! Yet we've been hearing many people say they are struggling for ideas so we've created a gift guide for the whole family featuring products from Canberra Outlet.
From cool gadgets to fashionable finds, home decor (of course!) and more, these are some of the hottest gift ideas for 2021 that your loved ones are sure to… well, LOVE!
Related article: Quick and simple guide to a stylish table setting – every time!
Related article: Linen fabric gift wrap: Using the Bojagi technique
For her
Partners, daughters and mothers alike will screech with delight when you present one of these thoughtful gifts.
For the home, we've picked out a white vase in a trending shape, boucle throw (because it's the material of 2021) and black nickel cheese knife set so she can entertain in style this festive season.
Now that we can finally leave the house, it's time to step out in style! Gold is the metal of the year and these Swarovski rings offer just the right amount of bling. Pick up on the metallic accents with this gorgeous crossbody bag from Oroton Outlet. And when it's time to kick up your feet at home, these cross over slippers and luxe PJs from Peter Alexander are just right.
So many women we've spoken with lately have said a handheld steamer is on their wish list. It's a practical gift that can save time… and costly ironing mistakes!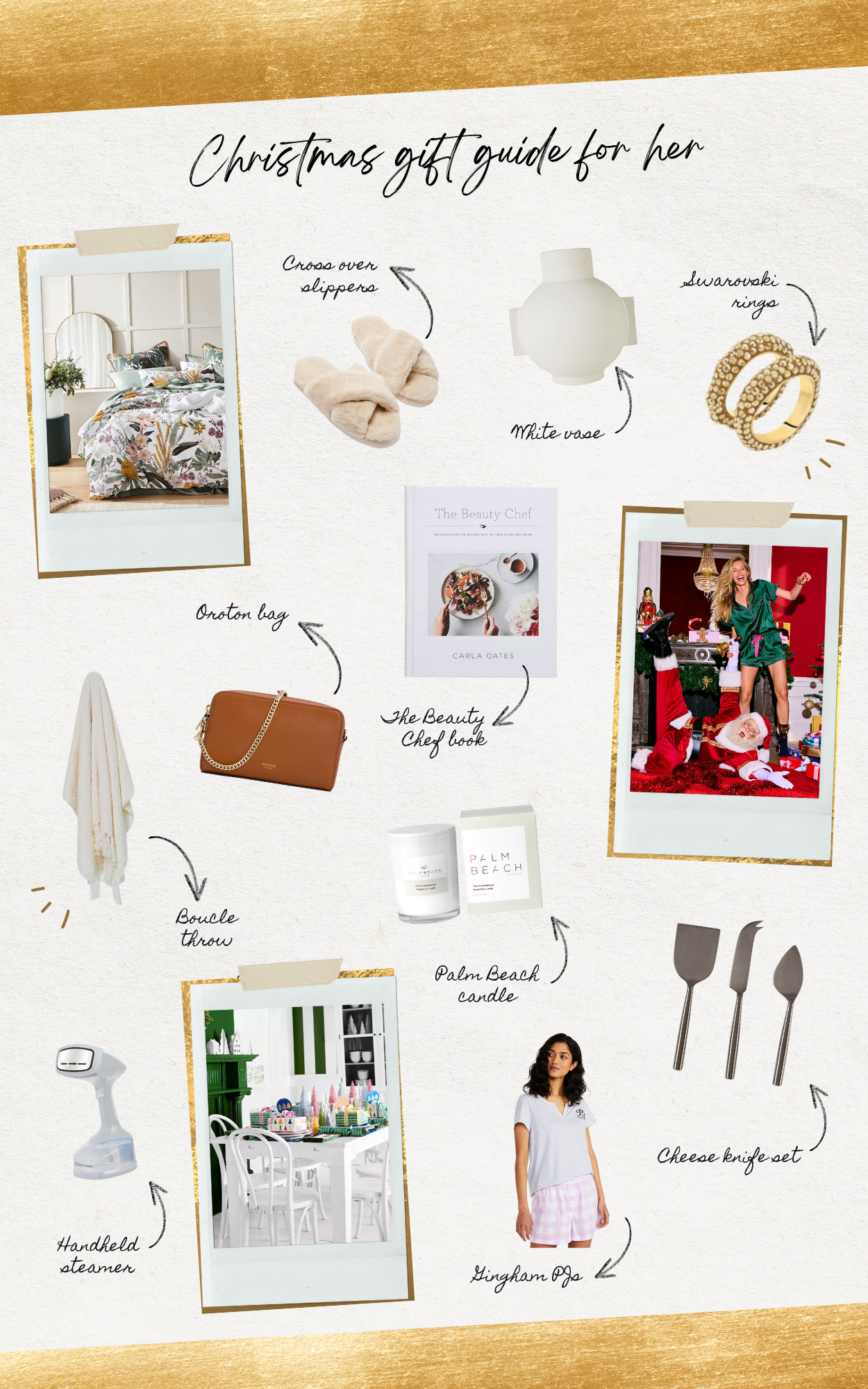 Shop these gift ideas for her:
Cross over slippers $24.99 from Adairs
White 'Rogue' vase $69.95 from Freedom
Gold tone ring set on sale $149.00 from Swarovski Outlet
The Beauty Chef book $49.99 from Provincial
Inez chain crossbody bag on sale $137.50 from Oroton Outlet
Pink boucle throw on sale for $69.99 from Adairs
Palm Beach candle starting at $42.95 from Freedom
Cheese knife set $29.95 from Freedom
Gingham boxer short starting at $39.00 from Peter Alexander
Handheld steamer $79.99 from Harris Scarfe
For him
Now to spoil the men in your life! Whether he's into adventure or relaxing, we've curated a fab mix of gift ideas that are guaranteed to please.
Tech is always a popular gift idea for men and this Polaroid pocket photo printer is getting rave reviews for good reason — it instantly turns photos and digital images into high quality prints. Let him massage away the stresses of 2021 with this professional quality percussion massager. It's another tech item getting 5/5 star reviews.
Whether he likes to kick a football or kick back at the beach, we've also got you covered. And let's not forget the classic gift ideas of undies (when they're Calvin Klein, no one complains!) and whisky.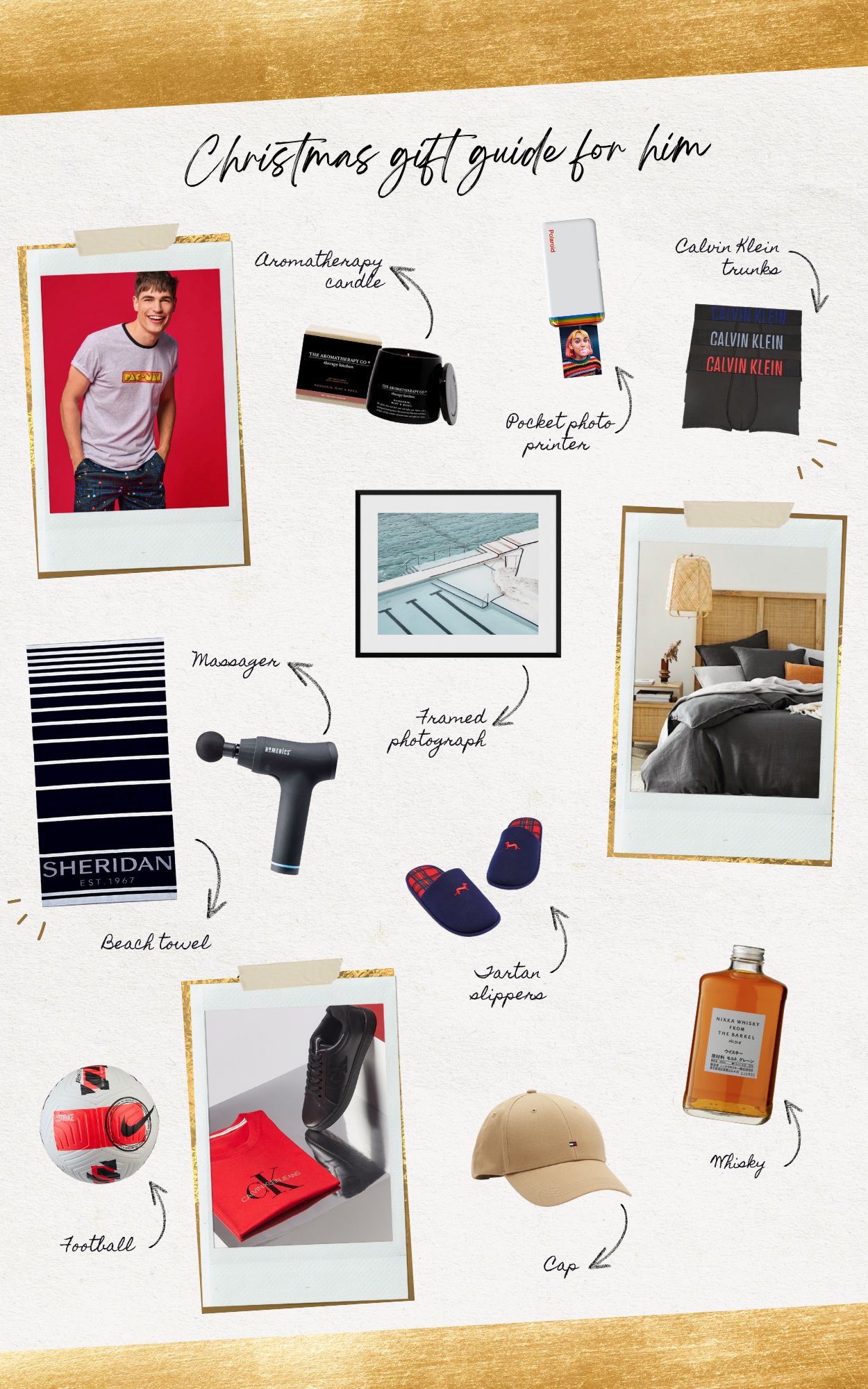 Shop these gift ideas for him:
The Aromatherapy Co. candle $34.95 from Freedom
Pocket photo printer $199 from JB Hi-Fi
3 pack of trunks $99.95 from Calvin Klein
Framed photograph $299 from Freedom
Therapist percussion massager on sale $119.99 from Harris Scarfe
Stripe beach towel on sale $47.99 from Sheridan Outlet
Tartan slippers $45.95 from Peter Alexander
Nikka whisky $89.95 from Liquor Boss
Embroidery cap $49.95 from Tommy Hilfiger
Football $35 from Nike
For the kids
There's no shortage of gift ideas for kids this year and these are some of the top gift ideas for children in 2021!
For those lucky enough to make the 'Nice list', a Nintendo Switch is the ultimate gift that all kids are raving about. Another splurge idea on the list is this electric scooter.
Elevate any media room or sleep over night with this retro popcorn maker. And because dinosaurs and unicorns are always popular, we've got a couple of those too.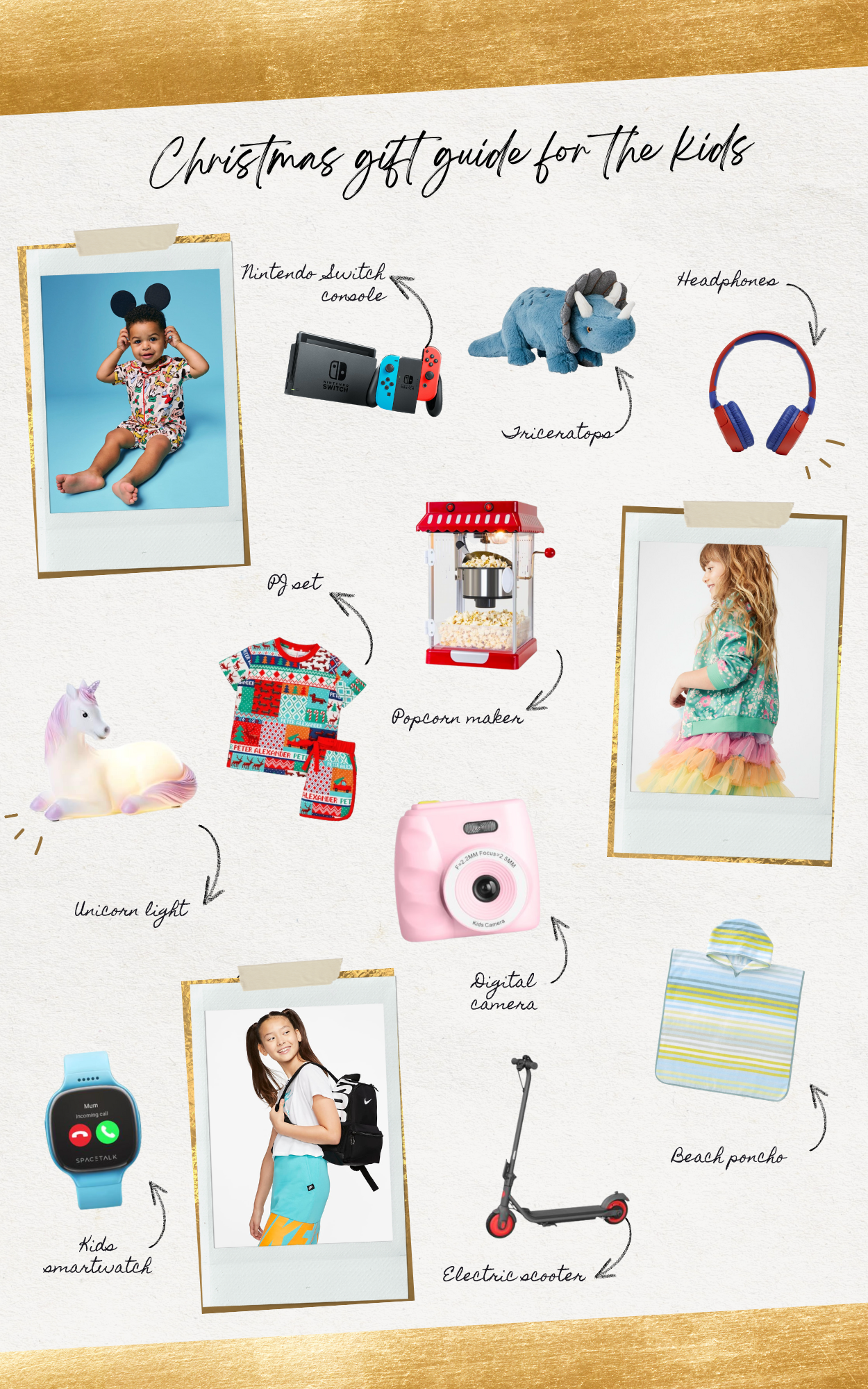 Shop these gifts for the kids:
Nintendo Switch Console Neon $449.00 from JB Hi-Fi
Triceratops toy on sale $29.99 from Adairs
Headphones $48.00 from JB Hi-Fi
Popcorn maker $119.99 from Harris Scarfe
PJ set $49.95 from Peter Alexander
Unicorn night light $39.99 from Adairs
Digital camera $39.00 from JB Hi-Fi
Beach poncho on sale $35.99 from Sheridan Outlet
Electric scooter on sale $399 from JB Hi-Fi
Kids smartwatch $249.00 from JB Hi-Fi
For the pets
Of course we can't forget our furry friends at this time of year and there are plenty of sweet gift ideas to be found in stores at Canberra Outlet.
A new bed means they can sleep off all those festive treats in comfort and Early Settler and TK Maxx have a fab range to choose from.
Because we can't help but accessorise our pets, we've included a fab selection of stylish fashion items including hoodies, Tees, bandanas and more.
But let's not forget the gift they really enjoy — toys! This automated cat ball will keep your curious cat entertained for hours. And because almost all dogs are food-driven, this automatic dog feeder is sure to see some tails wag.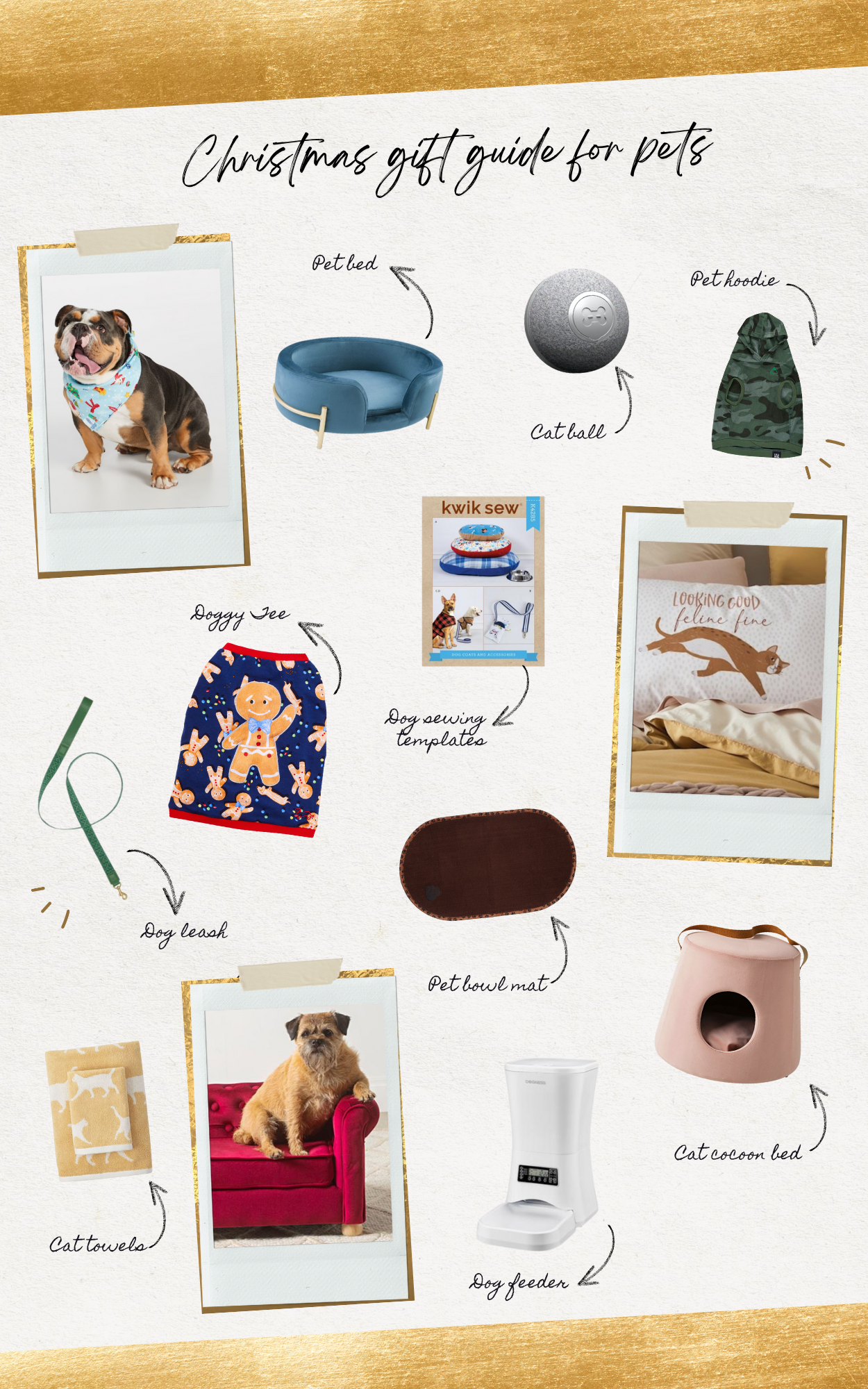 Shop these gift ideas for pets:
Pet bed $129.00 from Early Settler
Cat ball $49.00 from JB Hi-Fi
Pet hoodie on sale $20.00 from Bonds
Dog sewing templates $18.95 from Lincraft
Doggy Tee $39.95 from Peter Alexander
Dog leash $90.00 from Oroton
Pet bowl mat $19.95 from Howards Storage
Cat cocoon bed $129.00 from Early Settler
Dog feeder $159.00 from JB Hi-Fi
Cat towels starting at $14.95 from Bed Bath N' Table
Have you got any other great gift ideas you can share? Tell us in the comments below!
More shopping articles