We love an organised home, but often it needs (yes… needs, haha!) matching containers, labels, jars, shelving… plus more! But all these stylish home organisation products can get a little pricey. So of course, we had to track down these clever Kmart hacks to help get your home super organised!
Trigger alert: This article contains home organisation ideas that might trigger a sudden need to shop at Kmart or organise your home.
Related article: Make it luxe for less! Awesome home Kmart hacks
Related article: 20 of the coolest Kmart hacks EVER!
Store remotes
Remote controls and coffee table styling don't exactly go hand in hand. Corinne from @my_mayfair shares her simple trick of using a Kmart long canister to keep remotes organised yet discreet. It's just one of her top Kmart organisation tips in her video below.
Family hub planner
Any hack to make running a household easier is a winner in our book — and when it looks this darn stylish, it gets bonus points! Soph is the maker and organising queen behind @nestihome on Instagram and explains how she made this giant family planner.
"I used two sheets of the Kmart chalkboard vinyl, three of the medium and narrow drawer tidies for mail sorting and two cork boards. I used foam double sided tape to attach the drawers and a white 'Posca' pen to write with".
This has got to be one of cleverest, most useful DIY projects we've seen to date! A fab example of a project done on a budget, using clever Kmart hacks to get your life super organised!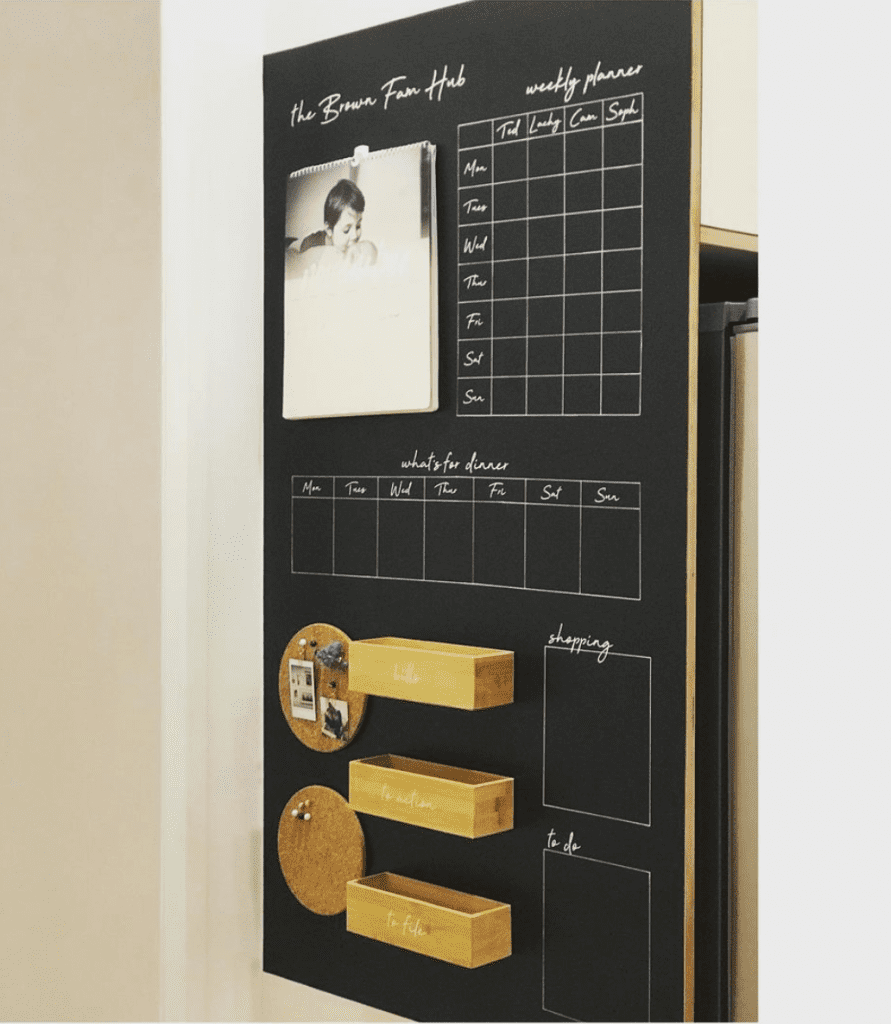 School bag station
School stuff gets everywhere… so this Kmart hack really grabbed our attention. Maricar took the 8-cube storage shelf and made a few adjustments to create this brilliant school bag station.
Paired next to the Kmart book shelf to store all the other school bits and pieces, this makes a great storage system for keeping everything neat and tidy. Ahh, organised bliss and an absolute winner in our clever Kmart hacks for an organised home!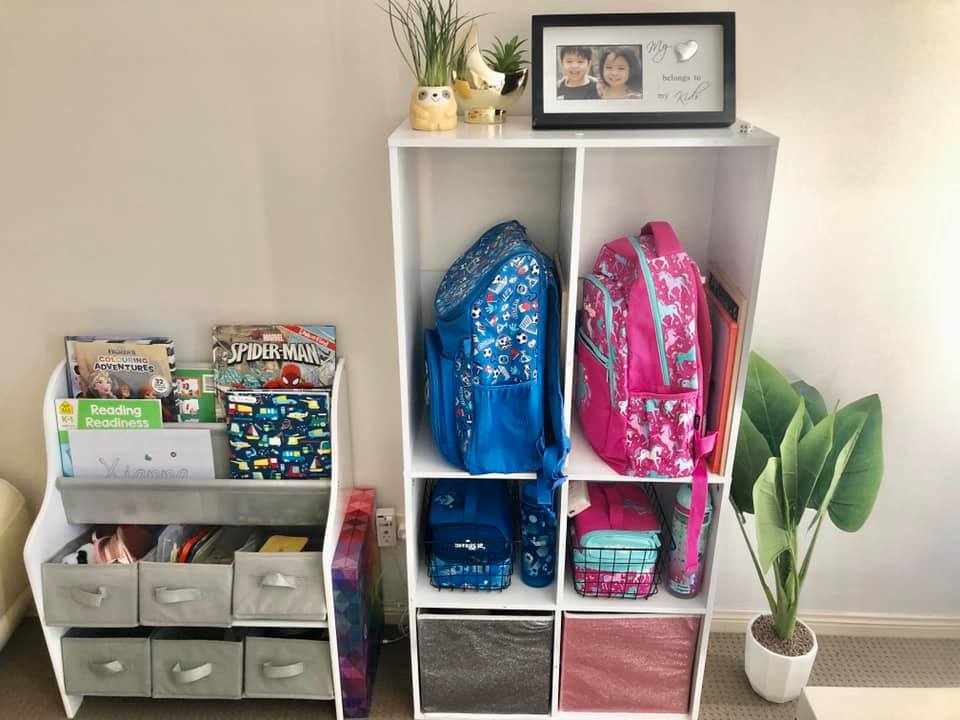 Organise your life with Kmart… everything
Are you ready for some serious organisation envy?! Check out how Hannah Barclay has organised her entire home with almost all Kmart products. Her bathroom is so tidy and organised, and that craft supply cupboard is art in itself!
We also love the use of a lazy susan for storing cleaning supplies under the kitchen sink.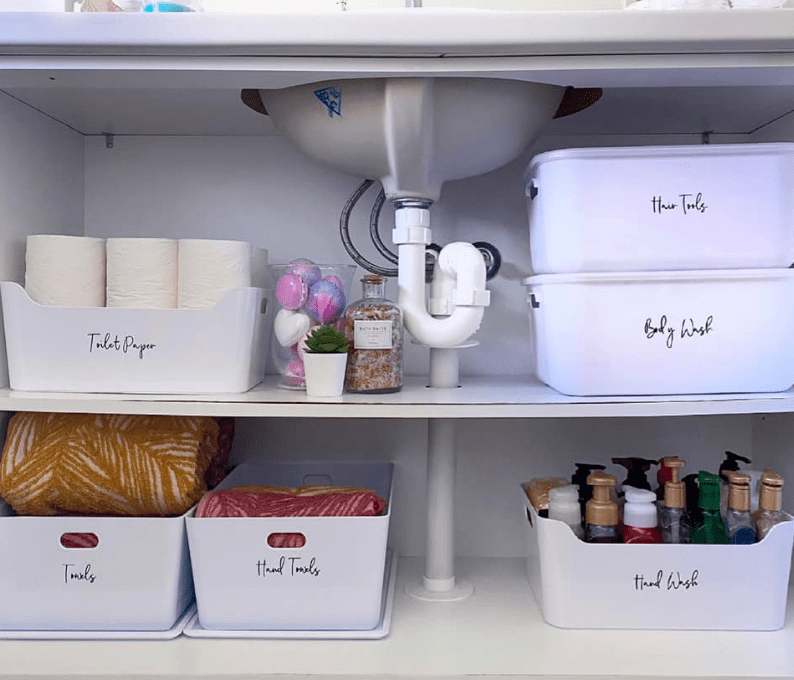 Stylish study nook
For our more advanced DIYers… this one's for you! Check out this fabulous study / home office nook that Venetia Elbourne-Hobbs created! Wall mounted, these shelves have been custom built to perfectly fit the stylish bamboo Kmart drawers, desk trays and magazine file.
We are seriously impressed!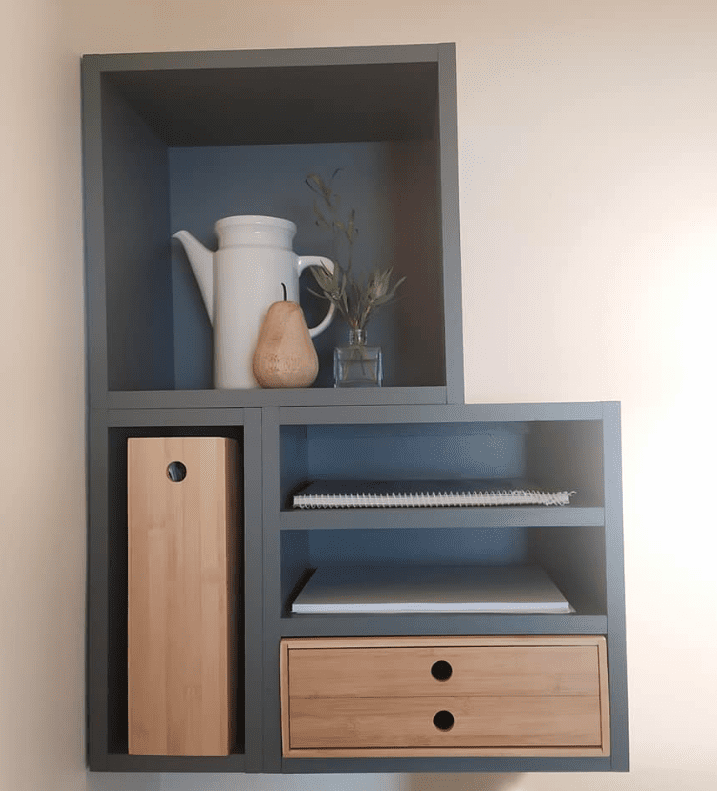 Unique bookcase makeover
We love this one! Simone has taken the Kmart storage bookshelf and given it a complete transformation. She has how-to instructions on her Instagram page to show you how she made this unique piece of furniture.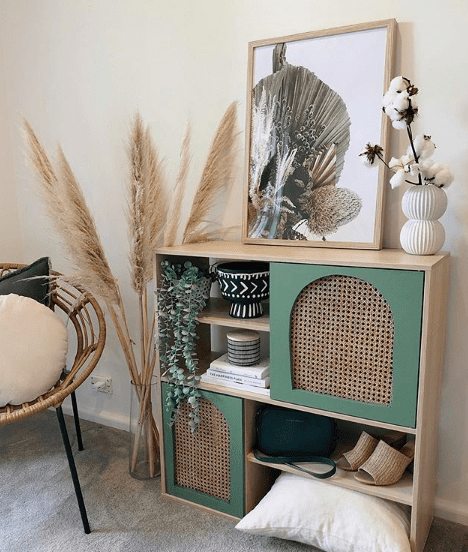 Woven baskets as kitchen storage
Talk about kitchen goals! Angela has used a selection of Kmart canisters and rectangle baskets to make the most of her open kitchen shelving.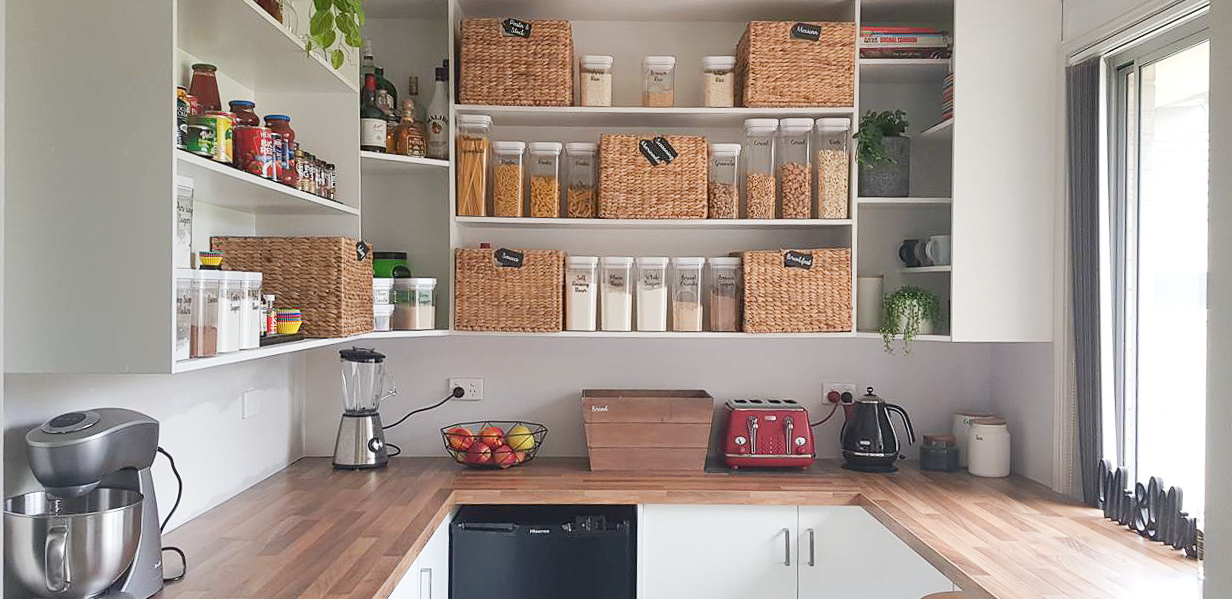 Neat 'n' tidy bin solution
Staying in the kitchen, here's an idea to keep your bins neat, tidy and out of sight! Michelle took the Kmart parquetry cabinet and two Kmart bins to create this clever bin storage solution. A great idea if you have pets or small children who think bins are something to play with!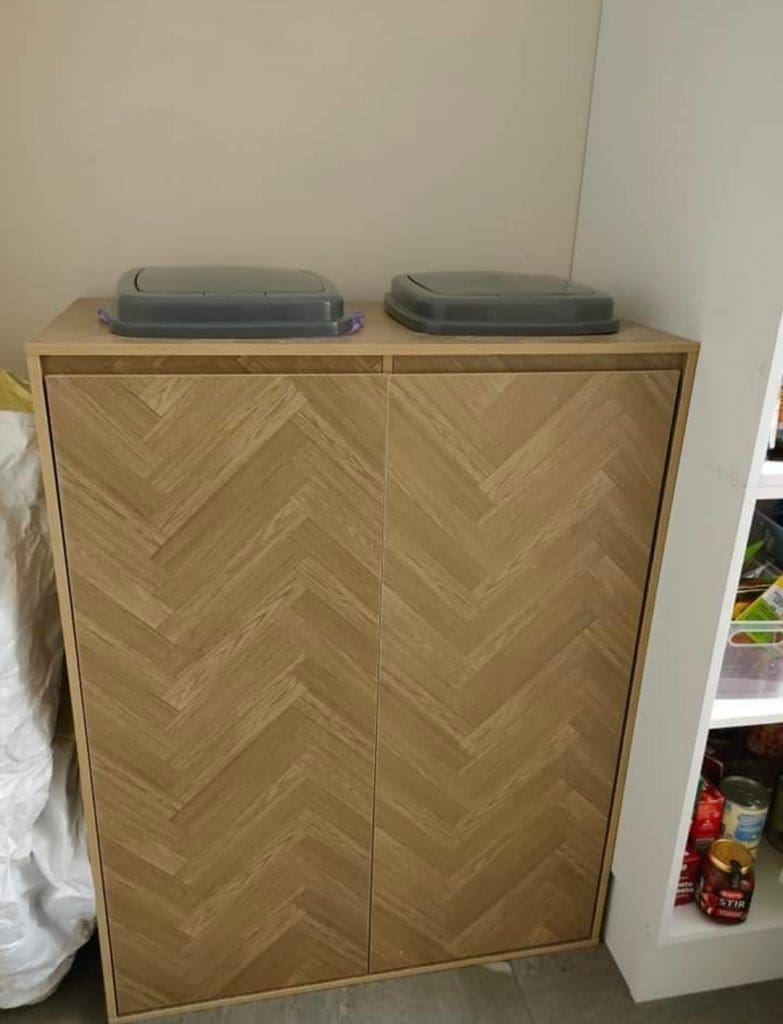 Timber lazy susan
A lazy susan is super useful in the kitchen. We love using them to store condiments, or in pantries to utilise those awkward corner spots. Kim has taken it to the next level by attaching a timber tray to the top of the clear lazy susan. Stylish and useful!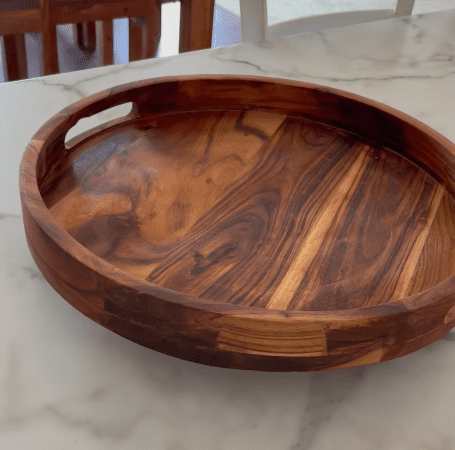 Under sink storage
Is under your sink a total disaster? No judgement here! We've been there! Check out how Gina organised her space with some simple solutions and a few handy products from Kmart.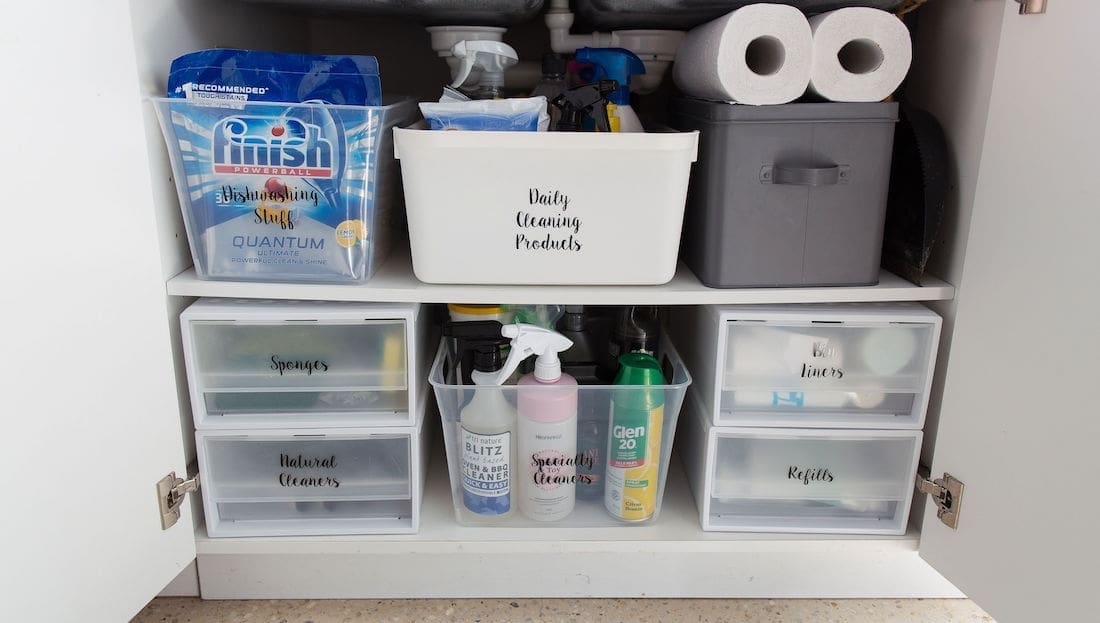 Tray becomes earring holder
Anyone who collects earrings would know how much of a struggle it is to keep them organised. Paige has found the solution though — mounting a Kmart tray vertically to the inside of her wardrobe!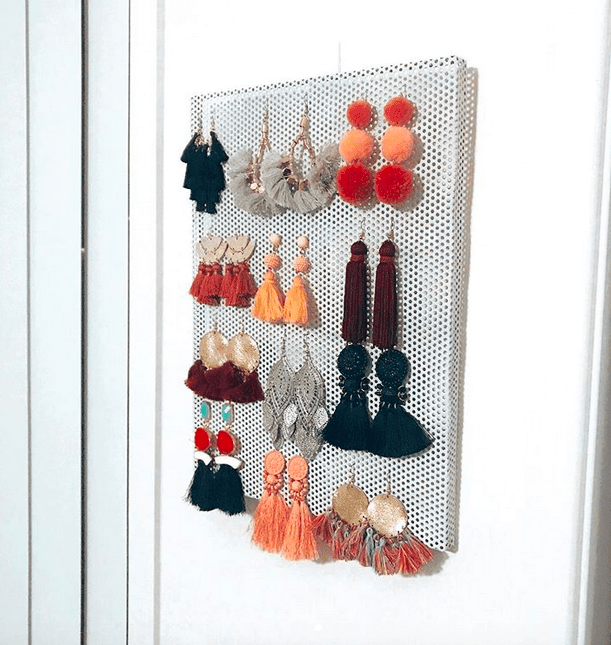 Caddy hack
There's more than meets the eye with this clever Kmart hack that Alanna made. She says it was an easy weekend job that required no power tools as she used the existing screws and holes.
"I wanted the caddy the same height as the bath so moved the tiers up and cut the legs to height. Then used the original top tier as a lid and now have somewhere to store my lady things," she explains.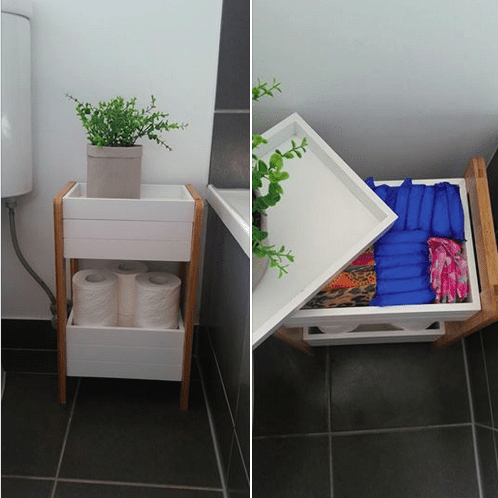 Jewellery tree becomes crystal jewellery dish
Organise your jewellery by making your own beautify crystal trinket dish. We used the Kmart jewellery tree with marble base (just $7!) and hacked it to create this luxe piece that takes pride of place on a bedside table.
Check out the tutorial here to find out how easy it is to make your own.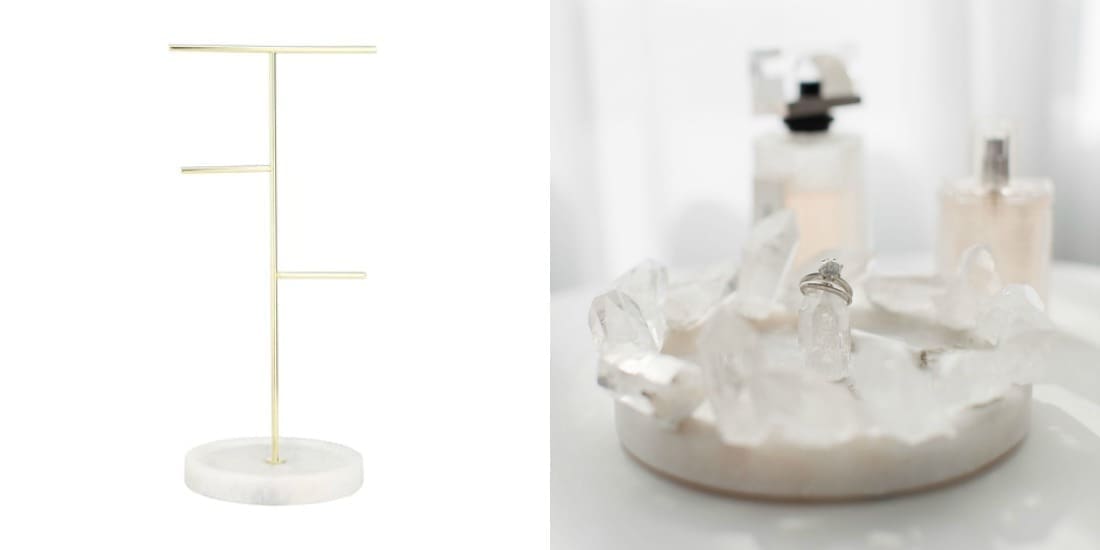 Hanging planters as wall pockets
You've most likely seen the Scandi-style wall pockets from high-end design stores but they come with a high-end price tag. Ashleigh created a similar look using the Kmart hanging planters. Genius!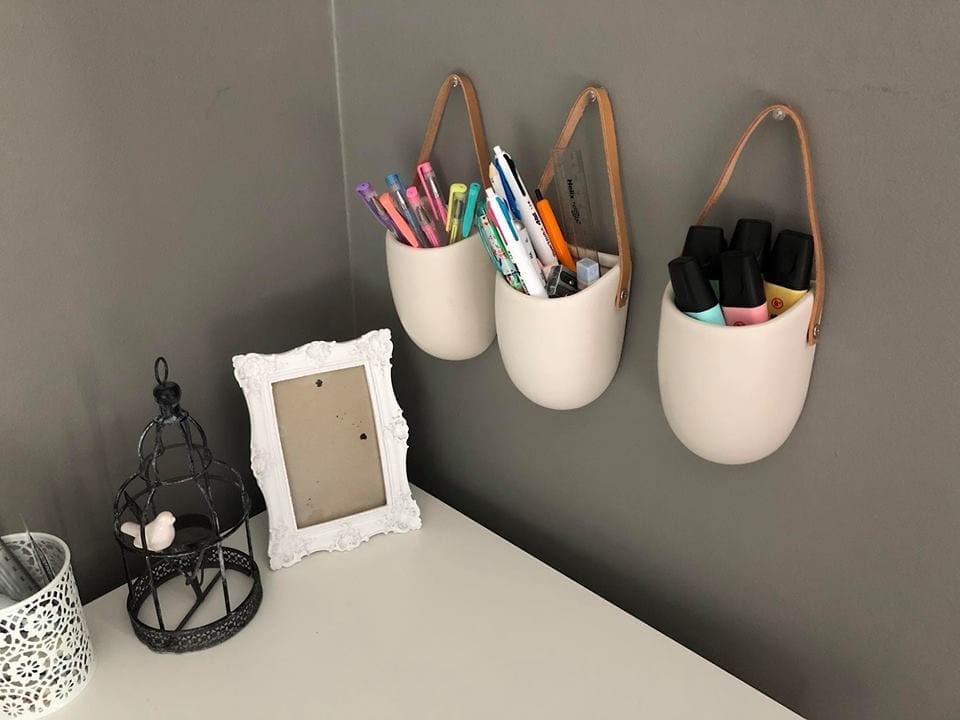 Bamboo drawer as floating shelf
Whether you've got a young child who loves reaching for cords or simply want a discreet way to display smaller electronics, such as your home phone, Megan has found the solution! She turned a bamboo drawer upside down and mounted it to the wall to create a wall shelf with an underside that is large enough to keep cables out of sight.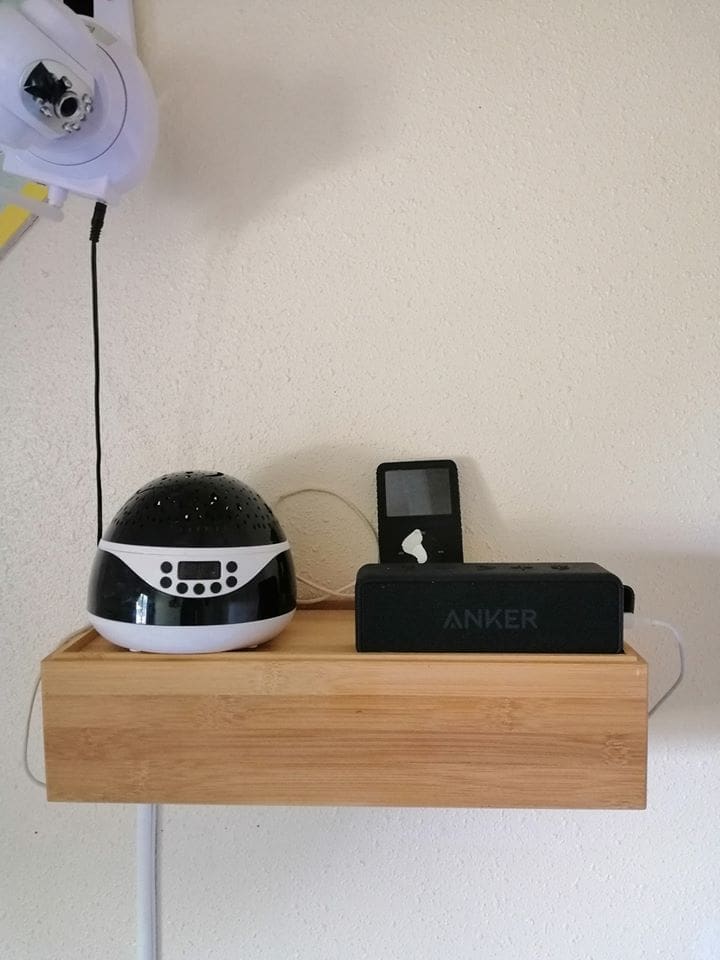 Water bottle storage
Look… this one isn't revolutionary, but it is handy so we thought we'd still include it in our clever Kmart hacks. These stackable wine bottle holders are a great solution for storing water bottles. They work great in the pantry or, as Style Curator writer Dan has done, put them in your fridge to have plenty of cold water on hand.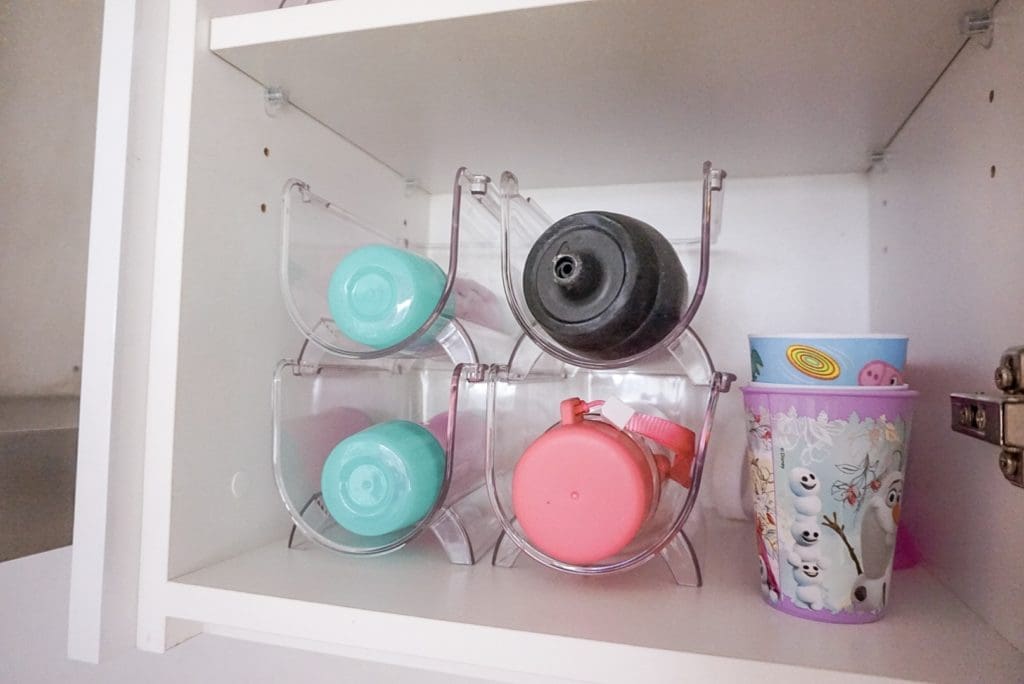 Create your own removable storage shelves
If you have high shelves in your home, it can be tricky to fully utilise the space, especially if you're renting and can't make any permanent changes. Another clever Kmart hacker came up with this handy solution. Simply secure two Kmart mesh shelves together with cable ties, trim and that's it!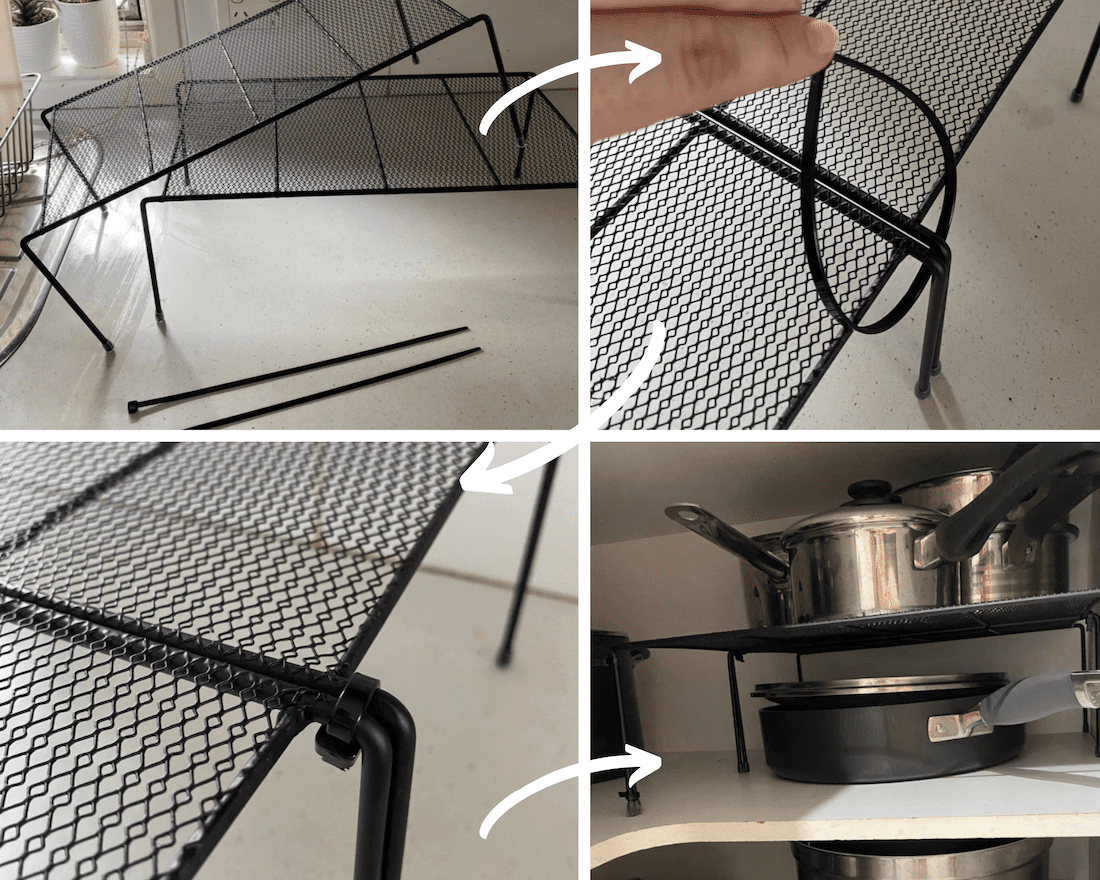 Shower caddy becomes hair accessories storage
Kids have a lot of stuff. Like… a lot of stuff! And one thing that can be tricky to store, is kid's hair accessories. Headbands, hairbrushes, bows, clips, hair ties… how do you keep it neat and tidy?
Lauren took the Kmart over the door shower caddy into her daughter's bedroom and created a smart and organised hair accessories storage solution.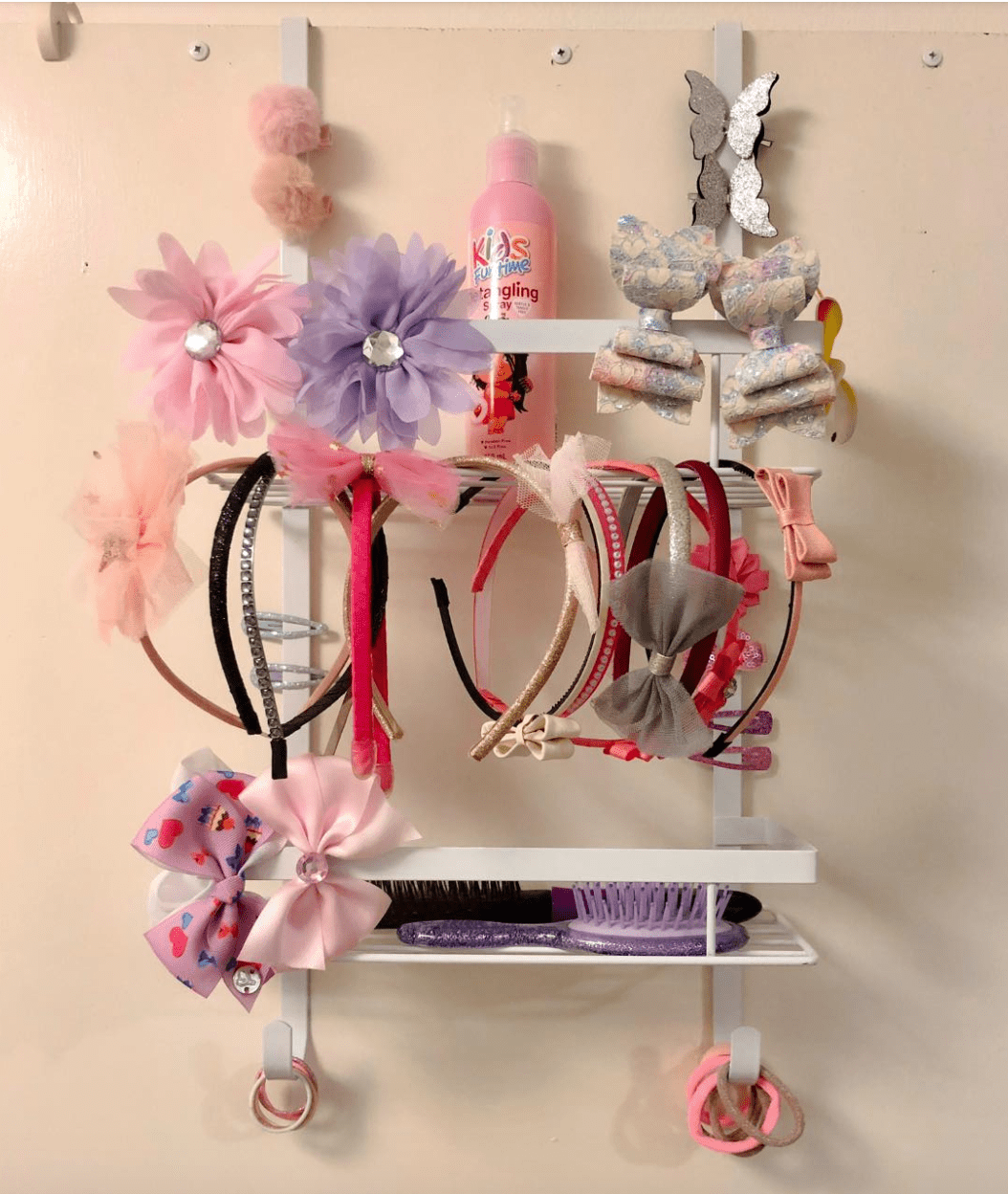 Use shower curtain hooks for handy (and cheap!) wardrobe solutions
This clever Kmart hack will only set you back $1. Yep… $1!!
Check out the pics below to see two easy ways you can use the clear shower curtain rings to organise your wardrobe. From jeans and pants to hanging hats, this is a cheap and cheerful way to organise your life!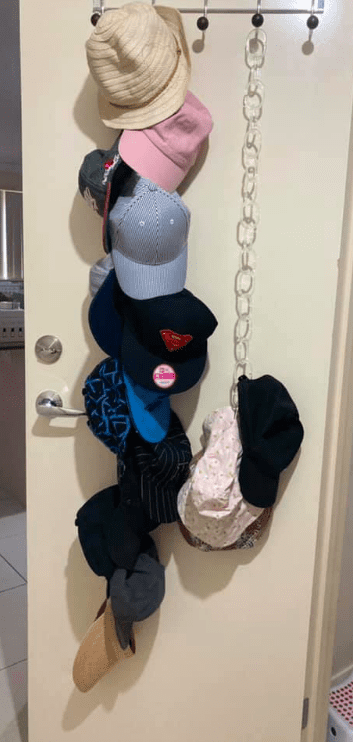 Belly belly baskets as laundry sorters
Such a fun hack idea, Studio DIY dip painted these belly belly baskets and used mod podge to adhere black letters to the face.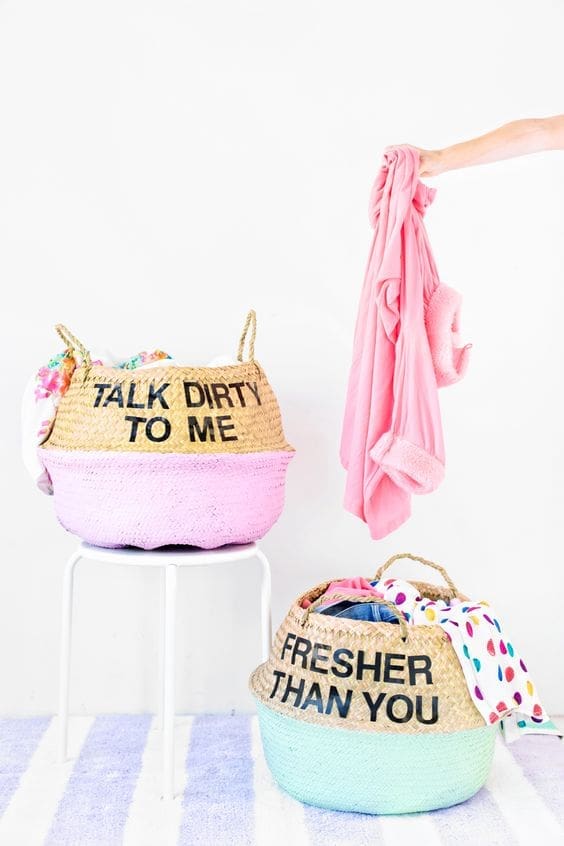 Towel rack as toy organiser
Joelle hacked the Kmart bamboo towel rack by changing where the pieces go to create awesome puzzle and toy storage. She used shower curtain rings from Kmart and curtain clips from IKEA with large ziplock bags. Genius!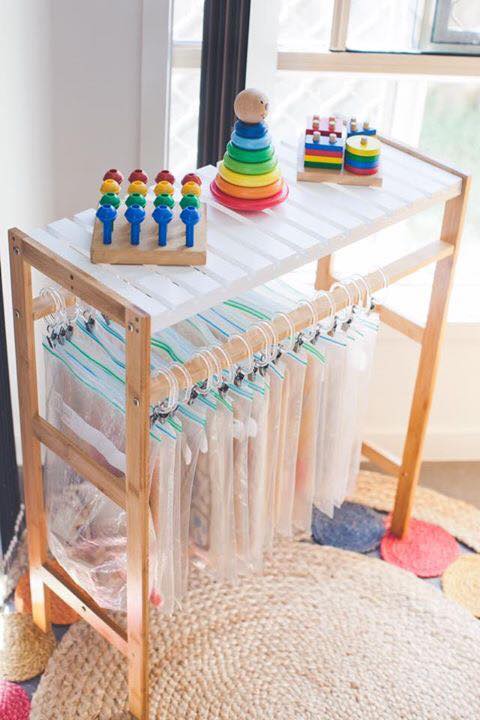 Bathroom trolley as pet foods station
We all know how unsightly and smelly pet bowls and open food packets can be in the home.
But check out this clever Kmart hack — turning a bathroom trolley into a pet food station complete with all the pet storage tins and food bowls too!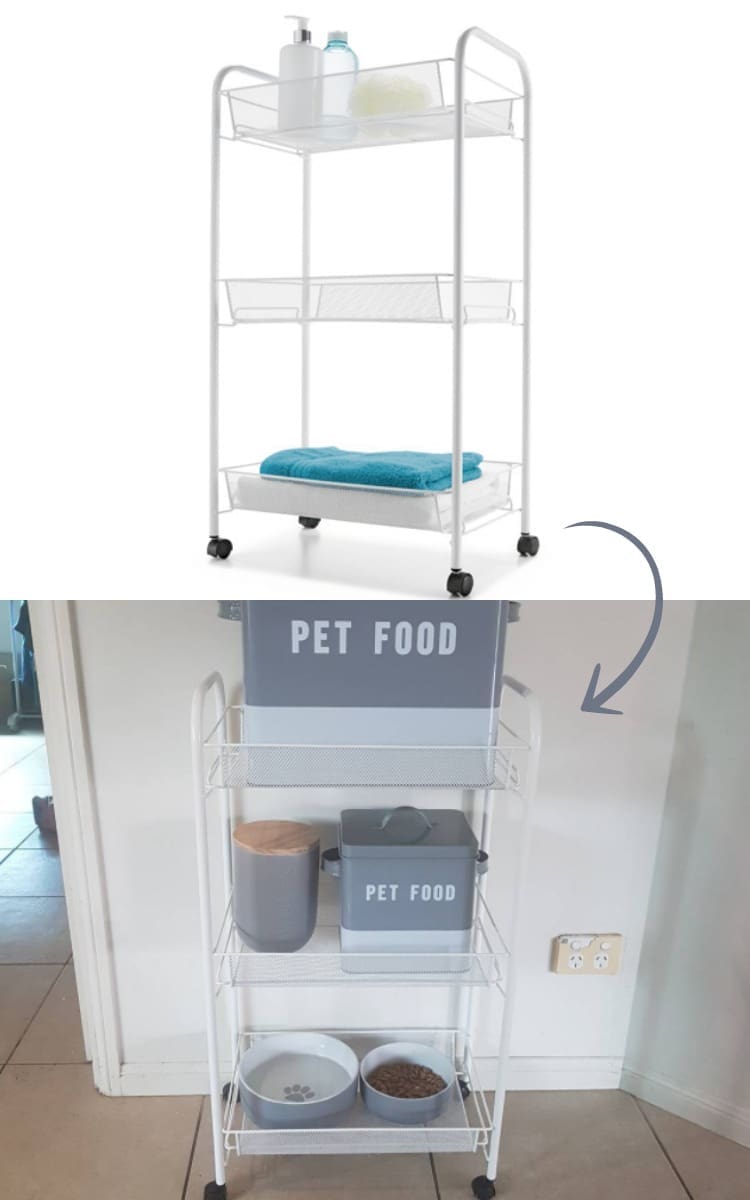 Book shelf as open wardrobe
Rachel hacked this $15 book shelf and turned it into an open wardrobe for her son. By simply moving some of the shelving heights and adding a dowel rod for coat hangers, she was able to create an affordable and stylish storage solution!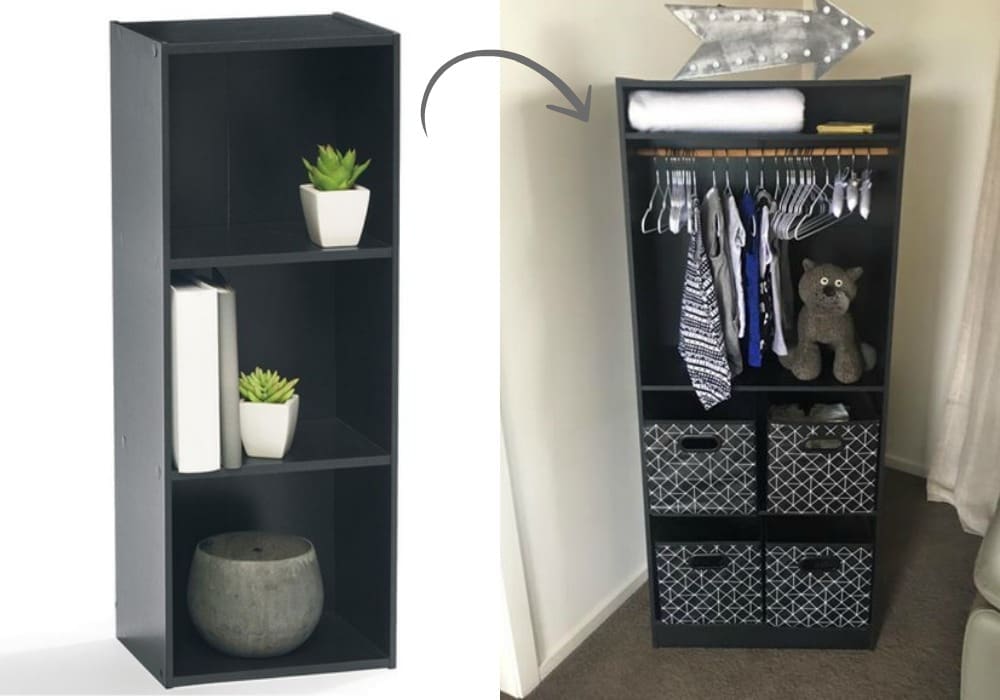 Bookshelves become kids storage lockers
Mum of five, Jessica-Louise made this practical storage locker hack for her children. What a great solution that many busy parents will surely want to try themselves!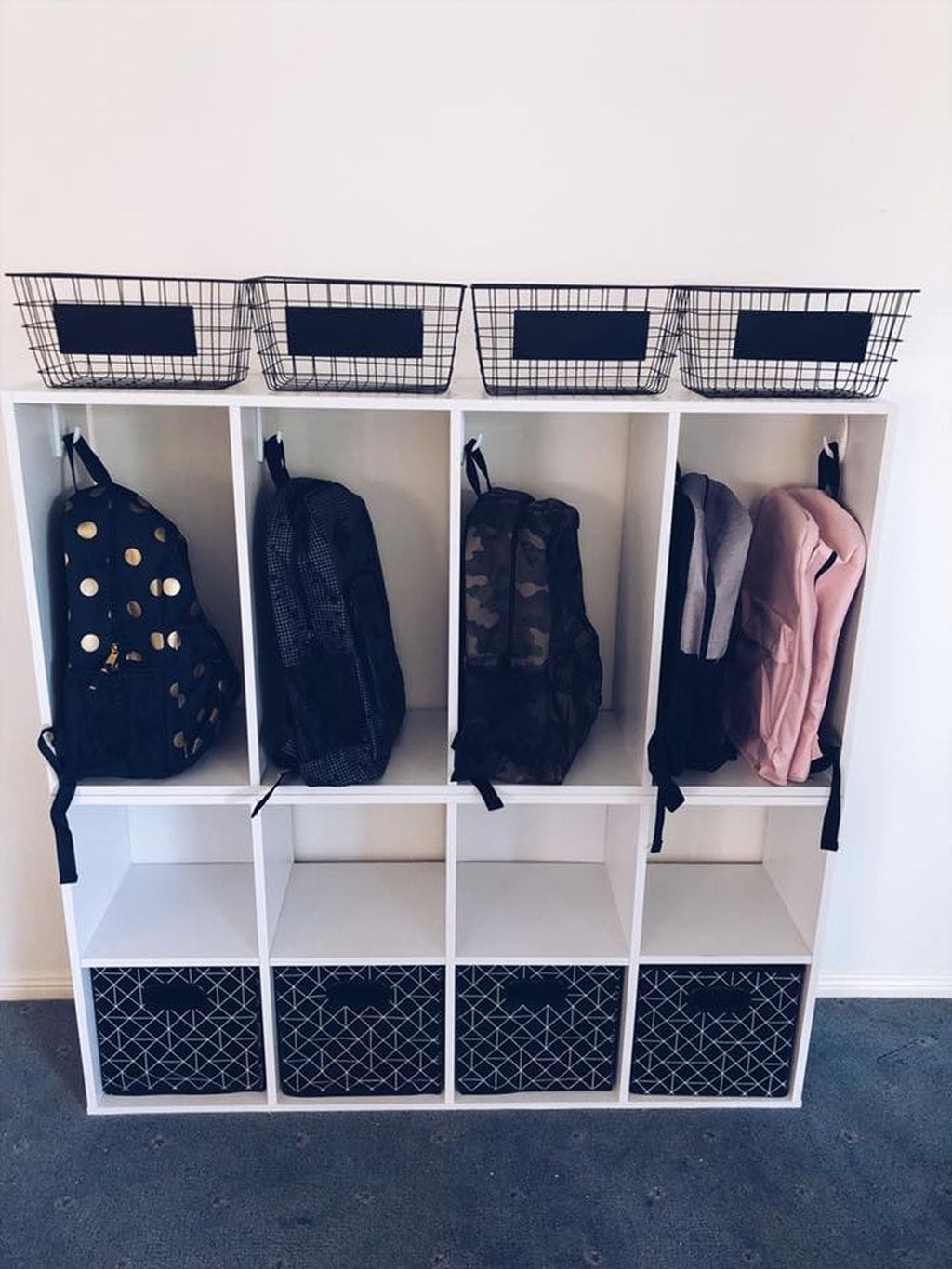 Did you discover any clever Kmart hacks to try at your place? Will you try one (or more) to get your home super organised?! Or perhaps you've got an organisation Kmart hack of your own you'd like to share with us! Let us know in the comment section below!