This sweet and simple DIY candle in a cup is an easy home decor hack or thoughtful gift idea. I absolutely love the look of candles in handmade ceramic vessels but given they're generally made in small batches, they can be hard to get — selling out before you've got time to click 'Add to cart'. So this DIY is a ceramic candle hack, using a cuddle mug from Freedom (ie a mug without a handle) that has subtle imperfections to give the appearance of a hand pinched vessel.
If you're gifting this candle, it's like 3 pressies in 1 — as a candle, beautiful mug and sweet crystal! Let's jump in to how to make it…
Related article: DIY bath bombs: Make luxe bath bombs with this simple tutorial
Related article: Make your own room spray
Items you will need:
Vessel or cup (I used a cuddle mug from Freedom)
Soy wax pellets (these are widely available, mine are from Lincraft)
Candle fragrance (I bought mine from Eroma)
Candle wicks (also from Lincraft)
Wick stickers
Pot to melt wax (I found this milk pan from Harris Scarfe just the right size)
Metal or silicone spatula to stir (also from Harris Scarfe)
Peg
Small crystals (optional way to decorate the candle)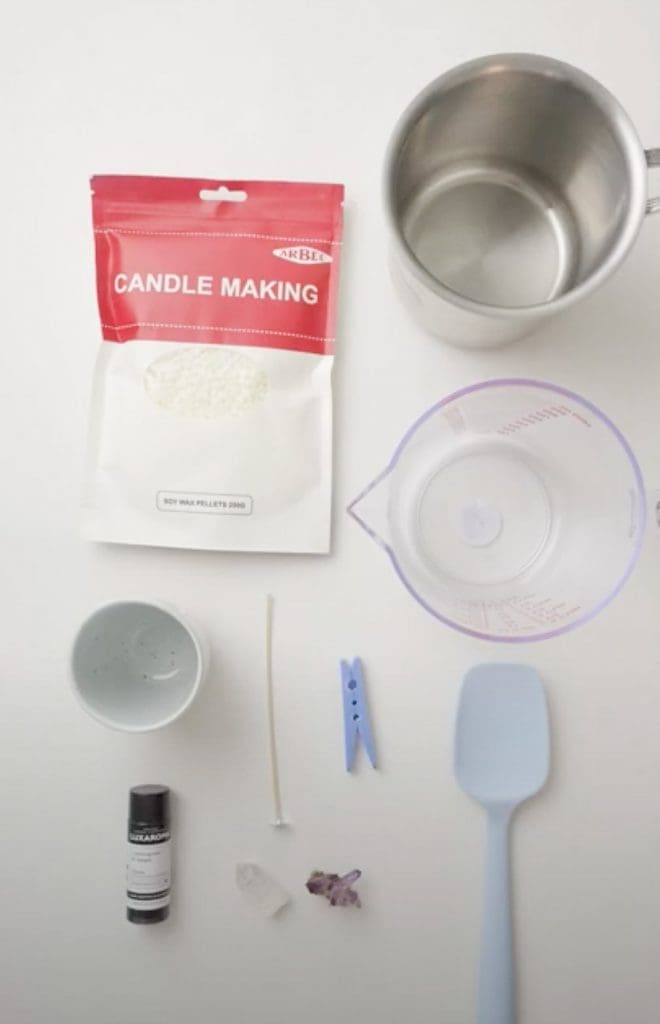 Steps:
1. Heat wax on low until melted and stand aside for 5 minutes to cool down. If you add your fragrance when the wax is too hot, it can burn off during the candle making process — leaving no fragrance left when it's time to burn the candle!
2. Prepare your vessel by ensuring it is clean and stick the wick to the base in the centre. You can buy wick stickers but they were sold out in store so I used a few drops of hot wax to stick the wick down and it did the trick. Use a peg to hold the wick in the centre at the top of your vessel.
3. Add fragrance to your cooled melted wax. Between 7%-10% is recommended. Any more and your candle can develop a dark smoke when burning.
4. Pour your melted wax into your vessel and stand aside.
5. Optional: When your candle is almost set, you can gently press a crystal into the surface. Select a crystal for the energy or qualities you want to attract (check out our compressive crystal guide here or read the quick tips below).
6. Trim the wick and you're done!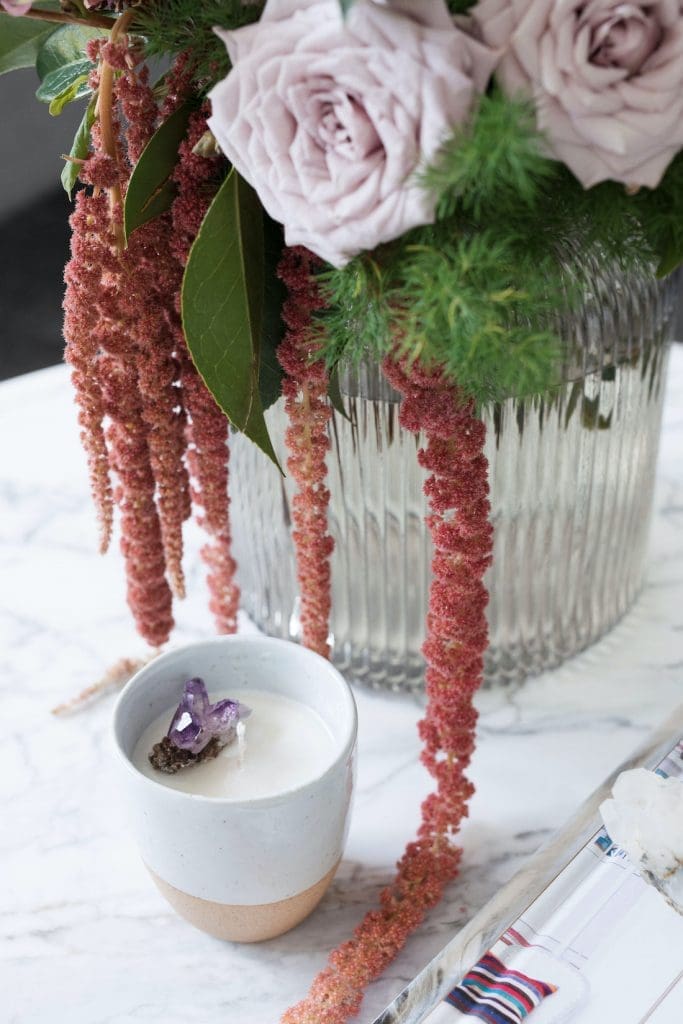 Tips:
Making and burning the candle
The best time to press the crystal into the surface is when the wax begins to turn opaque — put it in too early and it will sink to the bottom of your vessel, and put it in too late and you may find you crack the surface of the candle.
While you may think burning a crystal will attract bad energy, fire is actually a great way to cleanse crystals so it will be wonderfully recharged and energised after the burn. Just be sure to let it cool before removing it as it will be hot immediately after burning the candle.
On the first burn, let your candle burn long enough so the entire surface melts (from edge to edge). If you do not burn a candle long enough the first time, it will create a well in the centre of your candle (what's often called a 'memory ring') and you won't get full use out of your candle.
Picking your crystal
A lovely way to personalise this candle is by choosing a crystal that attracts the qualities and energies you desire. These are some of the most popular crystals you may like to use:
clear quartz: a healing crystal that helps absorb negative energies and elevate your mind to a more positive place
rose quartz: the ultimate love stone, use it manifest unconditional love, including the ability to help forgive and understand
citrine: an emotionally balancing crystal that helps promote motivation, activate creativity and encourage self-expression
amethyst: the master of calming and is perfect for a living space as it soothes anxiety and stress
apophyllite: a powerful but gentle healing crystal that soothes feelings of anxiety, fear and worry.
✨ For more information on what properties different crystals poses, see our crystal guide here.
Will you try our candle in a cup DIY? Share a photo with us if you do! You'll mostly find me on Instagram or you can email it to hello@stylecurator.com.au.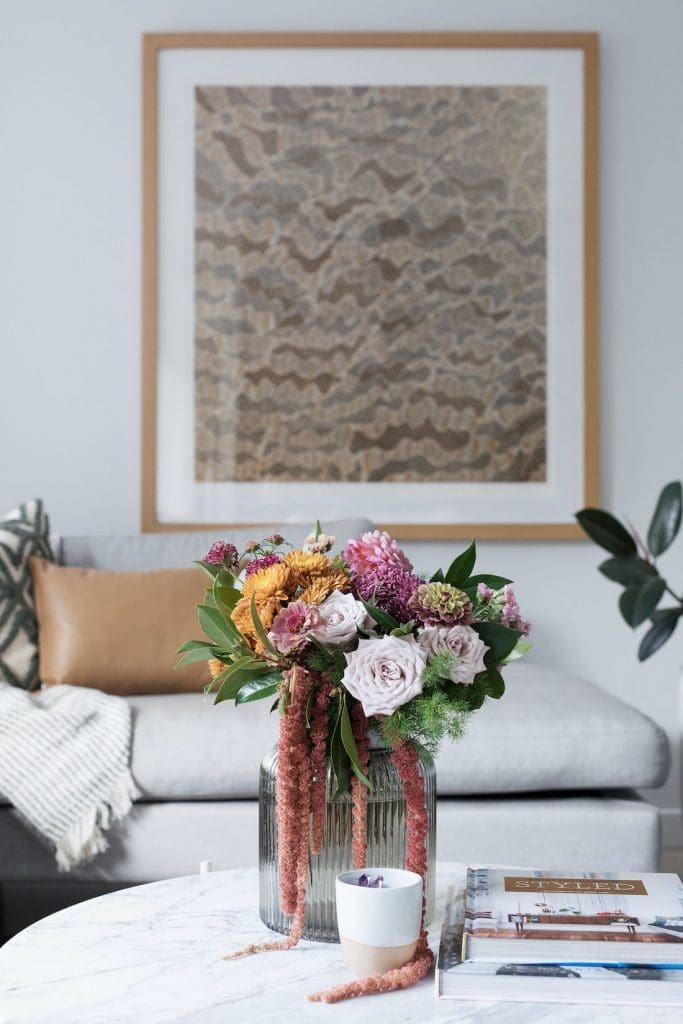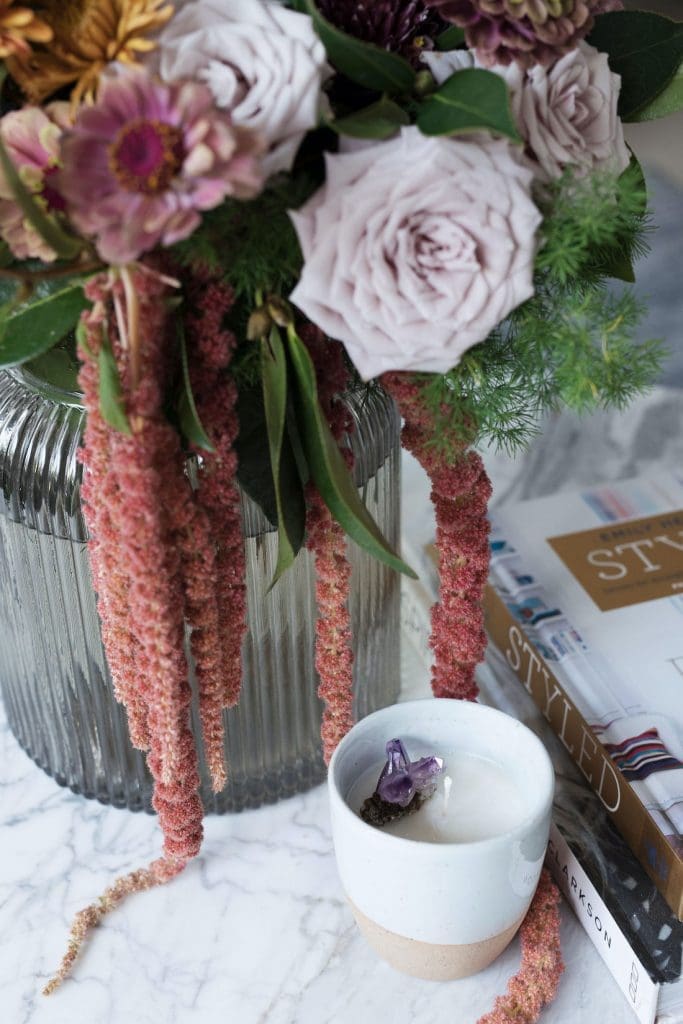 Disclaimer: This post contains some affiliate links. This means that when you click on a link and purchase something from that site, we may make a small commission at no extra cost to you.