Make your home smell divine without any nasty chemicals by following our simple tutorial to make your own room spray. DIY room sprays are affordable to make and there's no limit to the type of oils you can use to fragrance these. A wonderful gift idea, here's how easy it is to make your own…
Related article: Top 10 essential oils you need for the home
Related article: Luxe DIY bath bombs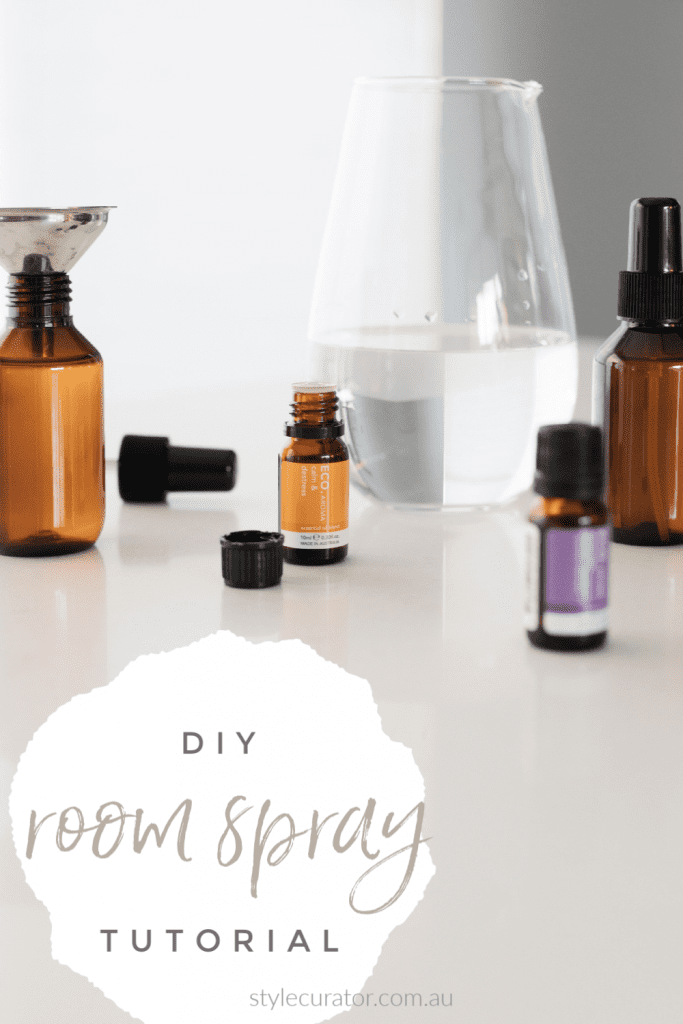 Items you will need:
Spray bottles (we got ours from Eco Modern Essentials but otherwise you may have some small spray bottles around the home you could repurpose?)
Measuring cup
Small funnel or pouring jug (optional but it makes life easier)
1/2 cup water (distilled or purified is best)
1/2 cup witch hazel (or rubbing alcohol or vodka)
20 drops essential oil (you could use a pre-mixed blend or make your own — see below for some of our favourite blends)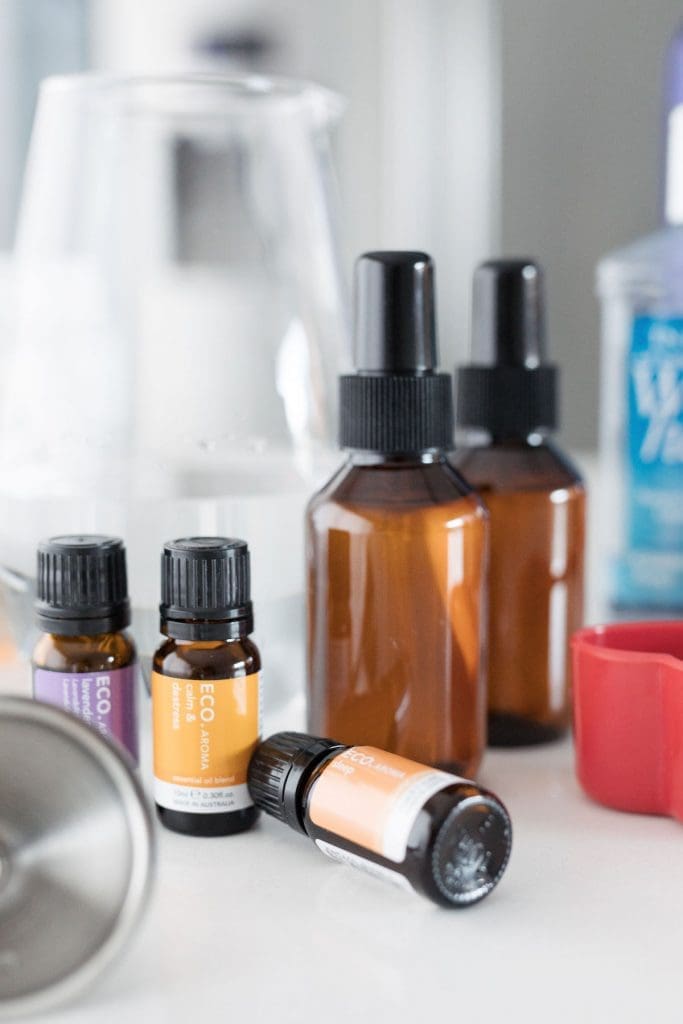 Steps:
1. Decide on the type of room spray you want to make — relaxing or energising, grounding or uplifting etc — and create an oil blend to achieve that. You can find pre-mixed blends that already do this for you and we love calm and destress, energy blend, clarity and focus, and anxiety blend.

Alternatively, here are some of our favourite blends you can make yourself:
Sweet lavender: 12 drops lavender oil, 6 drops chamomile oil and 2 drops Ylang Ylang oil
Summer breeze: 5 drops sweet orange oil, 5 drops lemon oil, 5 drops grapefruit oil, and 5 drops Melissa oil
Antibacterial and deodorising: 4 drops tea tree essential oil (also known as melaleuca essential oil), 9 drops lemon oil and 7 drops eucalyptus oil
Winter warmer: 6 drops sweet orange oil, 5 drops frankincense oil, 5 drops clove oil and 4 drops bergamot oil.

You also can't go wrong with a single fragrance like lavender oil.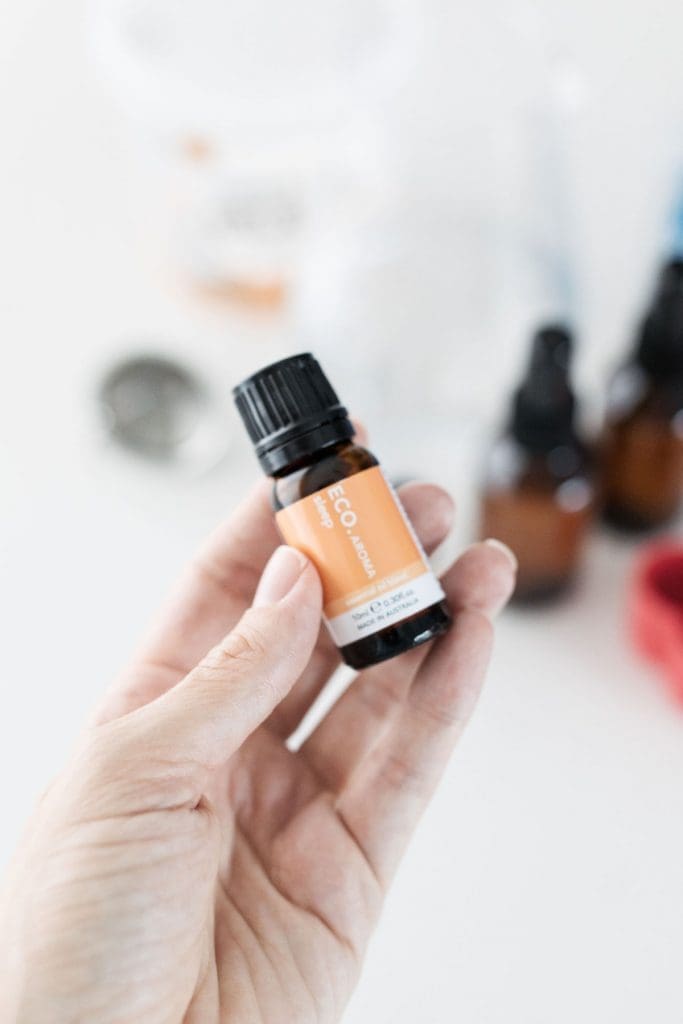 2. Place a funnel over your open spray bottle and carefully pour in your water, witch hazel (or alcohol), and add 20 drops of your essential oil blend. Depending on the size of your bottle, you may need to top it up — simply use a similar ratio of water, witch hazel and essential oil until the bottle is filled 2cm from the top.
3. Screw on the lid and shake well to combine. New bottles will need 10-20 pumps before they begin spraying.
IMPORTANT: Some essential oils, particularly citrus oils, have been known to discolour fabric because of their acidity. We always recommend spraying into the air rather than directly onto fabric. If you are concerned about any fabrics in the space, test in an inconspicuous area first.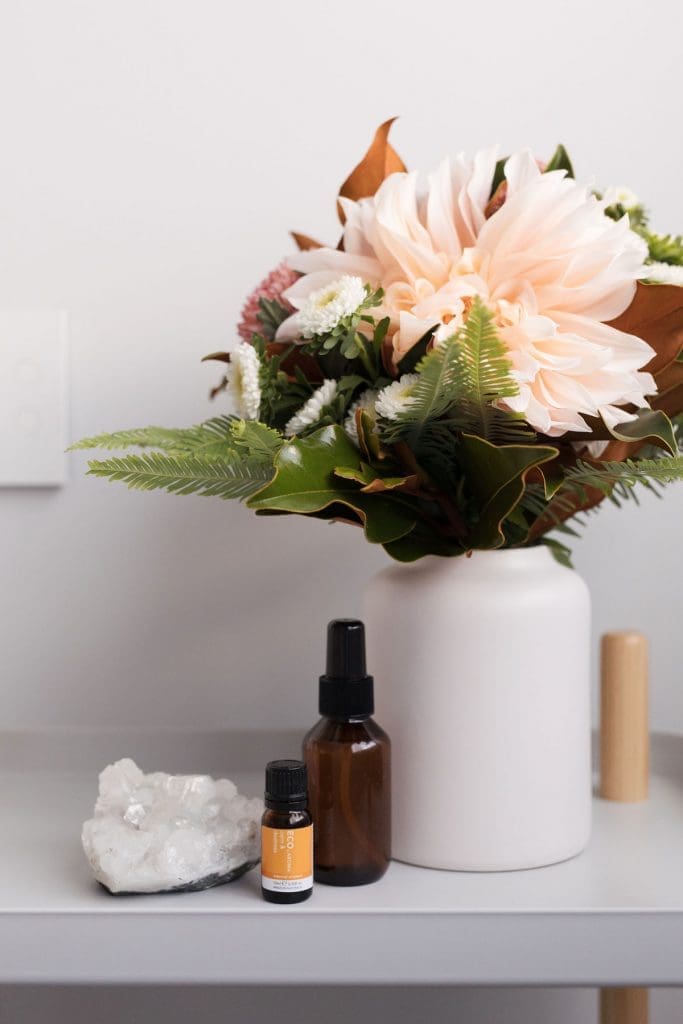 Disclaimer: this post contains some affiliate links. This means, if you purchase an item we may receive a commission on the sale of the products.