An interior styling trend we're seeing a lot of lately (and totally vibing) are dried floral arrangements. Featuring dried or preserved blooms, grasses, stems, berries and seed pods, they're a stunning — and long lasting — way to bring texture and beauty into your home. These arrangements can hold for up to 3 years… so for anyone looking for low-to-zero maintenance, this one is for you 😉 .
Check out our styling advice and fave places to shop these beauties!
Related article: The tips and tricks to styling your coffee table with ease
Related article: Design inspo: Beautiful Bohemian living rooms and how to pull off the look
How to style them
Dried florals can be used as a stylish and beautiful decor piece in any room of the home. And because they need virtually no care (just a gentle dust every so often to keep them looking fresh) you can simply set and forget!
Depending on the size, you can style these as a point of interest on just about any surface — such as a console table, coffee table or in a bookshelf — or incorporate them into a more stylised arrangement. Think an artwork or two leaning behind, perhaps a stack of books with a candle on top to one side — it's easy to build up a beautiful scene around one of these arrangements.
Here are some of our favourite ways to style dried floral arrangements around your home.
On the coffee table
We love how putting a little effort into styling your coffee table can have such a big impact — they are after all front and centre in your living room. While fresh flowers are beautiful, they generally only last 1-2 weeks (see our tips here on how to extend the life of your flowers) so rather than constantly replacing fresh arrangements, why not use a dried floral arrangement on your coffee table? Check out all our coffee table styling tips and tricks here.
If budget permits, you could also get a super-sized arrangement for a large pot as Krystal has done in her living room below. Talk about heart eyes!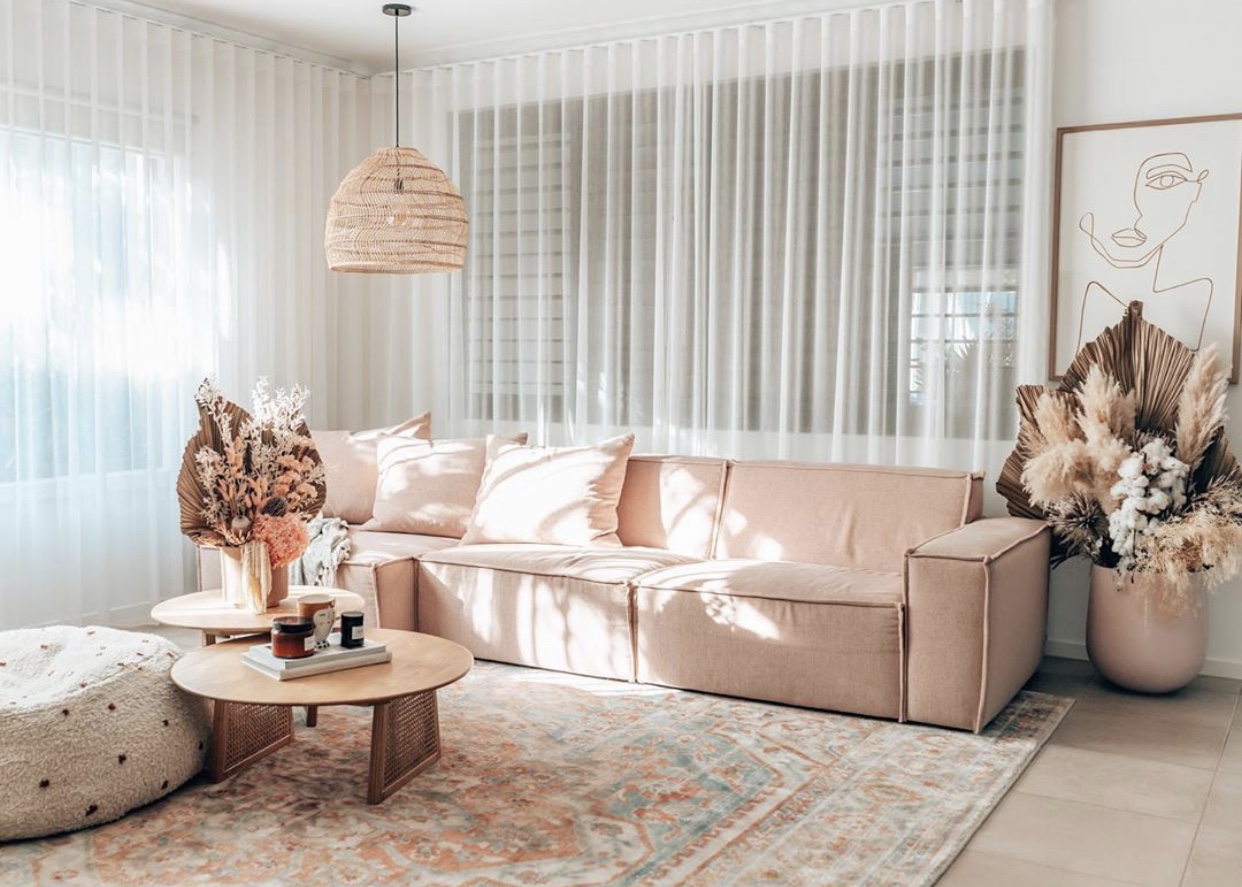 In a bookshelf
Bookshelf styling is one of our favourite things to do and Bianca has totally nailed her shelf styling below. Spy that sweet little dried arrangement on the top shelf.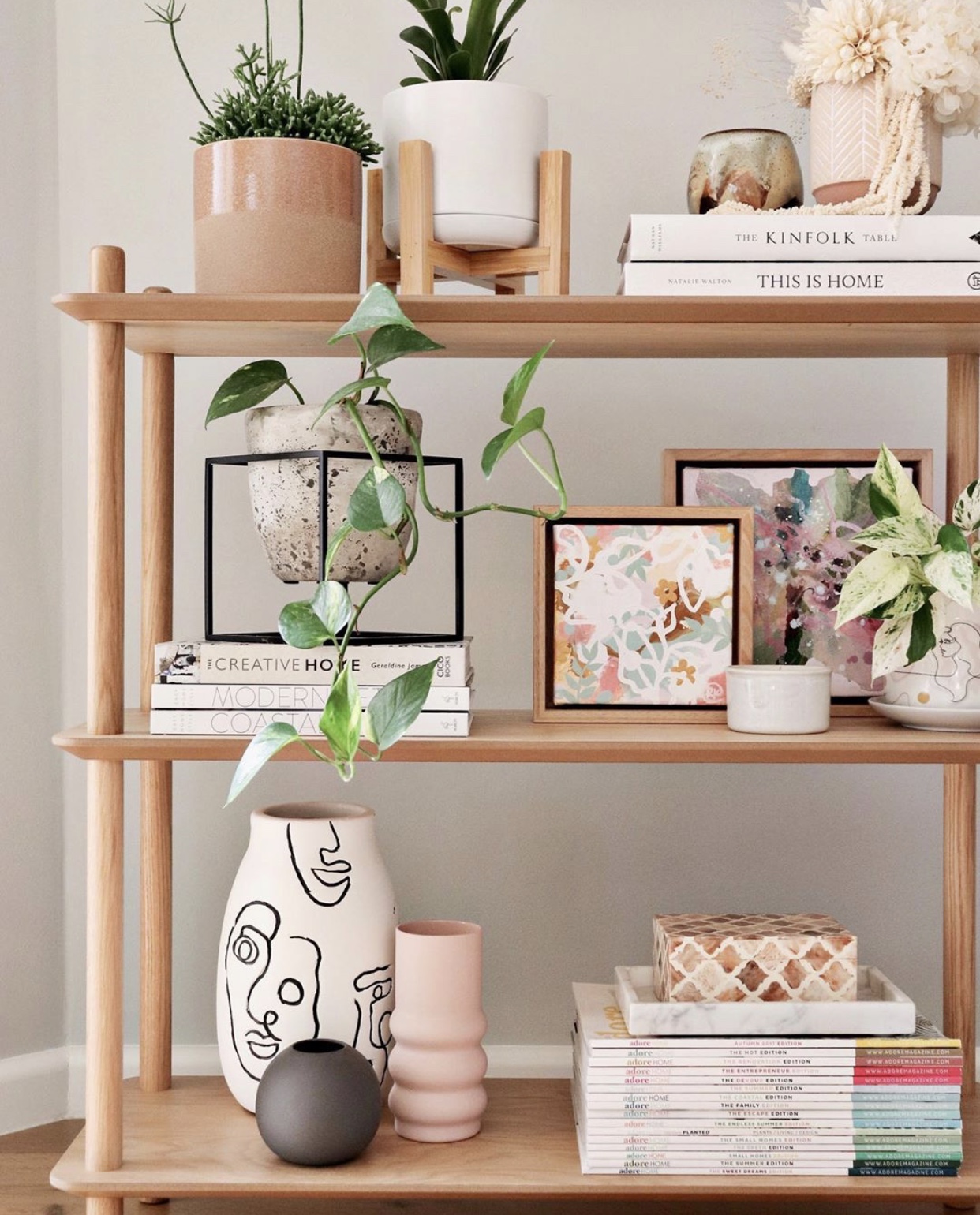 On a sideboard
Most of us have some sort of sideboard in our home, whether it's a console table in the entry, or a side table in the living or dining room. Add a pop of life, texture and colour with a dried floral arrangement. Jess shows how it's done on her sideboard below — using a book as a base, playing with height and scale, and styling with an odd number of objects. Find more ideas to style your sideboard here.
In the bedroom
On top of your dresser or on the bedside table, we adore a dried floral arrangement in the bedroom too. Unlike fresh flowers, you won't have to worry about any overpowering scents disturbing your sleep.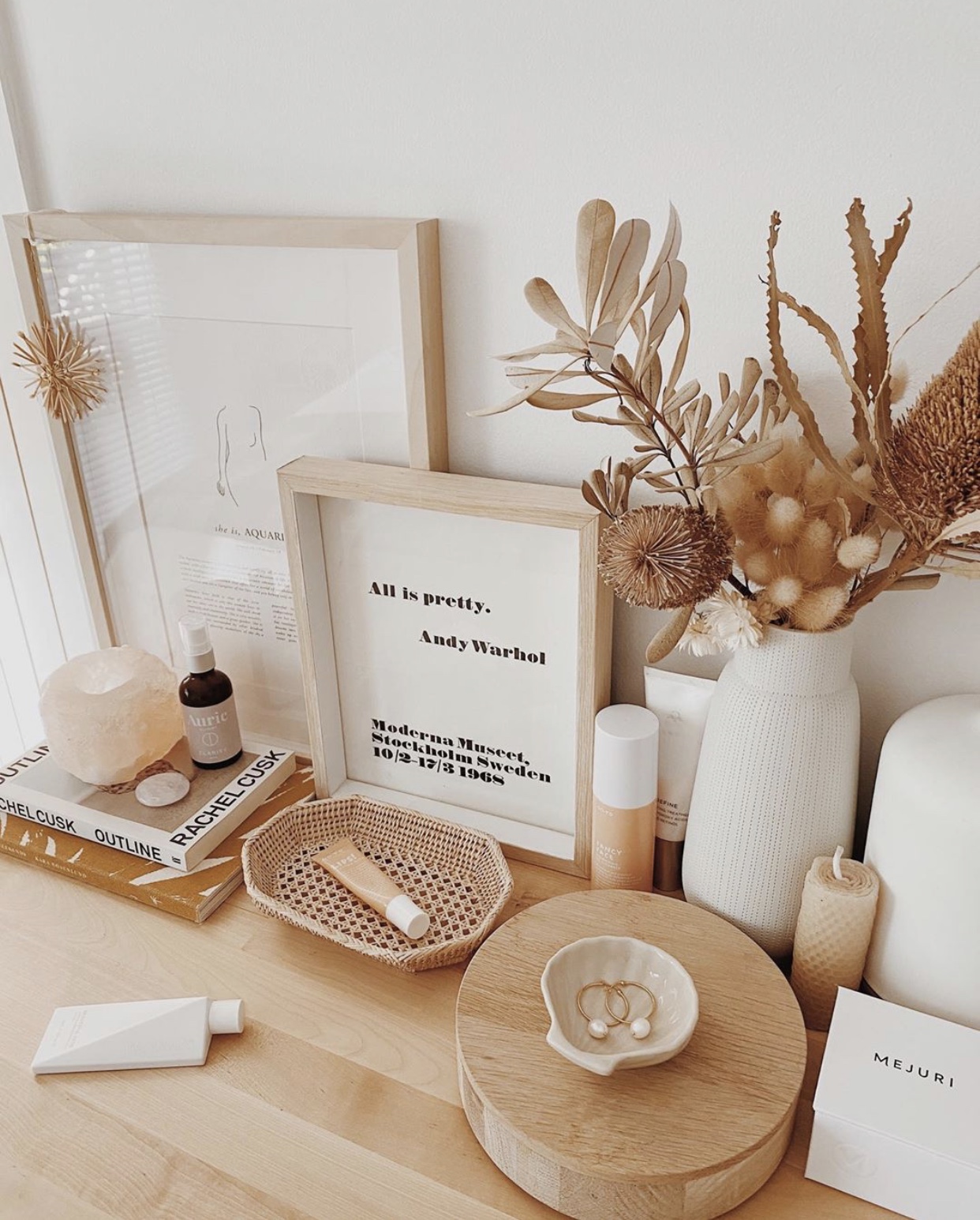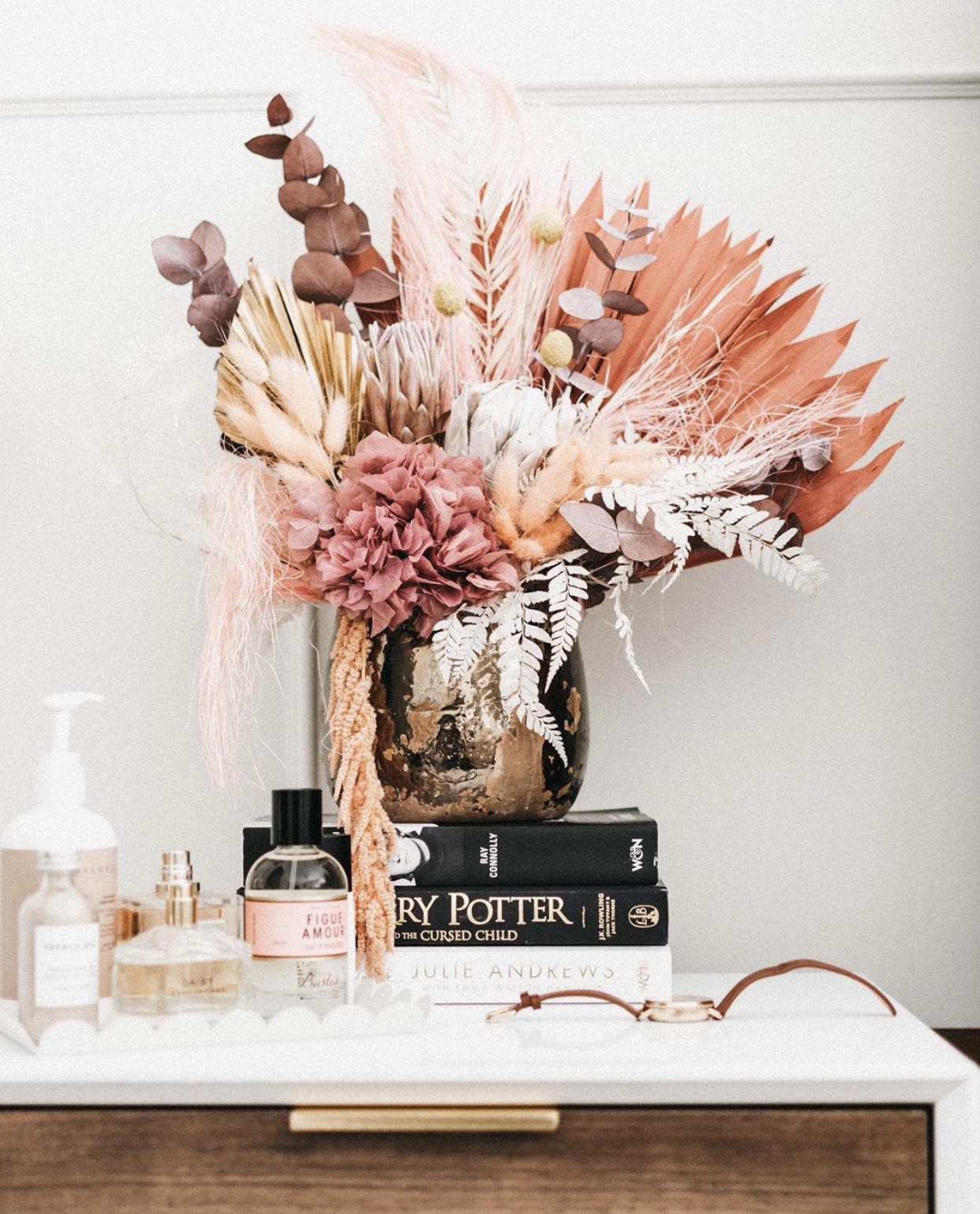 In your home office
With many of us still working from home, perhaps you want to give this space a bit of attention. You can find a dried arrangement to suit just about any colour scheme and style… just check out the feminine office of Laura below.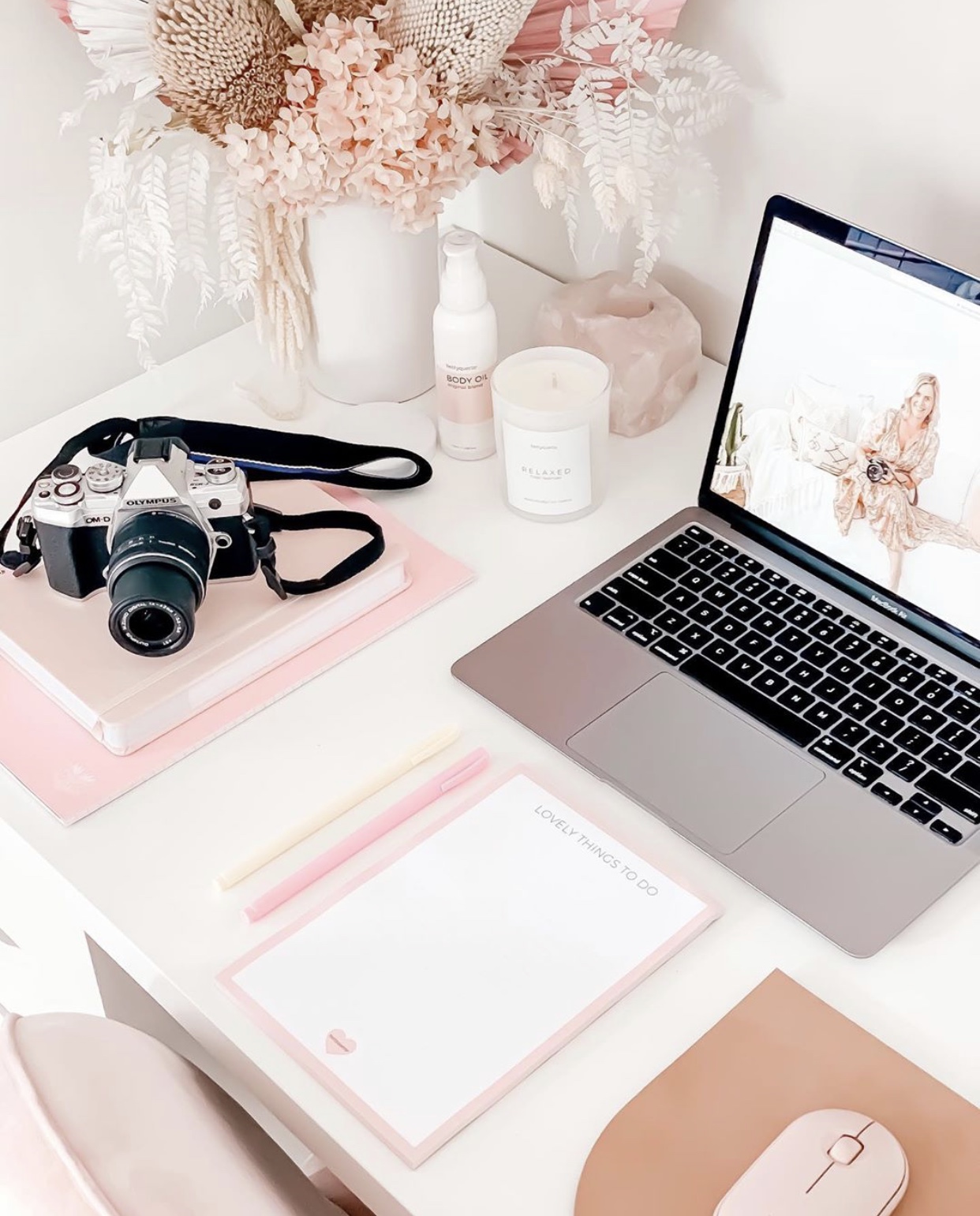 In the bathroom
And finally, here's proof you can use dried florals in every room of the home. This simple vessel filled with 'bunny tails' brings earthiness to the space — and would look equally as great in the laundry.
As we said, you can't go wrong with a dried arrangement around your home!
Where to shop dried floral arrangements
Starting this list with where we bought our everlasting arrangement, we ADORE the range from Botanical Haus Studio. Each dried and preserved arrangement comes in its own stylish pot, ready to display in your home!
Known for their dreamy whites and feminine pink arrangements, it's hard not to fall in love with the collection from Sonny + Willow. They also have an eclectic range of vessels, such as clam shells — LOVE!
If you're after something big and beautiful, this is the shop for you. There's a distinctly 'Australiana' theme with Julie's collection, with plenty of colour palettes and florals to choose from.
With an Etsy store featuring dried flower bouquets, mini posies, dried flower wreaths, napkin rings, hand woven baskets and dried bunches, it's hard not to discover something to LOVE from Know The Rose. And with a 5/5 star rating, it seems her customers agree her pieces are even more stunning in real life!
Another Etsy shop we love is The Peach Fox. With some true beauties on offer, Gemma also has plenty of smaller arrangements in her store. These are perfect if you're just wanting to test the waters before you go the full-blown love affair with dried florals!
If it's the big bunches and whimsical falling flowers you love, then look no further! Alitalia Florist has an amazing collection of dried florals in bold colours, neutrals and even monochrome schemes to suit all tastes. Divine!
If you love the idea of dried flowers, but aren't quite ready to commit to a full bunch, why not go for something a little different? We adore the simplicity of this beautiful floral wreath from Milla Rose Flowers.
Keeping to a more neutral colour palette, the dried floral arrangements from Wicker + Whitewash will have you swooning. Their whimsical collection is what dried flower dreams are made of!
Do you love the dried floral trend as much as we do? Which arrangement has you lusting after it? Or perhaps there's another store we should know about to add to our list! Tell us in the comment section below!
Disclaimer: This post contains some affiliate links. This means when you click on a link and purchase something from that site, we may make a small commission at no extra cost to you.