The Bohemian style is taking over interiors and why not?! It's a melting pot of colour, texture and pattern that embraces a blending of cultures and times.
Over the decades, we've seen many arms of Boho design develop — Moroccan Boho, Vintage Boho, Eastern European Boho, Western Boho, Minimalist Boho and most recently Modern Boho — but at the core are common elements that we share in this article so you can pull off the look!
Get ready to fall in love with the Boho style with these beautiful Bohemian living rooms.
Related article: Do you know what your interior style is? Take the quiz!
Related article: Inspiration gallery: VJ panel living room walls
1. Embrace rugs
Mandy Hart is a queen of Boho style and has attracted a tribe of followers on Instagram who can't get enough of her stunning home!
Her hot tip to create a Bohomian living room is to use rugs to define the space and set the tone for the rest of the decor. Just check out her living room below for inspo.
She says most of the questions she gets are around where she sources her rugs — the answer, her mum started collecting these beautiful old Persian rugs 30 years ago and she's added several to the collection over the years too.
2. Don't be afraid to mix styles
As we mentioned in the intro, a common trait of Bohemian interiors is the way they blend styles.
Don't be afraid to embrace old and new, or different styles — in fact, doing so will build up the character of a room. Mandy says "Have fun and make your house a home by adding your own finds whether from the opshop down the road or a far flung city… Adding pieces with meaning will bring you so much joy."
3. Inject timber and rattan
Blonde timbers, walnut tones or even black timber — the Boho style embraces it all!
Another Instagram crush of ours is Caitlin from @thehouseonbeachroad who recently replaced the flooring in her home with this black timber #hearteyes
Her modern Boho living room proves you can mix timbers, so long as you do so consciously and find ways to connect the pieces in the space.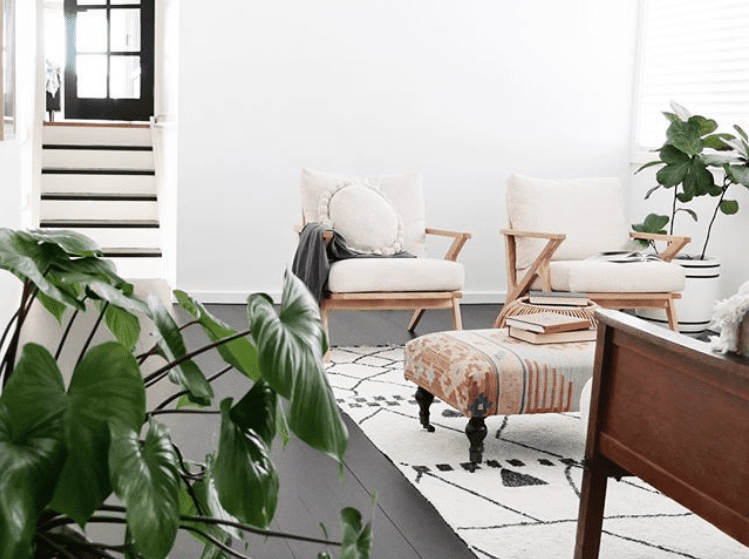 4. Colour on colour and pattern on pattern
There's no matchy matchiness going on in Bohemian living rooms — rather a pushing of the boundaries of what colours should 'go together' and more prints and patterns than you can poke a stick at!
Traditional prints, such as those found on Turkish Kilim rugs, are blended with modern. And colours can range from earthy reds and browns, to pastel tones. There's plenty of free rein to create your own unique Boho style.
5. Feature lighting
Whether it's a collection of traditional lanterns in a Moroccan Boho living room or a luxe floor lamp like the one pictured below, something Bohemian spaces don't shy away from is statement lighting!
6. Flex your green thumb
From oversized cactus to Monstera plants, there are no rules on what plants to use — just to use lots of them!
Consider creating a shelfie arrangement filled with greenery. You could cluster handmade ceramic vessels or unusual decor items, such as vintage tea pots, and fill them with your favourite plants.
On the floor, use a mix of pot plant stands, pots on the ground or plants in baskets to bring some serious Boho vibes to your living room!
Before you think you've got a black thumb, we've come to the rescue with these top 20 hard to kill plants and tips to keep your indoor plants alive.
7. Fill your walls
Another common theme of Boho spaces is the way they maximise wall space to tell a story and bring character to a room.
Wall hangings, such as the vintage tapestries pictured above, wall weaves or framed artwork, are just a few ways you can do this.
We love the gallery wall that Zaabre created featuring a mix of abstract and photography artwork, bone bead necklace and macrame wall weave made on naturally shed deer antler.
8. More is more
For so long minimalist styling was the trend but Boho styling is all about maximalism!
Surface areas are filled with treasures, sofas are dripping in throws and cushions, and floor space is filled with rugs, side tables and greenery.
Don't hold back and have fun layering your favourite pieces to create a beautiful Bohemian living room of your own!
Pin the image below so you can easily find these tips and living rooms later x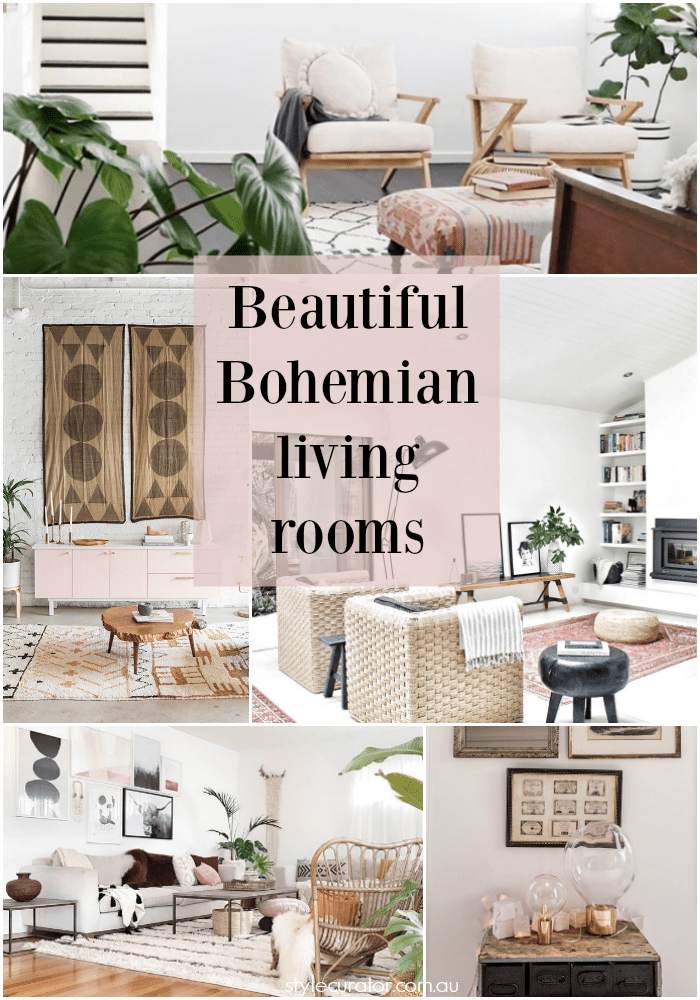 This article was first published in September 2018 and has been updated with new images and information