Supported by Dyson
A perk of our job is getting the opportunity to review some of the latest products on the market and today it's the AM07 Dyson Cool Tower Fan.
STYLE CURATOR HQ is well air conditioned but we much prefer fresh air and our new Dyson fan means we're enjoying more days with the aircon off — even in this crazy summer heat!
Unlike any other fan, this one doesn't have blades making it safe around pets and kids. Dyson have upped their bladeless design technology to make this model whisper quiet (75% more quiet than the previous generation) while moving so much more air than you would think.
Related article: Product review: Tempur Sensation Elite mattress with Cooltouch
Related article: Product review: Dyson Cinetic Big Ball Animal+ vacuum cleaner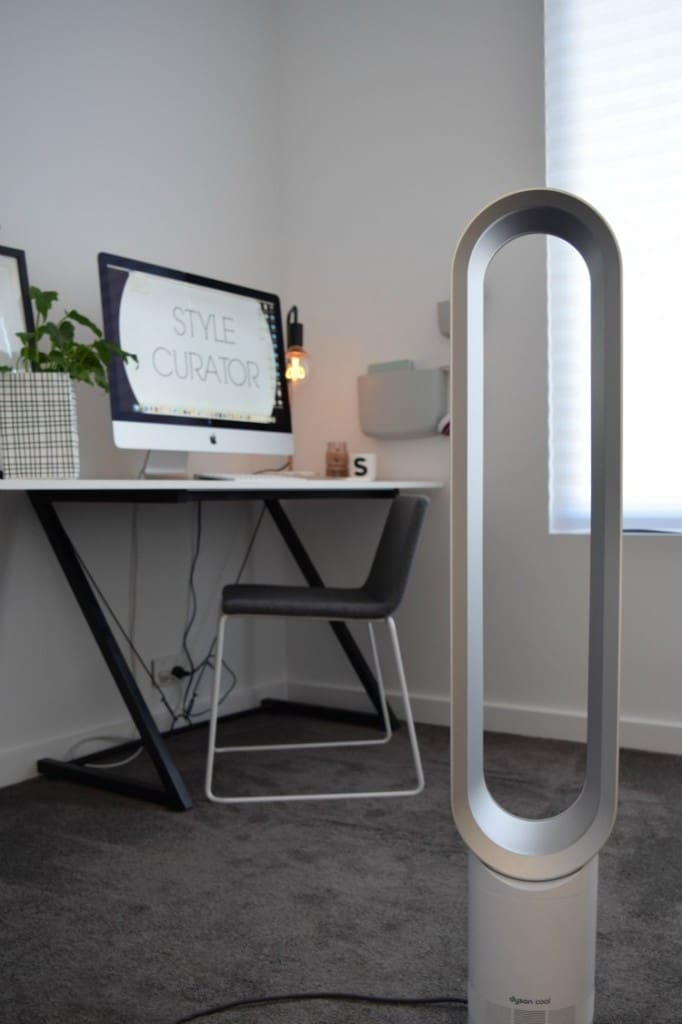 Coming in a box with just 3 parts, putting it together was super simple and the fan itself has only one button — power! The other features of the fan can be set using the sleek remote control.
The remote lets you choose a setting between 1 and 10 fan strength, turn oscillation on/off and even set a sleep timer. And when you're not using the remote, you can sit it on top of the fan (the magnet means it won't go anywhere).
If you do happen to lose the remote, a 'remote' app on your smart phone can also work like an IR Remote app.
The one downside we've found using this fan is that the remote isn't as sensitive as we'd like. If there is an object in front of the fan or your aim is slightly off, the fan won't respond to the remote. Also, costing just under $650, this fan isn't cheap.
Some people reviewing this fan have commented that it's difficult to clean but we find it's the opposite — we can wipe away any dust that has collected on or inside the fan with a single cleaning wipe. The sleek design means there's no cage, blades or deep vent to store dust.
Overall we're super impressed with this fan and haven't found any others on the market that compare. It moves more air than any other, meaning on many hot days we've not had to turn the aircon on… suppose long-term that's got to be worth some significant savings? Dyson is also a trusted brand and the fan comes with a 2 year guarantee.
If you can afford it, we recommend this fan and know that with each generation the technology will just continue to improve. We're feeling pretty spesh having this luxury fan in our office!
It does pay to shop around for the Dyson Cool Tower Fan as you can find this product discounted. For example, The Good Guys currently have a special on Dyson fans and Bing Lee also has an attractive price.
*Fan provided for the purpose of review. The review was first published in January 2016. The article contains affiliate links. This means, if you purchase an item we may receive a commission on that sale of the product at no extra cost to you.