I always love testing new products for the home and sharing these reviews — especially when I discover ones that make life easier! Few people enjoy cleaning so to discover a vacuum cleaner that's a breeze to use while also offering ultra-high suction and performance is exciting. This is my review of the Dyson Cinetic Big Ball Animal+ vacuum cleaner.
Related article: Product review: Tempur Sensation Elite mattress with Cooltouch
Related article: Product review: Hoselink retractable hose reel
Key features
Ball technology
The biggest difference between this vacuum and all others on the market — and where it gets its name — is its unique ball design. The ball technology allows easier steering around obstacles and its streamlined body helps to prevent snagging. (The vacuum rides on the ball if that makes sense?)
Best of all, if you go around a corner too quickly, traditionally your vacuum cleaner would topple over meaning you'd have to stop vacuuming and go and pick the machine back up — not with the Dyson Cinetic Big Ball Animal+ vacuum cleaner! This machine will automatically correct itself so you can keep vacuuming without interruption. As Dyson say, this machine has been engineered to solve problems!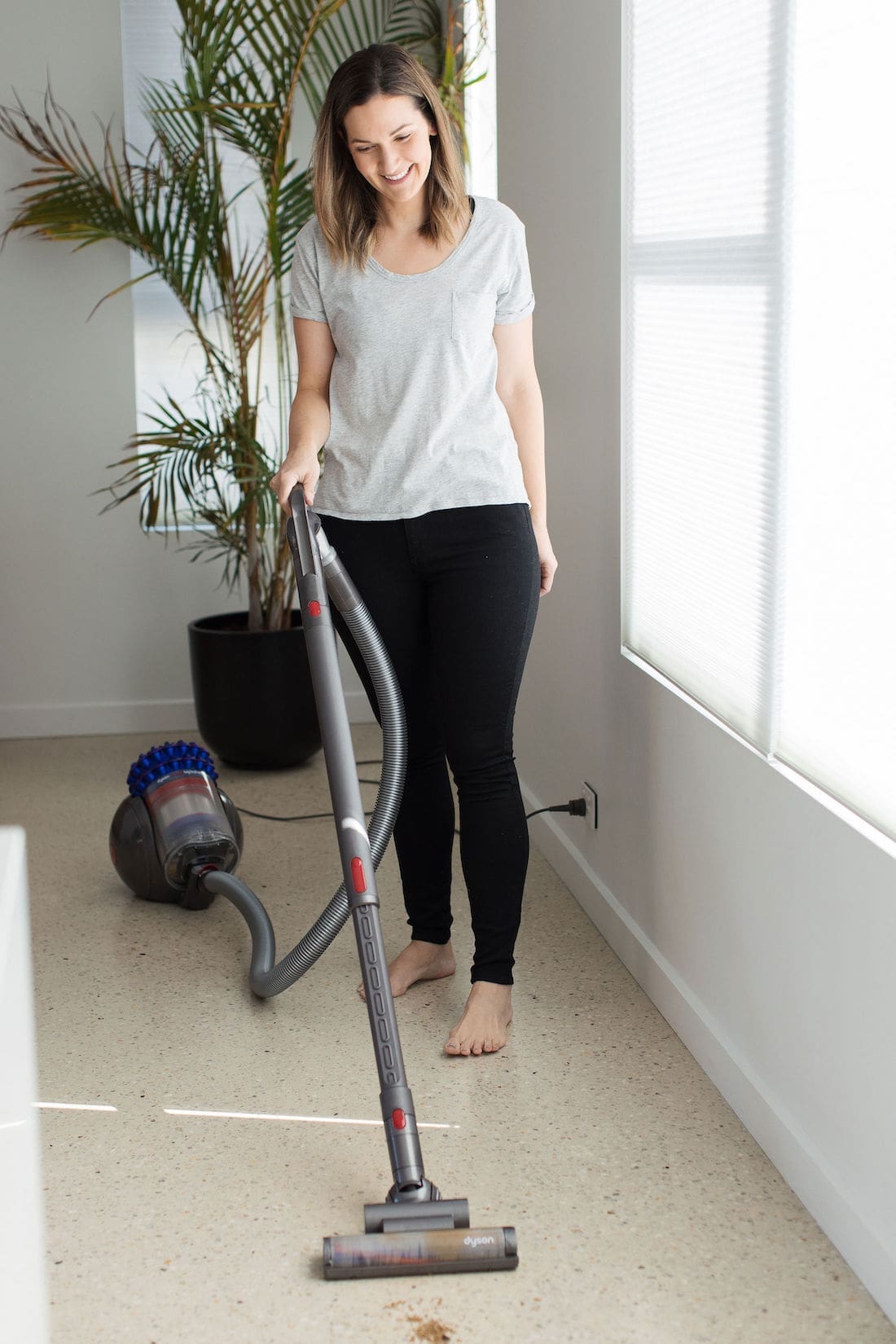 Dyson cinetic cyclones
The other key feature of this vacuum is its cyclone technology that captures fine dust and debris that can clog other vacuums. It also makes this vacuum Dyson's most powerful barrel vacuum with no loss of suction.
The Dyson Cinetic Big Ball Animal+ vacuum cleaner has been specifically designed for people with pets. Most online reviews you read are people raving about the way this vacuum can pick up pet hair better than any other vacuum they've used before, like this happy customer…
Pet grooming attachment
Of course, like all Dyson vacuum cleaners, this one comes with a stack of attachments so you can clean anything around your home with ease. I'm going to run through some of my favourite tools, starting with the pet groomer.
We've used Dyson vacuum cleaners for years so my dog (Arnie) is familiar with this brush and eagerly sits for his grooming sessions. The way that it works is when you press the trigger, a brush will pop through the head and you can begin brushing your dog while the vacuum is running. Once the brush is full, simply release the trigger and all the dog hair will get sucked straight into the barrel. I'm not sure about your dog, but Arnie can easily take 5 brush loads of hair before he stops molting so to have all this instantly sucked away is a big bonus!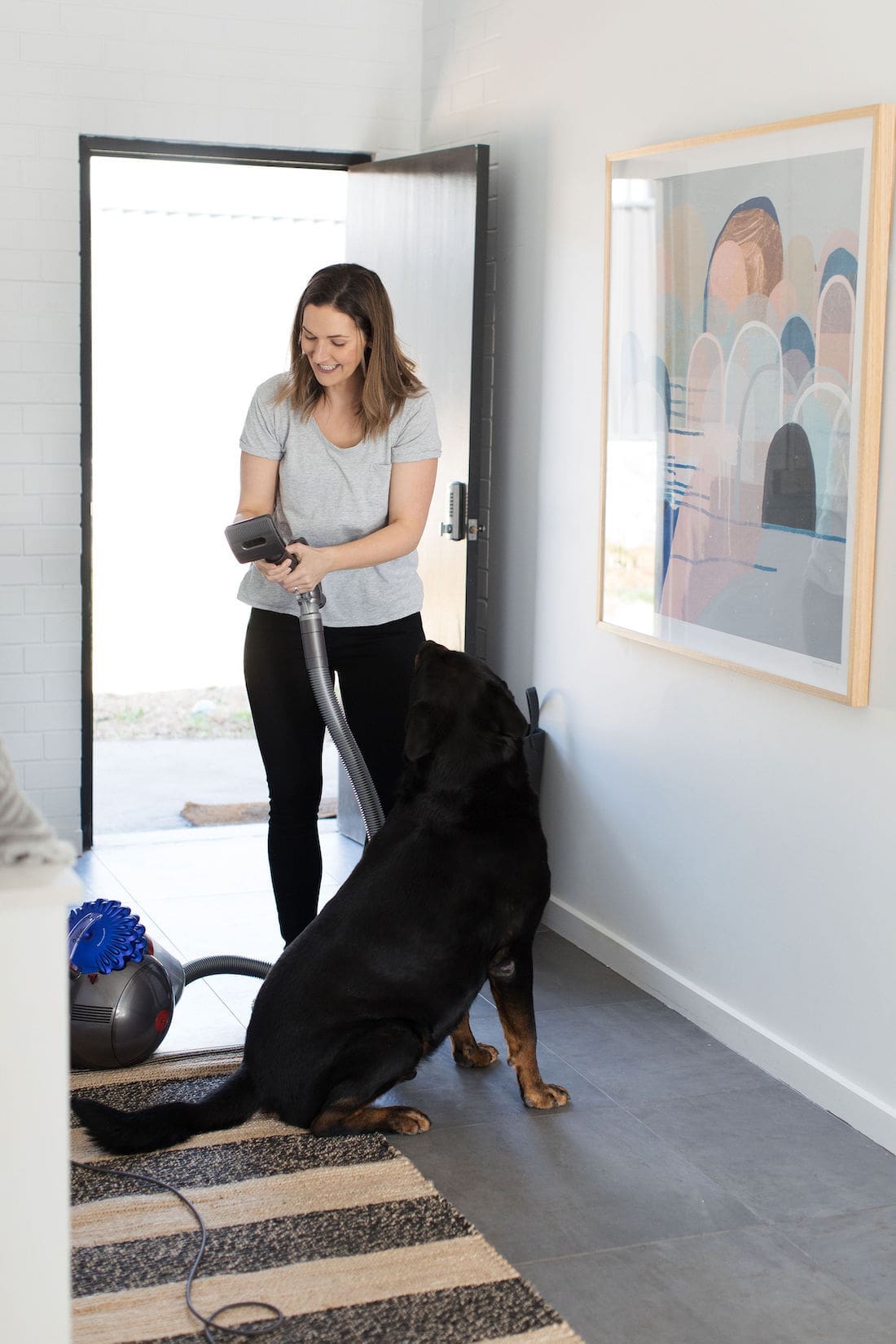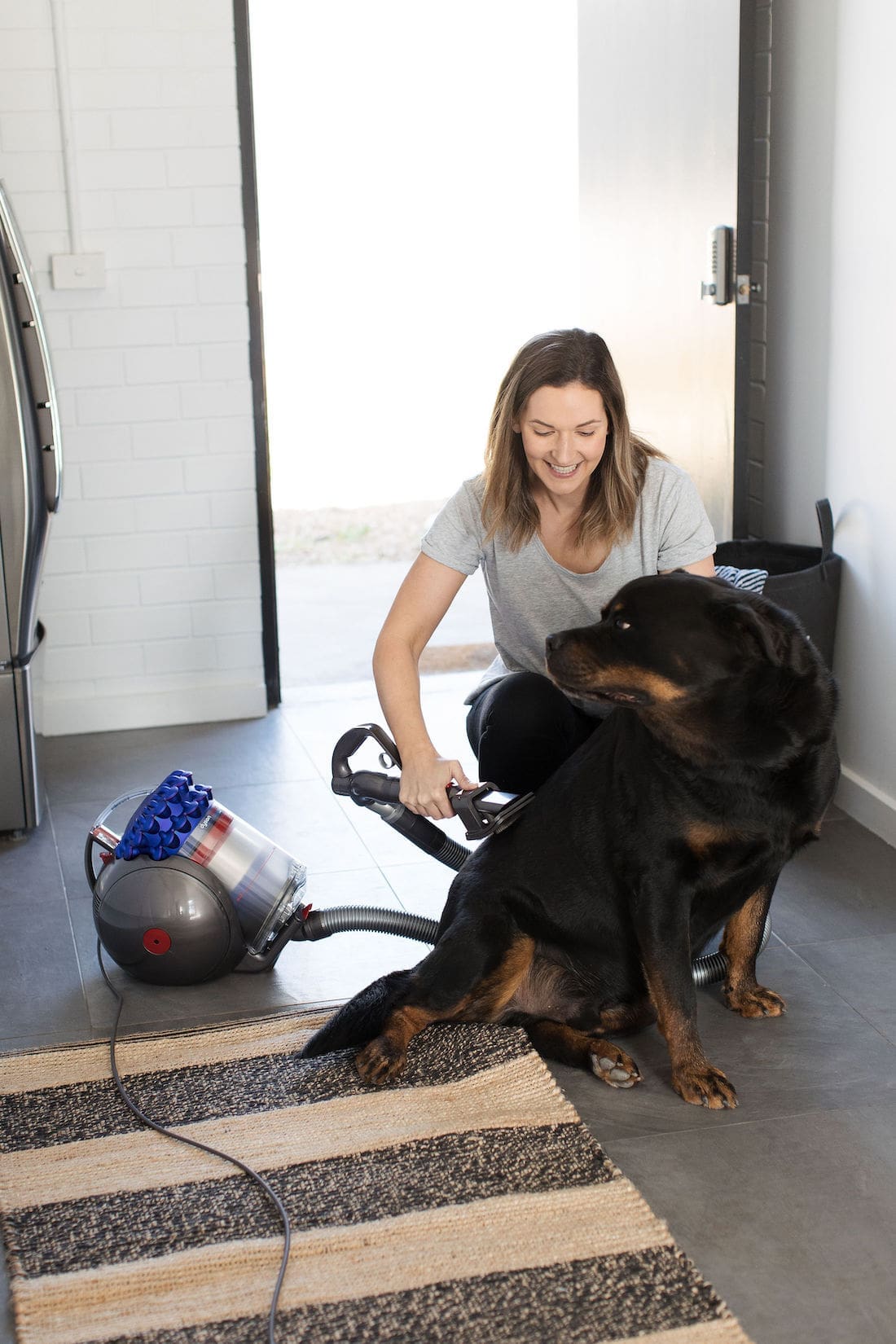 Dusting tool
Another favourite tool is the dusting brush — especially when teamed with the extension arm. Our ceilings are quite high, especially in our upstairs bedroom where they rake up to over 3m, and I struggle to get a traditional duster that high. Not only can the vacuum reach, but its high power suction means it gets rid of more dust and cobwebs too. The perfect solution for cleaning hard to reach places.
Bagless and extra large bin
There's no need to buy vacuum bags with this machine — everything gets sucked straight into the large bin so you can clean for longer without stopping. When it's time to empty, there's a trigger on the outside of the barrel so there's no need to touch the dirt.
Compare Dyson Cinetic Big Ball Animal+ prices online
It's worth checking the retailer sites below as some offer free shipping (such as Catch.com.au) and others have After Pay available.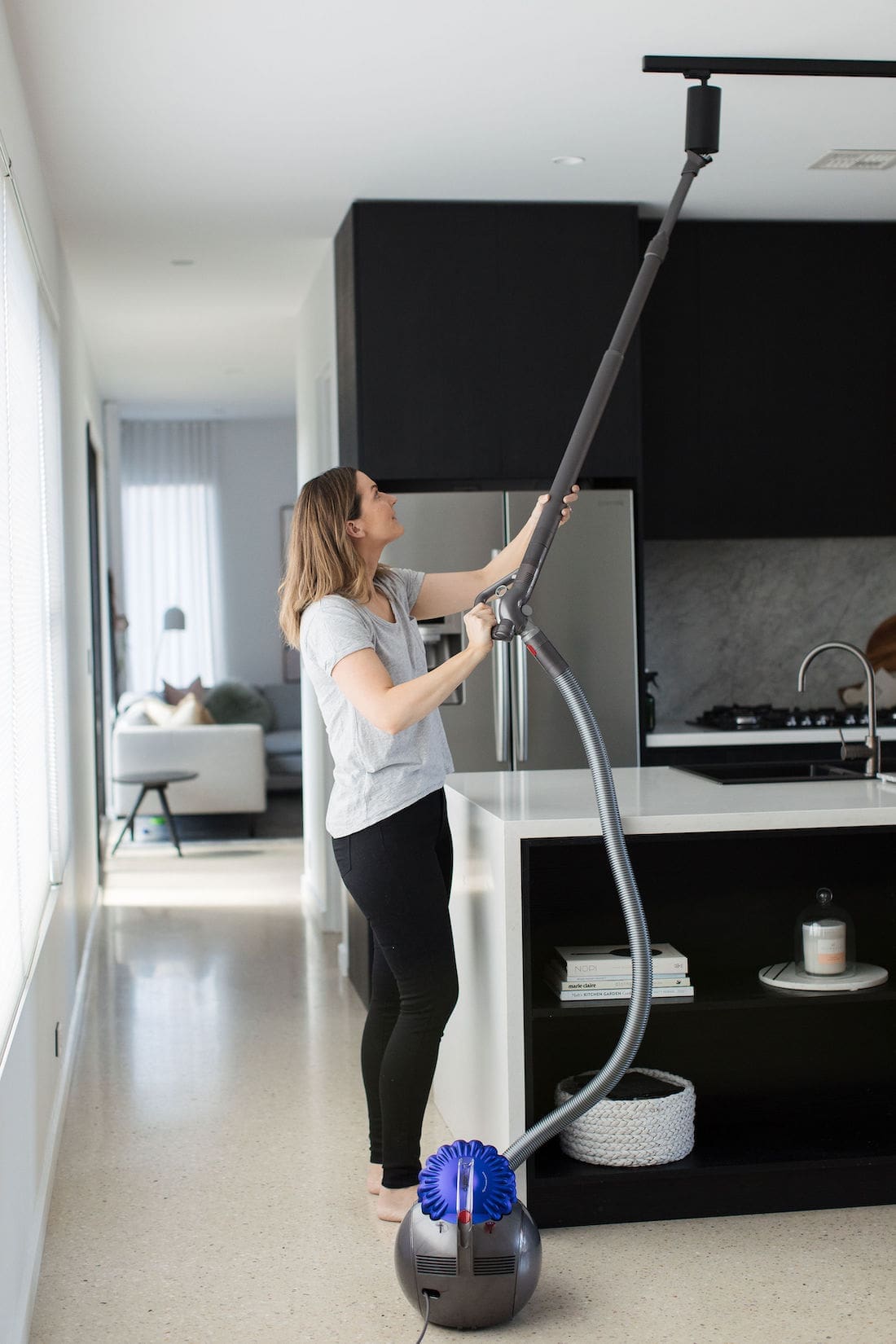 Pros
Easy to use
My favourite thing about this vacuum is how well it has been designed. All the little things, from the quick-release button to easily change over attachments, to the way the ball glides and makes steering a breeze, to the way the handle can rotate 360 degrees to easily manoeuvre the wand… it's all been thought through and makes cleaning easy!
A tool for everything
I talked about two of my favourite attachments already — the pet groomer and dusting tool — but there's a tool for everything. In the box you'll also find a head for hard floors and one for carpet and rugs, there's a smaller tangle-free turbine tool that's ideal for upholstery, and a stair tool to reach tight corners.
High power and performance
Of course, the most important aspect of a vacuum cleaner is that it works and this one certainly does! It's the top rated model of all of Dyson's barrel vacuum cleaners. Engineered for powerful cleaning with no maintenance, the Dyson Cinetic Big Ball Animal+ vacuum cleaner has incredible suction and performance, and is especially good at picking up pet hair and fine dust.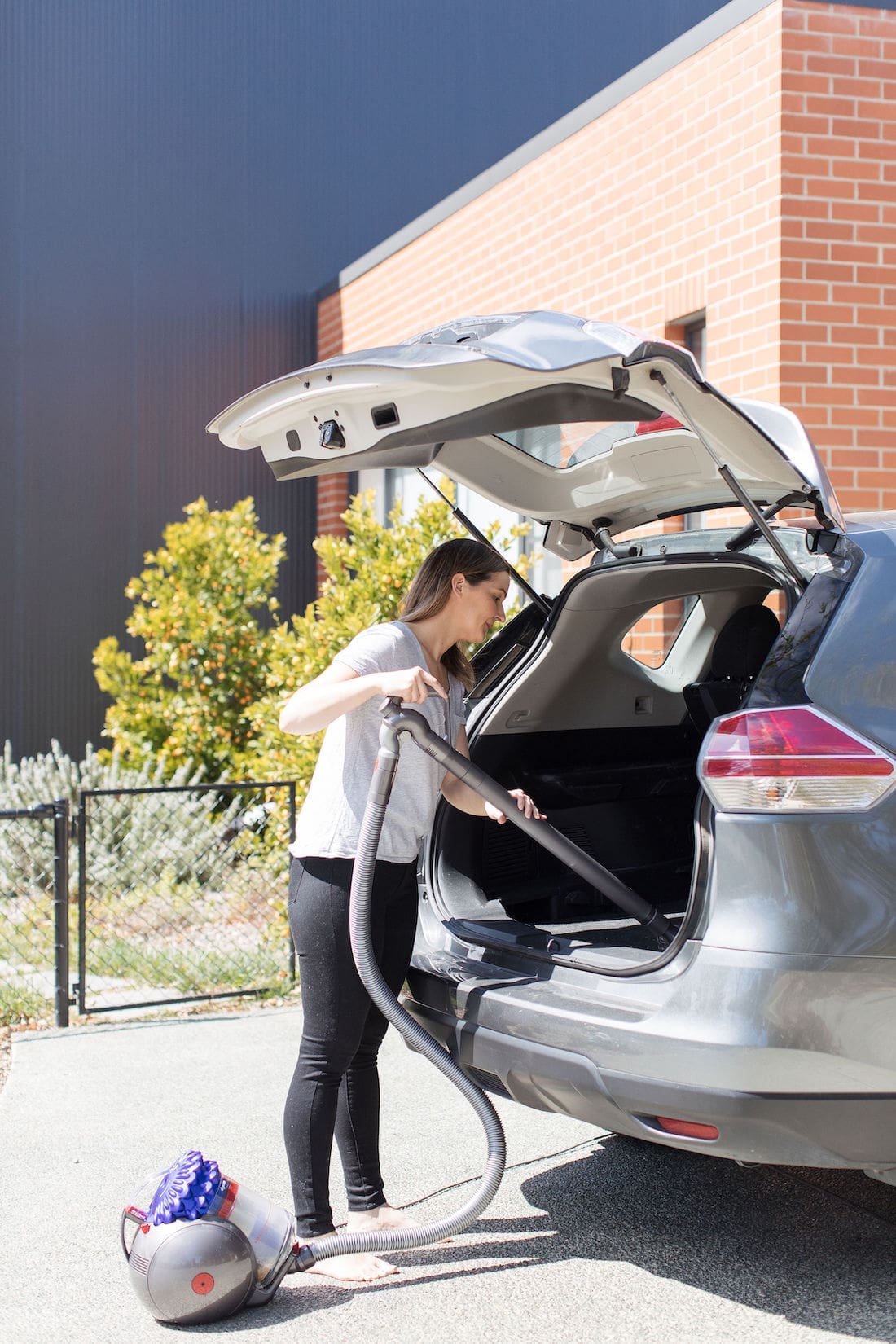 Cons
I haven't experienced any issues or can think of any negatives with this vacuum cleaner… other than perhaps price.
Price
You often hear us say 'you get what you pay for' so if quality is what you want, it generally comes at a cost. Retailing at $745, this vacuum is positioned in the upper market of bagless vacuum cleaners. That being said, it is the only bagless vacuum cleaner with the self-correcting ball design and most online reviews give this product a 5/5 star rating.
Here are just a few of the things other people had to say about the vacuum cleaner…
Compare Dyson Cinetic Big Ball Animal+ prices online
It's worth checking the retailer sites below as some offer free shipping (such as Catch.com.au) and others have After Pay available.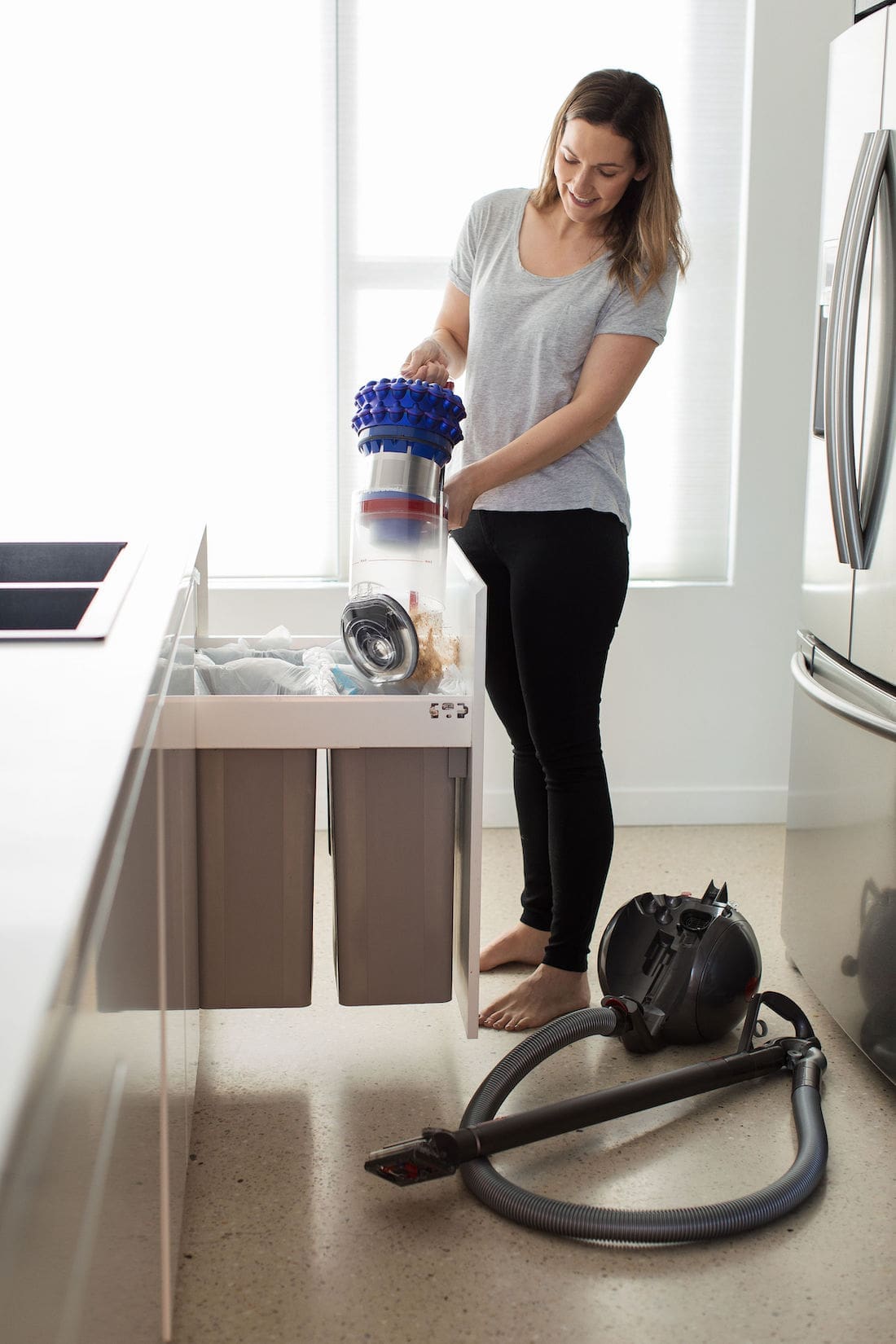 Check out more product reviews
Disclaimer: this review is not sponsored by Dyson. All opinions expressed in this review are my own. The article contains affiliate links. This means, if you purchase an item we may receive a commission on that sale of the product at no extra cost to you.