It's time for another room reveal of my home and today I'm sharing our master bedroom!
This is my favourite space in our home. I love the moody grey colour palette, the raked ceiling, Antoinette Ferwerda artwork, and the large windows that open out to the tree tops.
Related article: One bedroom styled 3 ways with latest season pieces from BIG W
Related article: Shop by room: Bedroom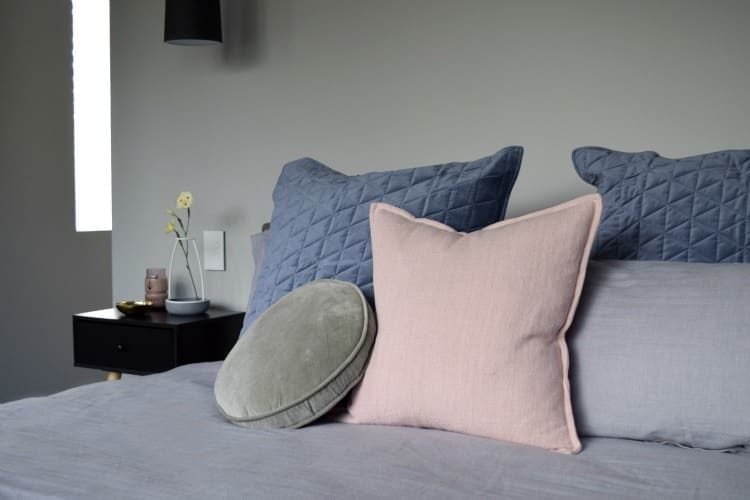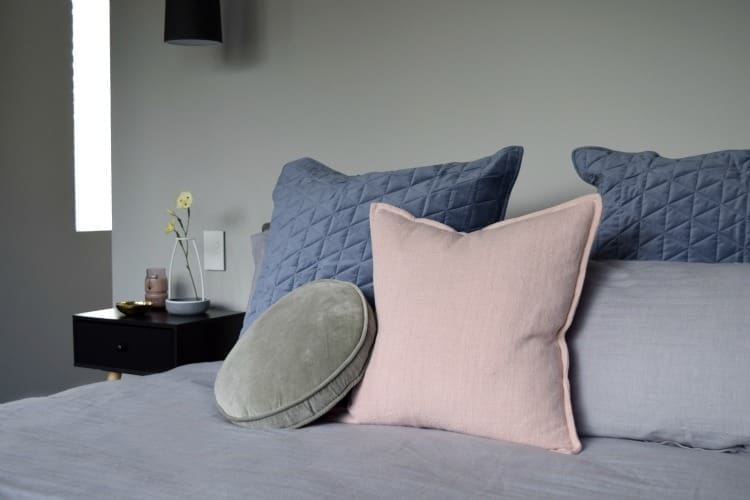 Our bedroom is a mix of high and low furniture and homewares, all tying into a subtle colour palette of blues, pinks and greys set by the 'Coastal Hills' artwork I received for my birthday. There are also timber and black accents in the room — pendant lights, door handles, window frames and new Kmart side tables.
I love the 'Smith' armchair from Barnaby Lane pictured above — the perfect spot to read a magazine or enjoy my morning coffee. On the armchair is the ice dye cushion we made and next to it, the concrete top side table.
As you enter our bedroom, there is a full wall of built-in wardrobe ahead and a walk-through wardrobe to the left (this is kind of like a passageway behind the bed wall and links up with our ensuite).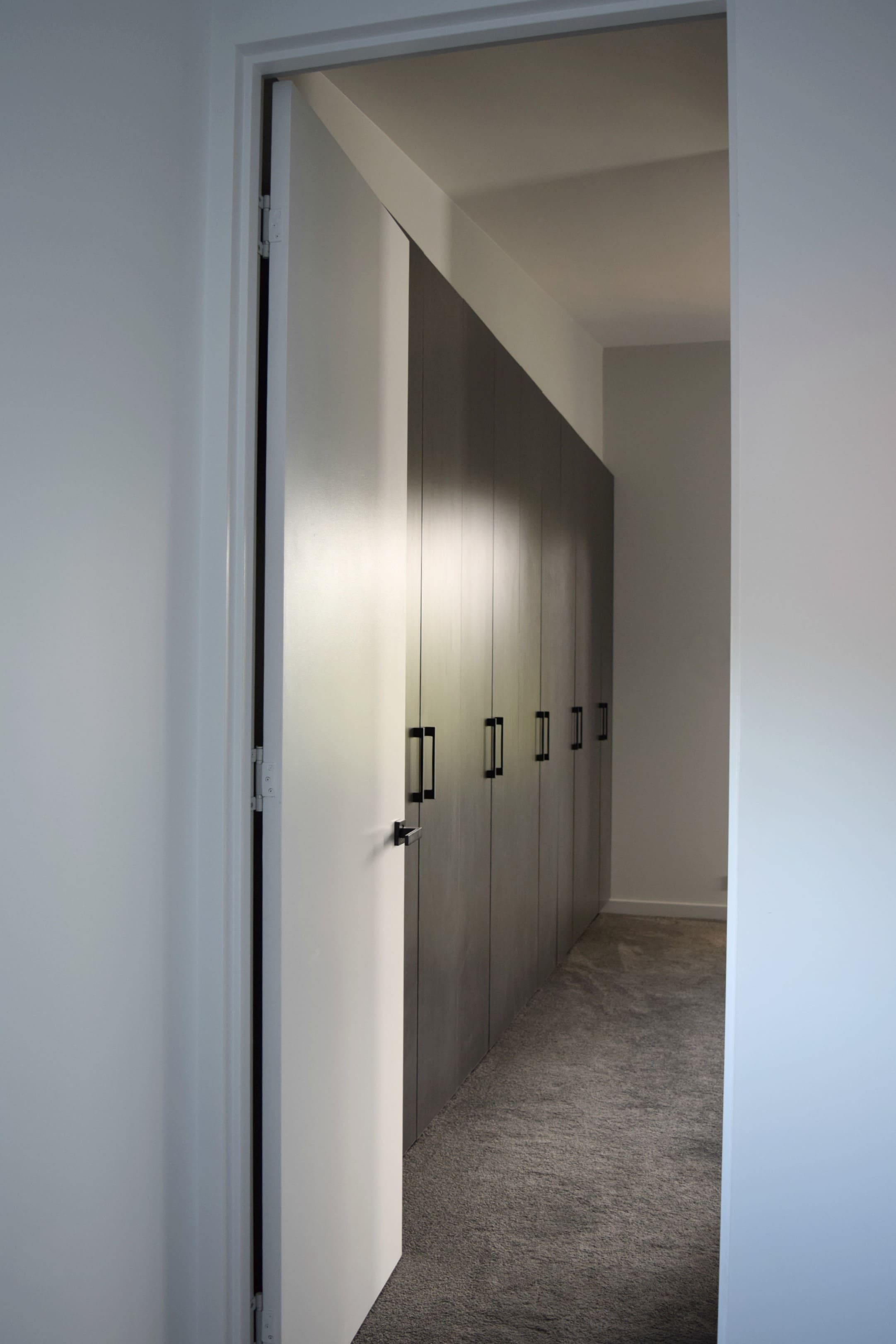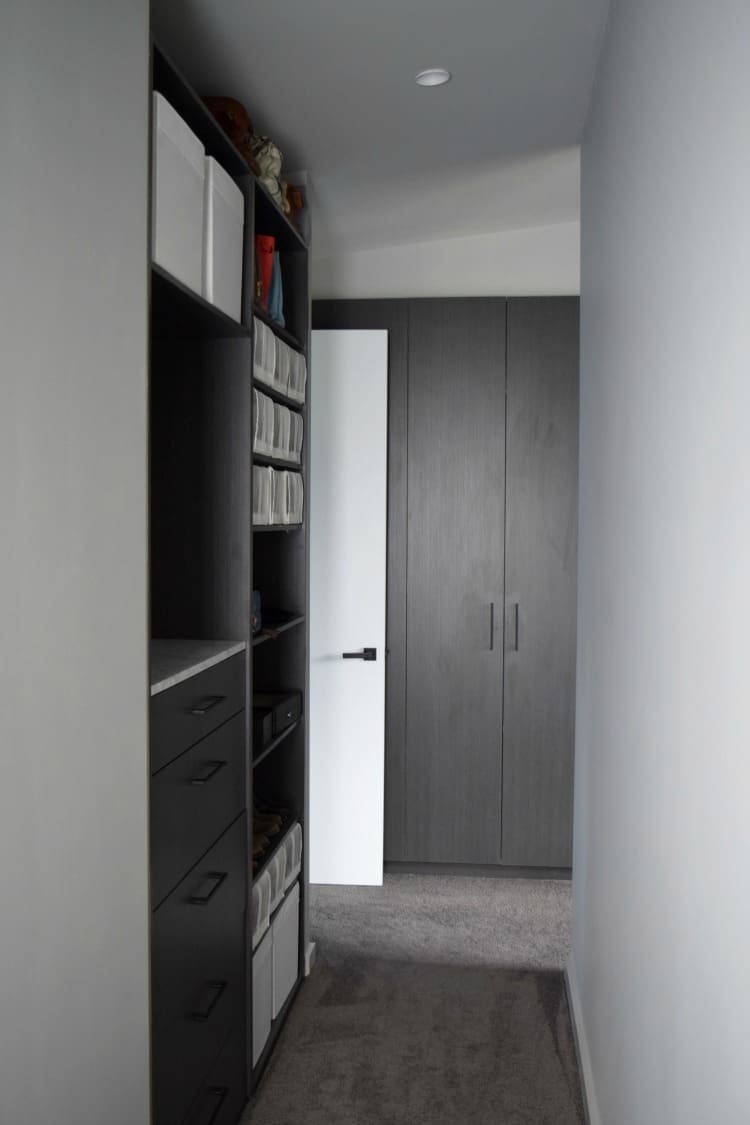 When we were in the planning stage of our home, I dreamed of having a walk-in wardrobe the size of a room but as it turns out, I don't own that many shoes or hand bags and the wardrobe solutions we ended up with are more than enough (seems I much prefer to spend my money on homewares and furniture, ha ha).
I love how the walk-through wardrobe turned out, especially the open pocket above the drawers with marble top on which sits perfumes, family photos and other treasures.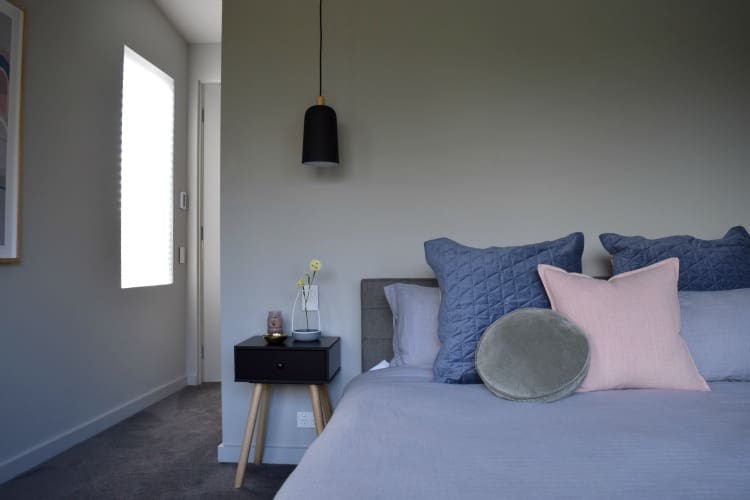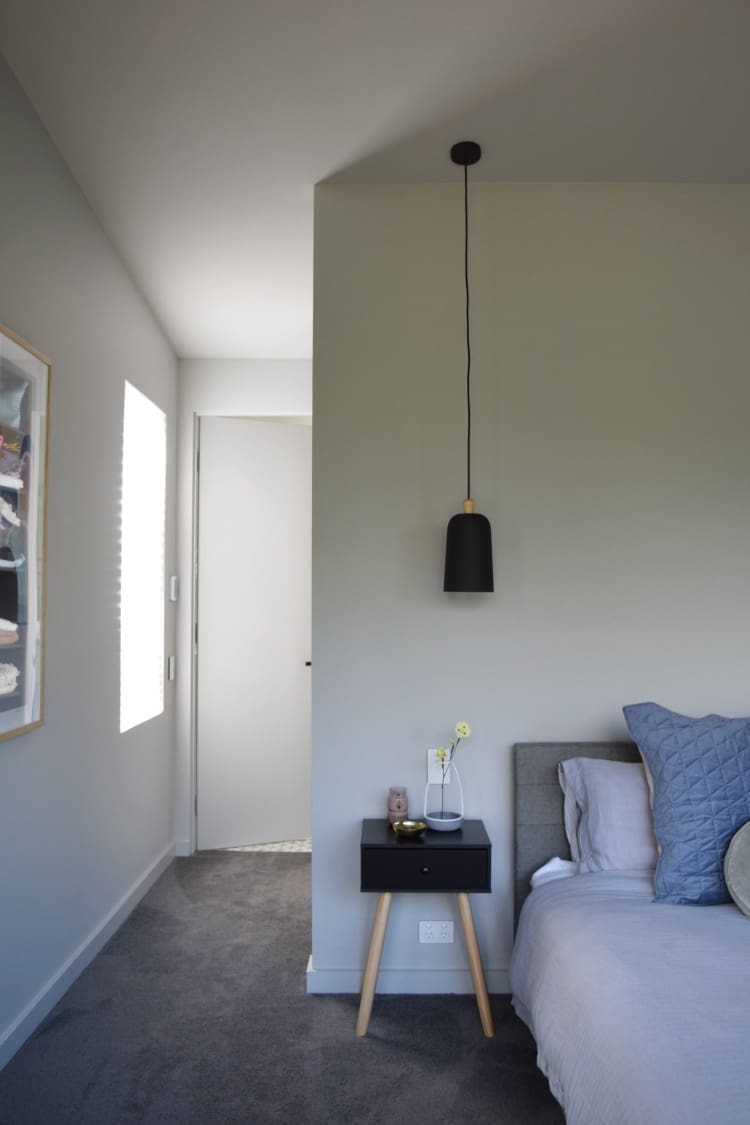 Supplier list
Wall paint: Haymes Smoky Silhouette
Pendant lights: Lights2You
Cabinetry: Polytec 'Black Wenge' Ravine
Furniture:
Bed: Tommy Swiss
Bedside tables: Kmart
Armchair: 'Smith' chair Barnaby Lane
Concrete side table: A DIY and you can find the tutorial here
Bedding:
Quilt cover: Home Republic from Adairs
Euro cushions: Mercer and Reid from Adairs
Pink linen cushion: Home Republic from Adairs
Grey round velvet cushion: Castle and Things
Styling:
Artwork: 'Coastal Hills' Antoinette Ferwerda
Ghost vase: Zakkia
Brass hammered bowl: Zakkia
Candles: TANDA (on bedside) / Yellow Finch (on concrete table)
Grey knit throw: Adairs
Ice dye cushion: A DIY and you can find the tutorial here
Shoe boxes and storage boxes: IKEA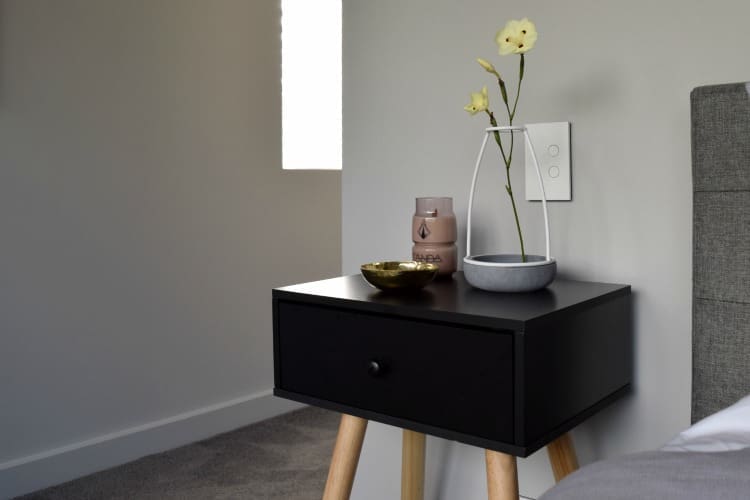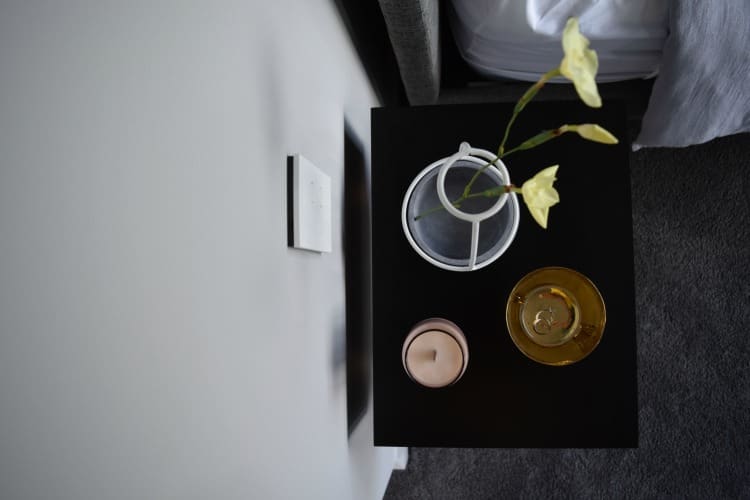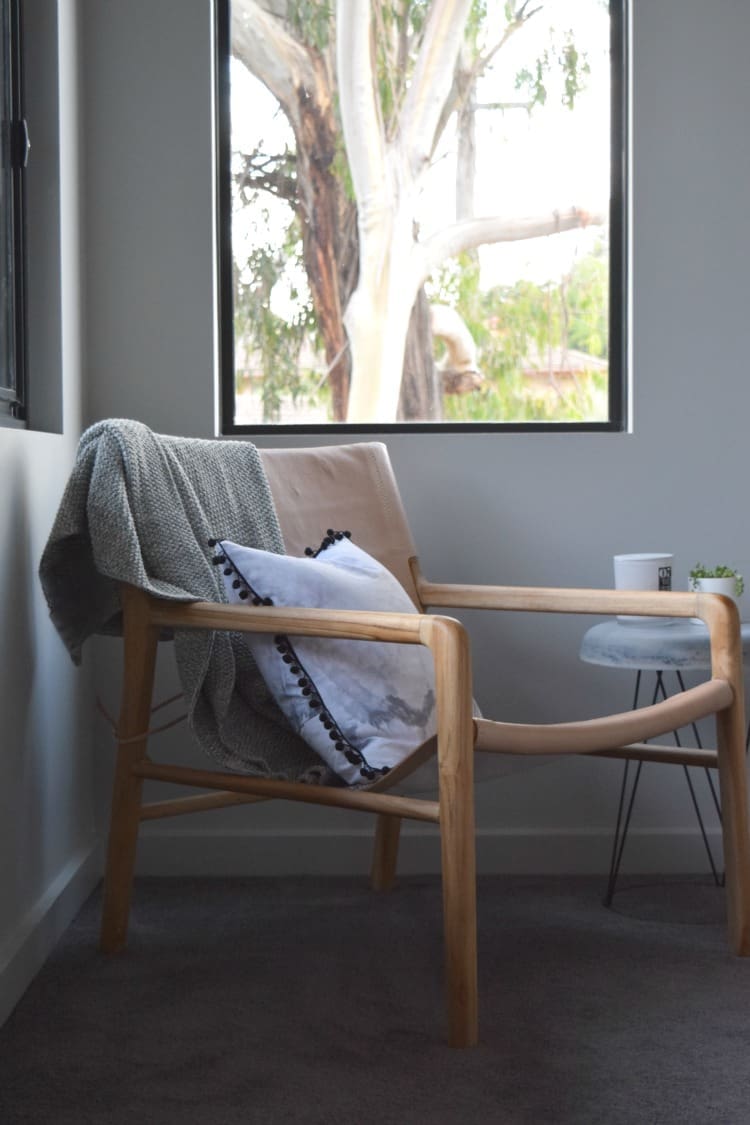 To finish our bedroom, I just need to organise window treatments (my original preference was waaaayyyyy out of budget so that'll have to wait or I'll need to find a more realistic solution) and perhaps a throw for the bed too.
More recently…
Just wanted to share a more recent pic of my bedroom. I finally got window treatments, filled the walls with more art, and treated myself to some new bedding too 🙂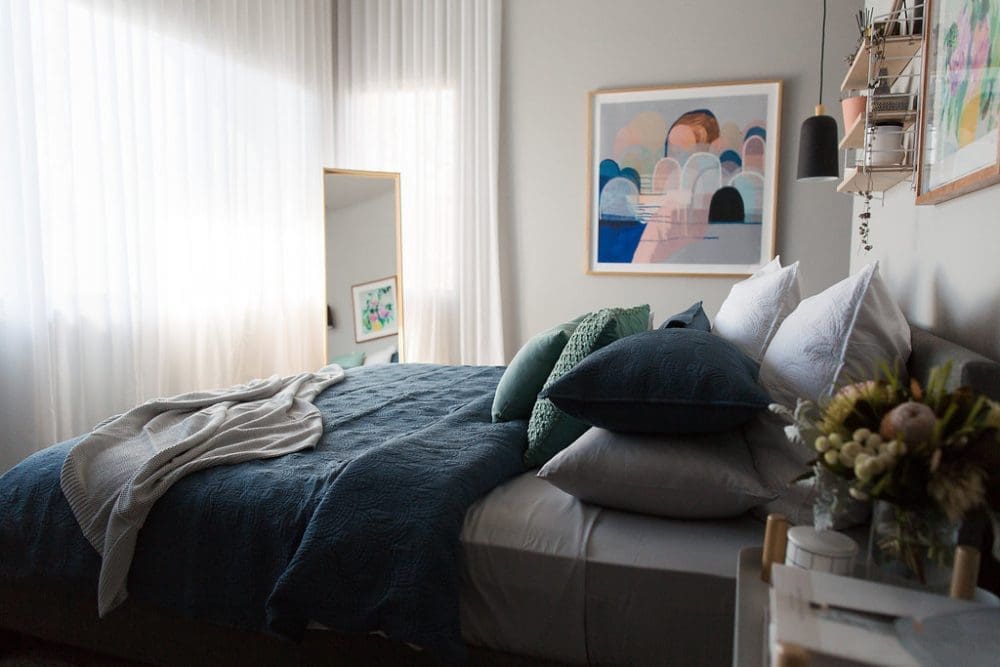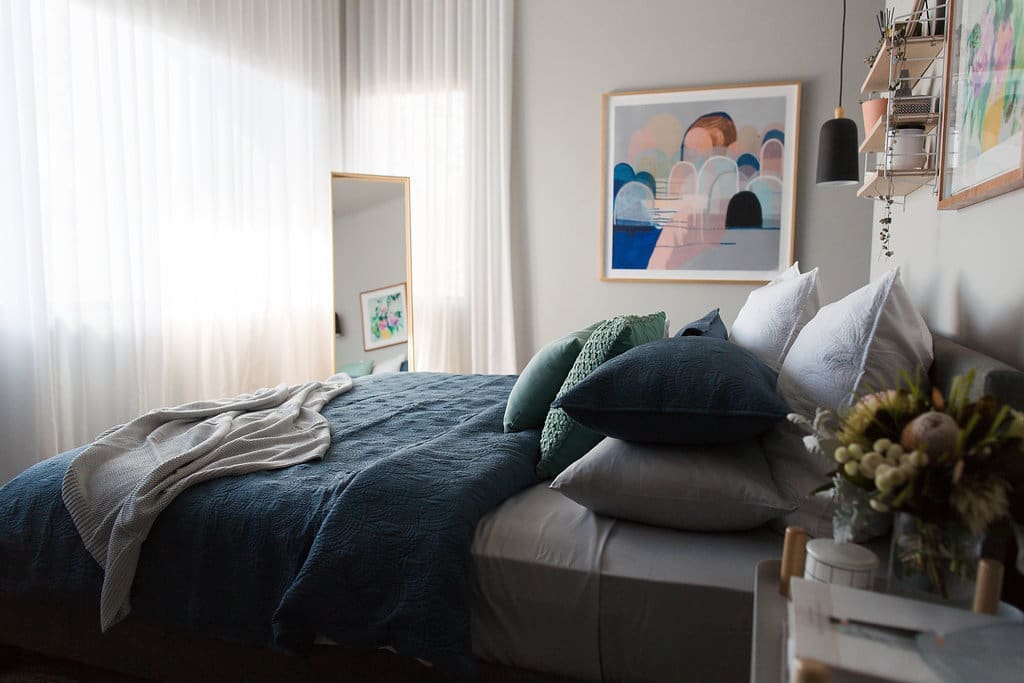 Disclaimer: This post contains some affiliate links. This means that when you click on a link and purchase something from that site, we may make a small commission at no extra cost to you.