With limited space in an apartment, it can be awfully hard to add that 'wow' factor. Yet Interior Designer Jacqueline Chen of The Glade Design undisputedly achieved exactly that in her recent Arcadian project. Renovating a small living room to include a fireplace and gorgeous custom joinery, this before and after living room renovation is sure to inspire!
If you're looking to update your living room or inspiration for a new build, keep scrolling! We get all the details from Jacqueline, including design tips for custom joinery, and have dozens of images for your Pinterest inspo boards!
Related article: Go bold and get inspired with black walls
Related article: How to: Affordably update your laundry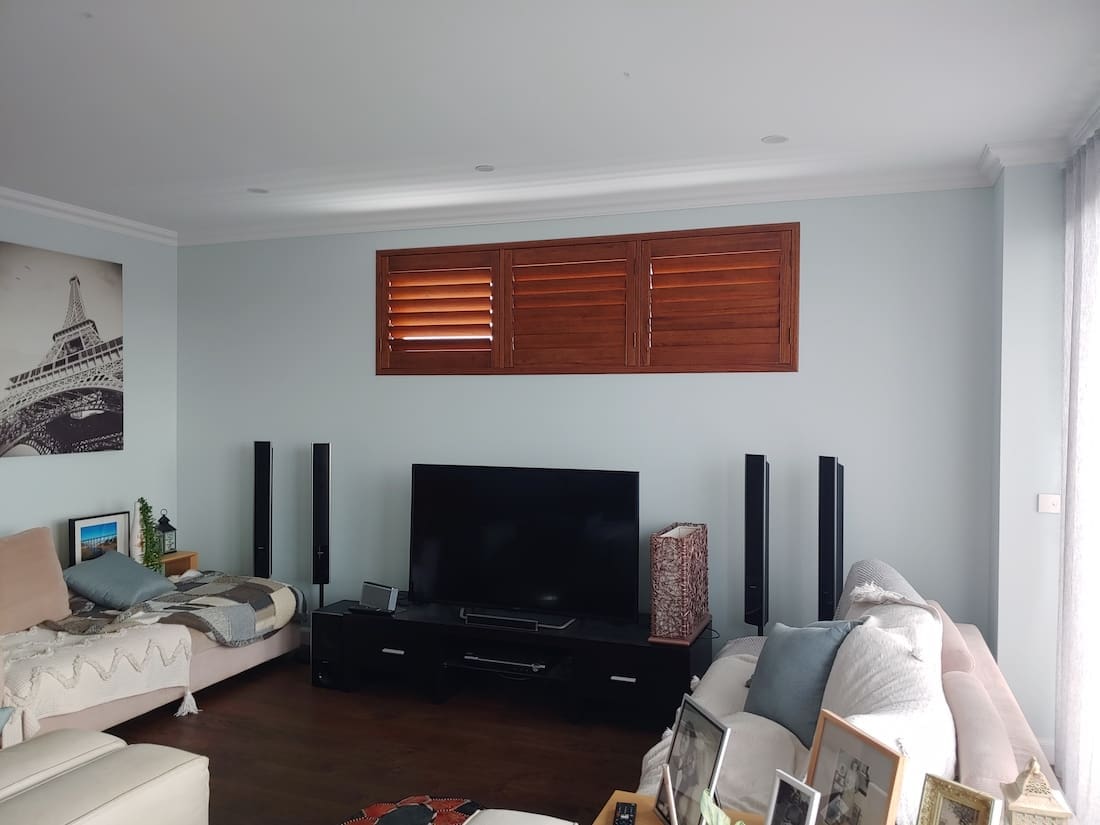 This small apartment living room upgrade had several limitations but Jacqueline worked with the client to bring the design vision to life.
"The client had a very clear vision of what she wanted to achieve, in particular giving the space some serious 'wow' factor. She had a list of requirements including wine storage and a fireplace with logs.
"After looking at different designs together, we decided on our design direction. I noticed she likes the traditional look of darker coloured joinery with lots of decorative moulding. So that became the basis of my design.
"The client was willing to block the high window but being an apartment, we couldn't make any structural changes in the space."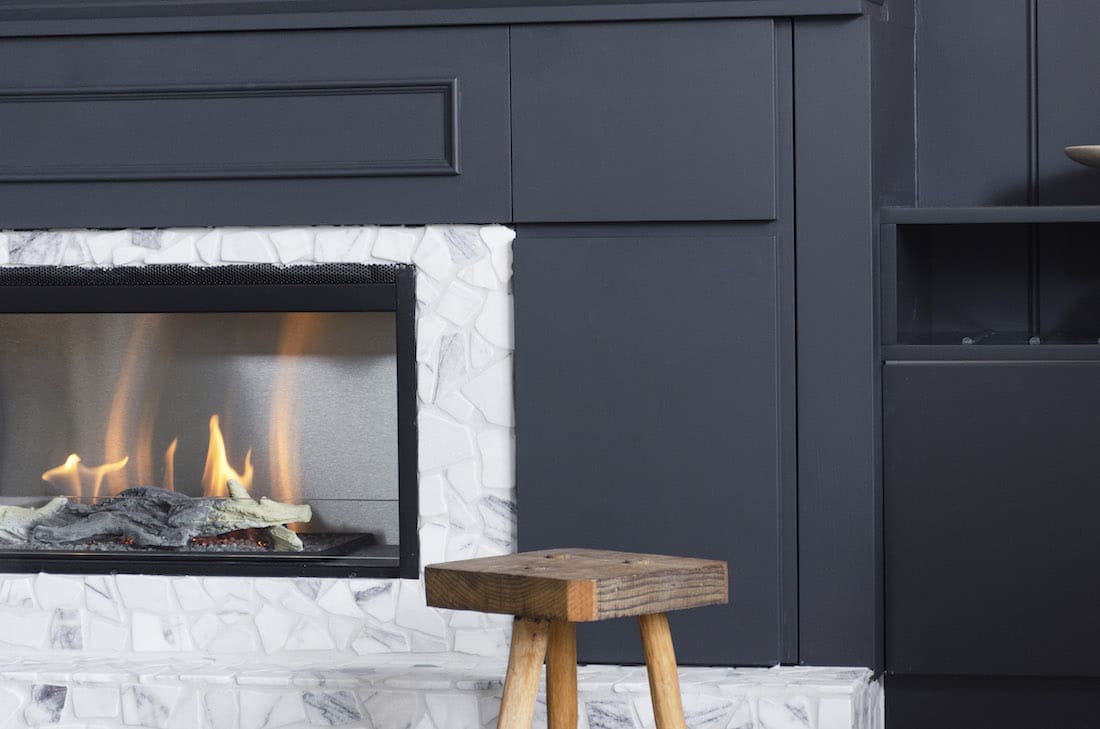 The fireplace required a little creative thinking and a lot of planning.
"As we are working in an existing home, we were not able to add a chimney or use a high voltage electric fireplace.
"Planika is my go-to fireplace supplier when space is restricted. They use fuel that can create real fire and produce subtle heat. Their products do not require a chimney, only some space for ventilation. With many products in their range, they have several that are ideal for built-in joinery where space is limited.
"The tiles were extremely difficult to install around the fireplace. They came in a 300mm x 300mm sheet, but we ended up breaking them into individual pieces to achieve the best look. To play to the natural stone and create the most organic look, we decided not to use trims around the edges, preferring to keep them exposed."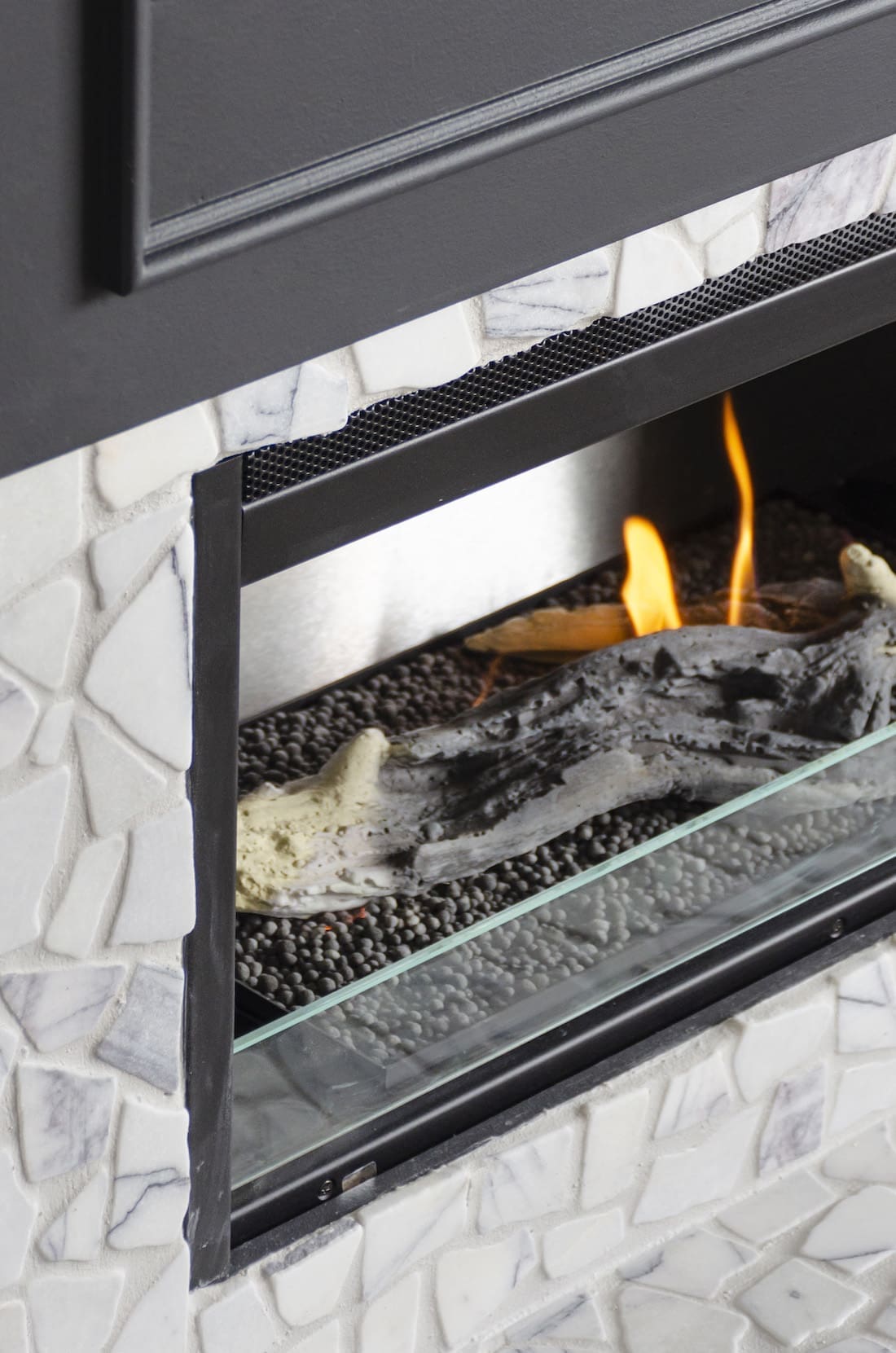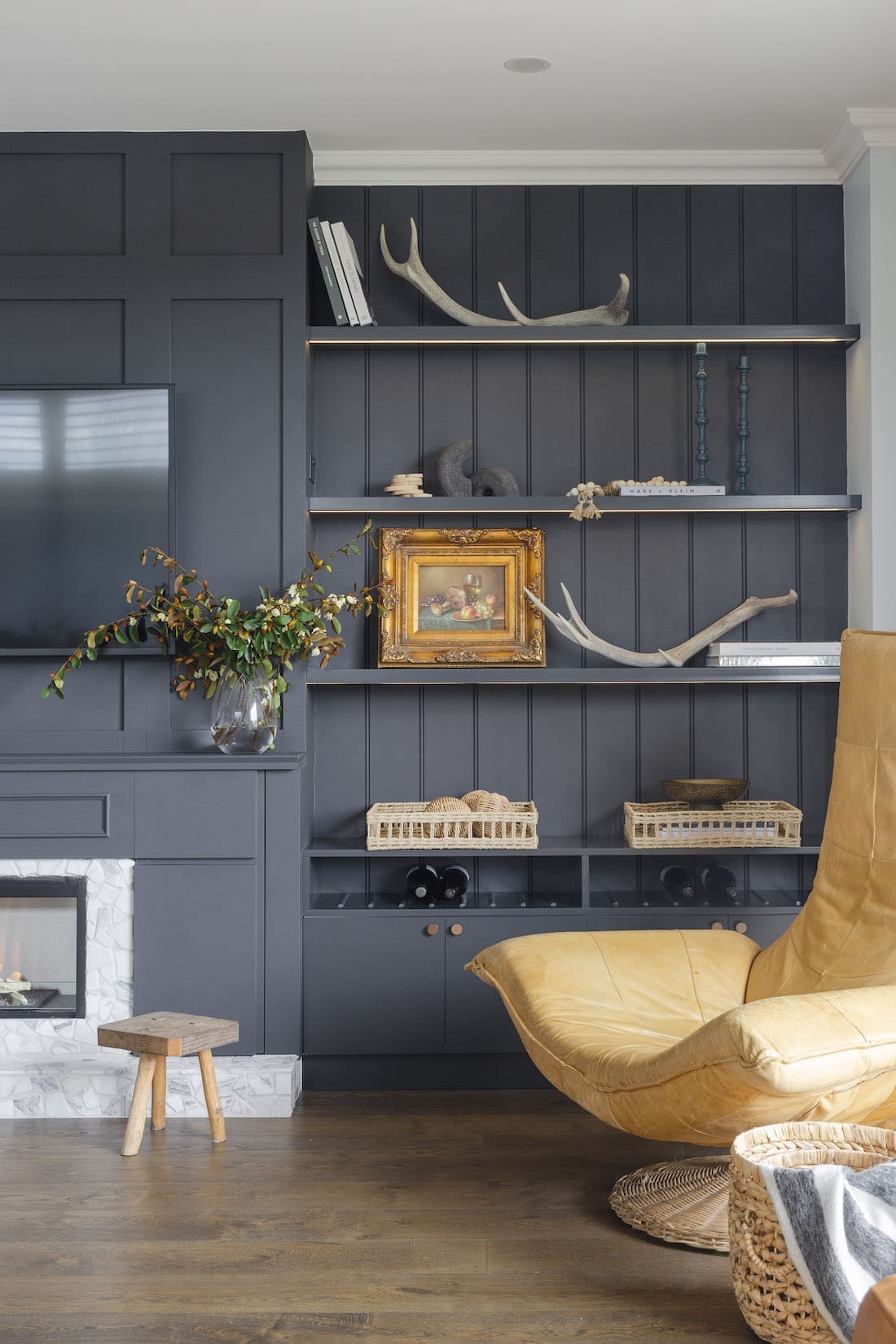 Custom joinery is arguably the hero piece of this living room, featuring a dark colour scheme that draws the eye.
"As we were building wall-to-wall, floor-to-ceiling joinery with specific needs such as the perfect mantel size and shelves on both sides, custom joinery was the only way to go.
"Custom joinery may cost a bit more but it allows for more flexibility in design.
"As my client was drawn to a dark colour scheme, I had to find her the right tone. I chose Domino from Dulux, which is a dark grey with a hint of blue. It blends in well with the existing blue wall and oak floor."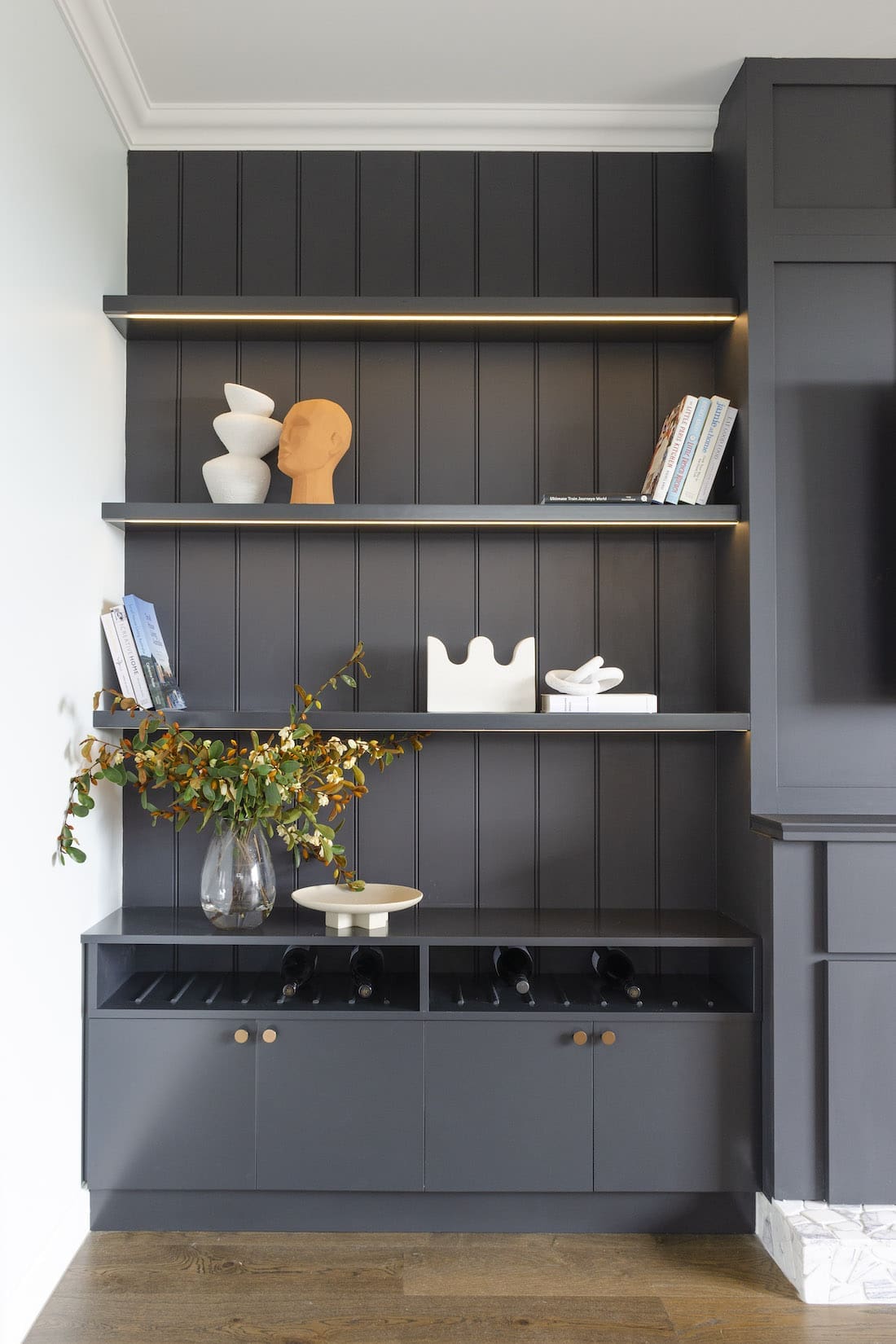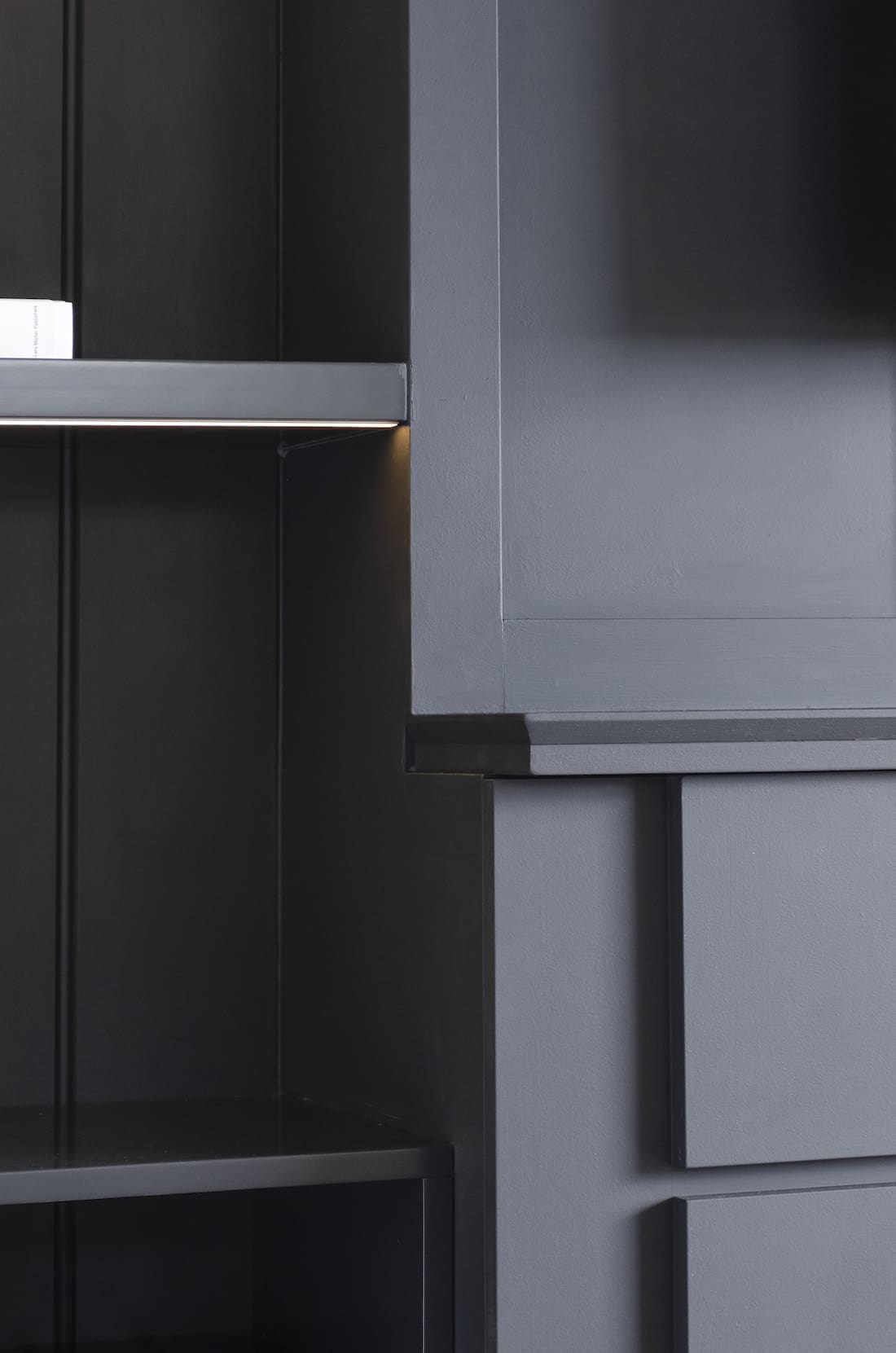 Every detail of this design was carefully considered.
"This is the only wall we could do a feature on so it needed to be bold, eye-catching and bring the room together.
"From the beginning, we needed to think about how best to minimise space and hide all the ugly items. A decorative panel around the fireplace allows for storage where we could hide tv wires and put the fireplace fuel tank.
"While the client wanted wine storage but I didn't want it to be the main focus, as it would turn into a bar cabinet. I realised all I needed was a thin strip to stop the wine from rolling.
"The entire cabinet is done in one colour, but not one finish. 2Pac would be easy but it would reflect, and nobody wants the wall to be reflective.
"So instead we hand painted the centre and decorative back panels to achieve a matte finish. It was more work and it took longer, but it but it's so worth it."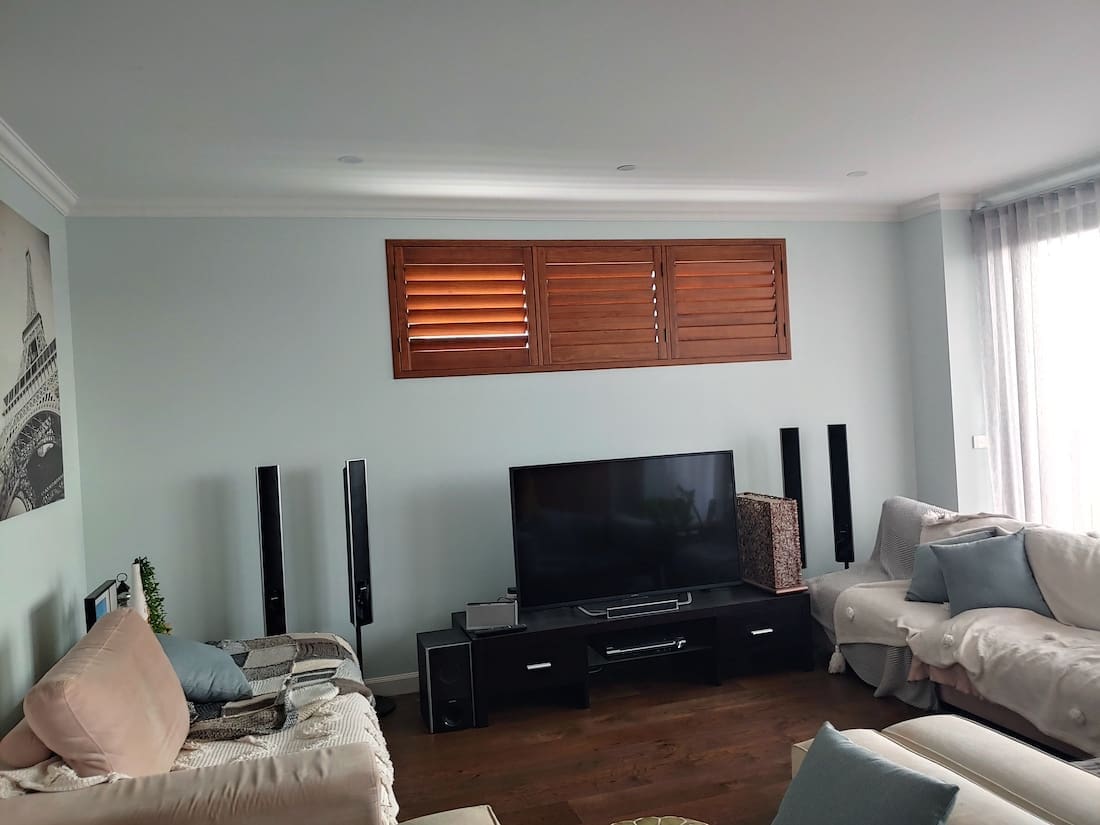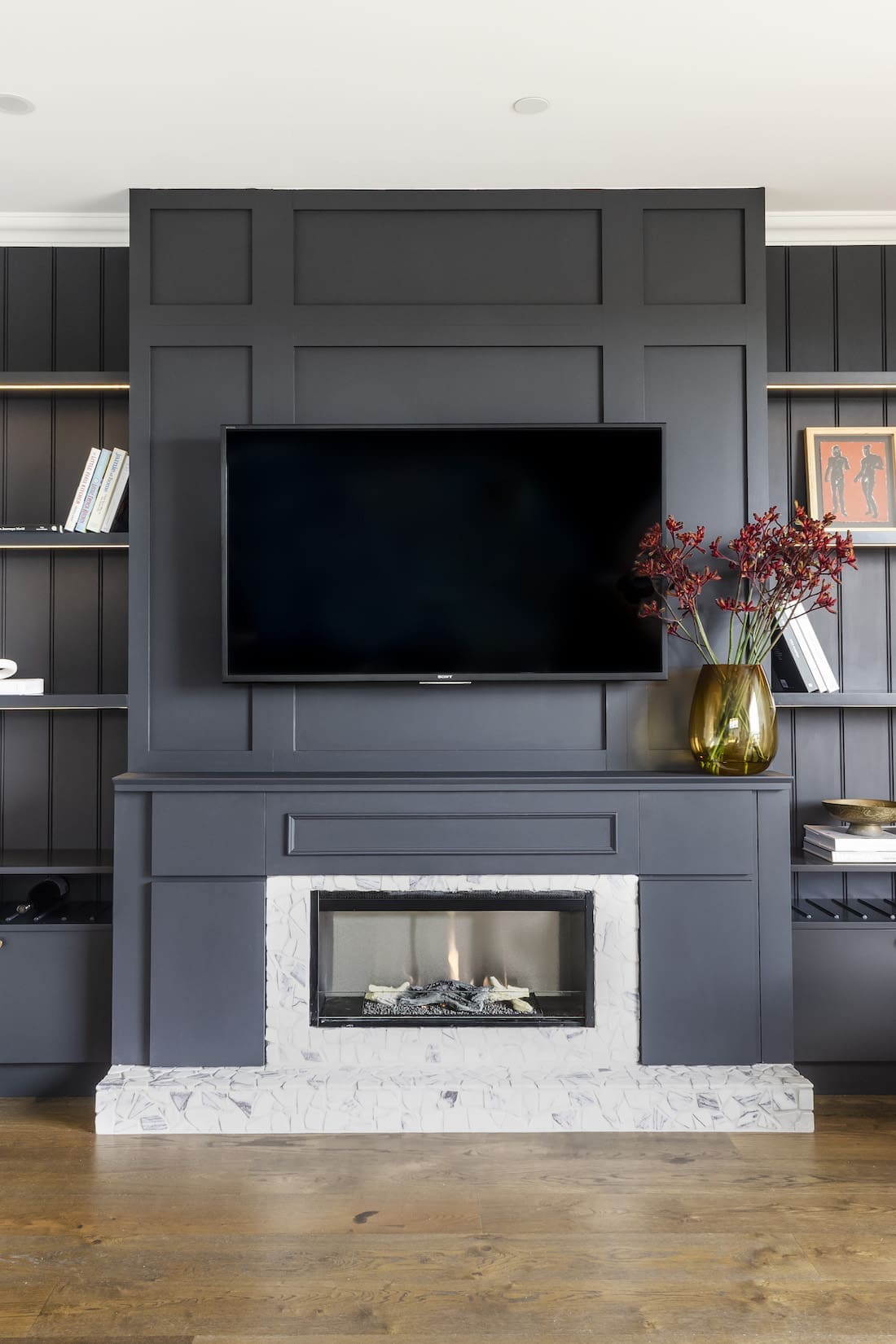 If you're thinking of doing a similar small living room upgrade, Jacqueline shares her advice.
"If you are planning on installing your own custom joinery — and aren't engaging an interior designer — gain a basic understanding of custom joinery first. It's important to understand how custom joinery works to avoid designing something that cannot be built.Measure the joinery around your home, see how the hinges work and the panels join.
"If a kitchen showroom is available near your home, visit and see what is available. Even consult with the joinery maker and ask questions.
"When you measure and design, add as many measurements and specifications as possible. More details equals fewer mistakes.
"Get a second opinion about the design before the joinery is made. You need to know what clever inclusions can be added.
"If you're adding a fireplace, I would suggest having it delivered before building the joinery. It is best to measure the actual product and understand how it needs to be installed. There were so many pieces of information we needed that were not in the manual."
We'd like to thank Jacqueline for sharing this small living room upgrade project with us. You can find more from Jacqueline and The Glade Design on her website here, or follow her on Instagram here. You can also check out her other Style Curator features such as her Japanese inspired bathroom or affordable laundry renovation.