Something I've always wanted in my laundry is a luxe pull-out hamper — you know those fancy German ones that allow you to organise your washing — but trying to retrofit one into our laundry seemed impossible.
We had a few issues, mainly the odd size of our cabinets that didn't suit off-the-shelf hampers, and that we had outward swinging cupboard doors whereas most hampers are designed to have doors that open directly towards you. This would have required a joiner to come out and install new doors — a cost I couldn't really justify.
But with some creative thinking, my husband and I came up with a design that would allow us to install pull-out hampers into our existing cupboard space.
I'm so happy with how this hack turned out and I'm sure there are other people out there who are looking to create their own pull-out laundry hampers so I'm sharing all the steps on how we did it below.
Related article: Luxury laundry inclusions you'll want in your next laundry!
Related article: A laundry makeover that's practical, functional AND beautiful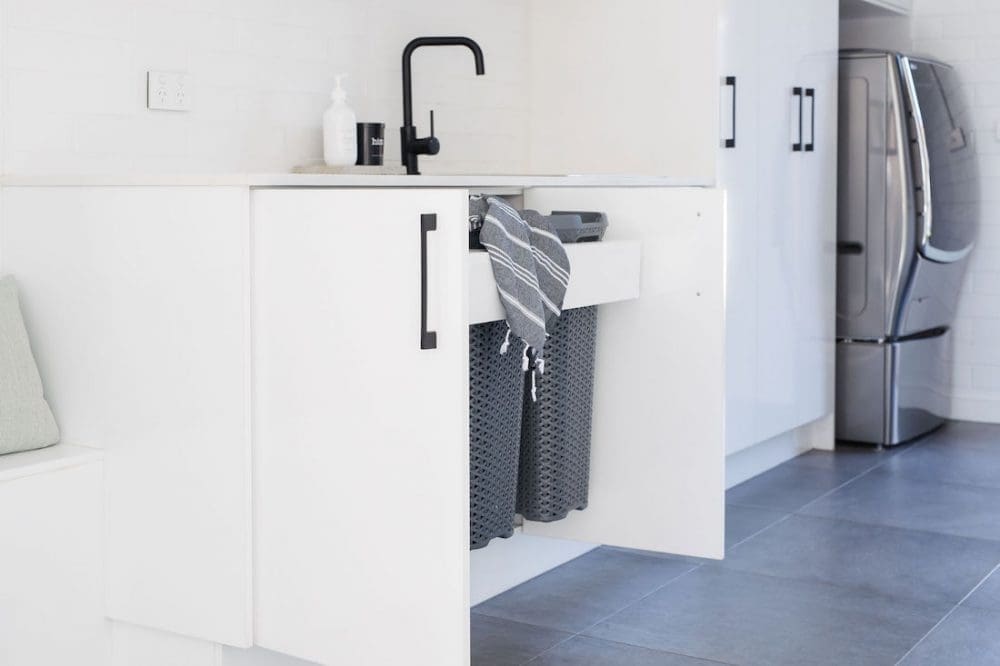 Items you will need:
Piece of MDF timber board to fit inside your cupboard (this is what your laundry hampers will 'drop' into and should be measured carefully, tips on how to do this under Step 1)
3 pieces of MDF board to 'frame' the hamper (this is what your hinges will attach to, ours are 120mm high)
2-4 laundry hampers, depending on how many will fit into your cupboard (we used 3 hampers from Kmart)
Drawer runners (make sure these are heavy duty and can hold a significant weight, we used these ones by Kaboodle from Bunnings)
Electric drill
Jigsaw
Paint
Paint brush
Measuring tape
Screws
Pencil
Steps:
1. Measure the inside of your cupboard carefully, noting the total width, depth and height, as well as the 'clear' width, depth and height. By that I mean, the space that doesn't have obstructions, such as hinges. For example, the total width of my cupboard is 860mm but by the time I deducted the hinges, I was left with 820mm. Keeping in mind the drawer runners were also 10mm wide each, I knew the total 'clear' width was 800mm.
2. Get a piece of MDF board cut to your 'clear' width and depth. Mine is 800mm wide by 500mm deep.
3. Place your hampers upside down onto the MDF board and trace out where they should sit. You'll see mine was very snug and I there was no room for error. Then draw an outline 10mm in — this will be the area of board you cut out as the idea is for the board to catch your hampers rather than have them fall straight through.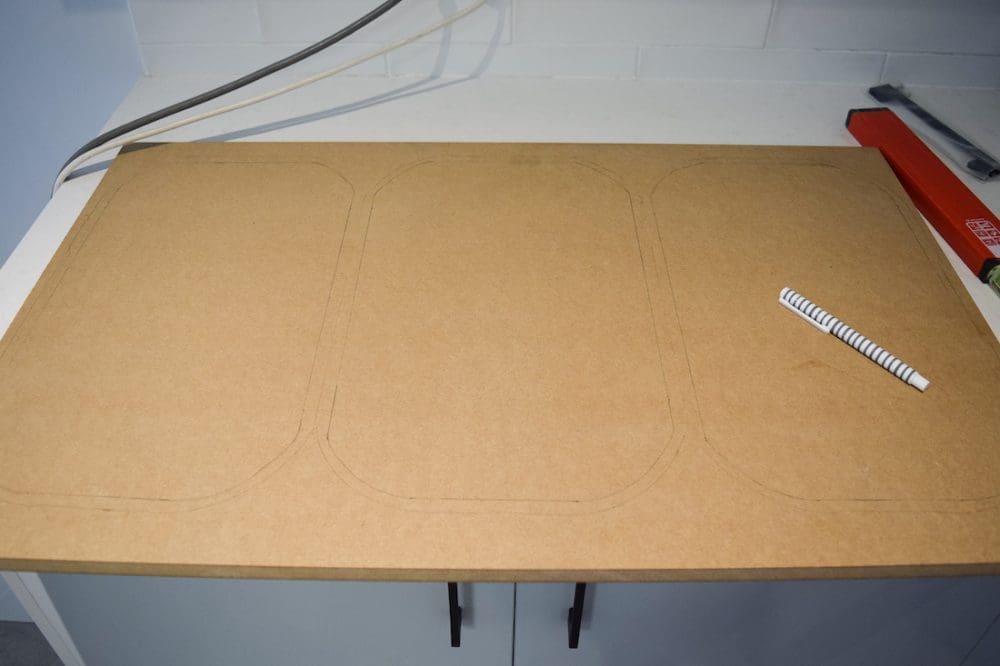 4. Now it's time to cut out the area your hampers will sit into. We used a large drill bit to create holes in the board for the jigsaw blade to sit into.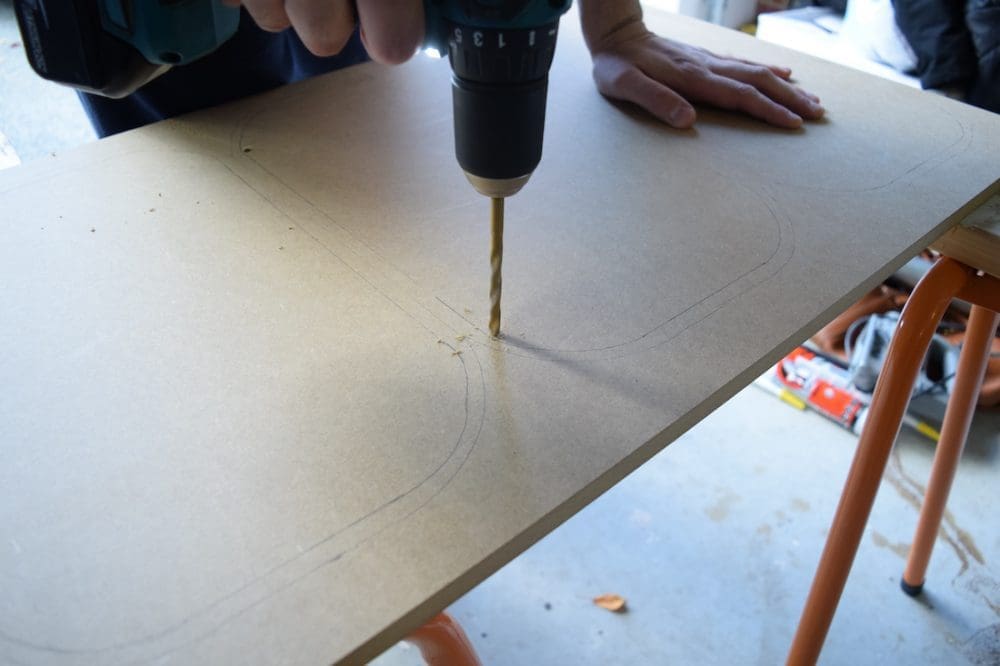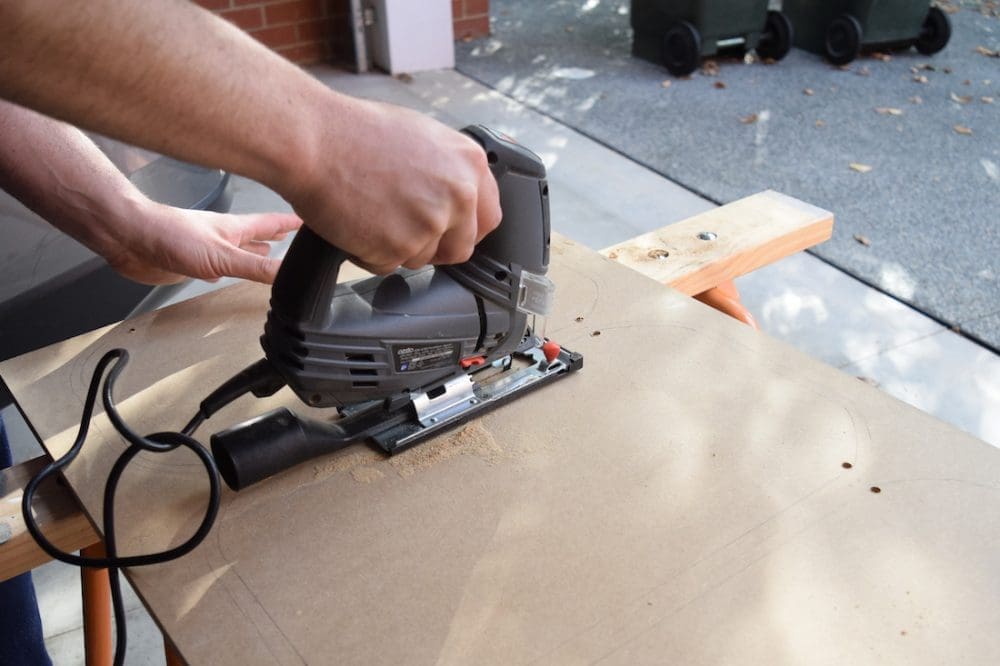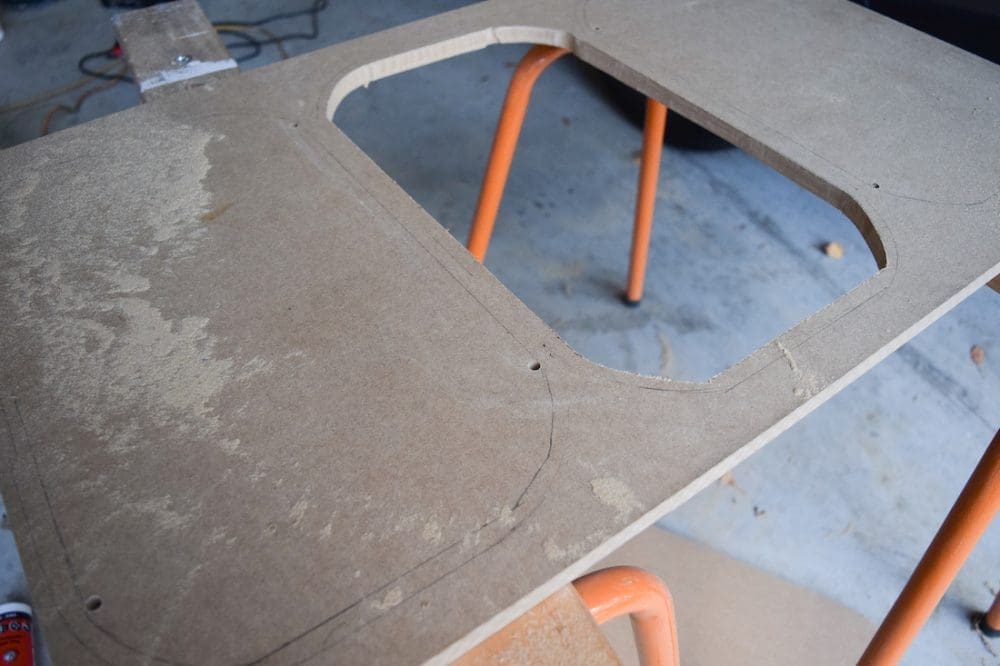 5. Once all hamper cutouts have been done, it's time to screw sides to 'frame' the piece — giving it extra strength and also providing somewhere for the drawer runners to screw into. Ours are the length of the sides and 120mm high.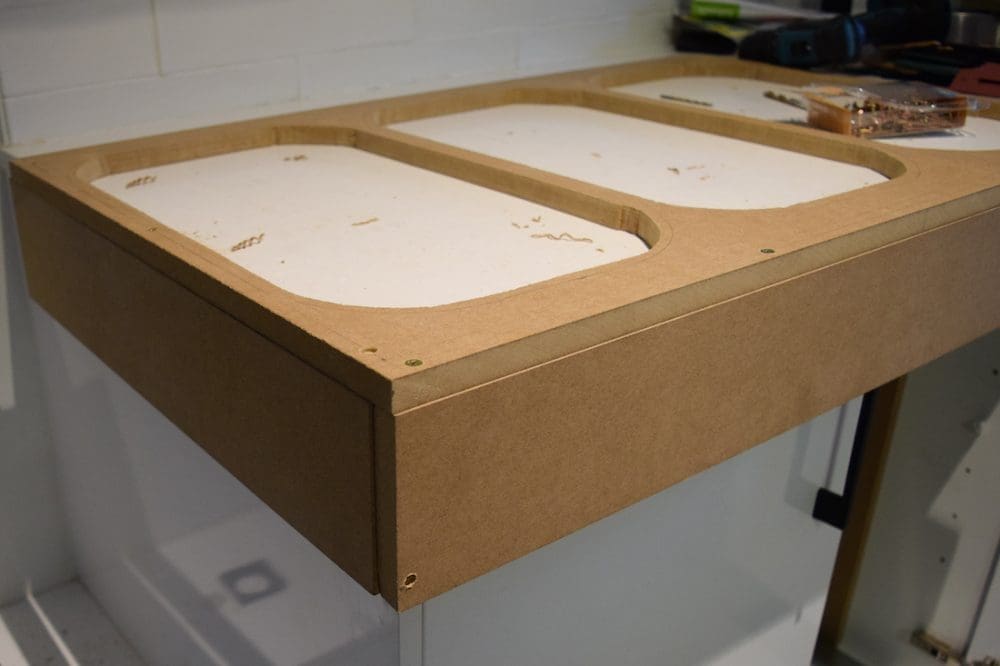 6. Paint your frame in your preferred colour. I opted for a vivid white so it would be as discrete as possible. Paint one coat of undercoat and two coats of top paint.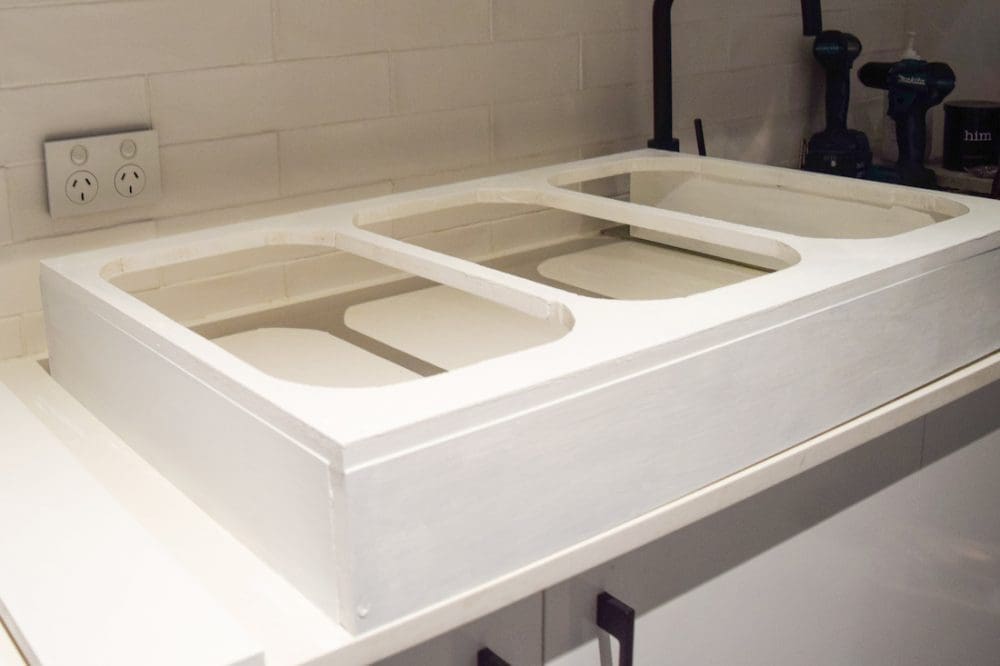 7. Once dry, it's time to mount your hamper frame into your cupboard by attaching the drawer runners. We followed the instructions of the video below but rather than placing the runners directly onto the inside of the cupboard walls, we attached a piece of board on each side of the cupboard so the runners would sit approximate 13mm off the inner walls. This would allow the hamper to glide past the hinges rather than get stopped by this obstruction.
8. Lastly, drop your laundry baskets into the frame and your hamper is ready to use!
I love how this hack turned out and now I have the large, practical pull-out laundry hampers I always wanted.
If you have any questions about how to hack your own pull-out laundry hamper, leave a comment below and I'll get back to you asap.