When friend of Style Curator, Ella Kobelke announced she was having a baby, we just knew she'd create some styling magic in the nursery. You may recall Ella from her fabulous tips on how to create an gorgeous grazing board… she's a woman who has made styling her career.
We waited patiently for her nursery reveal, and were not disappointed! Come along as Ella takes us for a peek inside. It's a gender neutral baby room where she's mixed affordable pieces alongside handmade treasures.
Related article: Dreamy pink girl's bedroom: Take a tour of Amelia's big girl room revamp with floral pink wallpaper and neon light
Related article: Boho sanctuary boy's bedroom: Take a tour of Archer's nursery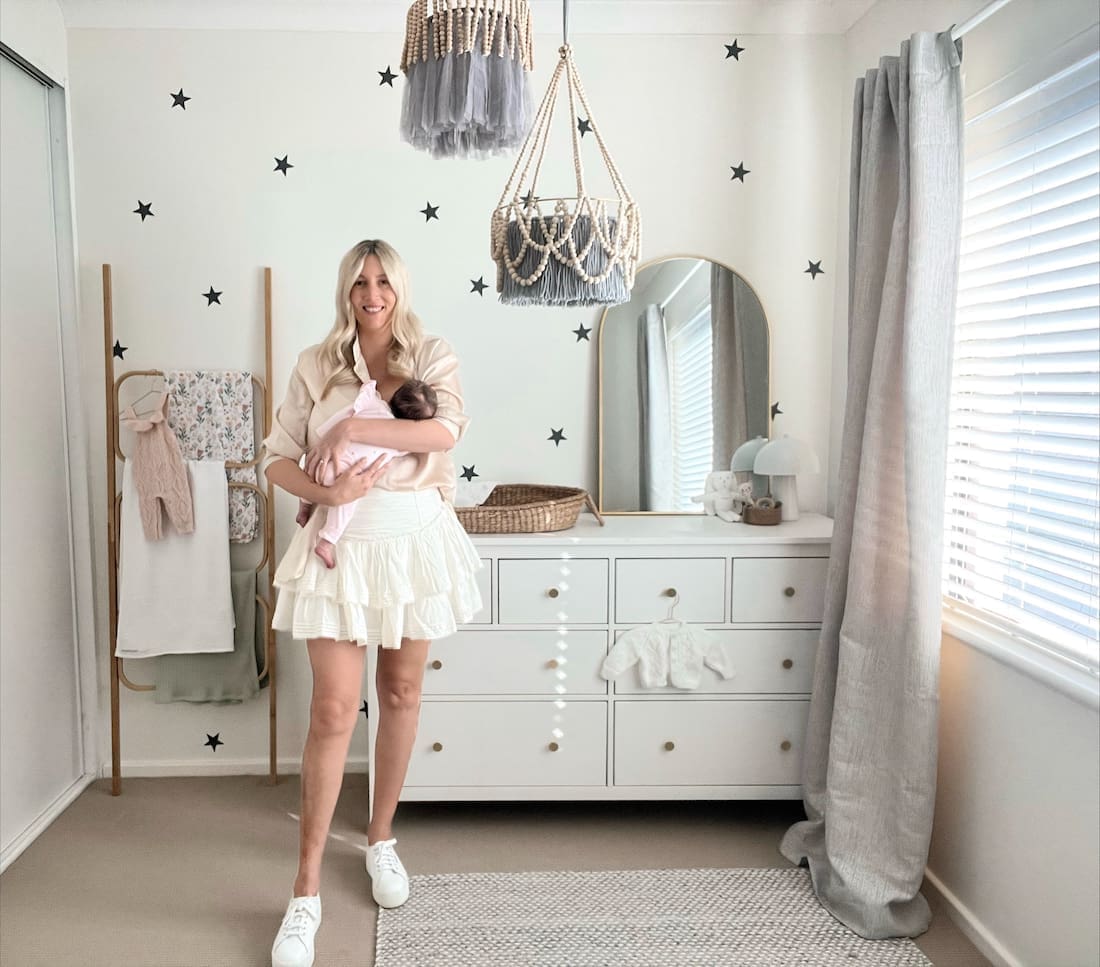 Waiting to find out the gender of their baby meant Ella was keen to create a gender neutral nursery.
"I knew all along that I didn't want to make the room too childish or 'cutesy'," explains Ella.
"I started by collecting screenshots of all the elements that I loved and saved them on Pinterest. There wasn't one specific style or theme that I wanted to replicate — I found that I liked little aspects of all different styles.
"I created a mood board of the key elements. This included the drawers, mirror, lamp and wall decals, just to make sure it would all work well together and look cohesive.
"I love neutrals, so I realised I would have created a similar nursery even if I had known the gender.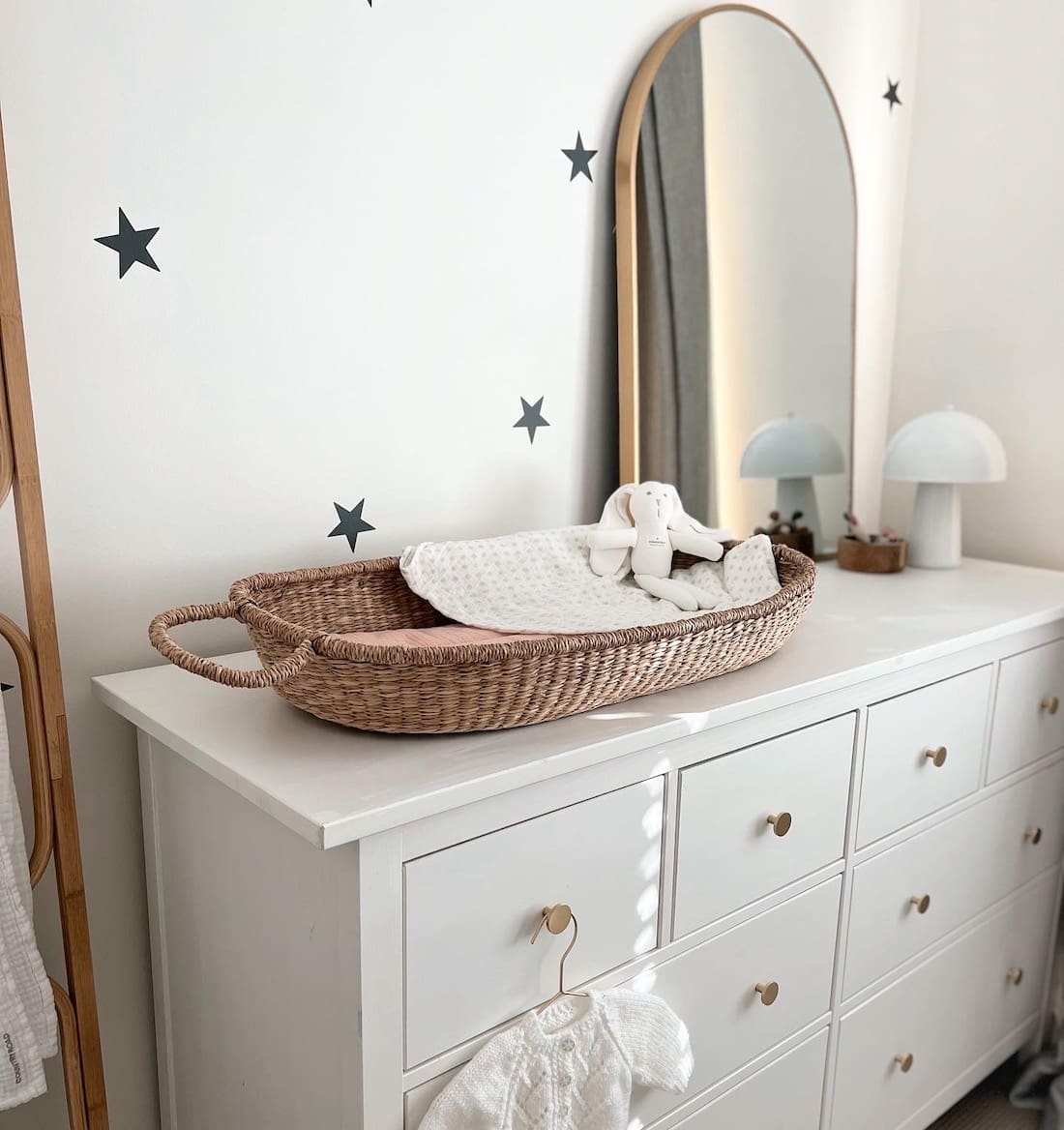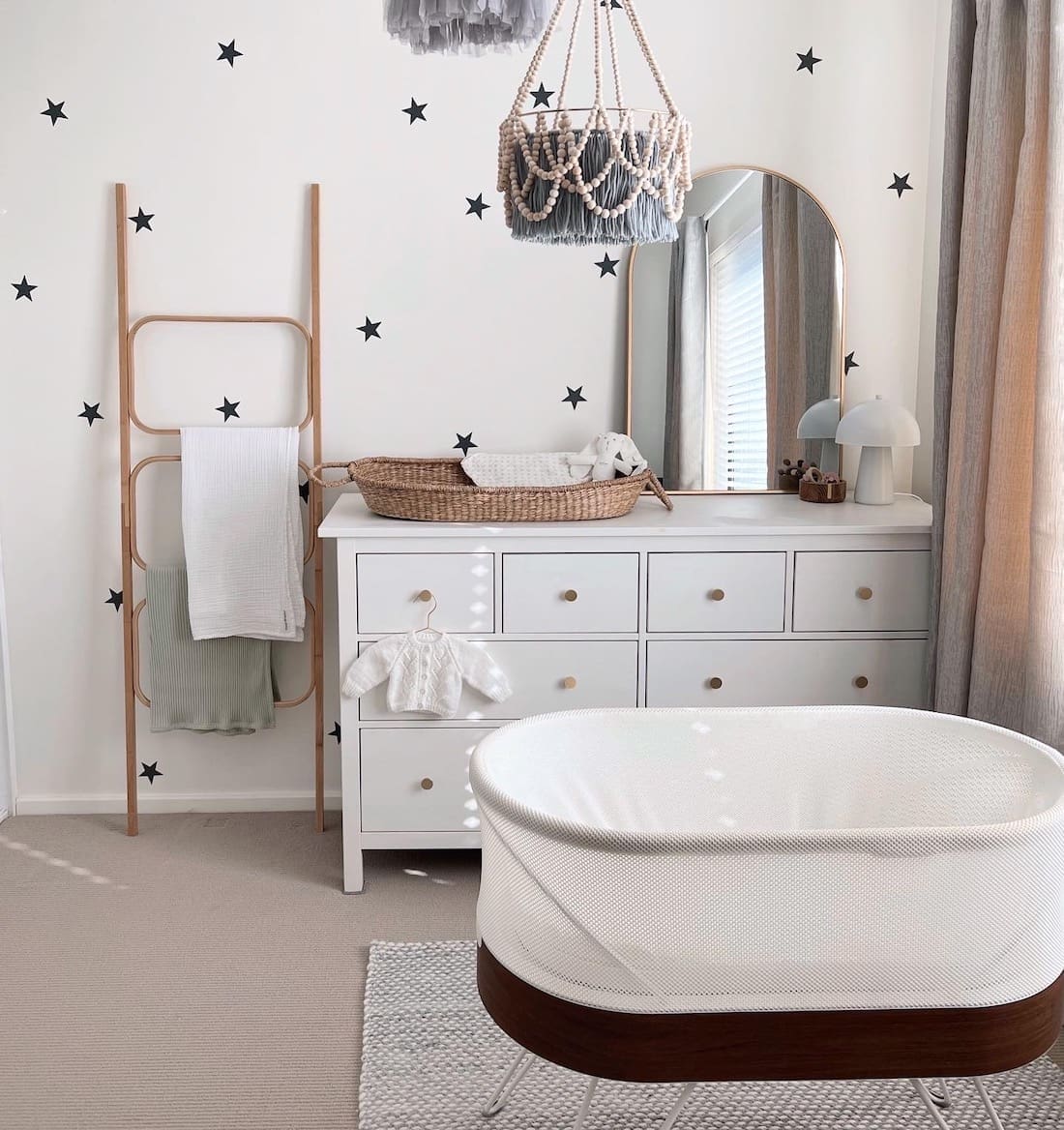 Known for her own impeccable style, Ella jumped at the chance to style her nursery. She also found a way of incorporating affordable baby buys into the mix.
"My husband is very environmentally conscious and likes to buy secondhand where possible. I was really set on having the IKEA Hemnes drawers as they're the perfect height for using as a change table.
"I found a nearly-new set on Facebook Marketplace. It also also meant we didn't need to brave a trip to IKEA or put them together ourselves — win, win!" laughs Ella.
"To give it a bit more personality and to fit within our colour palette, I also changed the handles. I used small gold ones I found at Kmart. It really helped to soften the overall look of the drawers.
"I shopped around a lot to source all the items in the room. It's a great way to find pieces to achieve the look you want without spending a lot of money. That and doing your research!
"For example, many designer stores sell perspex shelves but I found similar ones for much less at IKEA. The arch mirror is another great buy from Spotlight.
"The sweet little lamp is from Target, star decals are from Bright Star Kids and the baby changing basket was a gift from my beautiful work friends."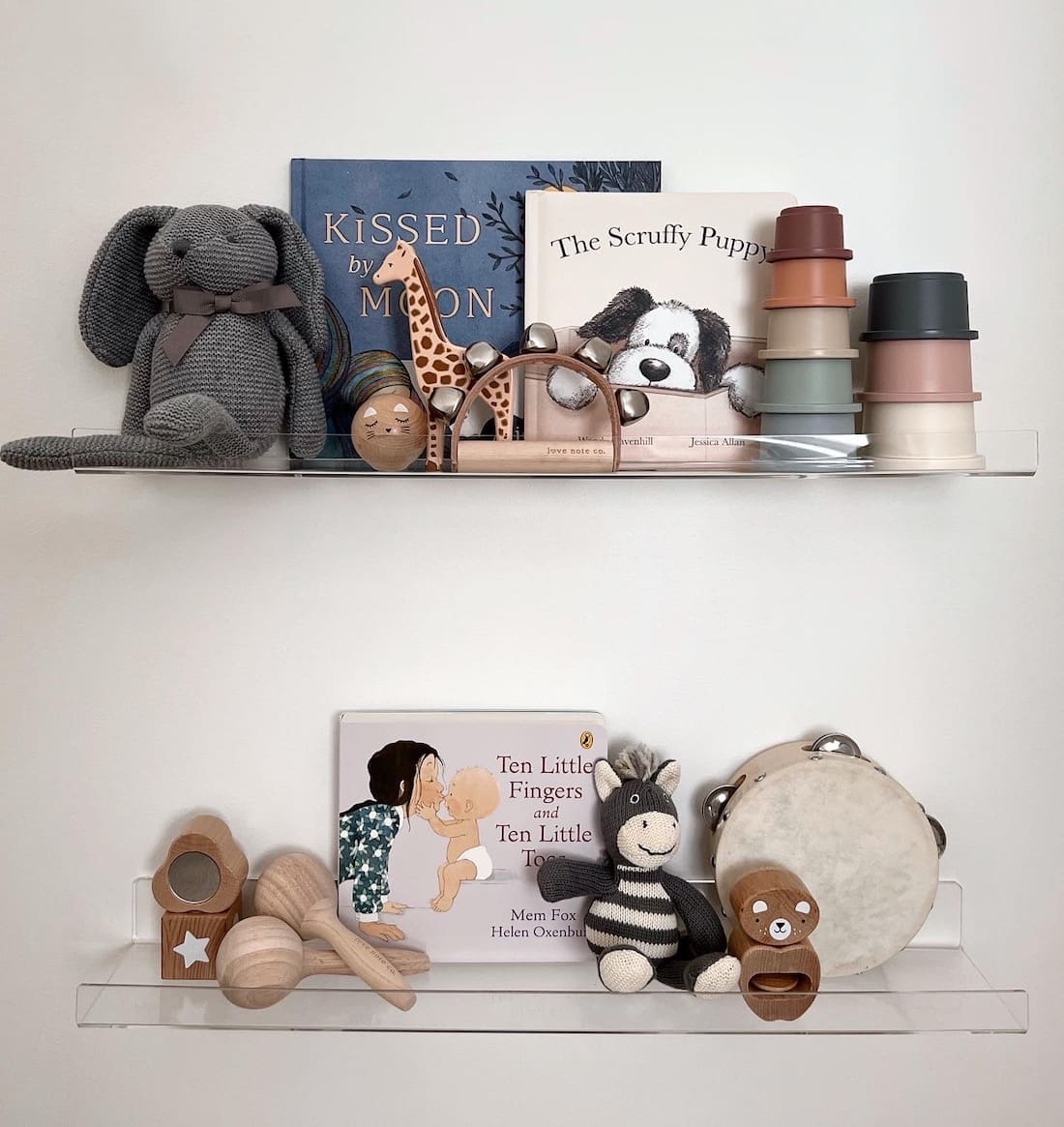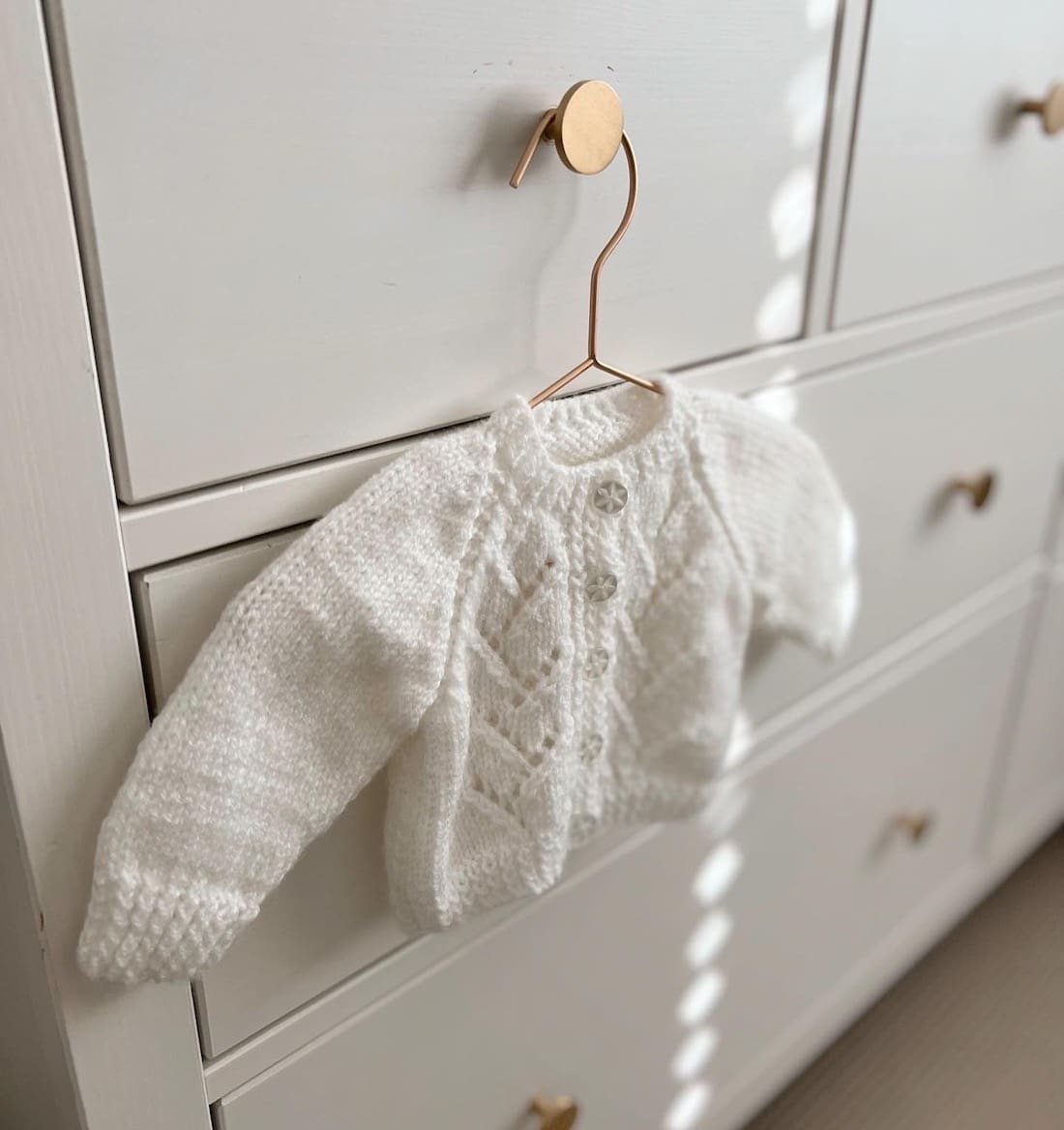 Of course it's hard to miss the stunning handcrafted chandeliers made by Ella herself.
"The chandeliers or mobiles are my ultimate DIY for the nursery," smiles Ella.
"In the past, I've made chandeliers out of wool and fabric tassels for family and friends' nurseries but I wanted to do something different for my own room.
"Even though Hazel is still so tiny, she's already looking up at them when I'm changing her or lying in her bassinet. She seems fascinated by them. It's so sweet to watch!"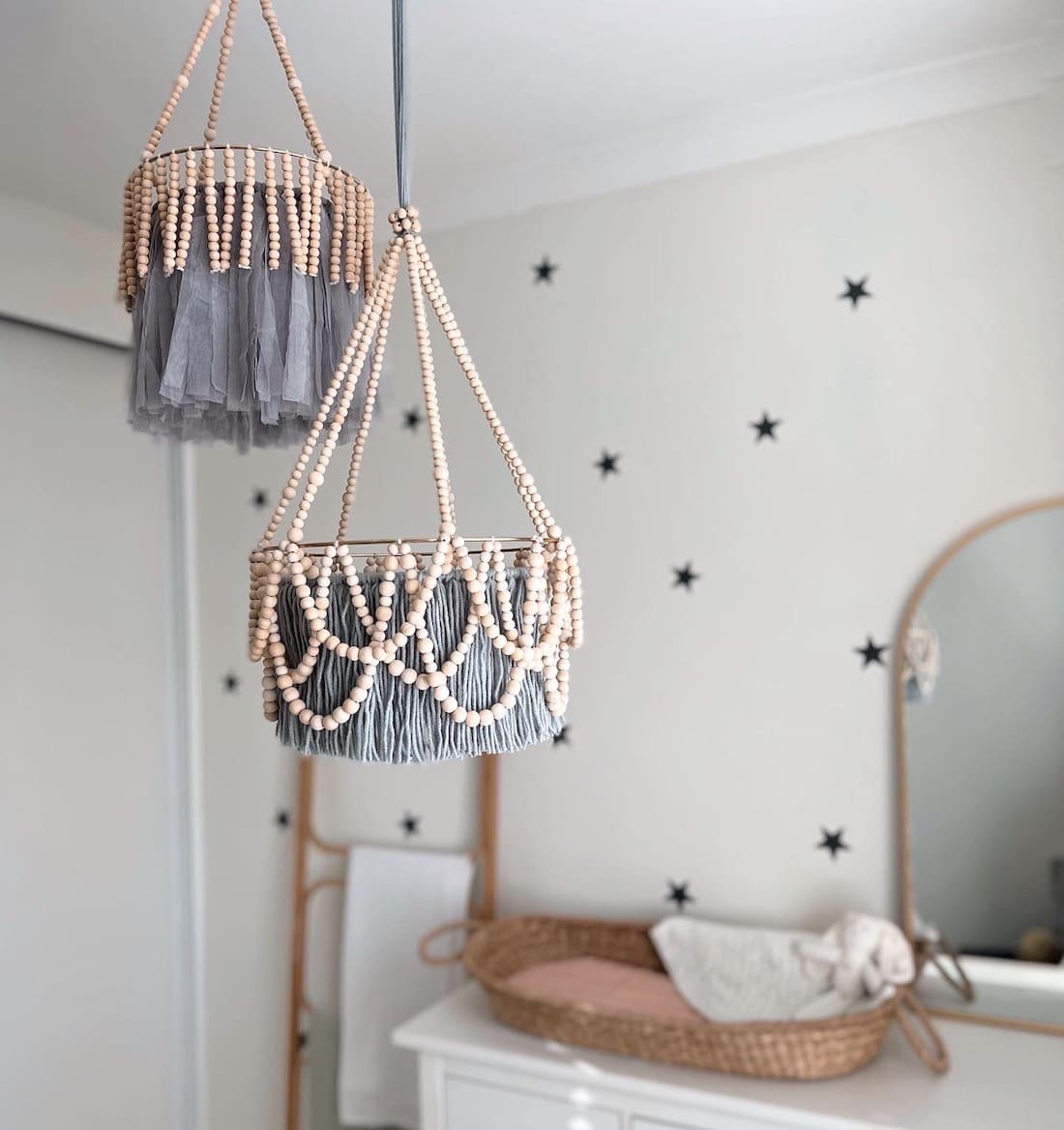 Adding wall decals is a beautiful way to add interest to a gender neutral nursery as they're easy to remove if you (or your baby!) outgrows them.
"The star decals on the wall are definitely my favourite part of Hazel's nursery. I think they make the whole room feel a bit more modern," says Ella.
"Starting out with a neutral colour palette, we've slowly been adding things to her room and we've been given so many beautiful presents! For example, some super sweet baby blankets which I've added to the ladder. They instantly gives it that little girl touch but without feeling too cutesy.
"We're so happy with the overall feel of the room and how the whole space came together. I spend a lot of time in here, so it's nice that I love the room and can enjoy how calm it feels."
Big thank you to Ella for showing us around her gorgeous gender neutral nursery (with a teensy touch of pink now Hazel has arrived!). You can see more of Ella's handywork in this article here, or take a scroll through her Instagram. What do you think of Hazel's gender neutral nursery? Tell us in the comment section below.