Styling homewares and furniture to absolute perfection (that often results in us reaching for our credit cards) likely has a talented team behind the lens. So what does a typical day in the life look like for someone in a Head of Styling role?
Today we had the pleasure of chatting with Vanessa Colyer Tay who is Head of Styling at online furniture and homewares retailer, Temple & Webster.
Note: we take no responsibility for your sudden urge to go online shopping after you've read this 😉
Related article: Do you know what your interior style is? Take the quiz!
Related article: A day in the life of Interior Designer, Kate Walker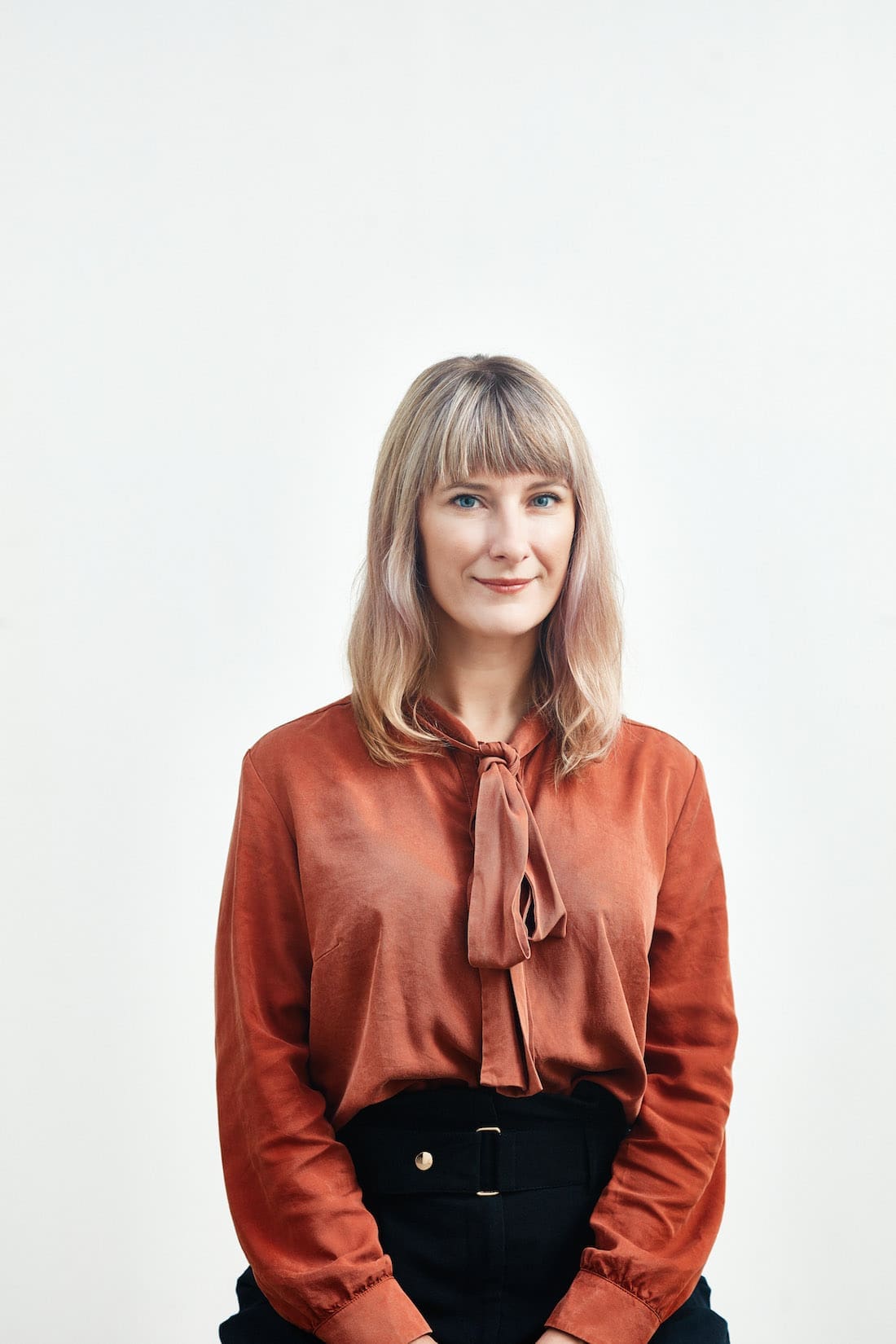 Getting started…
Having worked as a styling professional for over 15 years, Vanessa says she always knew she was destined for a career in the styling industry.
"I completed a diploma at Design Centre Enmore in Sydney and while studying, I assisted some renowned stylists who showed me the way," Vanessa explains.
"I worked as a freelance assistant for a while before landing the role of Senior Stylist at Australian Home Beautiful magazine. It was here I got noticed by Inside Out magazine, so I headed over there where I took up the role as Style Editor.
"After 5 years with Inside Out, I took on a freelance role which saw me styling shoots, rooms and spaces for Australia's biggest brands and magazines.
"During this time I styled magazine covers, look books, feature editorials, I wrote a regular column for the Sunday paper and got to work with so many inspiring interior designers. It was a really exciting experience for me.
"All this led me to taking up my current role as Head of Styling at Temple & Webster!"
Shop some of our fave Temple & Webster buys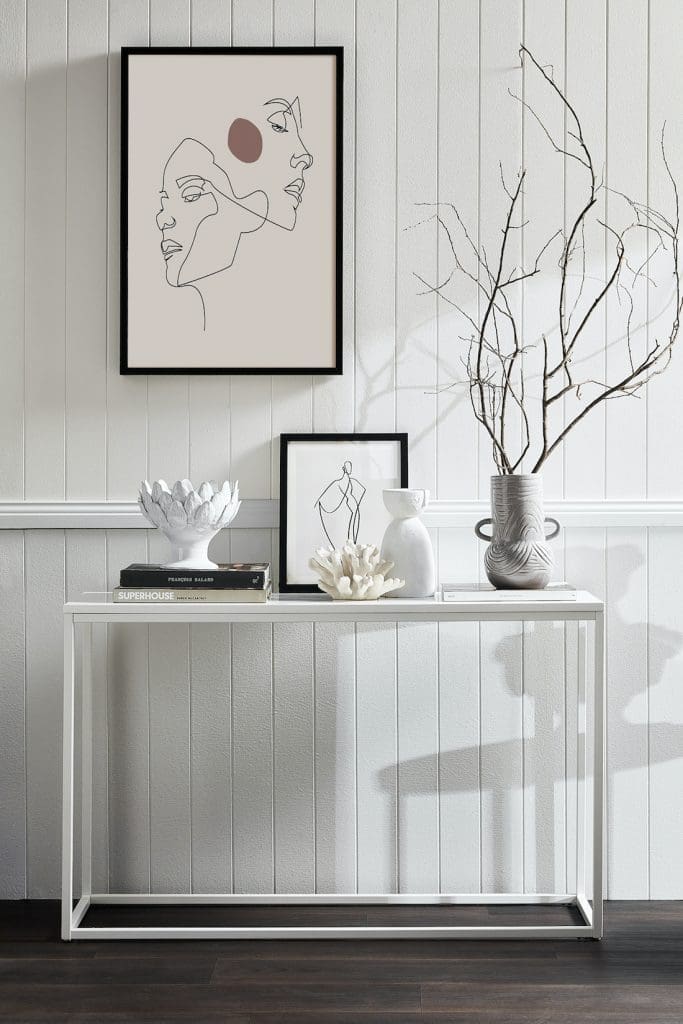 A day in the life as Head of Styling for Temple & Webster…
Getting ready
"Like most people, my day starts with coffee! I then make myself a breakfast smoothie and get ready for work.
"I like to take 15 minutes of mindfulness meditation behind a closed door while the kids are busy. It really puts me in the right headspace to tackle the day ahead."
Work time
"My work day usually starts by heading to the studio to style a photoshoot which we've already planned out.
"I share my planning documents with the team and make sure we have everything we need for the shoot. It's usually a bounty of gorgeous furniture and homewares!
"We build our set, including walls and floors, then we add furniture and implement objects, art and accessories. Now we enter the shoot vortex!" Vanessa laughs.
"It's a magical place of styling and visual creation. We style a variety of sets and compositions until we get all the required shots.
"When it's time for lunch, I always try to get out and go for a walk. My current favourite is lemongrass chilli chicken from our local Vietnamese eatery, The Rice Pantry, in St Peters.
"Once the shoot has finished, we pack up and return the studio to a blank canvas, ready to do it all again tomorrow!"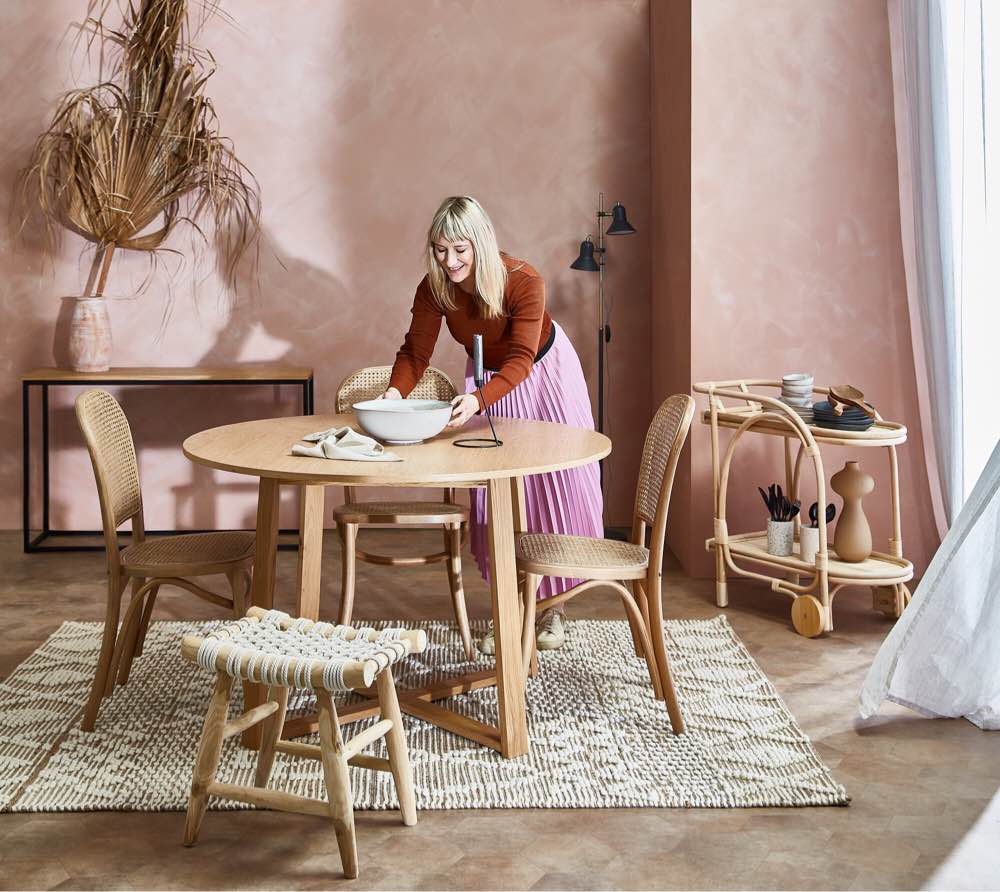 Back home
"When I get home, it's all about family. We love to swap stories about our day and sneak in homework tasks. At times, homework doesn't fly, so we ditch it in favour of a board game or mucking around the house… loudly!" Vanessa says with a smile.
"After dinner, one of our favourite things to do is head out for a walk, soak in the sunset and admire our natural environment.
"Once the kids are in bed, we love nothing more than to chill out with a glass of red before heading to bed — with some luxe 100% linen bedding, of course!"
Best part of the job…
"The most satisfying aspect of my job is working with a team of incredibly talented creatives. I love creating imagery from inception to completion, and discovering beautiful products every day.
"Being part of a dedicated team is huge for me. I also adore playing a part in inspiring people to live in a home they love," says Vanessa.
Not so fun part of the job…
"It might not sound like it, but my job is exhausting!
"The physical demand of styling is one part amazing, because your step count is so high without really trying. But then it's also one part excruciating, because it really is physically exhausting!"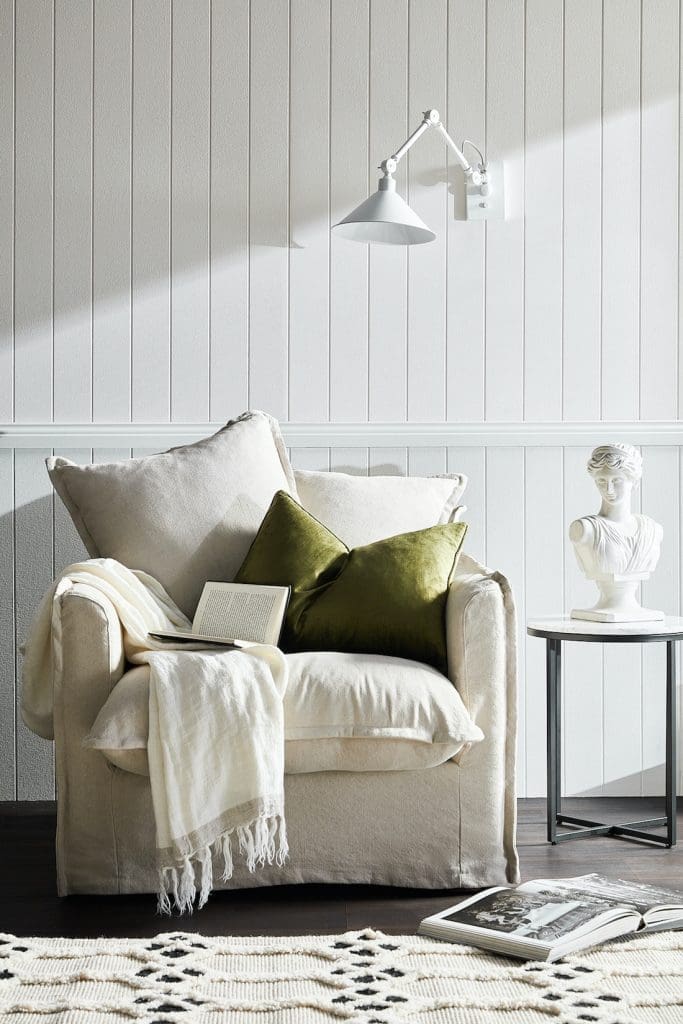 Best piece of career advice you've been given
"One piece of advice I've held on to over the years comes from my former Inside Out Editor, Karen McCartney. She used to say, 'Being nice is good business,' and I really love that.
"Styling is very collaborative. You rely on many other people to help you do your job and each one of them plays a vital role in your success," Vanessa says wisely.
What do you most want to be known for?
"I'd like to be known for quality work… always. And for being an all-round good human."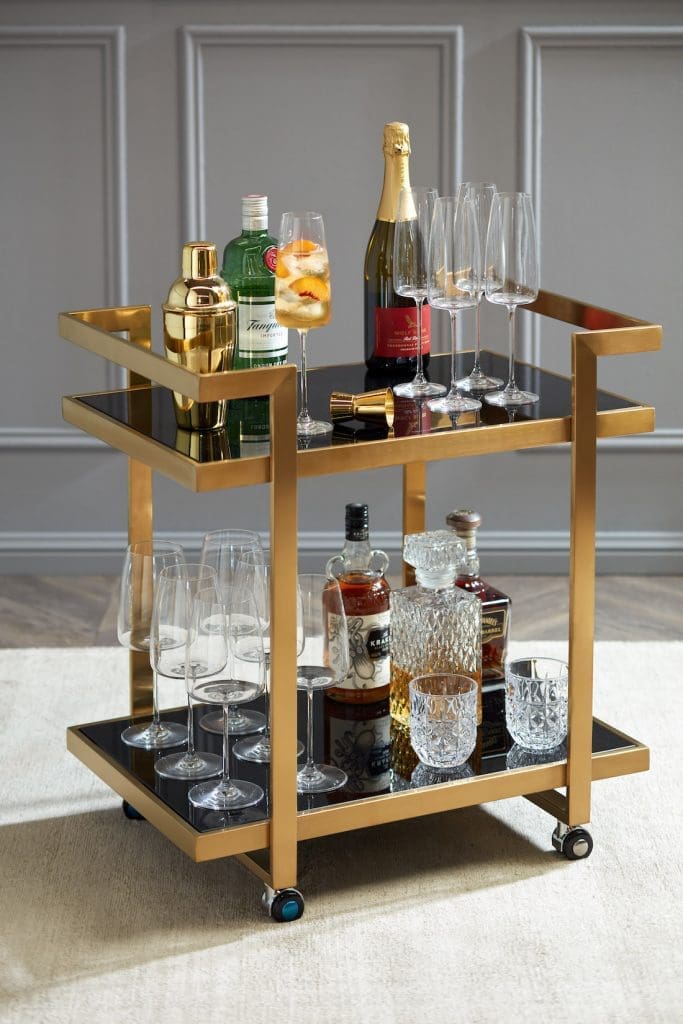 Why Temple & Webster?
"For those who haven't yet discovered Temple & Webster, get ready!" Vanessa laughs.
"Temple & Webster is Australia's number 1 online shopping destination for the home. Our creative team delivers bespoke imagery to showcase our wide range of products.
"I like to think we play a role in inspiring homemakers across the country, too.
"I've been around the Temple & Webster team since they began in 2011 so when the role came up, it was only natural that I jumped at it.
"Creating captivating imagery, mentoring stylists and progressing alongside a dedicated creative department is something I'm passionate about, so to do this with the Temple & Webster team was hugely appealing."
Thank you so much to Vanessa for sharing a snapshot of her day as Head of Styling for Temple & Webster. To see more of Vanessa's work, get some styling inspiration or perhaps to shop up a storm, check out the Temple & Webster Instagram page or visit the website.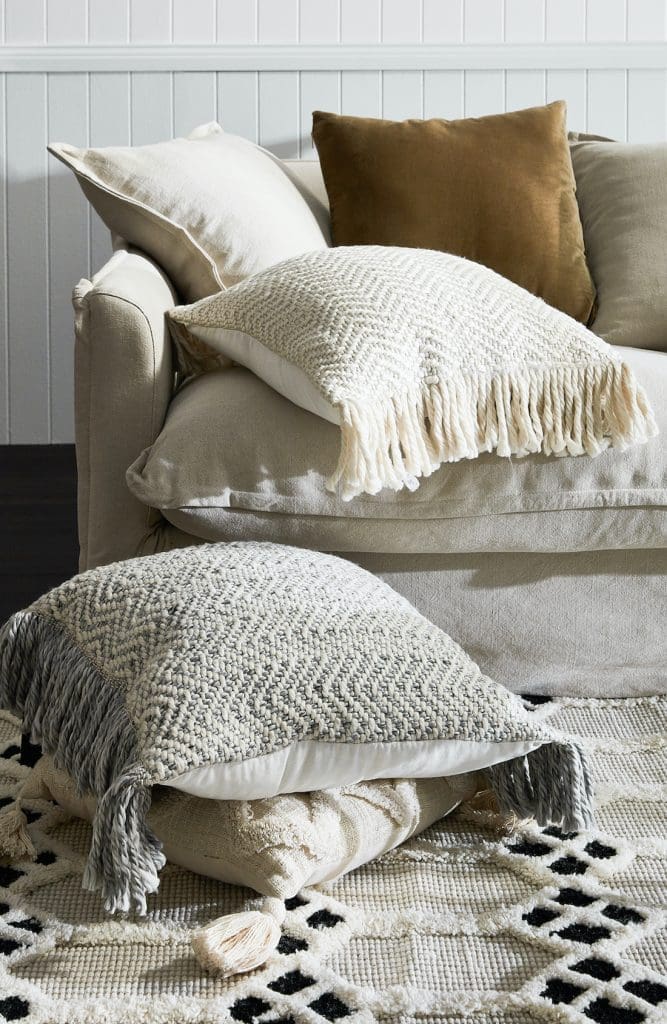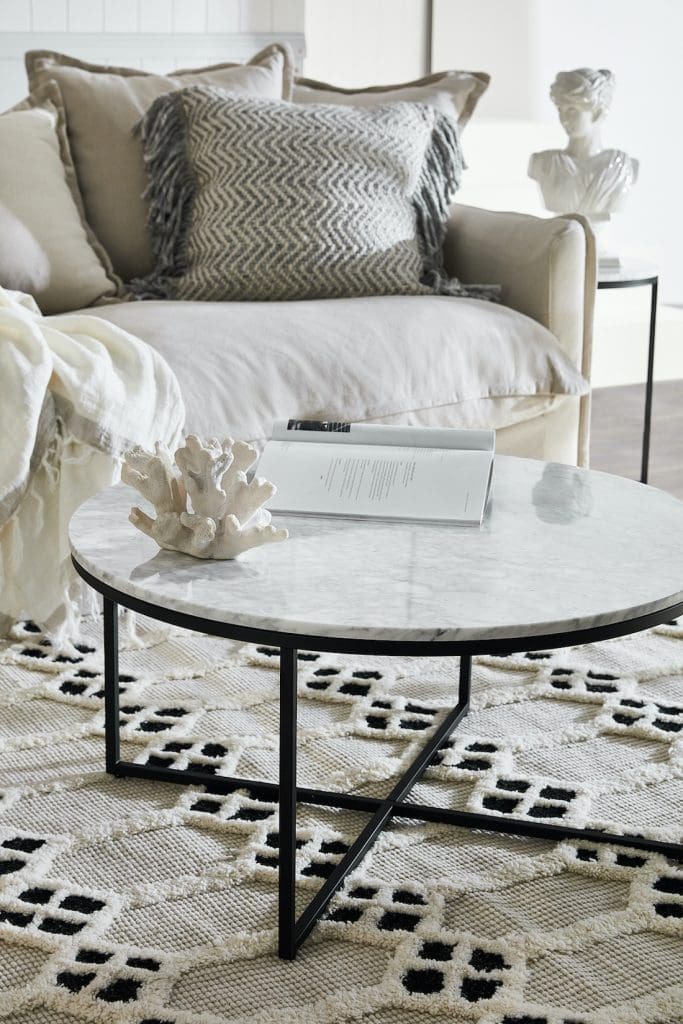 Shop some of our fave Temple & Webster buys
Disclaimer: This article contains some affiliate links. This means, if you purchase an item we may receive a commission on that sale of the product at no extra cost to you. We promise we only work with brands we know, love and trust.