If you find you get easily distracted in your home office… or you're just not as productive as you'd like to be, it might be time to declutter your workspace! As the saying goes, 'A decluttered space is a decluttered mind'.
Not only do I prefer being in a tidy work environment, I swear it helps with productive too so today I'm sharing my tips to declutter your workspace!
Related article: Scandinavian office inspo: Dreamy Scandi style offices and where to shop the look
Related article: Desk before and after: Black and white desk makeover
Clear your workspace
Sometimes it's hard to know where to start decluttering when you're looking at a mountain of stuff!
All decluttering experts suggest using one method and sticking to it. Check out this article where the experts shared their preferred decluttering techniques.
A popular decluttering approach is the 'only touch an item once' rule, which means once you pick something up, you need to decide if you will keep, sell/donate or discard it.
Personally, I prefer to tackle one area of a room at a time while using a sorting method on the floor. In my workspace, I removed everything from the desk and began grouping all paperwork together, all stationery together, all decor together etc. And once I could see how much of everything I had, it was easier to make decisions around what I should keep, sell/donate or throw away.
Remember, decluttering is an opportunity to lift the mental and emotional weight of a space.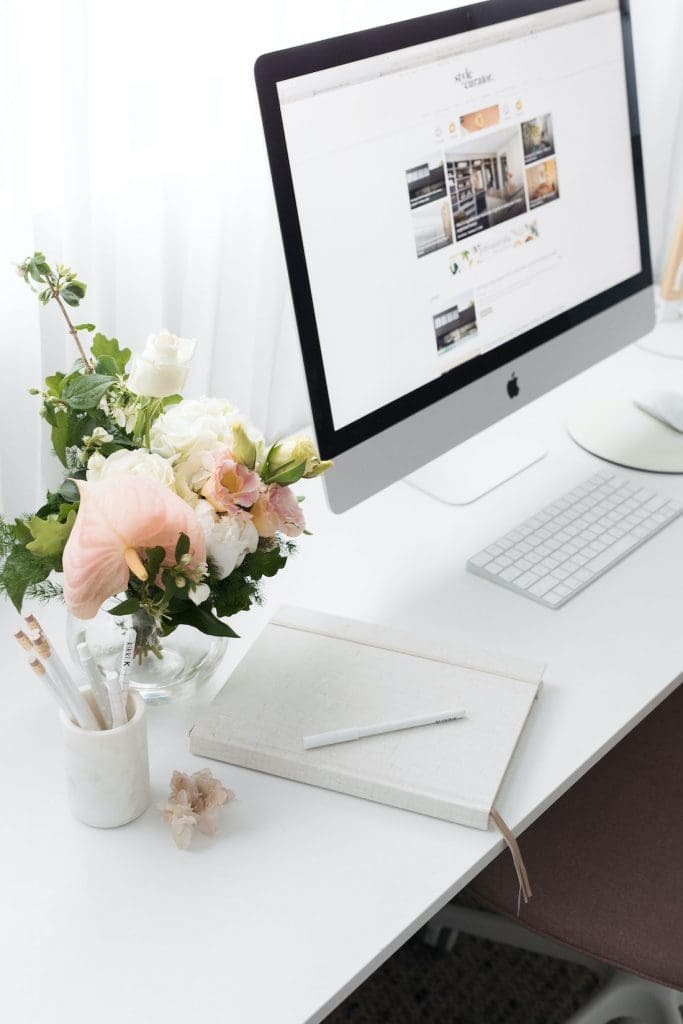 Organise paperwork
Speaking of things you can dispose of — when was the last time you sorted through all of your paperwork?
Important information like receipts could be scanned and kept electronically on external hard drives (always make a back up!), while older papers that are no longer needed could be shredded and recycled.
A few simple storage pieces like magazine holders or filing cabinets can also help to maximise space and make it easier to find papers when you need them.
Good lighting
This obviously isn't a decluttering tip but it is essential for a productive workspace — lighting!
A table lamp or pendant light over your desk provides much-needed task lighting and will help to reduce eye strain. You might like to check out these lights we love for shopping inspiration.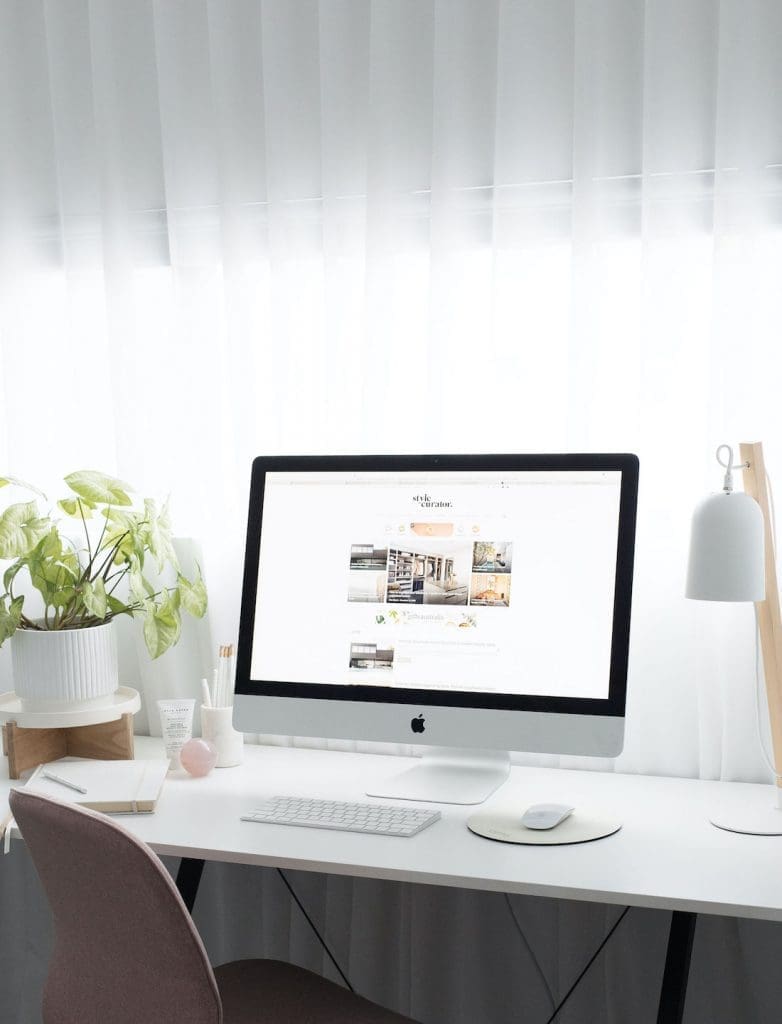 Sort cables
Most of us have cables in our workspace that we don't even know what they belong to!
Old phone chargers, adapters for previous laptops or old camera cables are just some of the most typical kinds you'll find.
While it can be confusing and frustrating, taking the time to sort through your cables and label what they are for (while getting rid of ones you no longer need) will save you so much time in the future. I just love this washi tape label hack to keep cables organised!

Organise stationery
Stationery can quickly take over a workspace but a few storage solutions, like tumblers to hold pens and mini baskets for bulldog clips and custom printed sticky notes, can help to keep your desk tidy — and they make stylish decor items in their own right.
If you're holding onto pens that don't really work or scissors that are too blunt to cut anything, you know what to do! Stop holding onto things just for the sake of it.
Also, how much stationery do you really need on your desk? Perhaps you could organise them into essential items that can stay on the desk and other bits you rarely use that could be put into a cupboard or storage area close by.
A 'go to' notebook
Are you guilty of having a million scraps of paper or post it notes on your desk of important information or things to do?
Avoid a build up of scrap papers by using one dedicated notepad on your desk or an electronic one on your computer like Trello.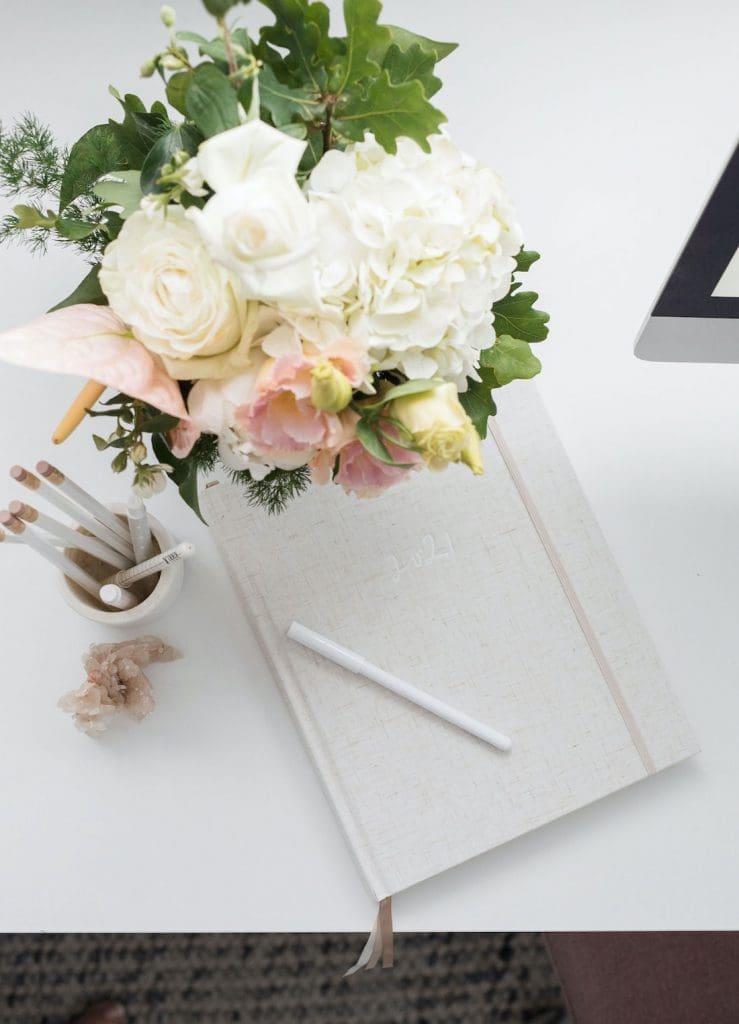 Create meaningful folders
I mentioned earlier that sorting paperwork is a must and one way of staying on top of it in future is to create meaningful folders.
A folder for bills, another for meeting notes and so on, as well as a box where you can hold current receipts, will mean you're more likely to put paperwork in the 'right' spot (aka no more mounds of paperwork) and reduce time when you're looking for papers in future.
Organise drawers
Whether they're in your desk or a cupboard, contents of drawers are often 'out of sight, out of mind'.
If you find yourself rummaging through drawers to find things or don't even know what's in them anymore, take the time to declutter, sort and organise. Drawer liners, smaller storage boxes and even just using bulldog clips to group like information together are good ideas for here.
I hope these tips for decluttering your workspace to boost productivity come in useful. Do you have more tips to add? Share them in the comments below!