A decision I agonised over for a long time when building our house (and am still deciding on now as I look into floor and table lamps) is lighting!
It was a massive help to have a lighting expert come and design my lighting plan but then deciding on what fixtures to use was a whole other challenge.
I seriously think the biggest trouble these days is too much choice. And perhaps also a saturation of drool-worthy interior images by people with limitless-budgets… and then realising you have champagne taste on a passion pop budget and can't afford any of the lighting you fall in love with!
Lighting can make or break a room so I've curated 10 of the best floor, wall, table and pendant lights I'm loving right now that won't break the bank!
I always find myself gravitating towards metal floor lamps. You may have seen our round up of 10 stylish floor lamps from luxe to less (without a fabric shade floor lamp in sight) and adding to the list would have to be this stylish matte black and timber floor lamp.
The twin spotlights aren't just stylish, they're a practical design feature so you can control the level of light (individual switches for each spotlight) and light beam direction.

With a beautiful form in a soft matte grey finish, this ceramic pendant light is an ideal choice for the bedroom or living room — and at a price you can't beat!
It's a generous size with a diameter of 20.5cm which sounds massive, but the pendants in my guest bedroom here are over 16cm in diameter and I feel they could have been bigger.
It's crazy how expensive table lamps can be — some on my dream list cost into the thousands! But I promised a realistic list here so I've found a lamp that still has a design edge and hasn't been seen a million times before.
I love the asymmetrical legs and powder blue colour (also available in mint green, blush pink, white and black).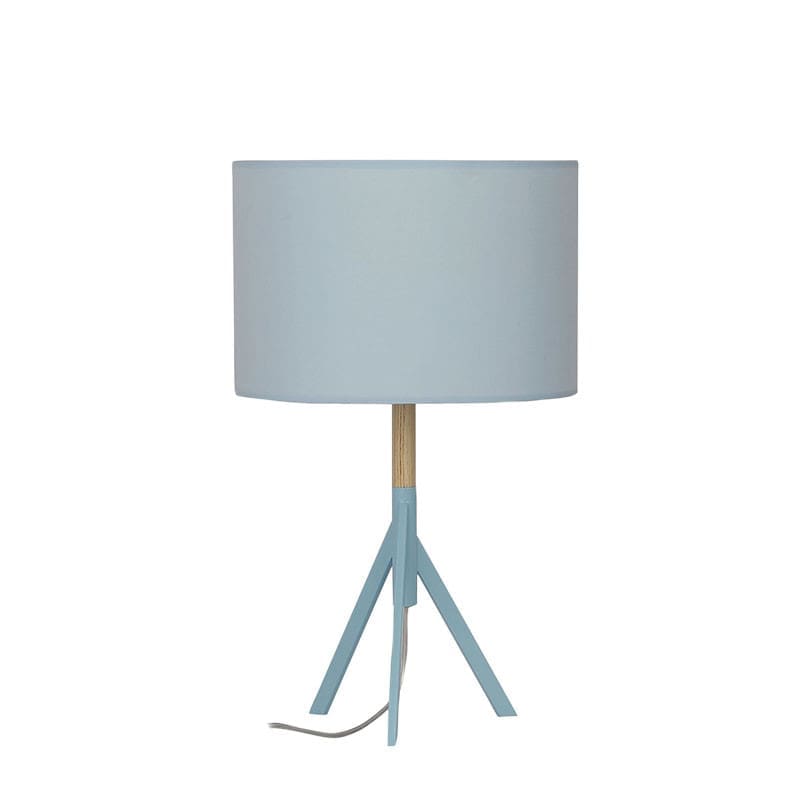 So simple in design, it's easy to overlook a light like this matte white wall sconce… but as James says in his expert lighting tips, the more you can reduce ceiling downlights, the better!
We used a few wall lights in our home and I love the ambience they create. I just wish I'd taken his advice further and used more lights like this through our main hallway rather than downlights.
This wall light could be used throughout a home but particularly at face level by the bathroom vanity and down hallways.
The perfect pendant light when you want a stylish pendant without it becoming the focus of a room.
At 20cm diameter by 29.5 high, this is another great pendant choice for a contemporary bedroom or in a minimalist office.
I know, I know, copper was overdone for a few years there and people are saying it's on the way out but I think there'll always be a place for real copper or well-made copper look products — it was the saturation of cheap copper-look products that flooded every homewares store that ruined it for a while.
Copper will always have a place in my heart and I think the home should be filled with pieces you love, not simply driven by trends.

Something I appreciate more now since building our house is how natural timber helps to soften spaces to create a warm, inviting feel.
Timber pendant lights like this modern chandelier, shine light in both an upwards and downwards direction to create a beautiful statement piece of lighting.
With a diameter of 45cm, this is a good size for over a dining table, or in an open-design stairwell.
For a more daring choice, I love the design and finish of this Aplomb pendant light that's made from resin. Available in a range of colours including white, brown, grey and black, there's a colour to suit your chosen palette.
Because of the resin material, each piece is slightly unique with a non-uniform outer surface. With a diameter of 16.5cm, this is the smallest (although still generously sized) pendant on the list.
It has a real architectural feel about it and would look great in any room of the home — from bedside pendants, to the bathroom, entry or above a kitchen bench, you could use one or create a cluster.
This light might not look like much on screen but in person, these suspended LED track lights are S-T-U-N-N-I-N-G!!
I was originally going to have a large black suspended LED light above our kitchen island but once the pendant light from Copper ID went in over the dining table, I felt like this could be too much black lighting in the one zone. So for now I'm relying on a few downlights in this space but I think I've just found the light fitting to solve my problems!
For a moody, luxe feel, a smokey glass pendant light is always a winner. I love that this one uses black hardware rather than chrome and is an elongated shape rather than being too round.
It's available in amber, smoke or clear so you can find one to fit your colour scheme.
Did you find a light to love on the list? I'll admit these aren't the most 'out there' choices — instead I went for understated and stylish options that I would happily put in my own home.
If you're looking into lighting for your home, it's also worth reading James' tips on creating a lighting plan (this guy has a degree in Illumination Science for goodness sake and knows everything there is about creating a well-considered lighting plan!) as well as my top lighting and electrical things to consider when building.
And of course, if you stumble across any gorgeous lighting pieces that we wouldn't have to sell our left kidney for, please link to them in the comments below so we can all check them out!