For many of us, a hallway isn't all that big a deal — unless, of course, you're on The Block! Often called 'Hell week', this week the couples had to deliver a hallway powder room and laundry reveal. Week 9 was a biggie!
The hallway is often the first thing people see when they enter your home, and first impressions count. So to help the Blockheads out, the 2019 Block All Stars returned to give them a hand.
Let's check out how hallway / powder room / laundry reveal week went down!
Related article: The Block 2020: Week 8 — Upstairs reveal, guest bedrooms + additional rooms
Related article: How to style an entry: Create an entrance that's beautiful and functional
Harry and Tash
Working with 2019 contestants Mitch and Mark, it was clear from the get-go that Harry and Tash were behind. Mitch and Mark found it frustrating how casual and laid back Harry and Tash were, and wondered whether Harry should spend less time complaining, and more time doing something useful.
During their visit, the All Stars were able to give their new besties a $1000 gift. For Harry and Tash, their gift was some more hands on deck to help fix their bathroom disaster from week 5. They got it all fixed up and it's looking fresh, new and… safe!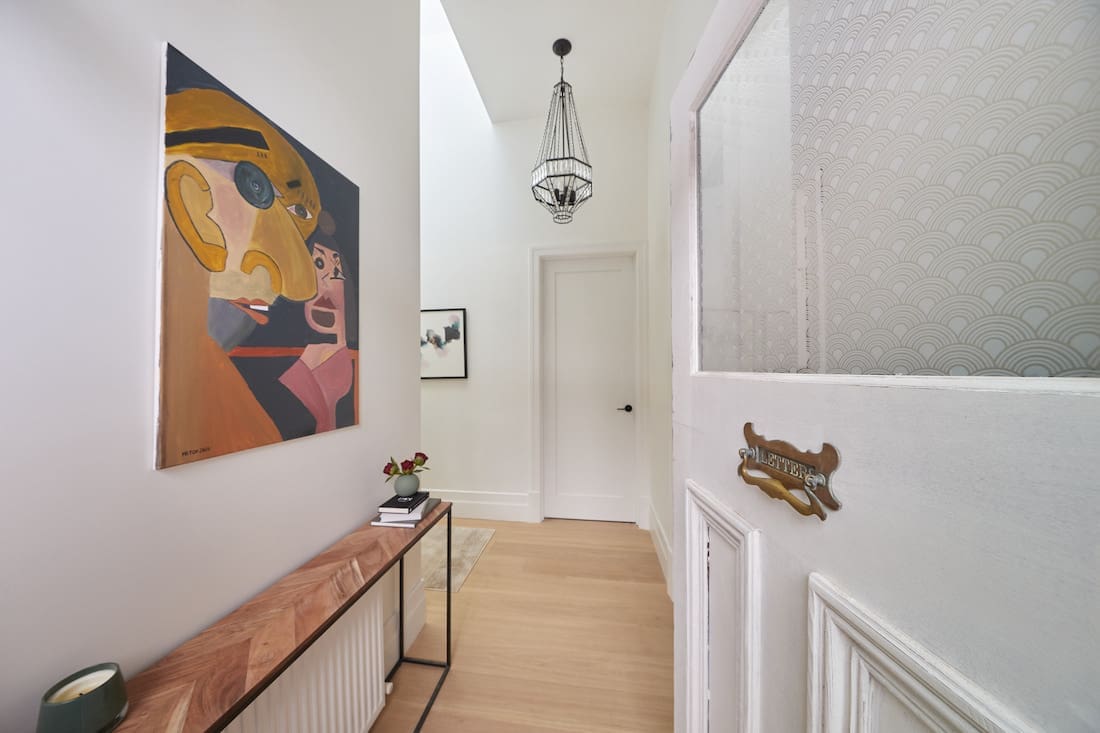 To enter House 1, the judges used the facial recognition technology — ooh la la! Although in Brighton, probably standard! Once inside, they were met with yet another skylight. Number 24, in fact. Imagine having 24 skylights in your home!
They were also praised for the restoration of their original front door (which was what Harry whinged about for most of the week. Team 1 were the only team who didn't get a new front door as they were required to restore their old one).
For the rest of the room reveals, it was all just so-so. The judges thought Harry and Tash could have designed their laundry to be a tad more functional.
We loved the timber joinery they used in their laundry and their flooring choices throughout these rooms, but otherwise there wasn't anything that stood out for us. A fair score of third place!
Score: 25 / 30 (joint 3rd place)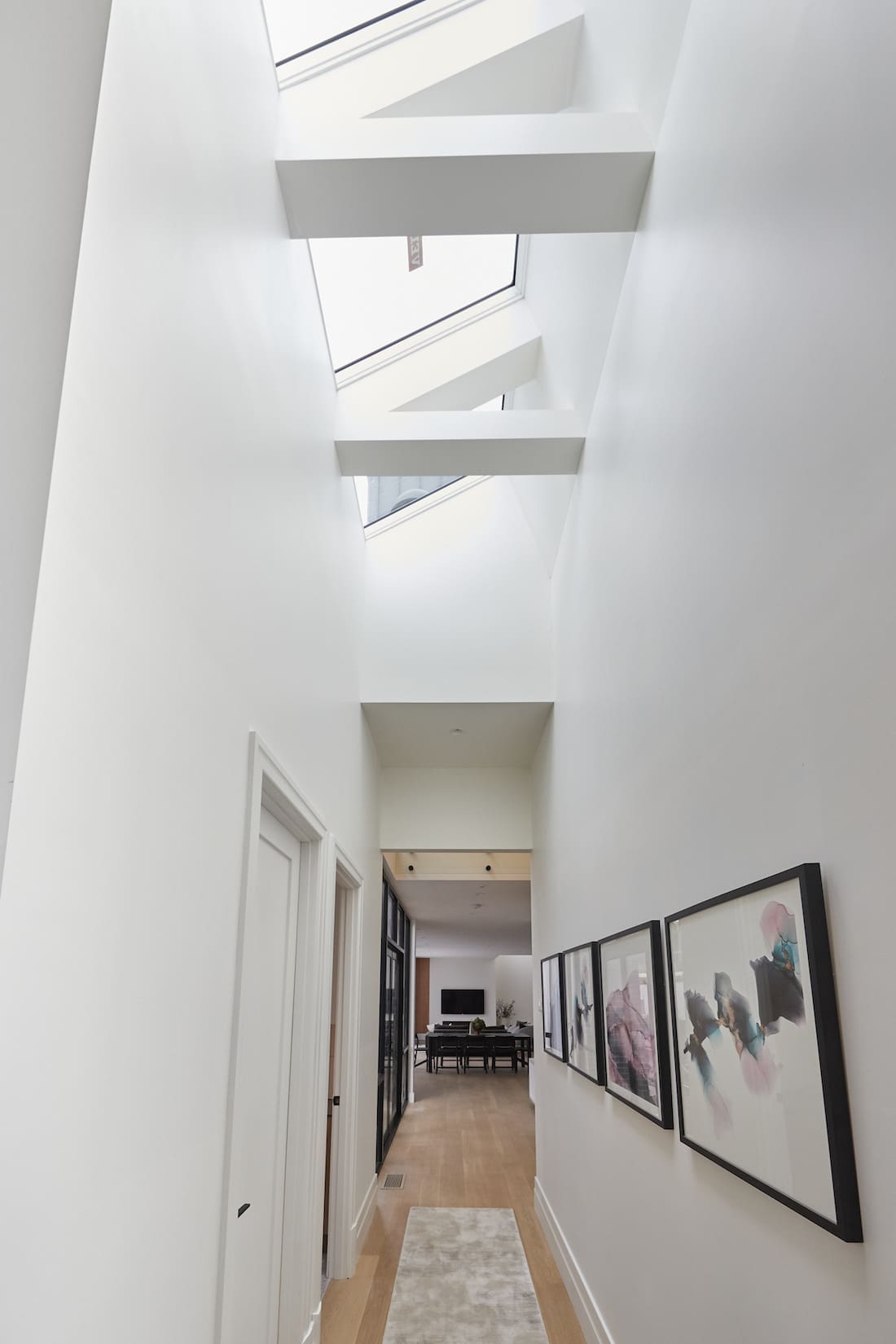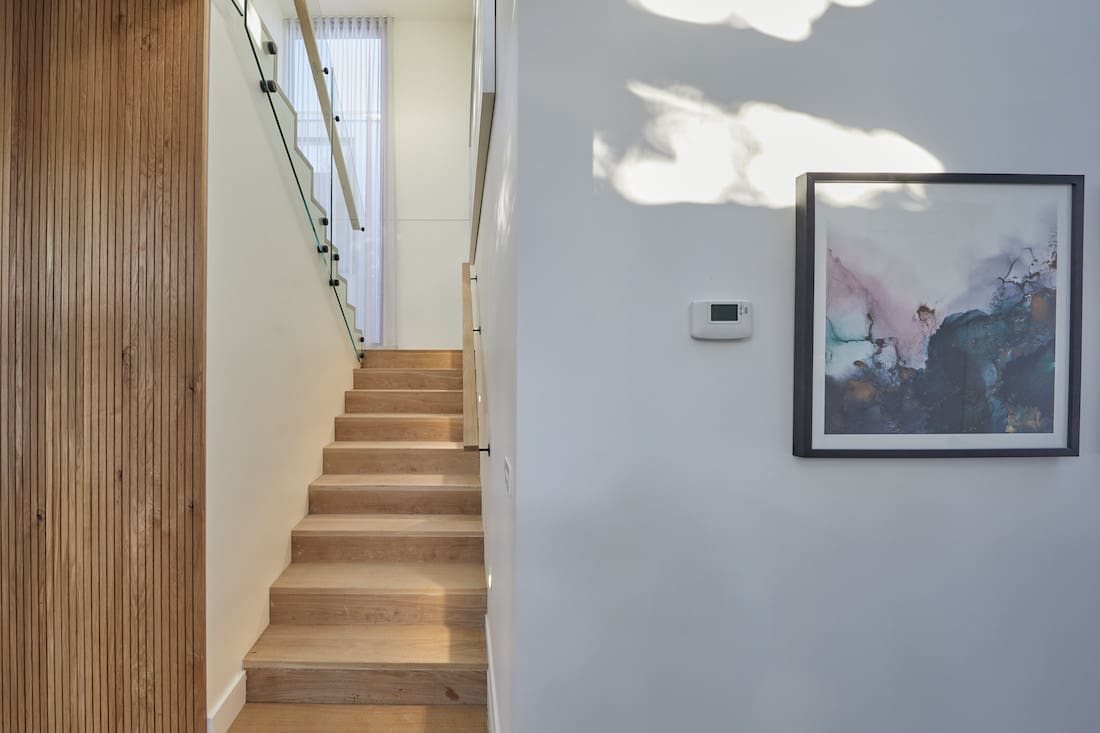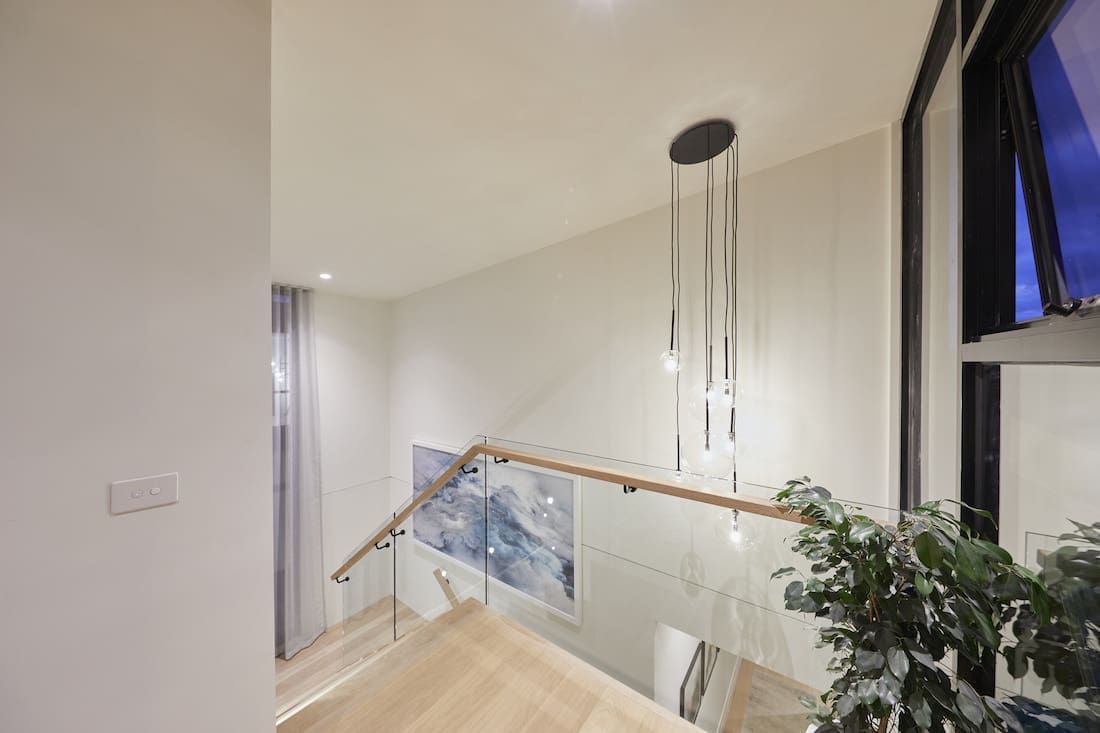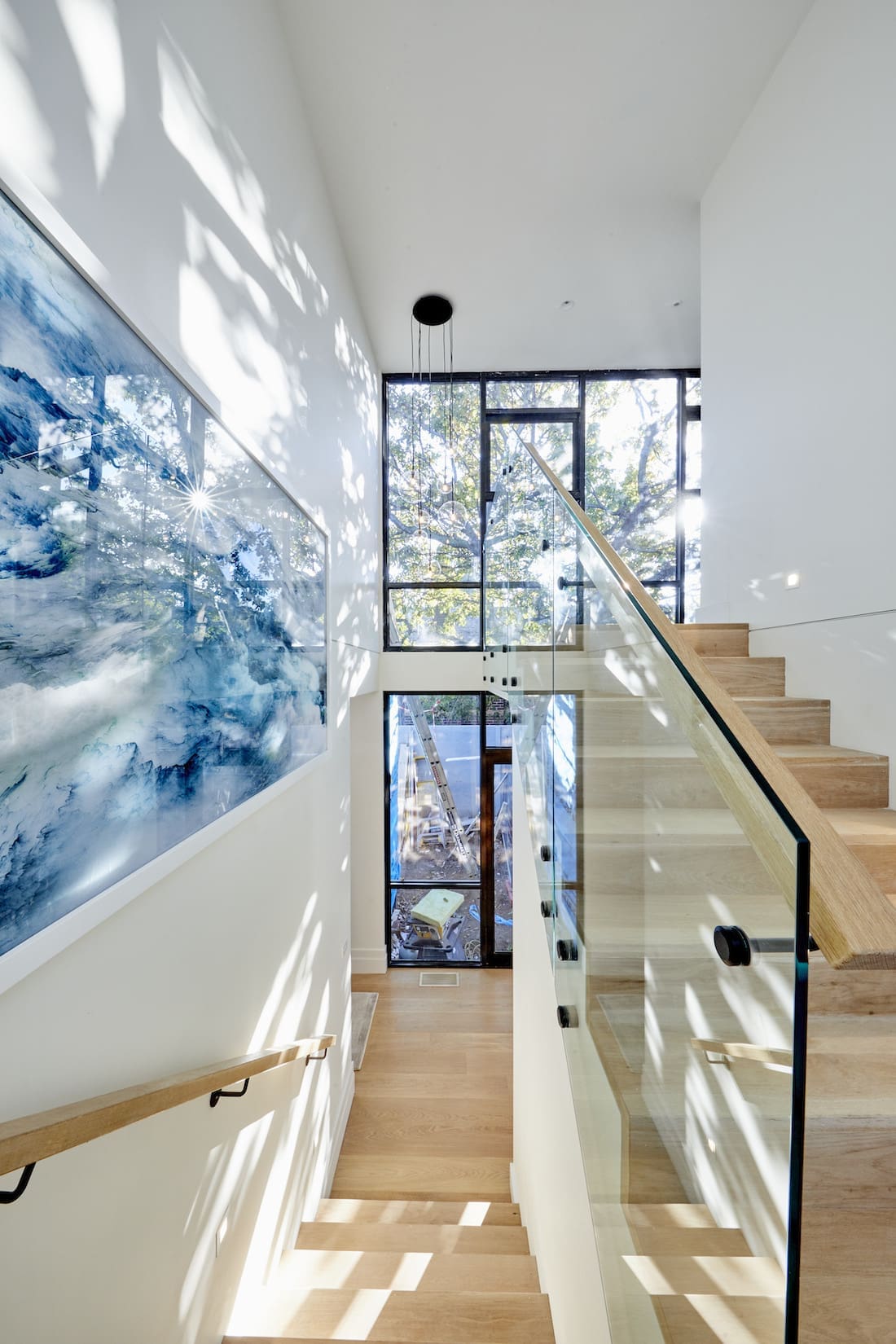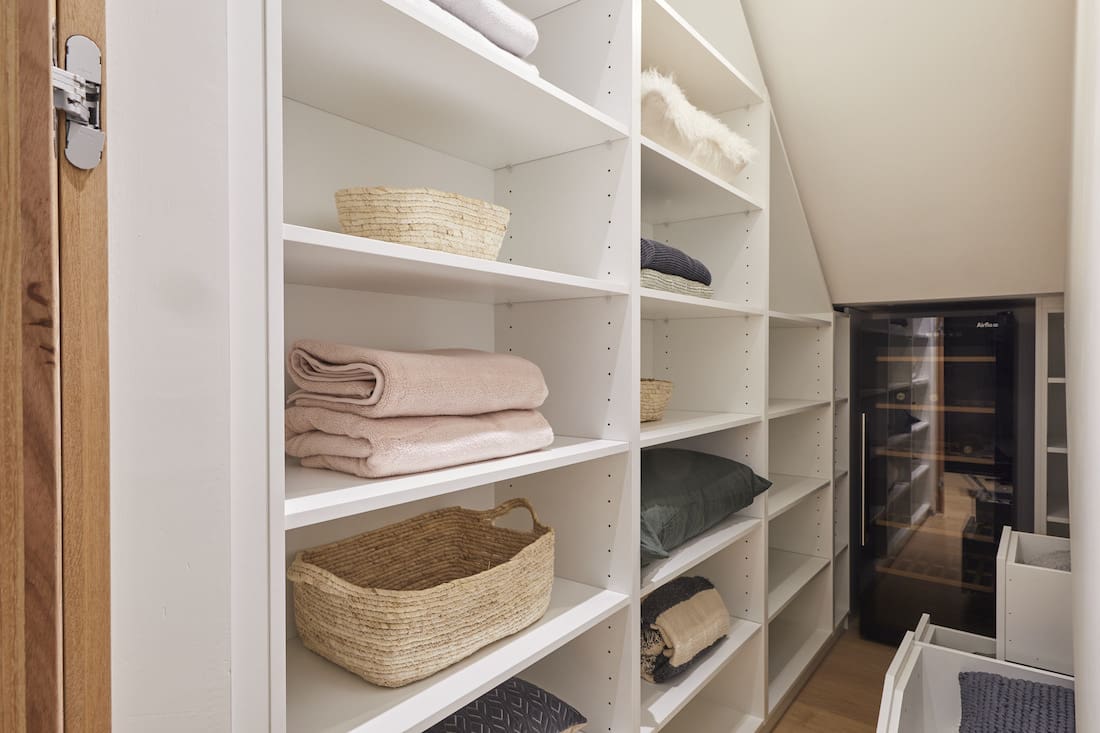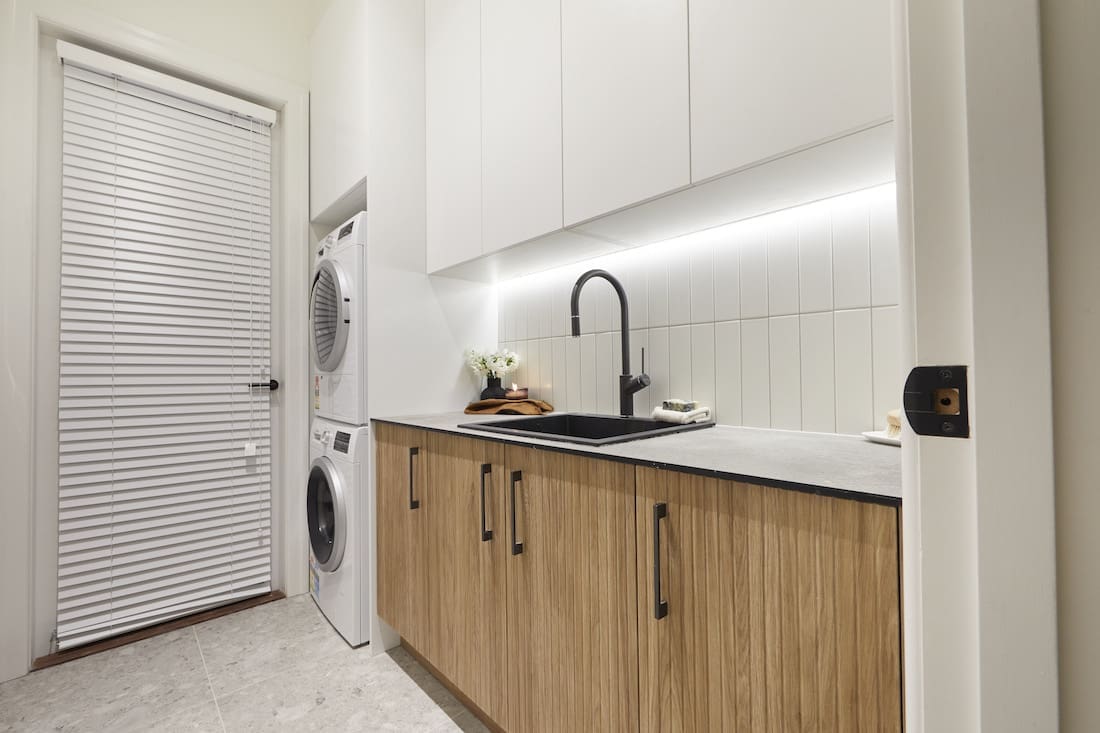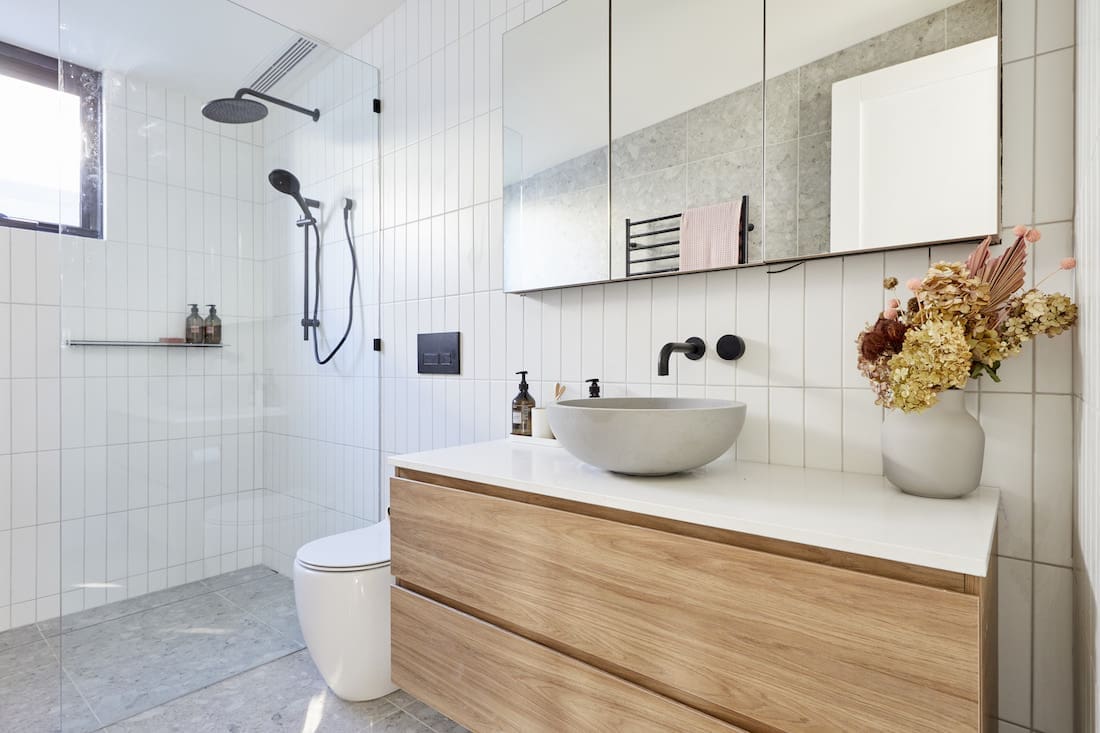 George and Sarah
George and Sarah's winning streak continued as they took out first place in this week's challenge. Although technically it was their All Star partner, Mel, who won it for them. But hey, a win is a win!
Paint was everyone's friend (or nemesis?!) this week with lots, and lots of painting going on. Some teams were up until 3am getting it done — it's not all shopping and cushion styling on The Block!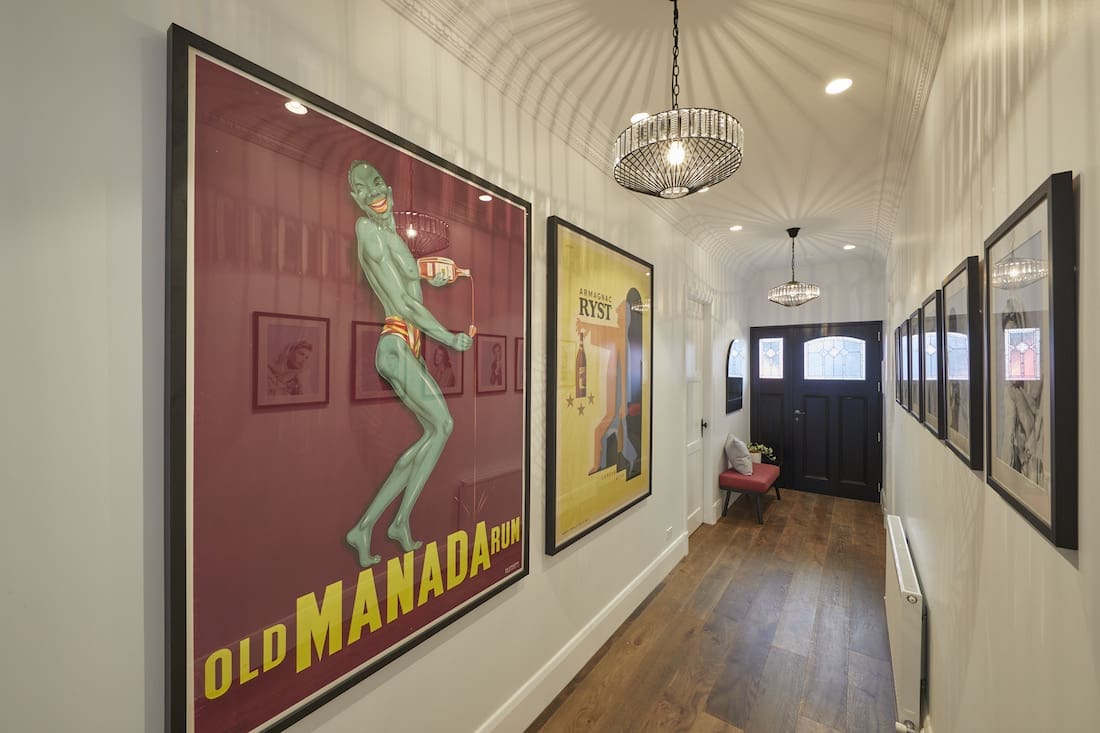 As we know, all the contestants get to ask for some additional money for an important 'thing' they want to buy for their reno. Daniel and Jade used theirs for the custom made Christian Cole island in their kitchen and this week, Sarah and George used it too.
Their all important purchase was an arch steel door, connecting the old to the new part of their house. And it's GORGEOUS. Which is kinda where all the positive feedback stopped for these guys this week.
Their artworks upon entering the home were bang on 1940s, but the excess of colour used weren't to the judges' tastes. Darren said he'd have preferred they pare it back a bit.
Like the judges, our favourite feature was that steel door and we also loved the repletion of arch shapes through the rooms (arch mirror in the entry and arch dog bed) which connected the zones. We also liked the laundry with the practical bench seat and the sweet little built-in pet bed.
The powder room was described as whimsical with the Grafico wallpaper getting the tick of approval. However, the biggest issue for the judges was that the rooms didn't feel like they connected and they felt they could have belonged in completely separate houses.
Not the best week for Sarah and George, unfortunately.
Score: 25 / 30 (joint 3rd place)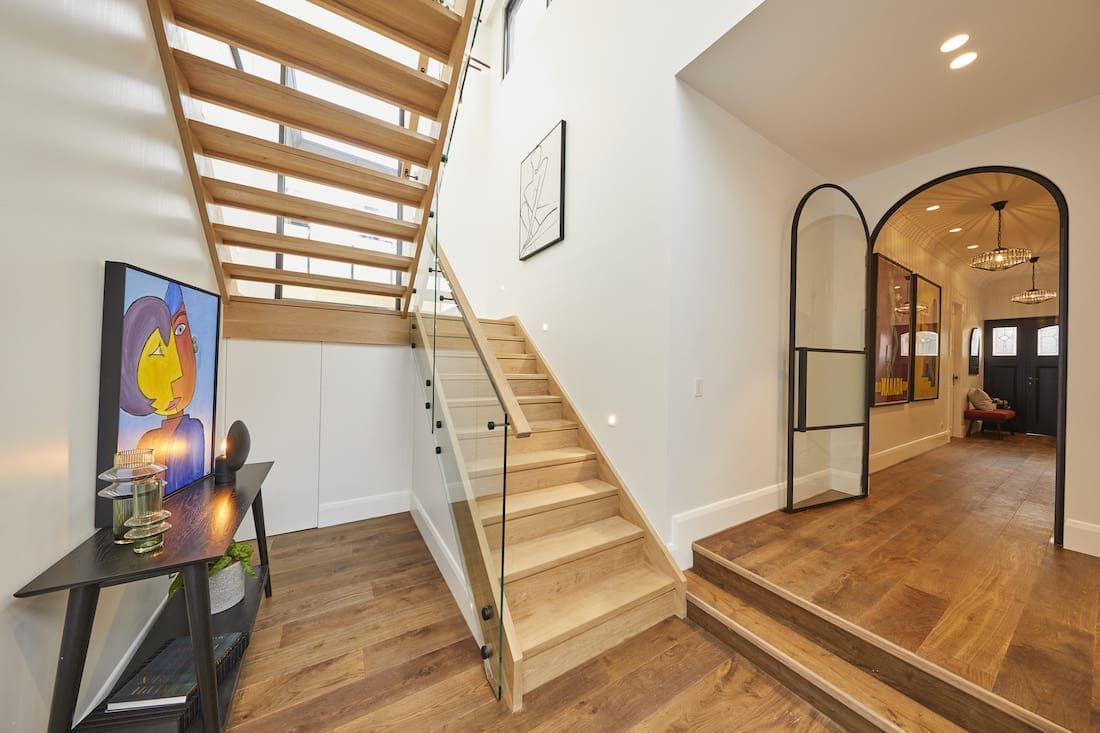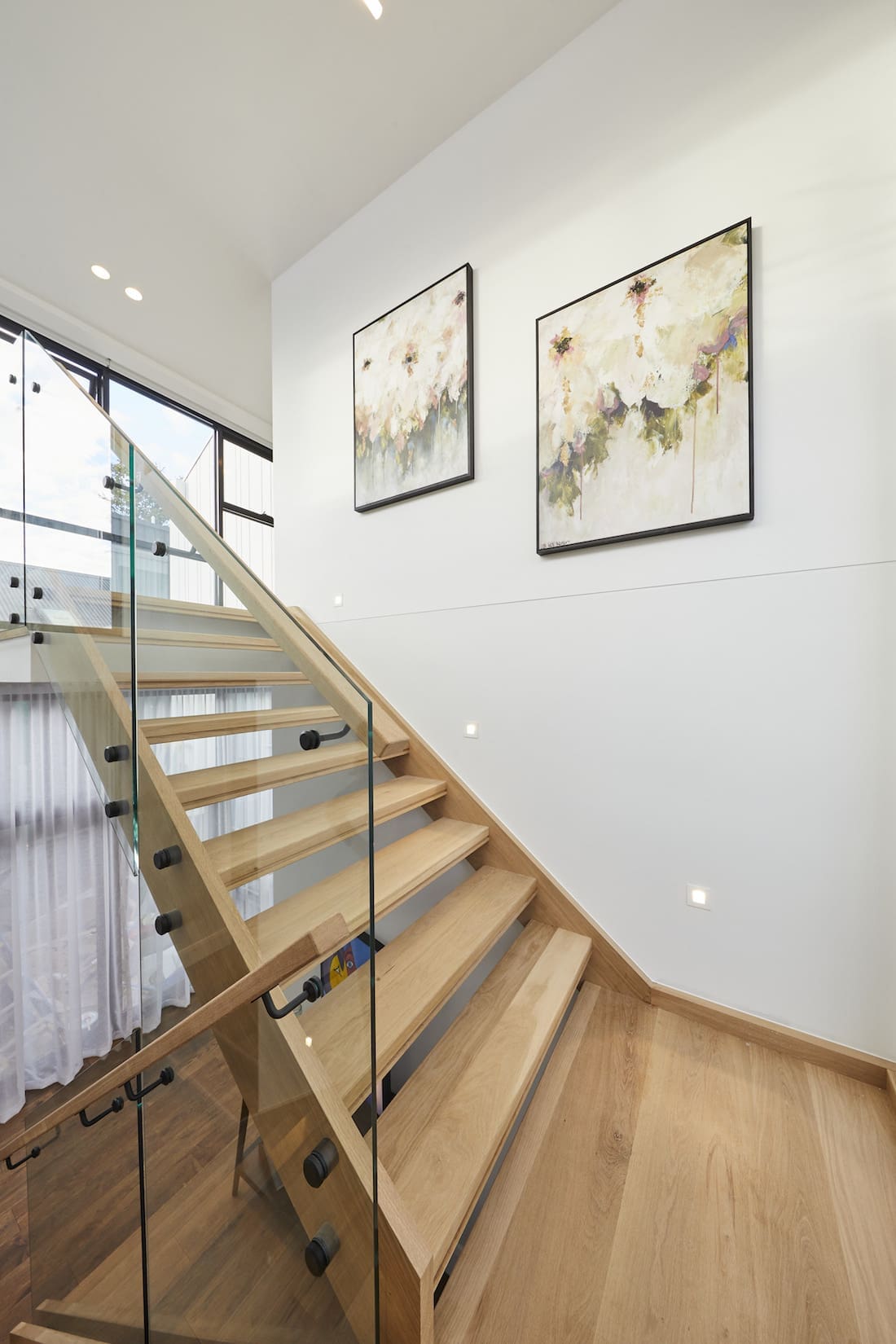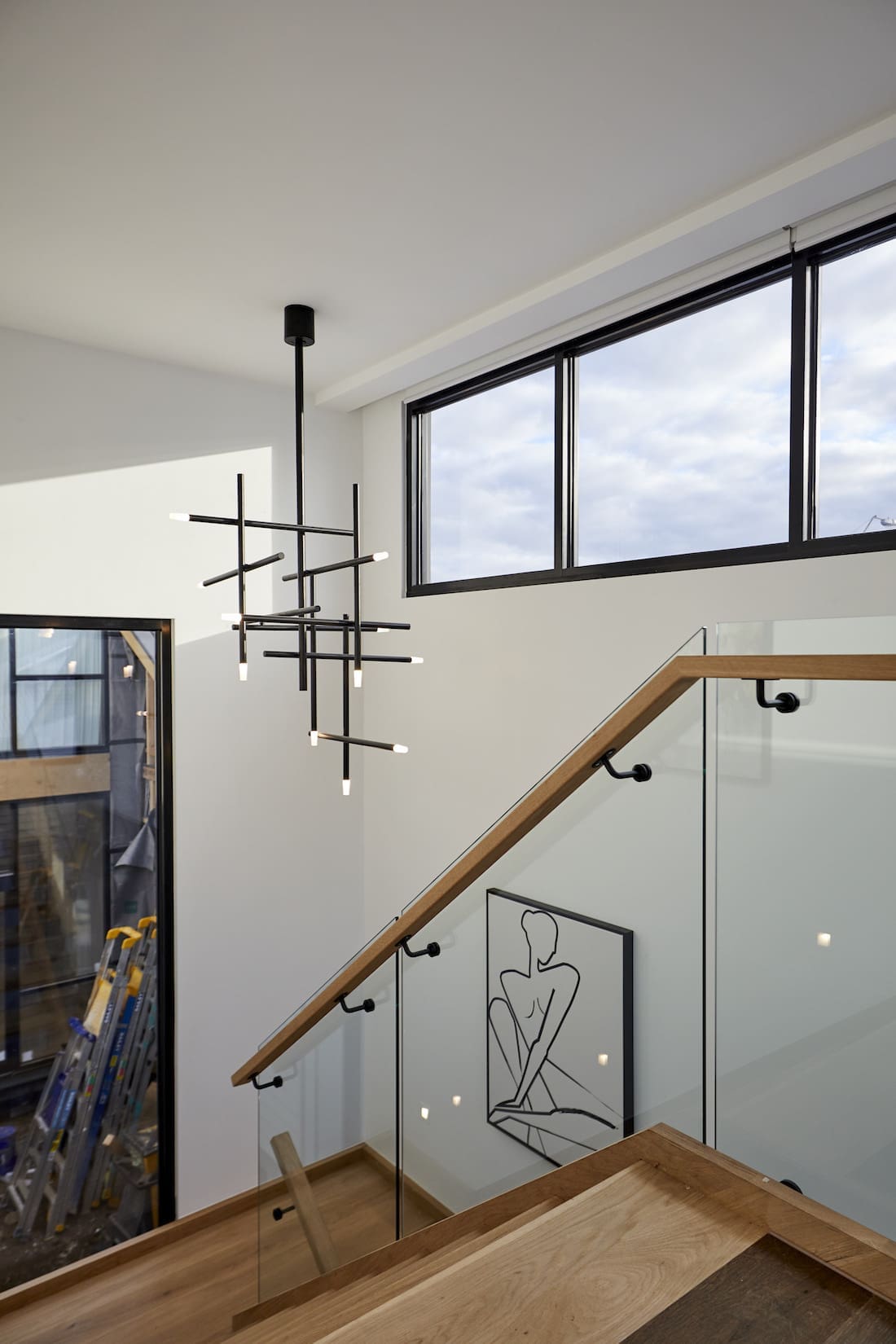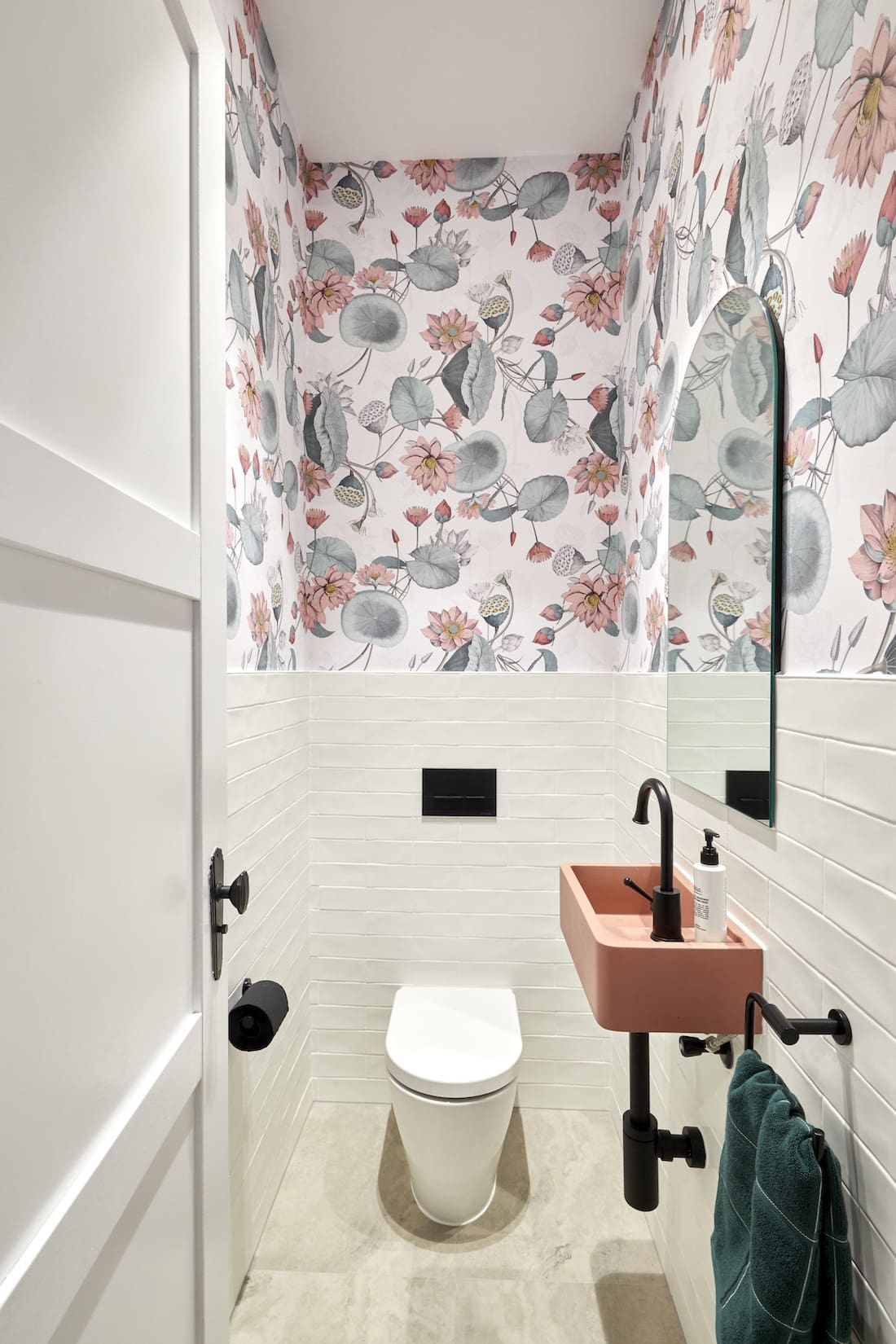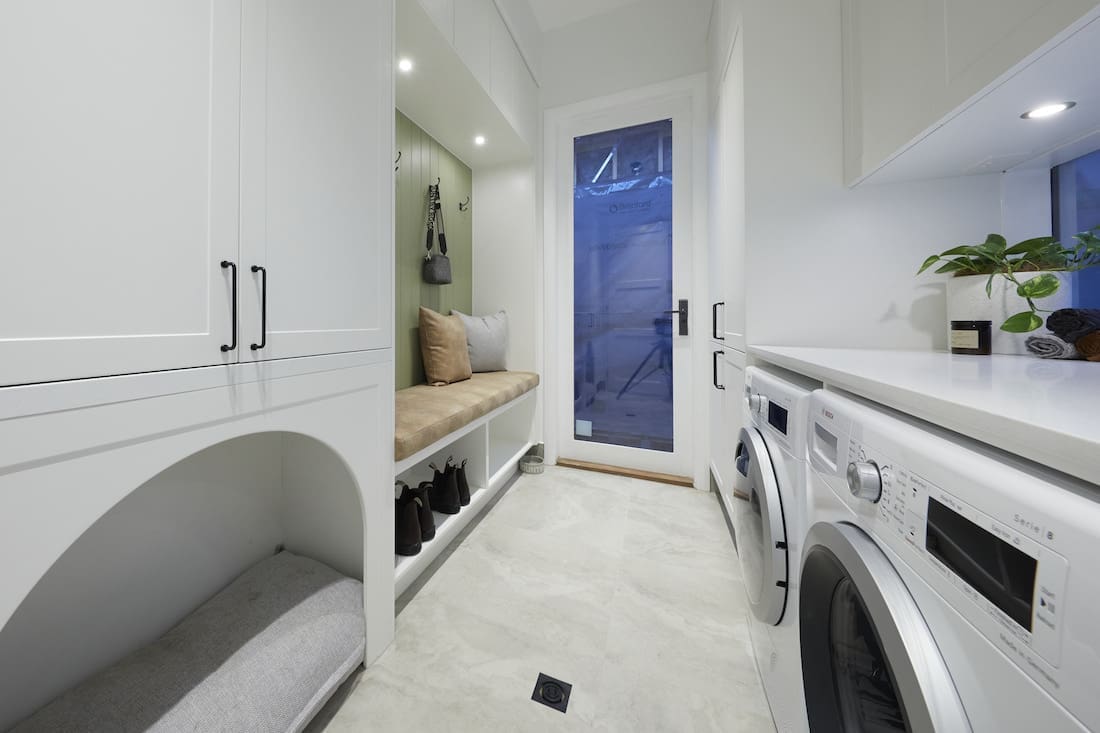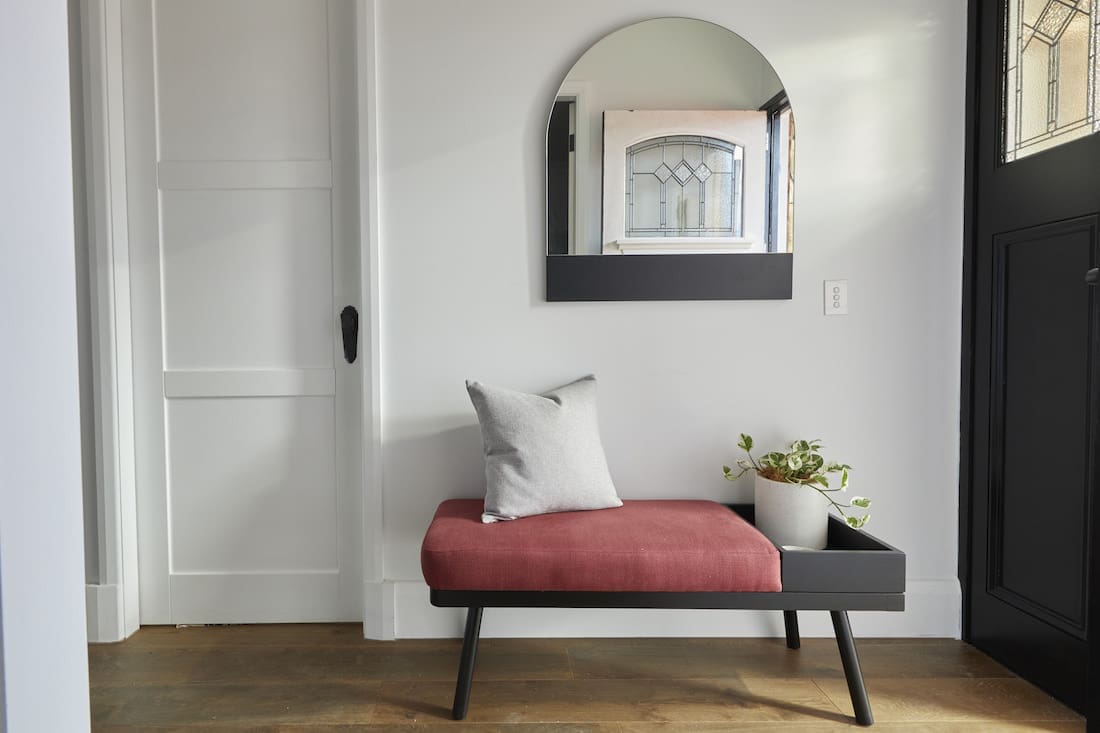 Daniel and Jade
Sometimes vanilla is good. Vanilla icecream. Vanilla coloured linen sheets… but when the judges describe your hallway, powder room and laundry reveal as vanilla… that's not so good.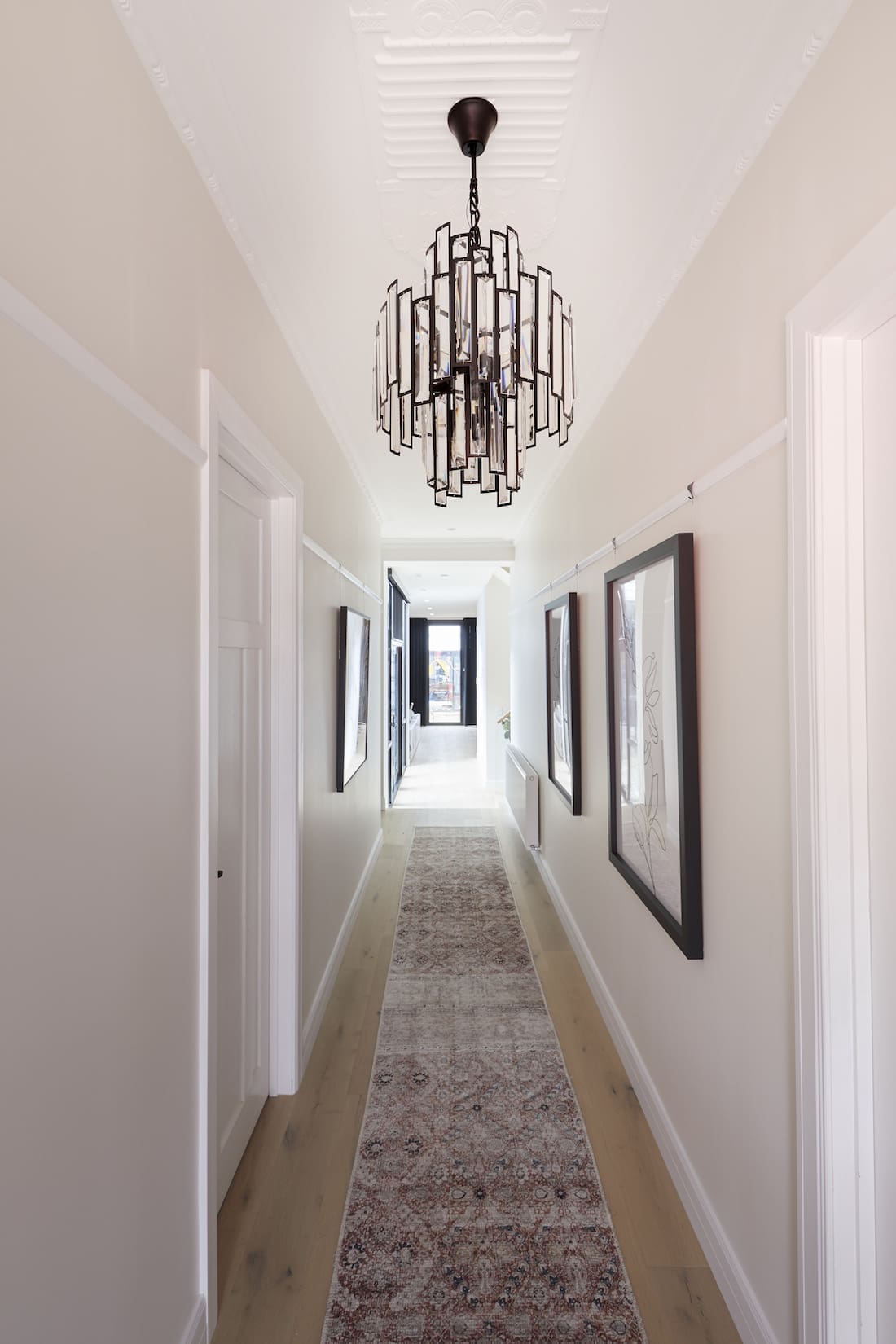 Jade, who takes a great deal of pride in her styling, was most put out by these comments. But we kinda see where the judges were coming from… sorry Jade! The laundry was especially underwhelming for us. Just a pop of colour in the splashback could have given the space a much-needed lift.
And while Shaynna and Neale thought everything was too simple in Daniel and Jade's rooms this week, Darren thought they were bang on. So how's that for confusing feedback!?
We were somewhere in the middle, loving the execution of the spaces and small details like the picture rail, stairwell wall lights and those floaty sheers but felt a bit more colour or personality would have been good.
Score: 25 / 30 (joint 3rd place)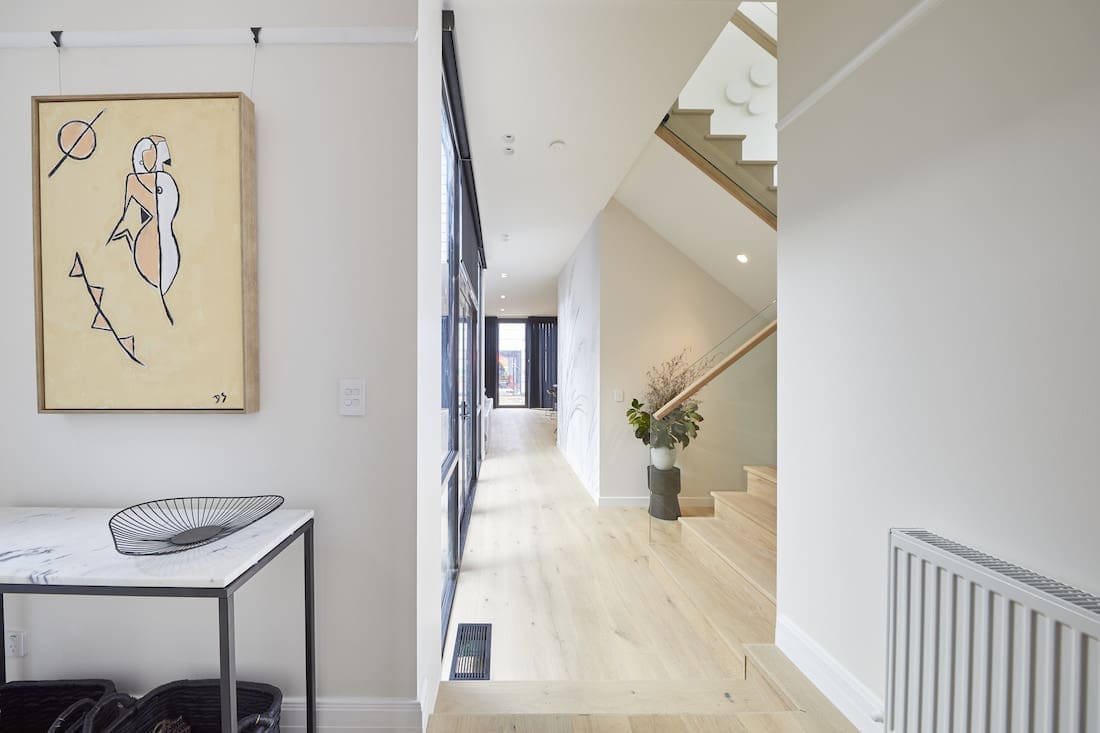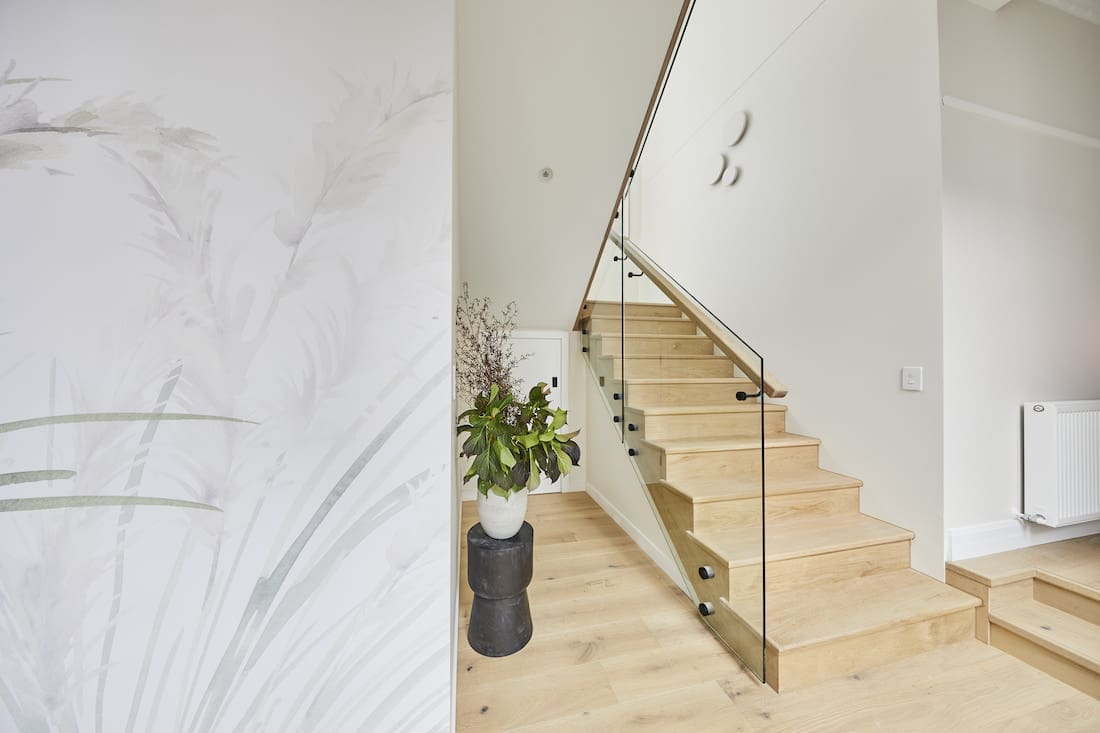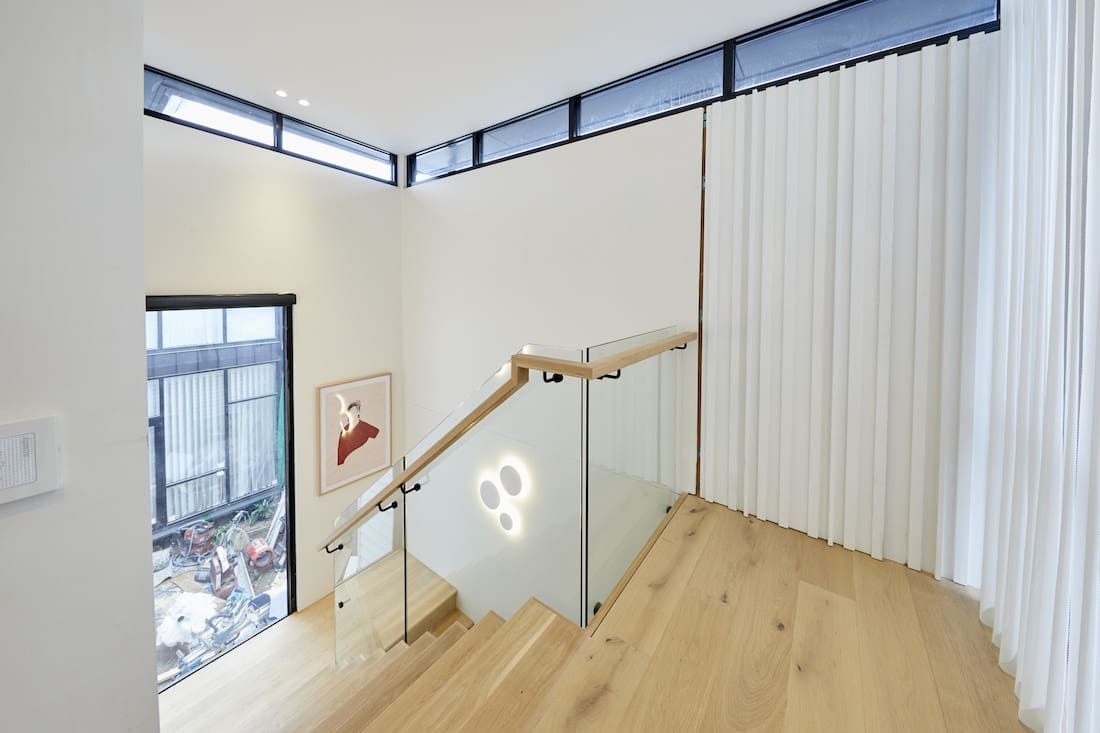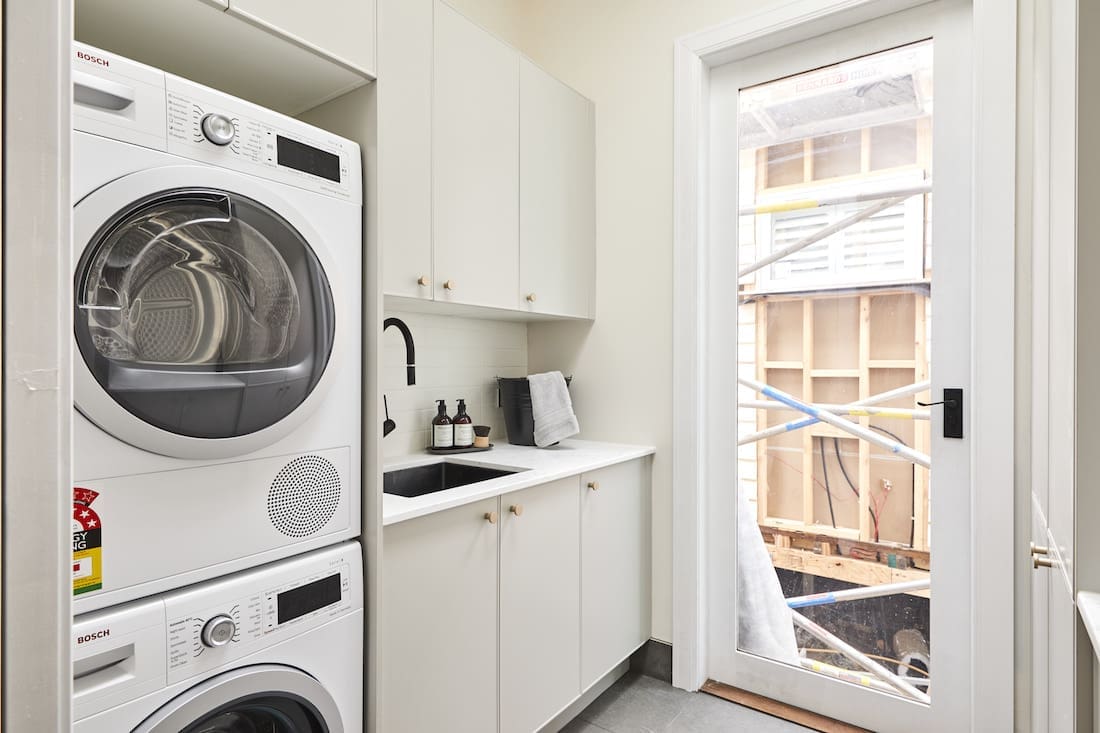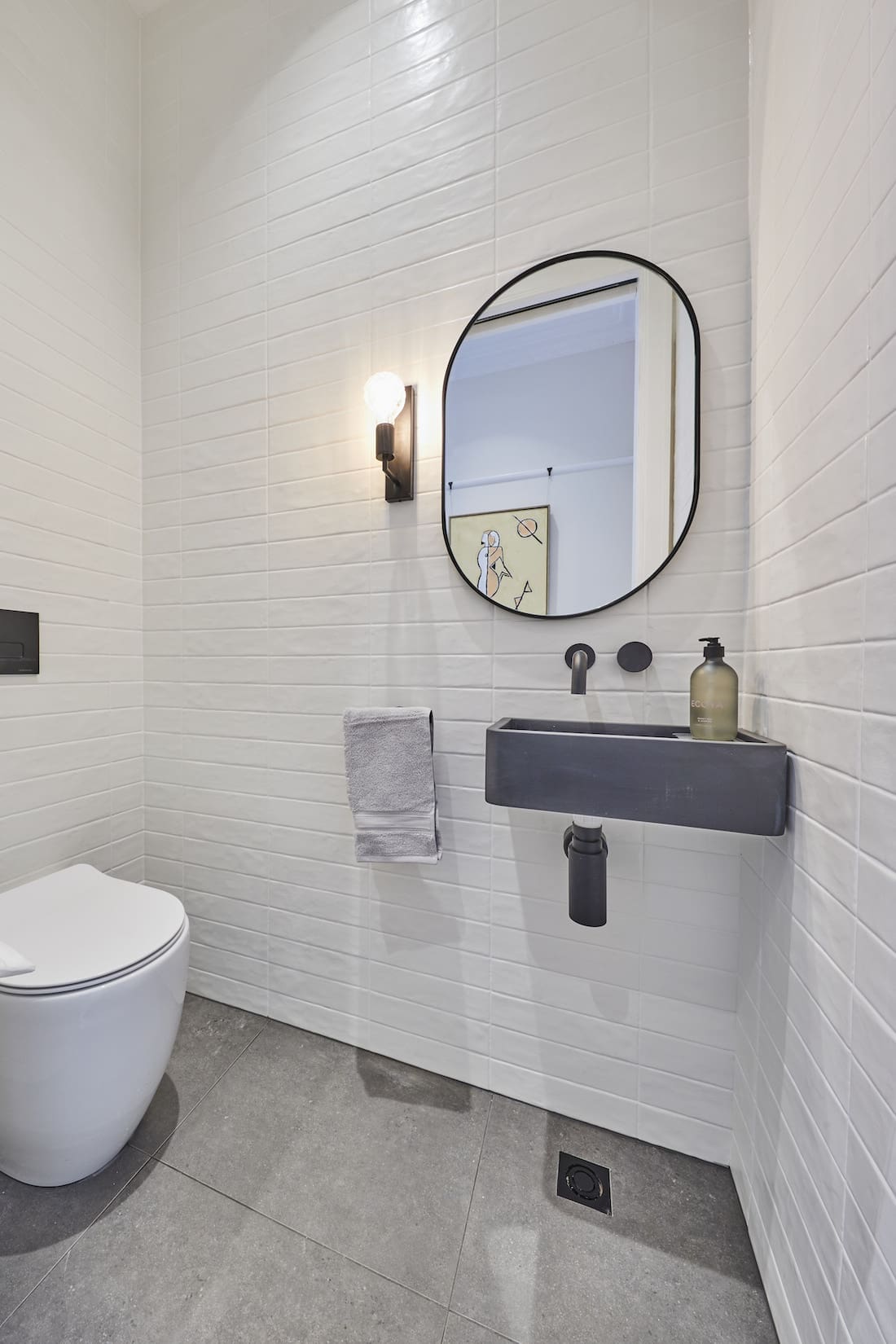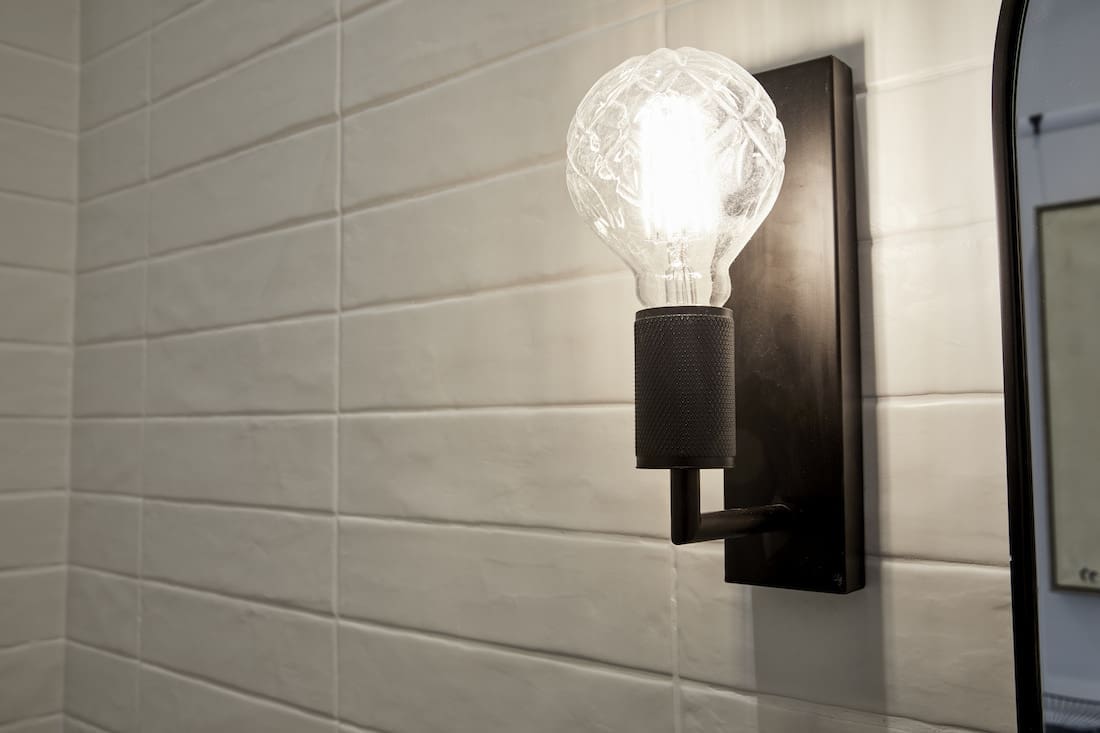 Luke and Jasmin
Excuse us while we have a moment over the ah-MAZING chevron timber floors in Luke and Jasmin's entrance for House 4. Gaaah, they were gorgeous!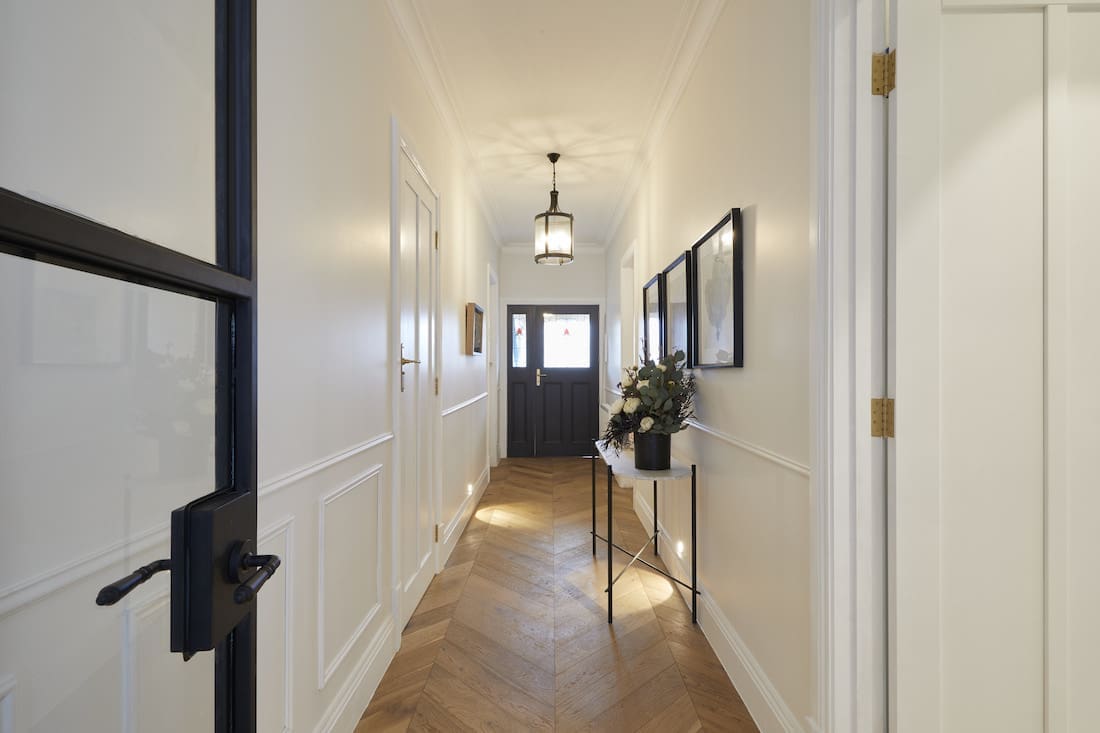 Like we said last week, these guys struggled early on but week after week, they are nailing their 1910s era home. The judges were equally as impressed with the floors and also loved the beautiful artworks on either side of the hallway.
More wallpaper this week and again, it was love. It paired perfectly with the gold tapware in Luke and Jasmin's powder room.
Then there was the laundry reveal. And boy was it a banger! It was huge! THIS is the kind of laundry reveal we expect to see in Block homes — luxe!
For their $1000 present from the 2019 Block contestants, Luke and Jasmin were gifted custom cabinetry to go under their stairs. Such a great, practical thing that is sure to win hearts come auction day.
Nicely done guys! It certainly deserved to take out top spot if only Jimmy and Tam didn't use that pesky gnome point they won this week.
Score: 28.5 / 30 (2nd place)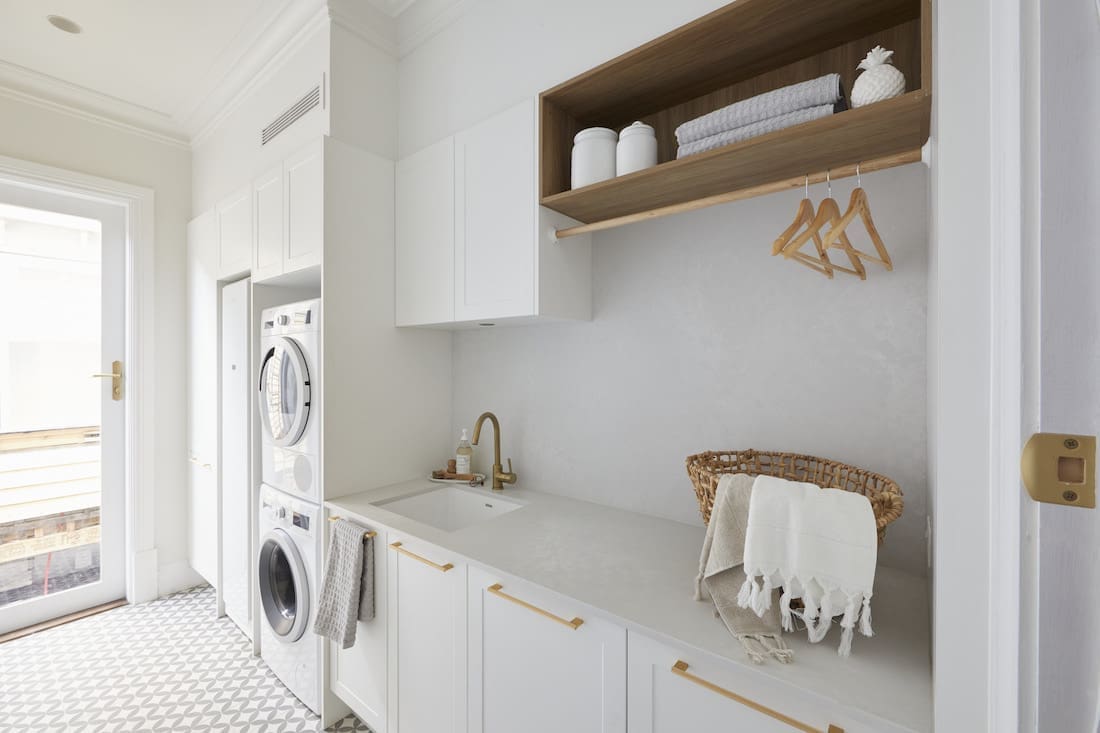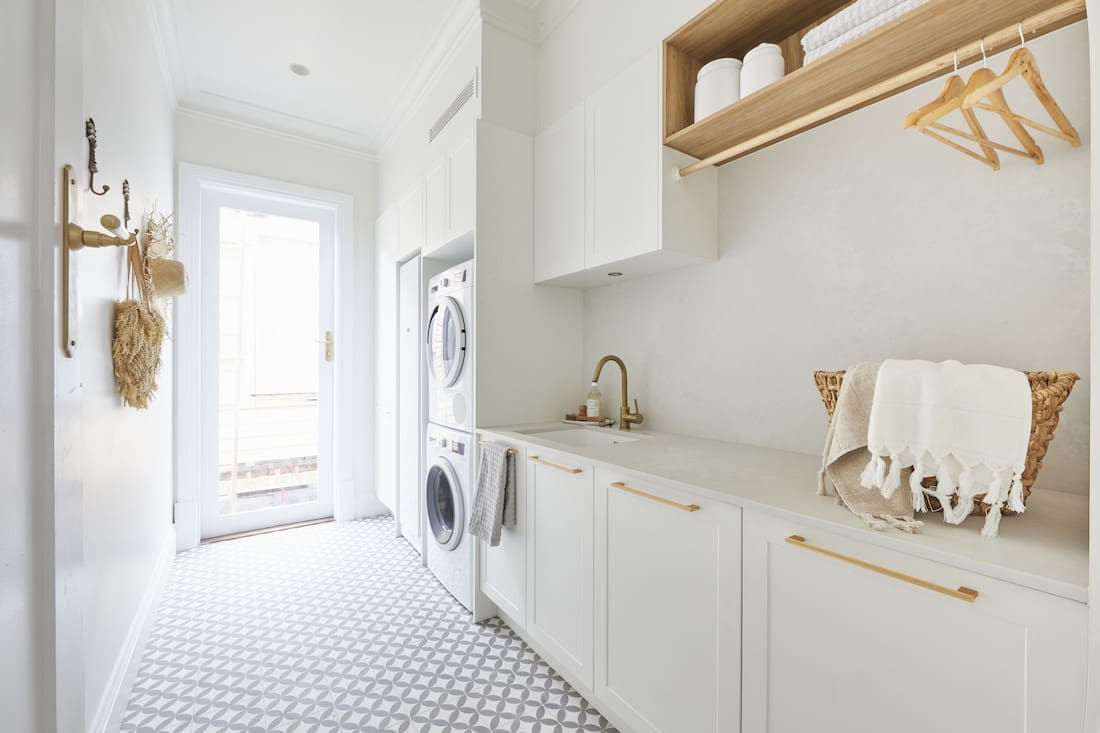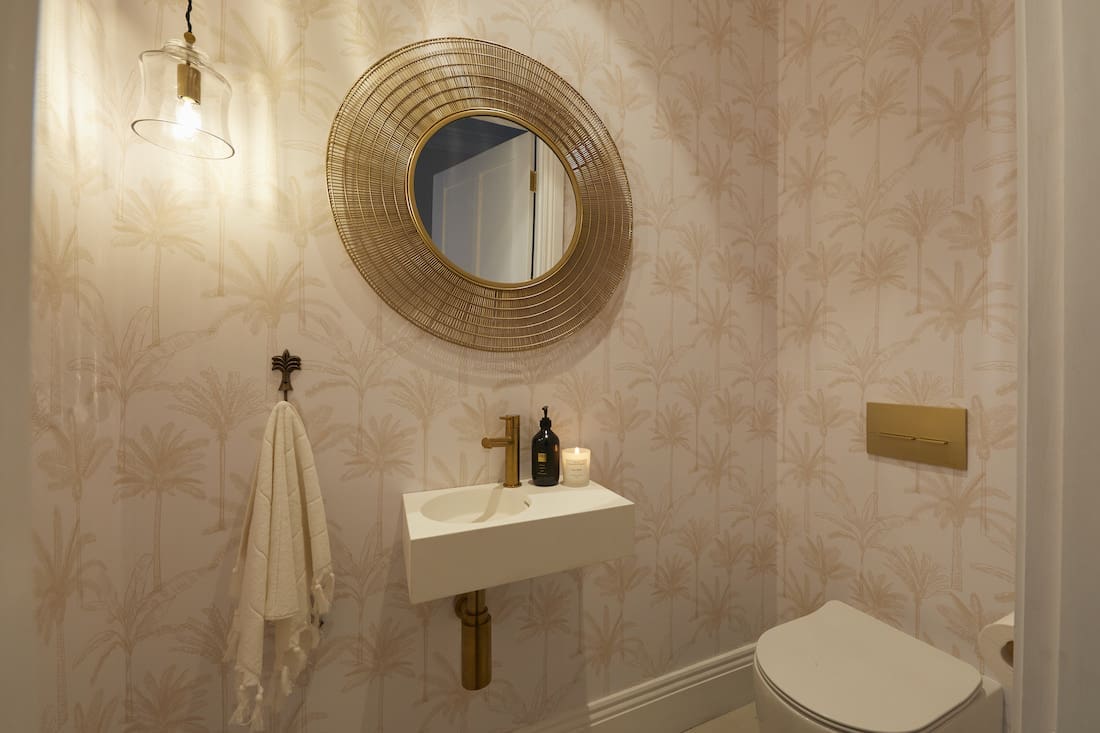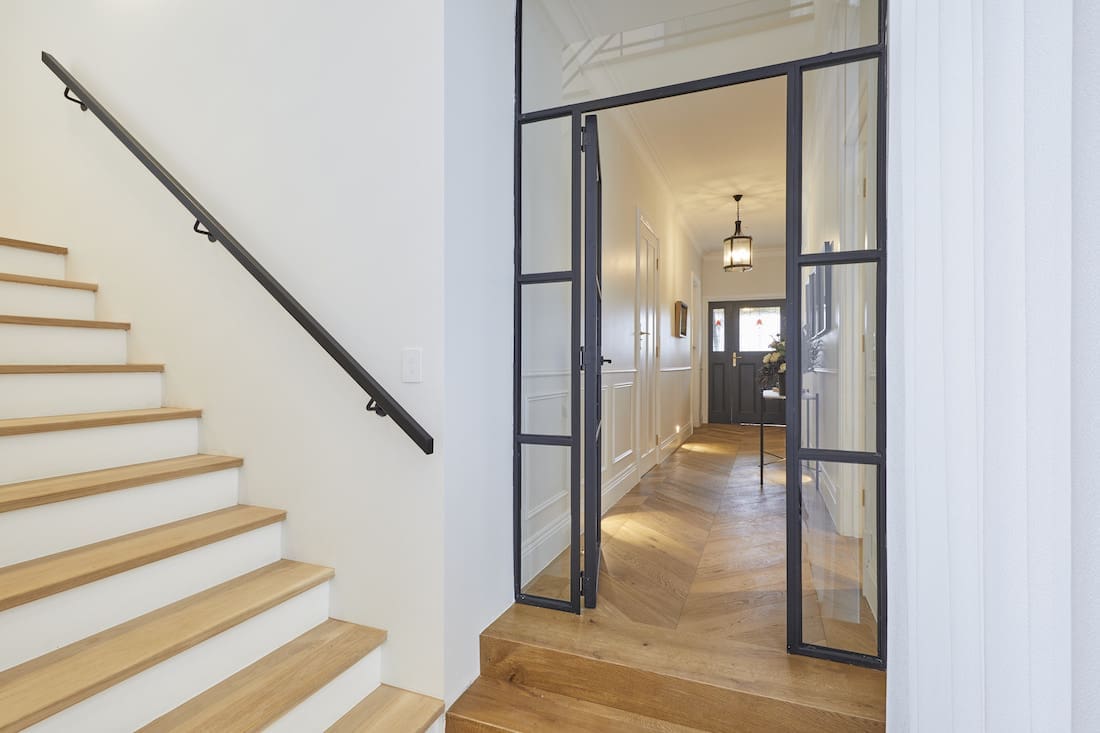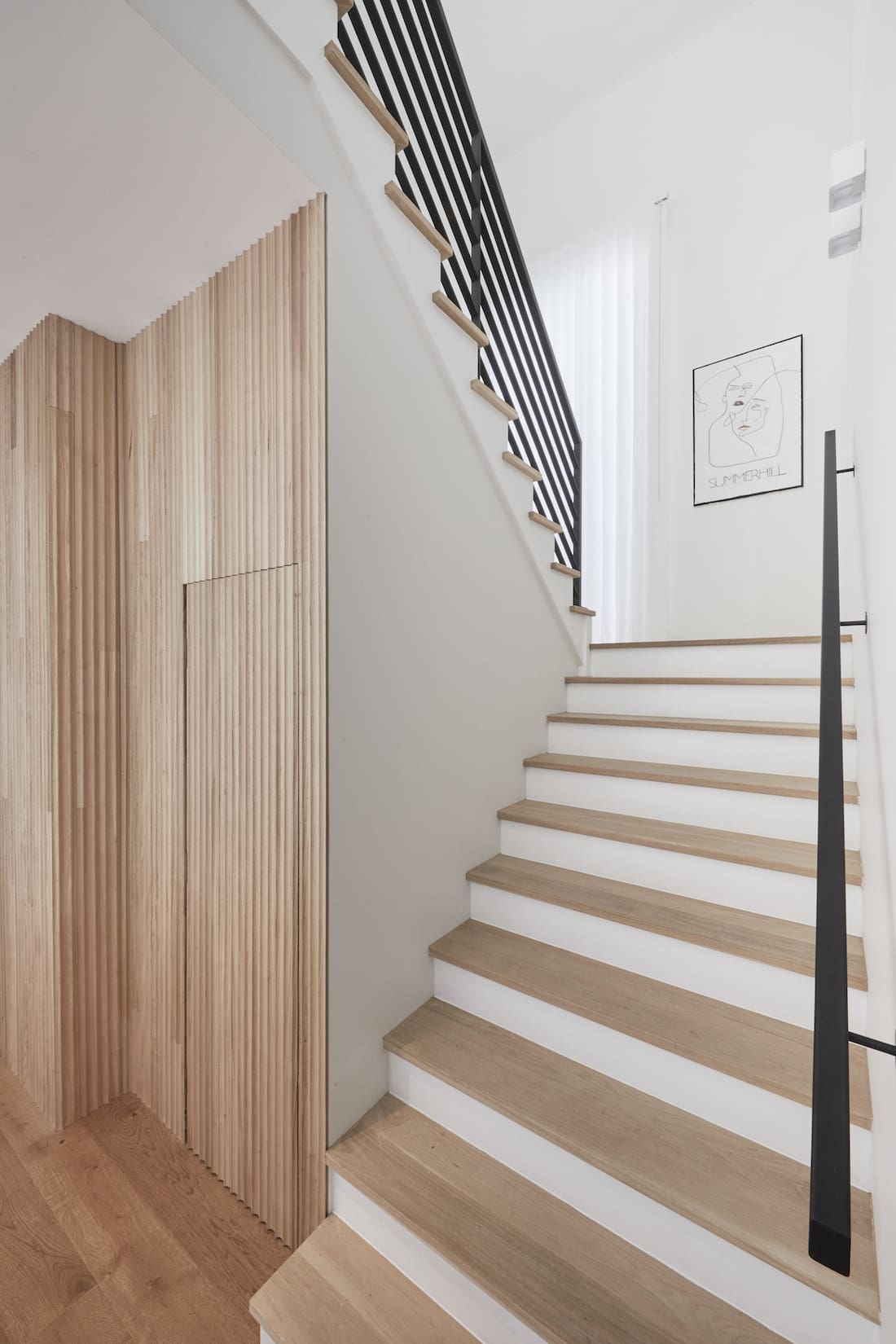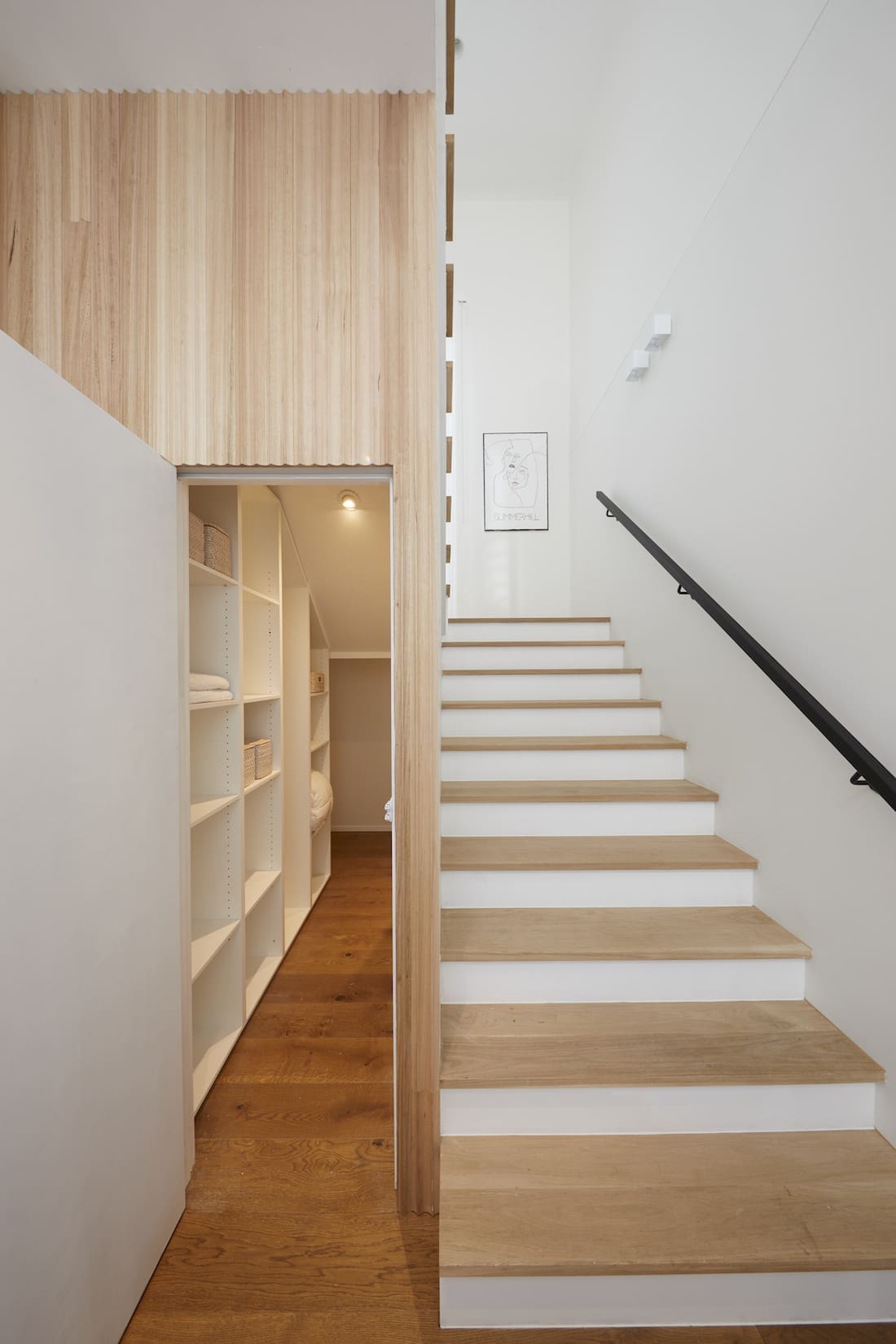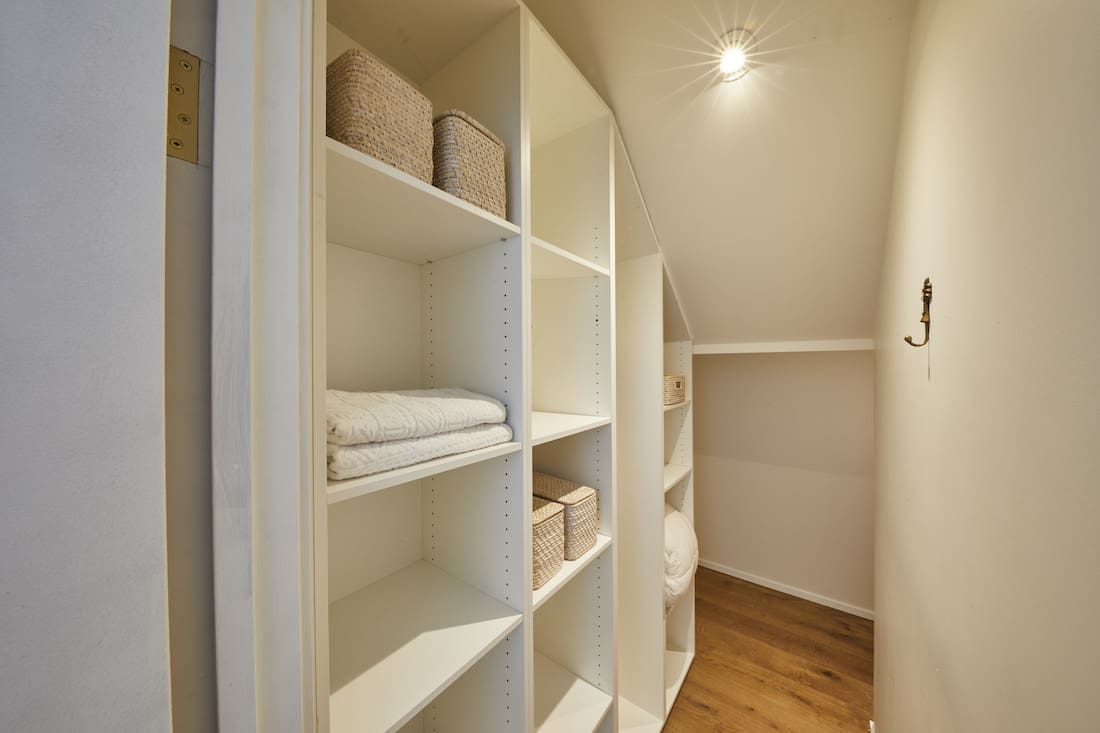 Jimmy and Tam
From 5th place last week, back to the top, Jimmy and Tam took home the gold in week 9 with another amazing reveal. Front and centre, and certainly hard to miss, was the incredible vintage chandelier on display in their foyer. Perfectly suiting their 1950s era home.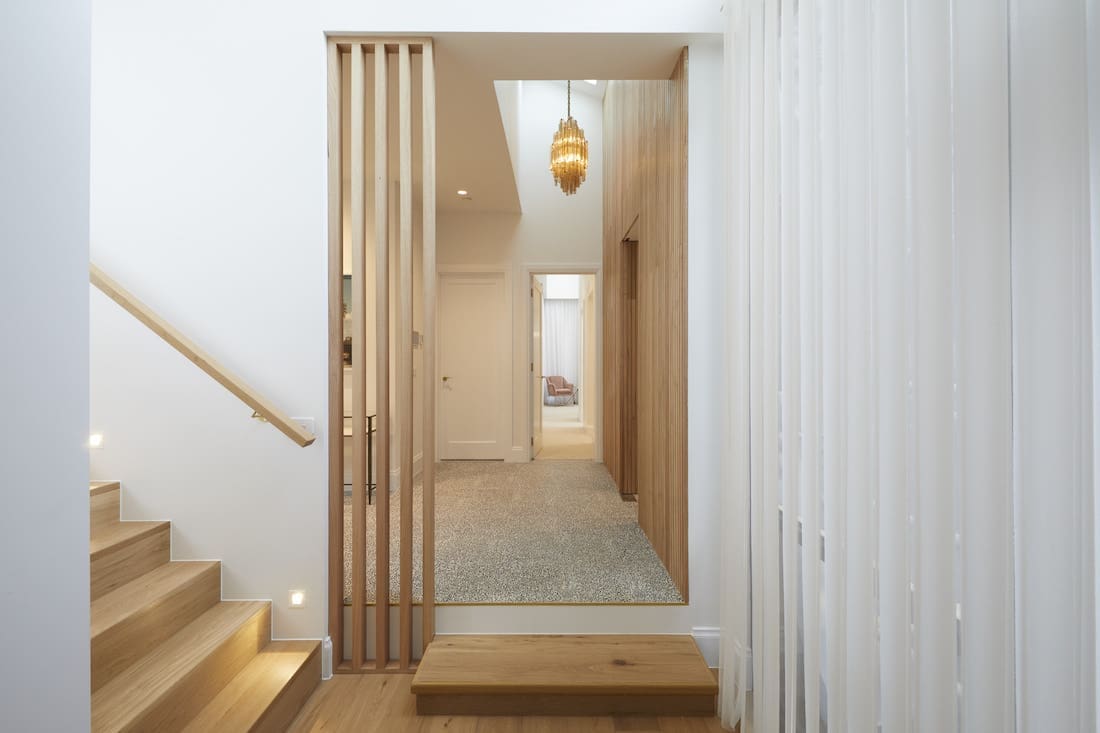 We loved Jimmy and Tam's timber feature wall in their hallway which hides a secret entry into their laundry. There's just something so cool about hidden doors, isn't there?!
We felt this was a real entrance to a home. The floors were amazing and the timber features were just beautiful. Combined with the stunning void and that chandelier, it is certain to impress come auction day. One thing that let things down for us though was the tiling in the powder room. It would have looked incredible had they tiled the entire wall behind the basin but just the two rows of mosaics looked lost.
Their terrazzo flooring made a serious impact on the judges and the laundry colour scheme also got Shaynna's tick of approval, perfectly matching their mint green kitchen. While we love their bravery, it is a pretty risky move to embrace coloured cabinetry which could divide buyers. Perhaps styling with colour would have been a better strategy come auction day? Time will tell.
These guys also rejigged their master bedroom walk-in robe based on the judges feedback from week 3.
Score: 29 / 30 — (a judges score of 28 + the gnome point awarding them 1st place)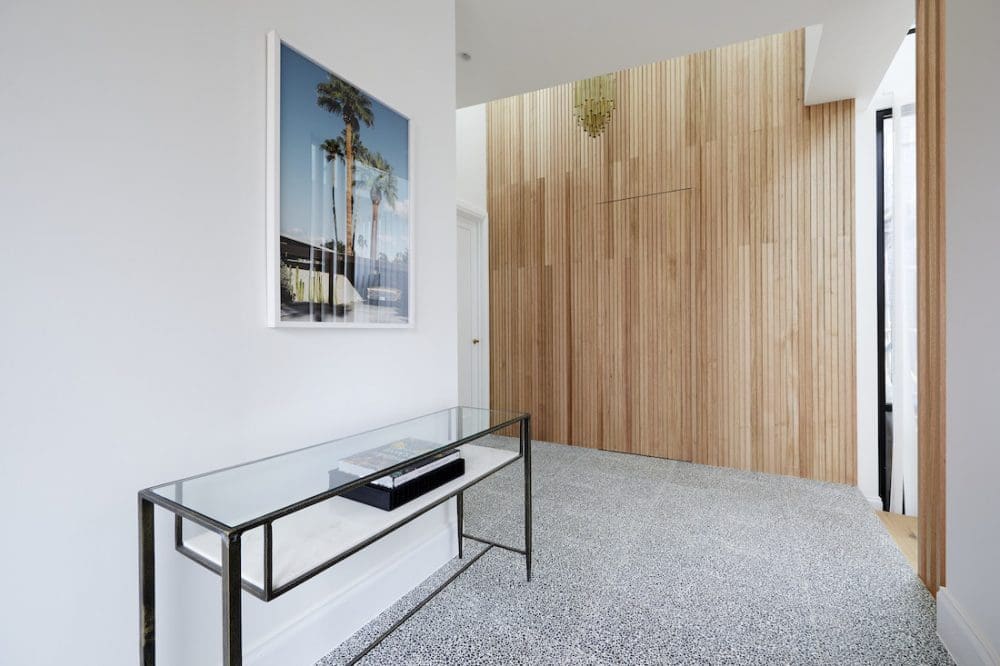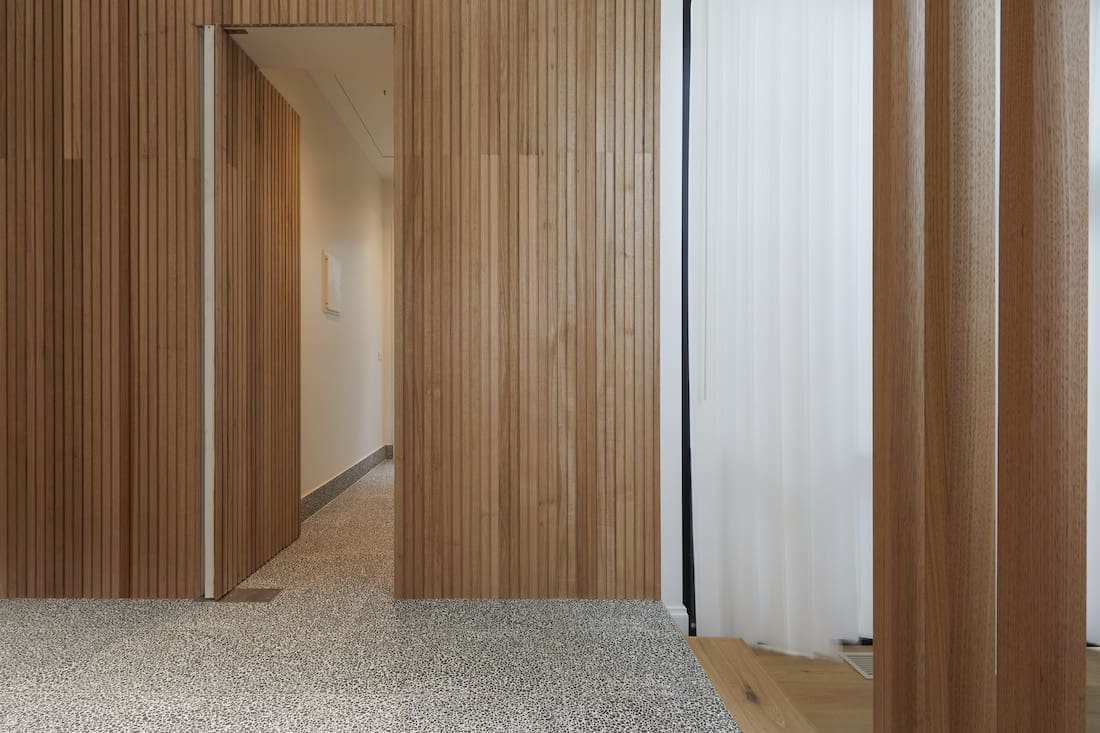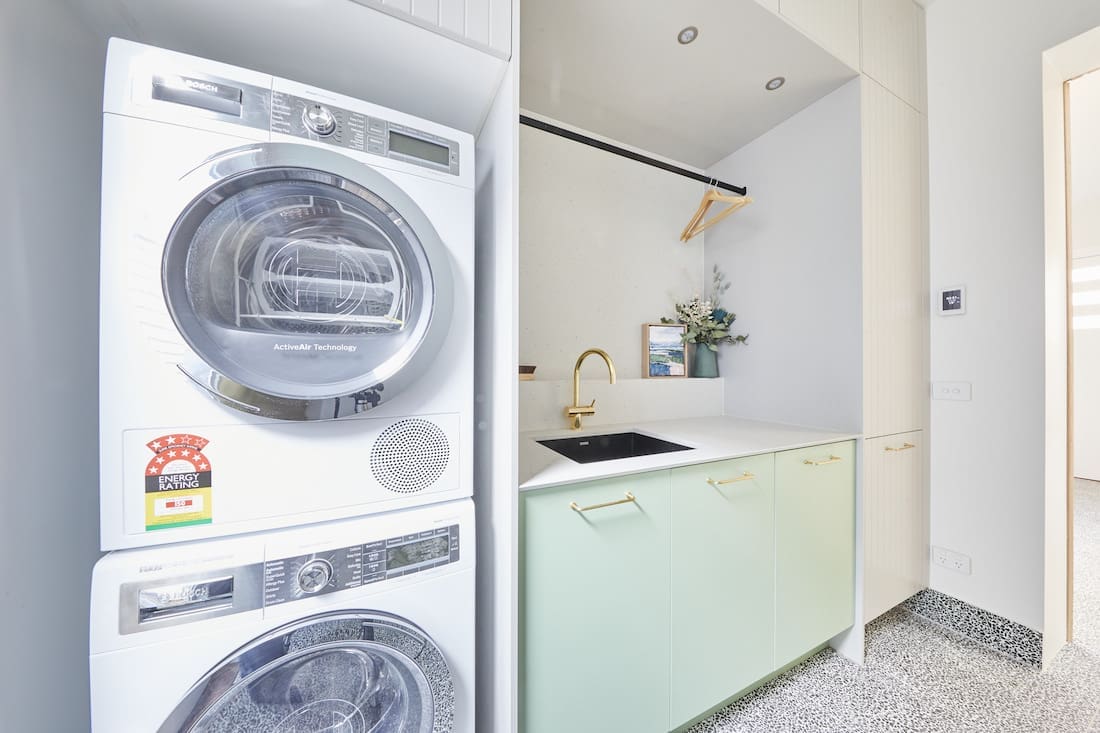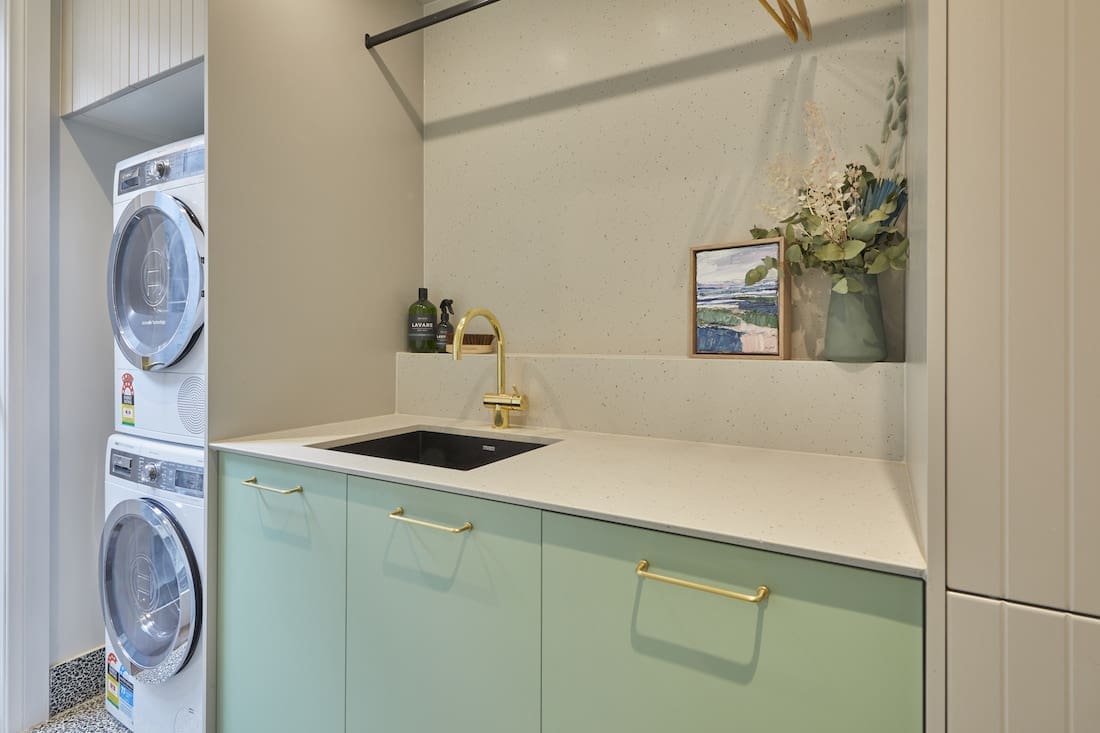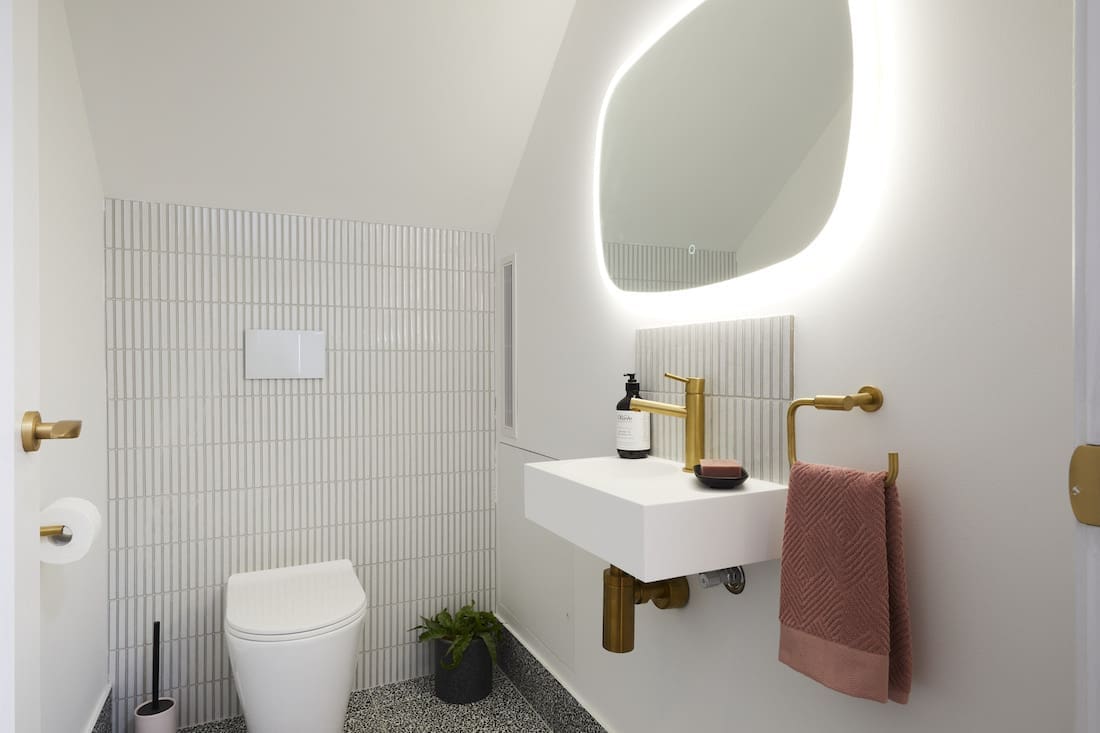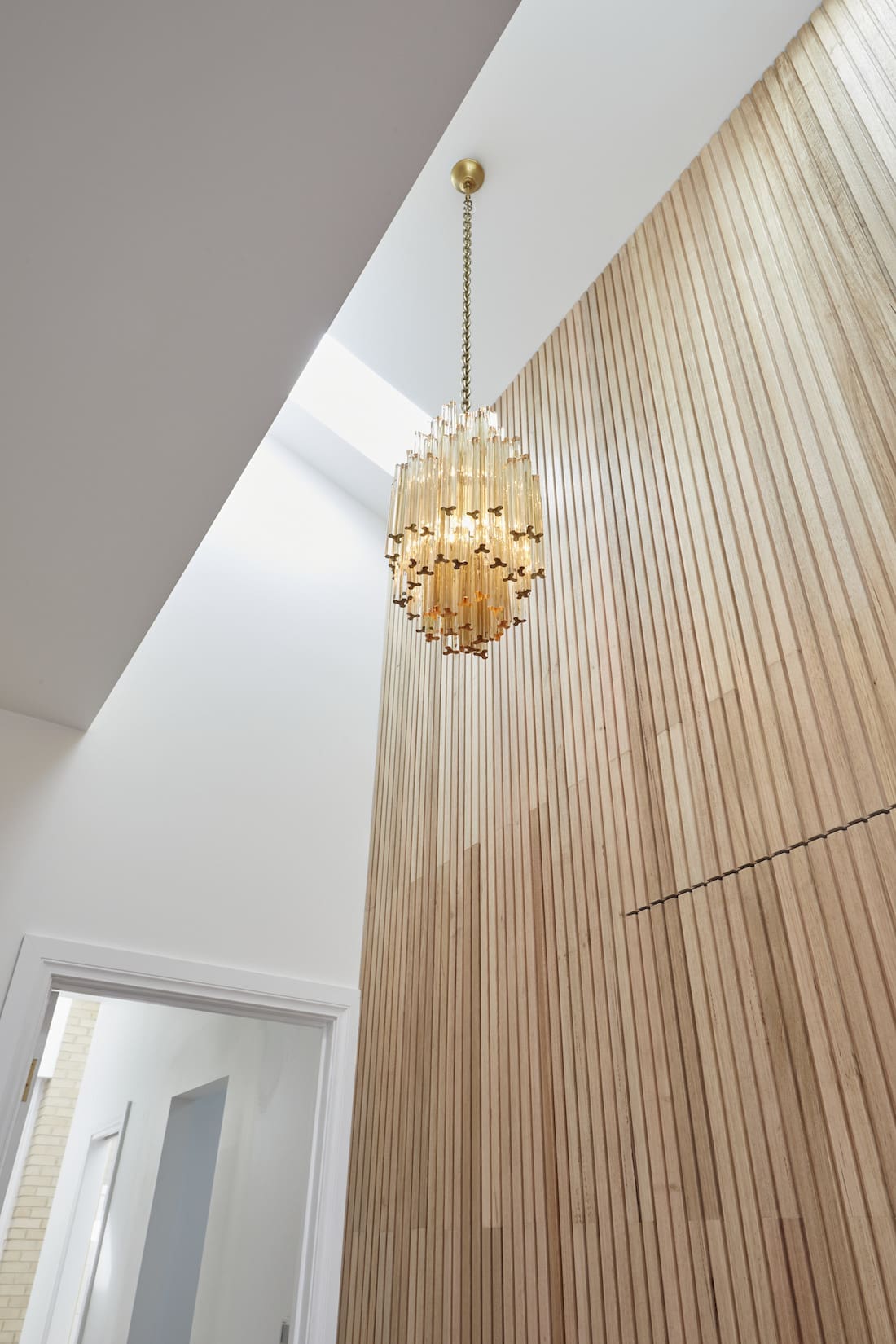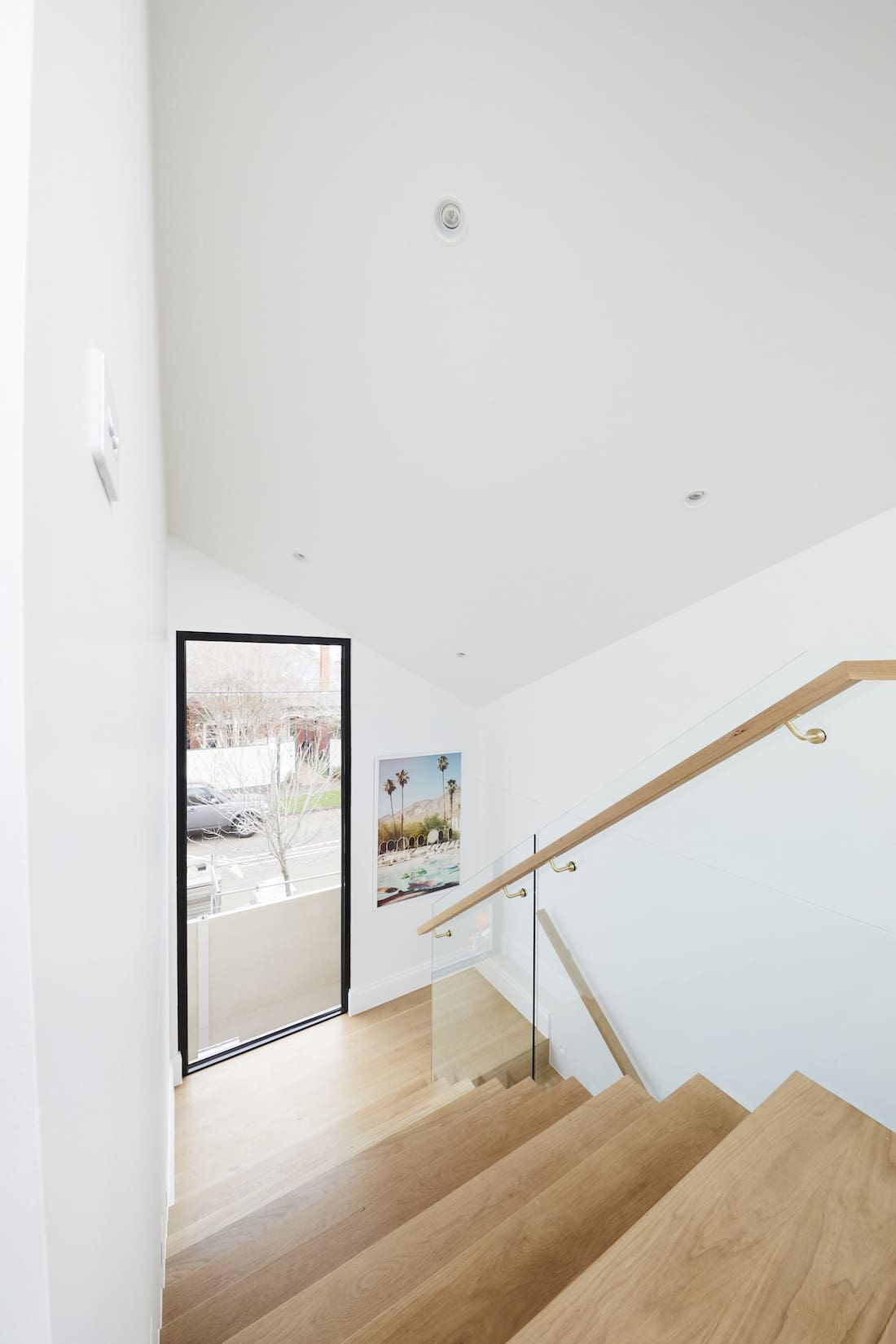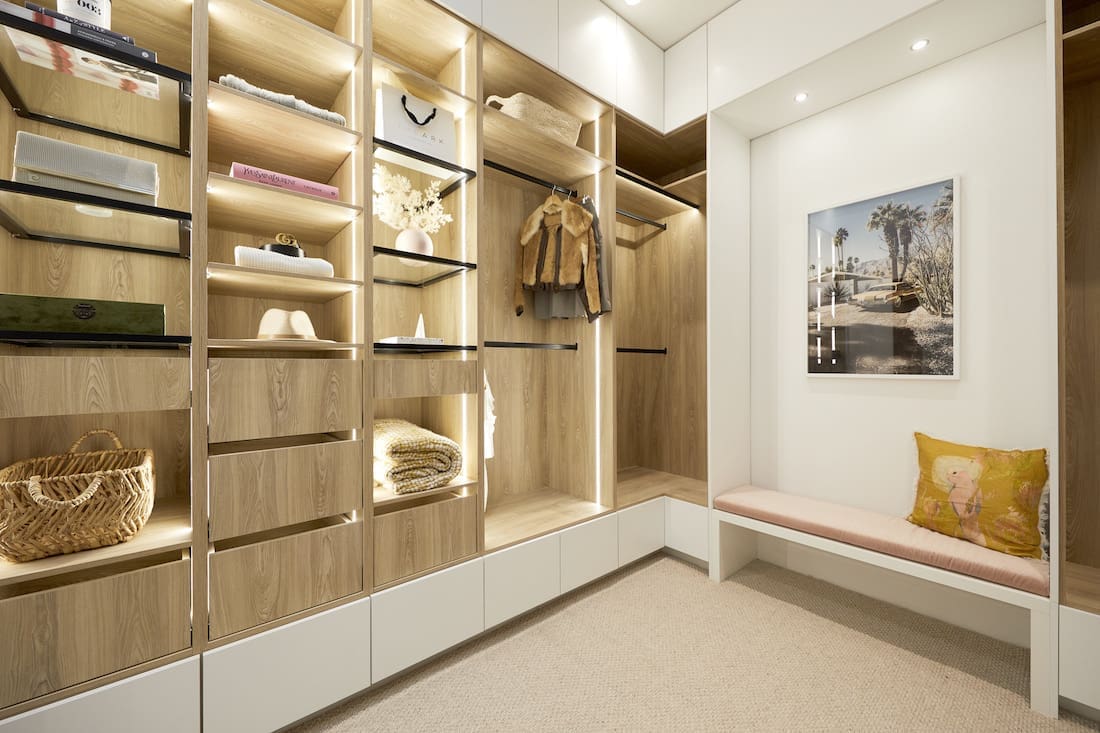 What did you think of this week's hallway reveal for The Block 2020? Did you agree with the judges (or us?!). Tell us in the comment section below!
Be sure to check out The Block Shop if you've spied something you love in this week's room reveals. And you can catch all The Block 2020 goss on the official website.
All imagery by David Cook Photography