If there's one zone of the home our Erskineville clients really couldn't stand in their townhouse, it was their laundry! They were set on removing this boxy room under the stairs to create an open void. This also meant moving the laundry to the outside!
While open areas under stairs can look dreamy, in their 150 square metre home it was precious space. They couldn't afford to waste. Plus, I also felt that moving the laundry to outside could devalue their home if they were to sell down the track.
See how we created a seamless space with a dreamy Euro style laundry that also provided much-needed extra storage!
Laundry before
The laundry room before was a simple space with freestanding laundry sink, washing machine and two floating shelves. To the side was a small open void with a sofa (hidden behind the clothing rack).
In front of this space was a dining table and chairs but you may have seen when we renovated the kitchen. We moved the dining area into that zone of the home which freed up this area for more living space. This meant we could move the sofa from under the stairs. We closed off the space with custom joinery to provide plenty more storage for the owners.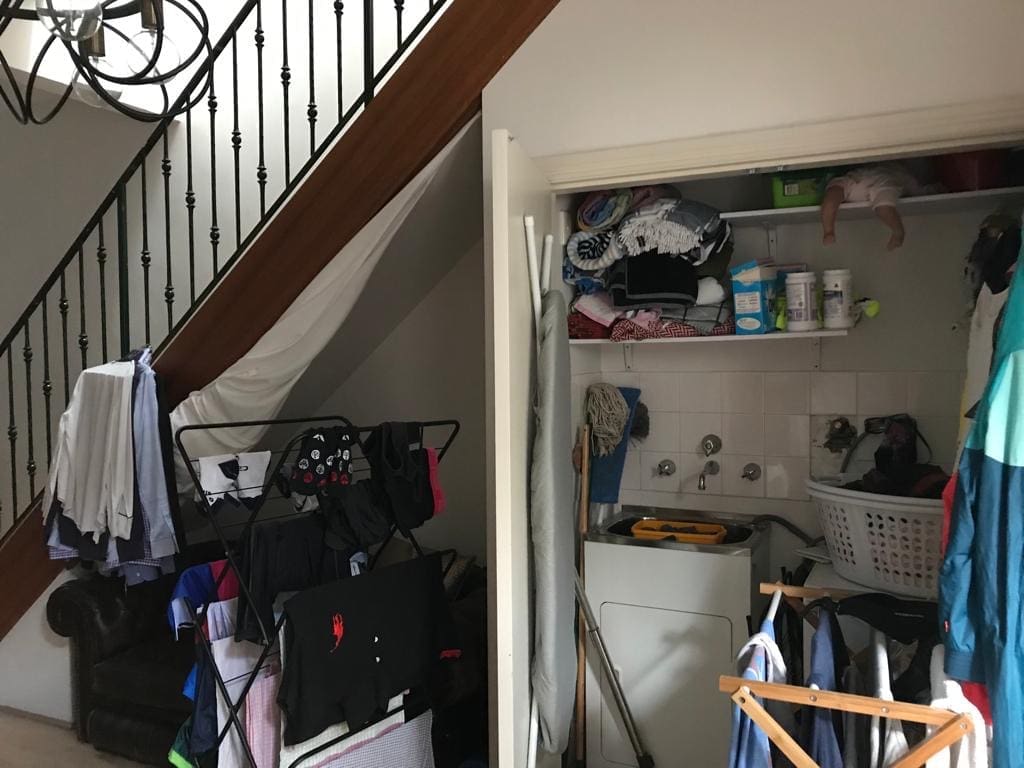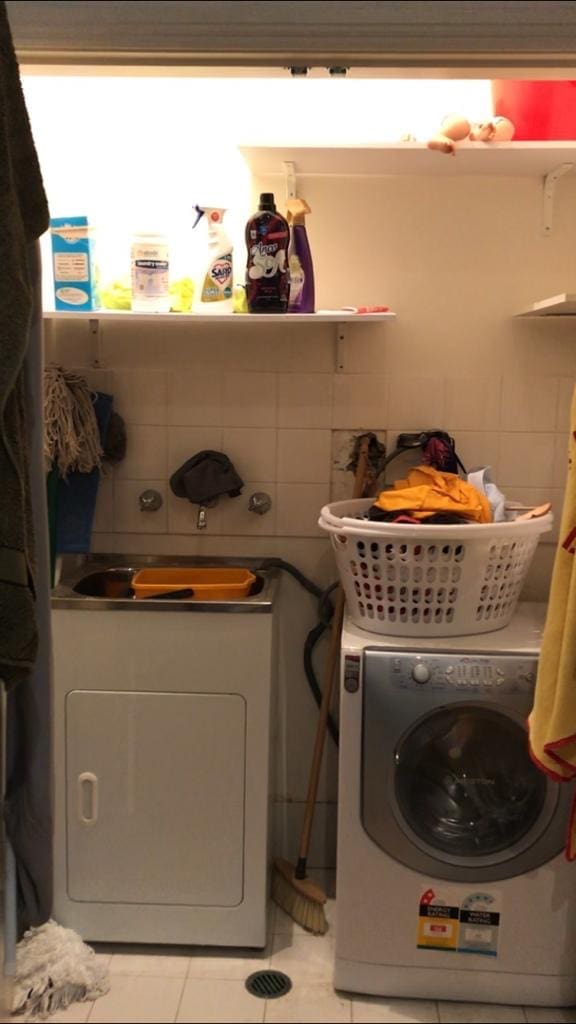 Design inspiration
The inspiration for this space was to create a seamless wall of joinery that would provide much-needed storage space and a more functional laundry. But as you would have heard us say before, functional doesn't have to mean boring!
We used graphic petal tiles on the floor (the same tiles were used to tile the front entry) and paired it with a white square handmade tile splashback, which is the same wall tile as the bathroom in the next room that we'll share on the blog soon. For a bit of bling, we used a brushed rose gold tap ('champagne finish' by Meir) and a deep fireclay sink is another luxe feature in this space. All of these materials were sourced from Tile Republic.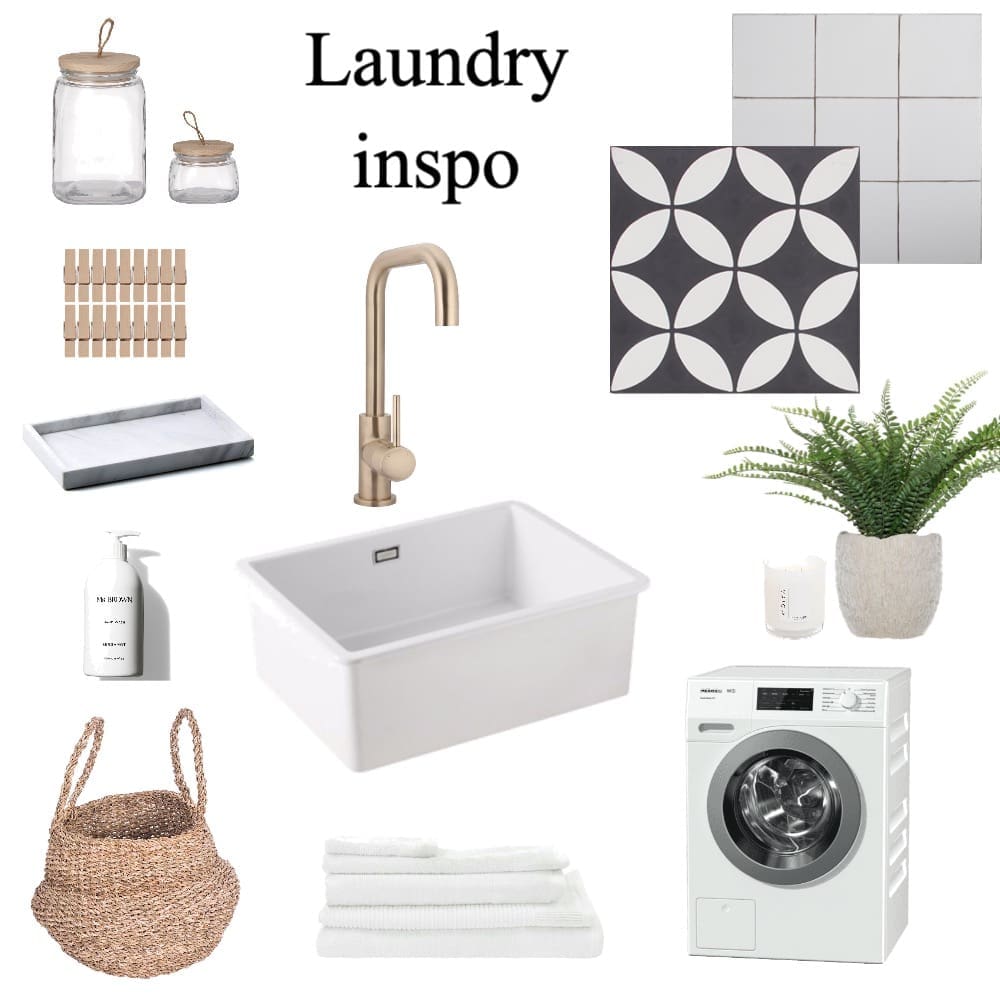 Shop this Euro style laundry look
Laundry after
Ta da, we're so happy with how this space turned out! When the laundry isn't in use, everything is hidden away behind those white pocket doors. These doors drop away to give the appearance of a simple white wall — just what we wanted. When it is needed, the couple have a generously sized Euro style laundry which makes full use of the space.
The old free-standing sink was replaced with a drop in sink with custom cabinetry below (by Cafe Kitchens). The bench extends to over the washer — providing valuable bench space for folding and other laundry needs. The void next to the floating shelves is to allow for a dryer or we may put a hanging rail here. All of our selections work beautifully together, it feels fresh and airy but also a bit luxe and fun.
The open space next the laundry where the sofa was has been closed off with more custom joinery, offering plenty of pocket shelves for storage. And even the area above the laundry was utilised for more storage.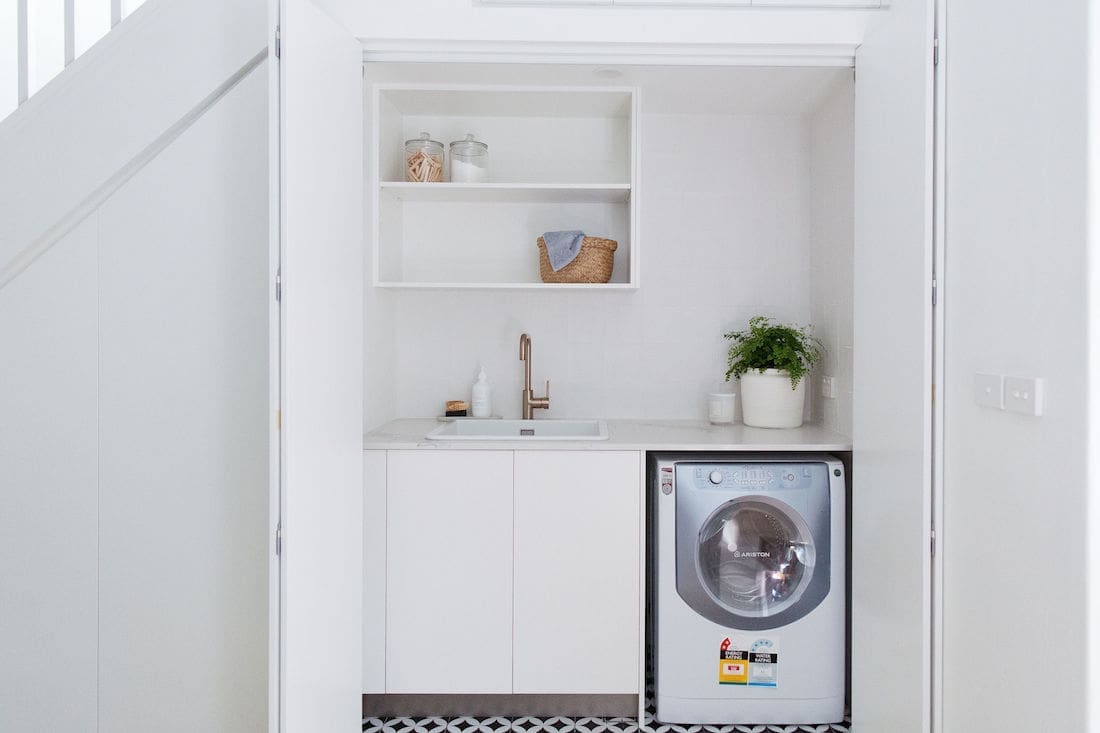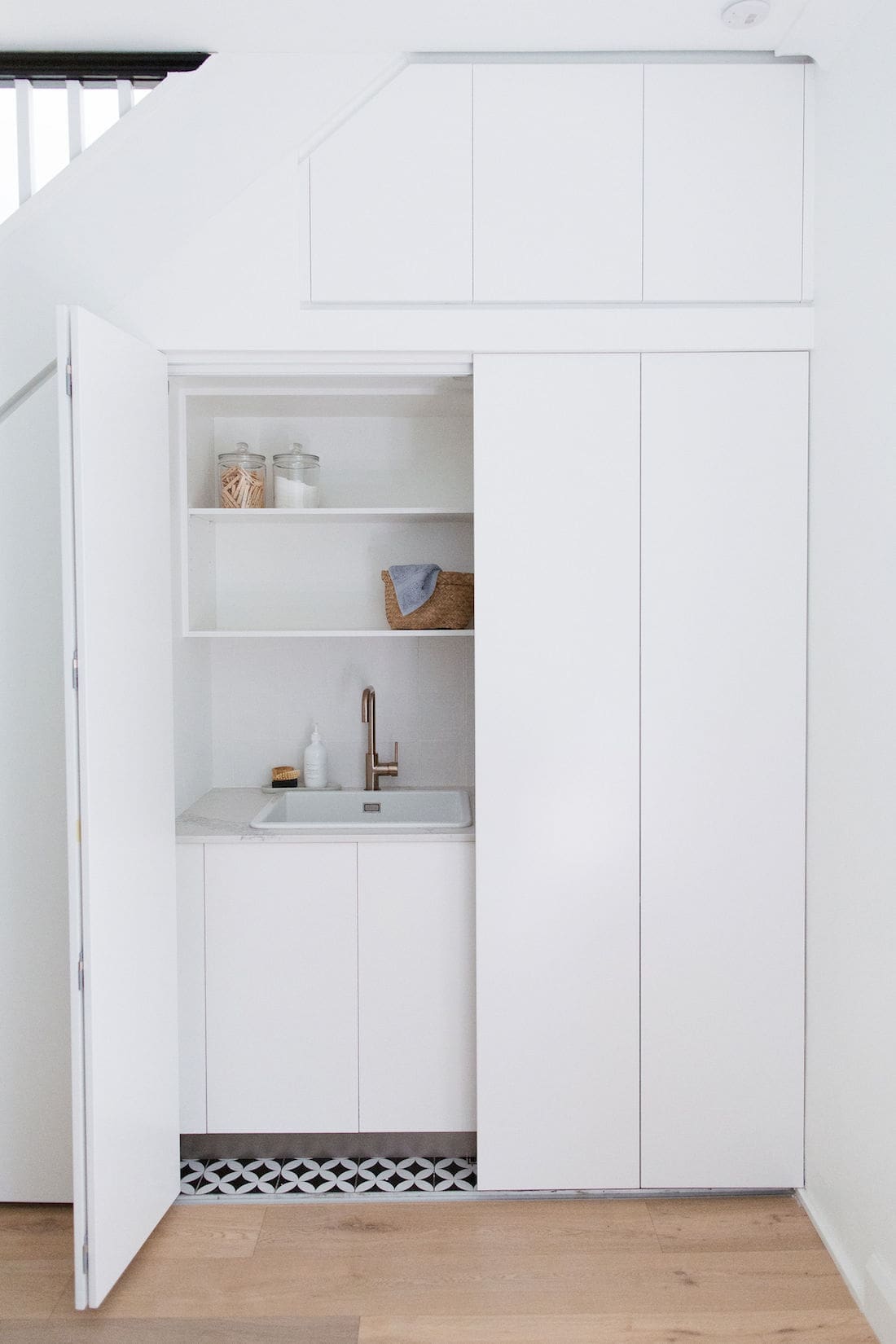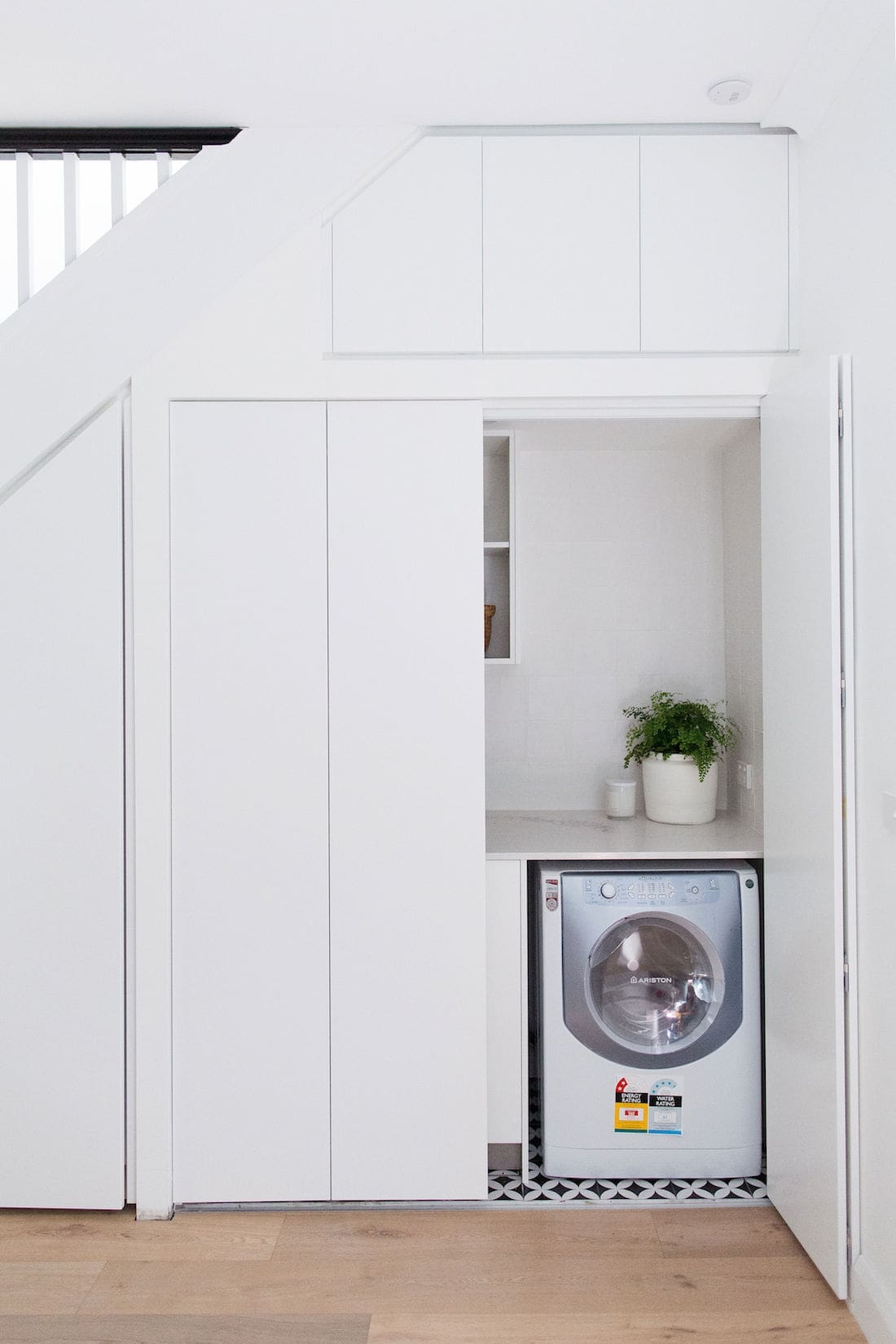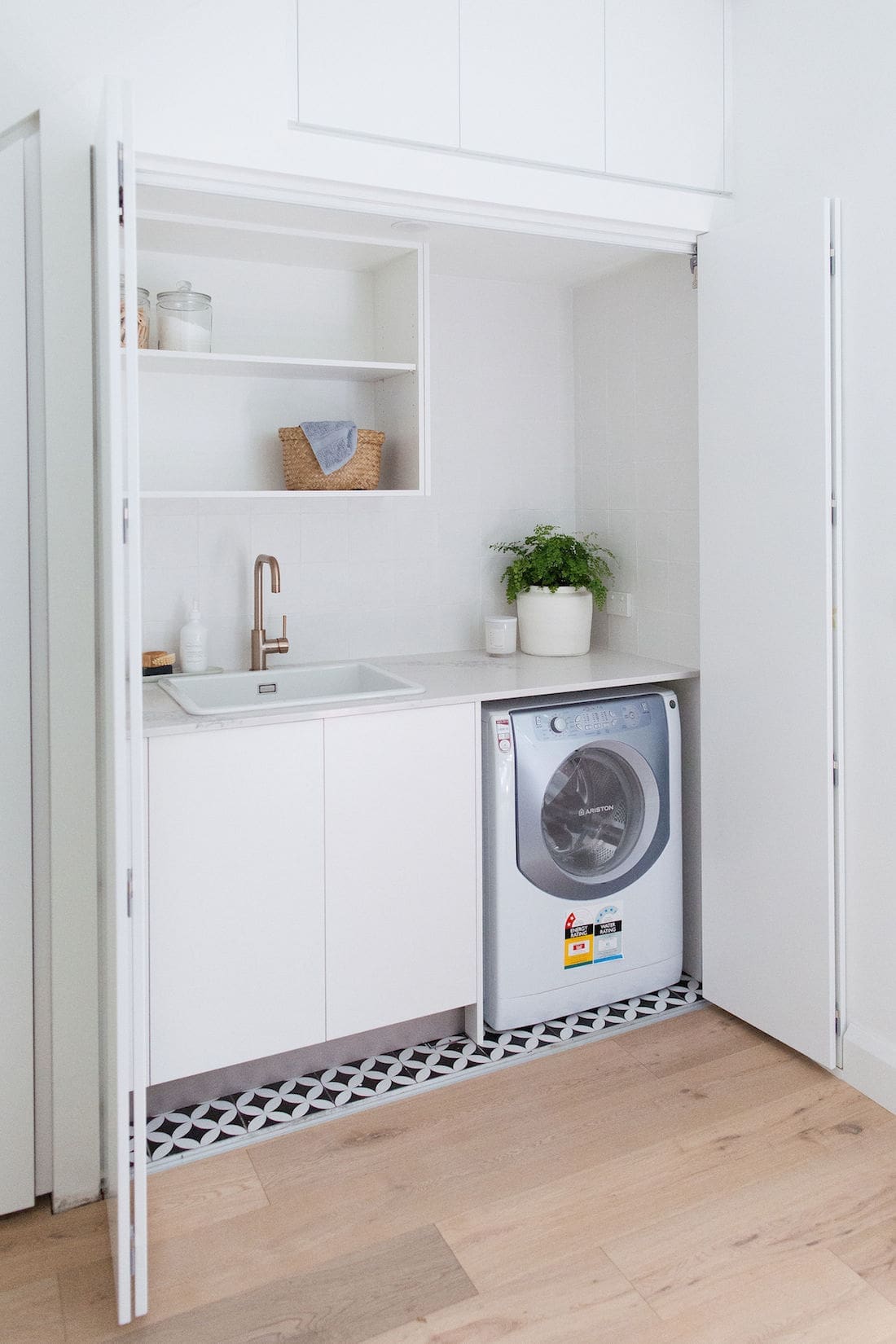 The floating shelves that were originally in this space were at breaking point so we replaced those. By using a box-style shelf where the shelves are directly above each other and framed with sides, they are more functional and free up the rest of the wall space for the dryer or hanging rail we mentioned.
By working with the existing laundry walls and building additional custom joinery to close off the full area under the stairs, we were able to keep costs down and still achieve the seamless look we wanted.
I hope you found some ideas and inspiration from this laundry remodel for your next project. If you have any questions about this Euro style laundry renovation, let us know in the comment section below.
Photography by Thorson Photography
Disclaimer: This post contains some affiliate links. This means that when you click on a link and purchase something from that site, we may make a small commission at no extra cost to you.
Shop this Euro style laundry look