When we were building our home, I had my heart set on a marble kitchen bench… but all I heard were horror stories about staining, chipping and other maintenance issues! So, I looked into other options. Ultimately, I decided on a combination of an engineered benchtop and natural marble splashback as it felt like a 'safe' way of using marble in the kitchen.
I still get questions to this day about whether or not marble is a good splashback material and if I regret my choice. So here's my list of the pros and cons of using marble as a splashback material. Spoiler alert, I love it!
Related article: Gina's home: Kitchen room reveal
Related article: Gina's bathroom renovation reveal: Take a peek around my new bathroom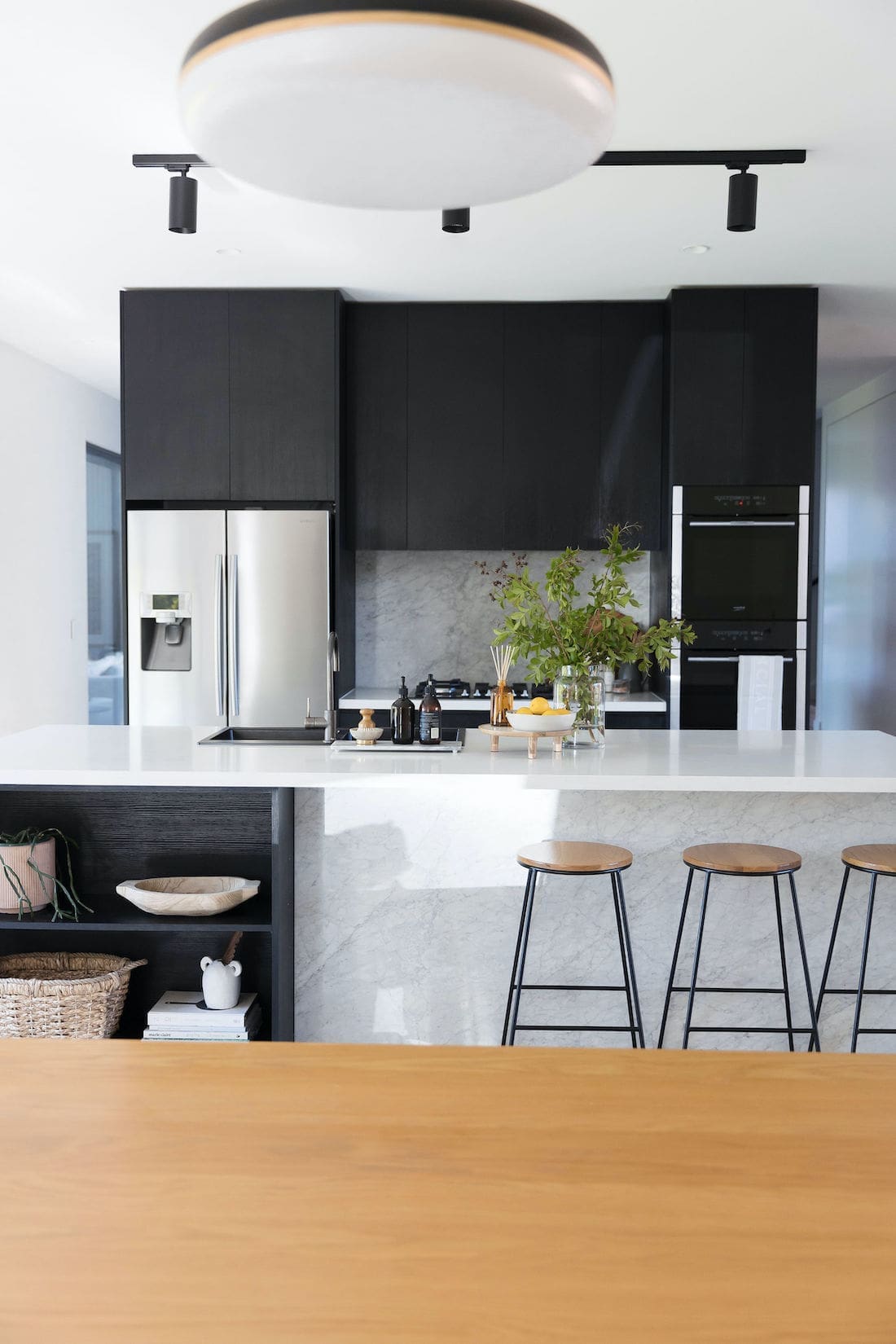 Pro: The natural beauty of stone
As much as engineered stone continues to advance, it just can't quite match the depth and natural beauty of real stone. There are dozens of types of marble, ranging in colour and vein intensity. And because marble is naturally formed by compacted rocks, even two slabs of the same marble can look completely different.
The unique characteristics of natural marble is one of its biggest advantages and certainly the main reason I wanted to use it in my home.
Con: You need to be mindful about cleaning products
Just like all things of beauty, there's generally a price to pay. And with natural marble, you need to be mindful about what cleaning products you use. If you love to splash bleach and harsh cleaners around, this probably isn't the right splashback material for you.
That being said, all you need to use to clean natural marble is mild dish soap. Alternatively, you can use a natural surface spray, such as our soap based all-purpose cleaner here.
Pro: It's more hardwearing than I thought!
Even though I got scared out of using marble benchtops, I was still nervous about using it as a splashback. So many people warned me about staining and discolouration.
We have the marble splashback right behind our cooktop and it's constantly getting splattered with tomato sauce, wine, oil — my husband is Italian after all — and there's not a stain in sight.
I'm pleasantly surprised that marble is much more hardwearing than I thought and I would 100% use it again!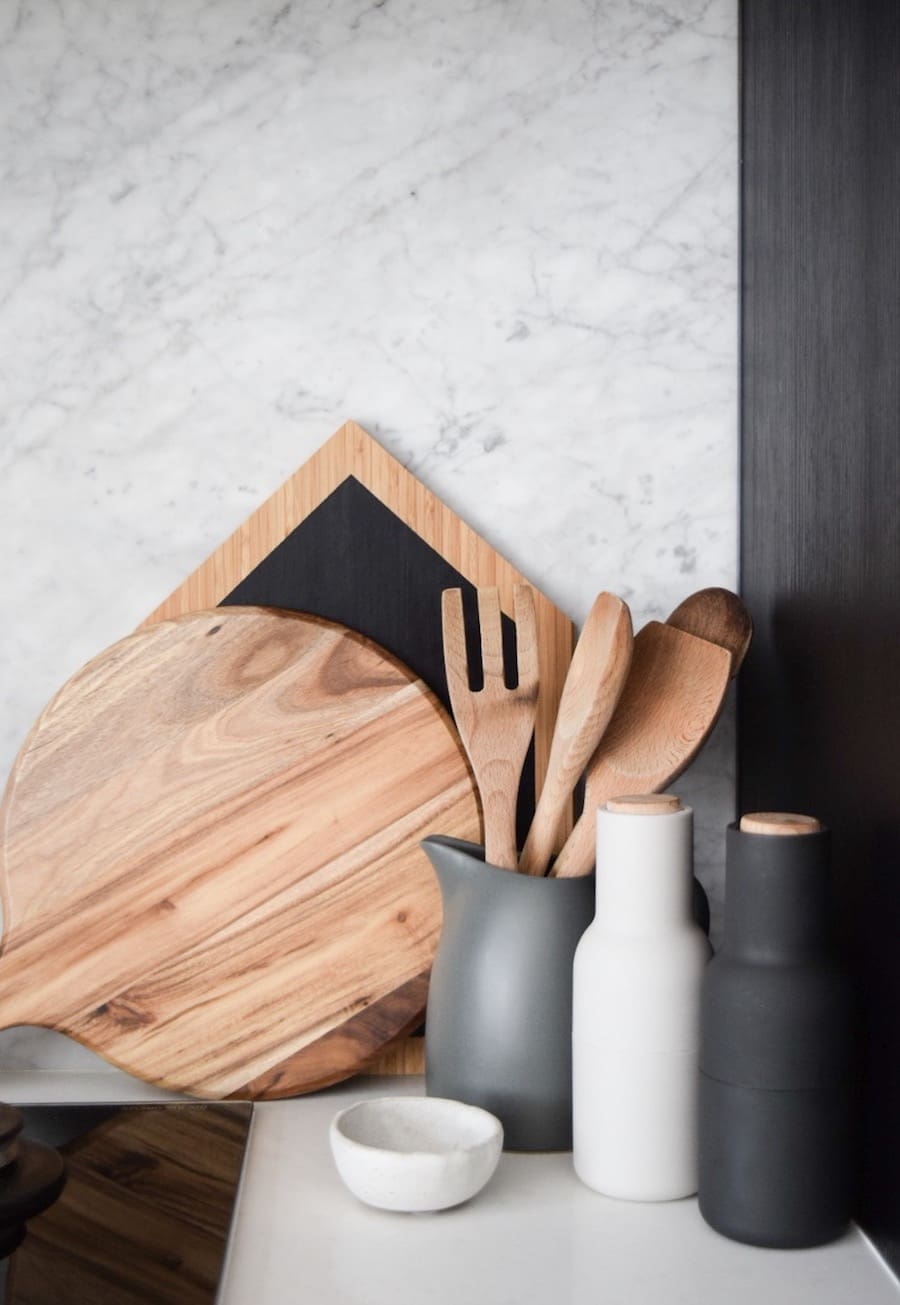 Con: There's some required maintenance
Although marble is more hardwearing than I expected, it is still needs a little TLC. It's essential to seal marble with a natural stone penetrating sealer. We used the Lithofin range from Tile Republic, which is excellent and does not change the appearance of the stone at all.
It's also recommended to reseal the stone once a year… but six years on, we haven't resealed the marble and it still looks fab!
Pro: It can be cheaper than some tiles
Finally, another benefit of a slab of natural stone is that it can be more affordable than some decorative tiles. When you add up the cost of the tile per square metre, plus the cost for a tiler to install it, a solid slab of stone can work out to be less. Of course, it depends on what type of marble you're considering, and what type of tile you're comparing it against!
I hope these pros and cons of using marble as a kitchen splashback help you in your decision making. I'm so happy with our kitchen and thought it was worth sharing a positive story about marble in the kitchen. Because when I did my research, it was mainly negative and I nearly got scared off using marble altogether! However, there are also plenty of faux marble options out there such as engineered stone and large format porcelain tiles.
This article was first published in August 2016 and continues to be updated with latest information.