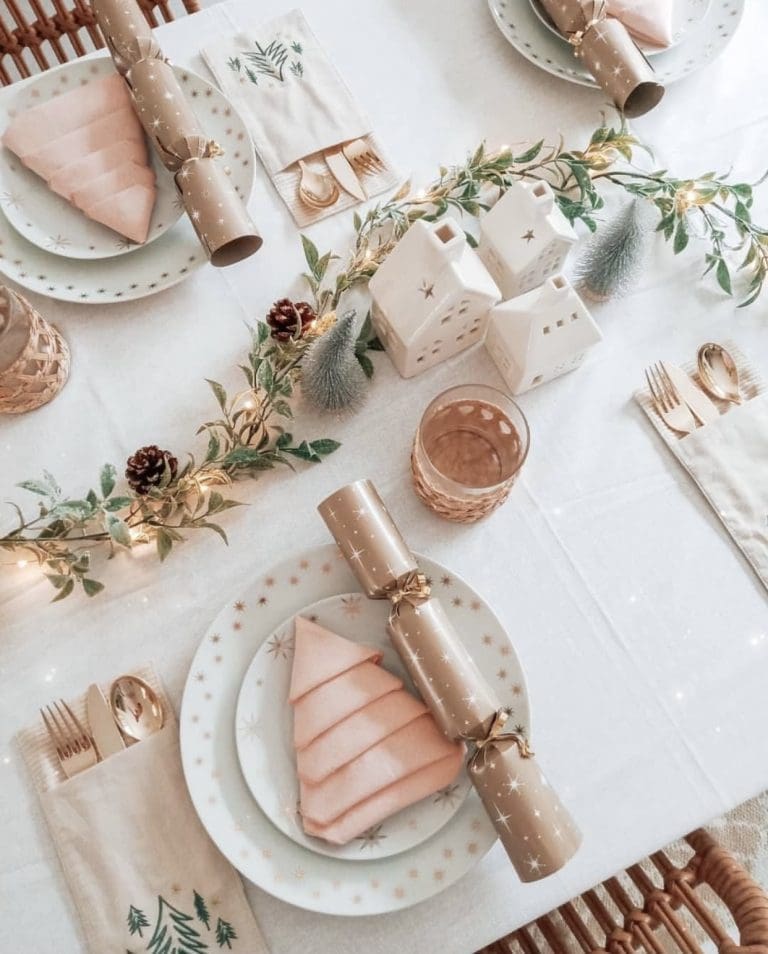 'Tis the season Lovelies! And with it, comes a lot of costs, so to help ease the burden we thought we'd share some of our fave Kmart Christmas hacks! We know you can easily buy Christmas decor, but if you want to inject a bit of personality into it or try your hand at a DIY project, we've got you covered!
We're bringing you some savvy styling home decor ideas to get you into the festive spirit… and keep your wallet happy 😉
Related article: Beautiful Christmas table styling ideas on a budget
Related article: 50 of the most beautiful Christmas gift wrapping ideas (with stacks of free printables!)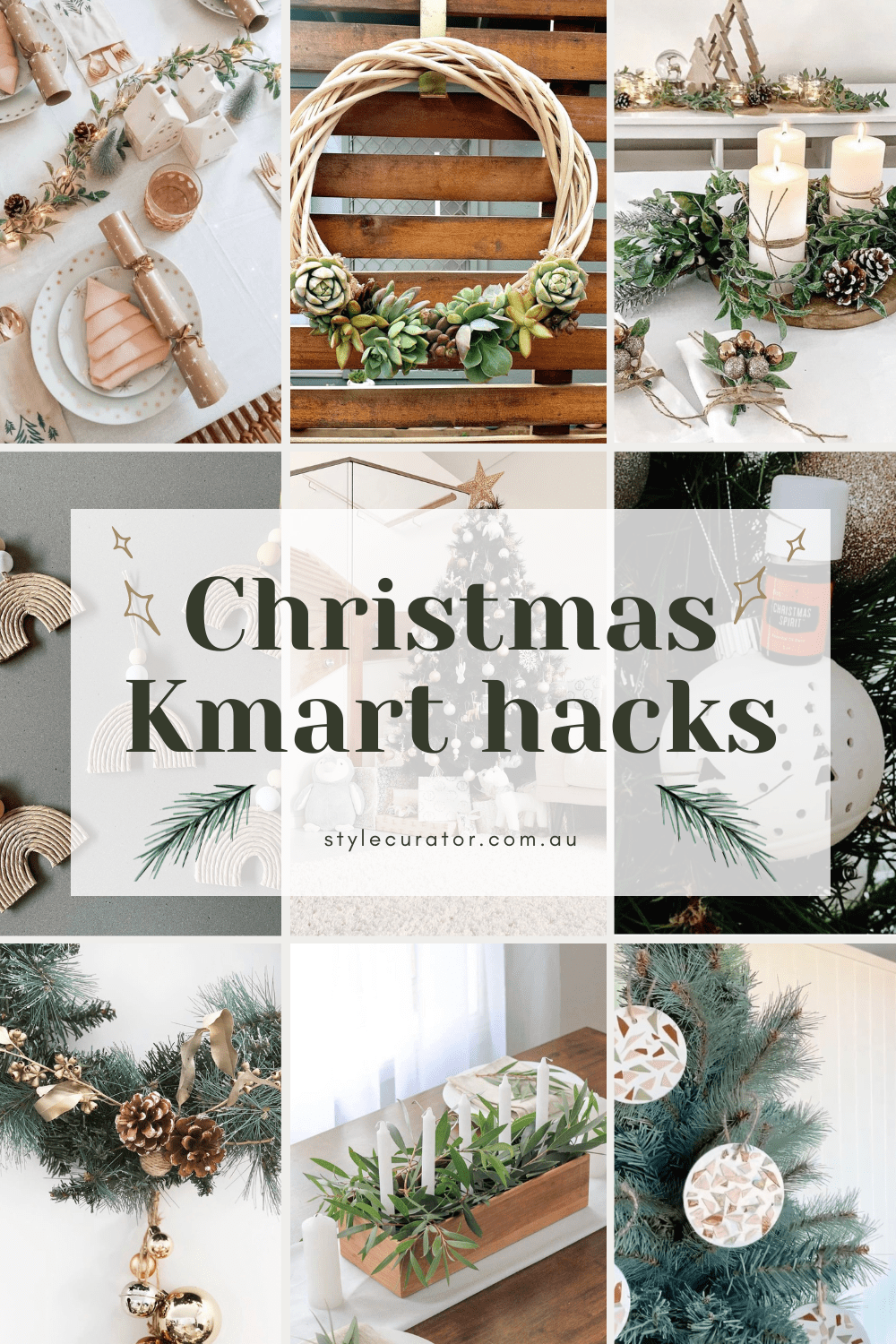 Hack your own living wreath
We love this minimalist succulent wreath idea that Amanda Massey shared. She says she simply attached sphagnum moss with a fishing line to the Kmart wicker wreath and used a hot glue gun to secure the succulents in place.
And once Christmas is over, you can remove the succulents from the wreath and re-plant them. If you don't trust yourself to use the real-deal, Kmart also has a range of faux succulents and plants you could try!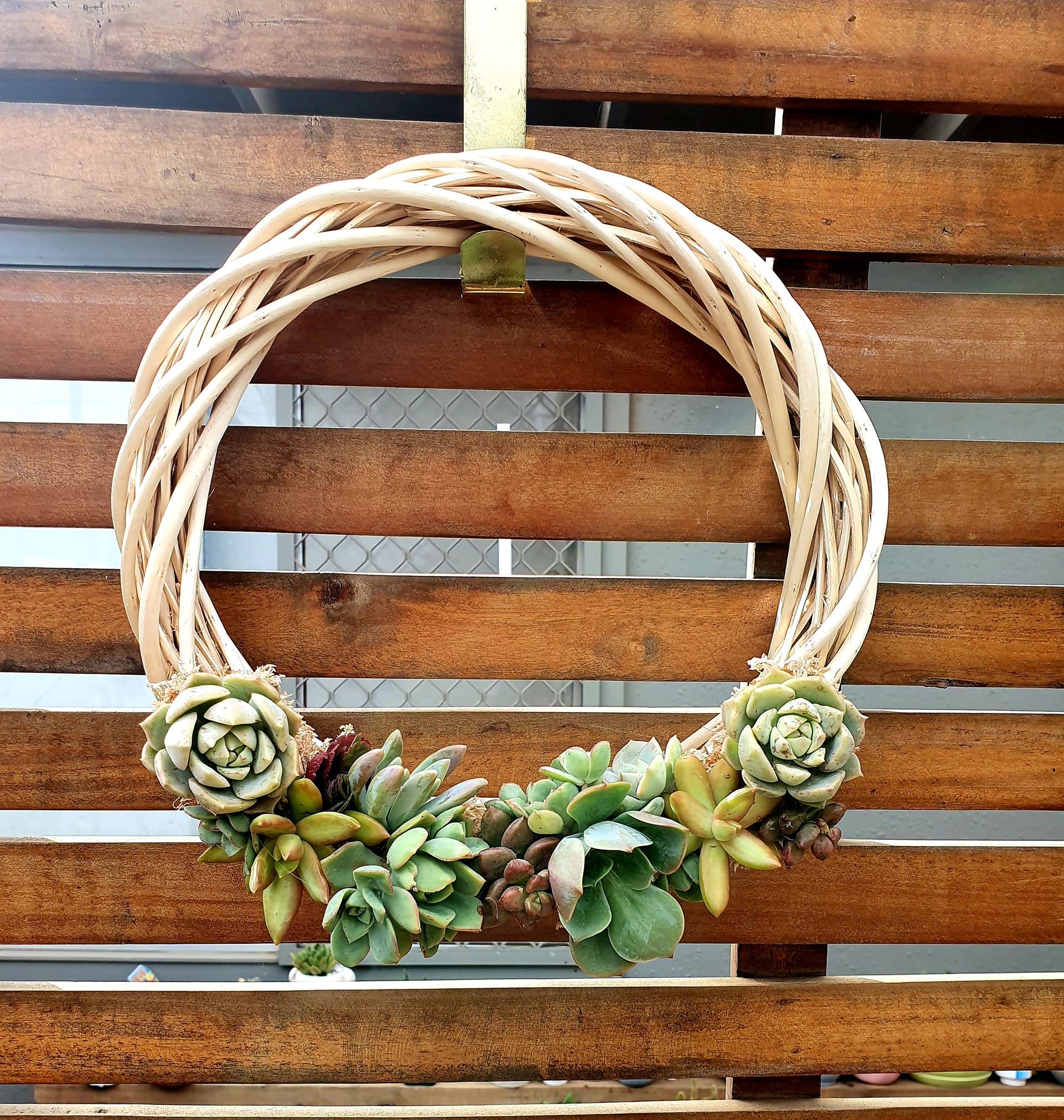 Twinkly floral Christmas wreath
Talk about a making a statement! Check out this beauty from Antoinette Favory, who created this stunning Kmart Christmas hacks wreath with faux flowers and twinkly fairy lights.
Using a Kmart wreath, she switched out some ornaments for faux flowers and tree picks, finishing the look with a string of LED fairy lights. The red berries and pine cones are so festive while the gum nuts and other artificial stems give it a contemporary feel.
Best of all, you can find all these items at Kmart!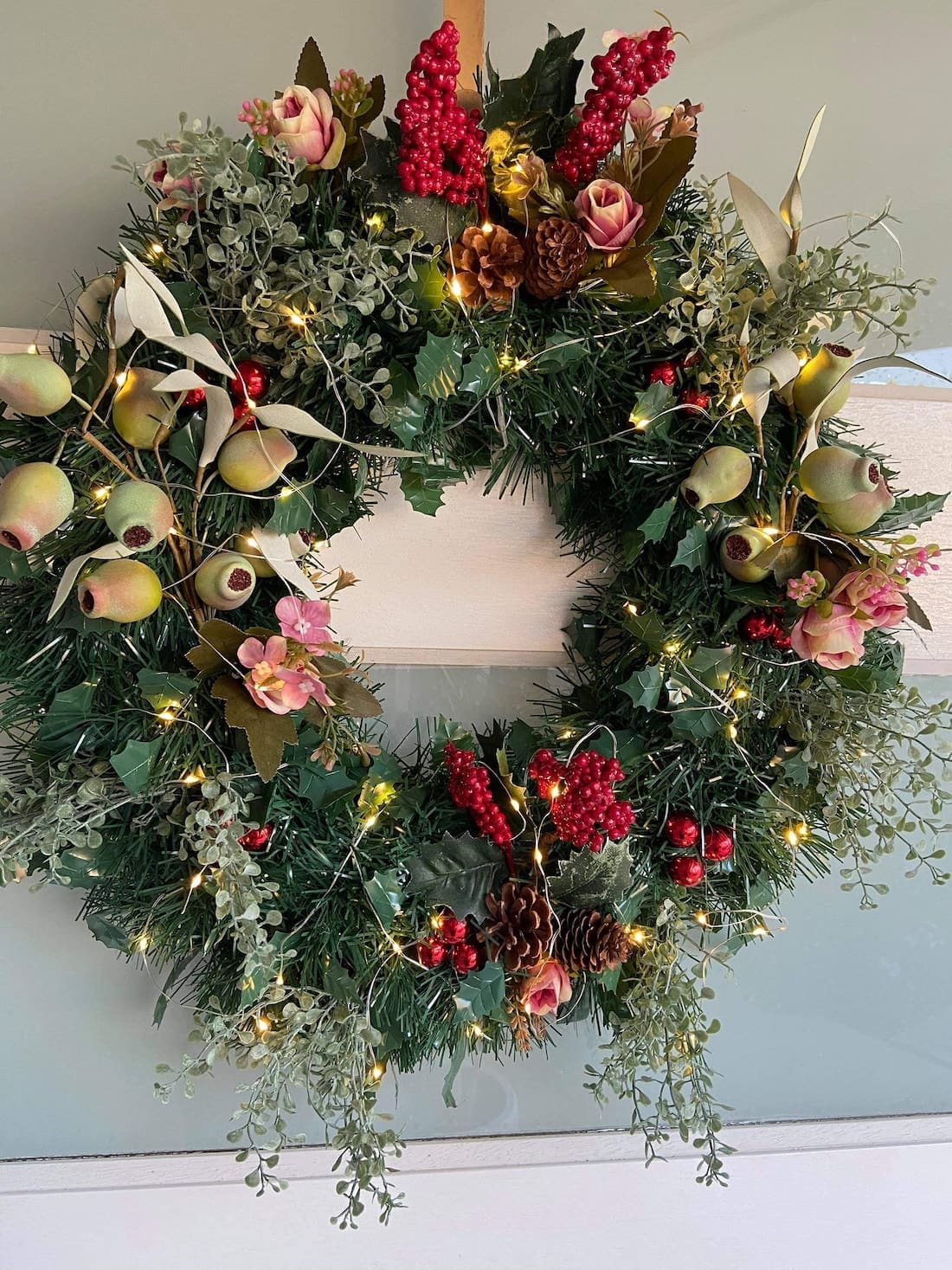 DIY wreath bauble tassel
We're not exactly sure what you'd call this Kmart hack but we're going with DIY wreath bauble tassel. The clever and creative Ashlee made this embellishment that can be used to elevate any Christmas wreath. Simply use a selection of baubles in similar tones and various sizes, and use jute twine to hang them together. She shares all the steps over on her YouTube channel.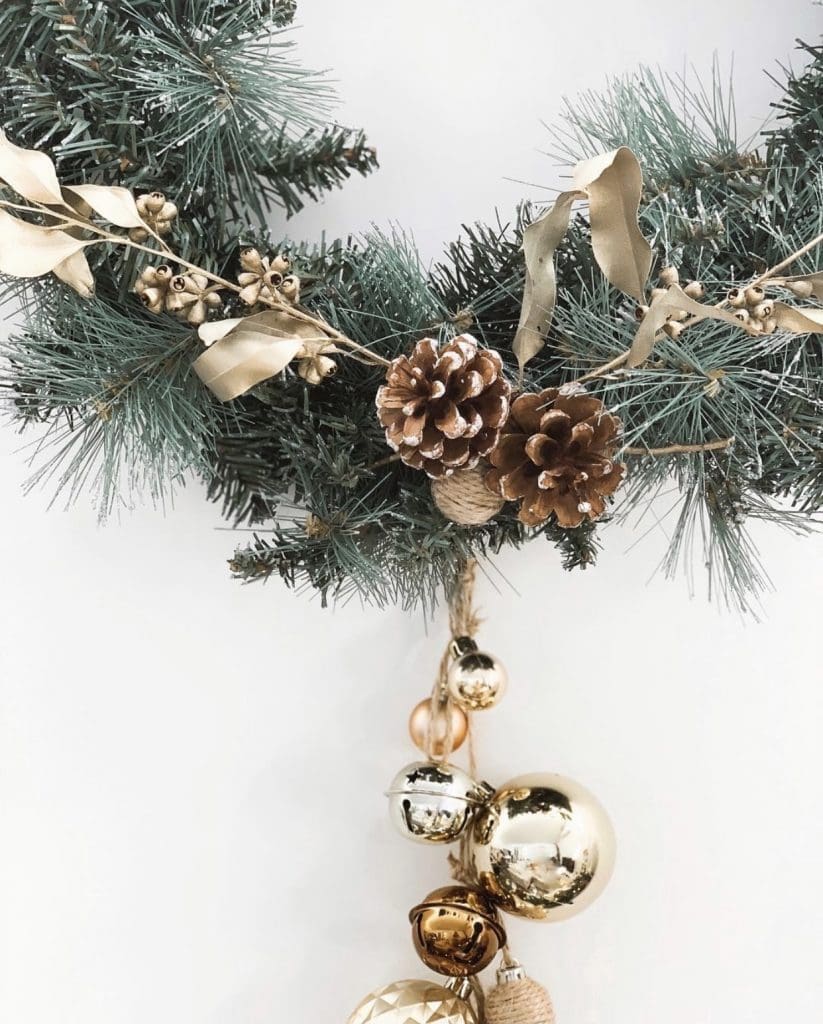 OTT Christmas tree styling
With wreath inspiration covered, it's time to step inside the home to the main event — the Christmas tree. Decorating your Christmas tree can quickly add up to a small fortune, so here are some savvy Kmart Christmas tree decorating ideas to achieve that wow look for less.
Firstly, we just adore this elegant white and gold Christmas tree by Alicia. She's used a wicker tree collar, that sweet train track and several tree picks from Kmart.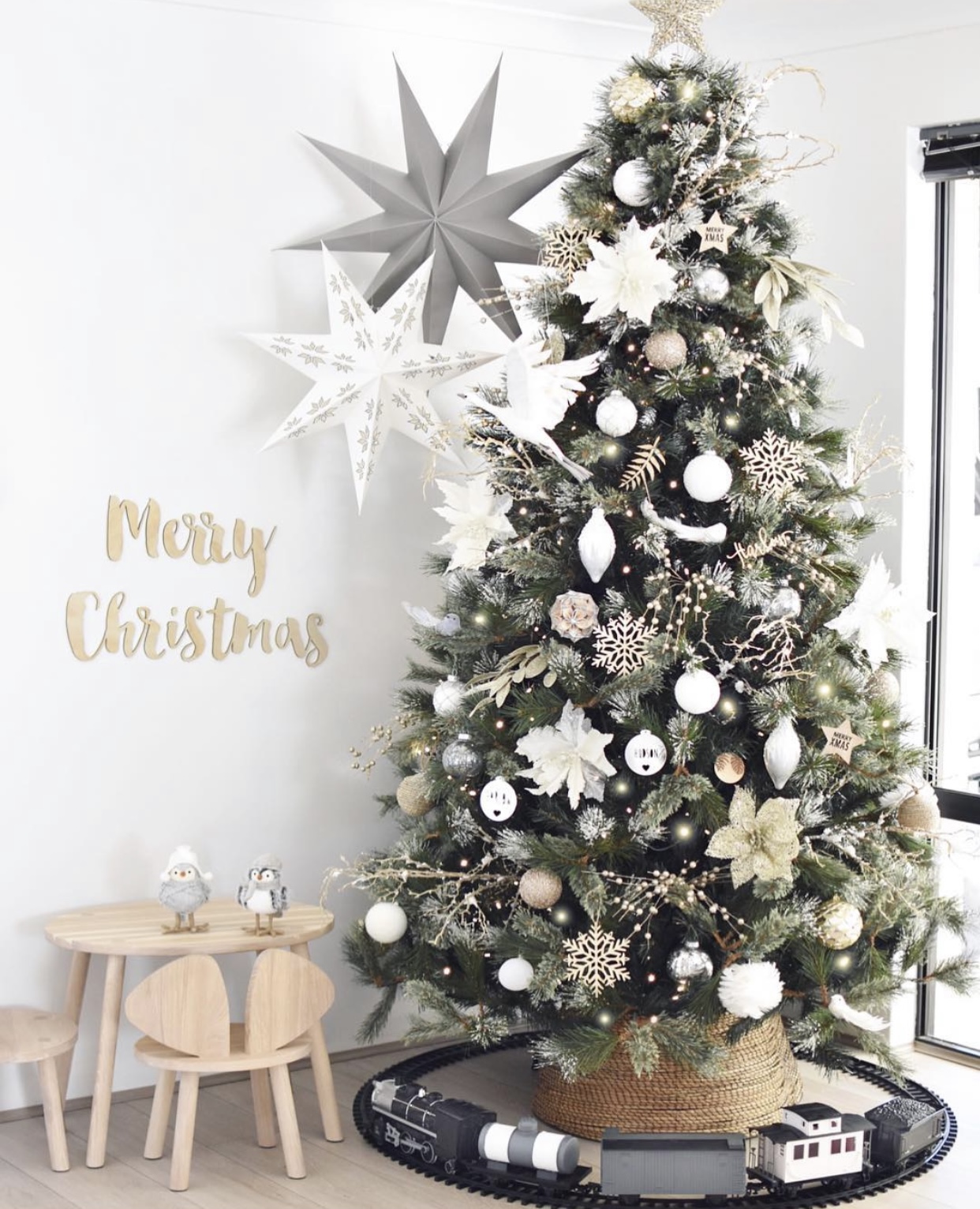 Traditional Christmas tree decor
So much of the Christmas tree decor below is from… you bet, Kmart! Leonie has gone with a traditional Christmas theme featuring nutcrackers, deer, snowflakes and angels. We also picked this image because all those wrapped Christmas gifts really add to the festive feeling, don't you agree? Perhaps it will serve as motivation to get your Christmas shopping done early so you can admire your beautiful Christmas gift wrapping 😉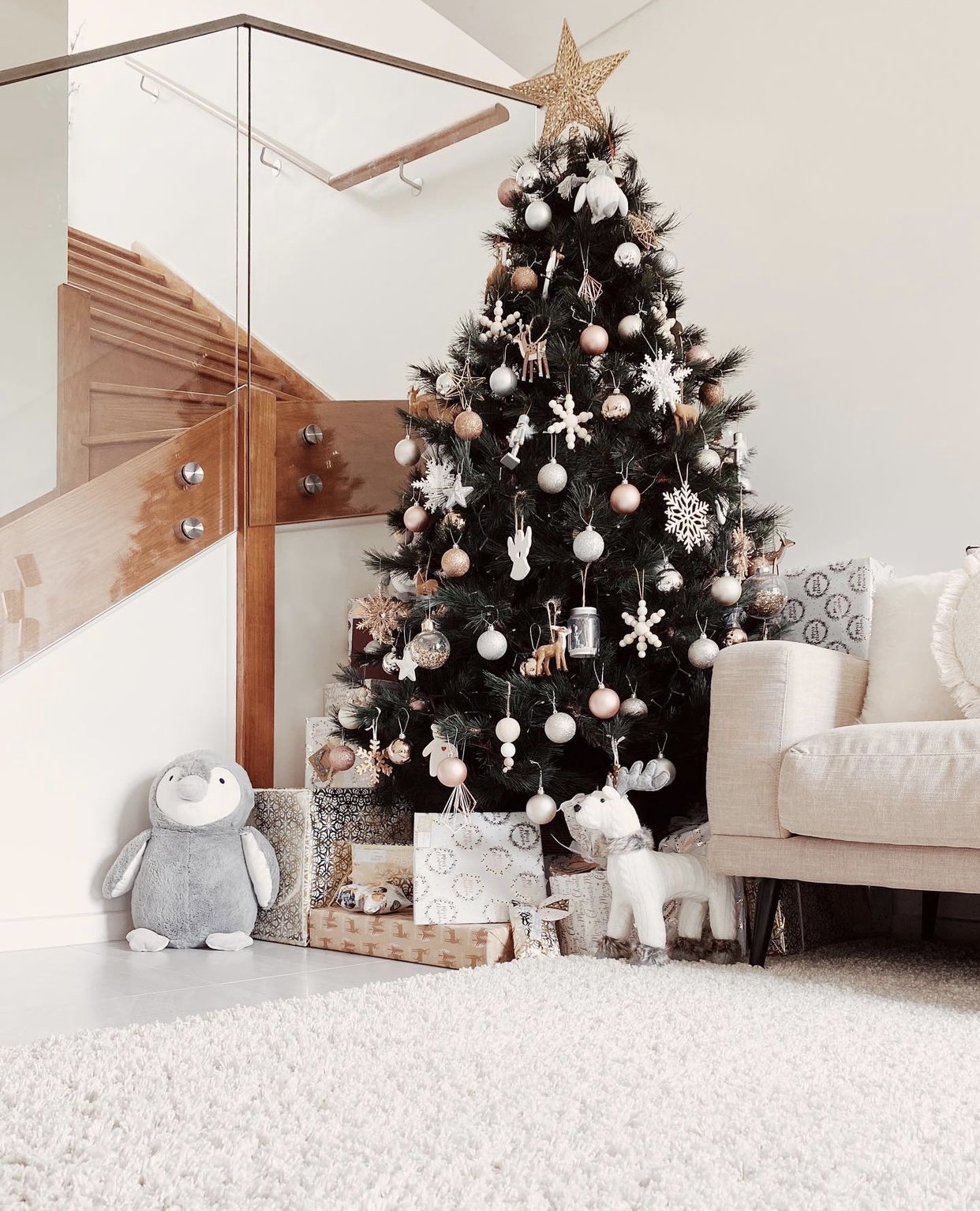 Stunning native inspired Christmas tablescape
Jackie Hagart created this beautiful Christmas tablecape using almost all Kmart goodies. The woven basket, glass vase, large white pillar candle, Christmas runner, plain wreath and native garland. Who knew Kmart could look this good?!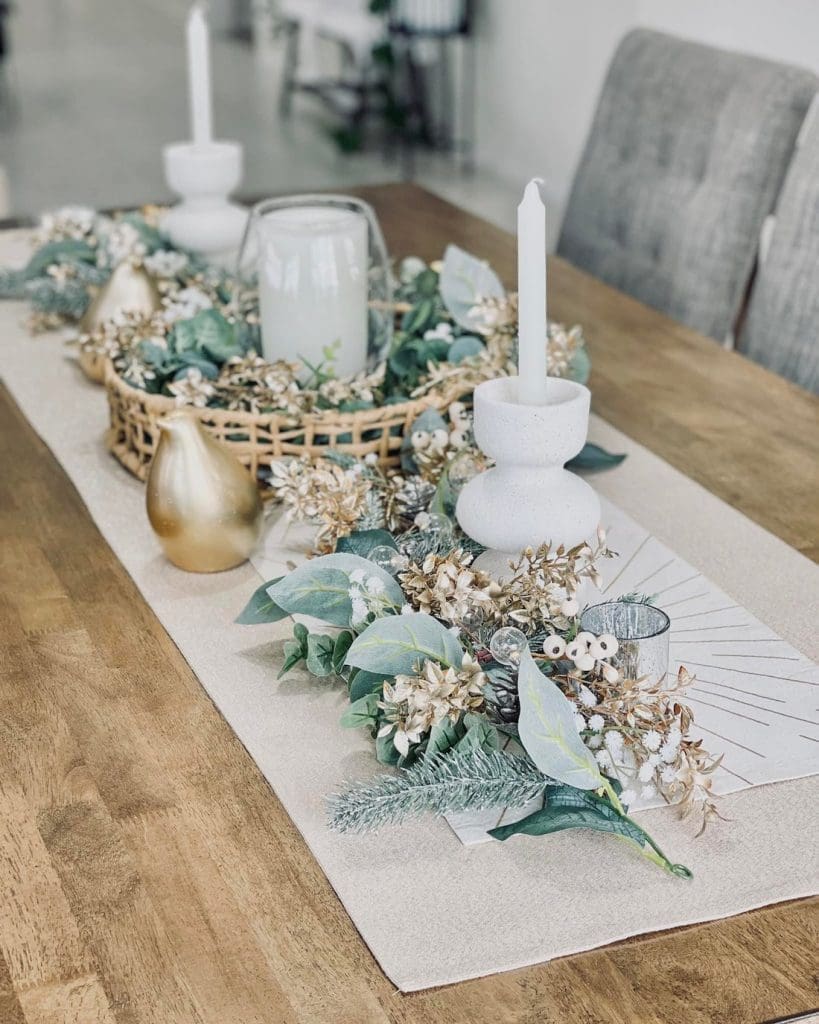 Or this beauty from Jackie who created this entire tablescape — including the dinnerware — for $100! She's listed all the items she used below, and you can also take a look on her Instagram @my_friend_jackies_house. We're suitably impressed!
Scented Christmas decoration idea
It's no secret we're obsessed with essential oils. We use them a lot in the home — for cleaning and diffusing — and at Christmas time, the right scent can immediately evoke feelings of festive cheer.
Here's a clever Christmas tree hack using a Kmart terracotta light up decoration that's been infused with a Christmas tree scent! For all of us who have an artificial Christmas tree but wished it was the real deal, why not save this idea to your Pinterest board?!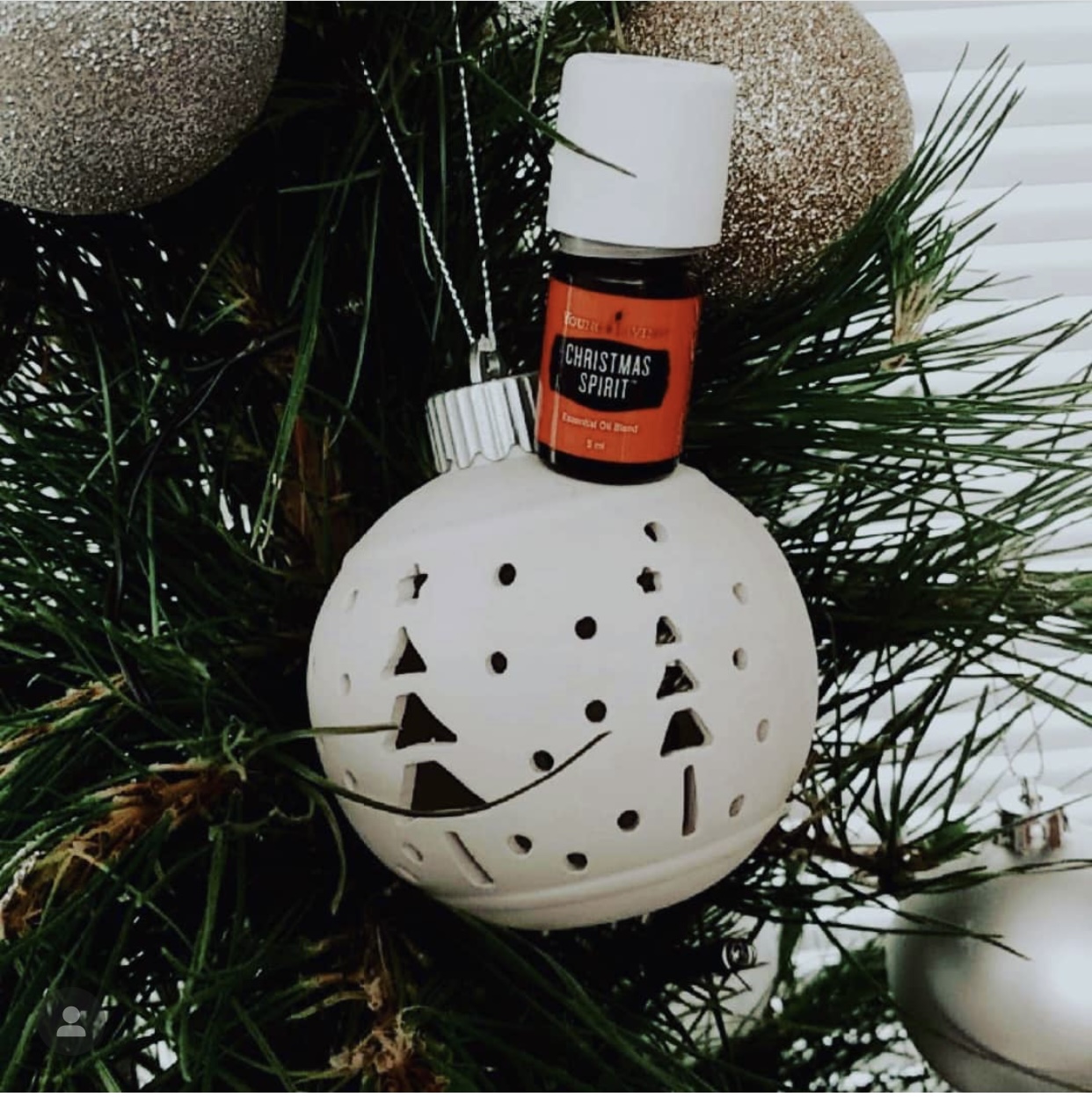 DIY Christmas tree ornaments
For those of us a little more crafty, here's a sweet and stylish Christmas decoration you can make from scratch! Using wooden beads and hemp cord from Kmart, Soph made these modern rainbow tree ornaments.
She also whipped up the cutest ever miniature wreaths, using Kmart bangles! As well as raffia pom pom baubles using Kmart craft goodies. Her talent amazes us!
You can find the full tutorials saved as a highlight on her Instagram page.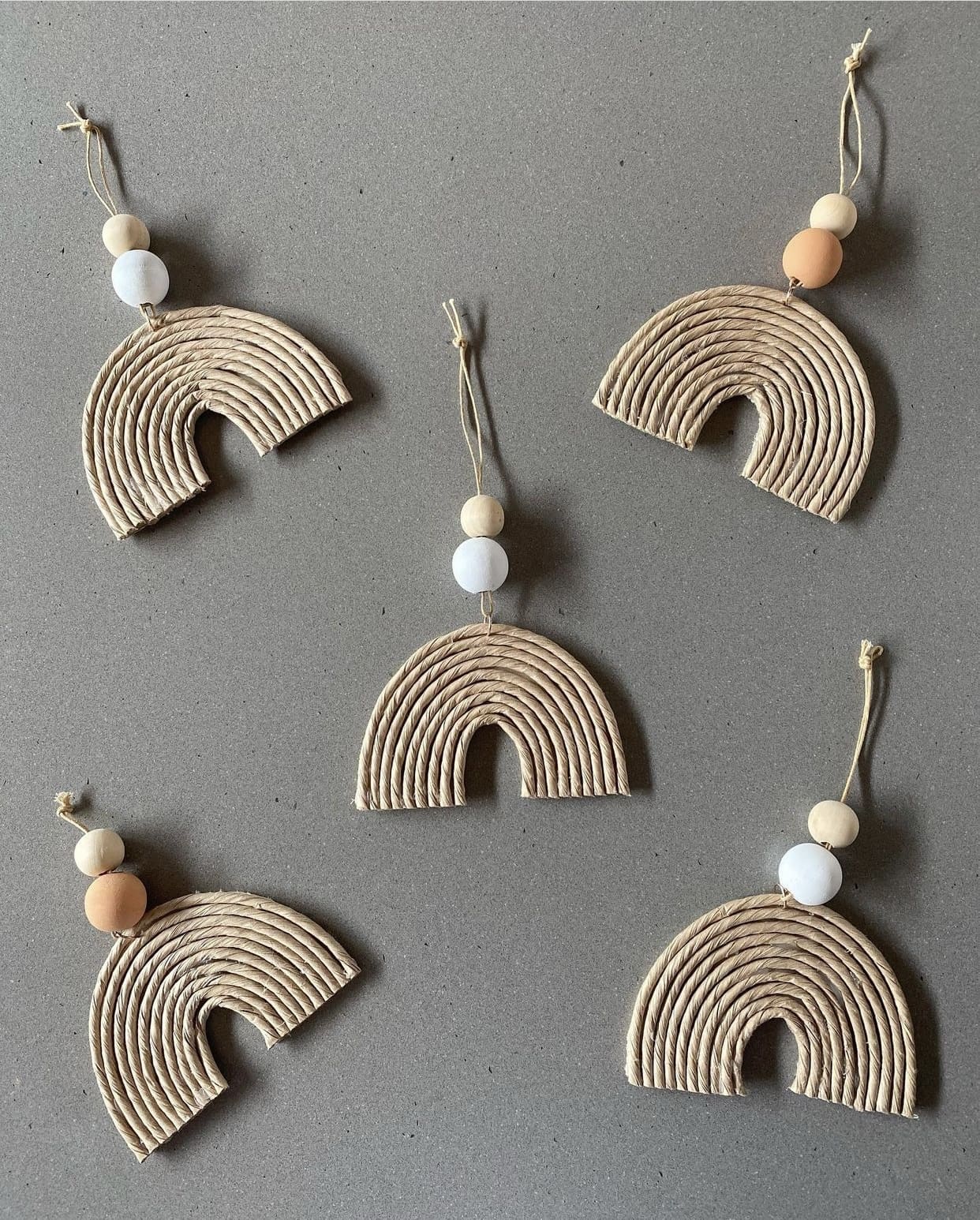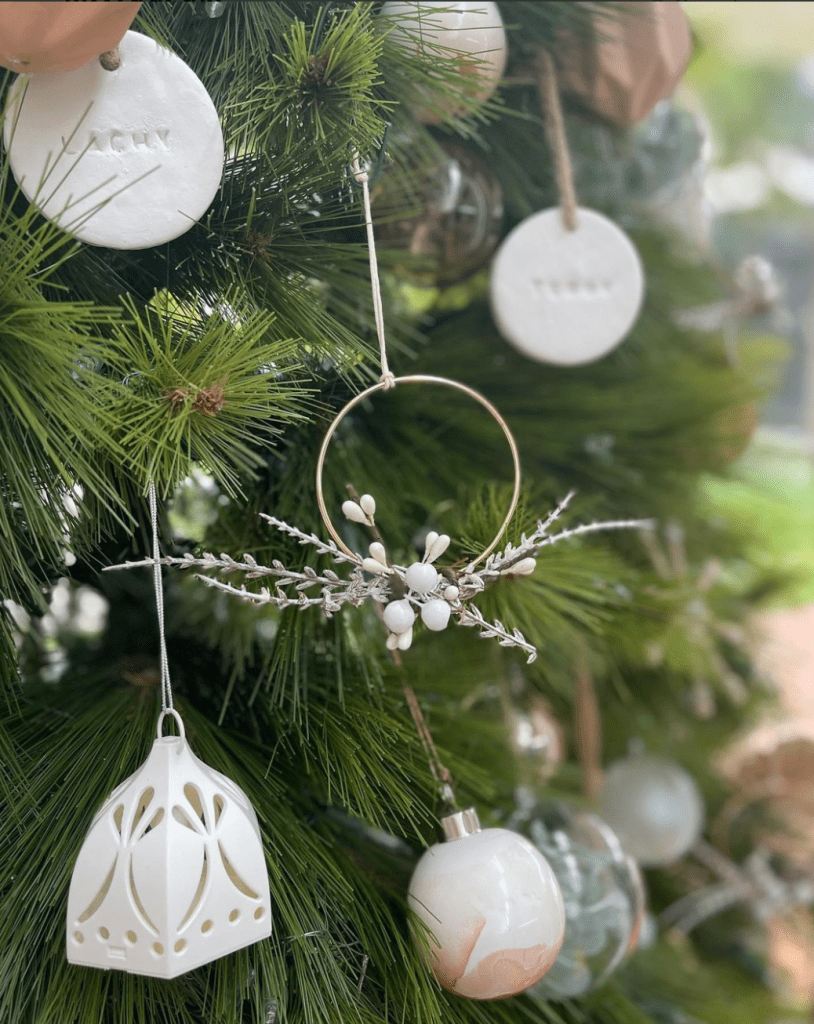 Terrazzo coaster ornaments
Another DIY Christmas tree ornament idea that's perhaps a little easier to create are these Kmart coasters turned terrazzo look ornaments. You can find a video showing all the steps over on the Homely Hub Instagram page here.
Christmas tree napkins
After the Christmas tree, we argue the next most important Christmas styling in the home is your Christmas table. So let's take a look at some easy and affordable ways to elevate your Christmas table setting using Kmart hacks and styling tricks.
First up, we just had to share this totally stylish and on-trend tablescape that features everything Kmart. Our favourite part of the look has got to be those adorable Christmas tree napkins! Trusty Martha Stewart has a video tutorial on her site showing how you can fold your own napkins into Christmas trees.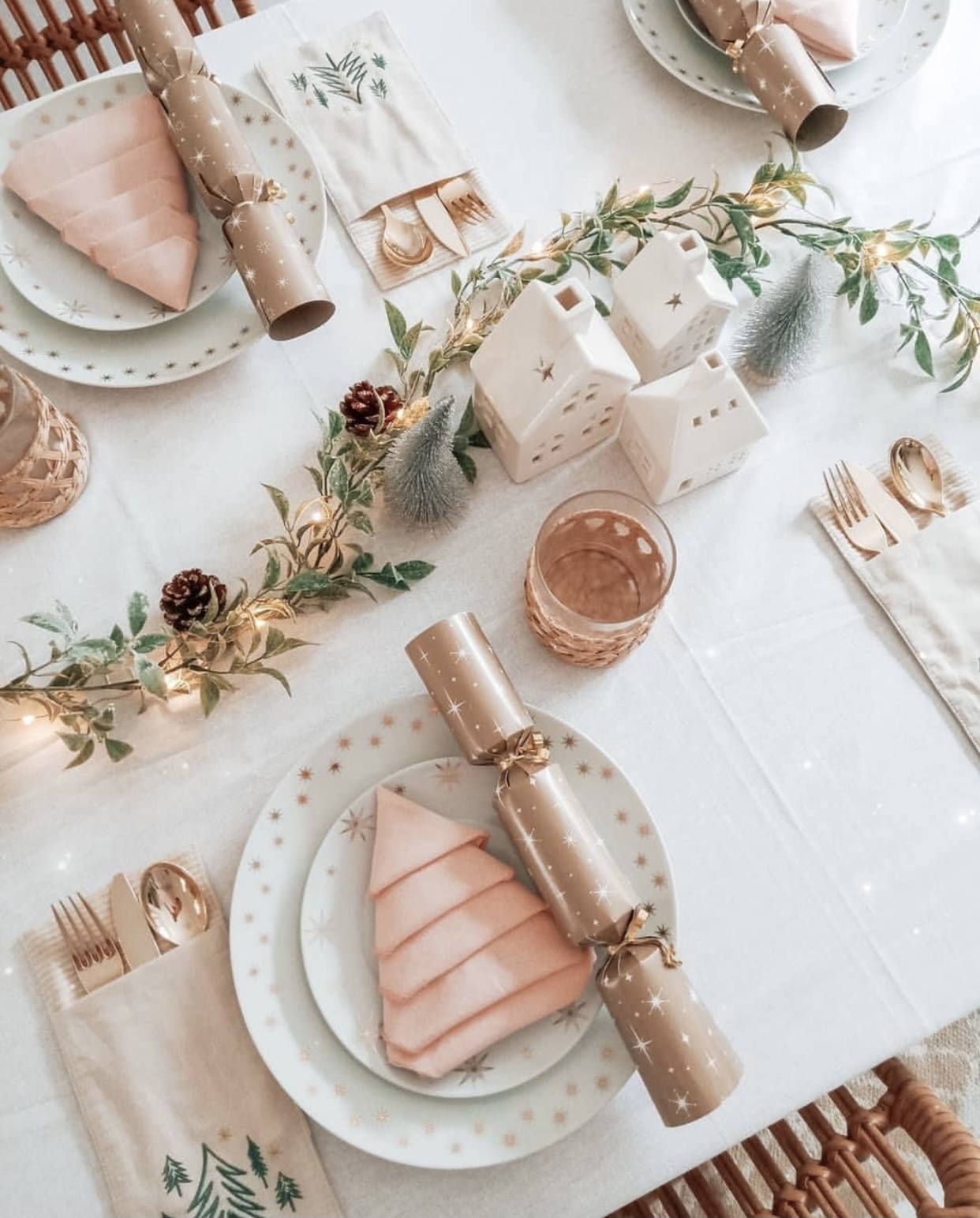 'That' pool noodle craze
Last year we just couldn't get away from all the creative Christmas table centrepieces made from pool noodles! Look, there were some not-so-great ones out there we must admit, but some were seriously cool and it IS a great way to decorate on a budget. Here's how it's done:
grab yourself a pool noodle, Christmas ornaments in your chosen colour scheme, and some greenery, to decorate
take a hot glue gun and cover the noodle in as much greenery as possible. If your budget allows, you can just use ornaments like the gorgeous one pictured below.
get creative and add your Christmas ornaments, gluing them as you go, to create an OTT table centrepiece for less.
Unique and fun to do!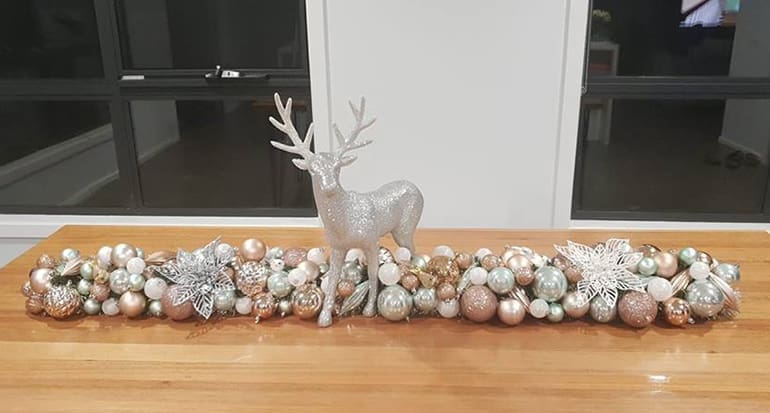 Classic Christmas table styling
If you prefer classic Christmas styling, take a look at this simple nature-inspired table by Caroline. Using pillar candles wrapped in twine, a few faux stems and some Kmart timber decor, it's an effortless look you can use again and again. And best of all, even the most beginner DIYers among us can pull off this look!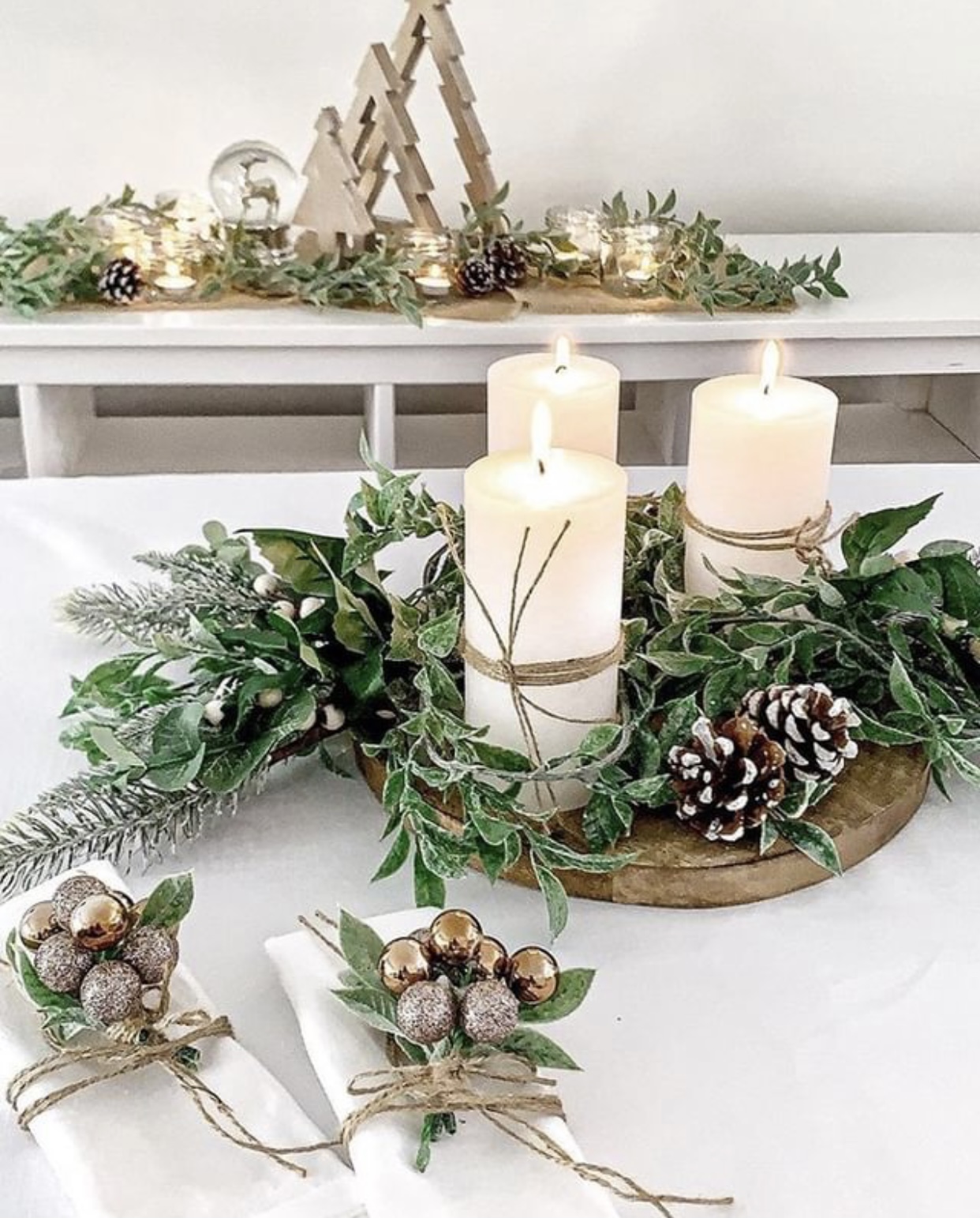 Keep your Christmas table decor in place with this idea
One clever Mum came up with an idea for keeping your beautiful and carefully curated Christmas table centrepiece in tact during your Christmas feast!
Using the Kmart extendable pantry shelves, she suggests simply popping them over the top and voilà! Now you can place all your delicious Christmas goodies safely above your decor.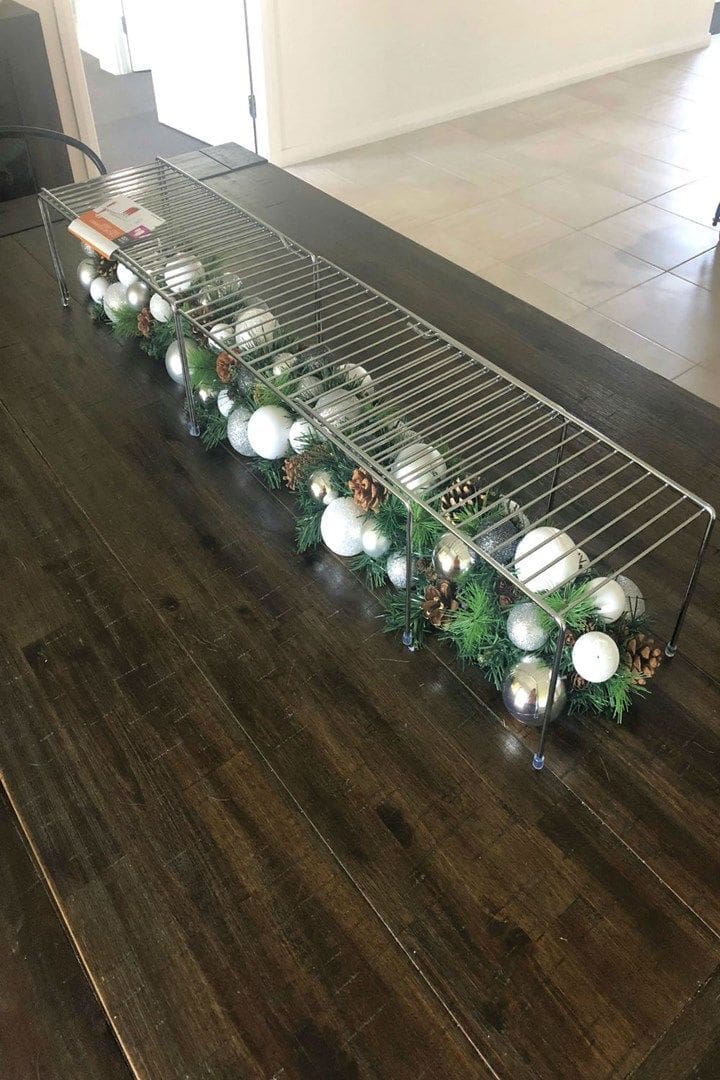 Moveable Christmas centrepiece
Alternatively, we love this idea of making your centrepiece in a box so you can easily move it to the side when it's time to bring out the food.
Using a Kmart bamboo storage box, some candles and foraged foliage, it's one of the cheapest but still stylish Christmas table decorating ideas we've seen.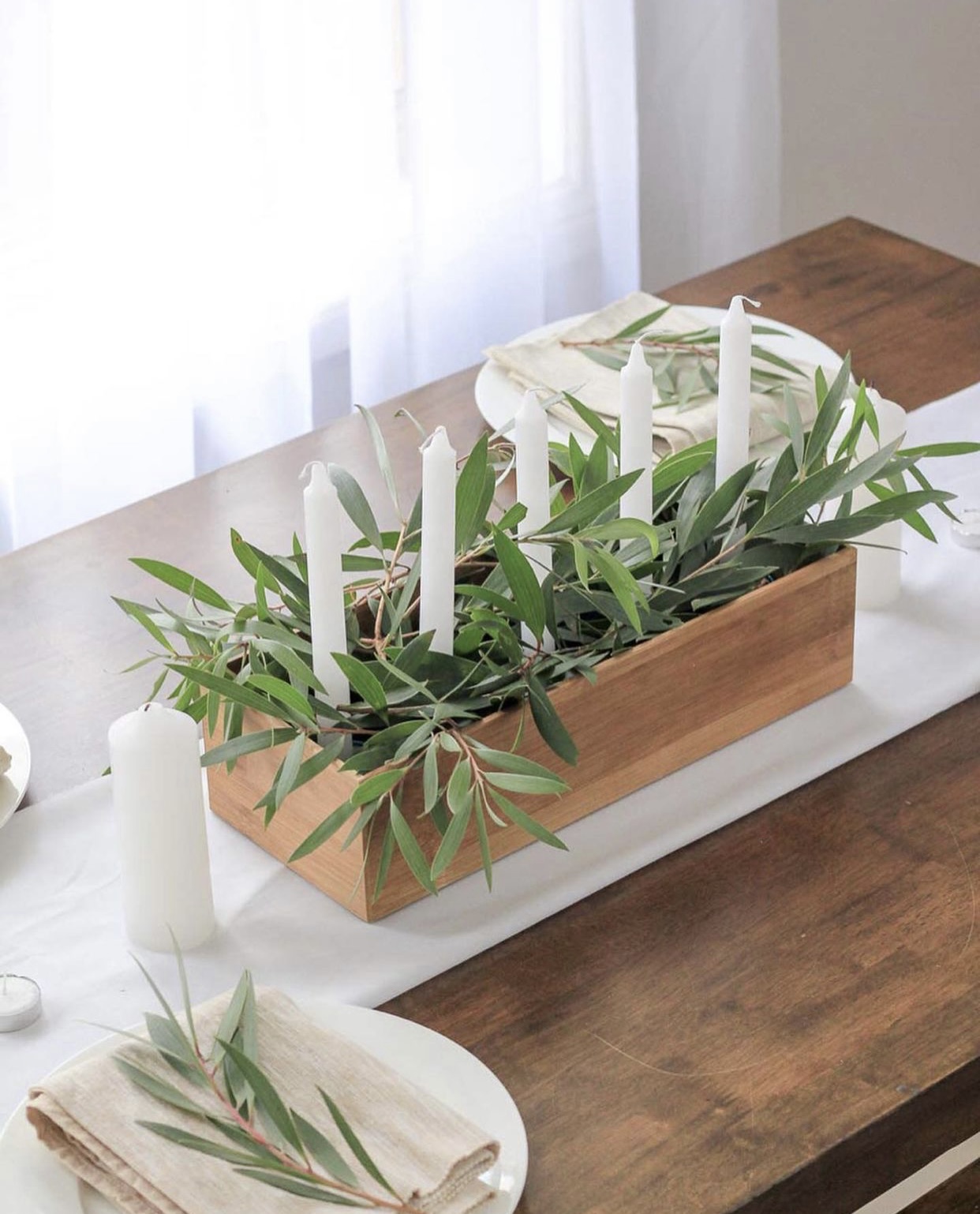 Minimalist Christmas vignette
There are endless ways you can sprinkle festive decorating around your home so we couldn't finish this round up of Kmart Christmas hacks without sharing a couple of vignette or sideboard styling ideas.
Jem is one of our fave Instagrammers and she styled her sideboard using affordable finds from Kmart, including that glass cloche and apothecary jars. It's a restrained take on Christmas styling and we're totally here for it!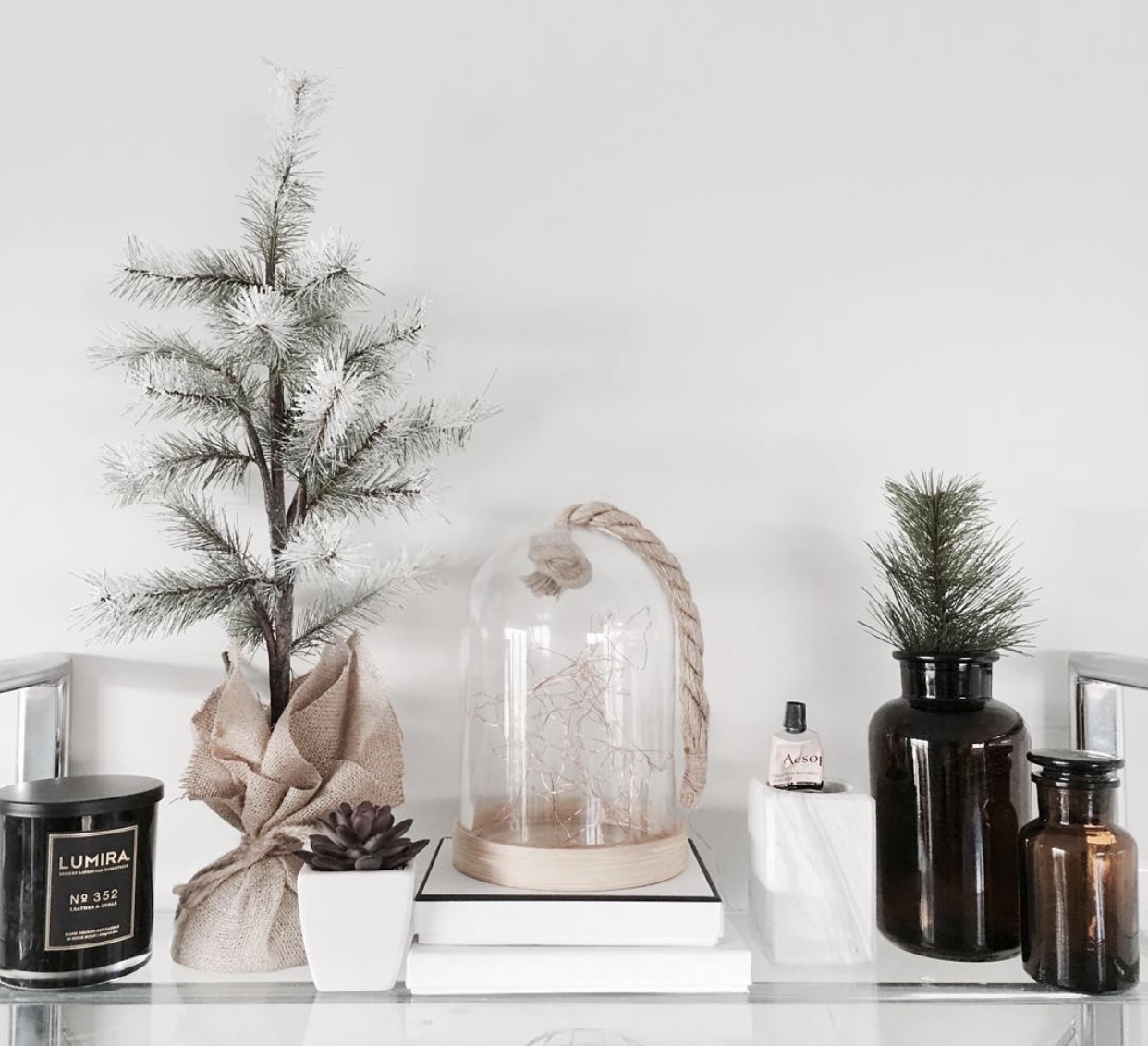 Create a light-up village
Wow! And we thought we were the biggest Christmas fans until we saw this set up! Toni decorated her kitchen island to create a magical light up Christmas wonderland using budget friendly Kmart elements.
She painted the houses pale pink and white and dusted the rooftops with pearl glitter from Kmart.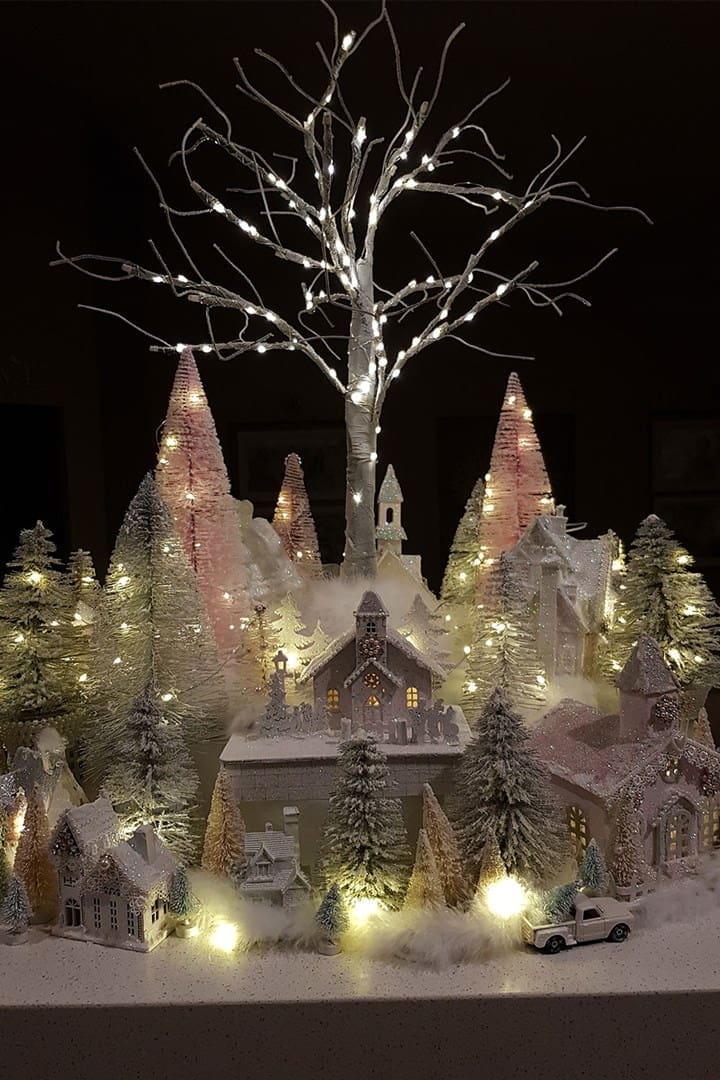 Do you love Christmas as much as we do?! Has this article inspired you to try your hand at one or more of these fun and festive Kmart Christmas hacks?! If you do, we'd love to see your pics and maybe even feature them on Style Curator! Tag us on Instagram or drop us a comment below.