It's the most wonderful time of the year. We just LOVE Christmas — it's a time to spend with family and friends, AND another excuse to style your home. A Christmas gathering wouldn't feel right if we didn't have a stylish table setting to go with it! So today we've got loads of ideas and inspiration for beautiful Christmas table styling ideas on a budget.
Related article: Quick and simple guide to a stylish table setting – every time!
Related article: Be inspired to create a beautiful Christmas tablescape
1. 'That' pool noodle craze
Last year we just couldn't get away from all the creative Christmas table centrepieces made from pool noodles! Look, there were some not-so-great ones out there we must admit, but some were seriously cool and it IS a great way to decorate on a budget. Here's how it's done:
Grab yourself a pool noodle, Christmas ornaments in your chosen colour scheme, and some greenery, to decorate.
Take a hot glue gun and cover the noodle in as much greenery as possible. If your budget allows, you can just use ornaments like the gorgeous one pictured below.
Get creative and add your Christmas ornaments, gluing them as you go, to create an OTT table centrepiece for less.
Unique and fun to do!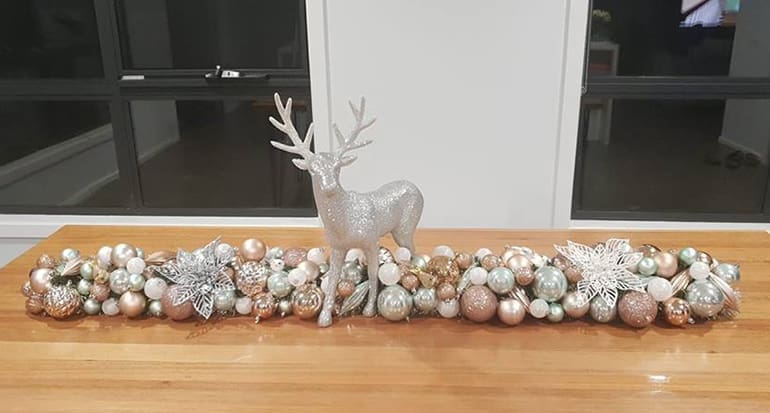 2. Pots of herbs or potted colour
Adding pots of fresh herbs as a centrepiece to your Christmas table not only makes it beautiful, but it's practical too. Once Christmas is over, these babies can live on, providing beautiful flavour to your cooking for months to come.
Some of our favourites are rosemary, thyme, mint, basil and sage. You can also tuck a sprig into your napkin for a more personalised place setting.
Alternatively, you could use cheap and cheerful potted colour. These small flowering plants, like pansies, generally cost under $5 and are available from your local nursery or gardening centre. They add a burst of colour to the table and look-oh-so pretty too.
3. Candles
Ah candles! We are officially obsessed here at Style Curator HQ (check out our fave summer candle scents here). No, seriously… we think we have a problem! Candles are a simple way to add elegance to your table as well as warmth and ambience.
Go for candles in beautiful vessels or, a mix of different heights, scale and shape to create visual interest. To keep things budget friendly, just use whatever you have at home, pillar, tealight or floating — they will all look gorgeous and help you create that beautiful Christmas table styling on a budget.
4. Floral arrangements
Flowers are an absolute classic for decorating. You honestly can't go wrong. Choosing flowers that are in season will help keep costs down and you get to enjoy their beauty long after the party has ended. (Read these tips to extend the life of fresh flowers to up to 3 weeks.)
To enjoy them even longer, why not go for a beautiful dried floral arrangement? They are trending right now and there's plenty of choice readily available. Your friendly florist or local farmers markets are great places to start. And you may pay a little extra for these, but bear in mind they last for a year or longer with proper care.
To keep it super budget friendly — and ever-lasting — there are some ultra-realistic fake flowers available these days. Before you cringe, all the ones on the table below are artificial! Choose ones that look as realistic as possible to create an elegant and sophisticated look.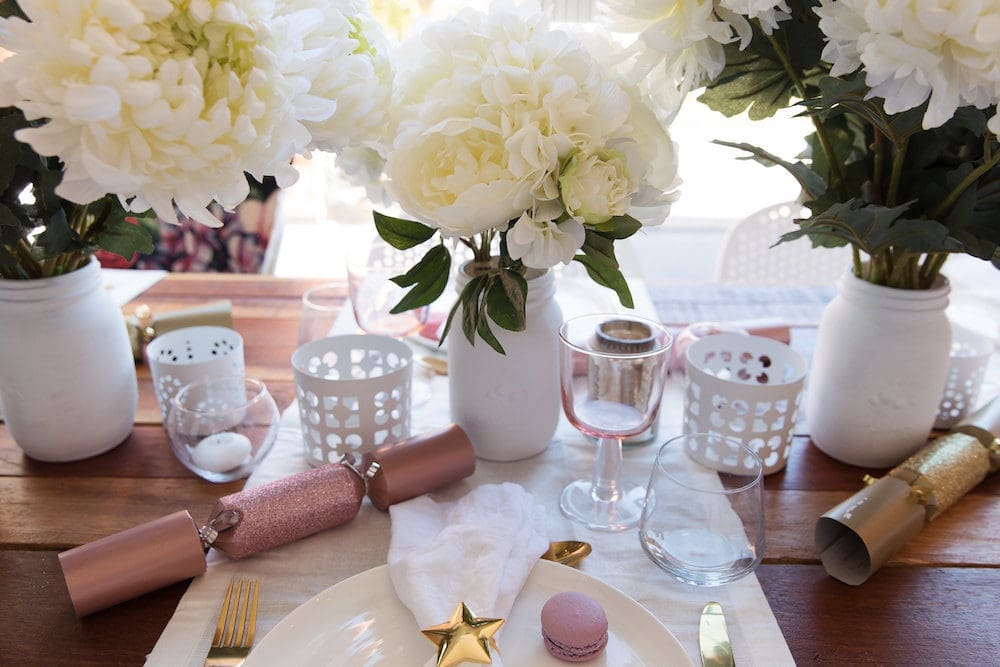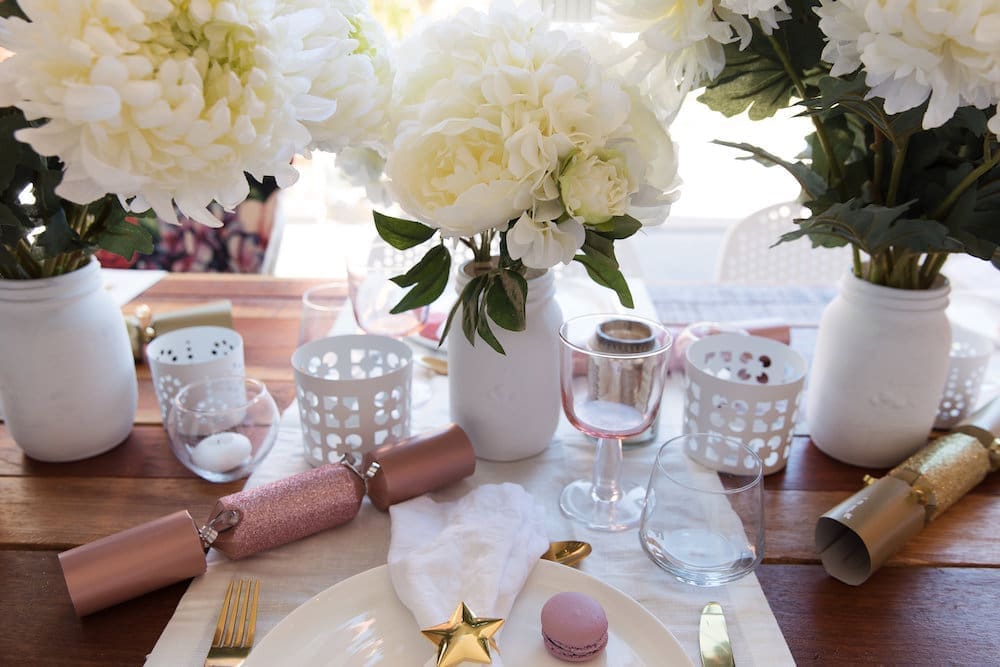 5. Fruit platter or grazing board
Cherries, stone fruit, mangoes… we're spoilt for choice with fresh produce at this time of year so why not take advantage and turn them into a beautiful centrepiece for your table? Edible and beautiful!
Or, try your hand at a grazing table! These are super popular right now and utterly delicious to look at (and eat!).
6. Greenery
It's no secret that Gina adores adding natural elements into her Christmas styling. And it's a perfect way to style up your Christmas table at no cost (it doesn't get more budget-friendly than free!).
Go for a wander and see what you can find — eucalyptus branches are our fave. Add some tealight candles for added ambience and you're set. Just remember to spray your foraged items so you avoid any additional creepy-crawly guests at the table!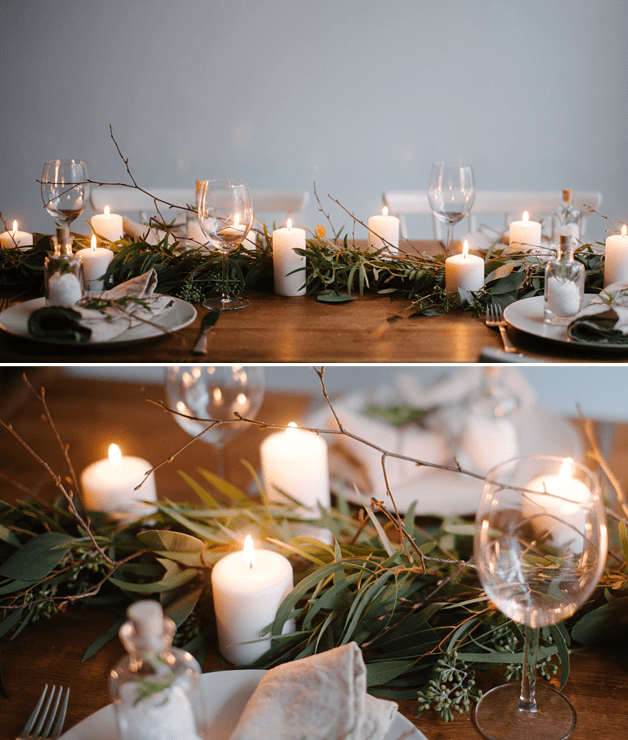 7. Christmas decorations
We all have them. We often have too many of them! So another simple and fun Christmassy idea is to use your extra Christmas decorations to beautify your dining table.
Use frosted berries, a wreath garland, lights, leaves, flowers or tree picks to elevate the look of your table. Take a simple pine garland, add some frosted berries and twinkly lights for a real showstopper like the one we created below.
And a top tip… the Christmas sales have already started so you can snap these up at a discount now!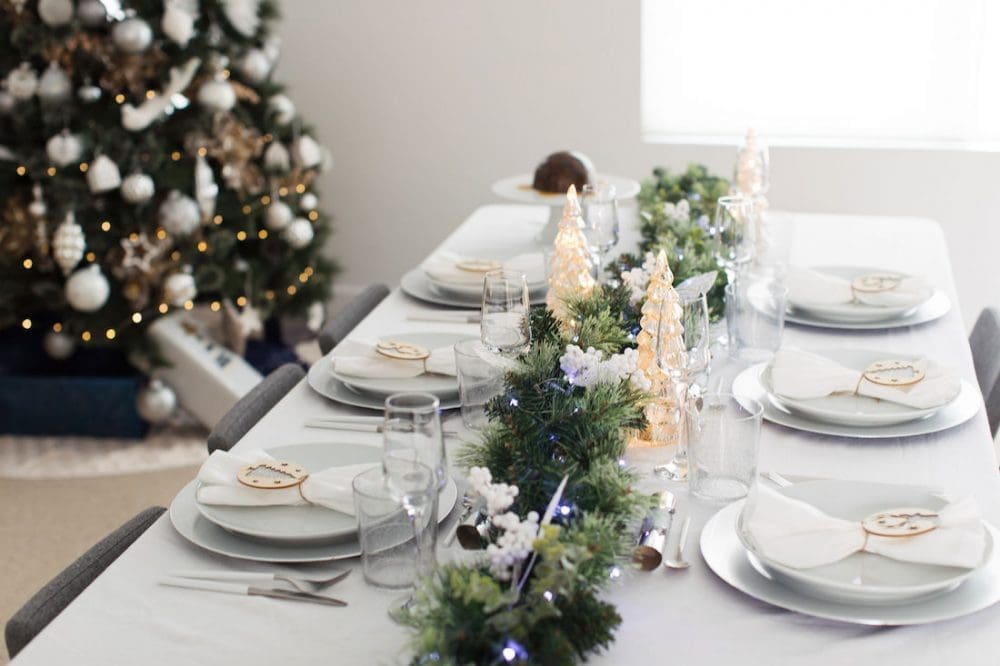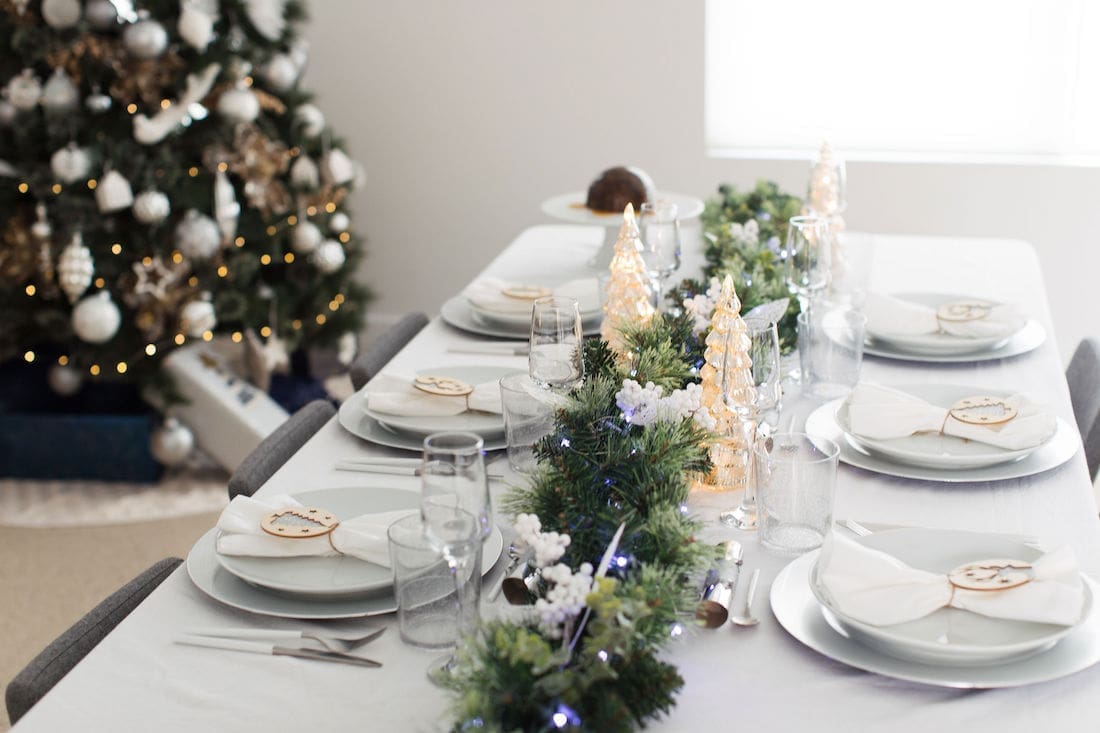 8. Jar of fairylights or baubles
Ooooh fairy lights are just magical, aren't they?! They are the ultimate Christmas table styling idea on a budget! To make your own display, simply buy some battery operated lights and pop them into a jar. Done! Use a vase or a glass vessel in an interesting shape to make it extra special.
We also spied a really pretty glass dome with copper wire lights at Kmart if you want the easy option of buying one ready made!
Another idea is to fill a glass vase with leftover baubles from your Christmas tree as another beautiful centrepiece idea. Simple, budget friendly and certain to bring in that Christmas cheer.
9. The hero element
You'll hear us say this over and over again… less is often more! Going for one hero element is a surefire way of keeping your table setting elegant, simple AND on budget!
Choose one main element to dress your table, like the one we created below, and you'll not only have a beautiful Christmas table on your hands, you'll also have more room for the most important things — the food and the drinks! Cheers to that!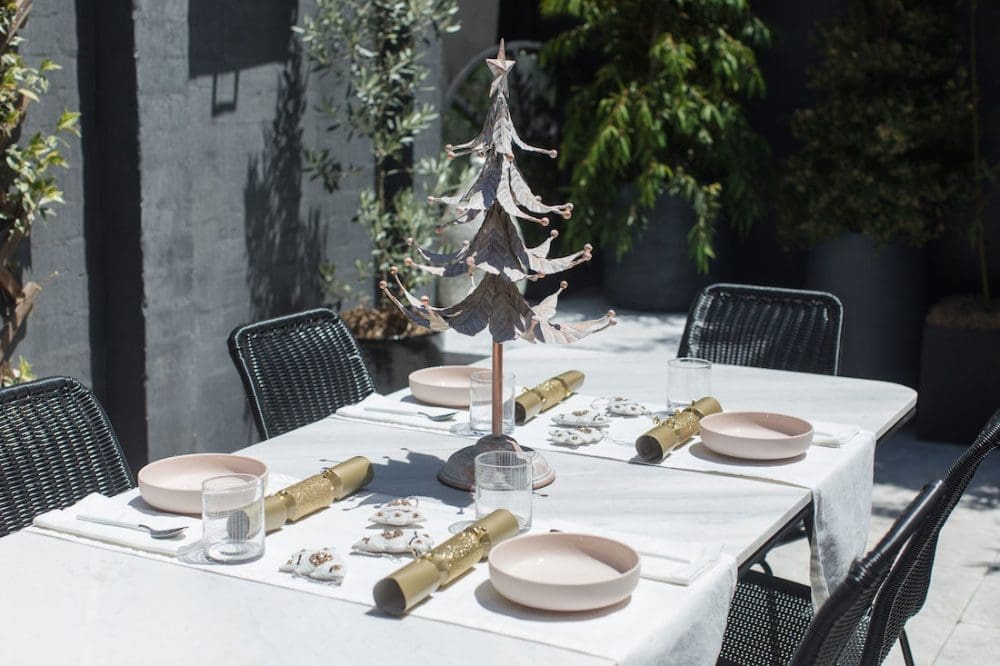 What do you think of our Christmas table styling ideas on a budget? Which is your fave and will you try one at your place this year? We'd love to hear your thoughts in the comment section below or, tag us in your creations on Instagram! Happy Christmas styling, Lovelies!