Now that the Christmas shopping is done (right…? The big day is only a couple of weeks away!), it's time to wrap those pressies! To inspire you to elevate your gifts, we've curated 50 of the most beautiful Christmas gift wrapping ideas!
From minimalist to completely OTT, blingy to earthy, we're sure you'll find an idea to love in this round up.
Related article: FREE Christmas gift wrap printable: Download handlettered Christmas wrapping paper
Related article: The most beautiful Christmas wreaths you can actually DIY!
1. Potato stamped wrapping paper
This wrapping paper is so elegant and beautiful, it's hard to believe it was DIYed using potatoes! Jinny of @theurbanquarters was inspired by this sponge stamp gift wrapping reel that she created her own using the traditional technique of potatoes. Needless to say, we're in LOVE!
2. Mix and match
Who says all your gift wrapping needs to match? We love the mix of colours and prints on this collection of gifts with a similar colour palette and metallic accent.
3. Minimalist
The talent behind Homey Oh My blog has done it again with this gorgeous gift wrap and best of all — you can download this free pine tree printable to wrap your gifts at home.
4. Berry
Another example of when less is more. Simply wrap twine several times around a gift and slip a sprig in the centre.
5. Simply pretty
Isn't this gold deer just the sweetest?! Totally in love with the gold and blush pink colour palette too.
6. Black and white
Christmas wrap doesn't have to scream 'Christmas!'. Check out this black and white minimalist gift wrap with simple festive references. It's just one of the many monochromatic ideas you'll find in this round up!
7. DIY
Nothing adds a personal touch like do it yourself ornaments on top of a gift. You can make these DIY clay ornaments in any shape, find our clay recipe and instructions here.
8. Non-traditional
Break away from images of snowflakes and traditional Christmas imagery with wrapping like this diamond design on An-Magritt's blog. How pretty are those embossed gift tags?!
9. Christmas-tree-inspired
We love that this gift is wrapped just like a Christmas tree! The gold foil message on the card could also be personalised to suit the person you're gifting it to by following our gold foil tutorial here.
10. Elegant rustic
Mini wreath, craft paper and hessian has never looked this good! These gifts get the balance of rustic, earthy and elegant spot on.
11. Handlettered
Our friend at Shenton & Thrello handlettered a beautiful A3-sized Christmas wrap that you can download free here. Use it in black and white as pictured here or follow the instructions in our Christmas cracker tutorial to apply gold foil over some words.
12. Jingle bells
You'll literally jingle all the way with this adorable gift wrap idea using oversized jingle bells. If you can't find bells to suit your colour scheme, just spray paint whatever bells you find in the colour you want like we did with this bell wreath in our Christmas entry.
13. Illustrative
Love the delicate details of these hand-drawn acorns, pinecones and leaves — use them just on the gift tags or as gift wrapping too.
14. Accordion Christmas tree
A little bit quirky and a whole lot of cute, these accordion Christmas trees are a sweet idea by White House Crafts. You could personalise this look to suit your Christmas theme. For example, we love the idea of using craft paper to wrap the gift and an olive green paper to achieve a more muted look.
15. Shades of blue
Duck egg blue might not be a colour you associate with Christmas but it sure does look good on Christmas gift wrapping. Pair it with hand drawn gift tags and you're set.
16. Hand drawn
Ok, how seriously adorable is this?! A drawn on car carrying a Christmas tree home. Totally using this idea!
17. Sweet treat
A fab idea for those with a sweet tooth, just slip a candy cane or lolly pop under twine and watch them smile as you hand over this sweet gift.
18. Stencil
A great gift wrapping idea for the guys in particular is this stencil typography look. All you need is a sharpie and a stencil!
19. White on white
You can't go wrong with white on white gift wrapping! An elegant and timeless look that will always be in style.
20. Gold spray
When in doubt, spray it with gold! Gold spray paint turns these plain branches and craft paper into seriously elegant Christmas gift wrapping.
21. Blackboard
Yes, there is such a thing as blackboard paper and yes, it is AMAZING! Write whatever personalised message you like using chalk and finish with twine or a ribbon.
22. Paper cut out
This paper Santa beard is so jolly! You could use this idea of a white paper cut out against butchers paper with just about any shape though so why not be creative and see what other fun ideas you come up with.
23. Fabric bag
A new way of gift wrap that continues to grow in popularity is the use of a fabric bag. Easy to make and mess-free, this sustainable option is easy to customise for anyone you wish to gift it to!
24. Newspaper and Christmas decor
Just like ornaments look great on top of a Christmas gift, so too do mini Christmas decor pieces like this reindeer. It's a gift that gives twice because they can reuse the figurine in their Christmas styling 🙂
25. Plaid
Has green ever looked this good?! Love this plaid green Christmas gift wrapping, complete with double ribbon and gold foil gift tag.
26. Calligraphy
Gosh some people are clever! Just check out these stunning timber calligraphy gift tags.
27. Label maker
Perhaps its the retro vibe or just the simplicity of this idea but were loving this label maker DIY gift wrap idea by Almost Makes Perfect!
28. Bunting
A sweet look from Kikki.K is this simple bunting-style wrap using heart and flag stickers attached to bakers twine. We did a similar look with blue wrapping paper and gold star bunting below. Bunting is just one of the creative ways you can make your present extra special. And it's easily customisable! Use any colours or shapes you like to make your own bunting gift wrap.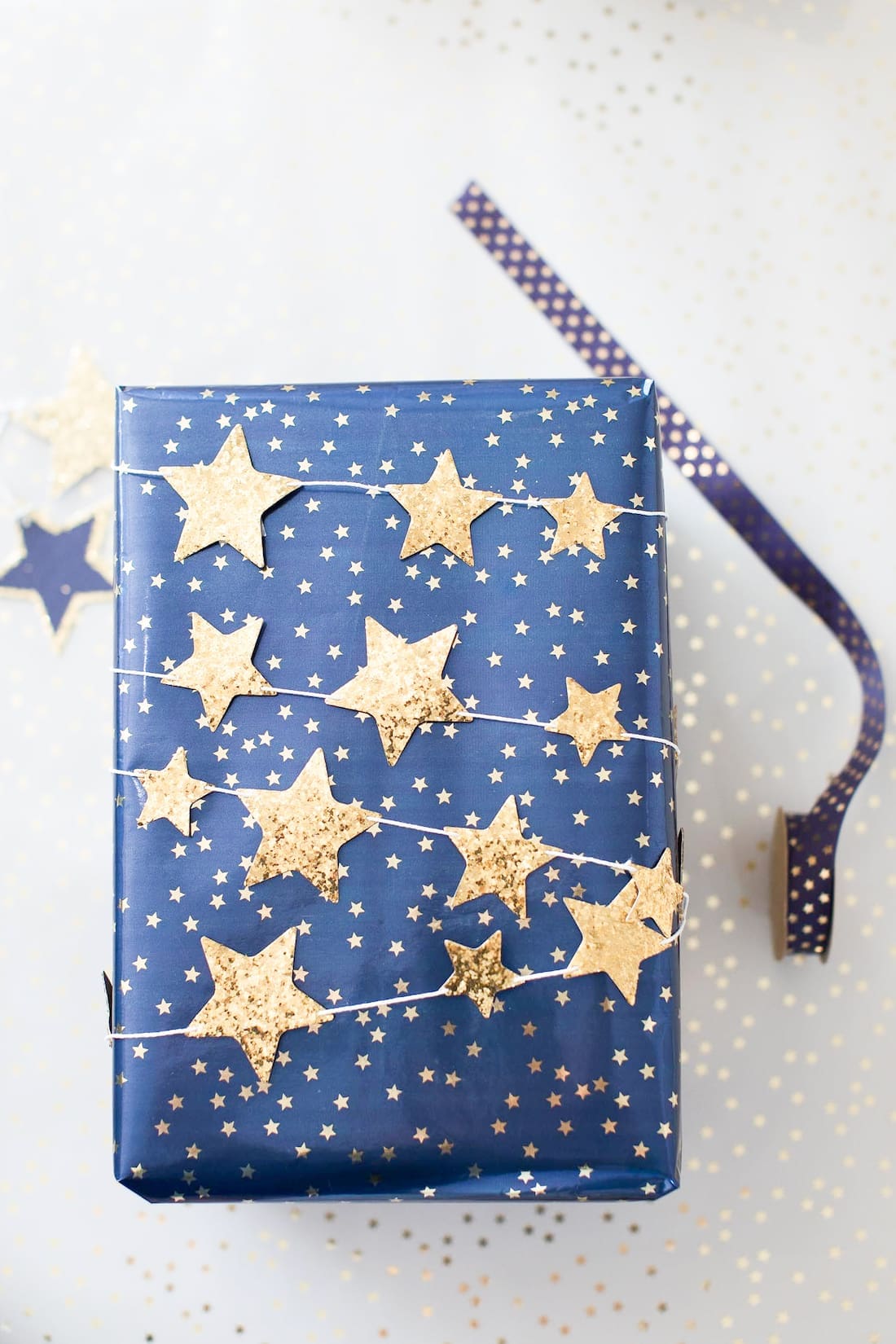 29. All in the gift tag
Almost Makes Perfect has created this set of adorable Christmas gift tags that you can download for free on her blog here. Did we mention they're adorable?!
30. Washi tape
Another super simple yet effective idea is to use washi tape. There are probably close to a million Christmas gift wrapping ideas using washi tape on Pinterest alone. With just three rolls of washi tape, you can do an infinite amount of things, like this simple tree look below!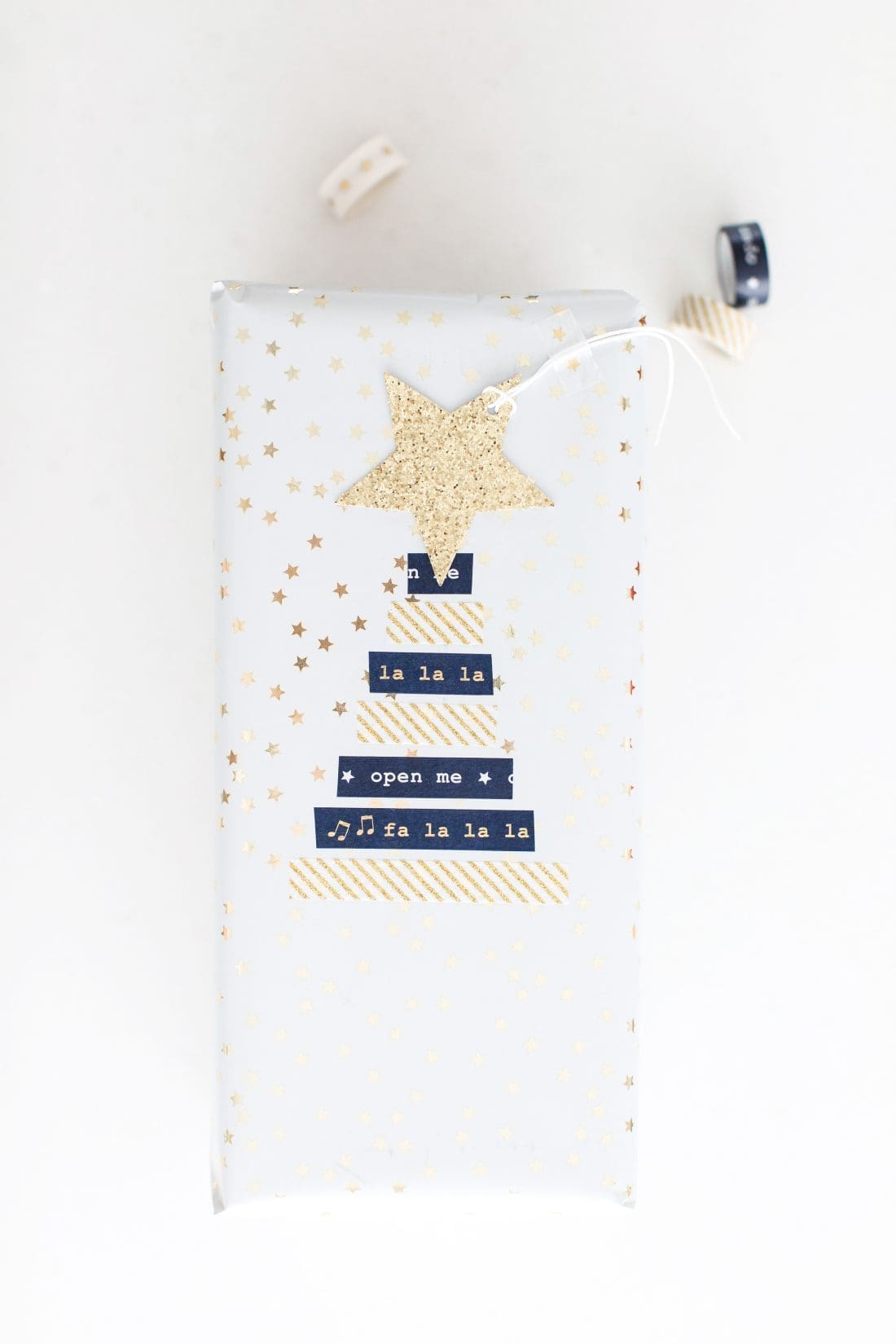 31. Stamped
This is a genius idea developed by the crafty Natalie at Handmade Charlotte! Just glue cut out shapes to a lint roller, dip in an ink pad and roll.
32. Timber accent
Using timber veneer sheets and a stanley knife, you can create these mini 2D Christmas trees. Follow these instructions to also make a 3D tree that they'll be able to use as a Christmas decoration.
33. Colourful and crafty
For those who aren't shy with colour, this abstract reindeer packs a colourful punch! How adorable is that nose!!
34. Branch trees
DIY your gift wrap this year with this butchers paper and branch idea. Making mini Christmas trees as a 3D ornament is a fun and creative way to wrap your gifts this year.
35. Hand painted
Let out your inner artist and create some beautiful Christmas scenes using paints. Traditional Christmas scenes, shapes or even carol lyrics are just some of the ideas of what you could paint.
36. Pinstripe
The Black Tie standard of gift wrapping right here! Use this look if you're going to any fancy pants dinner parties or just want to seriously impress.
37. Monochrome
Despite popular use, monochrome doesn't mean black and white, rather 'single colour or hue'. We love this elegant gift wrapping by Chantel aka @mama_mila_au on Instagram. Watch the video below to see how she makes that sweet bow detail using left over wrapping paper. So clever!
38. Abstract
Another DIY idea is to make these abstract Christmas trees using sticks and twine. Just bust out your glue gun and play around with colours and patterns.
39. Beaded
Bringing back memories of our childhood craft days, we couldn't resist adding this fun red and white plastic bead idea to this round up. Made by Craft & Creativity, you can follow all the instructions to create this look here.
40. Paint effect
This painted wrapping paper doesn't require quite so much creative talent as the one above, just dip your paint brush in white paint and splatter, dash or scratch craft paper to create the pattern you like.
41. Twine feature
Showing a different way of using twine is this look from Creative Market. Simple but effective, the use of twine adds a subtle festive touch that's sure to draw the eye.
42. Ribbon trees
This crafty gift wrap idea (although a bit finicky) is a surprising take on many Christmas gift wrap staples. Who would've thought that you could use ribbon in this way?
43. Understated glitter
You could use our clay ornament DIY to make these Christmas ornament gift tags. Simply use a circle cutter instead of a gingerbread and gently press the end of a pencil into the ornament before you bake to create these impressions. Once they're out of the oven and cooled, paint using your favourite glittery colours!
44. Hint of nature
Another minimalist look and this time incorporating subtle references to nature with a cluster of cinnamon sticks, pine cones or sprig against a simple black or white wrap. Recycled paper gift tags or natural twine complete the look.
45. Glitter bomb
If the understated glitter look above didn't do it for you, perhaps this champagne glitter bomb look will!
46. Landscape photography
A beautiful black and white photo and simple pom pom is all that's needed to create this seriously stunning Christmas gift wrap. We have a simple and super quick mini pom pom tutorial here.
47. Psychedelic
Apple green, multi-coloured graphic print and silver sparkle are an unlikely combination that work in this gift wrapping set by Studio DIY.
48. Gingerbread
Yummo, here's another tasty gift wrapping idea — this time using homemade gingerbread biscuits.
49. Photography stickers
Keeping with the photography theme is this DIY family photo sticker tutorial on Homey Oh My. So special, we bet they won't even want to open their present 😉
50. Traditional
There's nothing wrong with traditional, particularly when it looks this darn stylish! Red and white gift wrap with a stripe red ribbon and a sprig in the bow would be welcome under our Christmas tree any time.
How will you be wrapping your Christmas gifts this year? Do you have a favourite look from the list above?? Tell us in the comments below!
Disclaimer: this article was first published in December 2016 and has been updated with new information and images. It contains some affiliate links. This means, if you purchase an item we may receive a commission at no extra cost to you.