In many ways, Gina Chapman has her Bondi home to thank for her business success. You see it was this house that inspired the concept of the indoor concrete table that eventually launched her company, SLABSbyDesign.
"As soon as I walked through our Bondi house, I said I wanted a concrete dining table as the centerpiece — it was a big open plan space. We didn't even own the house yet," laughs Gina, "we were just walking through, inspecting it before auction."
Soon enough that house was Gina's and the hunt for the concrete table began.
"I searched everywhere for the concrete table I imagined but the only options available at the time had really chunky concrete legs or looked outdated, not the sophisticated look I had envisaged… not to mention the prices I was being quoted were ridiculous!"
And so Gina decided to create her own.
"I sourced my own steel fabricator to create the frame and had a concrete top made in Noosa.
It was only ever meant to be a one-off table for our family but everyone who came over to our house would comment on the table saying how much they loved it.
"Before I knew it, I had orders to create tables for other people and from there the business just grew!"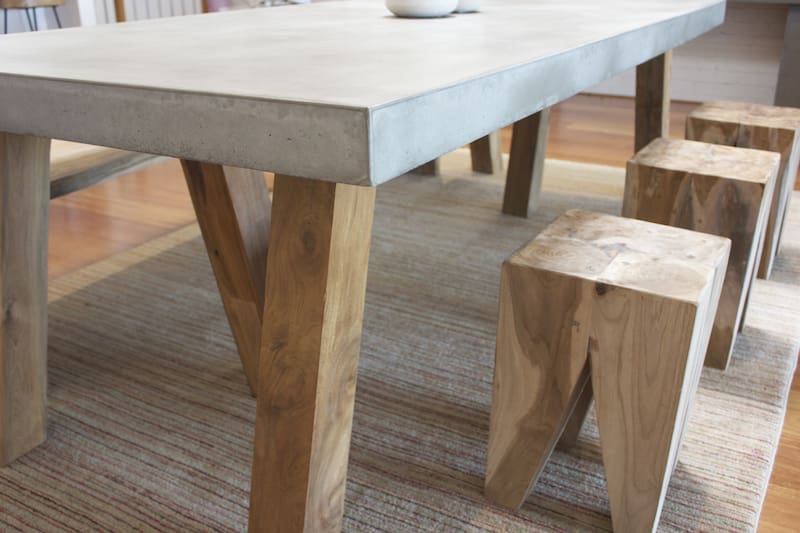 Despite launching her business just one year ago, Gina already works full time in the business and has two industrial designers working for her to create the high end products.
"Our focus is all about quality and creating bespoke items — everything is made according to the client's brief.
"We use the very best materials and fabrication processes available, ensuring the concrete is non-porous, therefore it enables a superior result with the sealant we apply. Our concrete is Glass Fibre-Reinforced, making it more durable than traditional concrete and appropriate for both indoor use as well as outdoors."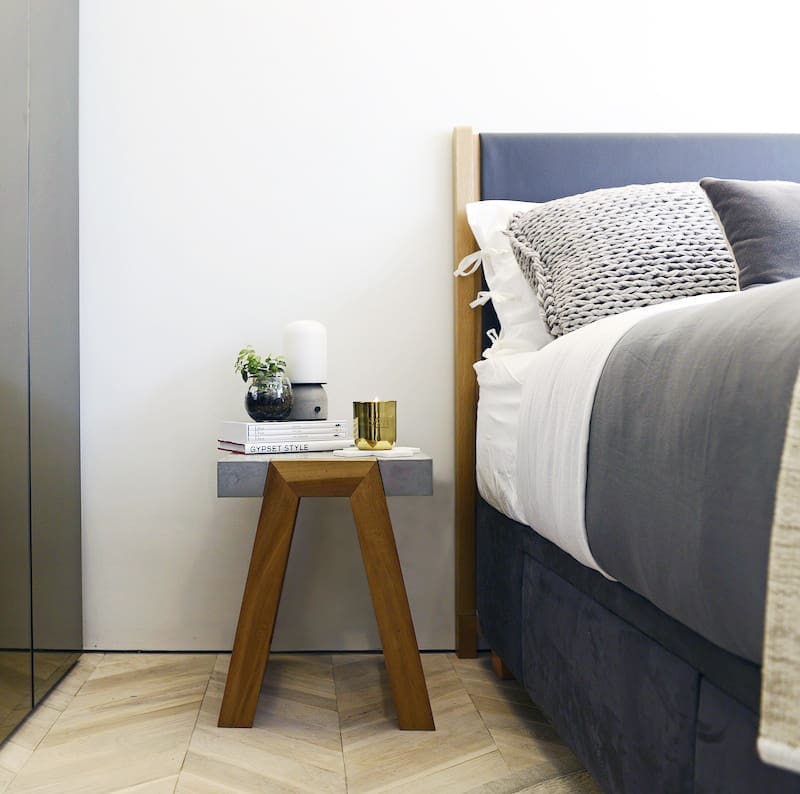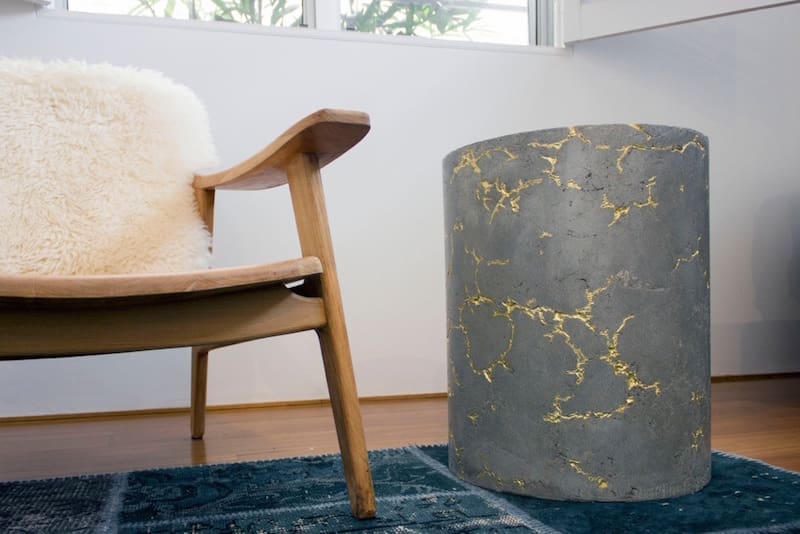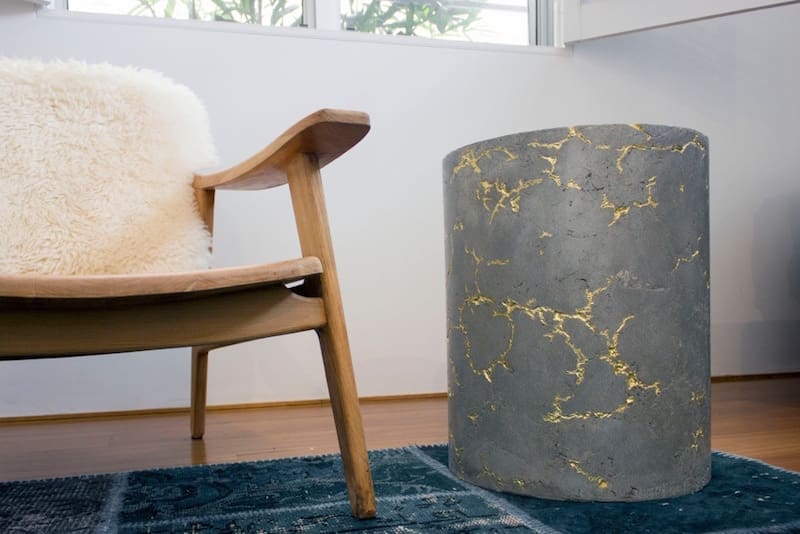 Several of Gina's custom made pieces featured on The Block recently.
"Bec and George contacted me to create a few pieces for their bedroom elimination," says Gina.
"We designed the bedside tables with a concrete top and wooden legs. We produced the concrete and worked with a timber supplier in Melbourne.
"That concrete and gold 'pot plant' was actually a side table we created for Bec and George. The design was inspired by Bec who said she wanted gold through the concrete, so we used gold leaf with resin to create the effect. The table looked incredible and it's a pity they could only use it as a plant pot. Unfortunately the space was much smaller than the couple originally thought and the table was just too big to fit in the space.
"Being featured on The Block has certainly generated a lot of new enquiries though and that bedside table is going to become part of our signature range that we're currently working on as the feedback has been so positive."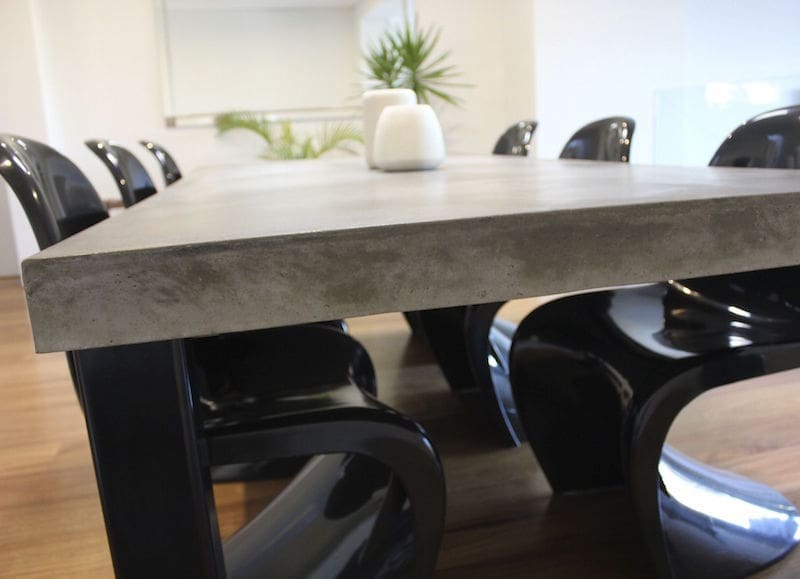 Can you tell us more about your signature range?
"It will have the look of the bedside tables that featured on The Block — where we have designed the pieces to have the timber component recessed into the concrete tops and sit flush — and include a coffee table, hall table, and side table."
What do you love most about working with concrete?
"The beauty of it, and how unpredictable and organic it is. Each slab is completely unique and tells a story.
"Concrete as furniture is what I call a statement or 'hero' piece – it can look industrial or highly sophisticated — and will always be a conversation starter."
Where are you hoping to take SLABSbyDesign next?
"We're not about growing quickly or mass-producing our products.
"SLABSbyDesign is all about working with clients, getting their input and creating the highest quality product possible that's just right for their needs.
"To steadily grow our business, I would like to work with select boutique stores in Australia to showcase our products. We also enjoy working in the commercial space, for example we recently designed the reception at Belle Property in Surry Hills, and I would like to expand in this area as well."
For more information or to check out the SLABSbyDesign collection, visit their website.